CURRENT SPRING FAVORITES..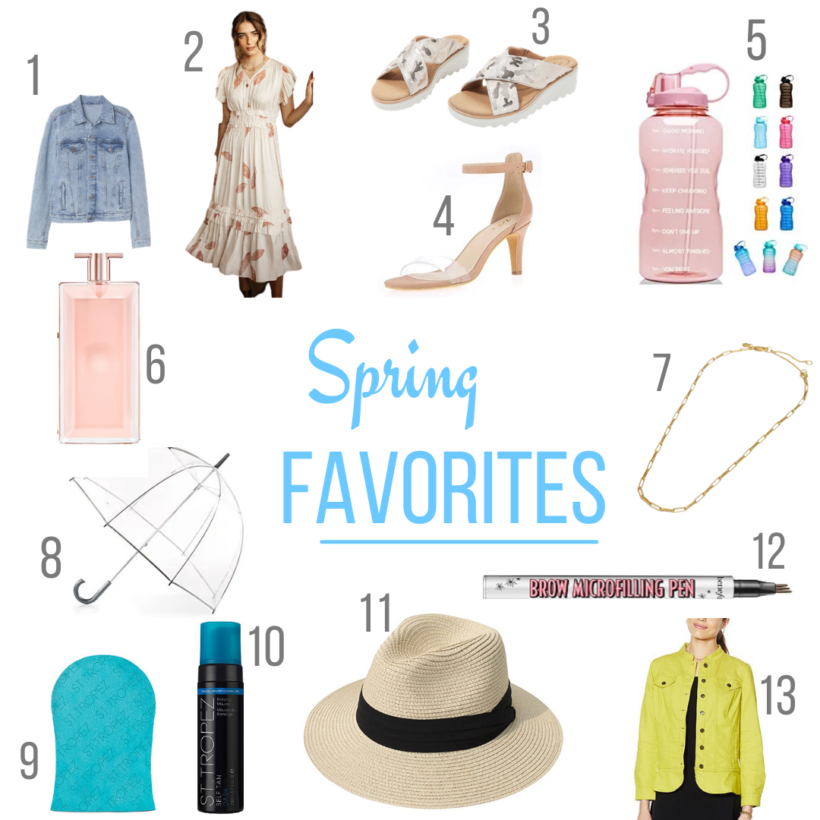 Now that it's getting nicer outside, I am sharing some current Spring favorites that, in my mind, are MUST-HAVES!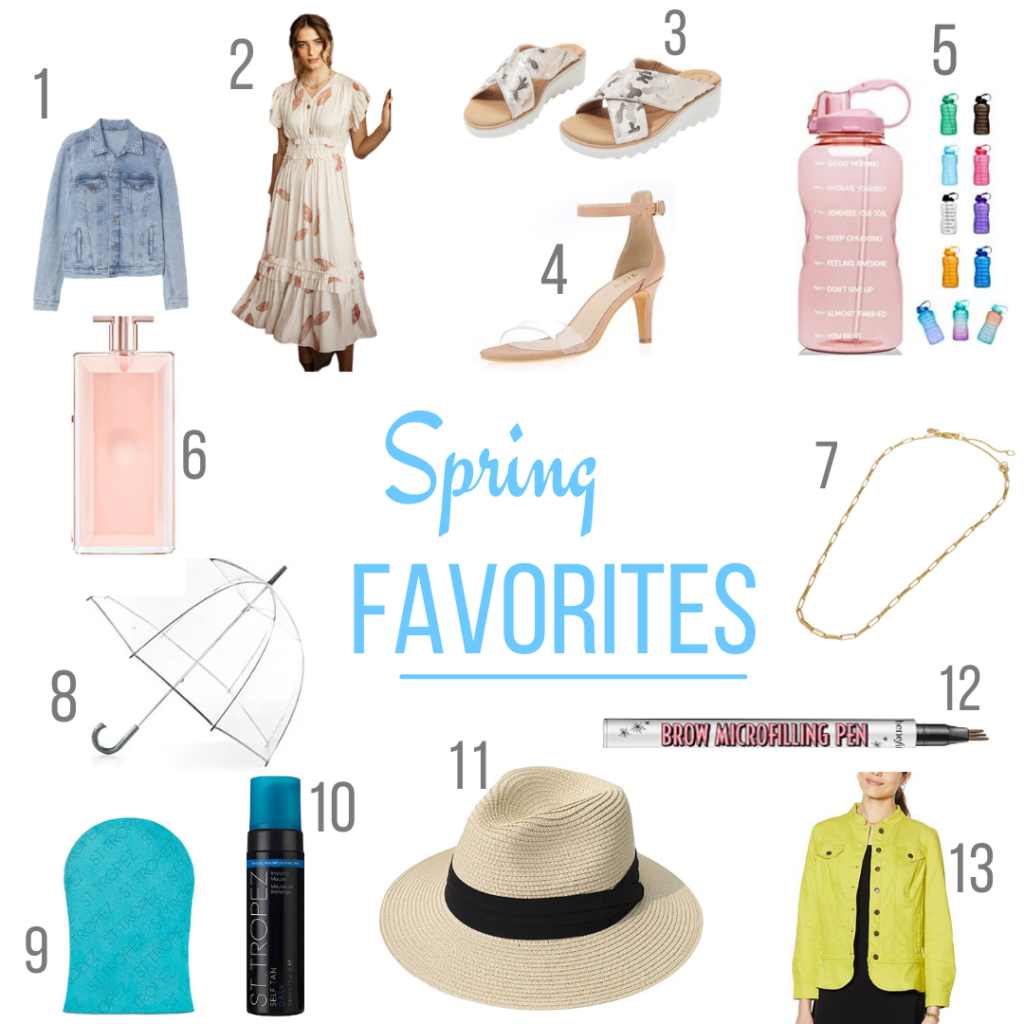 1 | 2 | 3 | 4 | 5 | 6 | 7 | 8 | 9 | 10 | 11 | 12 | 13
1 – I can't say enough about this jacket!  If you haven't yet found your perfect denim jacket, I HIGHLY suggest THIS ONE.  The cut is perfect plus it's a great wash for all year round.
2 –  THIS DRESS makes you feel so feminine!! Don't be fooled by the ONE negative review that says it's see-through.  TRUST ME, I wouldn't wear it if it was see-through.  Of course, you need to wear a slip underneath it just like any dress. It's awesome and the fabric is like silk to the touch but is 100% polyester.
3 –  I love a good slip-on neutral shoe that can go with just about anything all spring and summer.  I'm here to tell you, THIS SHOE is the one for the year!!! Neutral camo with a subtle gold touch is so on trend and SO COMFORTABLE!
4 – Every woman on planet earth needs a neutral heel and if you are anything like me, a little lower of a heel is better!  THIS HEEL is the perfect height to keep your feet comfortable and yet looking classy. It's made extra interesting with the clear toe strap.  Super cute!
5 – Drink enough water FOR GOOD now! This AWESOME WATER BOTTLE is the best little reminder and keeps you on track with your water goals.
6 – Trust me when I say if you need a new perfume, you will LOVE this one!!! It's a favorite of so many and is described as a "fresh" scent by all you have it. I've often wished they would make a fragrance that smells like a high-end department store when you walk into it…. well, THIS IS IT, guys!!!
7 – The PAPER CLIP CHAIN NECKLACE is all the rage right now and why not?  It's a perfect spring favorite whether you are at a ball game or on a hot date!
8 – For those rainy spring days, how DARLING will you feel underneath THIS CLEAR UMBRELLA? Don't settle for that awful game day umbrella or the striped one in the back of the closet.  😉
9 – Most of us are using self-tanner these days and you FOR SURE want to have a good mitt.  I've tried a few, and THIS ONE is heads and shoulders above the rest!! It's a great price, so thick and nice, and won't rip out after a few uses!
10 – Speaking of self-tanner, in my opinion, THIS ONE is the HOLY GRAIL of self-tanners!  Yes, you can find some cheaper, but they don't last nearly as long between uses!
11 – If you don't have a good spring hat yet, THIS ONE is a perfect option!  I wore it all through our Hawaii trip, wadded it up, and laid on it on the beach, and it still kept its shape! A great hat.
12 – This MICROBLADING PEN is really cool!  I have tried other similar products but none of them work as great.  The colors seem to be forgiving also.  I thought I ordered blonde, but instead ordered the light brown and it still works for me! Just watch some youtube review videos to see how great it works!
13 – I have shared this CHARTREUSE JACKET all over my Instagram lately and for good reason!  It's a lightweight Spring favorite of mine in such a fun color! The perfect topper for so many spring and summer outfits.
Another favorite or two:
If you plan on traveling this summer, this is perfect! I took it with me to Steamboat Springs over Spring Break and loved how it kept all my beauty essentials protected in such a classy-looking case! I have it in black but ohhh the rose gold is GORGEOUS!
If you follow me on Instagram, then you saw that I installed a new garage light in our garage.  And when I say "installed" that means I screwed it in, just like a lightbulb.  Super easy and it makes a WORLD of difference in the brightness in our garage!
Why is it a spring favorite?
I used regular old light bulbs in our garage before and it never seemed bright enough out there!  Take out the old bulb and screw in the 3 panel BEYOND BRIGHT LED LIGHT and you will LOVE how bright your garage will be!
Hope you found this helpful!
Do you have any of these?
I'd love to know!
Jump over to these ladies ' blogs to see THEIR favorites that they are sharing today!  Who knows, maybe you'll find a new favorite!!