SWIMSUITS FOR WOMEN 2020…
Never too late…
To be on the hunt for some cute swimsuits for summer!
The weather around here has been less than summer-like but I'm ready to start dreaming of sunshine, beaches, lakes, and pools!
I've gathered a few favorite swimsuit picks and thought I would share them here.
Let's start with these…
I love that one-pieces are all the rage again and there are some great ones out there!
I tried to not add any that are too cheeky.  But remember, a cute swim skirt, sarong, or denim shorts are the perfect coverups if you have a cheeky suit.

Some of my Amazon favorites…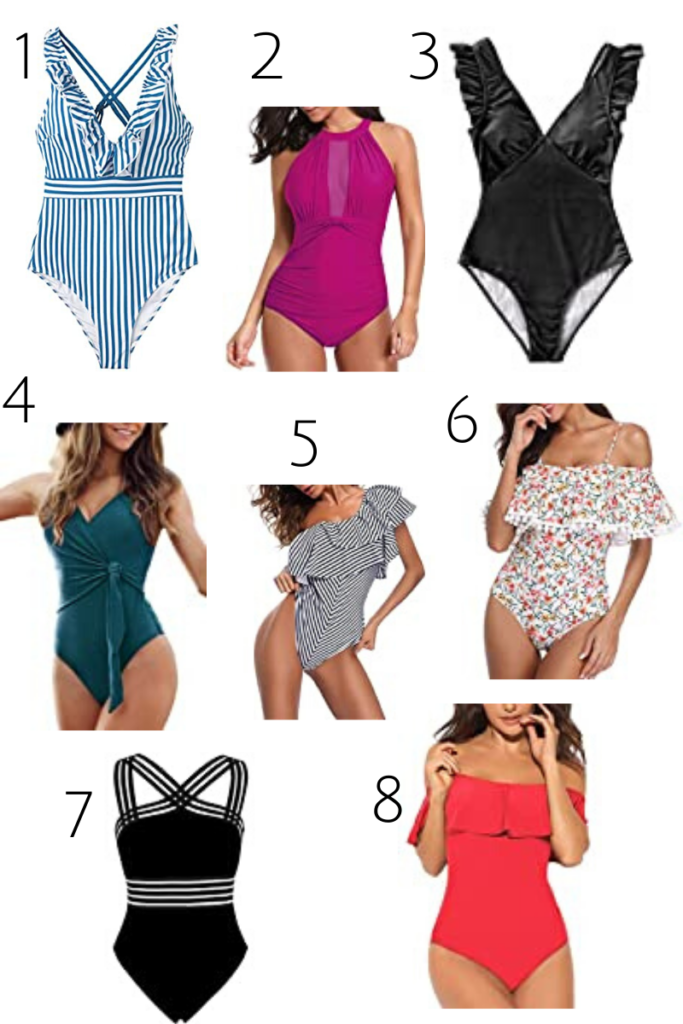 1 // 2 // 3 // 4 // 5 // 6 // 7 // 8 //
A few other great brands…(sorry no pictures, but you can click the links to view them.)
If you haven't yet, you should definitely check out Coral Reef Swimwear.
I am not able to share pictures however here are a few of my favorites.
This TWO-PIECE DUO is adorable!!  The Hello Bombshell top and striped bottoms are just so cute together!!!
I really like it in BASIC BLACK just as much!
If you've never heard of Janela Bay you definitely need to hop over to their shop as well!
There are so many darling suits and a million different combinations of tops and bottoms to put together!
THIS CUTE COMBO is my absolute favorite.
Albionfit is another great place to look for swimsuits for summer.
THIS ONE has the cutest zipper and tie in the back!
And if you are into RASH GUARDS look how adorable this one is!
Last one.
Check out Rad Swim.
I just ordered THIS ONE for myself… only a few sizes left so hurry if you want one!
I thought about getting the peplum version of that suit but decided on this other one because I am going to wear shorts/skirts with it.
And finally…
Don't forget about the cover ups!
Not only do they add some style to your swimwear, but also some coverage and modesty when you need it!
Kimonos are such a pretty statement piece.  They are probably my favorite type of cover up.
Any one of these would be a great coverup but could also be worn over dresses or even jeans and a shirt.

Consider some airy pants, a sarong, or a loose button-down dress as a cover up!
More neutral favorites..

So many great options for swimsuits this season, I hope this helped to inspire you!
Much love,

If you liked this post, you might like THIS one as well!