Best Modest Shorts for Summer…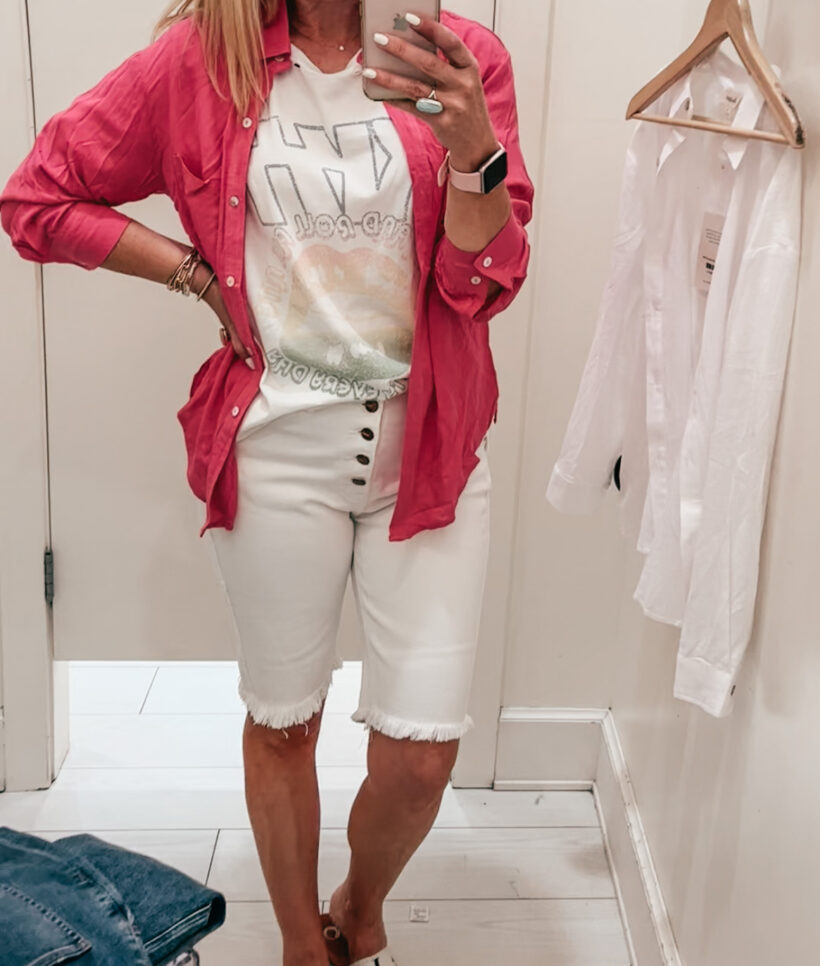 Where to find modest shorts?
The struggle is real! I am a modest girl and prefer a pretty good inseam when it comes to shorts.
I know other women who feel the same, whether they like the look of the longer length or they are not comfortable showing more of their thigh.
Sometimes it can be tricky finding longer shorts that you can wear all summer, but don't worry! I've got you covered today!!
Continue to the end where I've linked a bunch of great options, I know you'll find a pair that you love!
I like to search JCrew, Old Navy, H&M, Bohme, Nordstrom, and HSN when looking for modest shorts.  All you need to do is search "Bermuda shorts" on those sights and you will find some gems. 
Today, I am sharing my favorite pair that I just picked up from Bohme.
Why do I love Bohme?
Let me count the ways! There are so many cute pieces and I always seem to find modest options there, whether it be dresses, skirts, or shorts.
You will never have trouble finding something that you love that is on-trend and adorable.
I fell in love with this brick-colored top and white shorts combo… you will be seeing me in this a lot this summer!
These shorts are awesome!  They are not see-through, they have functional pockets, exposed buttons, and the cutest raw hem.
They come in dark wash and light wash options of denim if you prefer.
I am in a size 29.
Small in the top.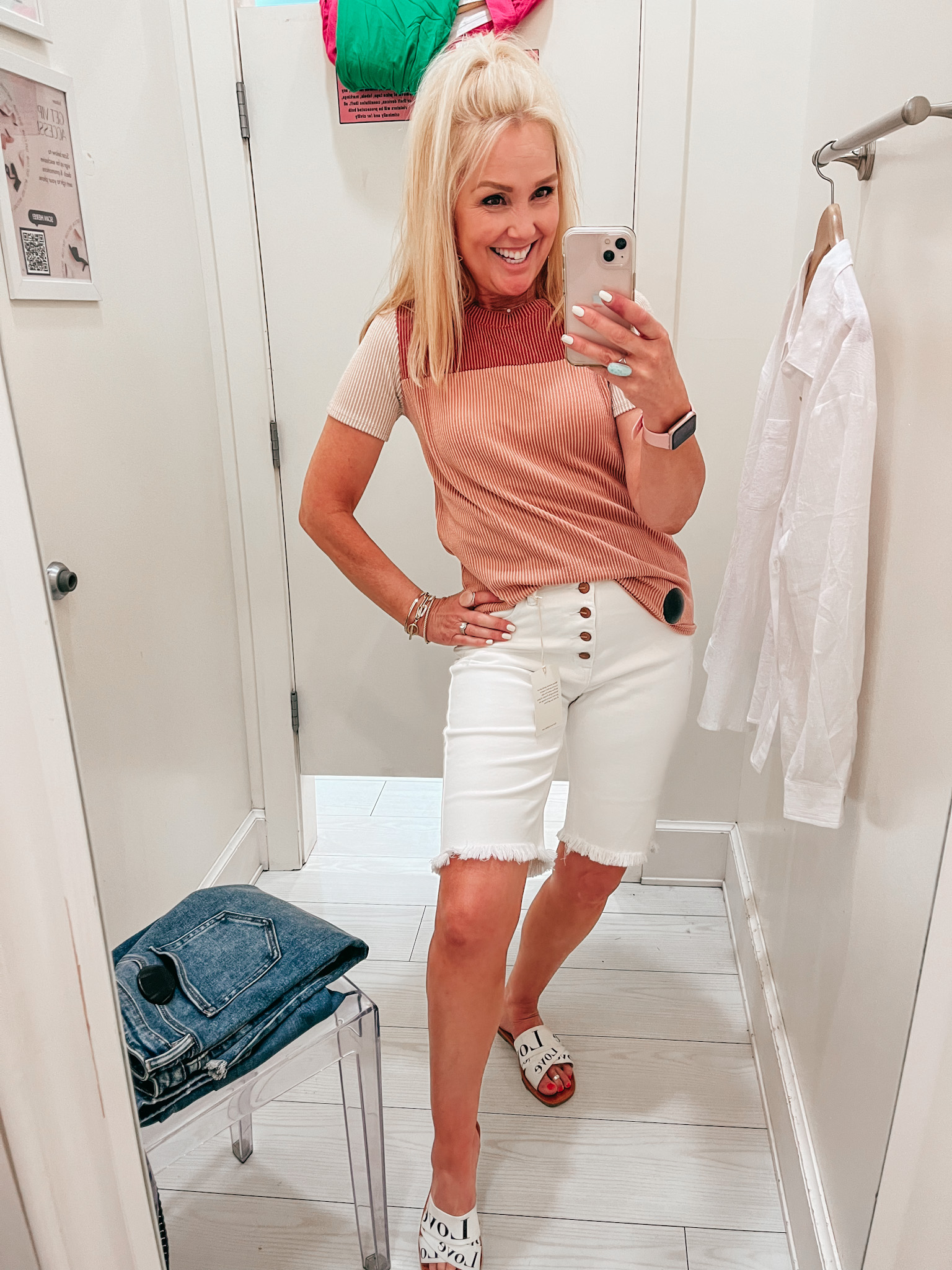 Tap on the photos below to see the other colors.

The possibilities are endless with these shorts!
This oversized KISS t-shirt was adorable with them! It does have a little distressing up around the neckline that you need to know about.
But it was nice and long and would be super cute over spandex shorts or tied in a knot over jeans or skirts.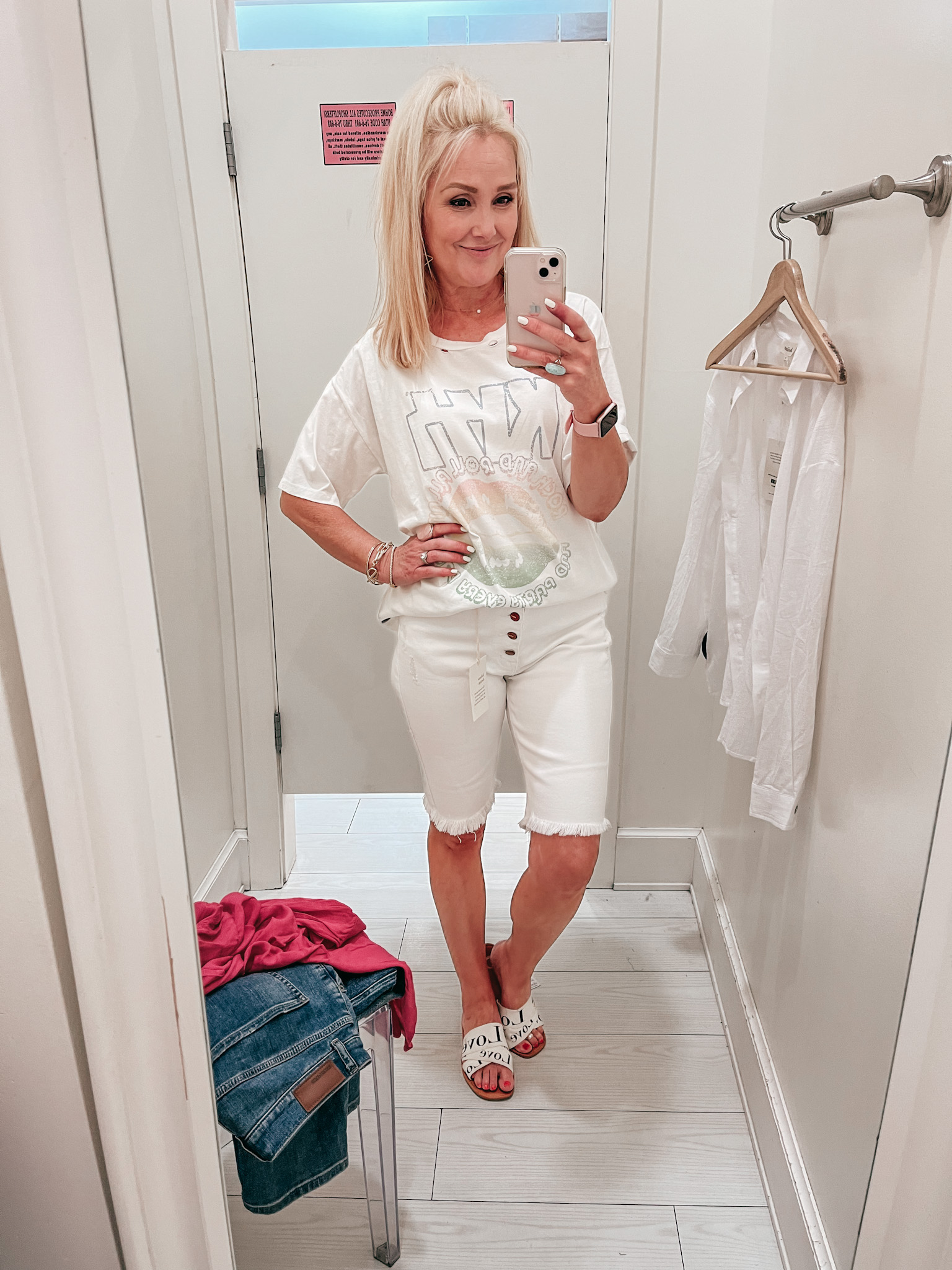 I threw on this pink button-down that the sales girl picked out for me which is something that I would not usually pick out myself. But I think it's cute!
A very similar WHITE OPTION came home with me to wear over swimsuits or knotted over jeans or skirts.  You can see it hanging there on the bar.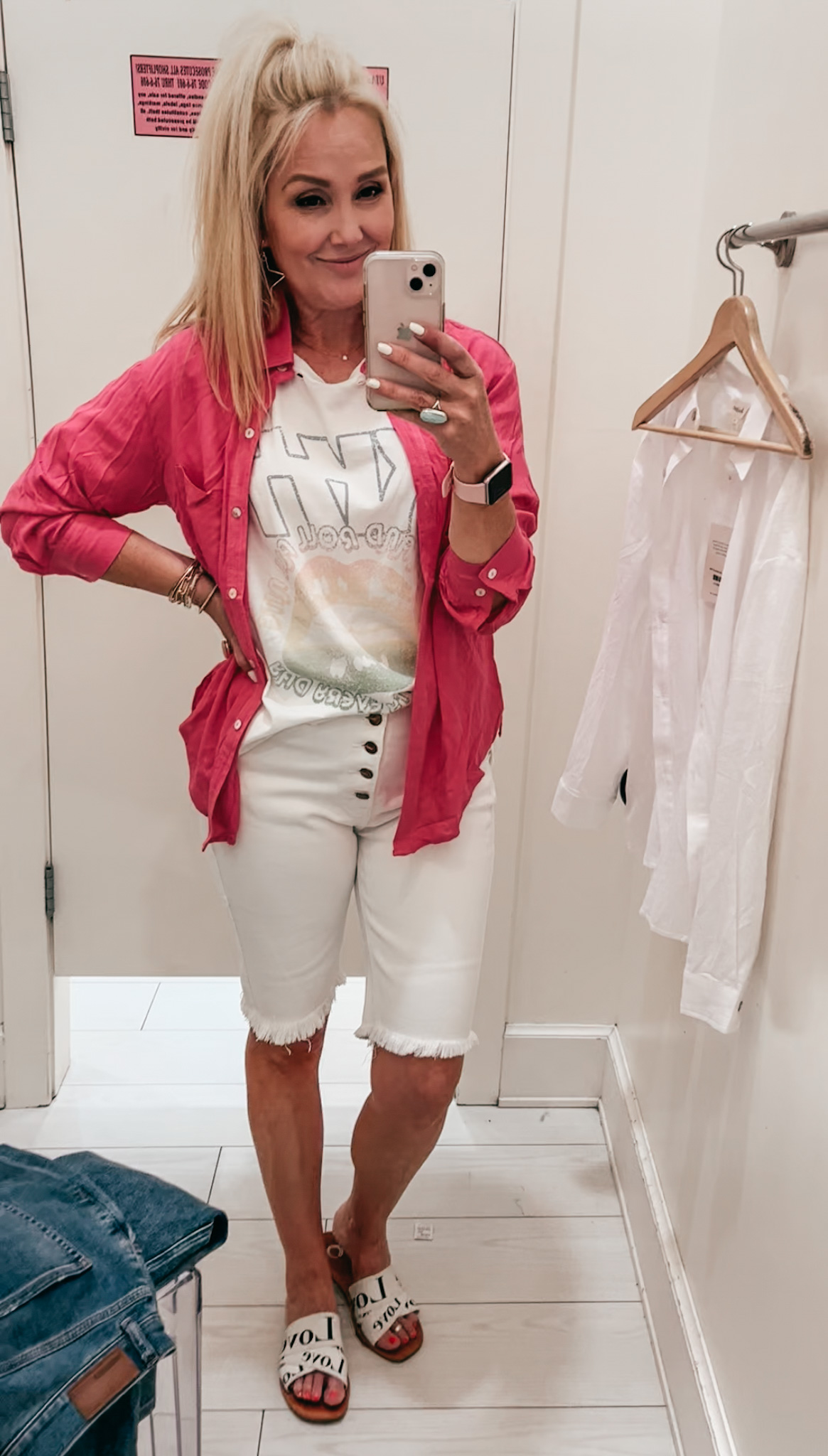 I bought the white shorts and the same ones in a darker denim color only because the light wash was sold out in the store. I really wanted the light wash pair. But they are still available online.

This brings me to a good point: YOU GUYS!!! If you love these, grab them!! They always sell out. Always.
I have had good success with HSN, too!
These cute shorts fit nicely and again I am digging the raw hem on shorts lately! I have them cuffed here so they are even longer if you left them down. They are a pull-on style with no buttons and good stretch.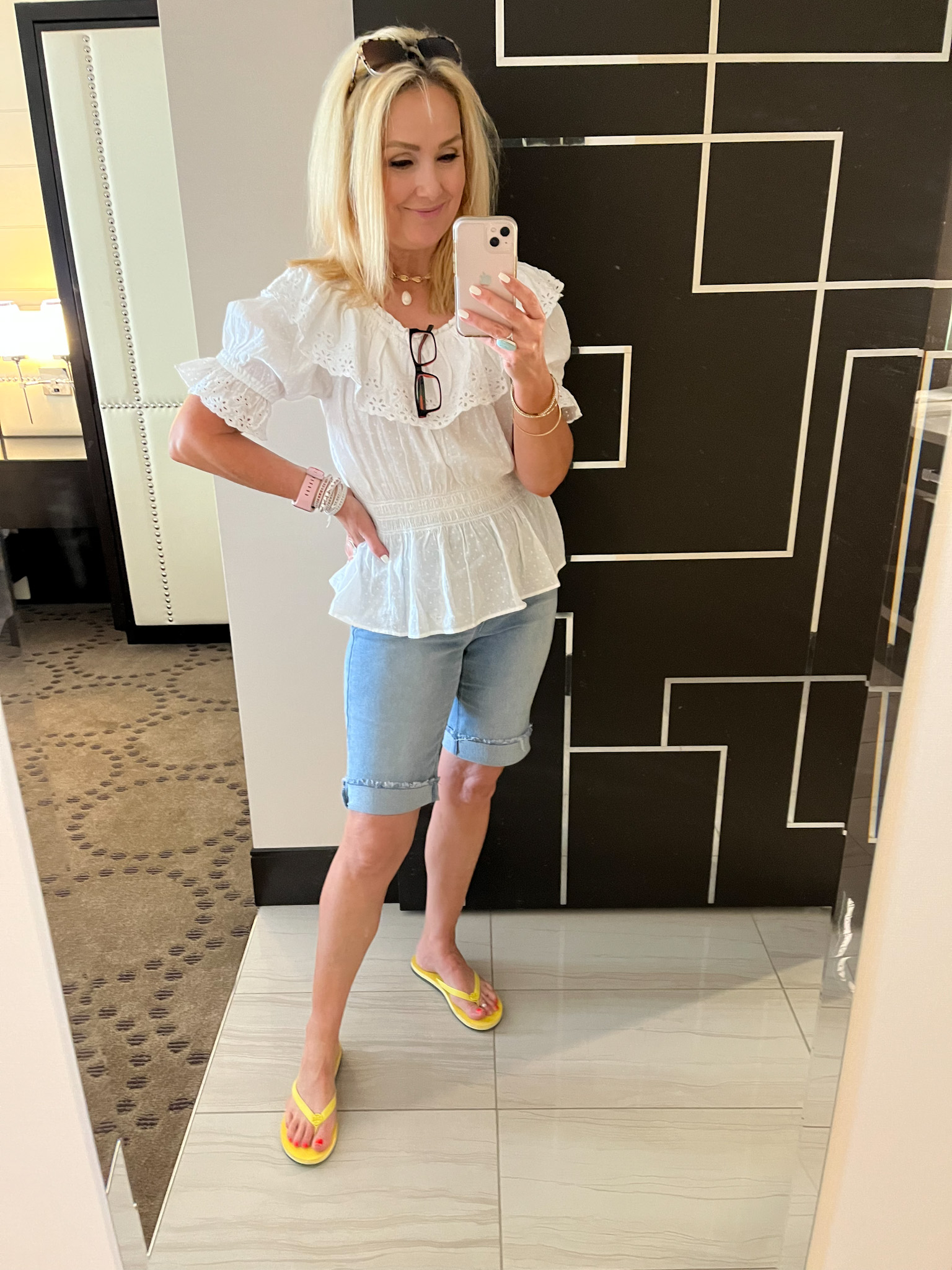 shorts  |  top  |  flip flops – similar   |  sunglasses
Here is a look at them uncuffed.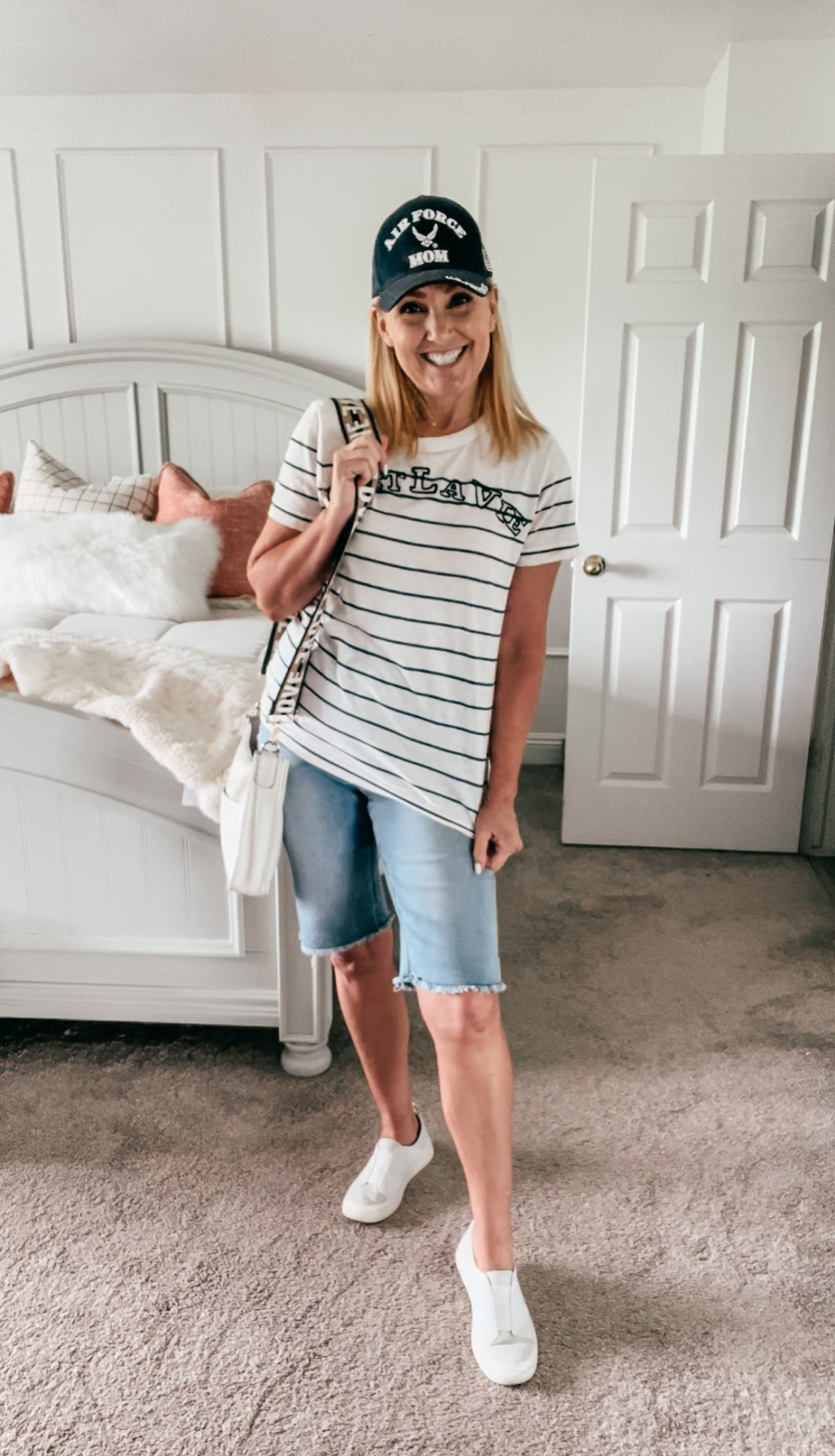 shorts  |  t-shirt  |  pull-on sneakers  |  bag  |  similar hat
Then, if all else fails, there is the option of cutting off your old jeans to make them the length that you would like.  I did that with his pair. They were an old, low-rise pair of jeans that I was going to donate but decided to make into shorts for camping.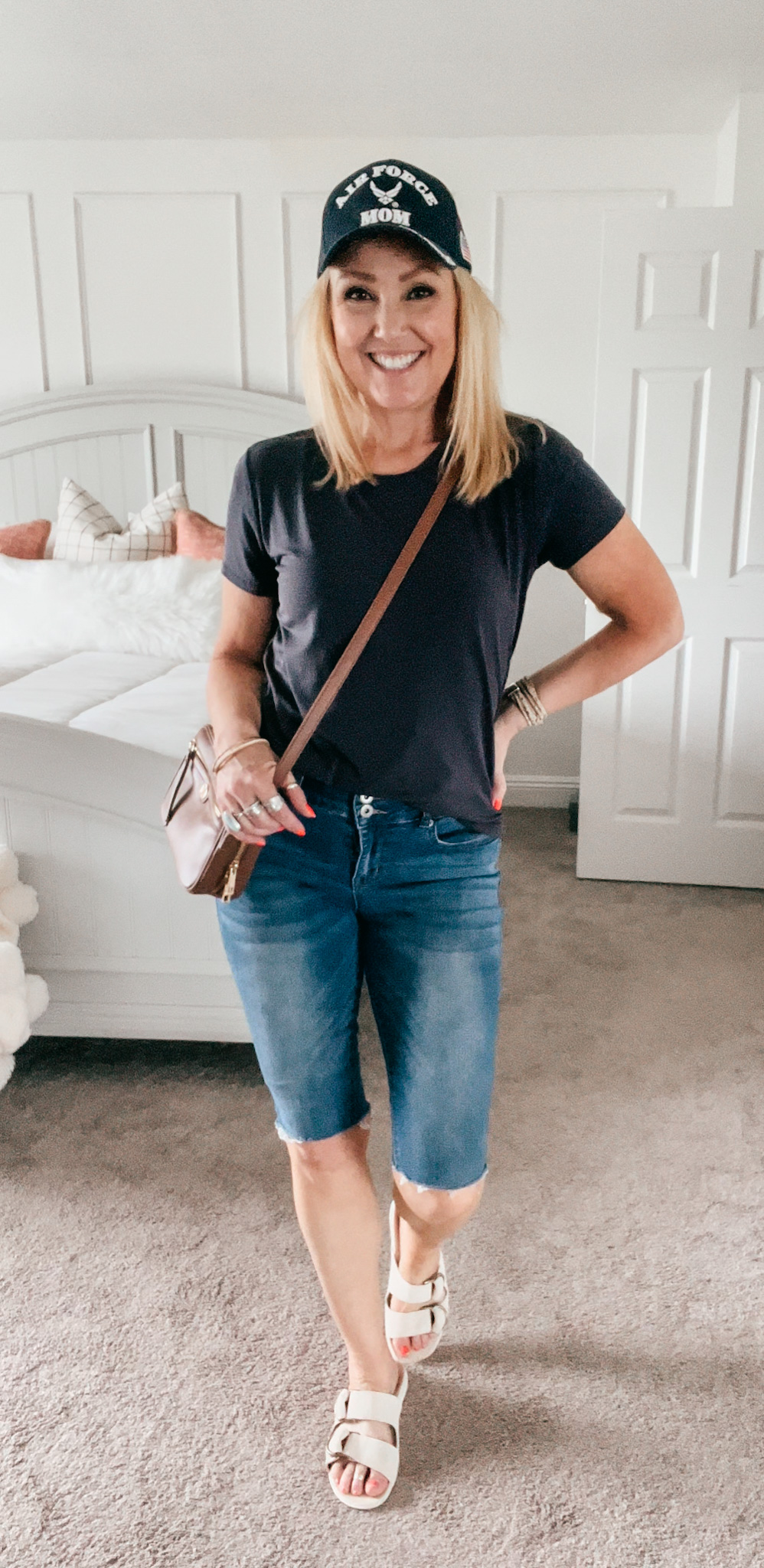 sandals with arch support |  bag 
Here is a good round-up of more modest shorts for summer.
Click on any photo to shop.


I hope this has given you hope that there are modest shorts out there!! Don't fret!
And let me know where you find yours!
Thank you so much for being here, I appreciate you stopping by my blog!!
You can also find me on Instagram, Facebook, Pinterest, and YouTube.