6 WAYS TO WEAR A CARDIGAN…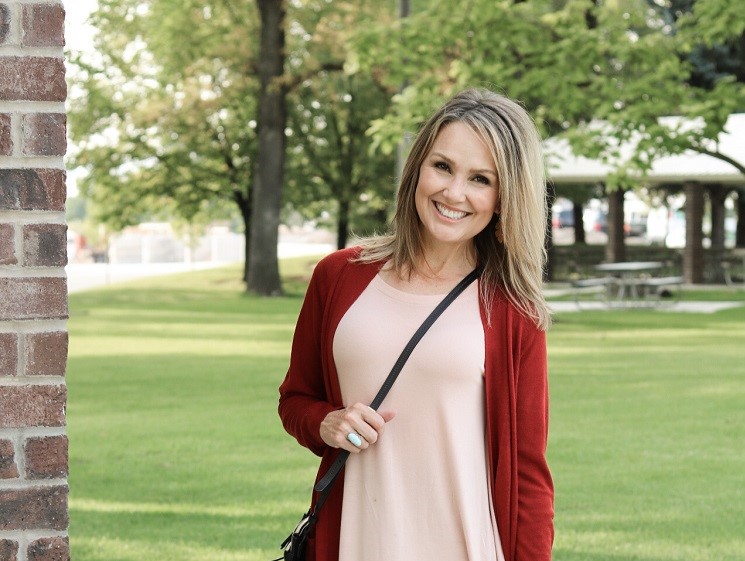 Hello friends!
Today I am going to share 6 ways to wear a cardigan.
If you need a good reason to have a cardigan, you know the "third piece" rule, right?
It's not a rule… but getting yourself dressed with a third piece adds that extra SOMETHING to any outfit!
Your pants and top are the first and second pieces and your third piece can be a cardigan, blazer, jacket, vest, scarf, or any statement accessory.
Try it next time you're getting dressed and see the difference.
The cardigan I will be wearing in all of these photos is THIS ONE from Target.
It is a very lightweight and perfect for all the layering that happens in Fall!
I chose the red color because I love the rich tones and thought it would work well into the Christmas season.
Look #1
Throw it over joggers for all those casual Fall days when you are sitting around the house, running errands, or driving up the canyon to check out the changing leaves.
It's the perfect third piece to take the chill off while still adding a bit of interest.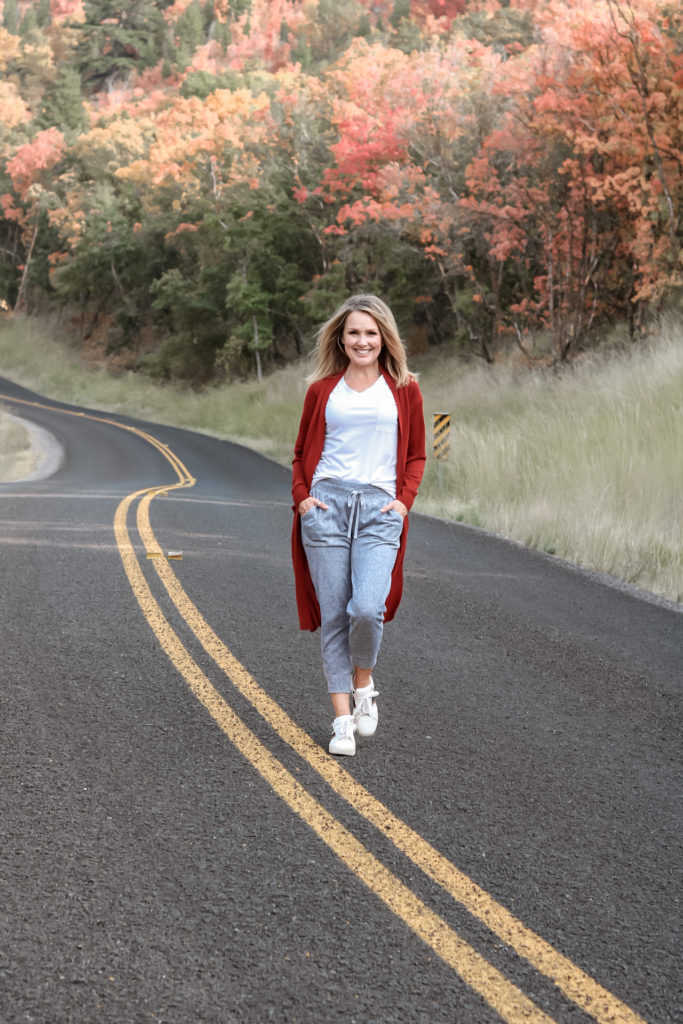 CARDIGAN // WHITE TEE // JOGGERS // SHOES
Look #2
I love the look of animal print with this pretty red color so you might just see it again! 😉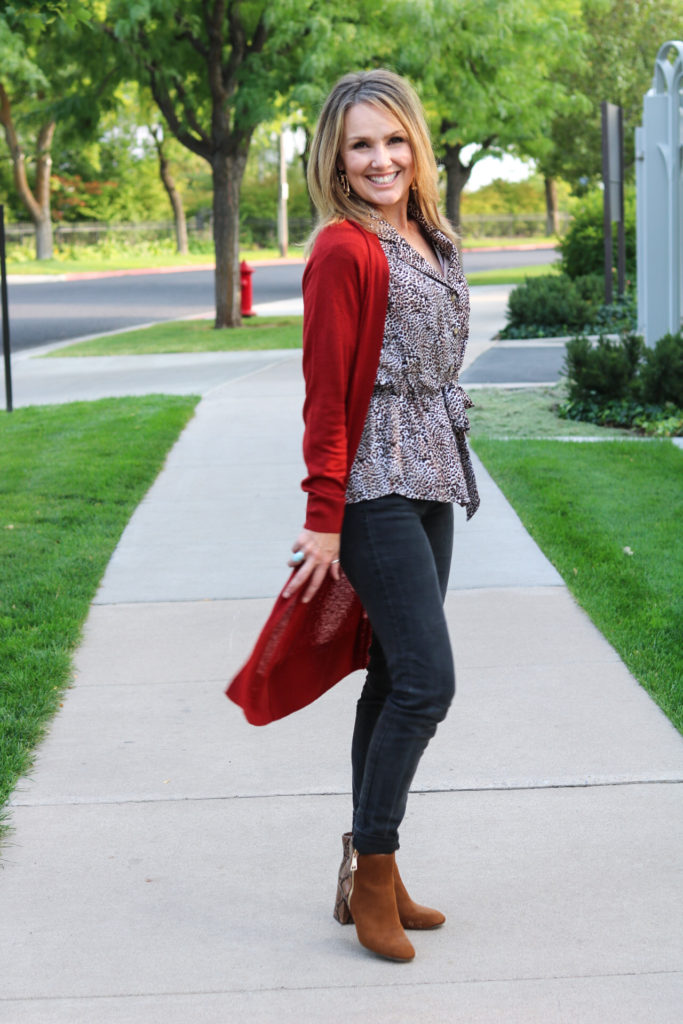 CARDIGAN // SIMILAR TOP // JEANS // BOOTS
Look #3
You could wear a monochrome outfit and the cardigan would be the icing on the cake!
An all-white outfit or an all-black outfit would be really pretty.
Here I chose to add a little stripe because it happened to blend so beautifully.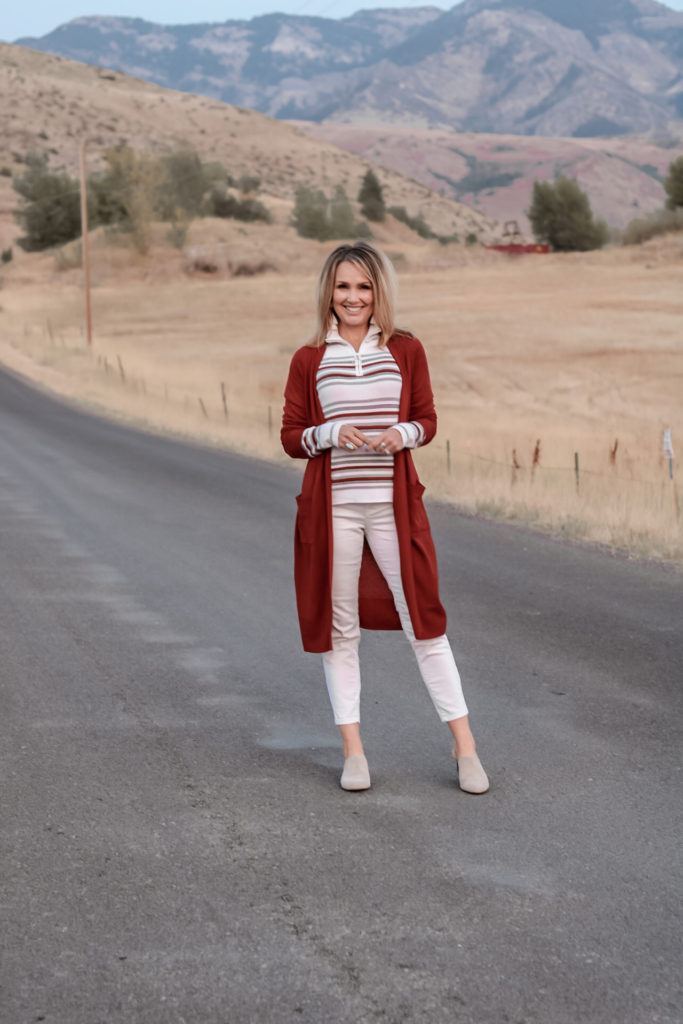 CARDIGAN // SWEATER // SIMILAR JEANS // SHOES
Look #4
Of course, the ever-popular blue jeans is a no brainer!
And since they go with practically everything, just add a basic black t-shirt and leopard mules!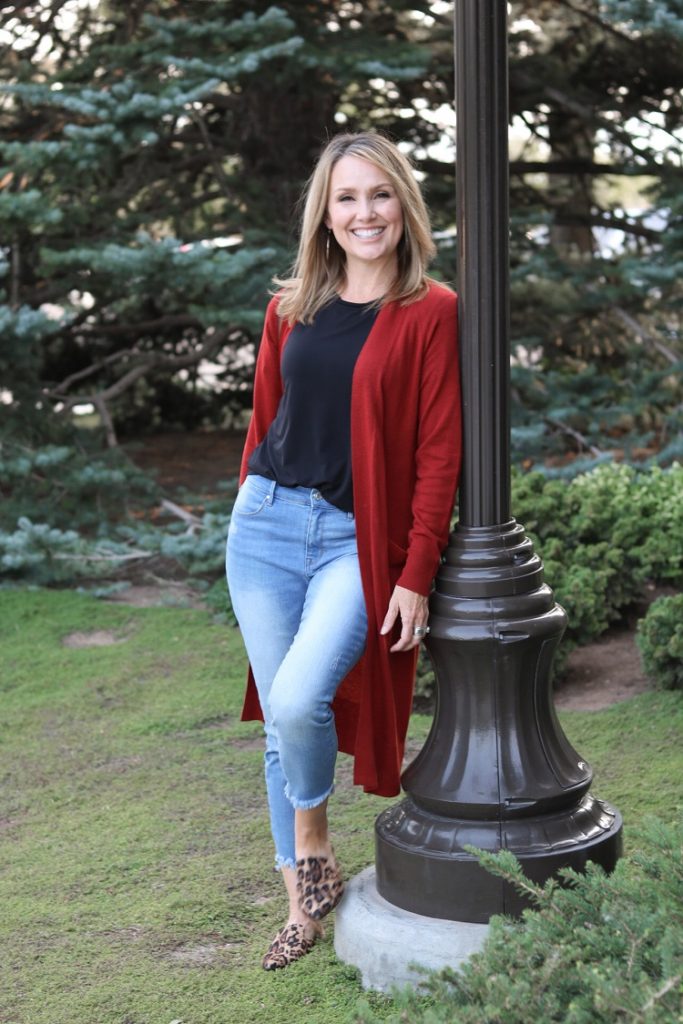 CARDIGAN // CREW NECK TEE // JEANS // MULES
Look #5
This is probably my favorite way to wear a cardigan because I love how the long lines of the swing dress look with the cardigan!
Wear it along if you'd like but it works well over leggings too.
I thought the peachy color was kind of a nice accent to the red.
Another super comfortable Fall outfit!
Throw on a pair of heels to elevate the look or sneakers to keep it casual.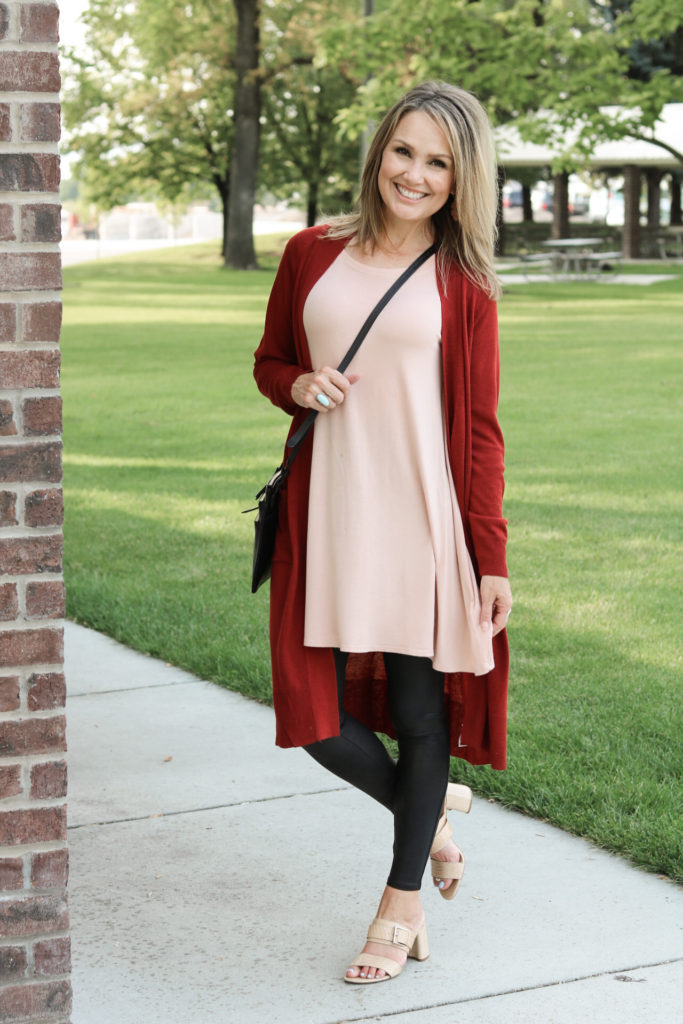 CARDIGAN // SIMILAR DRESS // LEGGINGS // SIMILAR SHOES
Look #6
Finally, a dress! Any dress in a solid color, a print, or again LEOPARD(!) is a great combination when paired with this cardigan!
If you wear a solid color dress, be sure to add interest with colorful shoes or accessories to take it up a notch.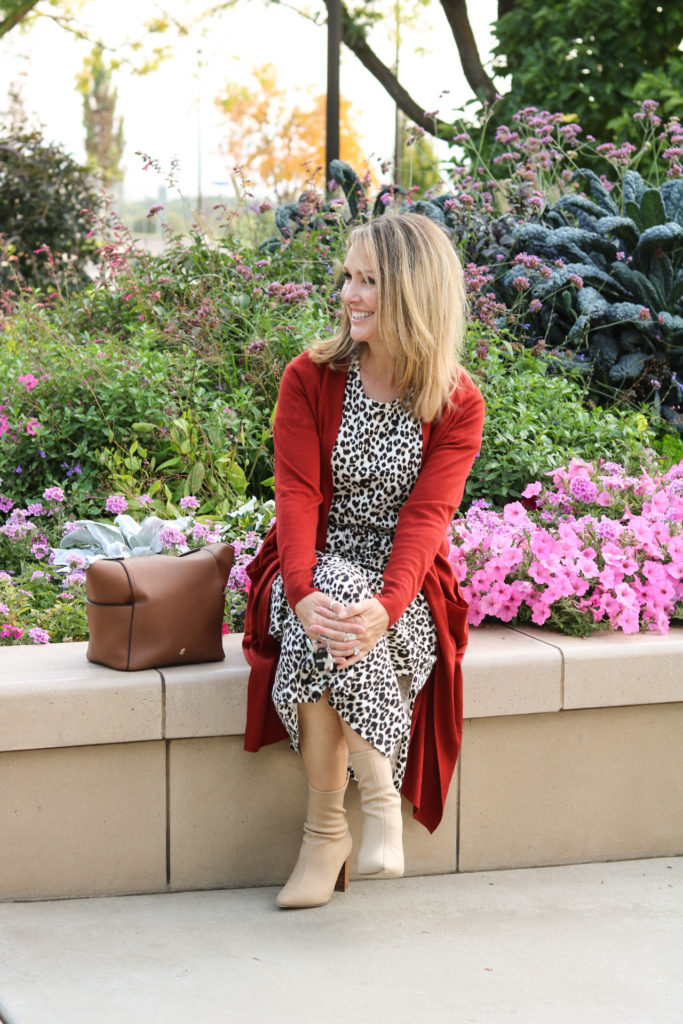 CARDIGAN // SIMILAR DRESS // SIMILAR BOOTS
That's it for this edition of 6 Ways To Style a Cardigan.
I'm pretty sure there are a gazillion OTHER ways to wear it too!!
If you didn't know, I am also on Facebook, Pinterest, and Instagram!
I'd love to have you find me there!
Love love love…

If you liked this post you might also like THIS ONE.