7 Days of Teacher Clothes – Day 5…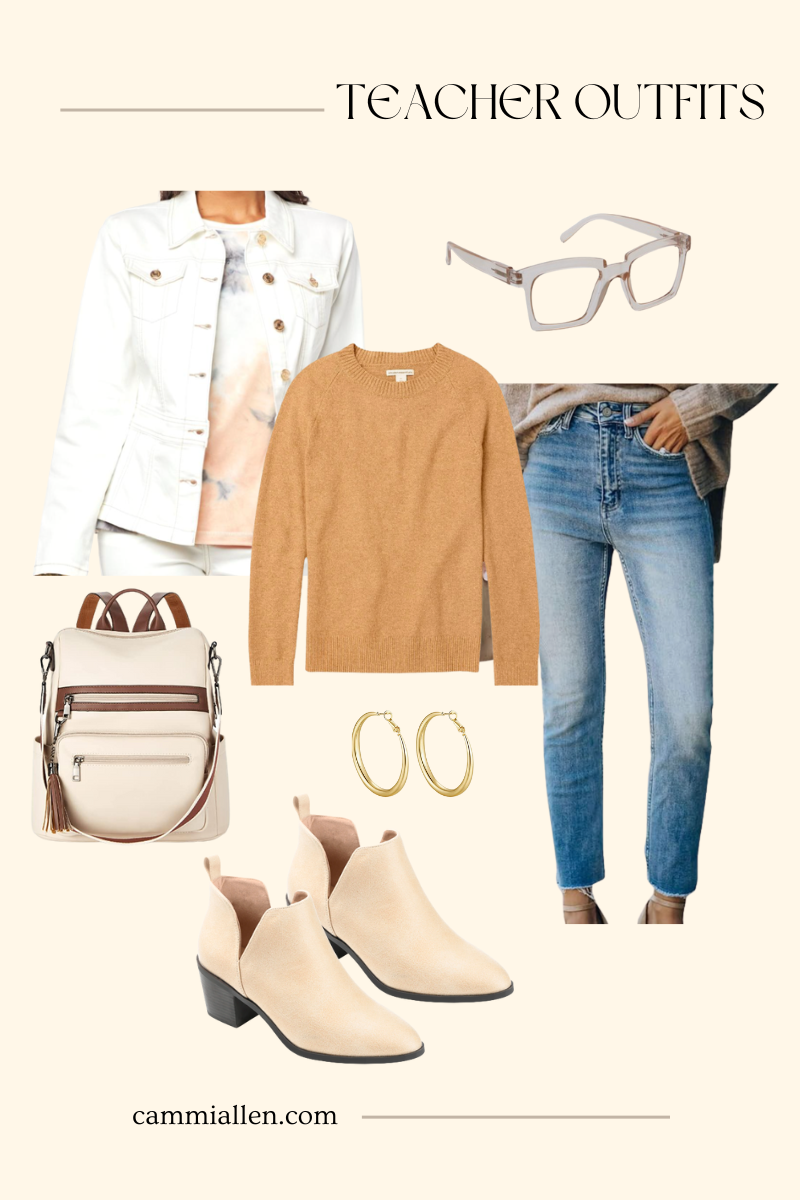 Hey there! If you're new here, I am sharing 7 days of teacher clothes and outfits that are easy to copy with items in your closet. But if you're in the market for something new, they are also available to purchase.  Today is a simple jeans and sweater combo topped off with a lightweight denim jacket.
Teacher clothes Day 5
Go to your closet and pull out your favorite pair of jeans.  In the photo below, I am wearing a baby flare. It's a subtle flare, not anything crazy. They are a high rise, soft denim flare with nice stretch for a comfortable fit.
I paired the jeans with a lightweight crew neck sweater in a camel heather color but it comes in TONS of other colors.
My outfit is topped with a GREAT lightweight denim jacket in white that also comes in light blue, dark blue, gray, and black.  I have HUGE love for this jacket!! I don't know if you can see the cool brown stitching, but it's there and it's COOL! Another really awesome feature is that it has more of a peplum fit instead of the traditional boxy denim jacket.  So, it's super flattering!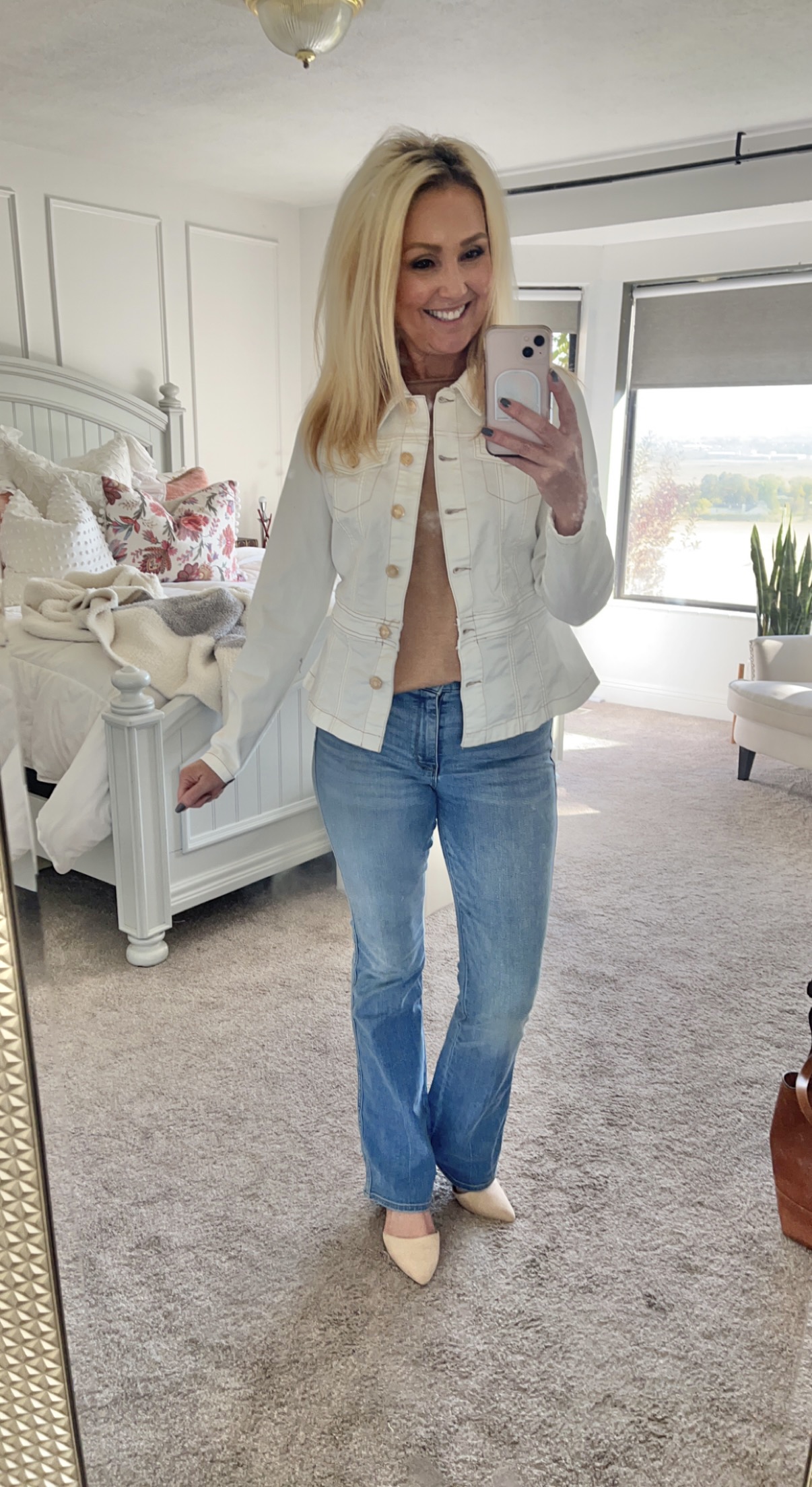 jeans  |  sweater  |  jacket  |  similar shoes
Here's another example of some great teacher clothes below.
This particular pair of jeans below has a bit more "flare" but still very classy and super flattering because they really hold you in!
I paired them with a darling Fair Aisle sweater!
Throw another white denim or light denim jacket over the top if it fits, as this is a little thicker sweater.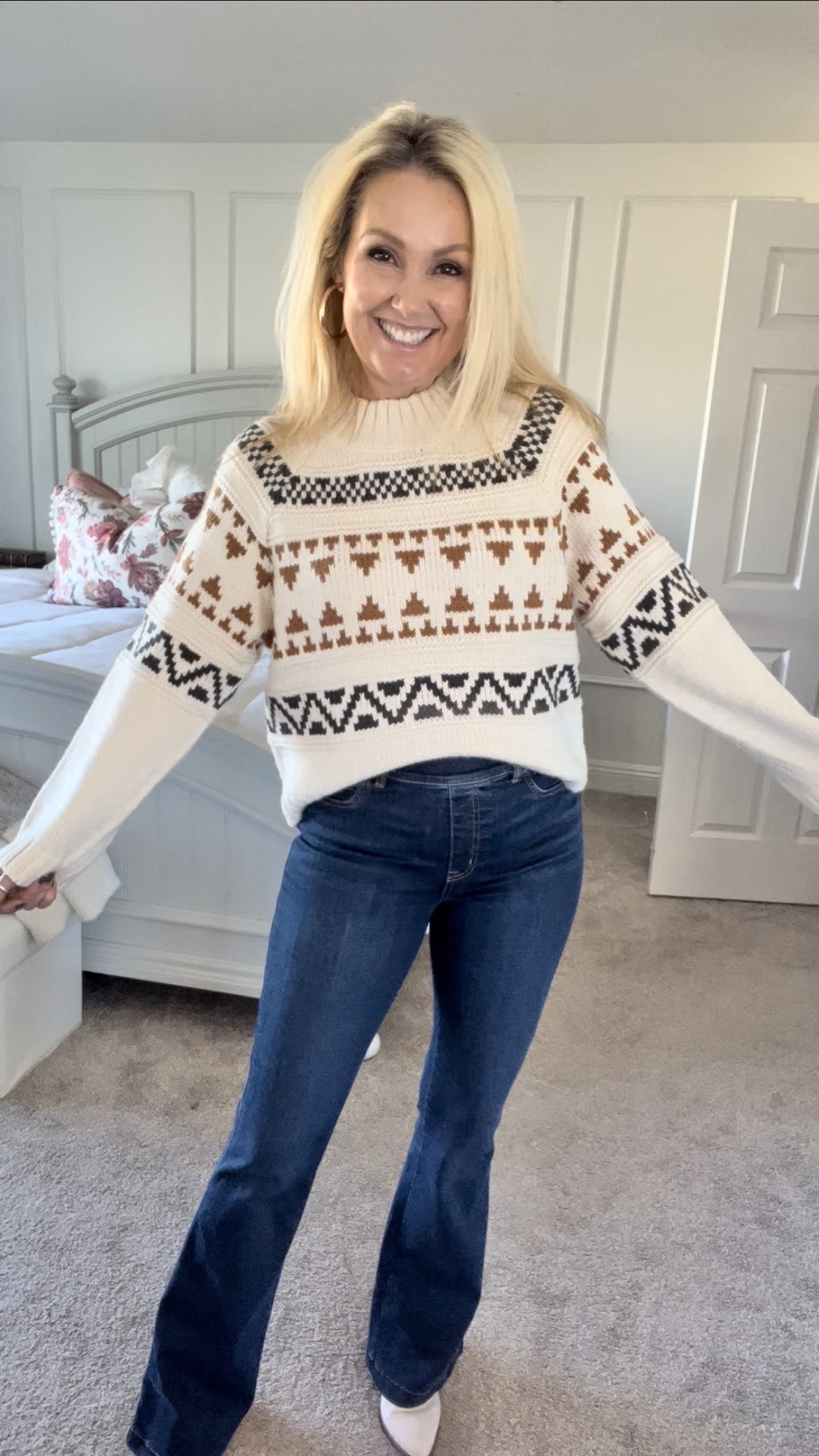 jeans  |  fair aisle sweater  |  booties
One more idea!
This short sleeve sweater is sooo soft! I can't say enough about it.  I love the buttons and the sleeves.
I love the look of the lighter wash jeans here with the pretty cream colored sweater. These jeans don't have as much stretch if that's important to you.
Don't forget to throw THIS darling peplum denim jacket over it!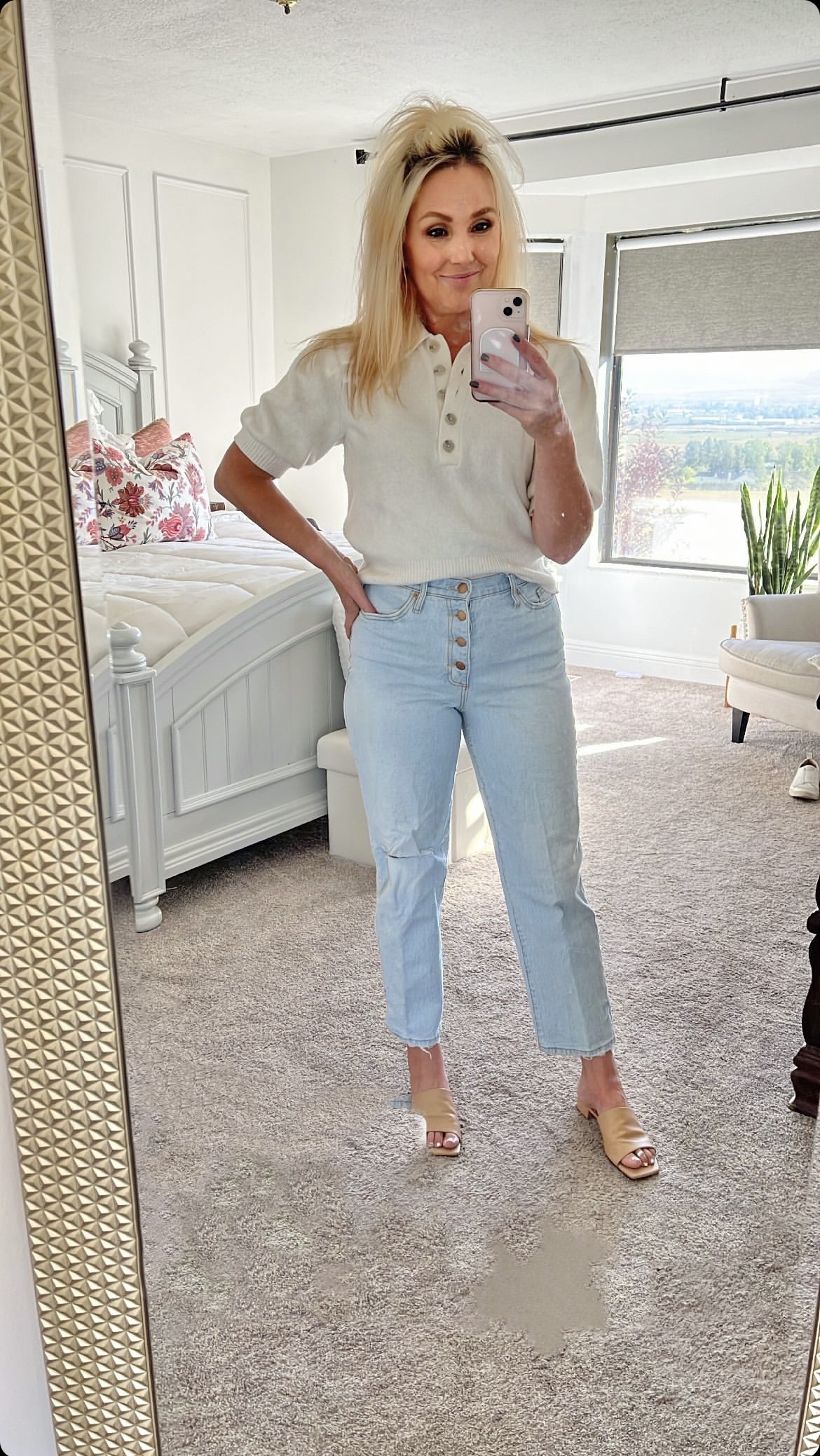 jeans  |  sweater  |  similar shoes
One last idea
Here is a similar idea of inexpensive teacher clothes.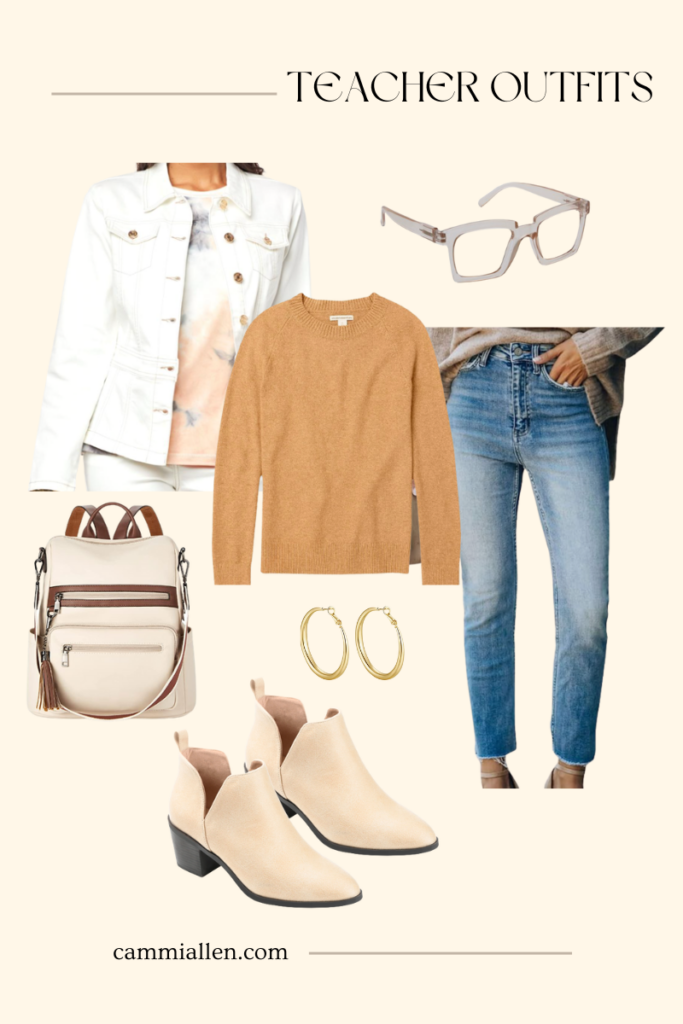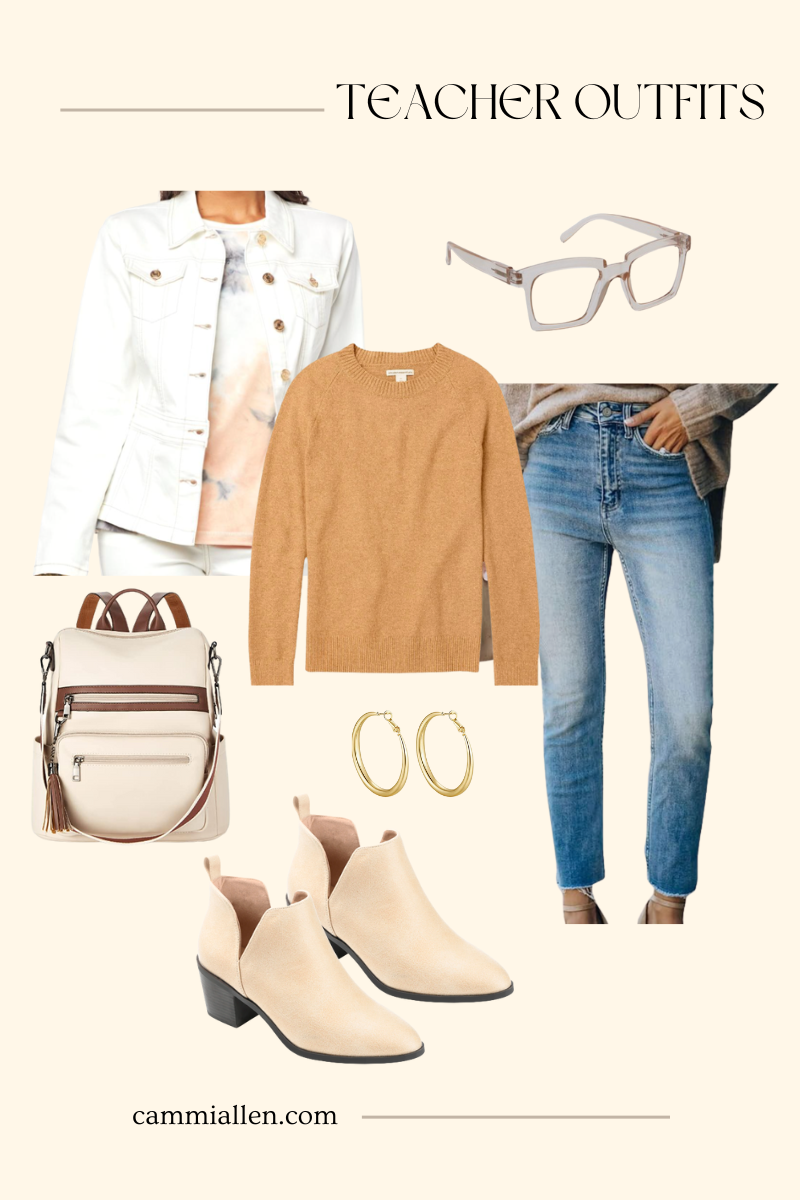 jeans  |  sweater  |  jacket  |  booties  |  backpack  |  earrings  |  bluelight glasses 
That's it!
Be sure to watch for Day 6 coming soon!
Check out Day 4 HERE.
Thank you so much for being here, I appreciate you stopping by my blog!!
You can also find me on Instagram, Facebook, Pinterest, and YouTube.
If you would like to be notified every time a new blog post goes live, please enter your email and click the "subscribe" button in the sidebar above!