7 Days of Teacher Outfits – Day 4…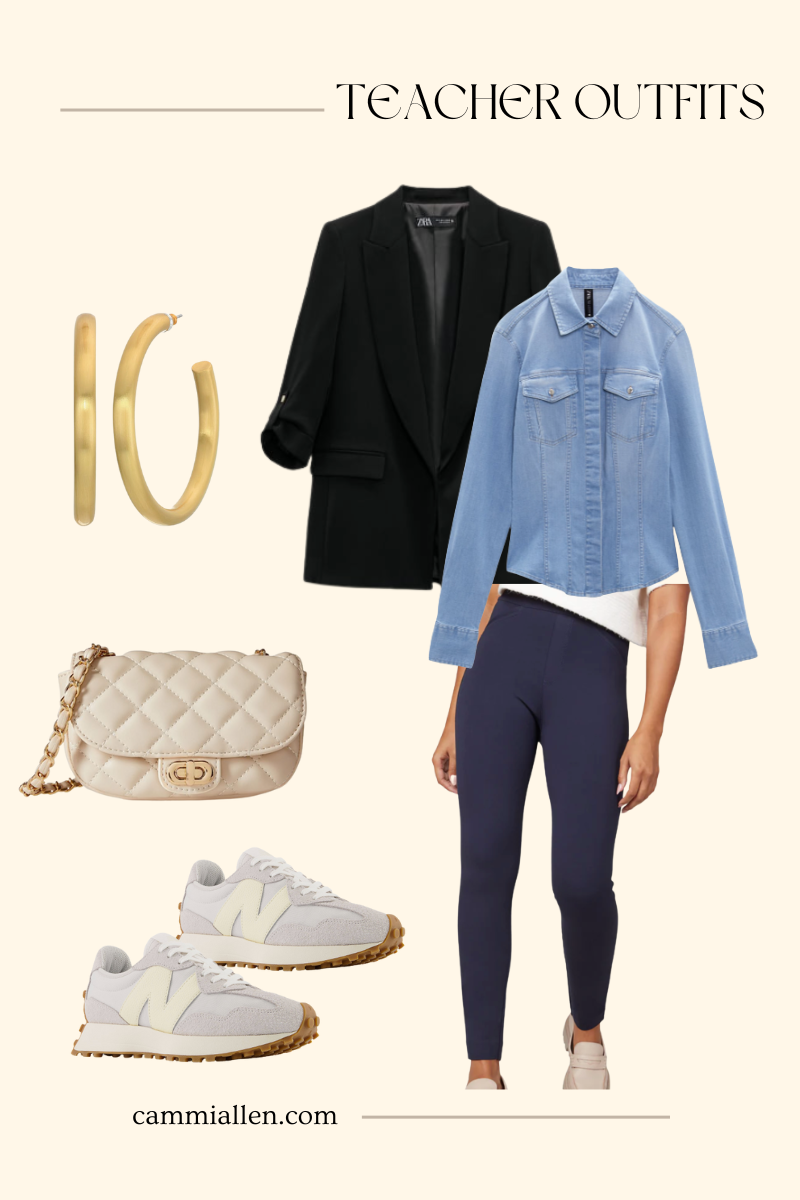 As we continue our series on teacher outfits, today's outfit is a template that you can simply plug in and create a great look that's all your own.  Here's the formula:
Black blazer + black pants + contrasting top + sneakers.  These are staples that make great teacher outfits!
How to make it your own:
Whatever color of blazer you have, see if you can match your pants to it.  If you have a beige blazer, do you have a pair of beige linen pants? Or maybe some beige cargos? If you have a navy blazer, do you have a pair of navy joggers? Or even dark wash jeans? Do you see where I'm going here?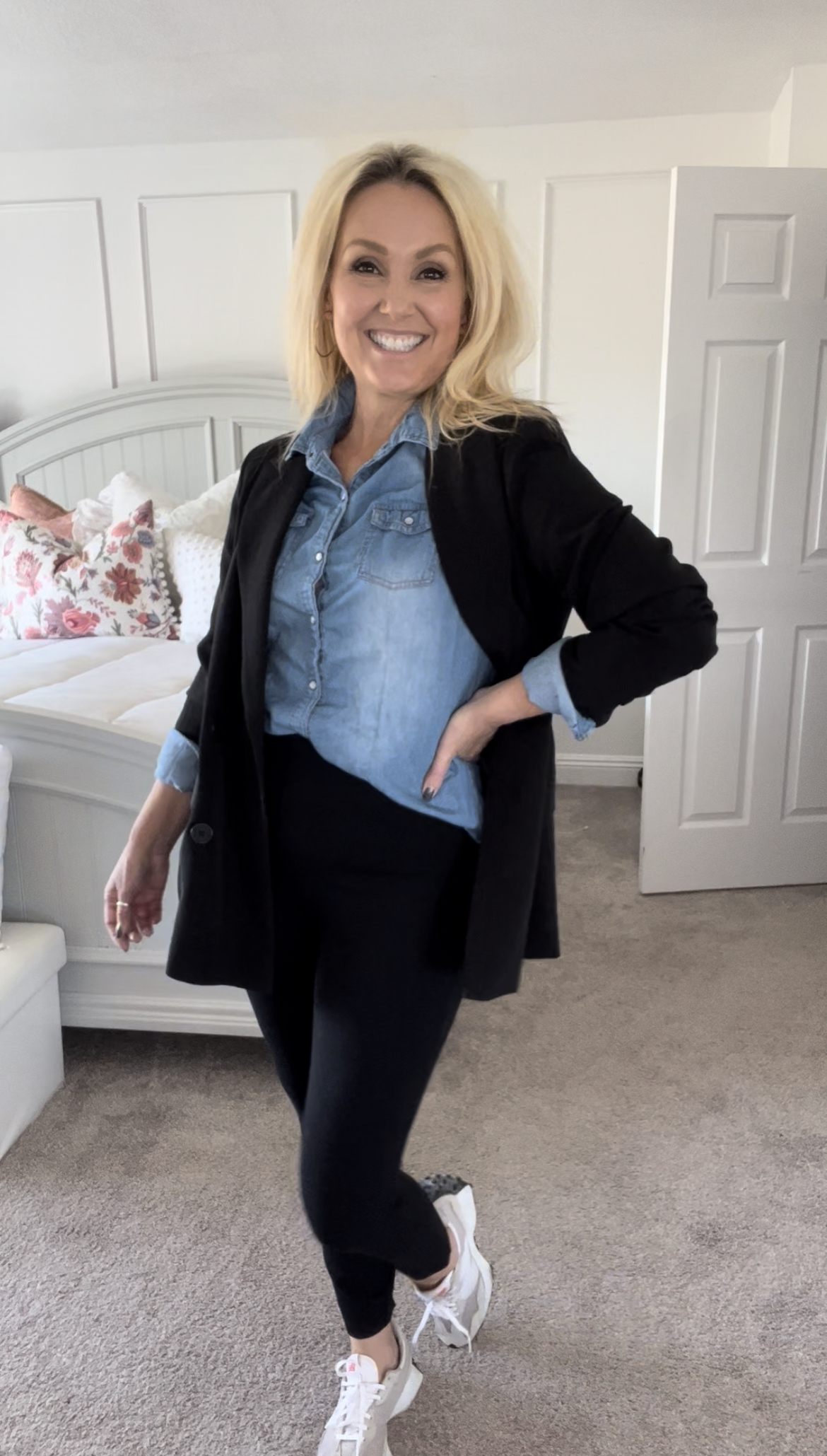 Then simply add a blouse, top, or tee in a contrasting color to wear underneath the blazer.  Be as bold or as subtle as you'd like and then throw on some nice sneakers!
How fun is that?
Now, if you're a teacher, you will appreciate the comfort of sneakers while also appreciating the classiness of the blazer.  You might notice I have a little bit of an infatuation with blazers lately.  They are such a great third piece! Think parent-teacher conference. If you need to expand your wardrobe by adding a blazer, THIS ONE is a good one to try.  It has a great cut, comes in many colors, and fits true to size. And blazers will not be going out of style anytime soon, so it's a safe purchase for more than just a teacher outfit.
My outfit:
My exact blazer is sold out but there are many identical boyfriend blazers that would be perfect as teacher clothes. Here's a great one!
The pants that I'm wearing are the Perfect Pants Ankle Skinny Backseam pants from Spanx.  They have the cutest little notch by the ankle where the seam ends in the back. You'll definitely want to size up because they do run small. Now, they might seem a little pricey, but they are a classic pant that is very well-made.  The quality is impeccable!! They are SO worth it and I highly recommend them!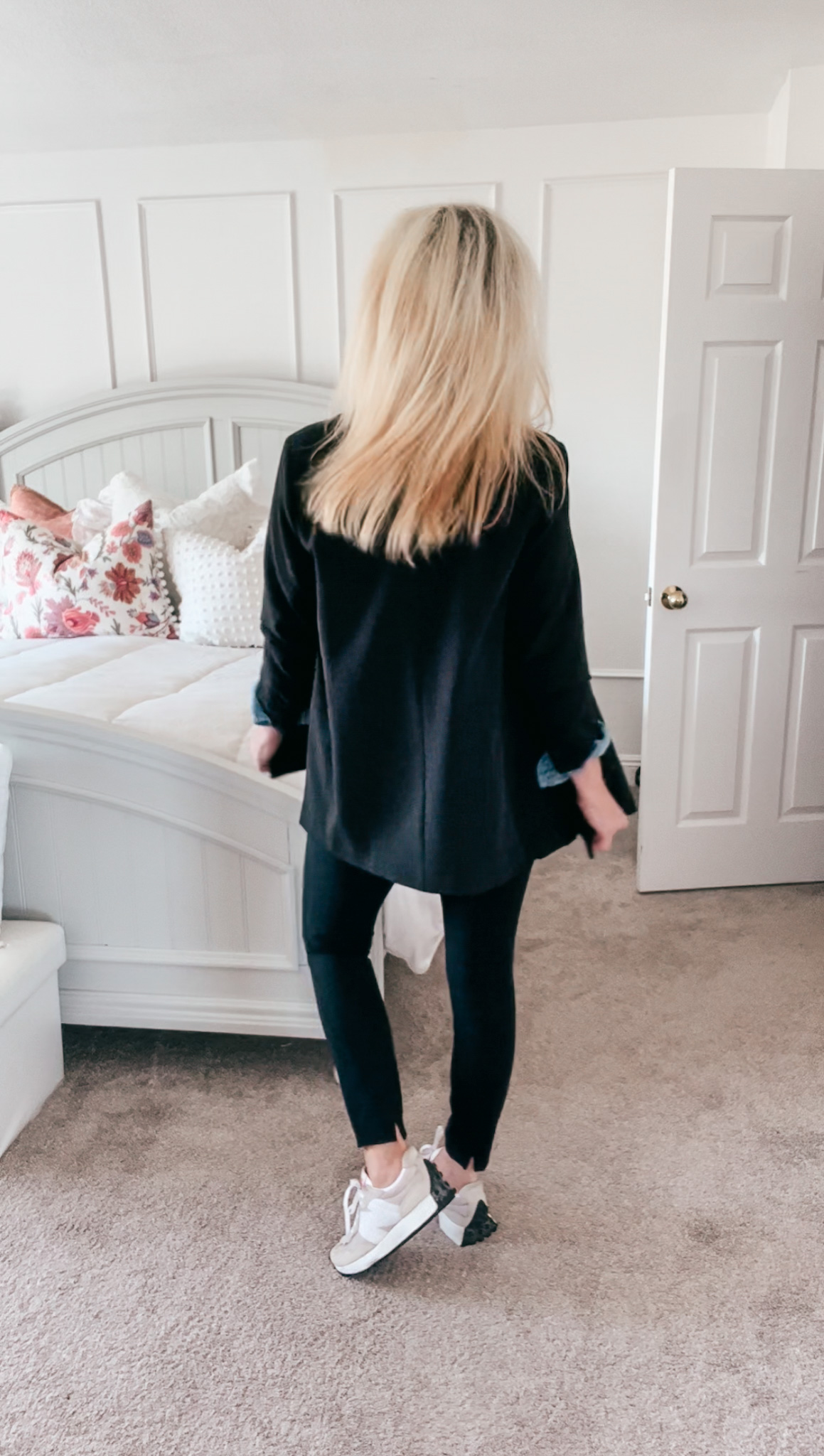 Here are a few other great black pants if you want a different silhouette.
My top is a denim top, they are available just about everywhere.
My sneakers are FABULOUS, not to beat around the bush. 😉 You will definitely want them in more than one color.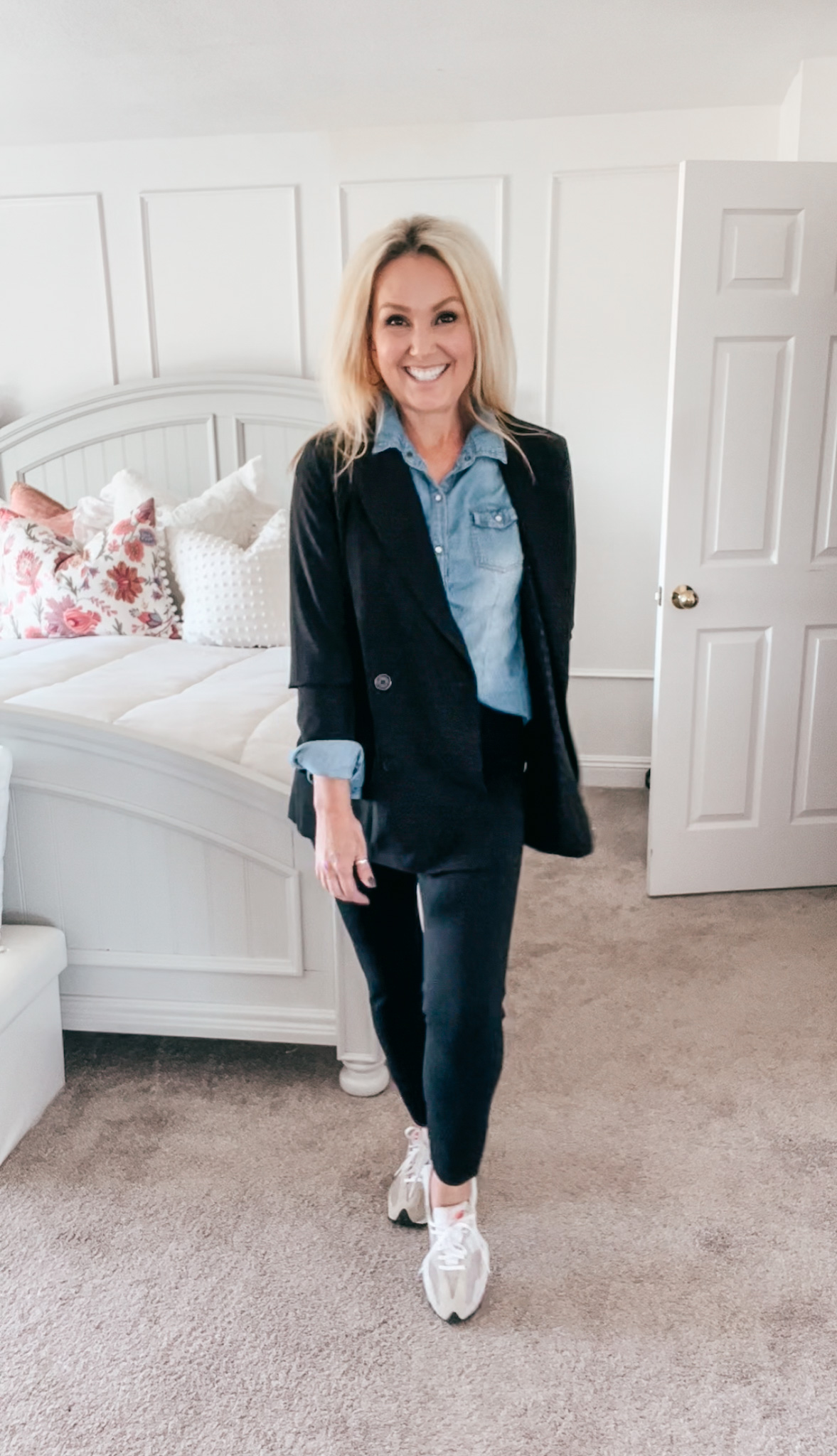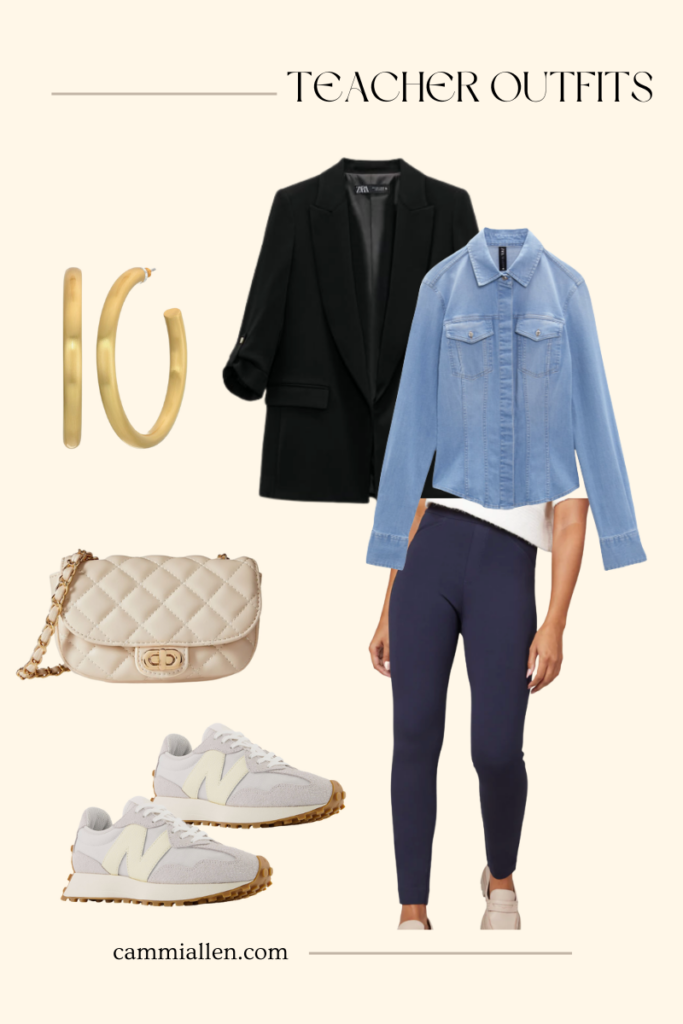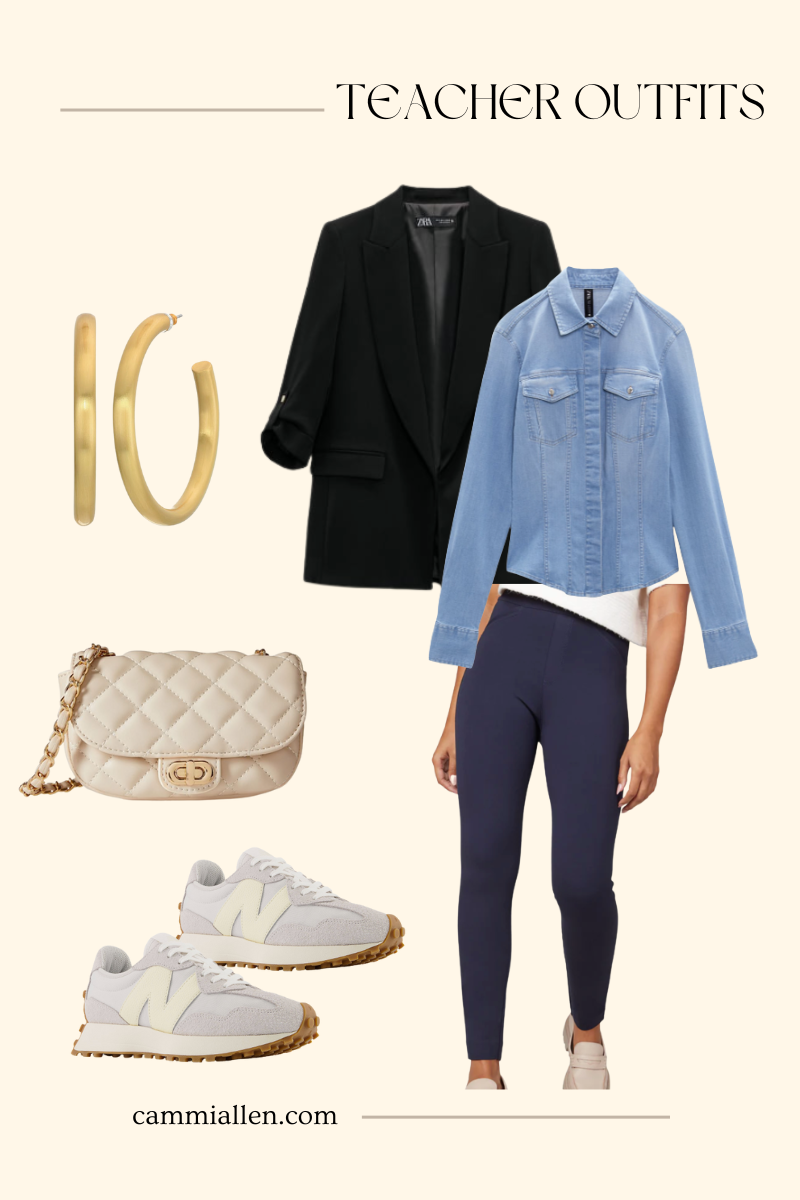 black pants  |  blazer  |  shoes  |  denim shirt  |  bag  |  earrings 
I hope you try this!
Meanwhile, if you missed the previous posts in this series of teacher outftis, click on the following:
And be sure to check back for Day 5!
Thank you so much for being here, I appreciate you stopping by my blog!!
You can also find me on Instagram, Facebook, Pinterest, and YouTube.