HOW TO HANG SHEERS… BEFORE AND AFTER…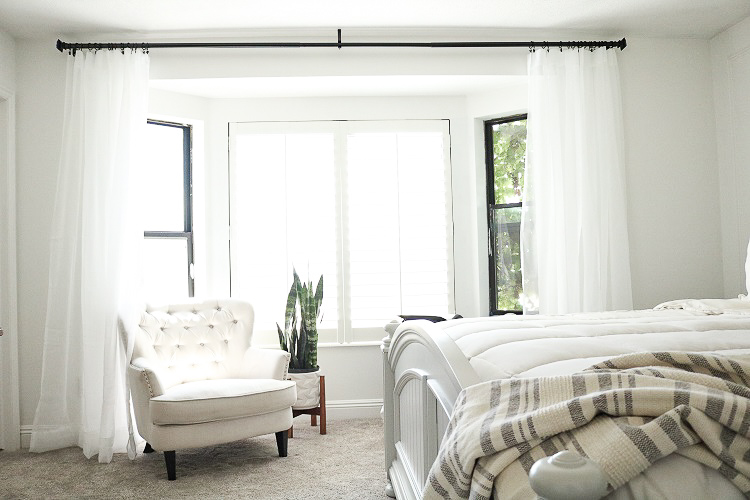 The bedroom makeover continues!
Today I'm going to share how to hang sheers on a window.
But why listen to me?
I've never done it before.
I'm no interior designer.
In fact, in all the 22 years we've lived in this house, I've never hung any window treatments except for one time years ago.
And it had my interior designer neighbor laughing her head off. 😉
But just recently, after finishing the master bedroom wall of millwork, I knew I wanted the finishing touch of some light, airy, and feminine sheers.
So I did my research and I'm here to share with you everything I learned about hanging sheers.
If you haven't seen the post on trimming out my bedroom wall, you can view that HERE.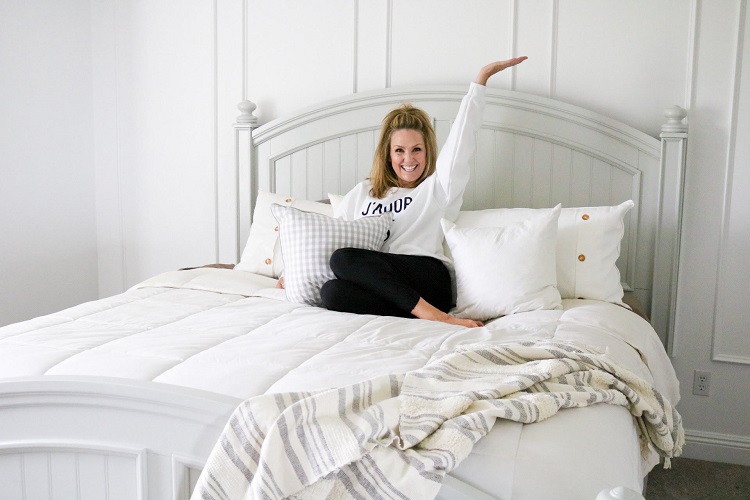 How to hang sheers on a window.
First, let's talk a little bit about the rod.
Here is the rod that I picked.
DO NOT buy a shower curtain rod, haha!  I guess some people do that???
No,  buy a substantial rod for windows.  One that is at least an inch, or an inch and a half in diameter.
You really do need a good supportive rod, don't go the cheap route or a cheap look is what you'll get.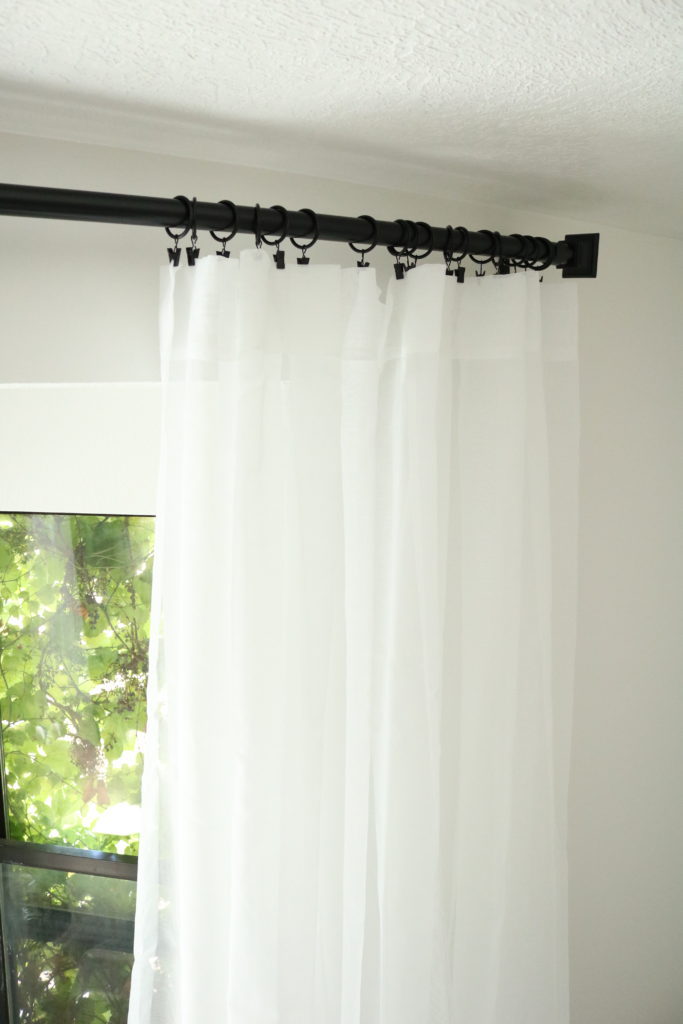 In most cases hang the rod a good amount ABOVE the window… like to the top by the ceiling!
Don't place the rod just at the top of the window.
This is a really good trick in making the window appear larger and to create a grand statement.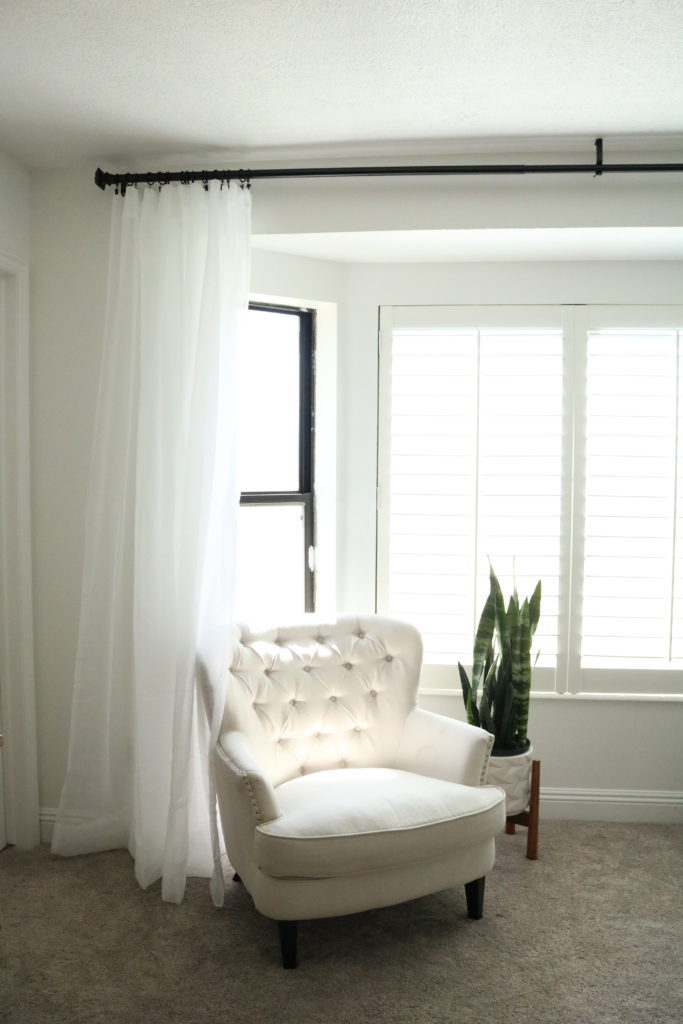 Do a quick google search and notice where the rods are placed on most windows, you'll see they're high!
Mine had to come down a couple of inches from the top because there was some kind of hard metal behind the sheetrock that I couldn't screw through.
So, mine are hung as high as they could possibly be hung.
And you can see that I had to hang my middle support bracket from the ceiling instead of the wall. for that reason.
Also, make sure that your rod is long enough to extend at least 10″ beyond the edge of the window.
That allows for ample room to "stack" the fabric.
You want the fabric to be just "peeking" into the window but not covering any of the window.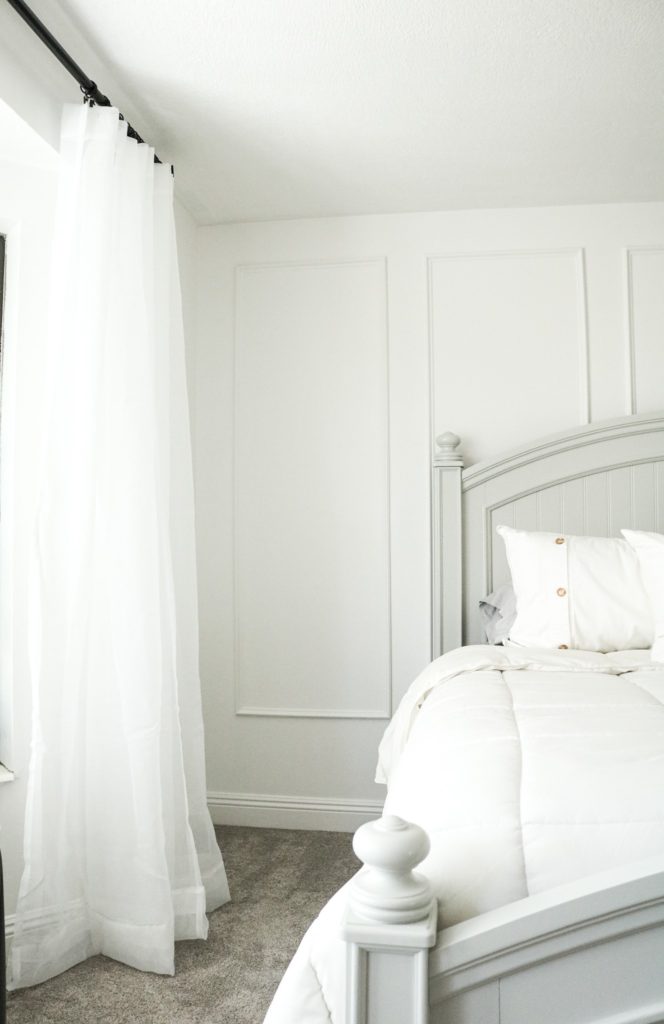 I believe my curtain rod actually extends 14″ past the edges.
A couple of tips about the sheers.
When learning how to hang sheers, one important idea to remember is to have enough fabric to make it look appropriate for the size of the window.
For example, my windows are big and I don't ever plan to close the sheers to filter light… they are simply for beauty.
They will just sit on the wall to the sides of the window and look pretty.
So I purchased THESE SHEERS and bought TWO SETS instead of one, giving me a total of four panels.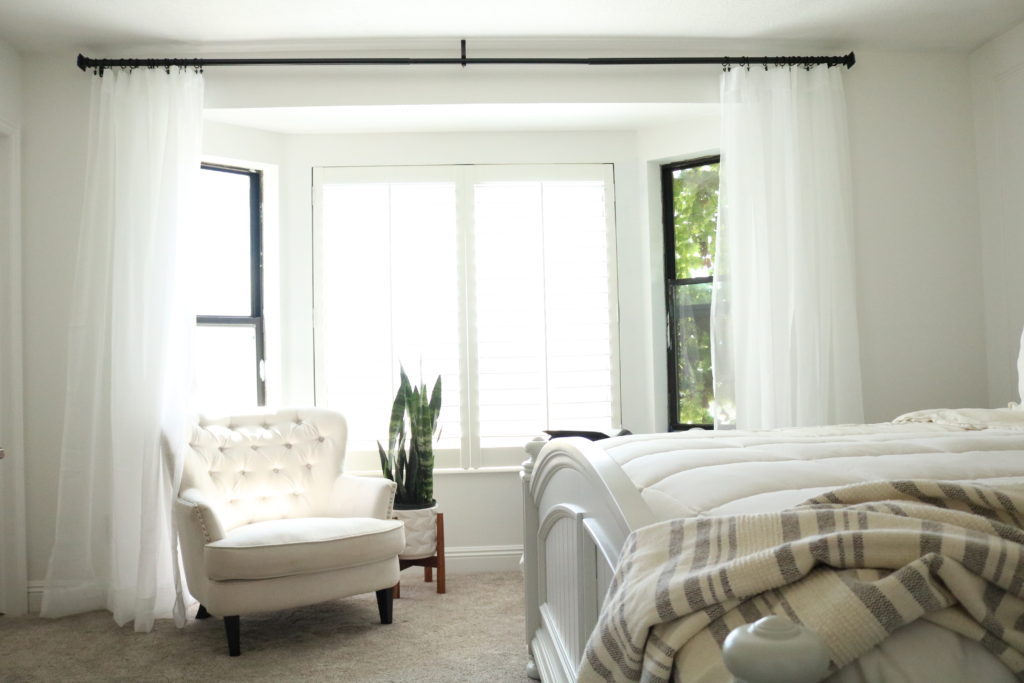 If I had only used one measly panel on each side, can you imagine how skinny that stack would be?
It would look silly.
Make sense?
The whole window looks a hundred times better to have a fuller stack.  You want them to appear as if they could close even if you're never going to close them.
A good rule of thumb is to have 2 1/2 times the width of the window, in fabric.
Use curtain rings!
An elegant touch is to have your curtains glide along the rod with rings as opposed to sliding the rod through the rod pocket at the top of the drapery.
It looks better, it sounds better, it just feels better.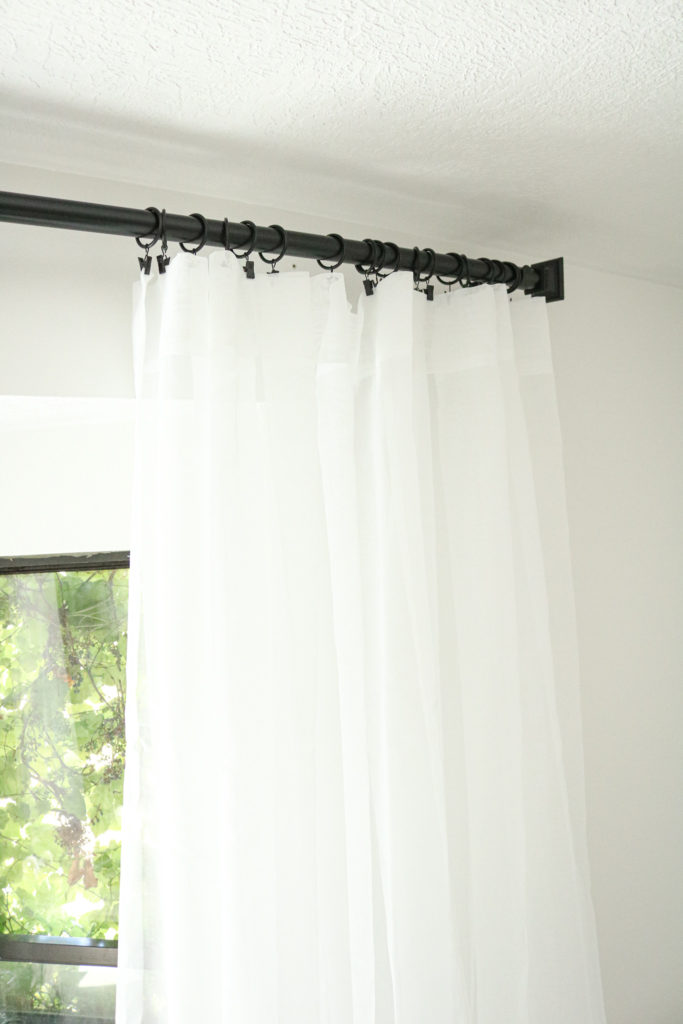 These are the rings that I used.
Each panel took 9 rings and because I had 4 panels, this pack worked perfectly for me with only 4 rings left over.
It's a small expense but yields lots of style.
The shutters that you see in the window are going to be taken out and replaced with blackout blinds.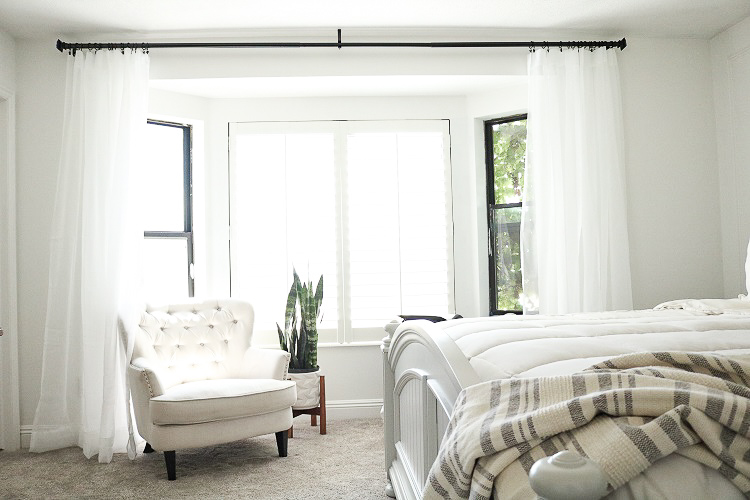 The blinds will be more efficient at blocking the light and the heat in the summer.
And a BONUS is that I'll be able to pull them up when I want all that beautiful, natural light to fill the room.
SO much better than huge bulky shutters where your view is blocked by slats.
Unless you open them all the way, but they are just so darn big, they take up way too much space when they are open.
I'm ready to be done with them.
What about the length of the sheers?
Curtains or sheers should just barely "kiss" the floor.
Pooling the fabric on the floor is a huge dust collector and unless you live in a Phantom of the Opera-type house, and that's your style, don't do it!!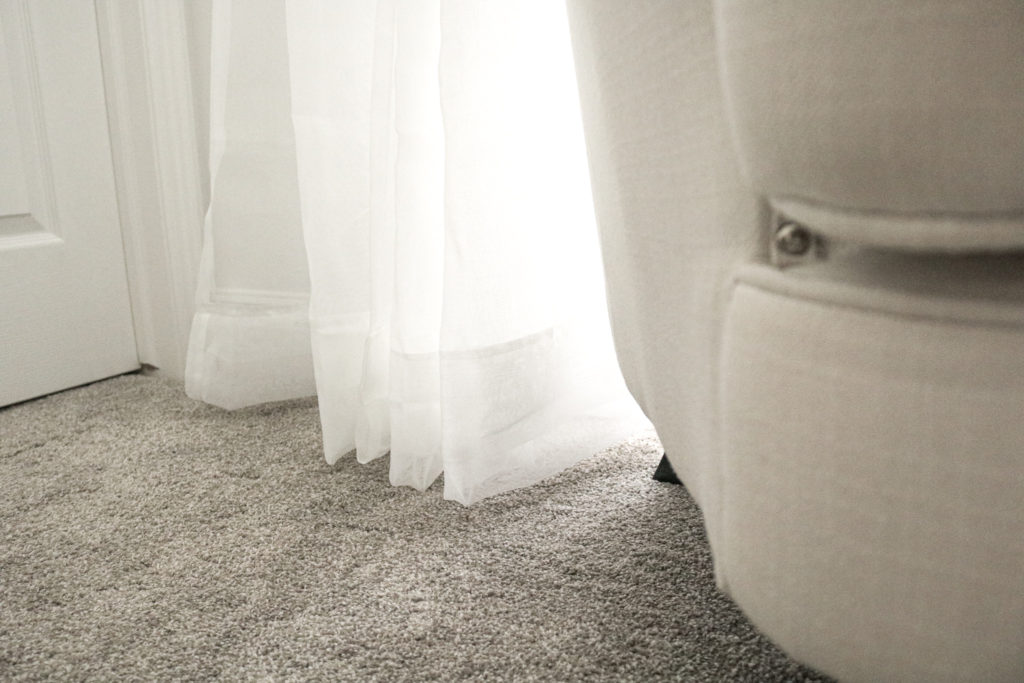 My sheers ended up being longer than I planned for because I had to place my rod a little lower by the ceiling.
So I took the hem up about 5 inches.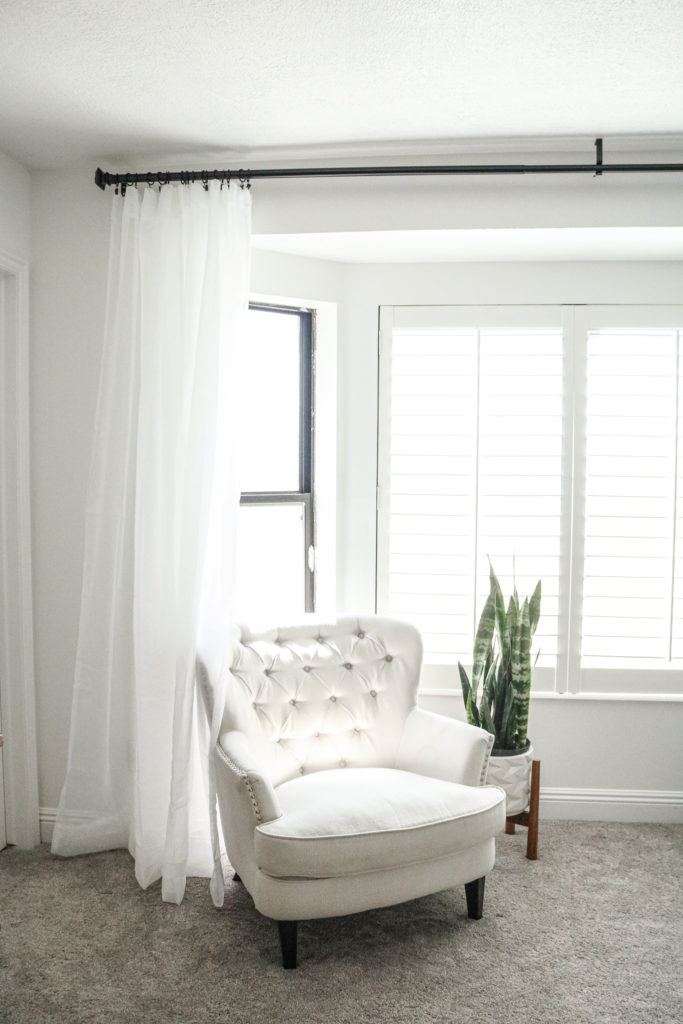 And wah-la!
A gorgeous window!
Every time I walk into the room it has a finished feel to it.
But we're not quite finished yet!
I've got a couple more fun projects up my sleeve for this room that I will share later!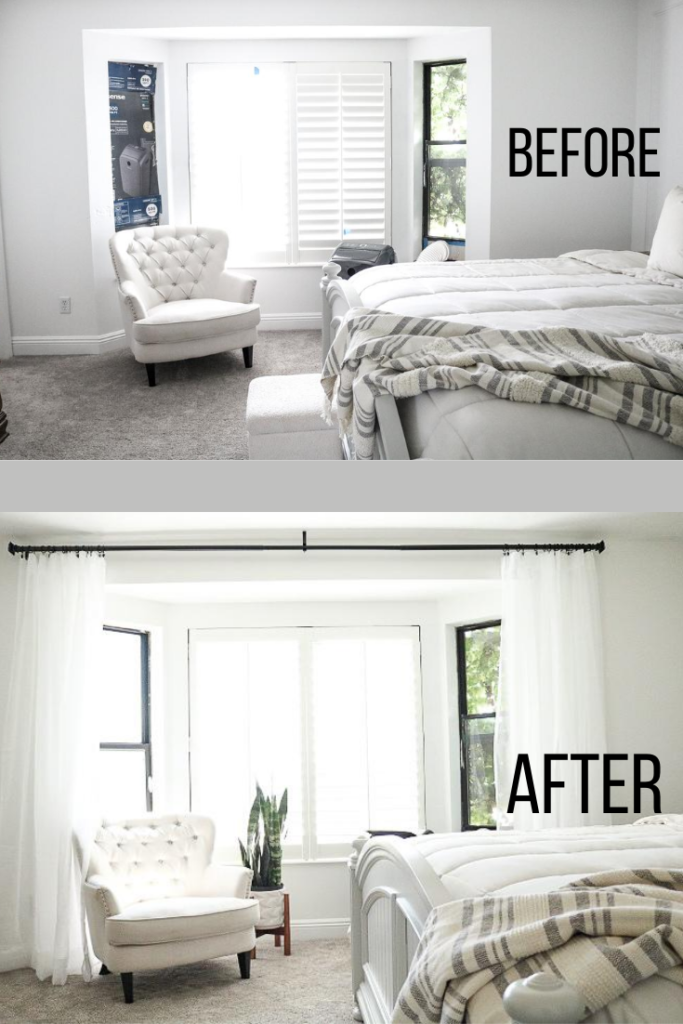 Before I go…
Check out some other great before and after photos that other people have done HERE, HERE, and HERE.
There you go!
I made a short video with another great tip on attaching the rings and I've added it below.
How to hang sheers… go do it in YOUR bedroom!
Need a great dinner idea? These Shredded Beef Burritos are famous around here!
Click HERE to see how I added crown molding to my builder grade door frames for an updated look!
Speaking of updates, click HERE for some earth tone outfit ideas!
Thank you so much for being here, I appreciate you stopping by my blog!!
You can also find me on Instagram, Facebook, Pinterest, and YouTube.