DIY PANELED WALL TRIM – MASTER BEDROOM…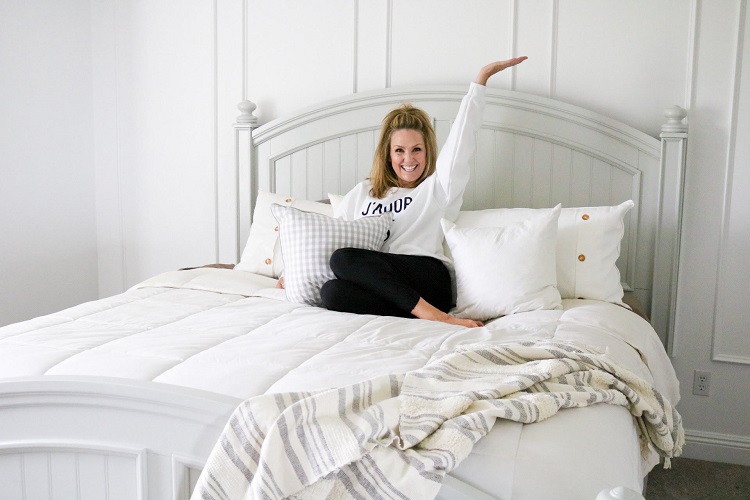 I have been wanting to make a change in my bedroom for quite a while now.  And when you see my "before" pictures, you will understand why!!
Rick was heading out of town and I thought it would be the PERFECT time to install my paneled wall trim while he was gone!
Why a paneled wall?
The reason I chose this particular look is that I have done other trim projects throughout my house before and I wanted this to be different from the others.
In my living room about 4 years ago, I did decorative wall moldings in the shape of squares.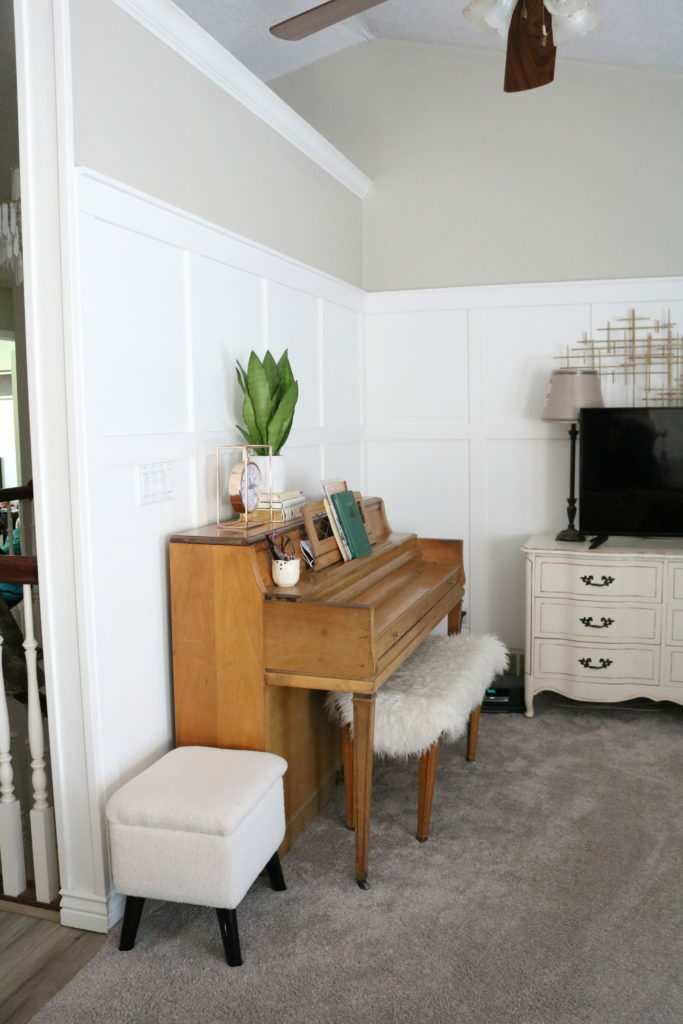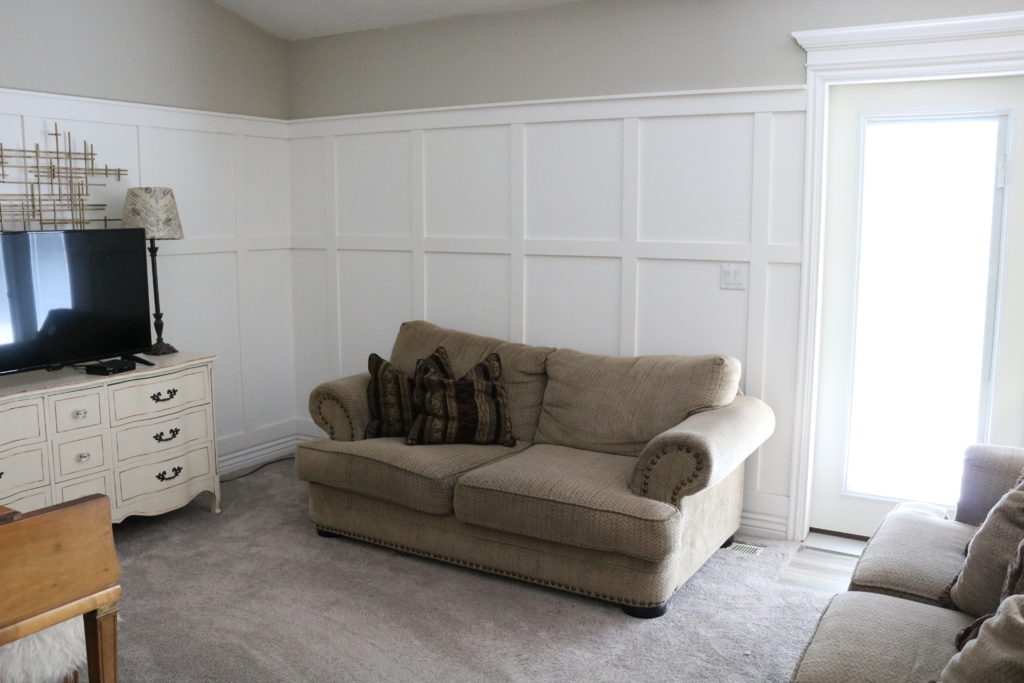 In my stairway about two years ago I did planks.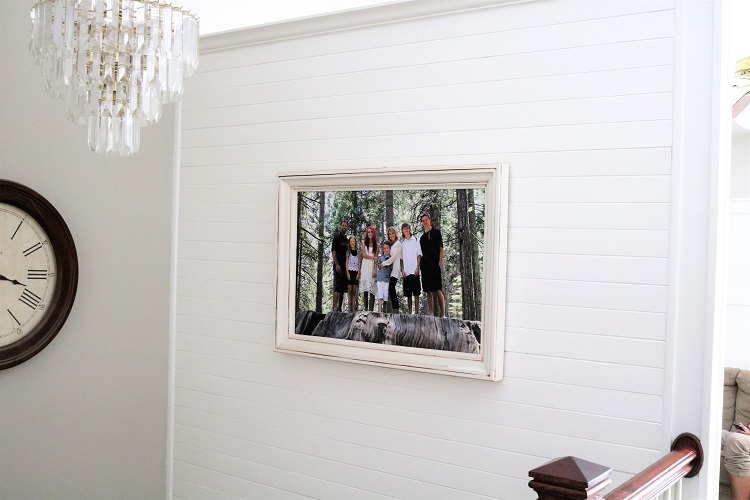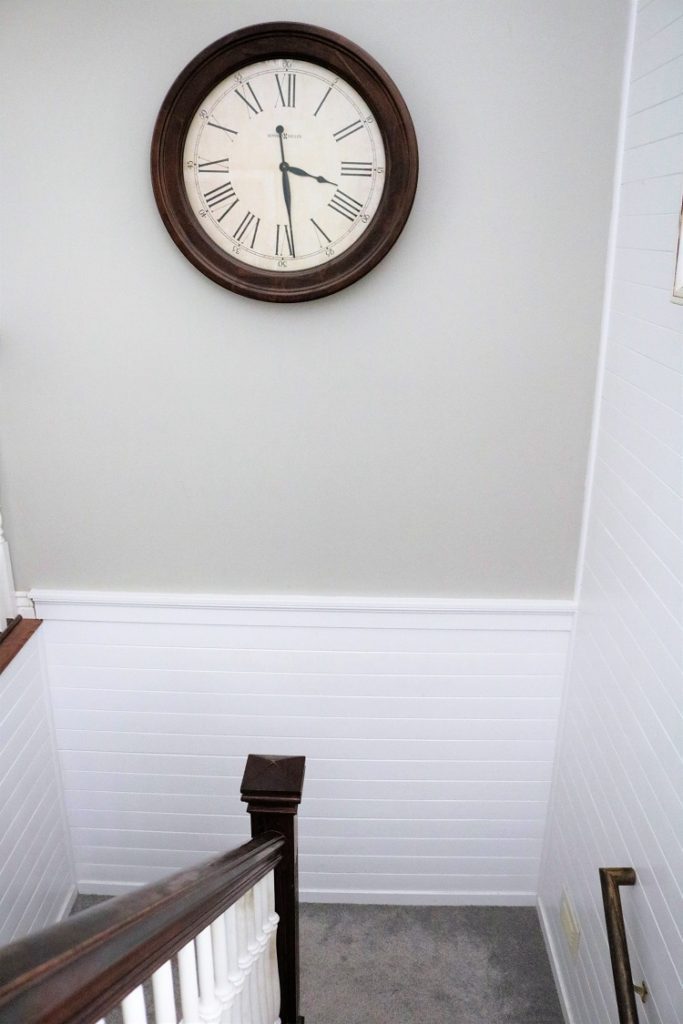 Well long story short, I got to work measuring, planning, and even buying trim pieces to surprise Rick but then HE surprised ME!!!!
He came home.
They had a change of plans.
The surprise was ruined but my motivation was still 100%!!
So he slept on the floor on a mattress and I slept on the couch.
FOR THE NEXT WEEK!!! I don't know why I thought I would be able to finish it in two days before he got home. 🙂
Here is how it looked before.
Notice the walls are bare and there are no baseboards.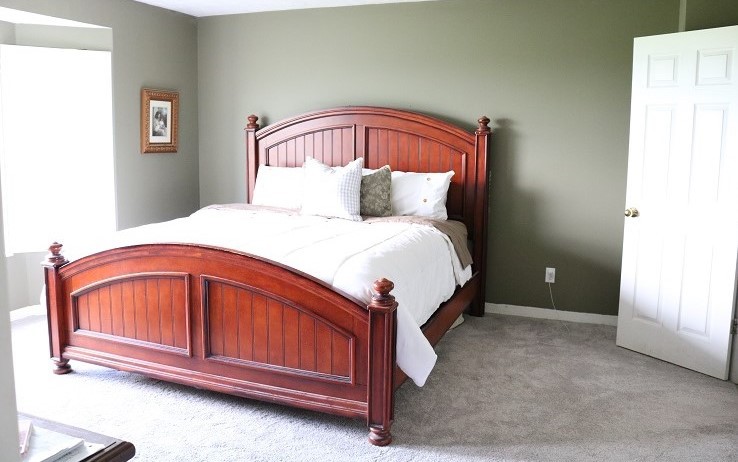 And AFTER!!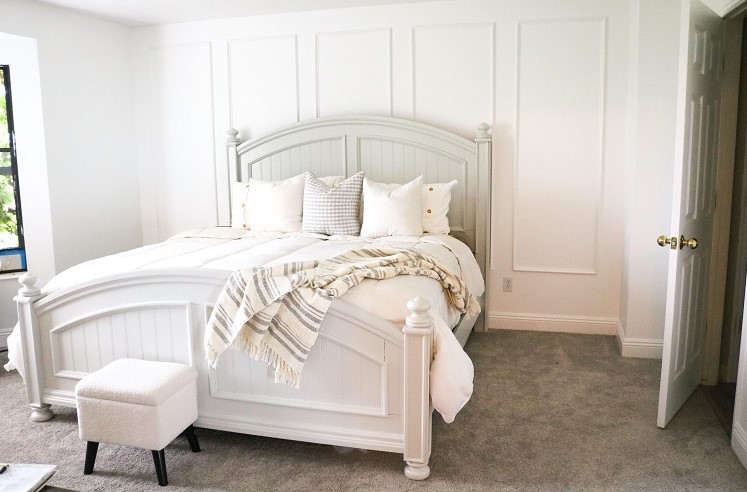 What a difference, huh??
The headboard and footboard are the exact same paint but clearly there is an optical illusion going on.
The bright light coming in the window makes the footboard appear white at times!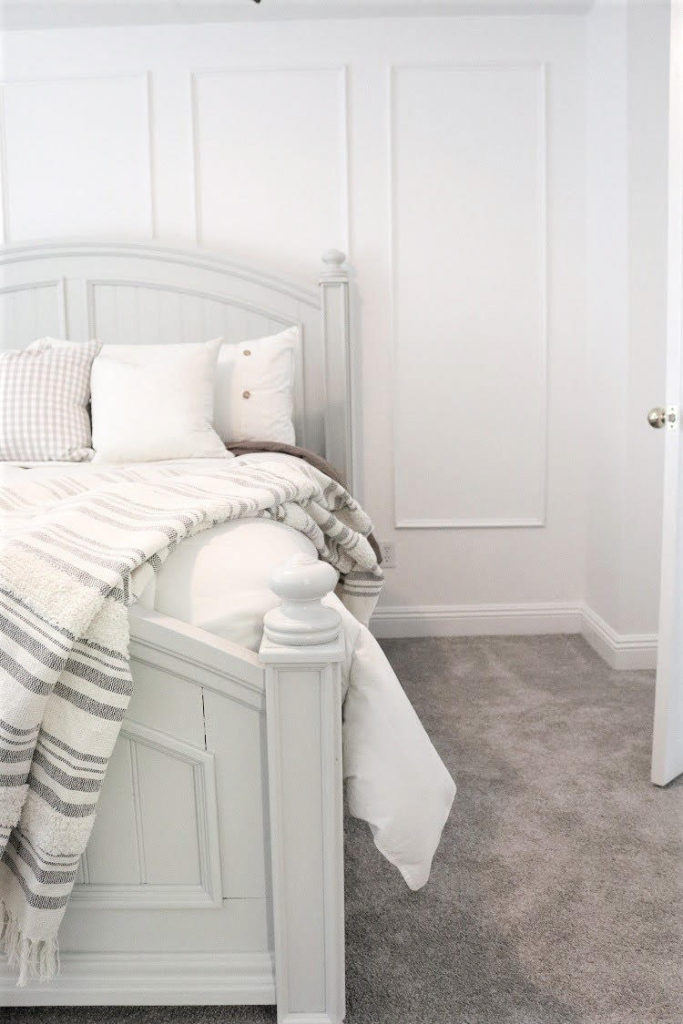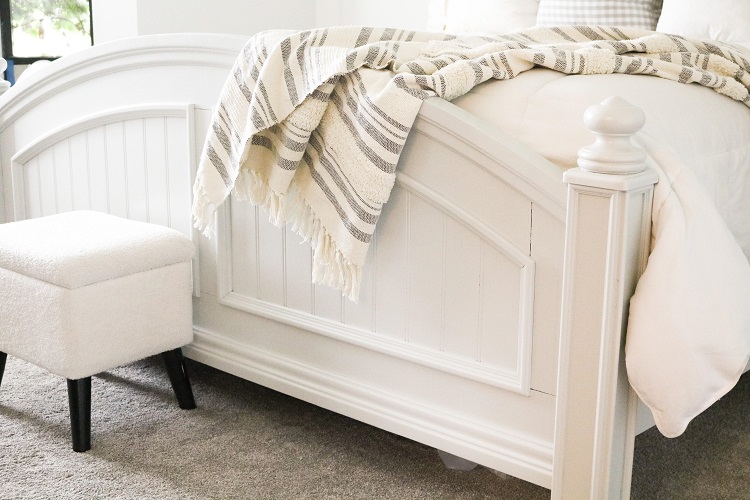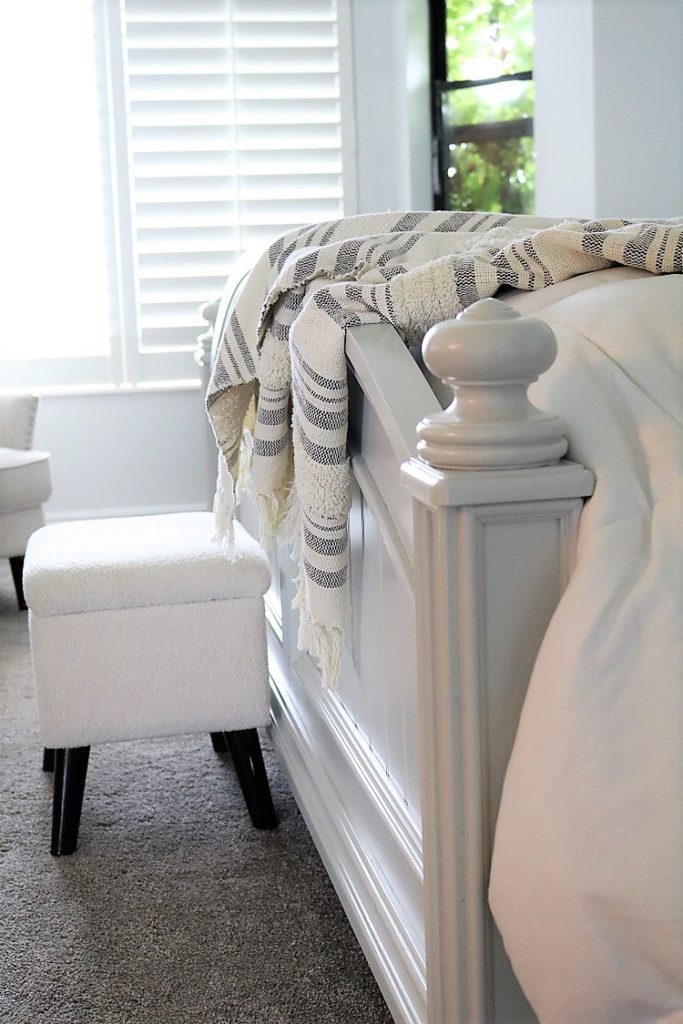 The verdict…
We love it!!!
The color alone would have changed everything, so if you are on a budget consider just painting to make a huge difference in a room!
I'm very pleased with how the trim and baseboards gave a finishing touch to the room.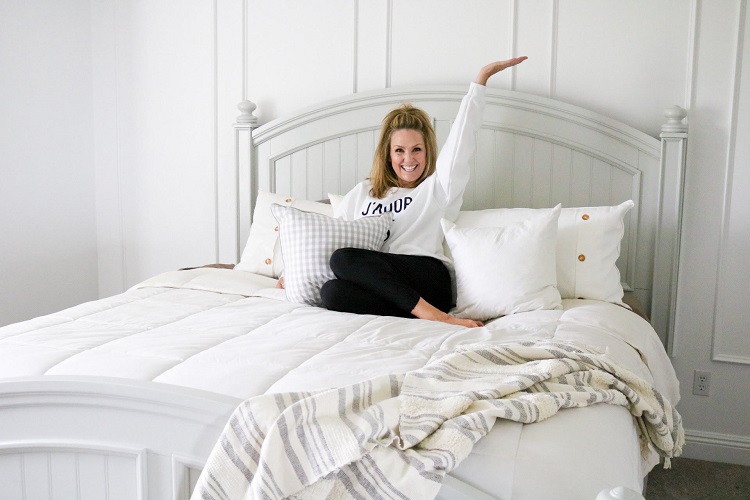 And I'm not finished yet!
There's more to come but I can only do so much at a time, bless my heart!!!
Still to come: window coverings, nightstands, and a dresser makeover.
I will link a few products (or similar products) here if you are interested.  If you want to see some "behind the scenes" I made a video and will post it below.

Wall color: Benjamin Moore White Umber  //   Head/Footboard color:  Benjamin Moore Stonington Gray
I have THIS miter saw and THIS stand is an absolute must!
I'd love to answer any questions that you have!
Sending love!