HOW TO MAKE A VALENTINE'S DAY TREAT CHARCUTERIE BOARD…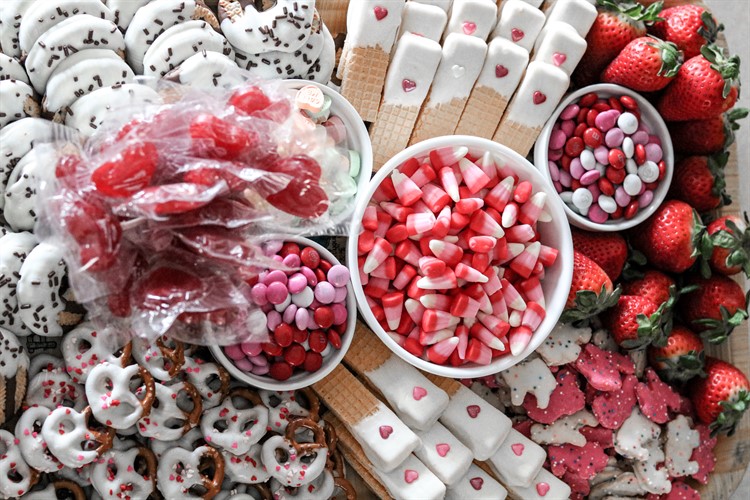 You will want to do this for your Valentine party or family gathering, trust me!
A Valentine's Day charcuterie board might possibly be the cutest thing you've ever seen.
Ok, that's a bit dramatic.
But when my teenagers walked through the door after school and saw this, they went crazy!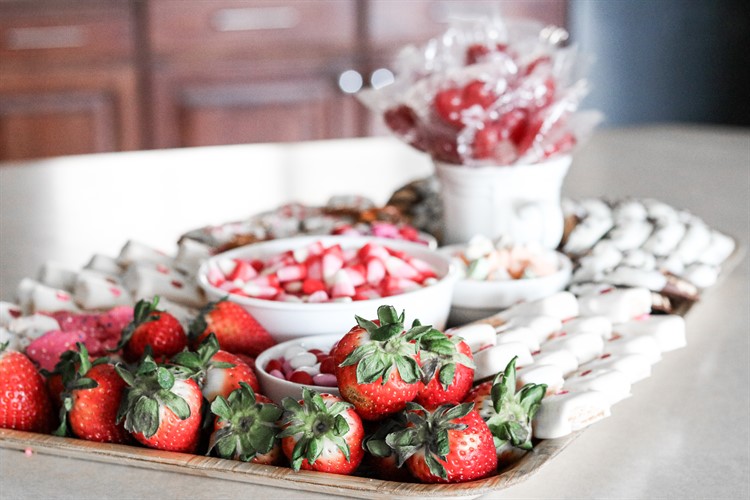 It's aesthetically pleasing and full of all the pretty red and pink treats.
It's the perfect thing for a party or even done on a smaller scale for you family!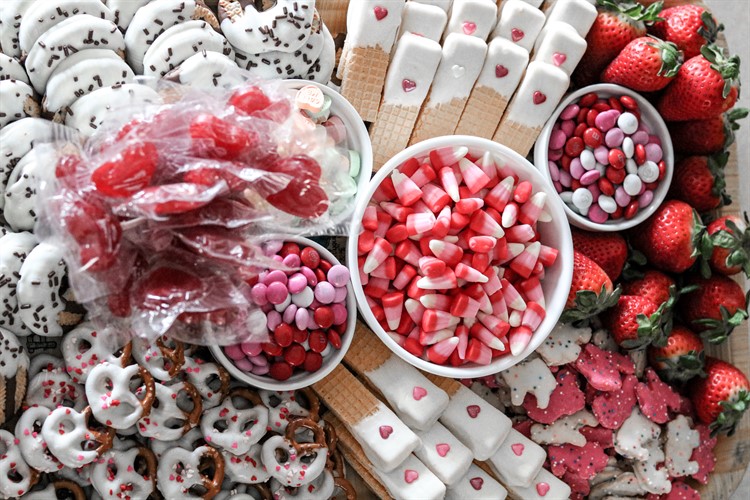 Why call it a "charcuterie board?"
My husband asked that question.
Why not just call it a Valentine tray??
I don't know!!
Maybe because it's a trendy thing… to me it just *sounds* better.  😉
Plus, I've been wanting to try my hand at making one lately and why not start with a Valentine's Day charcuterie board, right?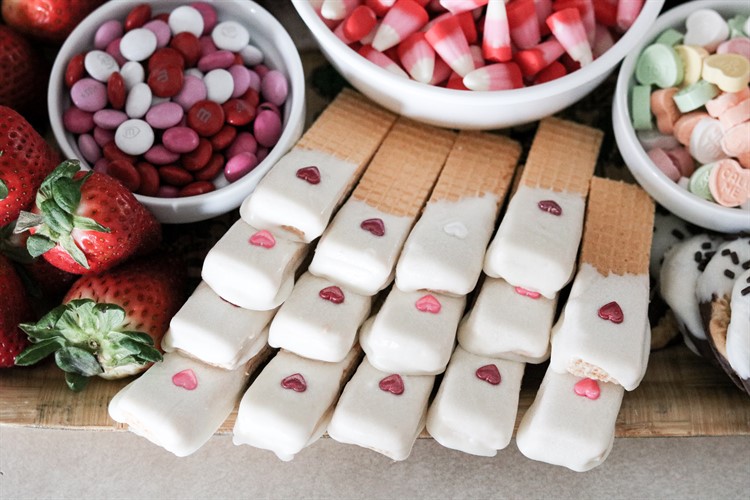 A traditional charcuterie board is done on an actual wooden board or cutting board.
I used what I had and that was a huge tray that Rick brought home from his mission to the Philippines.
But you could certainly use a cookie sheet or anything else you have.
Supplies:
Here is the part where anything goes!
But for this particular holiday, I would pick anything red, pink, and white.
Here are some good options:
Brachs candy hearts
M&M's in Valentine colors
Heart suckers
Valentine candy corn
Vanilla Cream Wafer cookies
Keebler Fudge Stripe cookies
Mother's Circus Animal cookies
Small pretzels
Pretzel rods
Shortbread cookies
Oreos
Popcorn
Licorice
Strawberries
Blackberries
Raspberries
I took the time to hand dip the fudge striped cookies, wafer cookies, and pretzels in melted vanilla coating wafers like THESE.
I like the wafers because they set up so fast and there's not a lot of dry time.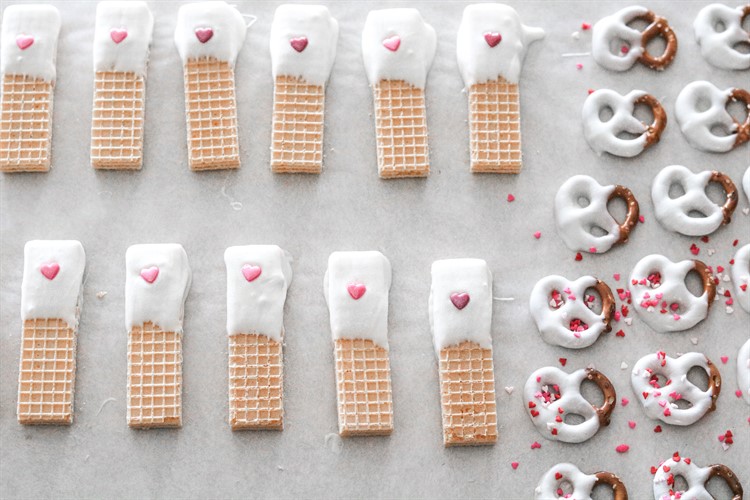 Then I added sprinkles and candy hearts just to make them a little bit EXTRA!!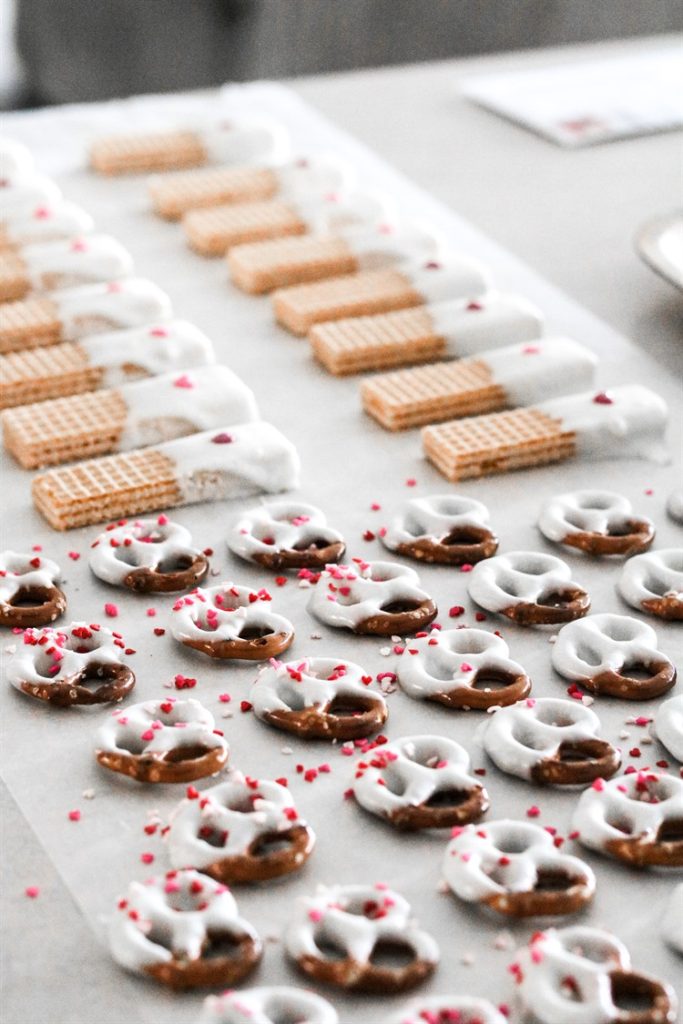 How to put together your Valentine's Day charcuterie board.
Here's where the creativity starts.
You'll definitely want to keep in mind two key points.
  You want to have some long and straight pieces to add angular interest. For example, the pretzel rods or wafer cookies.
  Use bowls or mugs for height and to collect the smaller items such as M&M's and candy corns.
The rest is up to YOU!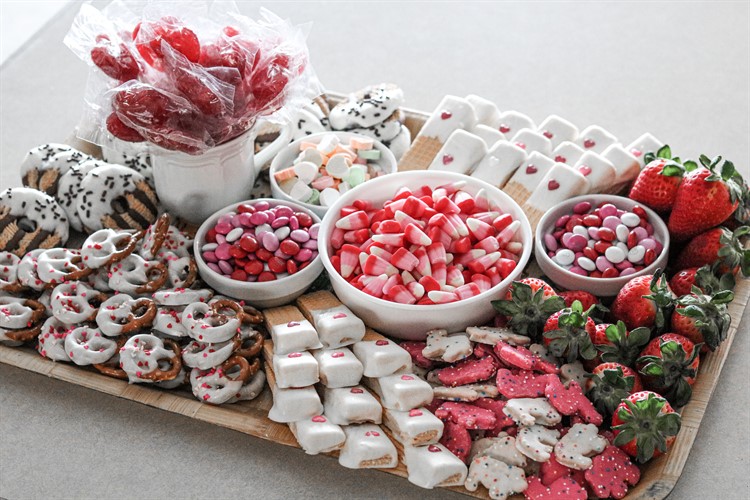 I began the process by filling the small bowls with the tiny candies and putting them randomly in the middle of the tray.
For the groupings of cookies and other things, I had them starting wide on the outside and pointing toward the center.
I moved things around if I didn't like it and made adjustments until I was pleased with it.
Just have FUN with this!
There is no wrong way and you'll be SO pleased with it once it's done!!
I did create a short video of the process that you can find over on my Instagram.
Side note: I decided where my fruit would go and then I removed it and kept it in the fridge until right before serving.
Please let me know if you create your own Valentine's Day charcuterie board!
I'd love to hear!
HAPPY VALENTINE'S DAY everyone!
For more ideas on how you can make Valentine's Day special for your family, you check out THIS post.