January's Best of Amazon: Favorites and Fails…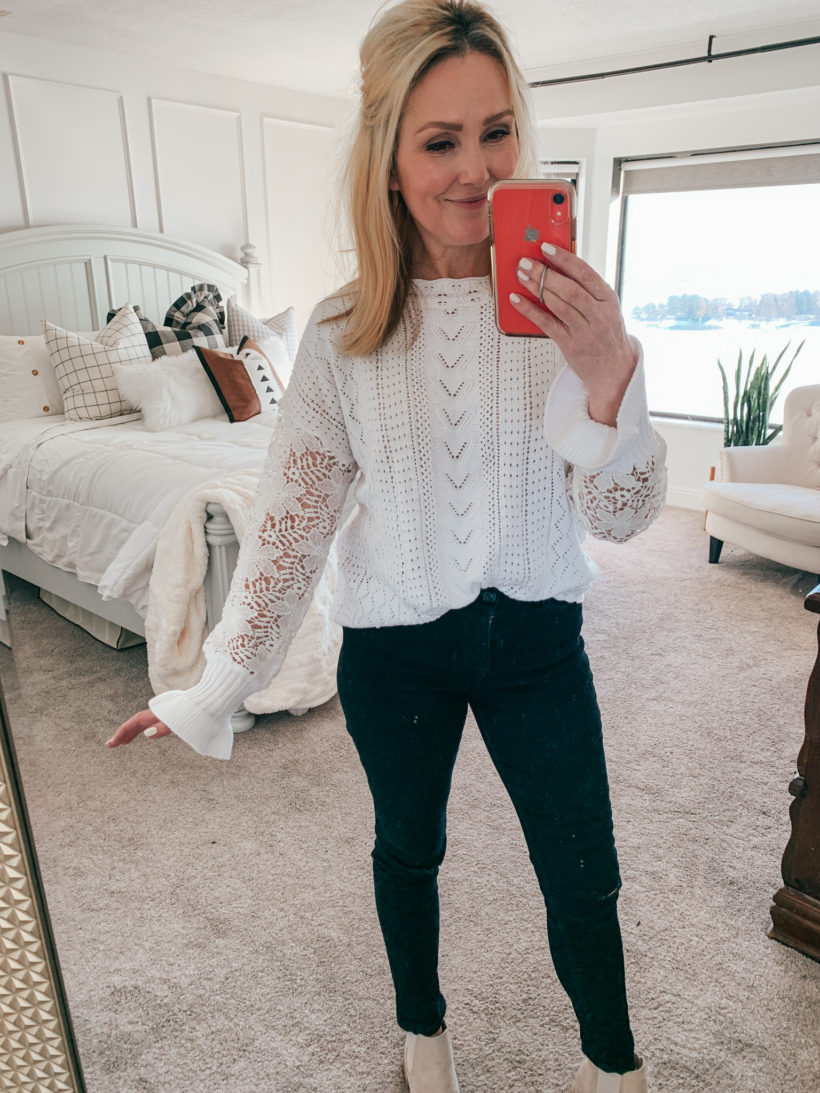 Some items are GREAT!  Others… not so much.
I thought it would be fun to share what I purchased on Amazon this month what I kept and what is going back.  You know that Amazon can sometimes be hit and miss. I have been SUPER happy with some of the things I got this month.  So here are the Best of Amazon: Favorites and Fails.
Let's hear it for the favorites!
I can tell you that I would highly recommend each of these items!  I have shared some of them on Instagram and some I have not shared, yet.  Starting with the Cable Knit Chevron Sweater.  I absolutely love this sweater!! It has a cool retro vibe and it's really good quality.  It fits true to size and I'm wearing a small.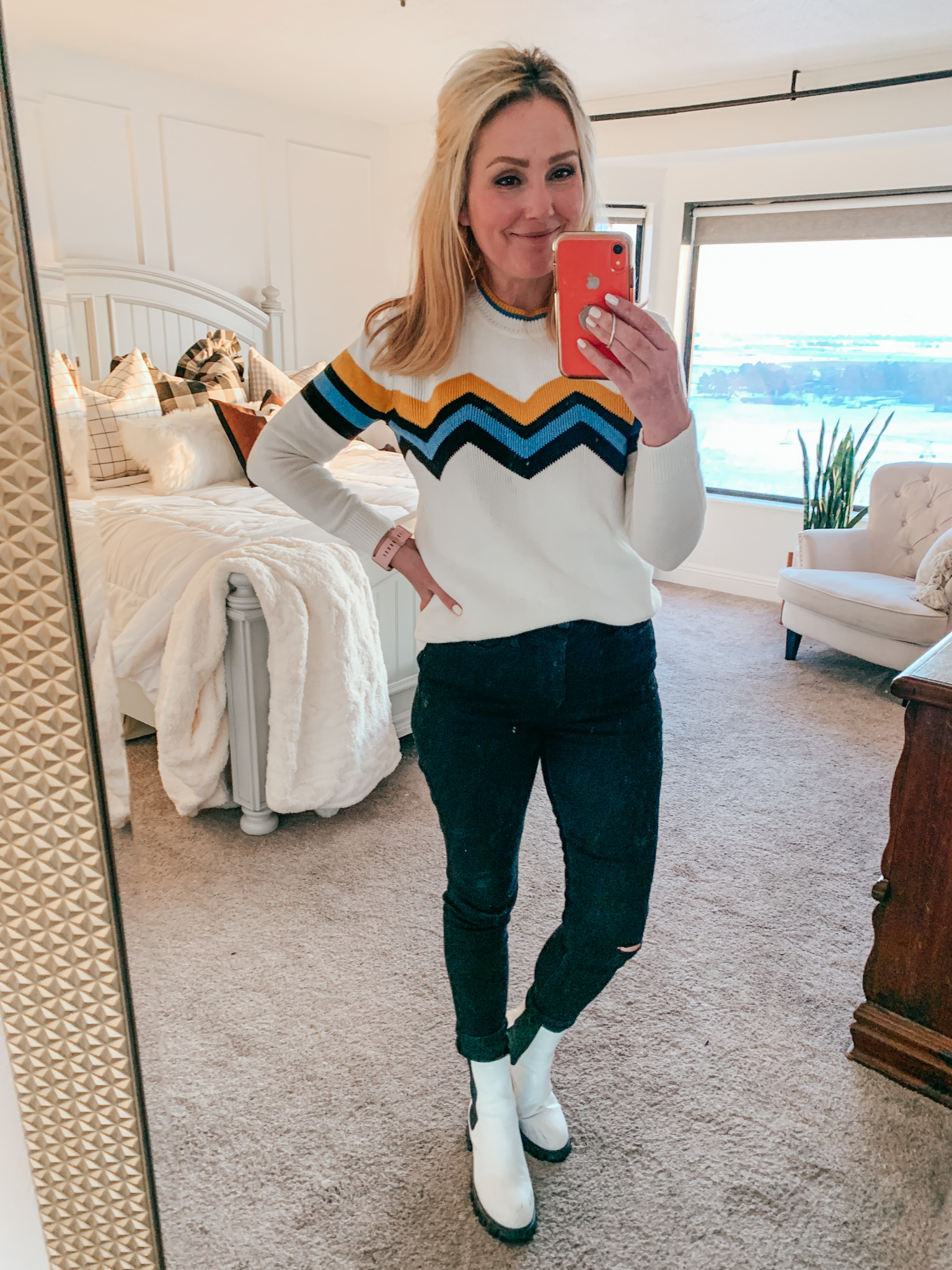 My second FAVORITE is this pretty white Lace Crochet Sweater that was a big hit on my Instagram!  It's fun and flirty with a pretty fluted cuff sleeve with lacey arms.  It is a wee bit see-through but really not bad. The pattern distracts so it's not obvious. The fit is a little loose and oversized.  I'm wearing a small and maybe could have gone with an XS.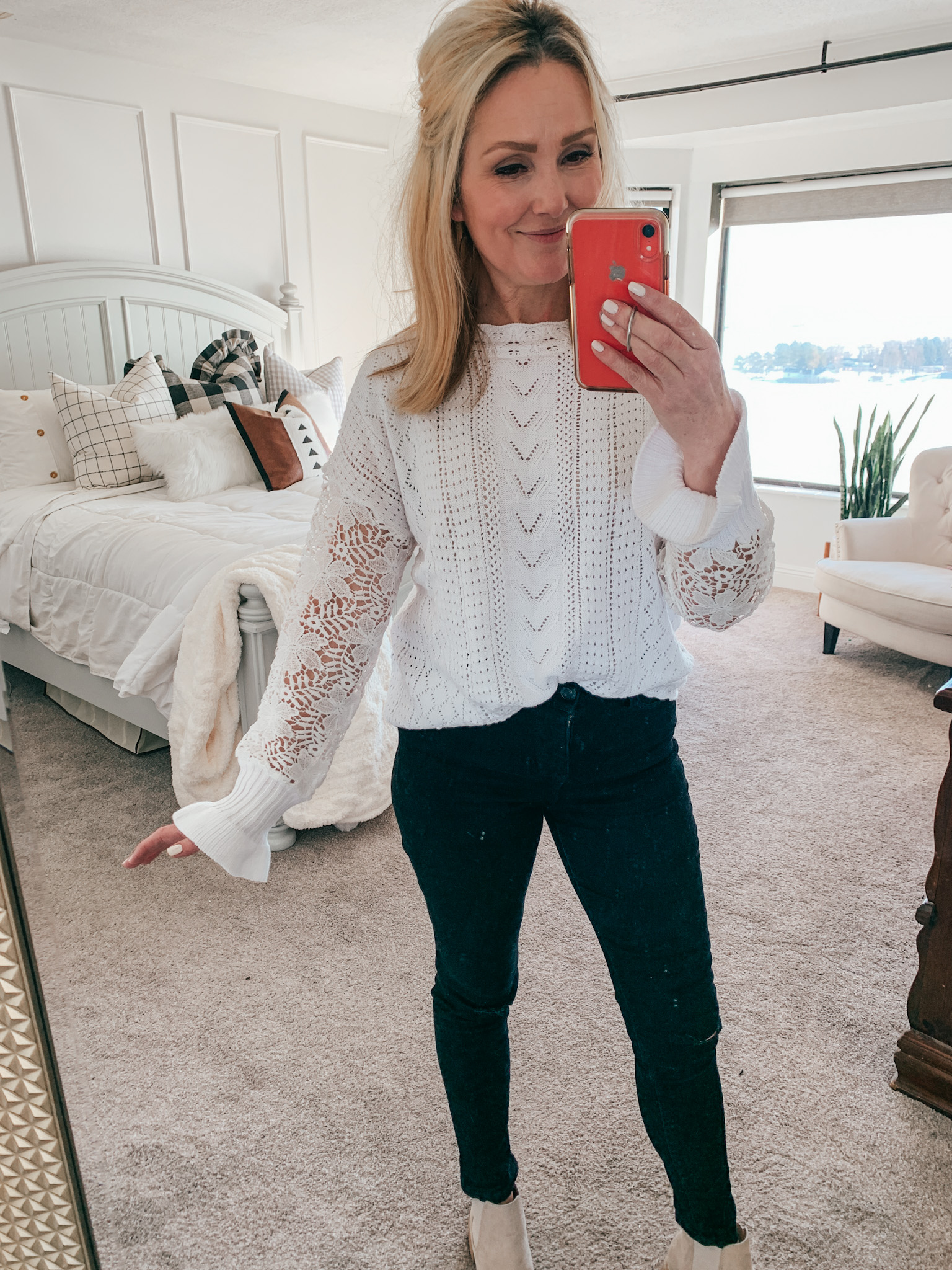 Next is this pretty Red Long Sleeve Cropped Crew Neck Sweater. I have to say that although it's "cropped" it's not TOO cropped.  It goes just fine with some high-waisted jeans without feeling like you are showing any midriff.  It's so youthful looking!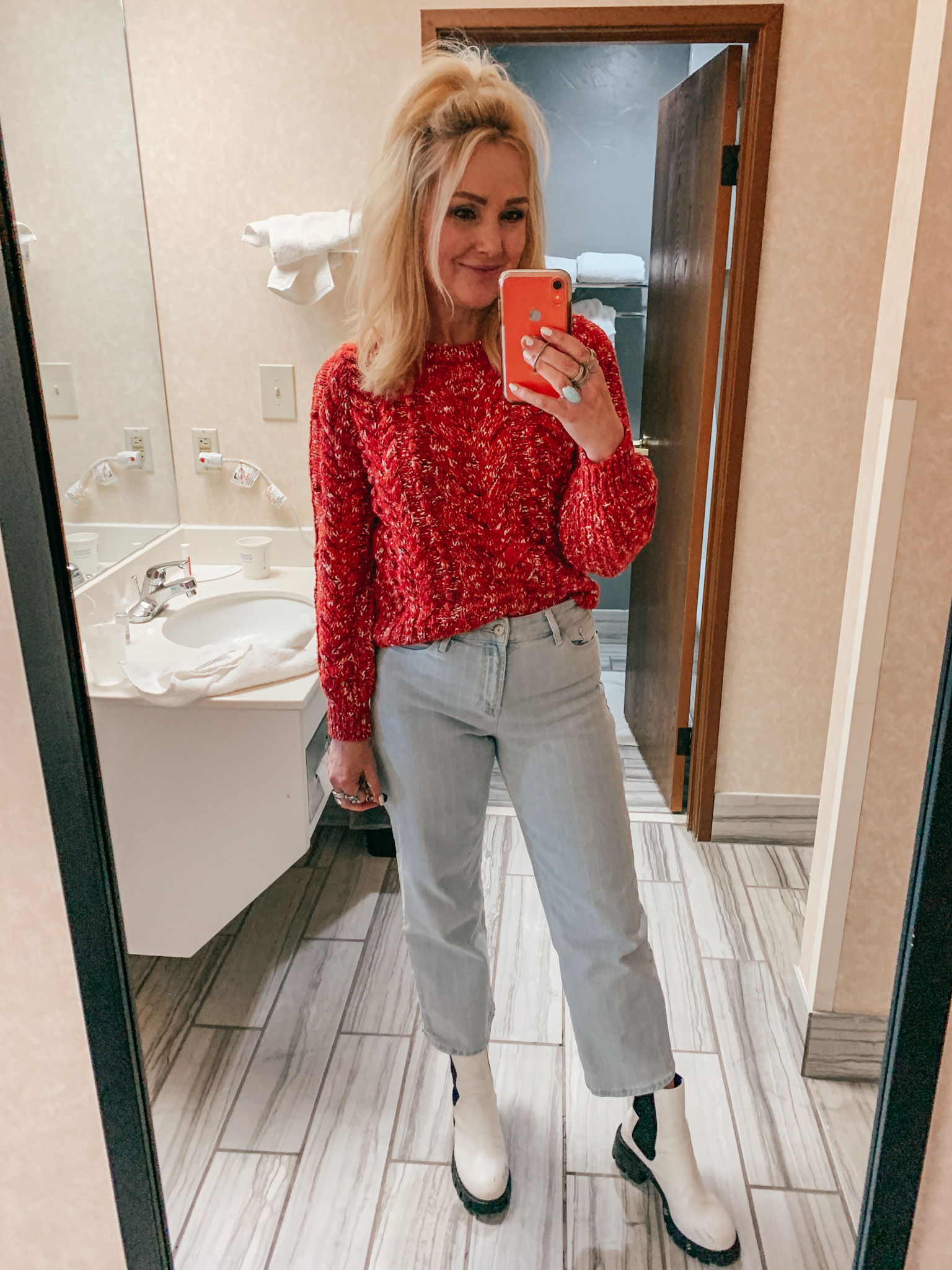 I'm really excited about this next sweater.  I haven't taken pictures in it yet, but I do love it! The Crew Neck Button Sleeve Pullover is such good quality! Let me say that I bought it in white.  It's not sheer, but you can see through a little.  Look at the reviews and you can kind of see what I mean. Again, not bad, but just enough and there is no pattern to distract from seeing what's underneath. I'm going to send it back in exchange for the black because I really like it.  There are lots of other color options and it is a great layering basic that's heavier than a white tee and the button sleeve detail is PERFECT!!
As I write this post, I'm wearing this awesome Oversize Batwing Pullover and it's a GREAT ONE! I promise you would love it!  It's definitely long enough to wear with leggings and be covered.  The fabric is super high quality and so comfortable. Again, I'm wearing a small and it's PERFECT.  (photo taken after a long day of driving lol)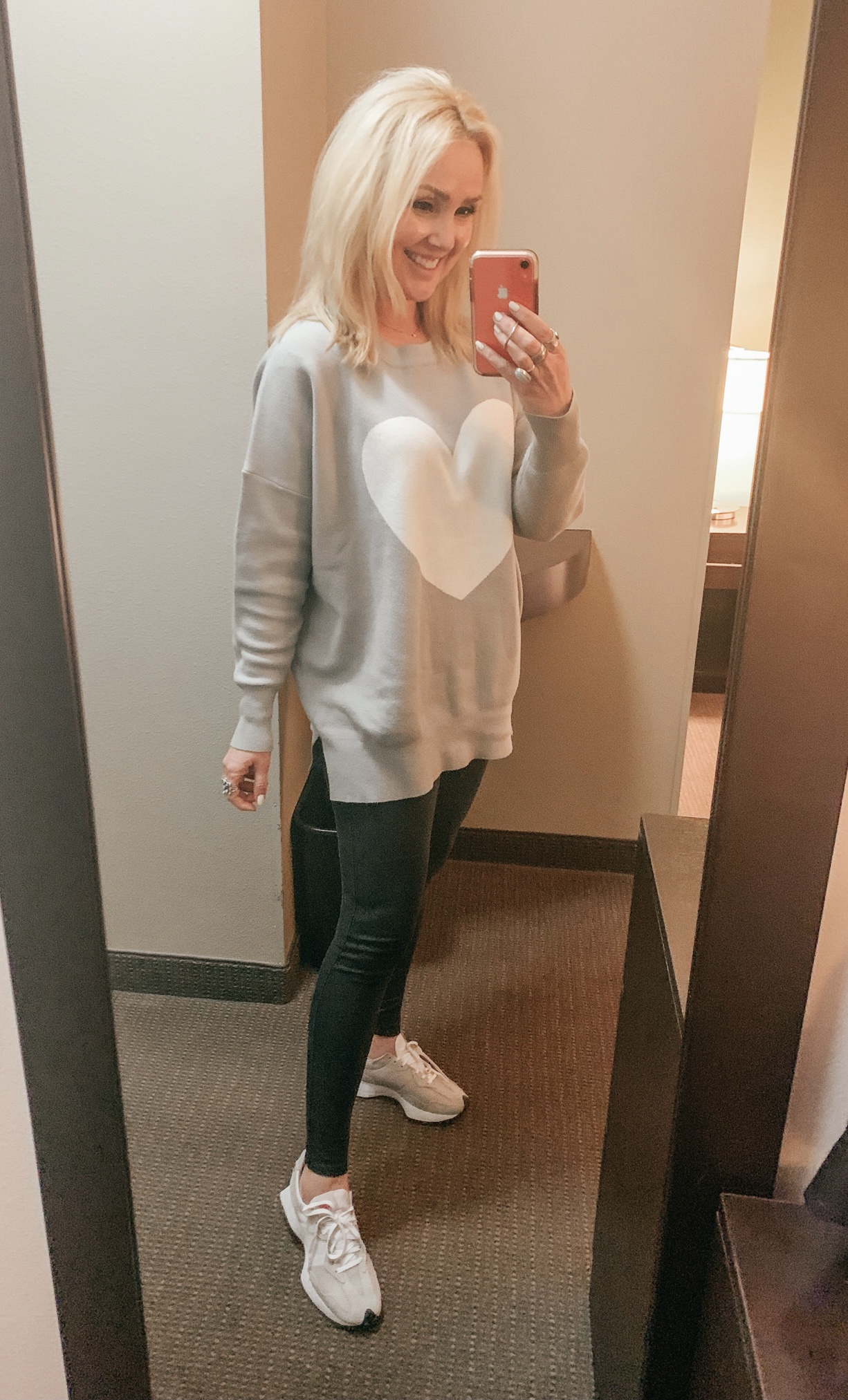 Here is another one that I haven't taken a pic of yet, but I LOVE IT!  These dresses can sometimes be good or they can be horrible.  This Short Sleeve High Waist Midi Dress is a good one! It is a light fabric so it's not super warm, but I see myself wearing it LOTS in Spring and Summer!  Imagine it with a cute denim jacket! Or on a hot summer day with sandals or sneakers! It is an animal print but is called "Apricot."  It comes in other cute prints, too and I'm wearing a size small and it fits perfectly.
The last "favorite" of my Best of Amazon: Favorites and Fails is this darling High Waisted Tulle Skirt.  I really wondered how this one would be because it's ONE SIZE FITS ALL.  But as I looked at reviews, they gave me the confidence to make the purchase. Do you always look at reviews? I find it SO helpful! I am really excited to wear it during the springtime with graphic tees and sandals or dressed up with heels and a pretty top.  It's so cute!!
Ok… are you ready for the FAILS??
I really, really wanted to like this V Neck Sweater Vest but it wasn't good for me.  First of all, it looks longer in the photo than it actually is in real life.  Secondly, it was wide and boxy.  Not flattering at all.  It went back.
This pink Puff Sleeve Mock Neck Top is actually quite darling.  But when it came, I wasn't in love with the fabric and it was SUUUUPER tight.  It does say that it runs small and to size up, but I didn't listen and ordered my usual small.  I probably would have liked it better if I had gotten a medium.  Also, the sleeves were pointy instead of poofy if that makes sense.  Some reviews mentioned that they couldn't fix that by ironing or steaming.  So it went back.
That's it for this edition of the Best of Amazon: Favorites and Fails!
I think I'll do more of these product reviews.  I love sharing things that I love, and I highly recommend the favorites listed above!
Have you bought some favorites from Amazon lately?  How about fails?  I would love to know!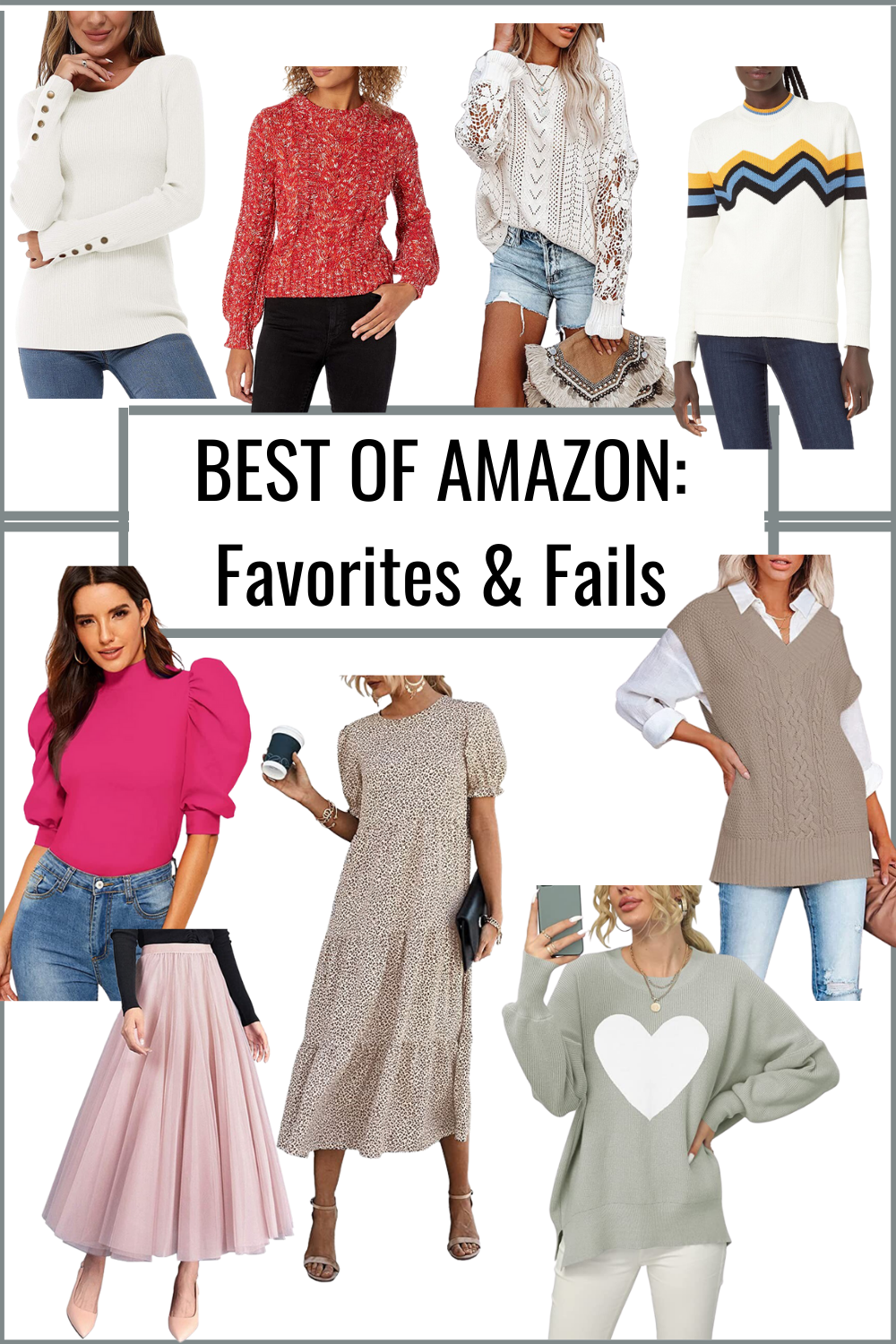 Thank you so much for being here, I appreciate you stopping by my blog!!
You can also find me on Instagram, Facebook, Pinterest, and YouTube.