5 Letters To Send In Your Missionary's Luggage…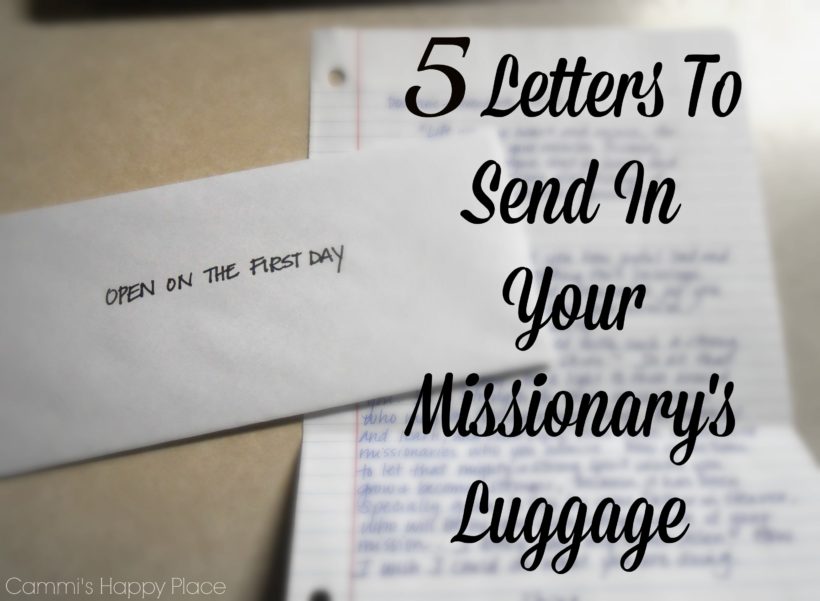 Before Sam left for the MTC,  I had been thinking that I would write a little note and hide it in his luggage for him to find later, just a little something special from me.  Then I came across THIS post and got all giddy inside!  Because it combines a special little note along with some PURPOSE and I just love the idea.  I had to do it, thank you TAMI PYPER! Here is our version of the 5 letters to send in your missionaries luggage.
  5 letters to send in your missionary's luggage.
I'm sure you could get really creative with these and make them all cute, but I just went the simple lined paper and envelope route.  😉
The letters are to be opened at different times throughout the mission.  At the top of each letter is a corresponding scripture or thought,  followed by my own personal thoughts and advice that are specific to him. Each one signed "Love Mom and Dad."
(Because Dad will sign anything that I ask him to….)
Open on your first day

–  Use the scripture: D&C 31:3…"Lift up your heart and rejoice, for the hour of your mission is come; and your tongue shall be loosed, and you shall declare glad tidings of great joy unto this generation."
Open when things are hard with your companion

– Use the quote from C.S. Lewis… " Do not waste time bothering whether you 'love' your neighbor; act as if you did.  As soon as we do this we find one of the great secrets.  When you are behaving as if you loved someone, you will presently come to love him."
Open when things are good

– Use the scripture:  Alma 26:12…  "Yea, I know that I am nothing; as to my strength I am weak; therefore I will not boast of myself, but I will boast of my God, for in his strength I can do all things; yea, behold, many mighty miracles we have wrought in this land, for which we will praise his name forever."
Open when things are really difficult

– Use the scripture:  Ether 12:27… "And if men come unto me I will show unto them their weakness. I give unto men weakness that they may be humble; and my grace is sufficient for all men that humble themselves before me; for if they humble themselves before me, and have faith in me, then will I make weak things become strong unto them."
Open when you are doing everything right but nothing is going right

– Use the scripture:  Alma 57:21…"  Yea, and they did obey and observe to perform every word of command with exactness; yea, and even according to their faith it was done unto them; and I did remember the words which they said unto me that their mothers had taught them."
AND…
Actually there is a 6th letter…
but I didn't send it in his luggage. This letter won't be written for almost 2 years.  It will be titled "Open on your very last day," and inside will be the scripture in Matthew 25:21:
"His Lord said unto him, Well done,
thou
good and faithful servant: thou hast been faithful over a few things, I will make thee ruler over many things: enter thou into the joy of thy Lord."
In this letter will be documented all the many blessings we have seen in our son's life as he has served, and the many blessings we as a family have received, as a result of his having served a mission.
I would also encourage anyone who wants to do this for their missionary to sincerely pray before writing these letters.  I know that I was inspired, without knowing it, to write some of the things I wrote in his first letter that ended up being *ultra pertinent* to what was going on with his companion his first week at the MTC.  So, pray for guidance!
I hope you can be as inspired by this as much as I was!
And if you need inspiration on how to wear earth tones, find that post
HERE.