The Modest Denim Skirt Of Your Dreams…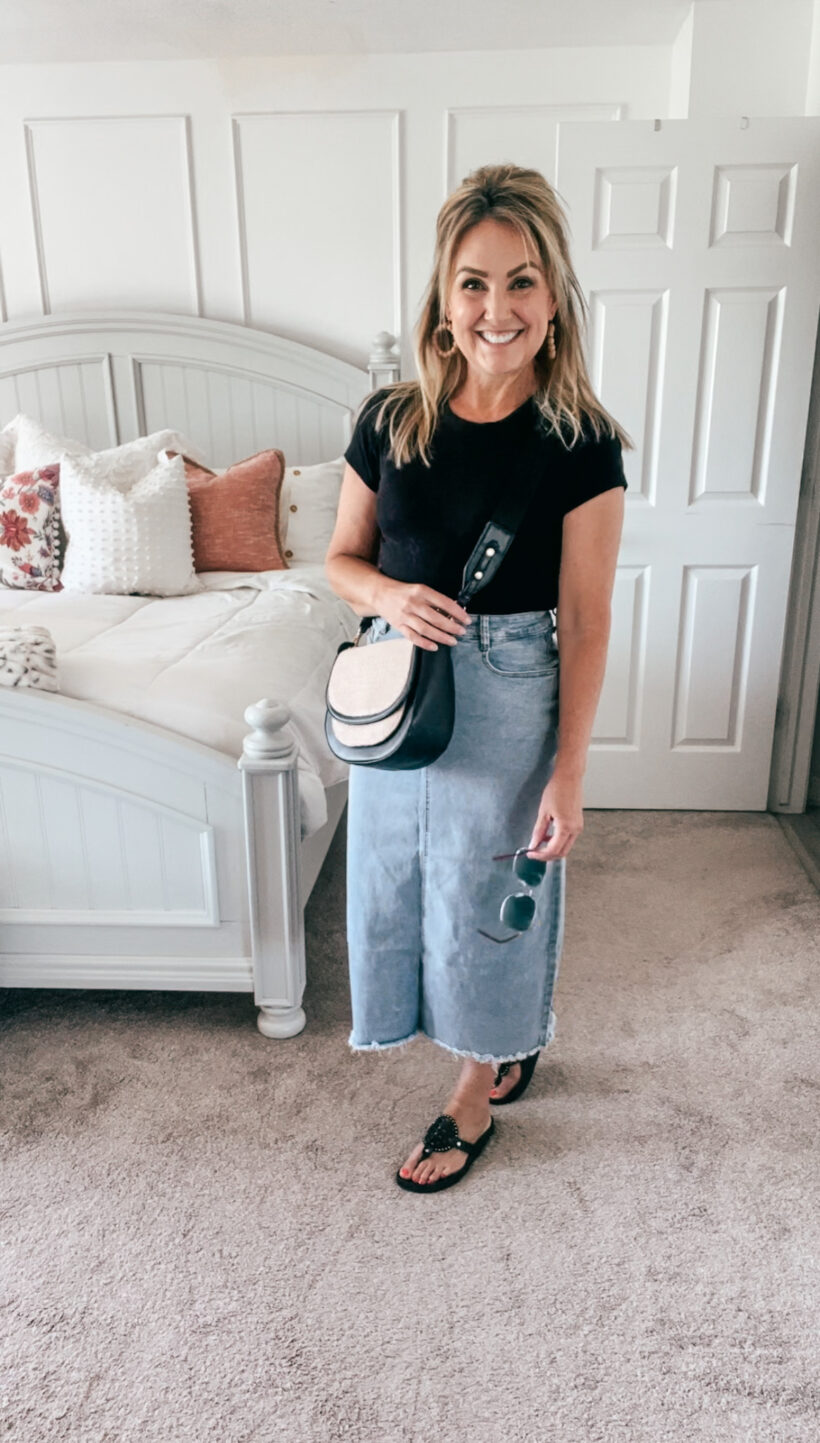 Is it presumptuous to say that this is the modest denim skirt of your dreams? Because it's true for me!!!
I don't even remember how I happened upon this skirt but I'm so glad I did! It's got great stretch and it's very comfortable.  But it doesn't stretch out so much that it gives a terrible silhouette, if you know what I mean.
It has front and back pockets, is midi-length and doesn't have a slit, because it doesn't need one.
It's great!!!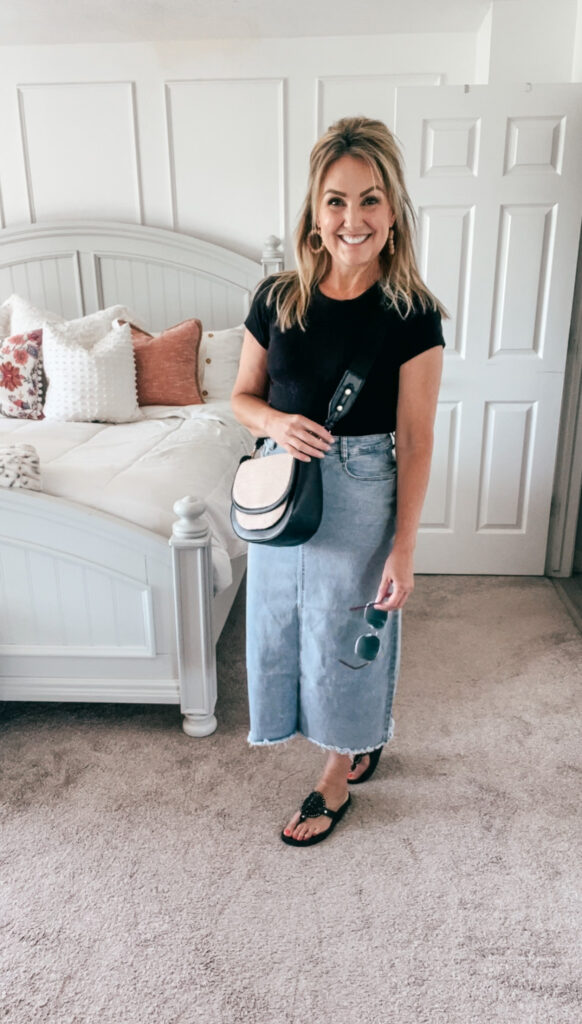 skirt -wearing M  |  t-shirt -wearing M  |  sandals  |  crossbody  |  sunglasses
How To Wear a Denim Skirt
Here are several ways to style this modest denim skirt. Try these different outfits using pieces from your closet and see how many new outfits you'll have!
Pair it with a blue or chambray top for a monochromatic look.
Pair it with a t-shirt, white denim jacket and sneakers.
Pair with a peplum top or wear it with a button-down belted at the waist.
Pair it with a nice top and a blazer.
Pair it with a lightweight sweater and booties.
Pair it with a long sleeve blouse knotted at the waist.
Pair it with a black t-shirt and a moto jacket.
How I Will Wear The Modest Denim Skirt
I will most likely wear this cute skirt in each of the ways I listed above. I really love knotting a top at the waist. It adds definition to your figure in such a flattering way.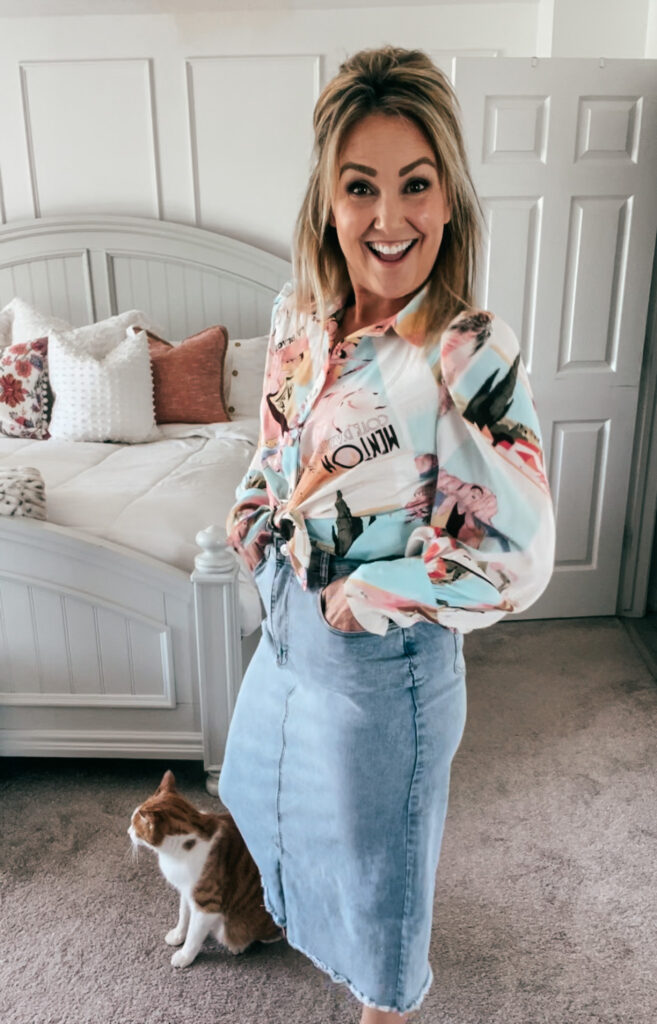 Below, I'm wearing it with the best white button down shirt you'll ever buy. Trust me when I say it's worth every penny! This one will last years!!!
But just look how cute the skirt is in the back… I love that there is no slit that goes all the way up. That's a good feeling. And the frayed edge is darling.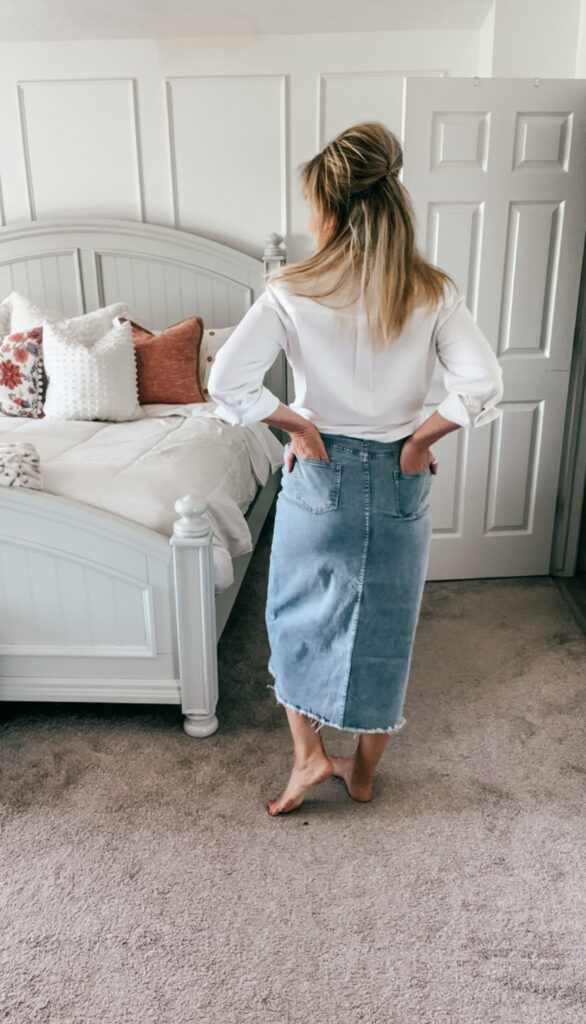 That's it for today!
Pick up this skirt for yourself! I'm telling you it's such a good one and I am beyond THRILLED that I have it!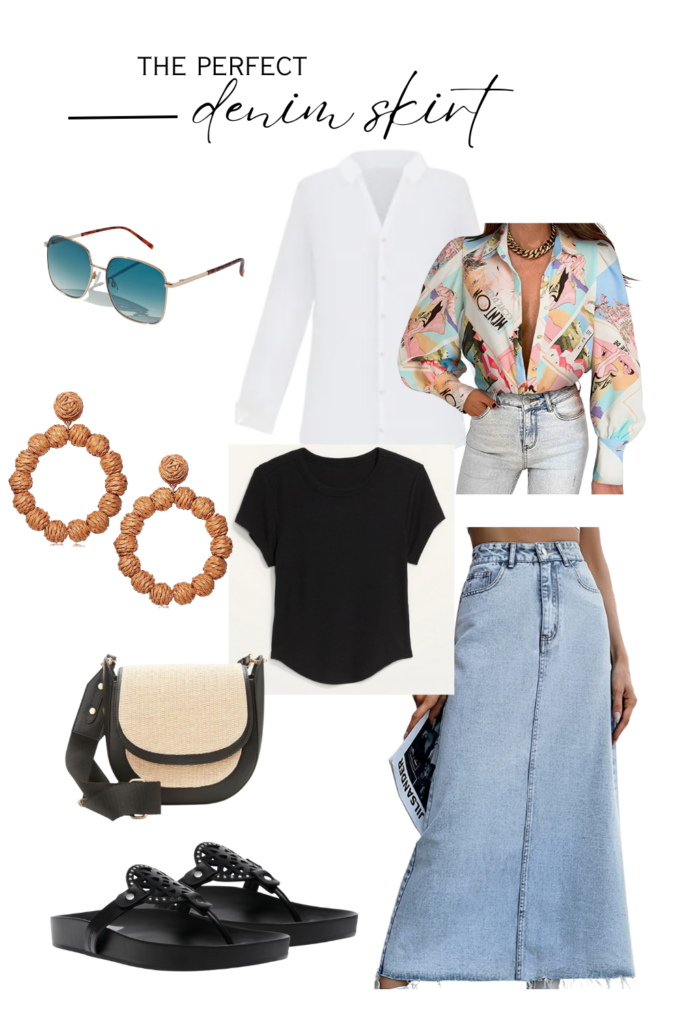 sunglasses  |  white button-down |  colorful top  |  raffia earrings  |  black t-shirt  |  skirt  |  crossbody bag  |  black sandals 
Thank you so much for being here, I appreciate you stopping by my blog!!
You can also find me on Instagram, Facebook, Pinterest, and YouTube.

Look super creative by trying THESE SHOES with your black dress next time!
9 Ways to Style A Jumpsuit – from boring to beyond!
Teacher Style – Classy outfits for back to school!
This post contains affiliate links.  This means I may earn a small commission if you purchase through my links at no extra cost to you.  Purchases made through affiliate links are greatly appreciated as they help to support the blog and continue its production.  Thank you so much!