Simple & Easy Sunday Style…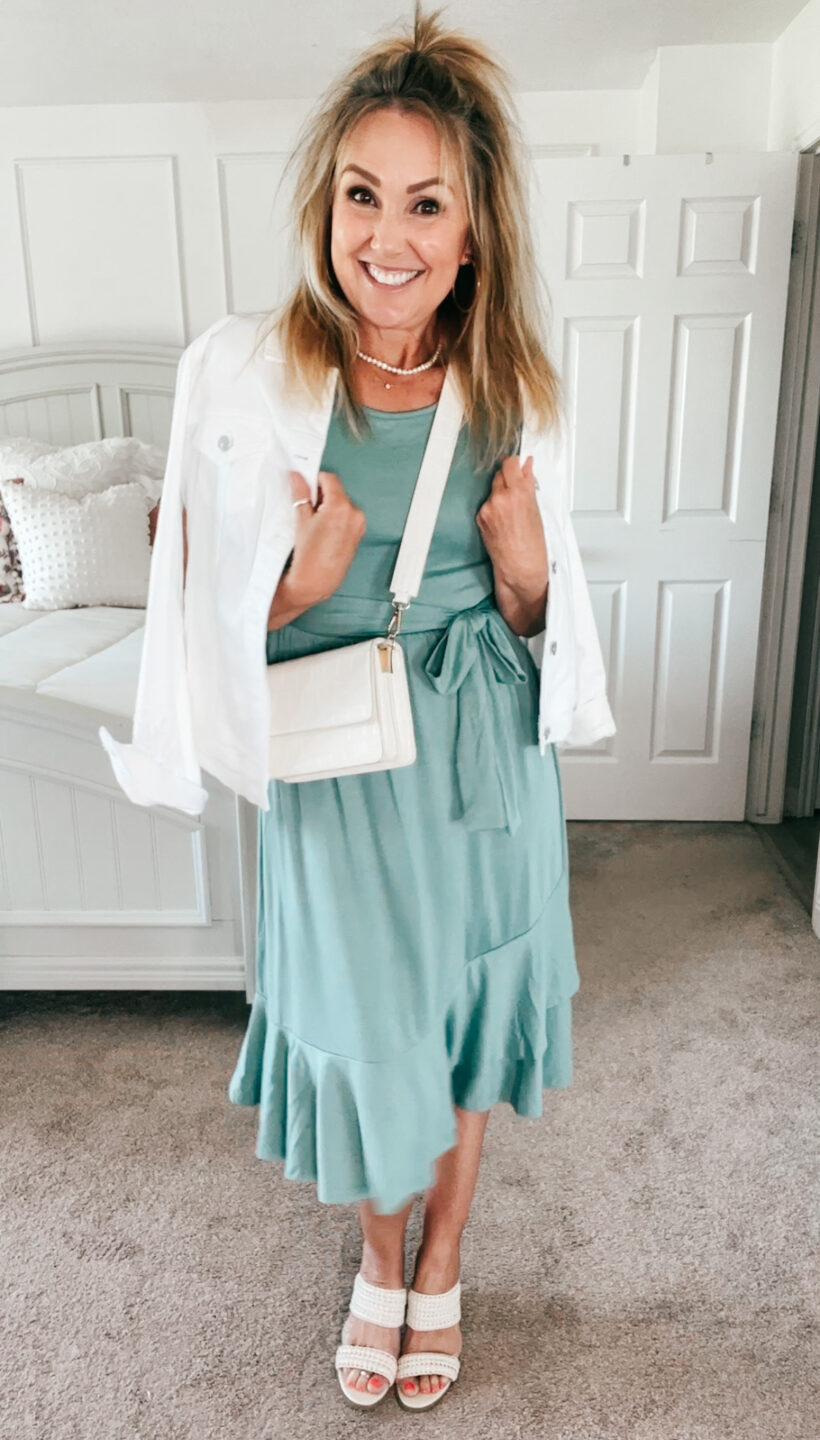 Today's simple and easy Sunday style is a good one!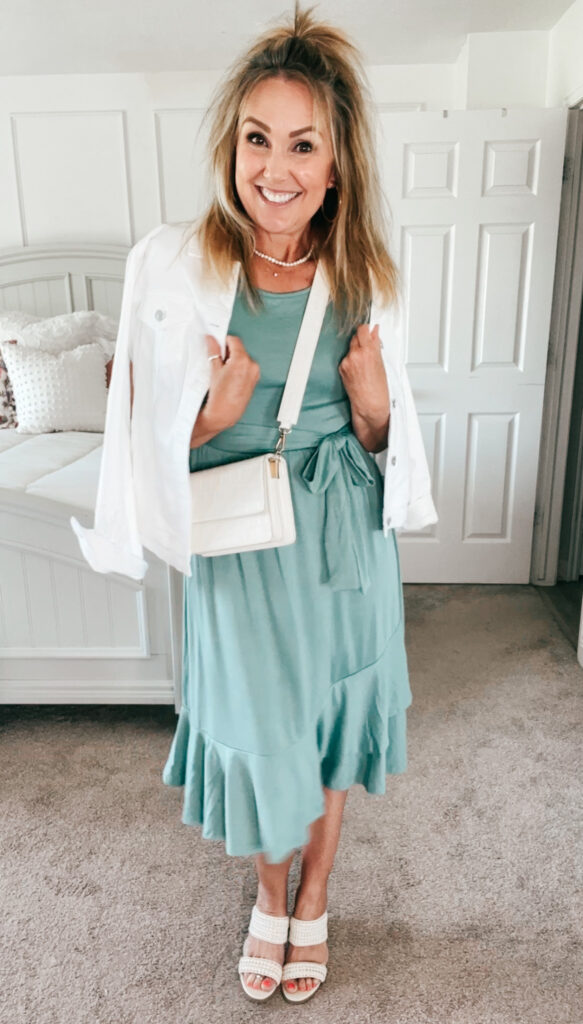 dress  |  shoes  |  bag  |  jacket – similar  |  pearl necklace  |  opal necklace  |  hoops
Easy Sunday Dress
I love this dress! I have almost identical in black and love it. The fabric is a comfortable polyester blend making it easy to wear at a moment's notice without wrinkles. I have worn this dress with heels to church, sandals to the grocery store, sneakers on a walk, and flip-flops to weed the garden!
The Heels
These Dolce Vita heels are fantastic. I picked them up on vacation and I'm so glad to add them to my closet! They are a little higher than I usually wear but unbelievably comfortable! I usually buy a 7.5 or 8 and I got these in an 8 and they are perfect!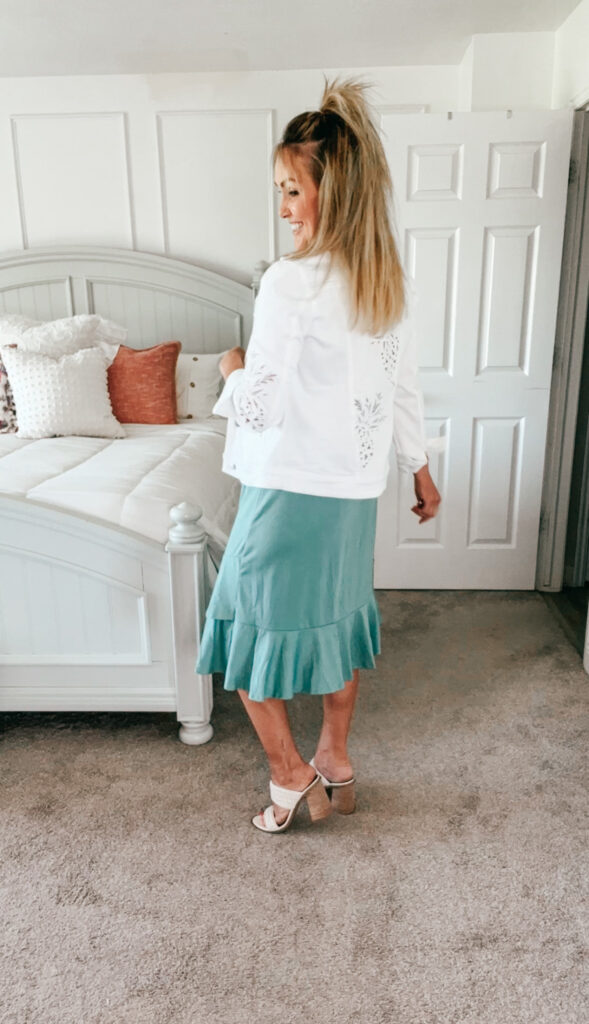 The Jacket & Accessories
Unfortunately,  my Chicos jacket has sold out. But any old white denim jacket would work with this dress. Even a blazer if you prefer that! I am linking a good one from Gap that has a little bit of a puff sleeve, giving it a touch of femininity. But if you prefer no puff in your sleeves, this cropped one looks super cute but you could crop any of your jackets for a similar look.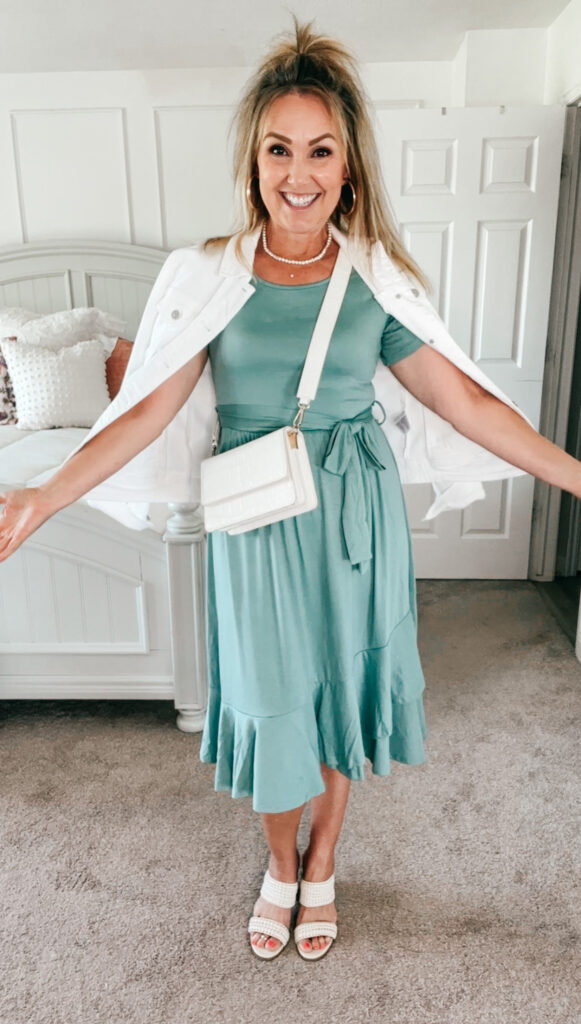 The Telena crossbody bag is a favorite from Amazon as well as the opal necklace that I've had and worn daily for years and the recently purchased pearl necklace. You know that pearl necklaces are perfectly appropriate to wear casually with T-shirts too, right?
Thank you so much for being here, I appreciate you stopping by my blog!!
You can also find me on Instagram, Facebook, Pinterest, and YouTube.

Did you catch my Old Navy Tryon that went viral on Instagram?
In need of a modest denim skirt? This one is fantastic!
If you're planning a cruise or tropical vacation, you'll want to save this post!
And if you are needing to shed a few pounds, do what I did!