How To Wear Paper Bag Waist Pants…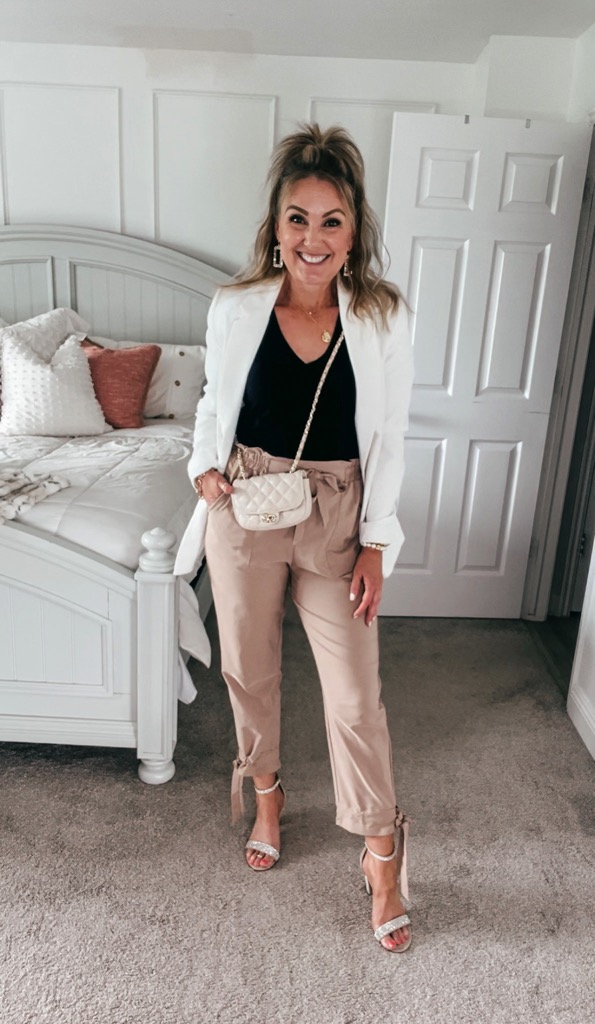 I took a chance on these and am so happy I did!
How To Wear Paper Bag Waist Pants…
These pants are so versatile and can be dressed up or down depending on the occasion. I love that because you get more bang for your buck. I don't buy anything unless I can wear it at least a couple of different ways.
1- A casual look for everyday wear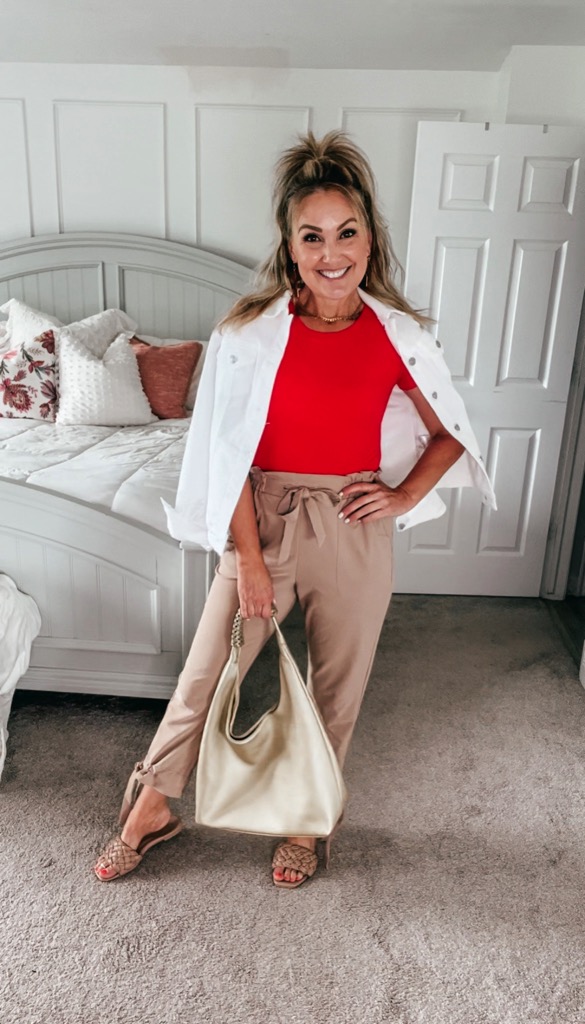 pants |  bodysuit  |  jacket  |  bag  |  sandals  |  star necklace  |  similar star earrings
I would say these Cropped Paper Bag Waist Pants are true to size.  I would normally wear a size medium and that's what these are. They fit perfectly.
The Round Neck bodysuit is a great one!! I love it because I didn't have to size up for comfort in the crotch area if you know what I mean. I ordered my true size and there is plenty of room. I bought it in red, black, and white because it's just that good!  With other bodysuits, I've had to size up significantly for comfort in the crotch area or sleeves, but with this one, you don't have to do that.
The Pineapple Eyelet jacket is a great denim jacket… and it's on sale!!
Also, the Pebble Beach Hobo Bag is just perfect for so many outfits and so many occasions! It would be a stylish diaper bag for young moms.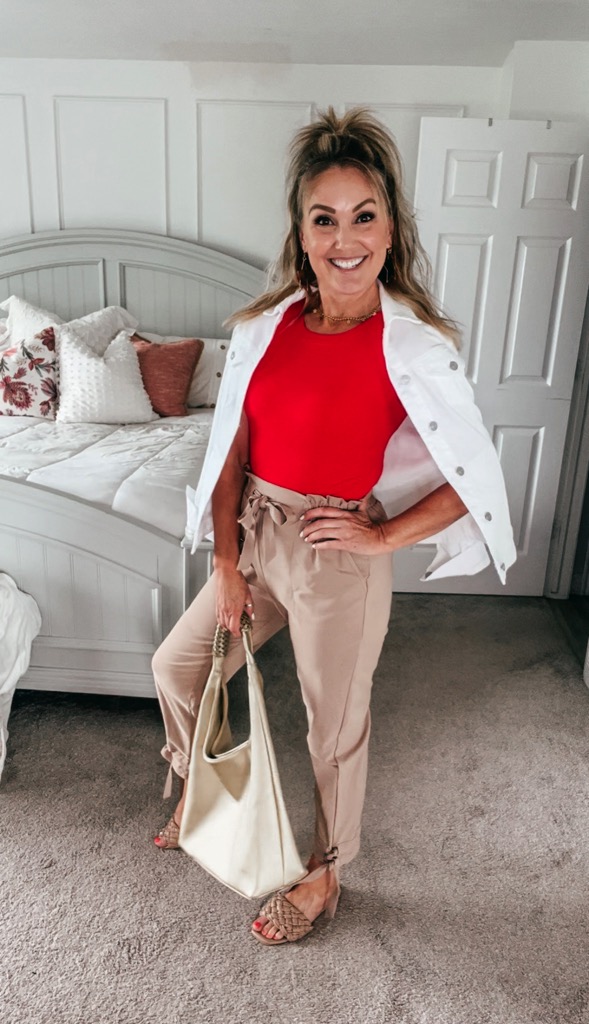 2- A dressy look for fancier occasions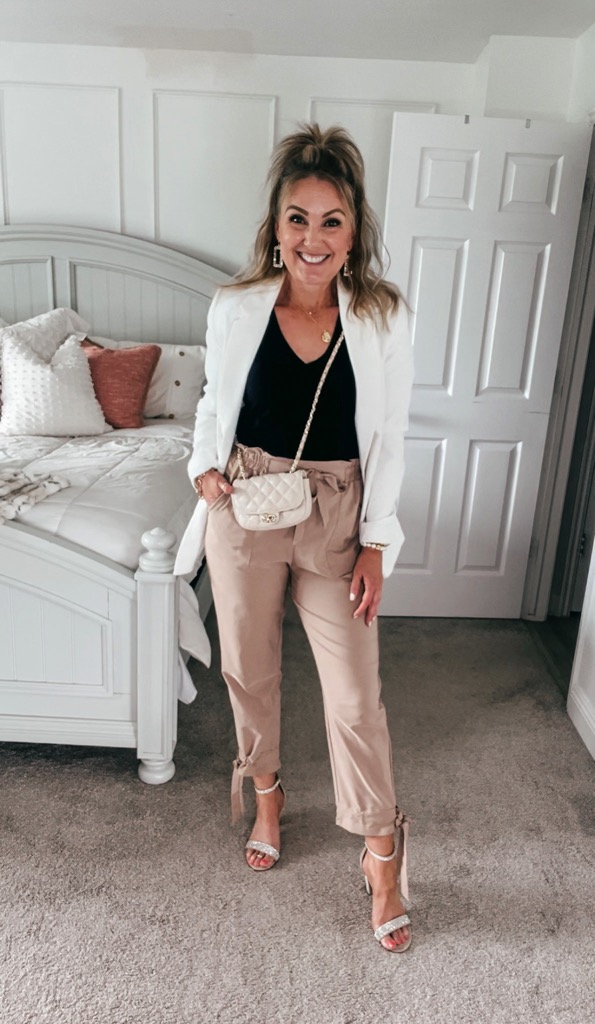 pants  |  black top  |  blazer  |  sparkly shoes  |  crossbody  |  crystal earrings  | oyster necklace
By switching out the jacket, bag, and shoes, you've got a whole new outfit! It's just as darling. but for dressier occasions.
This Long Blazer is a fan favorite! I have it in 3 colors and it's true to size. However, I sized up for a more loose fit in the arms.
I bought these darling Chunky Heels for Sam's wedding and only wear them when I want to sparkle a bit. They are so pretty!
This Black V-Neck blouse is a really pretty shape and the puffed shoulders elevate the look.
I bought the Small Quilted Bag for dressier occasions when you only need lipgloss and keys. It's so cute!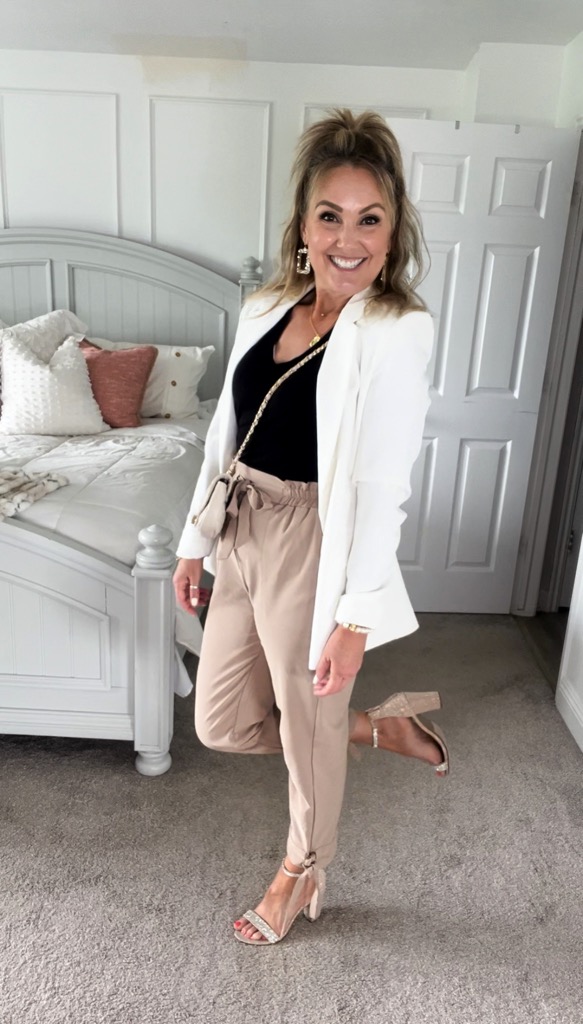 Other ways to wear…
A t-shirt and sneakers.
A tank top and heels.
Same color top and bottom for a monochromatic look with a pop of color in the shoes or accessories.
Cropped denim jacket and sandals.
That's it!
Thank you so much for being here, I appreciate you stopping by my blog!!
You can also find me on Instagram, Facebook, Pinterest, and YouTube.

What shoes to wear with a black dress HERE.
Makeup tips for women over 50 HERE.
9 Ways to Style a jumpsuit HERE.