HOW TO CLEAN BRICK…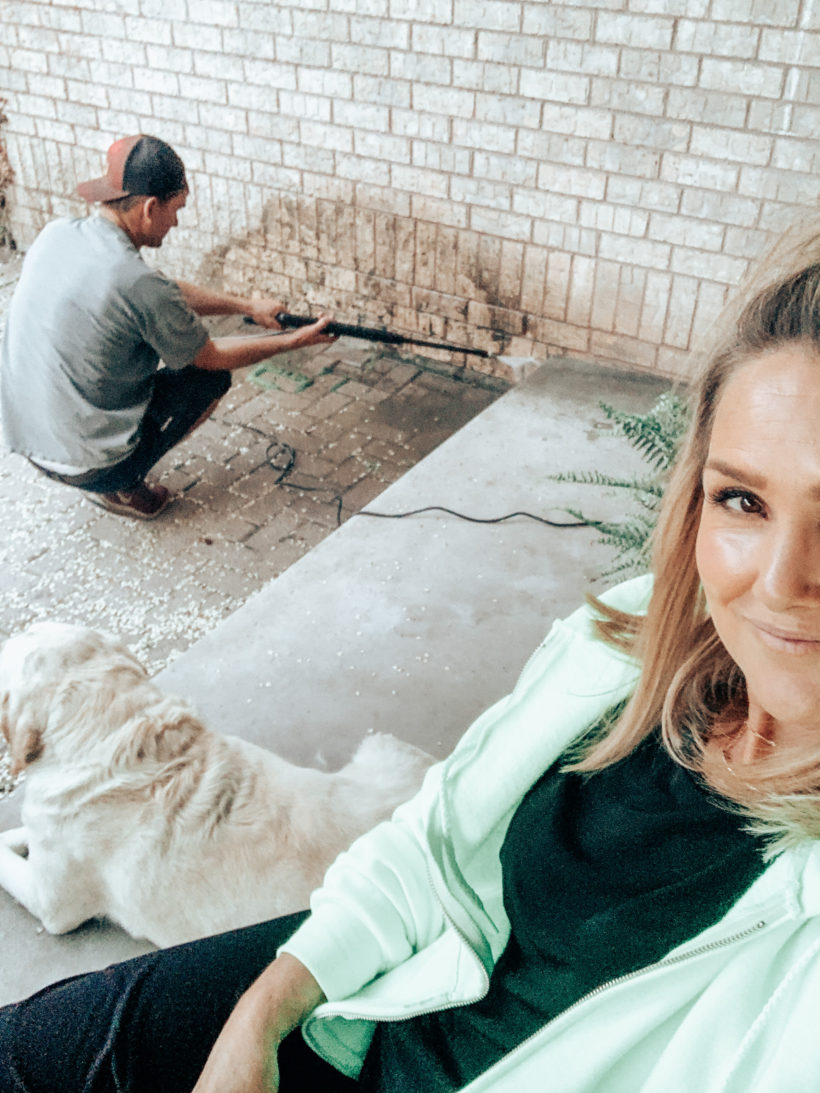 I've had this huge, moldy spot on my brick for some time now.
It actually may be a combination of mold and dirt.
It's caused by having no rain gutters… my husband doesn't like them, so we deal with other problems instead of broken rain gutters.
The rain rolls down the roof and is concentrated in this one spot by our porch.
Then it splashes on the brick pavers which then splashes up on the brick house.
But how do you clean brick?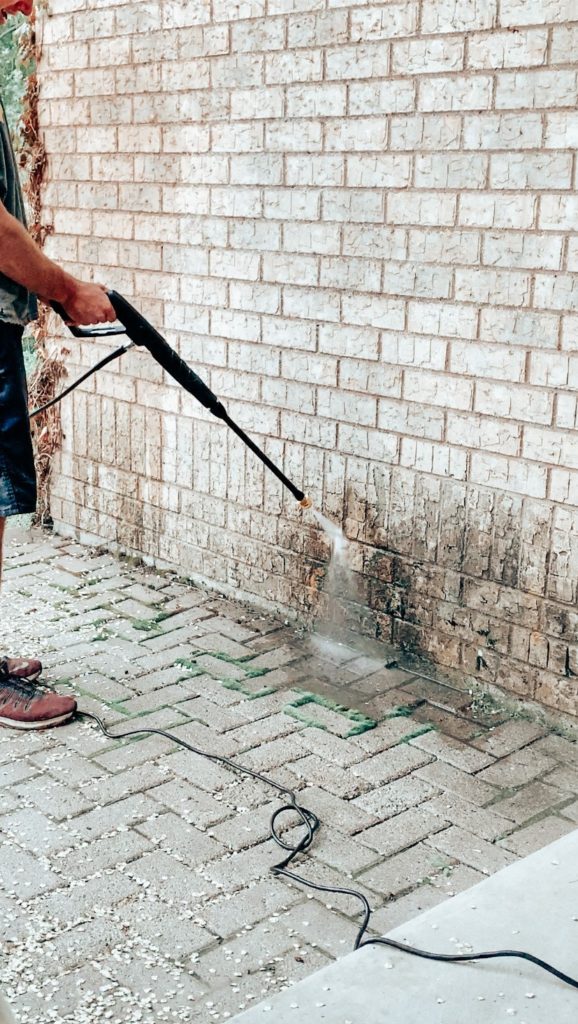 How to clean brick the easy way!
**This pressure washer was gifted to me and will have affiliate links but all opinions are my own.
I was planning to get some Clorox and scrub the heck out of it, but just before I did that, I was gifted the Sun Joe 2100 PSI Pressure washer with Patio Cleaner from HSN!
At the time, I had just tested positive for Covid, so I had no desire or strength to put it together.
Then…
in walked Sam.
My oldest boy.
He was so excited about it and had it put together in NO TIME.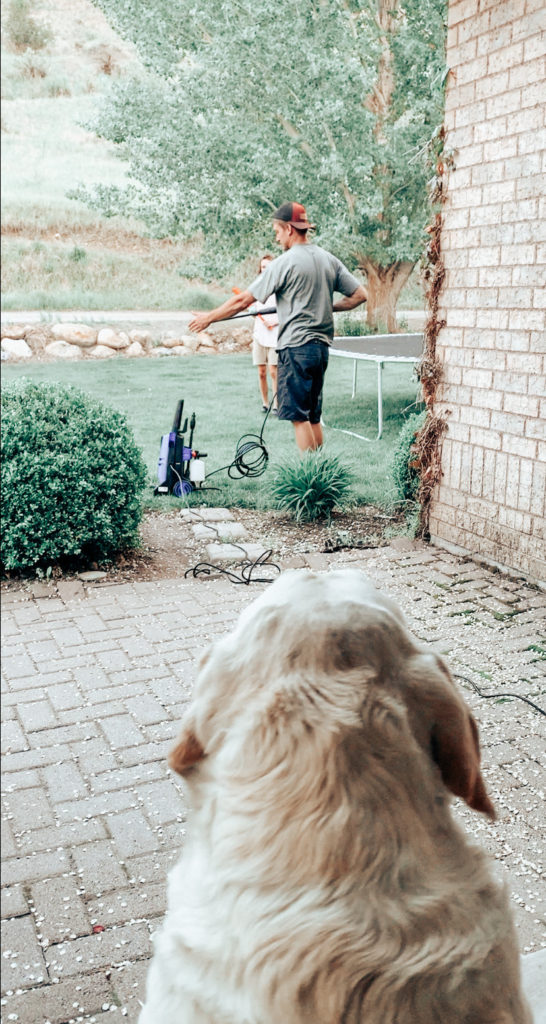 And talk about satisfying…
Have you seen the videos of people pressure washing their driveways or patio furniture?
Well, we had our own moment on the front porch!
And when I say "we," I mean "Sam" because I just sat there and watched.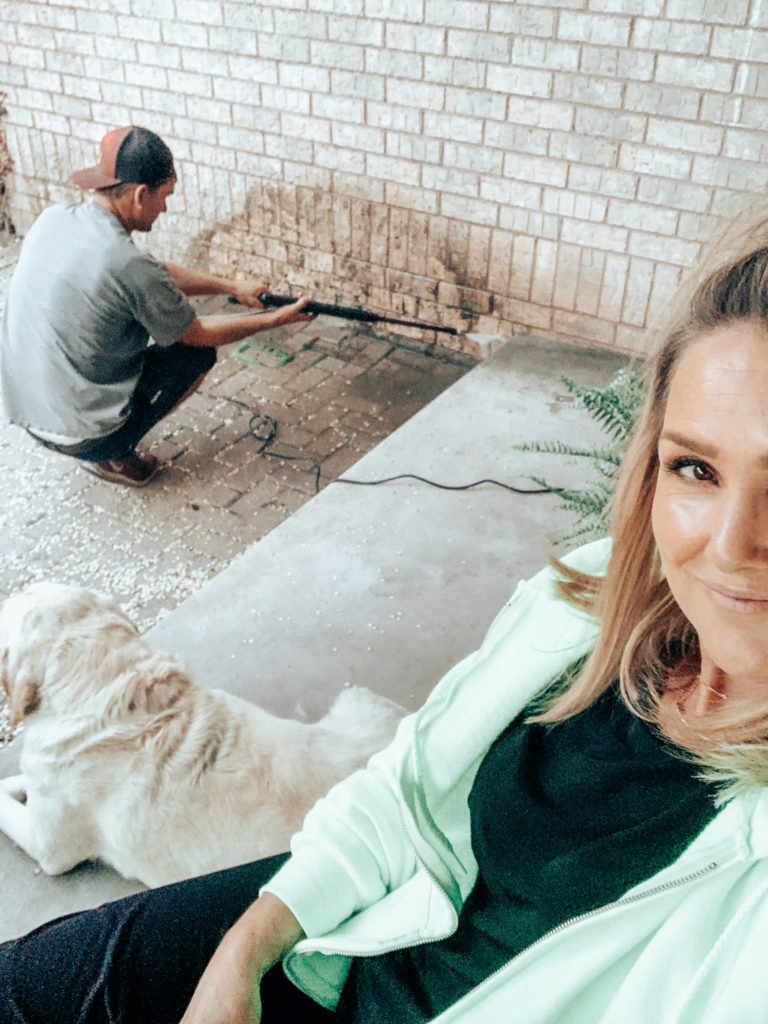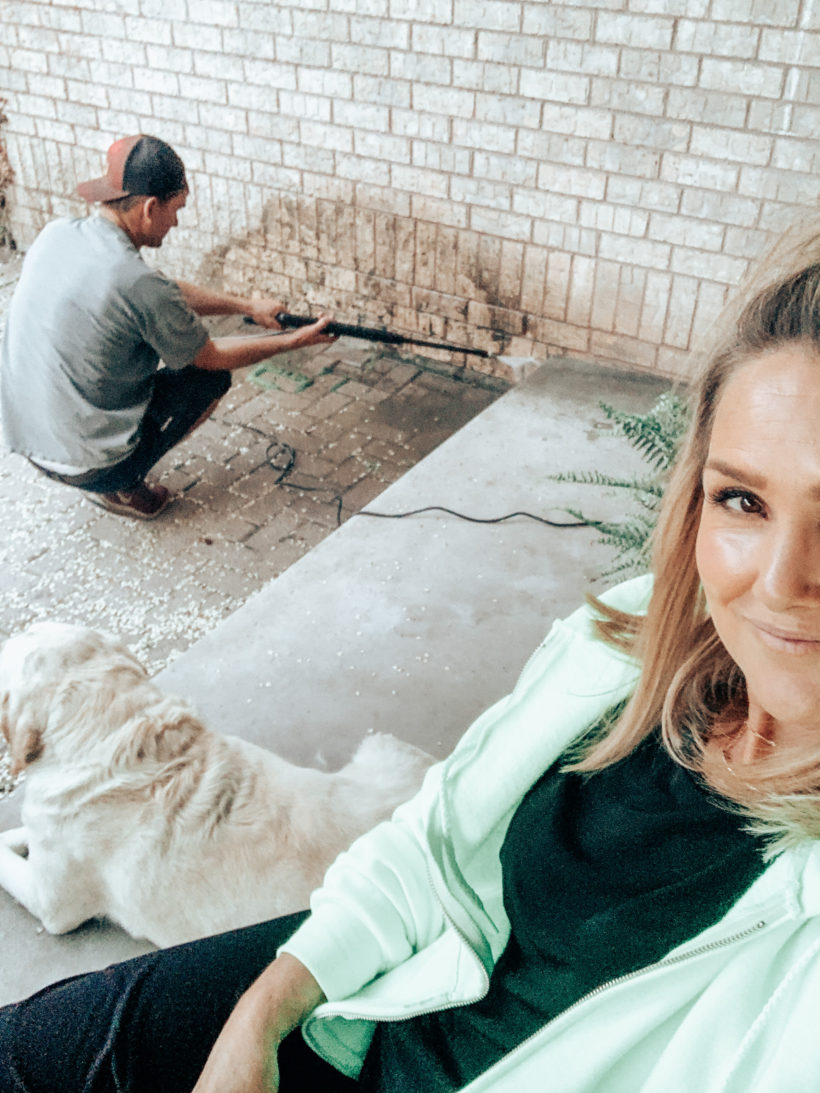 The Sun Joe pressure washer took off all the mold and staining so easily!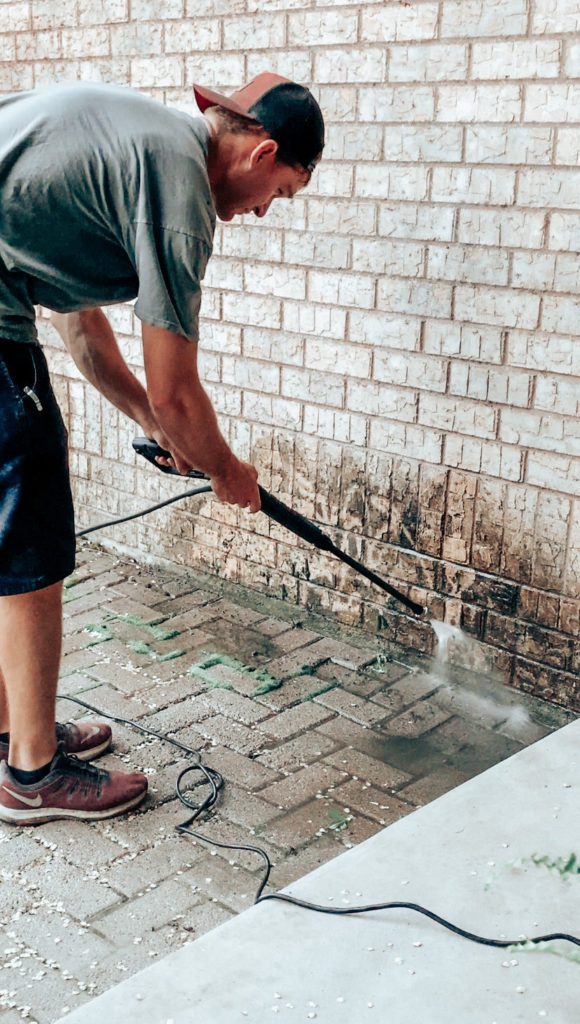 It sure beats scrubbing, I'll tell you that!
It comes with 3 spray tips so you can adjust the spray to meet any job you have.
Here you can see Sam messing around with another tip and could basically write his name in the dirt!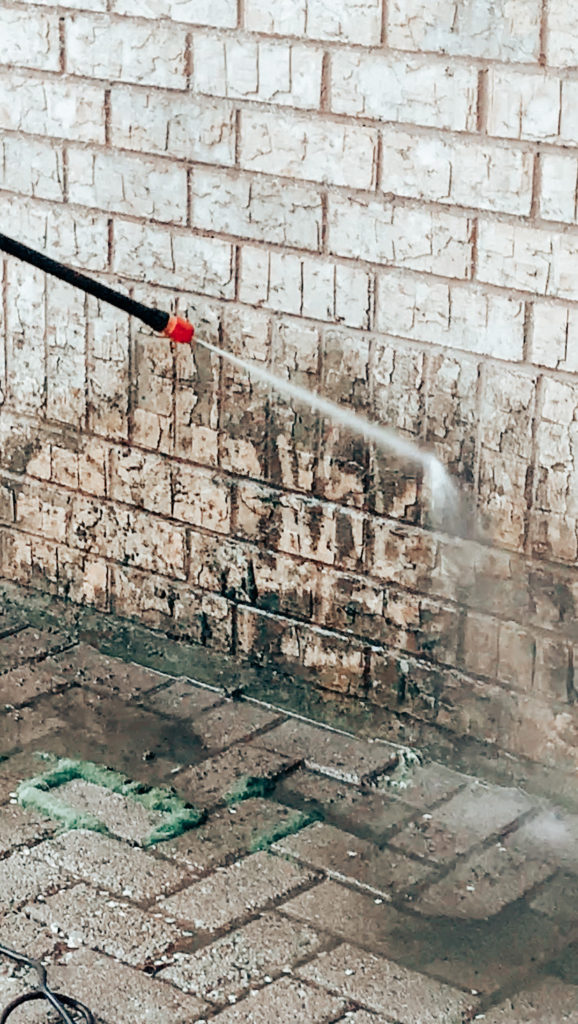 This little pressure washer is handy for me because it doesn't need gas, it's lightweight, and easy to roll around.
So basically I can use it whenever I want to!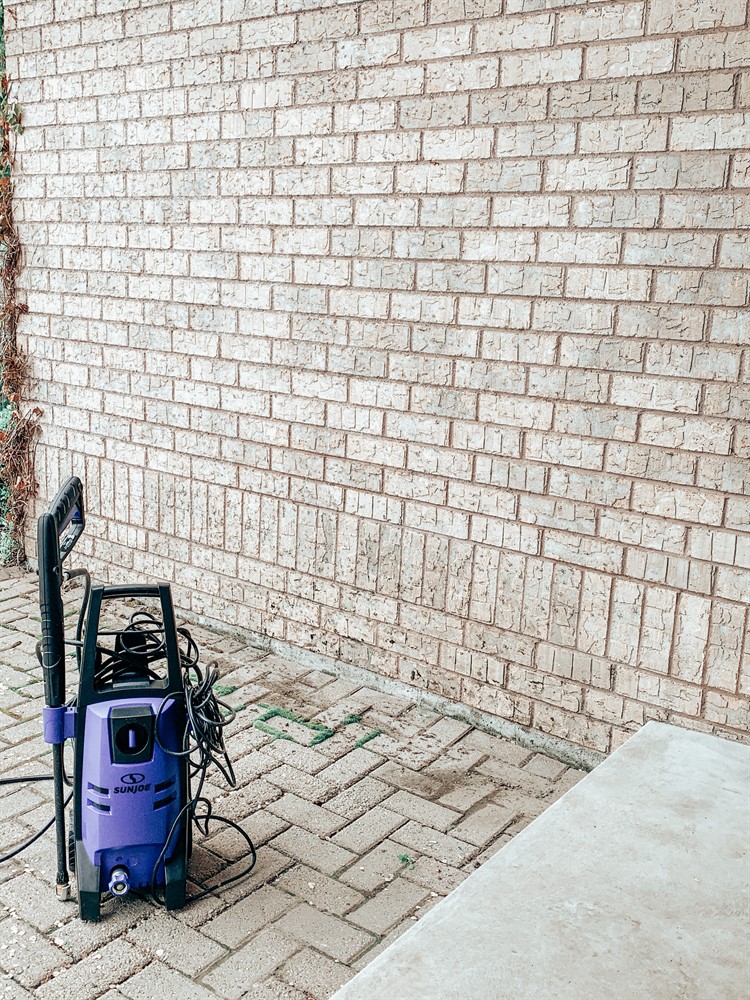 Right now it's on sale for the week for $134.95.
But if you sign up for an HSN card, they will give you $40 making the pressure washer on $95!!
Think what a great Fathers Day gift this would be!!!
What else can you do with this pressure washer?
Do you need to clean brick at your house?
Or patio furniture or a fence?
How about just having a car wash spray nozzle and foaming cannon at home instead of paying to go through a car wash??
Yes, it comes with a 26 oz. foaming cannon!!
And also a patio cleaning head to clean your entire patio or sidewalk!
We will be using this little contraption for a long time.
It seriously works great!!
For more information on the Sun Joe 2100 PSI Pressure Washer with Patio Cleaner, click HERE.