3 POMEGRANATE SMOOTHIES…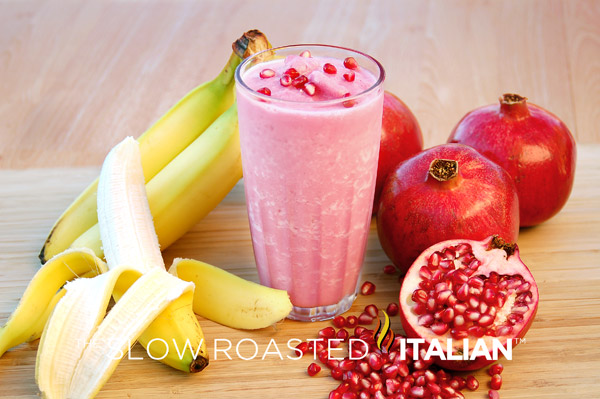 It's pomegranate season!!!




Who doesn't love these little gems and how good they are for you!


Before I share these 3 pomegranate smoothies, take a look at this list of health benefits of pomegranates from Dr. Fuhrman: 


Health Benefits of the Pomegranate
Most powerful anti-oxidant of all fruits
Potent anti-cancer and immune supporting effects
Inhibits abnormal platelet aggregation that could cause heart attacks, strokes and embolic disease
Lowers cholesterol and other cardiac risk factors
Lowers blood pressure
Shown to promote reversal of atherosclerotic plaque in human studies
May have benefits to relieve or protect against depression and osteoporosis
Many studies show that the pomegranate is one of the most powerful, nutrient dense foods for overall good health. These clinical findings clearly show a correlation between pomegranate compounds and their positive effect on both human and animal cardiovascular, nervous, and skeletal health. This is one fruit that you can't afford to exclude from your diet!
 Don't you love how these show up just in time for winter and the cold/flu season?  Mother nature knows what she is doing!
Check out these 3 pomegranate smoothie recipes that are calling my name:
1.  Winter Fruit Protein Smoothie  
from the Balance Bar Website
1 small tangerine
1/3 cup fresh raw cranberries
1/4 cup pomegranate juice
1/2 to 1 cup crushed ice
15 grams pure whey protein powder
3 whole walnuts, cracked just before using
Directions: Combine all ingredients in a blender and process until smooth.
2.  Pomegranate Banana Smoothie     
From the Slow Roasted Italian


1 banana, frozen in pieces (at least 1 hour)
½ cup ice
3/8 cup  non fat, plain yogurt
¾ cup fresh pomegranate juice (seeds can be included, if you choose)
Blend, serve, enjoy!!!
Gluten free – optional Dairy free and Vegan – Recipe from Feastie.com

With over 8g of fiber and 15g of protein, this thick and delicious smoothie will give you just the kick you need to jump start your morning. Allow the ingredients to soak overnight for a pre-made quick and easy breakfast. Throw in the blender, and go! 
Ingredients
1 cup juice* – I used Happy Planet pomegranate blueberry bash
2 tablespoon chia seeds
1 tablespoon unsalted pistachios, shelled
1/4 cup yogurt* – I used Liberte organic plain yogurt
3/4 cup frozen mixed berries
* Almond milk could replace the juice to lower sugars
* This smoothie can be made vegan and dairy free by using a non-dairy yogurt
Directions
To be made the night before you plan on eating it, or at least 4 hours in advance so the chia seeds can soak up the liquid.
Combine all ingredients but mixed berries in a glass container [I used a 500mL mason jar]. Seal with lid, shake to combine and place in the fridge overnight.
In the morning, pour the contents of the container into your blender, add berries, and pulse until smooth.
How about you make one of these 3 pomegranate smoothies for your next Family Night?  Check out THIS POST for the perfect lesson to go with them.
Family night DONE.
Enjoy!
Copyright: canadapanda / 123RF Stock Photo