7 Days of Teacher Clothes – Day 2…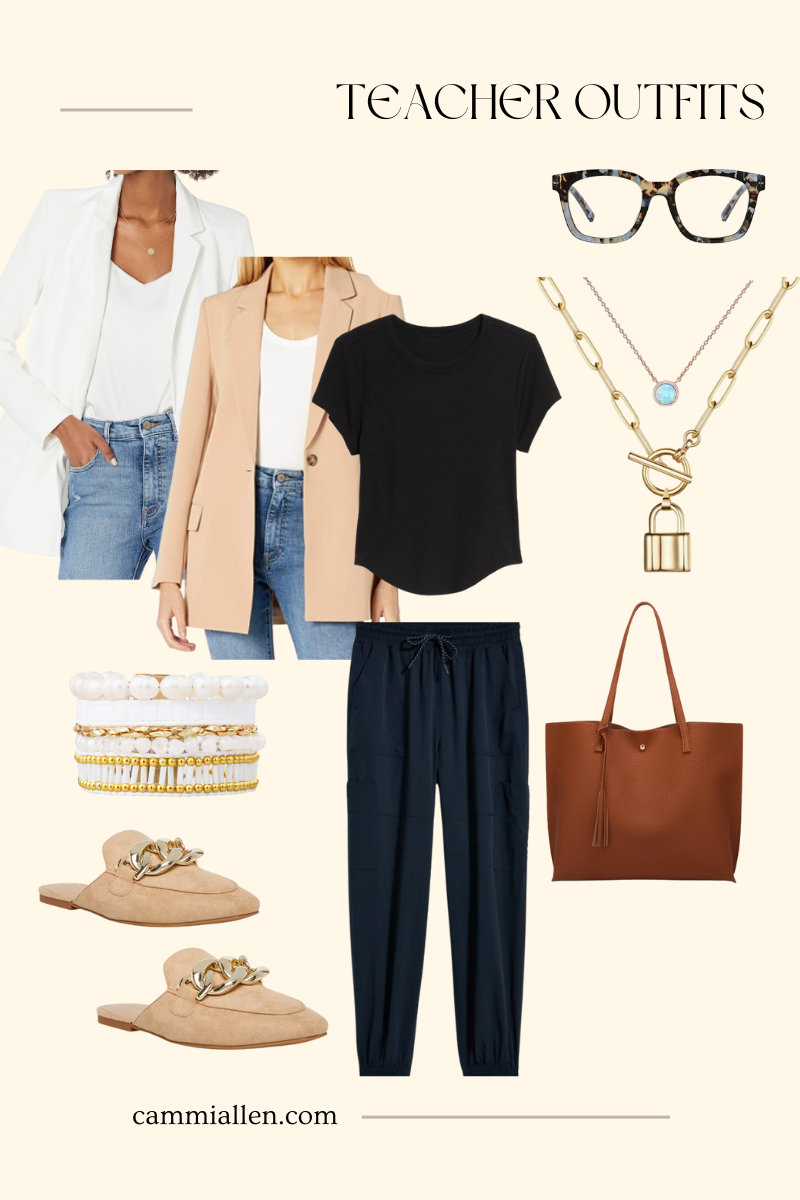 Today I'm sharing an outfit that includes some of my GO-TO pieces all summer! The reason I keep reaching for them is that they are cute and they are comfortable, which is precisely what teacher outfits should be!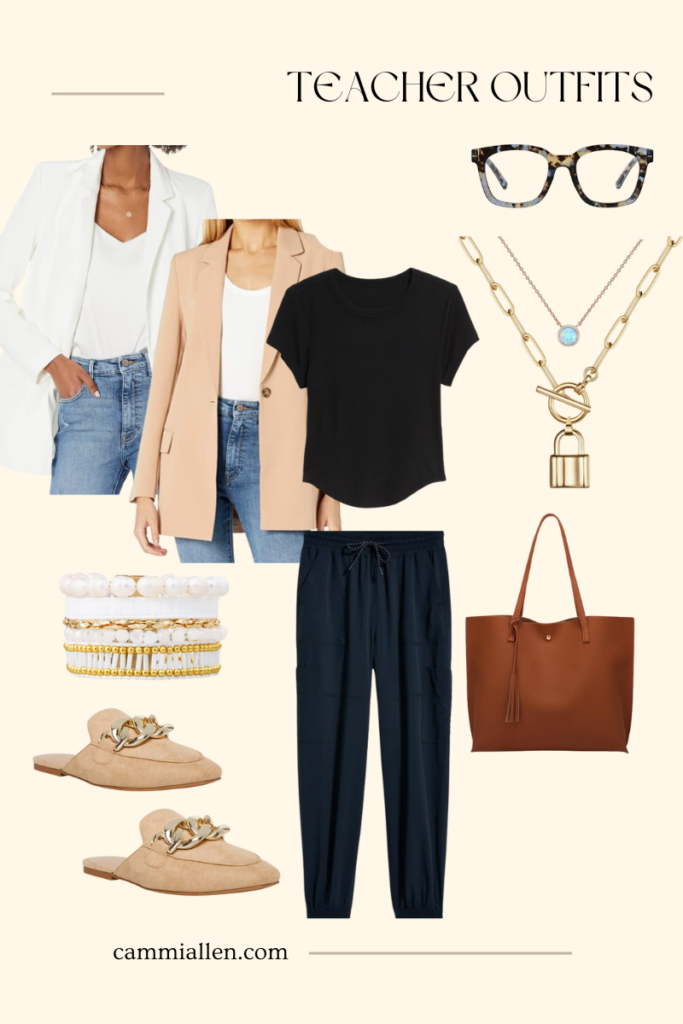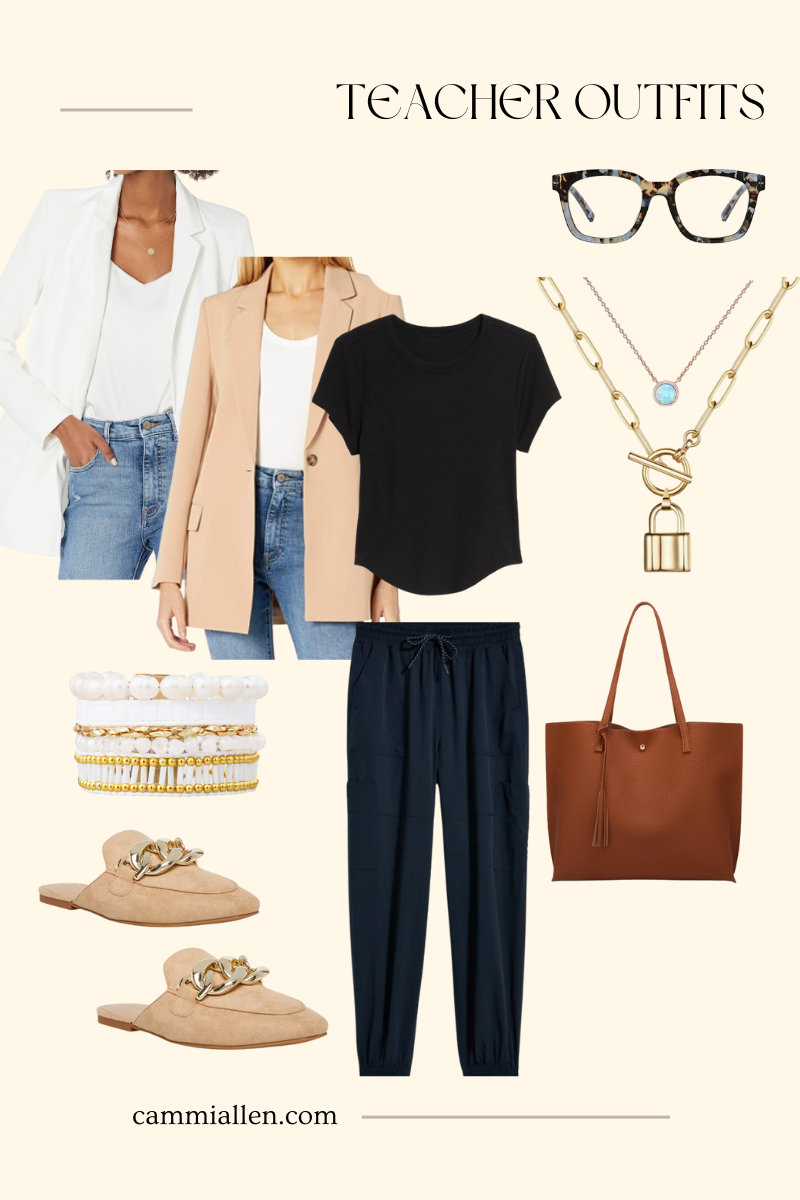 joggers  |  tee  |  blazer, beige and white  |  bracelet  |  bag  |  shoes  |  opal necklace  |  lock necklace 
Teachers will feel great in these clothes!
Ok, let me introduce you to the most comfortable joggers on the planet!! It is made up of a stretchy, breathable fabric that is quick drying. The waist is elasticized and also has a tie to cinch it up more if needed. They come in multiple color options of which I chose 3.  Yes, THREE!!!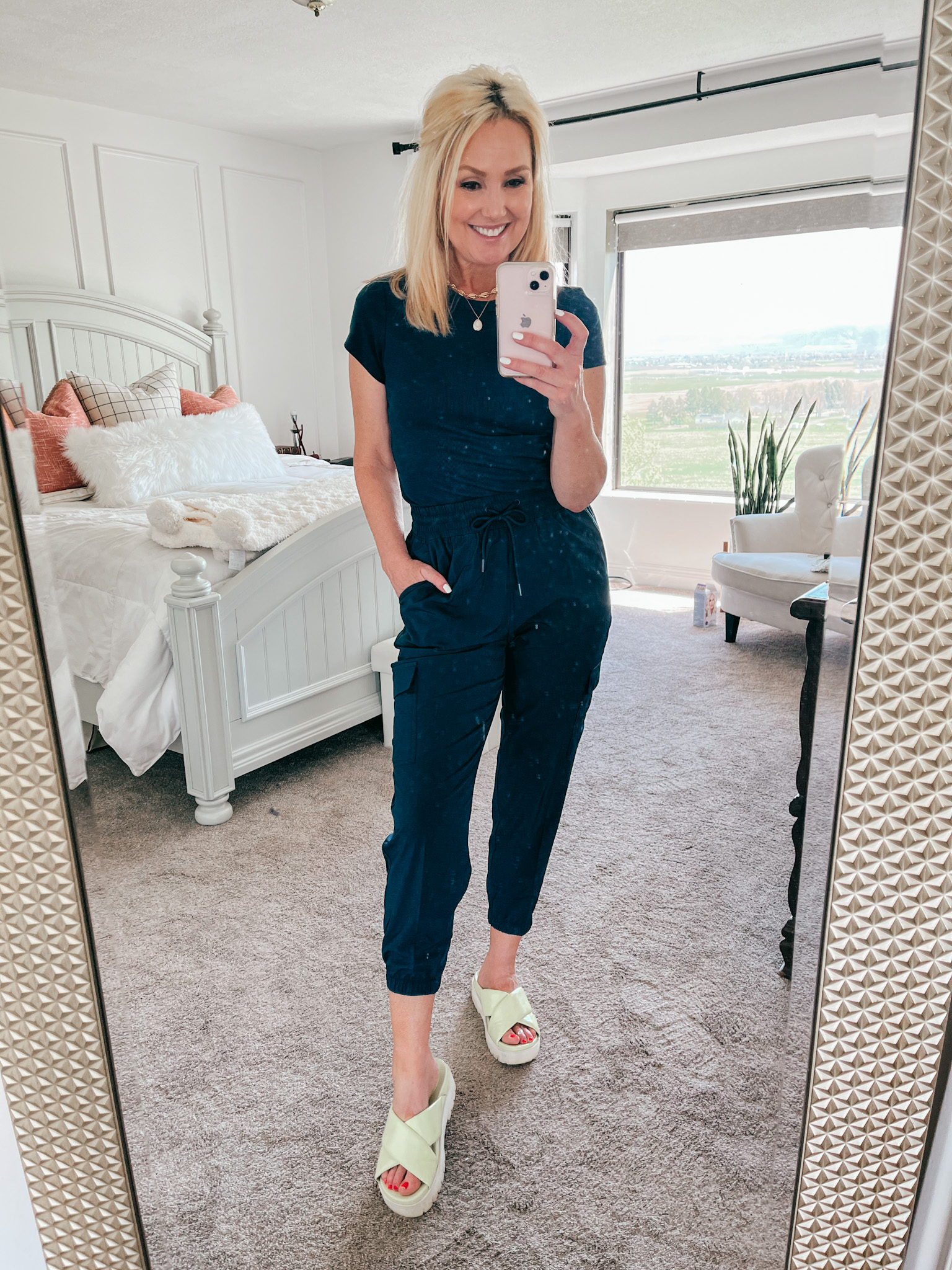 joggers  |  tee  |  lug sole sandals
I bought them in black, navy, and brown, wearing the navy in the photo above. They don't "come with" this little tee, but it's the best matching piece!  It also comes in multiple color options to match the joggers.
An IMPORTANT tip on sizing!
I typically wear small in t-shirts and medium in bottoms.  HOWEVER!! I highly recommend switching that up here.  I tried on my usual size and the t-shirt was MUCH TOO tiny and fitted and the joggers felt like they were too big and unflattering.  So instead, I got a medium in the tee and a small in the joggers.  Those sizes were perfect for me!
Here I am in the black.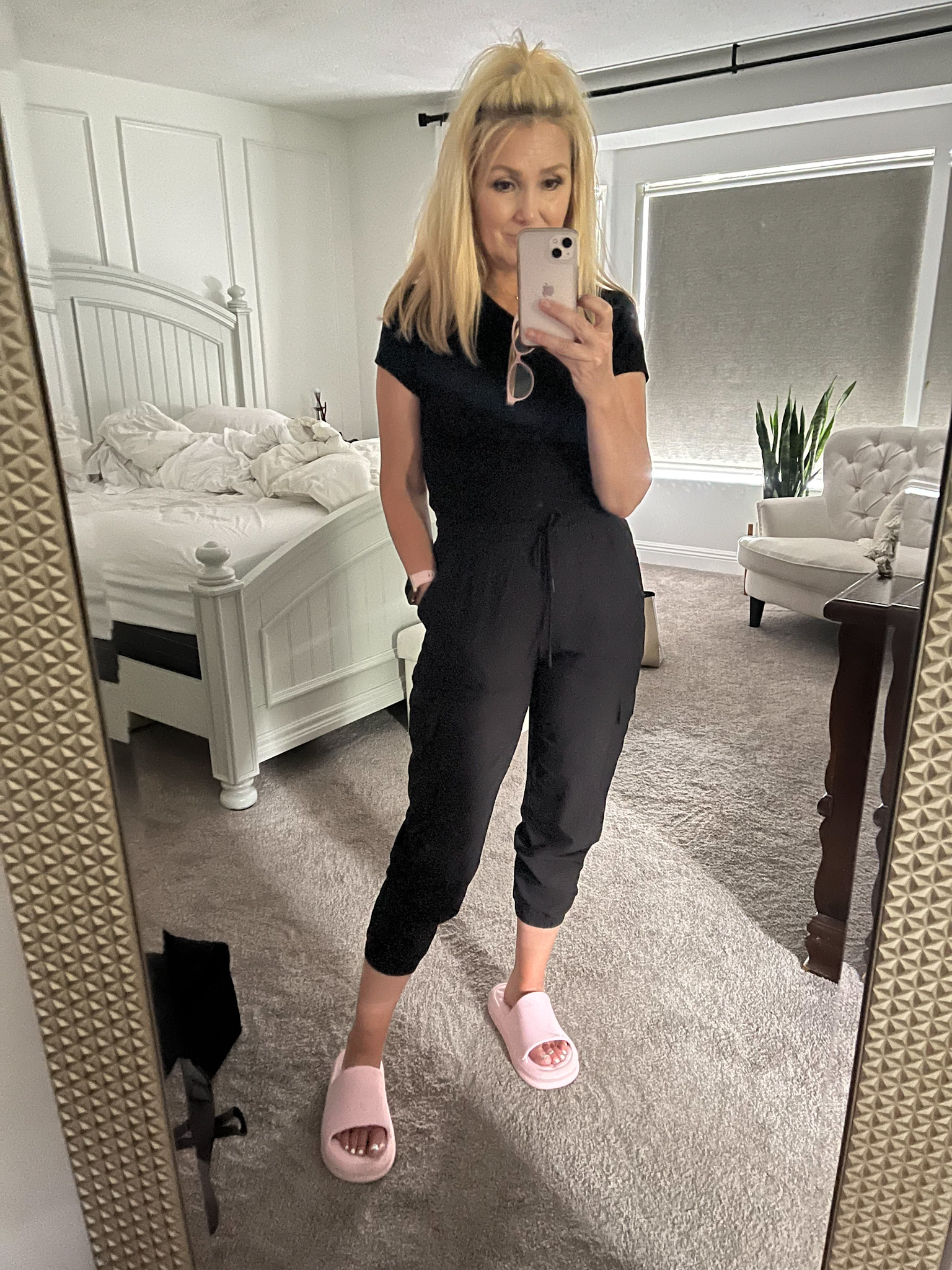 The photo above was after spending 4 long days in the hospital after Rick had a stroke… in the same outfit!!
I mean, if I had to pick an outfit to wear for 4 straight days… it would definitely be THIS ONE!!!
Moving on… let's make it a teacher outfit!
All you need is to add a blazer and nice shoes and wa-la!! You can see here I switched it up with the same tee that I bought in white.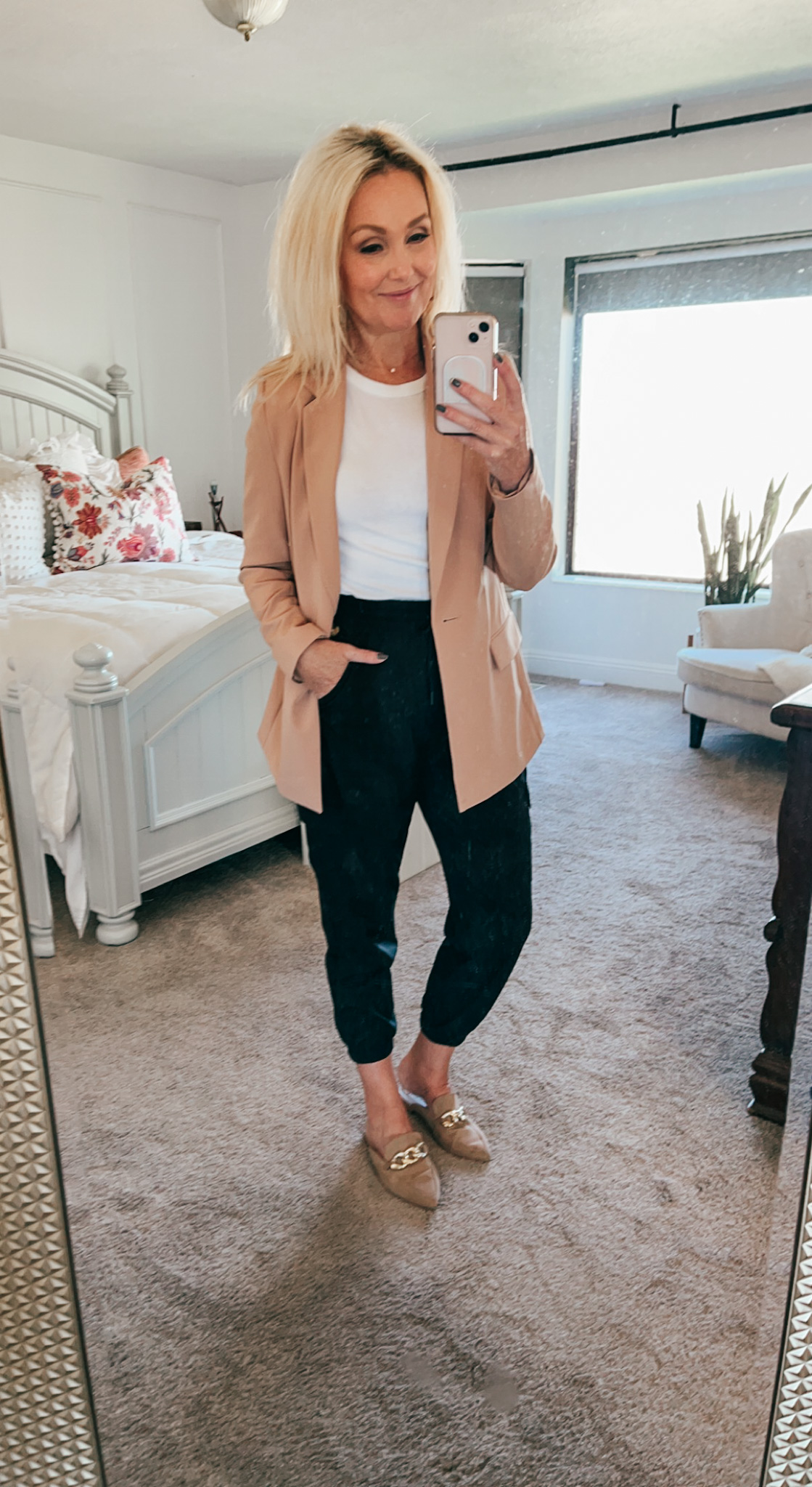 joggers  |  tee  |  blazer  |  shoes 
Or a cardigan would do nicely, too.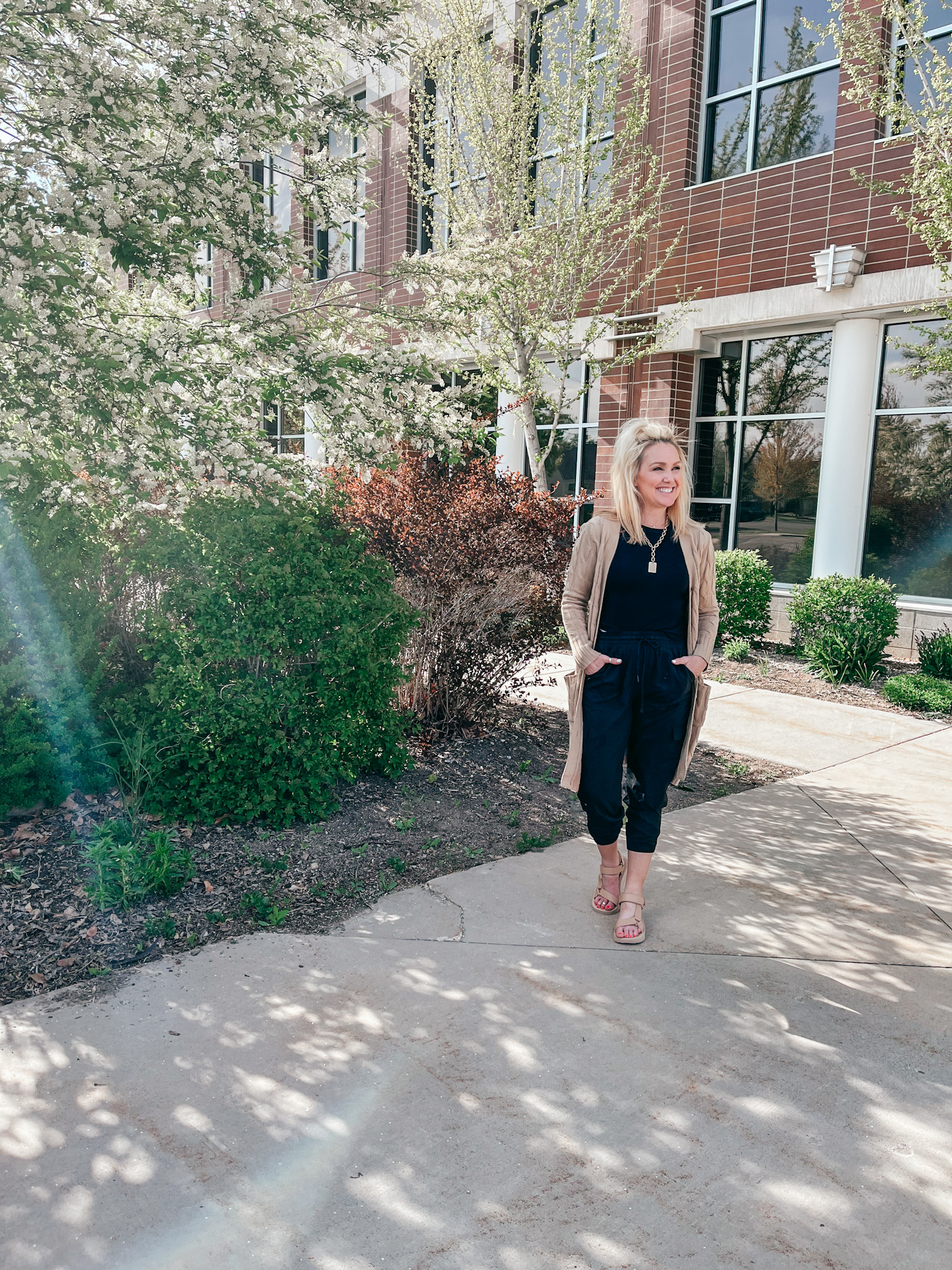 I would say that you 100% need to add this two-piece number to your arsenal of teacher outfits! And I would also say that if you're NOT a teacher… you need it just as much!!!
Here's another idea with a denim jacket. This jacket is lightweight enough that you can wear it all day… it's more like a shirt. The peplum detail makes it significantly more flattering than other denim jackets!!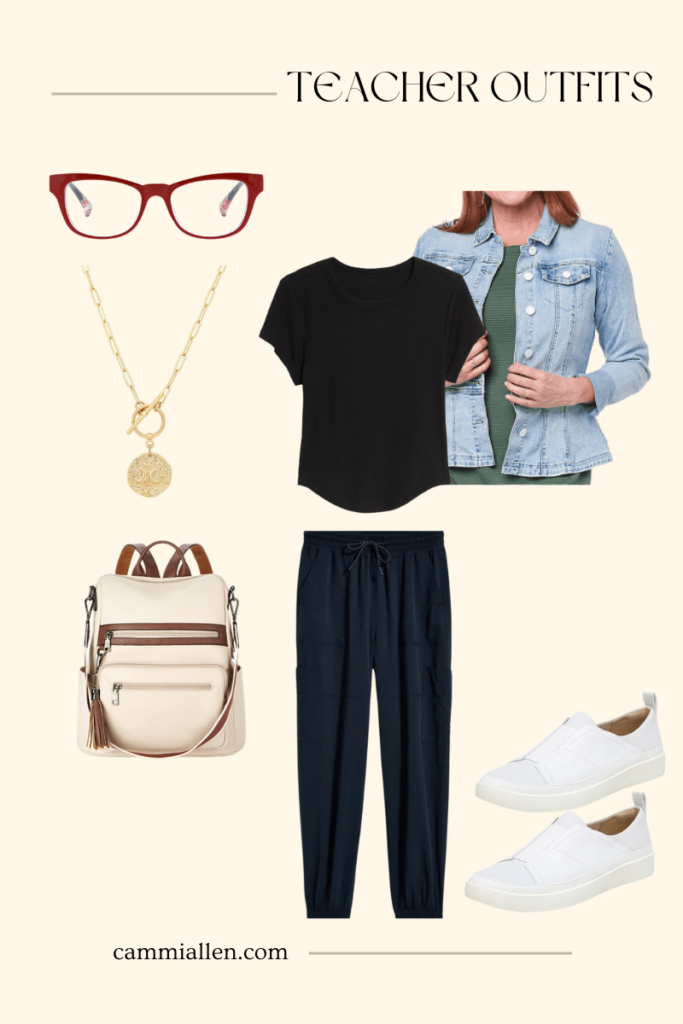 joggers  |  tee  |  sneakers  |  peplum jacket  |  necklace  |  backpack
I hope this has helped some of you teachers out!  Click HERE for Day 3!
Did you miss Day 1? Click HERE.
Thank you so much for being here, I appreciate you stopping by my blog!!
You can also find me on Instagram, Facebook, Pinterest, and YouTube.

Also, if you wanna feel classy, you need THIS outfit!!
See my reader's favorite items from September HERE.