7 Days of Teacher Clothes – Day 1…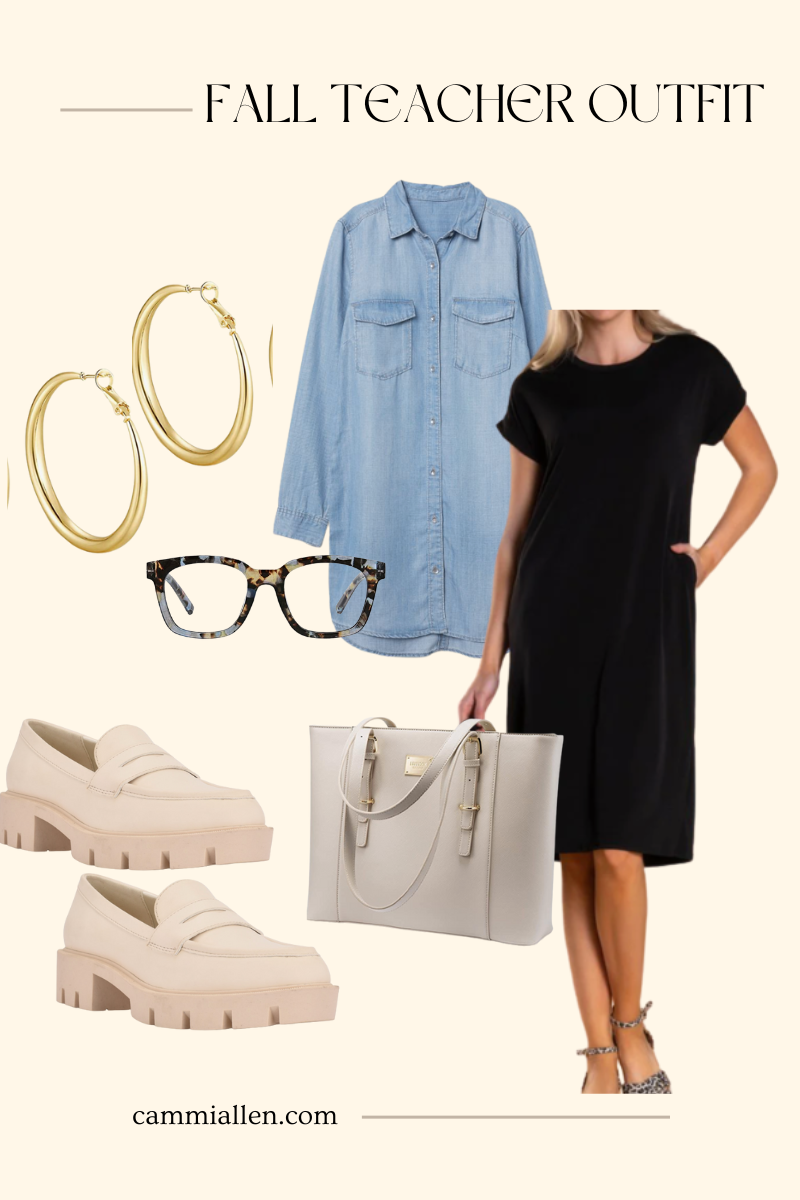 I had a cute elementary teacher friend tell me she would love it if I shared some teacher outfit ideas. So I rounded up a few outfits and will share them over the next several days.  I hope that this might inspire you to create similar outfits with pieces from your own closet. Of course, I will link everything below each graphic in case you're interested.
What kind of clothing do teachers need?
Here's the thing wiht teacher clothes.  They need COMFORT.  They need to move around the classroom easily and they might be on their feet a lot during the school day. Most are looking for style at a great price.
The Black Dress
Whether you are petite or plus size, black dresses will pair with so many other pieces giving lots of variety… and COMFORT!
Quite often, dresses are more comfortable than pants, if you get the right one.

dress – code CAMMI10  |  chambray shirt  |  loafers  |  messenger bag  |  blue light glasses  |  earrings 
When shopping for a black dress, try to find a loose dress with lots of give. Nothing tight. This particular black dress is one of my favorites! It is a must-have piece of clothing for a cute teacher who needs comfort and style. It's comfortable, loose-fitting, and best of all… wrinkle-free!!! Oh yes… wad it up and throw it in a drawer… it will not wrinkle! The pockets offer a place for keys, phone, treats, kleenexes, or whatever!
I love the versatility of a simple black dress. For a fun twist, throw a graphic tee or white button-down shirt over it and tie a knot in front! This creates the look of a top and skirt. Add any third piece like a cardigan, blazer, or denim jacket for interest.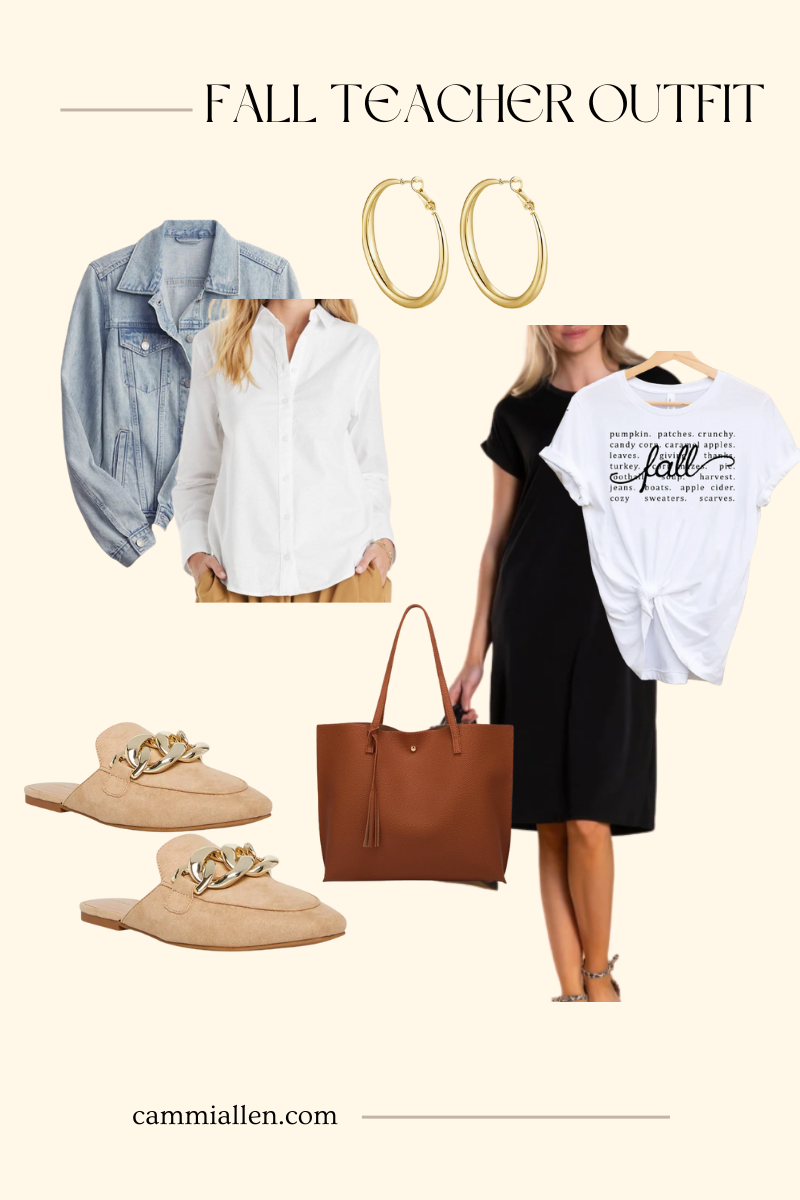 dress – code CAMMI10  |  white tee  |  white button up  |  denim jacket  |  tote  |  chain mules 
Third pieces that go great with your teacher clothes
Top your little black dress with any cardigan, blazer, or jacket from your closet. For warmer weather, the sleeveless cardigan is one of my favorites!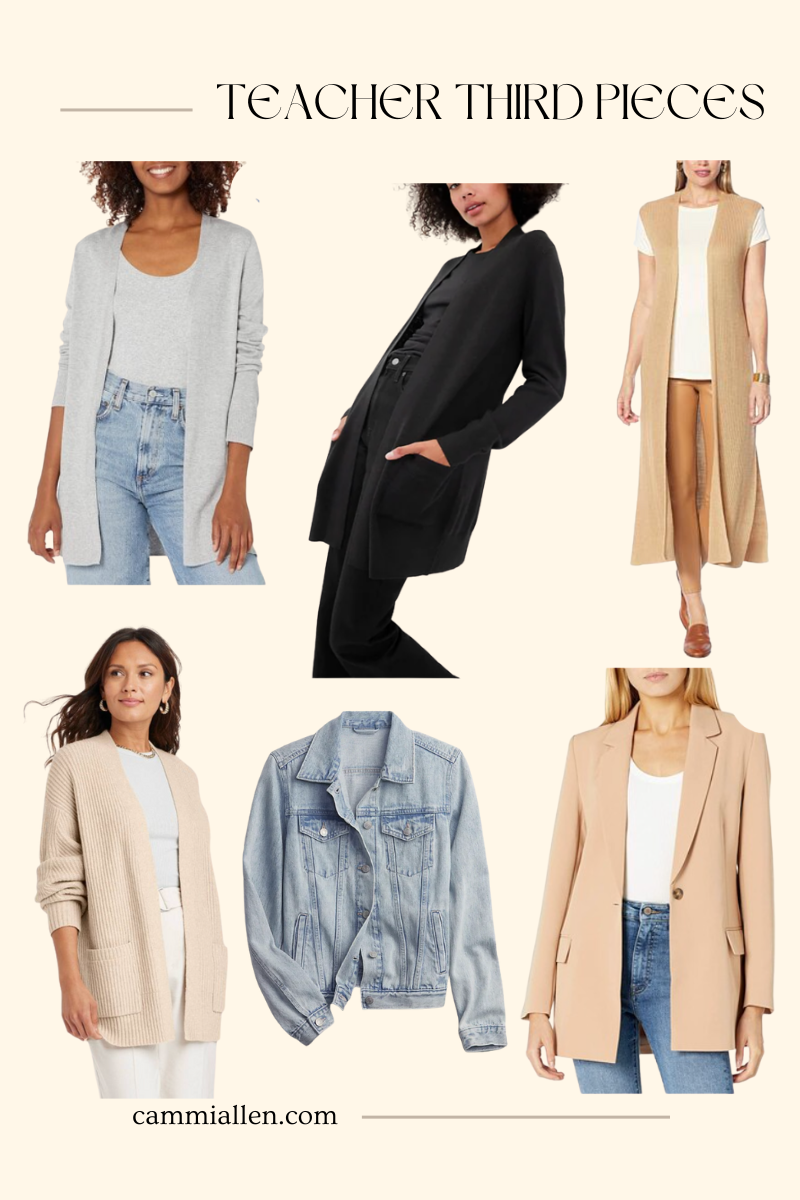 gray cardigan  |  black cardigan  |  sleeveless cardigan  |  cream cardigan  |  denim jacket  |  blazer
Some pics of myself in this black dress: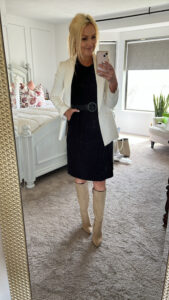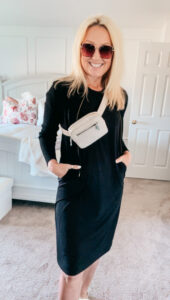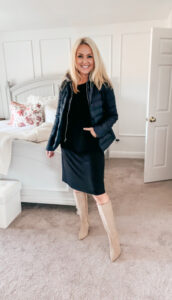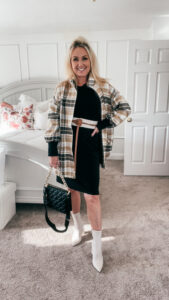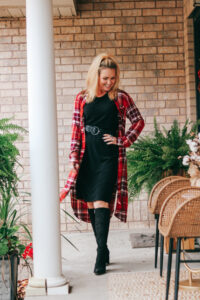 I hope this series might inspire you! Be sure to check out Day 2 HERE.
Thank you so much for being here, I appreciate you stopping by my blog!!
You can also find me on Instagram, Facebook, Pinterest, and YouTube.

Be sure to check out what everyone loved last month HERE!
See the "standout" jacket of the season HERE.