Instagram Live Recap…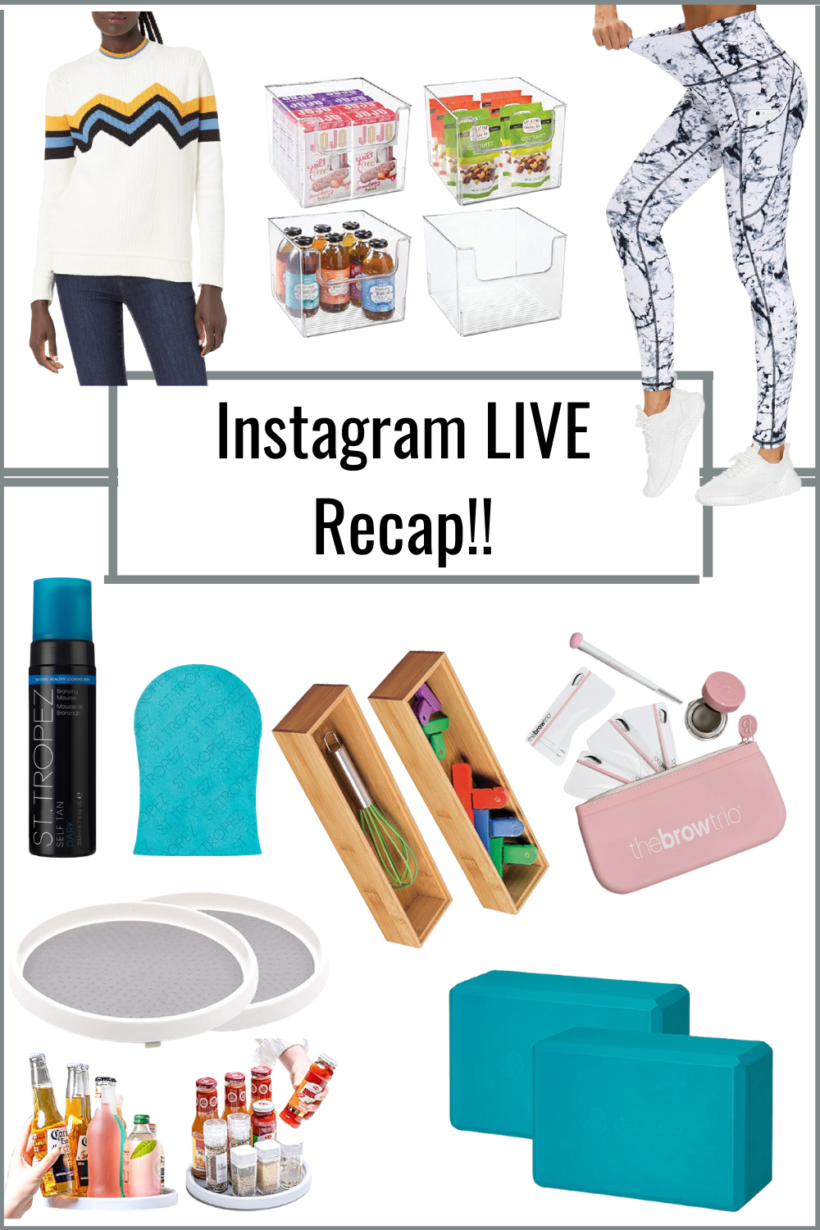 We are starting a new thing!
I think this will be fun.  If you are a friend of ours on Instagram, you might know that the Chit Chat Chic girls and I go LIVE every Wednesday night at 6:00 pm MST.  Because of the feedback we received, we decided that after our chats we would have an Instagram LIVE Recap.  We have been sharing to our stories, but this way they will have a permanent place on our blogs.
Here are the questions we talked about last night.
What was your most popular item sold during 2021?
For me, it was HANDS DOWN the St. Tropez Self Tanning Mousse.  I mentioned on our LIVE that I ran into the skin care buyer for all the Ulta stores at our local store and I asked her what was the best self tanner. Without a hesitation she said this one. And took me straight back to where it was on the shelf.  I've been a fan ever since.  The marshmallow scented mousse that I shared on our LIVE was a summer special and is no longer available. To see the other best sellers of the year, I wrote a post about them HERE. 
When it comes to self tanner you truly get what you pay for.  One of these bottles will last me all summer and gives such a good, natural looking tan.  No orange.  And I like that you get instant color as well as a gradually emerging color after a couple of hours. So if you forget that you are white as a ghost Sunday morning before church, you can put it on and have instant color!! Hallelujah!
AND!! I gotta say… you NEED a mitt.  And don't make the mistake of buying the dollar ones like I have.   THESE are worth the $7.  Trust me!
Instagram LIVE recap of our most recent purchases:
2. What was your most recent purchase for your closet?
I wore mine at our Live last night.  It's this darling zig zag sweater with retro vibes! It's really well made, not like other things I have purchased on Amazon sometimes.  This is a good one!! You will love it, promise.
3. What was your most recent purchase for your home?
Like many people right now I am an organizing fool! I purchased these storage bins several months ago and loved them so much that I just bought MORE!  They make for such a neat look in your pantry.  Everything in it's place.  And cohesive. I love that!!!
I also picked up some of THESE for some of my kitchen drawers, and THESE for my spice cupboard! OHHHH… I couldn't be happier about those little Lazy Susan's and will buy a few more for underneath my kitchen and bathroom sinks.
4. What was your most recent beauty purchase?
Proclaiming my love HERE AND NOW for this Brow Trio!!  If you've not been sure how to shape your brows, this little tool will give you all the confidence you need! If you don't get it perfect the first time, trust me when I say you will get better and better.  It comes with tons of "stencils" so you can find the one that matches your own eyebrows perfectly!

Are you getting back to working out now that the holidays are over?
5. What are your favorite workout leggings?
I have been way impressed by these inexpensive leggings with phone pockets from Amazon!  There are more expensive brands that have a loyal following but I can't imagine them being any better than these!  I think I might do a splurge vs save and actually review the difference.
6. What is your favorite workout product right now?
I have started doing a 30 Day Yoga Challenge by Yoga With Adriene on YouTube.  I am LOVING it.  And these yoga blocks are a LIFESAVER for my inflexible self.
That's it for the first ever Instagram LIVE recap!
I hope you enjoyed it! If there are topics you wish we would discuss or things we can find and share that might interest you, please feel free to drop them in the comments!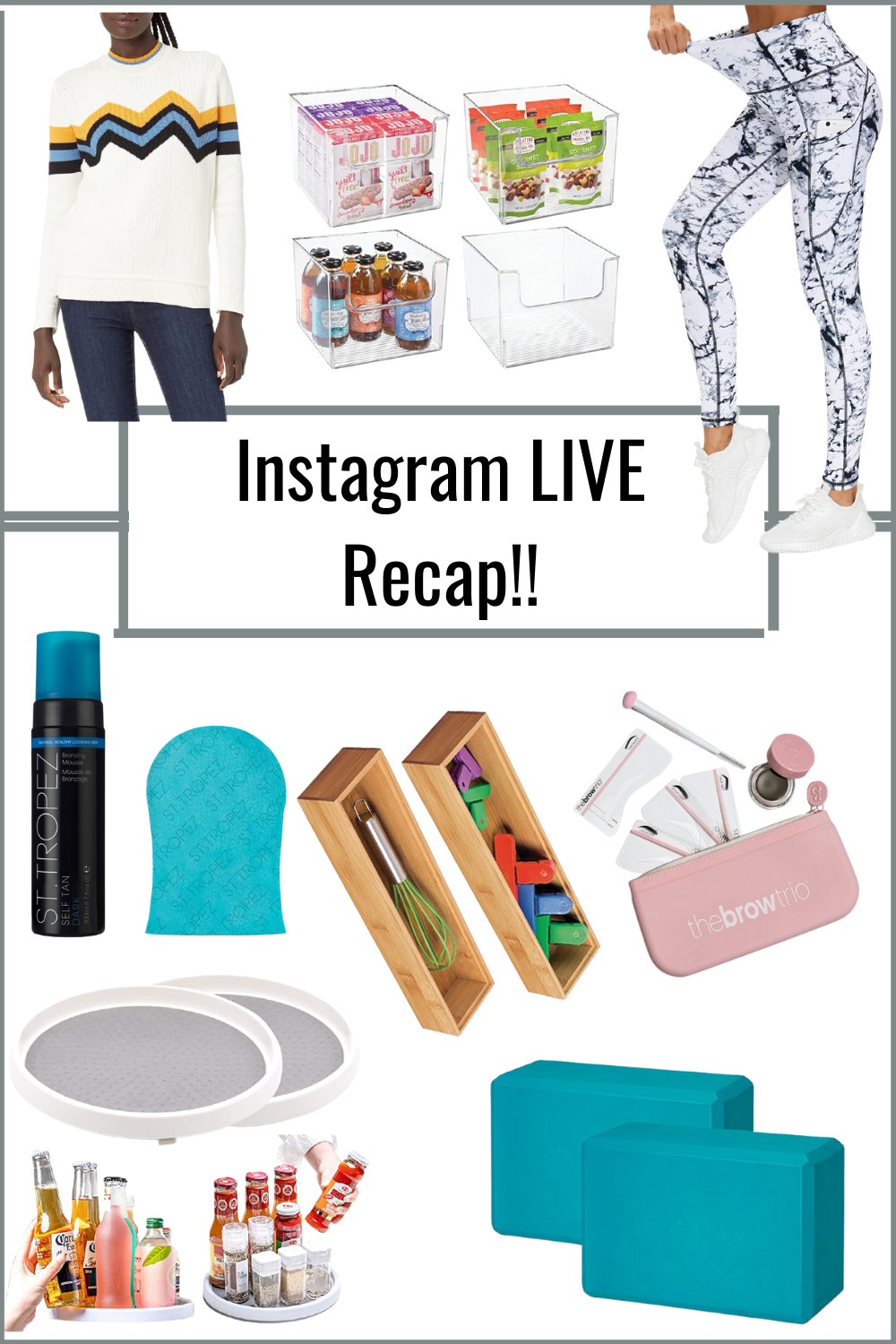 Now go see what the others posted!
Thank you so much for being here, I appreciate you stopping by my blog!!
You can also find me on Instagram, Facebook, Pinterest, and YouTube.

Are you excited about THESE FASHION TRENDS like I am?