CINNAMON BREAD STICKS
Got events coming up?
Do you need to take a dish to a brunch, a bridal shower, a holiday party?  Or maybe you're just in the mood for some yummy comfort food?
These cinnamon bread sticks are the answer!
After school snacks, Saturday morning breakfasts, potluck desserts, those are all ways I've used these delicious treats.  And unlike it's sister, the cinnamon roll, these are quick and easy because the dough doesn't have to rise!
Win, in my book.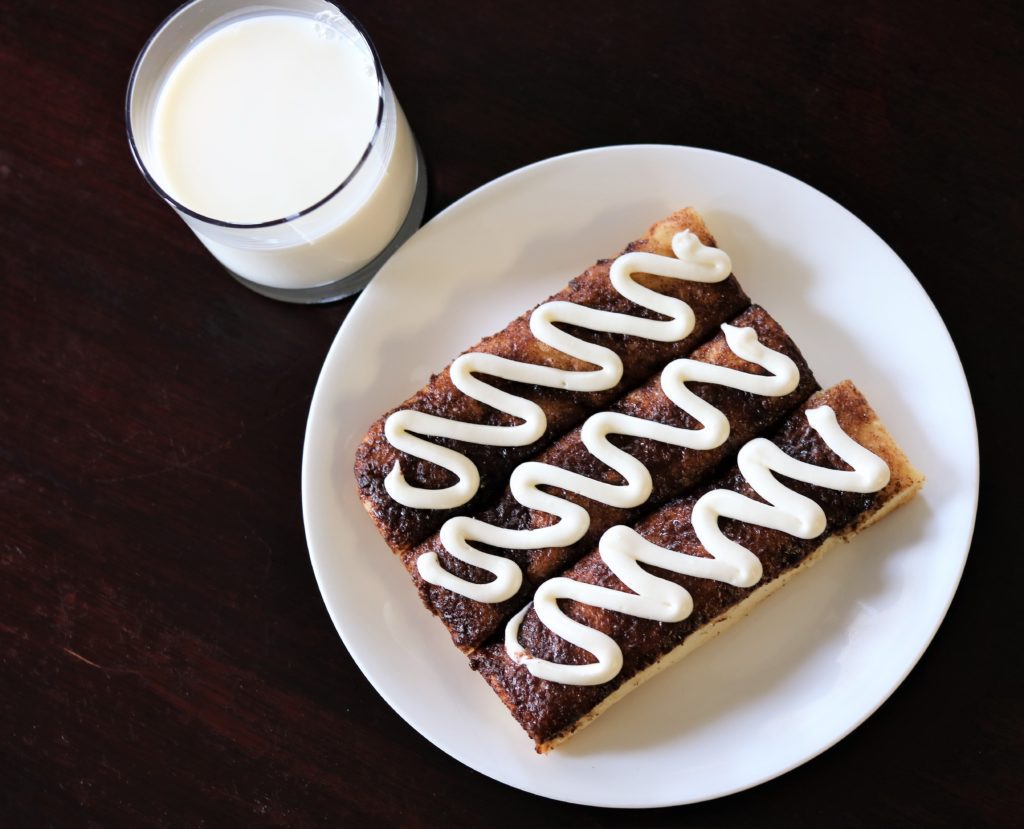 Top them off
This basic bread stick recipe is a family favorite!  But you don't have to use this one.  You could use any bread dough recipe in it's place and just roll it out onto a cookie sheet.
I have a child who insists these are best plain, but I always like to add a squiggle of cream cheese frosting.
To me, the cream cheese is the perfect finishing touch!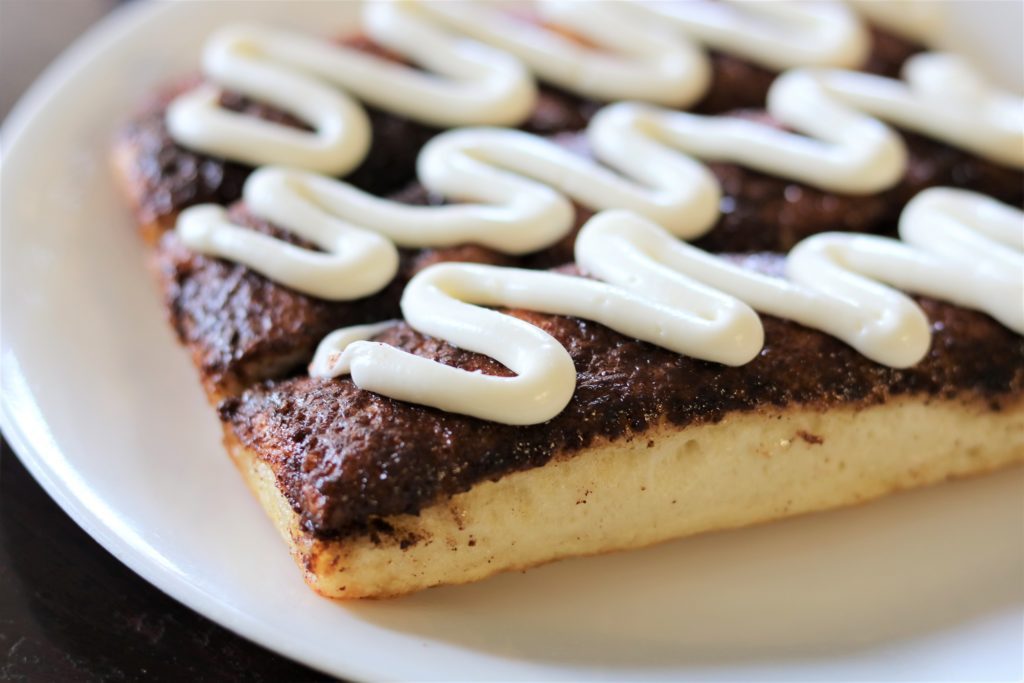 Sometimes instead of the sweetness of cinnamon and cream cheese, I like to make these bread sticks savory by adding garlic salt and parmesan cheese.  A perfect side dish to go along with soups, chili, or spaghetti.
However you decide to make them, or where ever you choose to take them, these will be a big hit!
Take them to your holiday party!
Try them out on your family this weekend!
Take them to a neighbor who might need a little pick-me-up.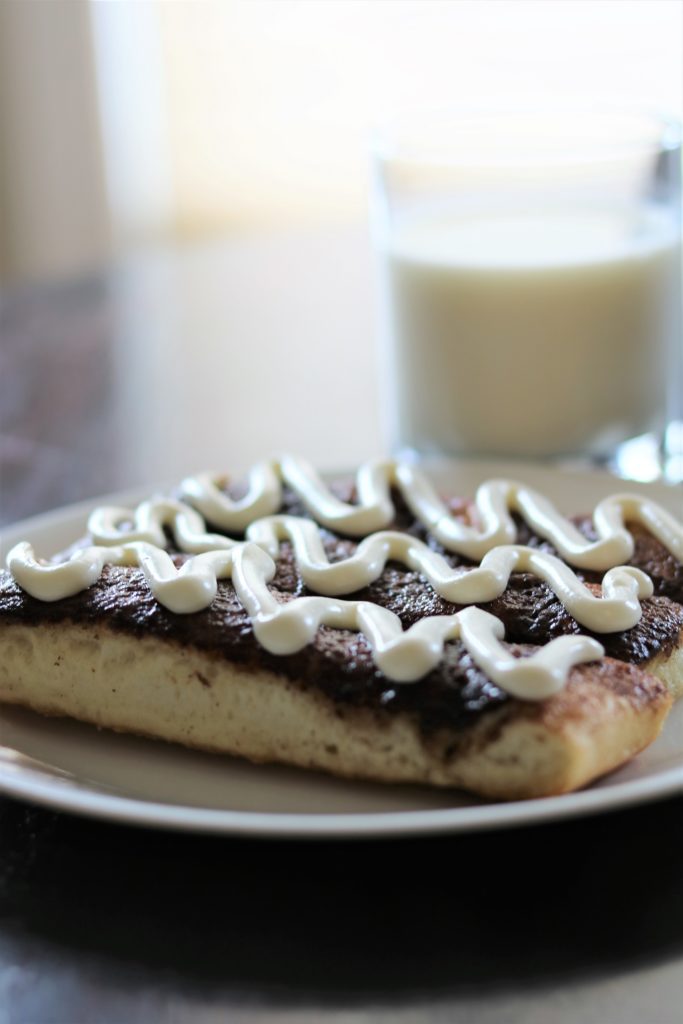 But be sure to take down this recipe because you'll want to keep it handy.  Let me know what you think!
And if you liked this recipe you might like THIS one as well.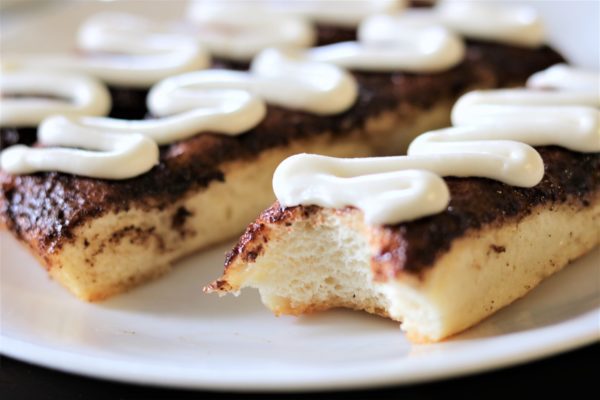 | | |
| --- | --- |
| | |
In a mixing bowl, combine yeast, sugar, and warm water. Mix together and let sit for 15 minutes. Add 1 cup of flour and salt. Stir together. Add more flour as needed and knead to form a soft dough.
Pat the dough out onto a large jelly roll pan that has been buttered. Pour melted butter over dough and with a spoon, spread the melted butter to cover entire surface of dough.

Mix together brown sugar and cinnamon in a small bowl and spread evenly over dough. With a pizza cutter, cut the dough into vertical strips about 1 1/4 inch wide. Then, cut the strips in half making one horizontal cut. Bake in a preheated 375° oven for 25 minutes.

Meanwhile, in a mixing bowl, mix together all frosting ingredients until smooth and creamy. Spoon into a large ziplock bag. When bread sticks are finished baking, let cool 5 minutes. Snip the corner and pipe onto bread sticks while still warm.