Swimsuits and Outfit Ideas for a Caribbean Cruise…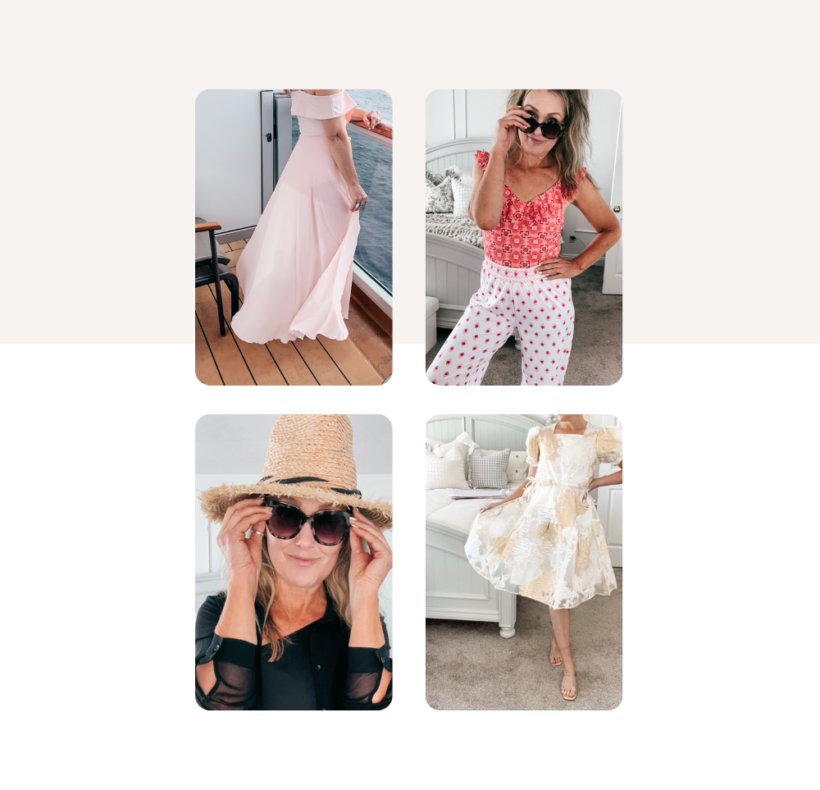 We feel so blessed to have been able to go on a Caribbean cruise this month… the Caribbean is one of my favorite places on earth! You can read where we went, the ship we were on, and what we did in this post. But today I am sharing some swimsuits and outfit ideas for a Caribbean cruise or really for any tropical vacation! This is the what-I-took-with-me edition.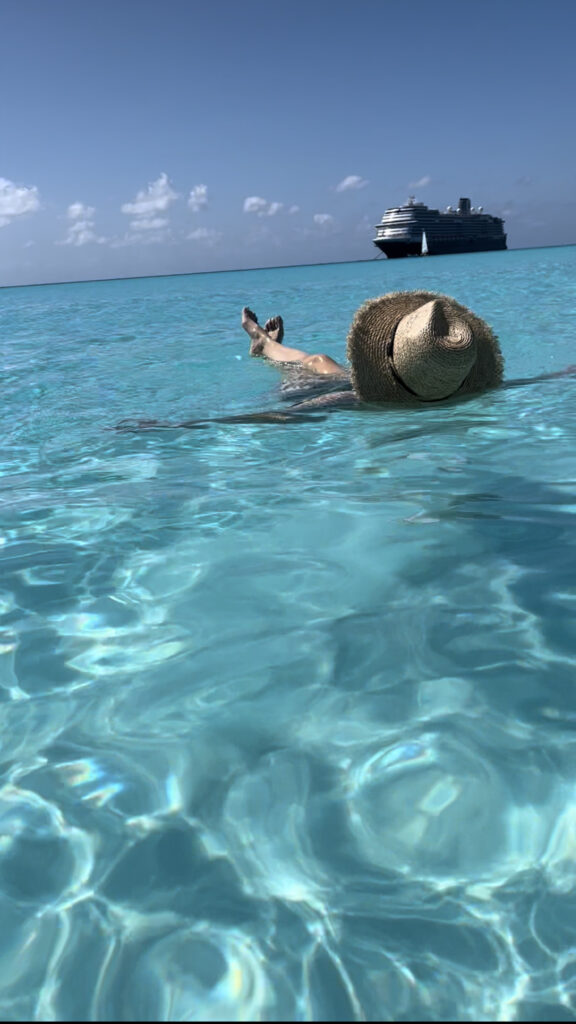 Outfit ideas and swimsuits for a Caribbean Cruise
These are outfits and swimsuits that I took with me and wore on the cruise and to the different ports and evening activities. There are so many things to consider when packing because chances are, you could be wearing 3 different outfits in a single day! Of course that depends on your schedule and what you have planned.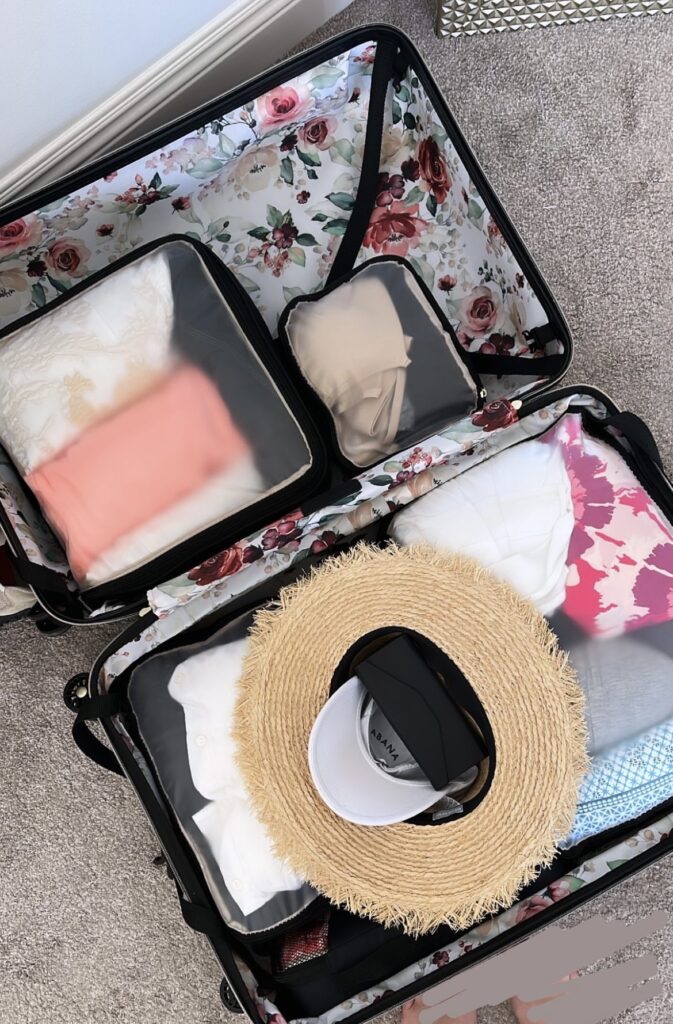 For example, you may start the day in shorts and t-shirt, get to a beach and change into your swimsuit, and then dress up for dinner later that night. Or maybe you'll want to stay in your swimsuit all day but want to take a cover up for a little more coverage while eating lunch and shopping.
Let's start with swimsuits and move onto outfits afterward, how about that?
But first, I made a checklist for you.
Outfit Ideas For Cruising
What to take?
I would say you would need these things: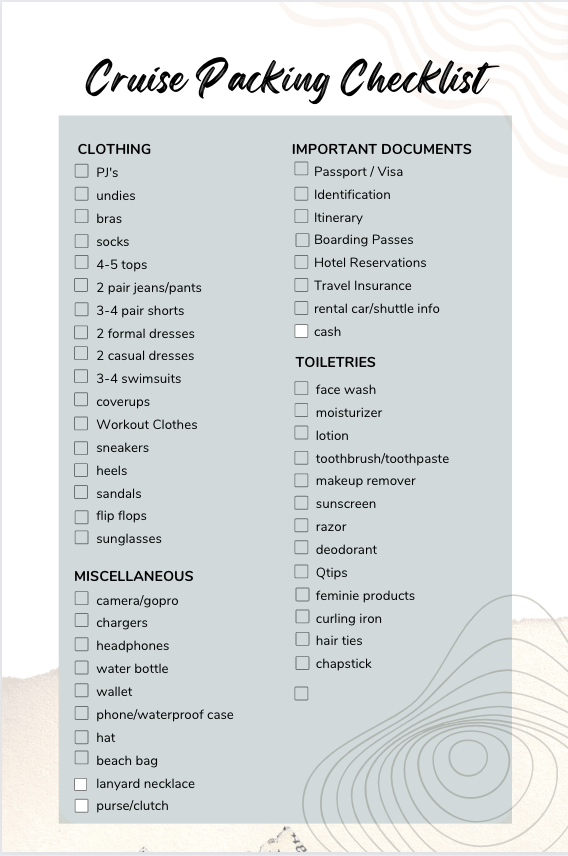 When considering swimsuits and outfit ideas for a Caribbean cruise, I tried to stick with neutrals because I knew that I could mix and match pieces and come up with many different combos.
A couple of things that I forgot to add to this list, but are SUPER HANDY are in this post: Don't Forget These 5 Things When Cruising.
Outfit for the plane ride
This is the outfit that I packed for flying to and from Florida. It is the AirEssentials Tapered Pant and AirEssentials Crew from Spanx.
I picked it for its comfort, the super soft fabric, the darling LOOK, and I added a small t-shirt underneath the crew neck sweater because once I got to Florida, I could take off the sweater and wrap it around my waist.
Also, you can adjust your temperature on the plane too.. at one point I got hot and took my sweater off. The minute we landed, I was cold again and put it back on.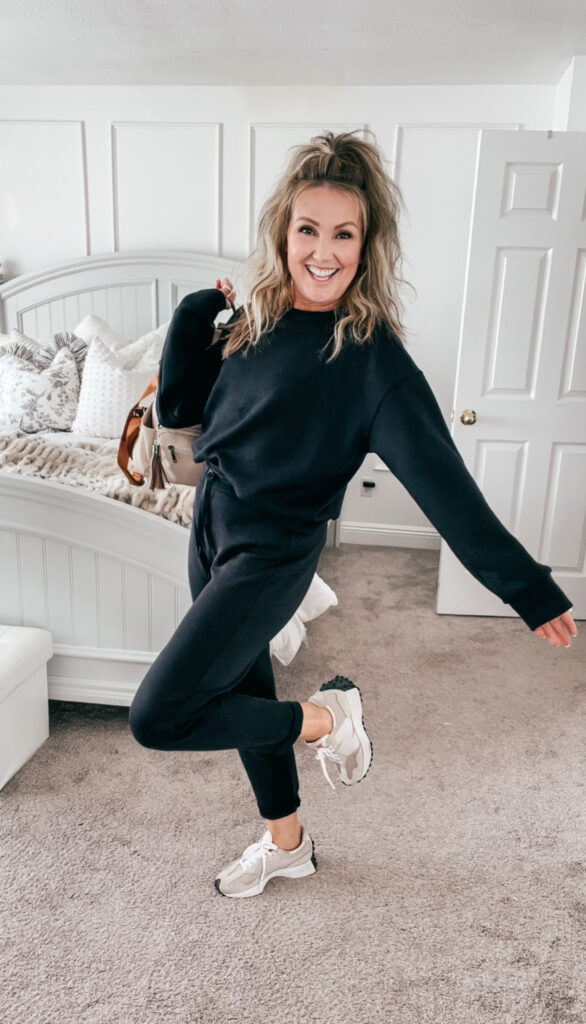 I wore it on the plane the way there and the way home.
tapered pants  |  crew neck sweater  |  similar shoes  |  backpack
Swimsuits
I took 6 swimsuits on the trip… too much? 😉
In my opinion, no!
I like having a fresh, clean, different suit to wear each day.
Here are the 6 suits that I took with me.
**A NOTE ABOUT SIZING: I am typically a small on top and a medium on the bottom.  But in swimsuits I like to size up to a large for comfort. I've never had that be too big or have them be baggy when they get wet.
It has a great quality zipper and racer back detail in the back. It comes in other colors, too! I am really liking the olive green for this season.

swimsuit  |  cutoff shorts  |  straw hat
I LOVE this suit… it's so flattering! The coverage that the attached skirt provides keeps me feeling effortlessly confident. Definitley size up on this one… it's called a Miraclesuit for a reason and definitely holds you in tight.  You're going to have to shimmy it on, but once it's on it feels great and you look great!!!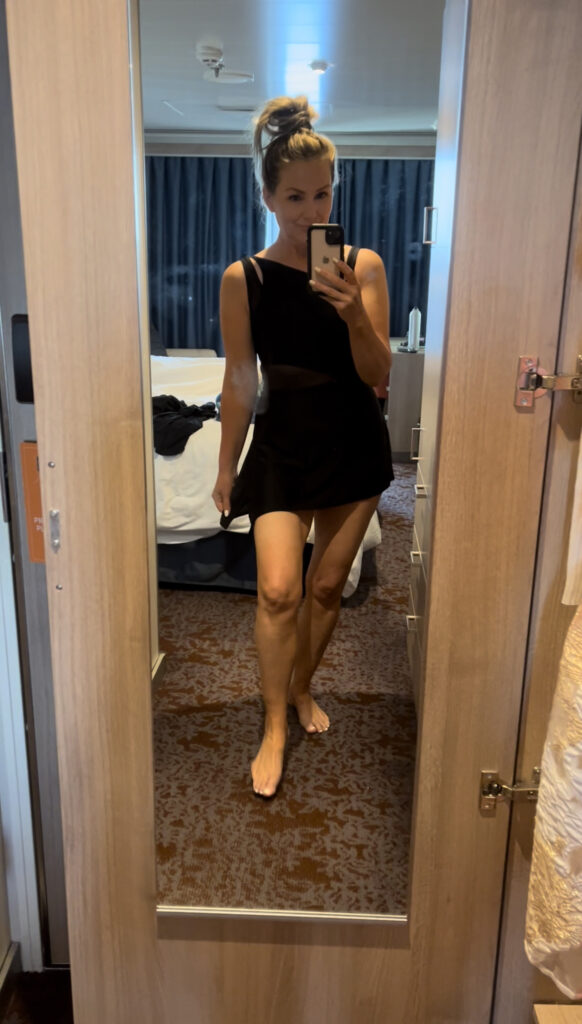 And how DARLING is that neckline???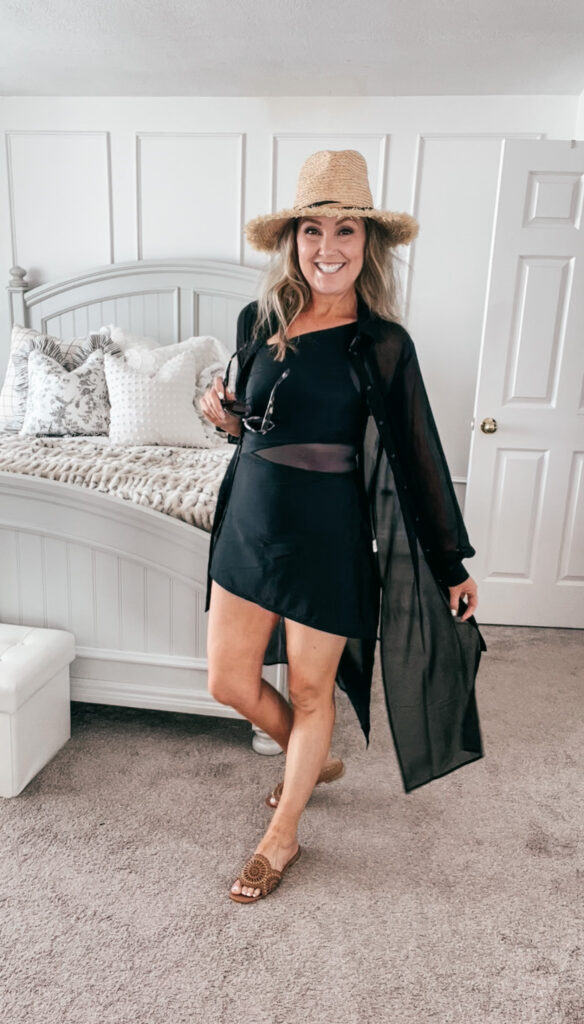 In this photo I'm wearing it with the long sleeve coverup dress … better than ANY swim kimono!! And so classy!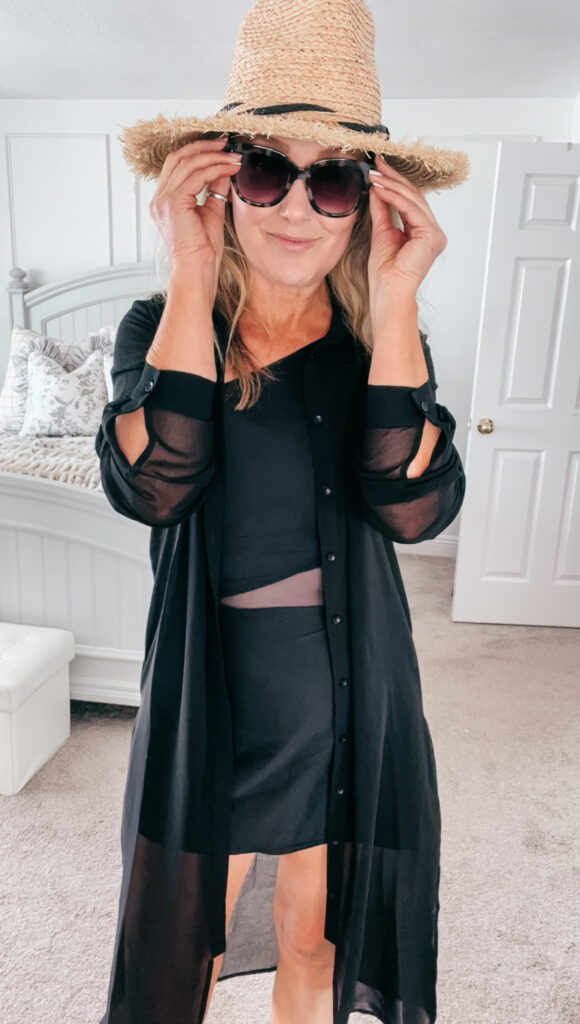 swimsuit  |  shirt dress  |  hat  |  sunglasses  |  sandals
The studded detail is what sold me on this particular suit! I love how they come in strategically at the waist for a flattering look. Throw on some cutoff shorts for a little more coverage at the bootie for walking around and shopping, etc.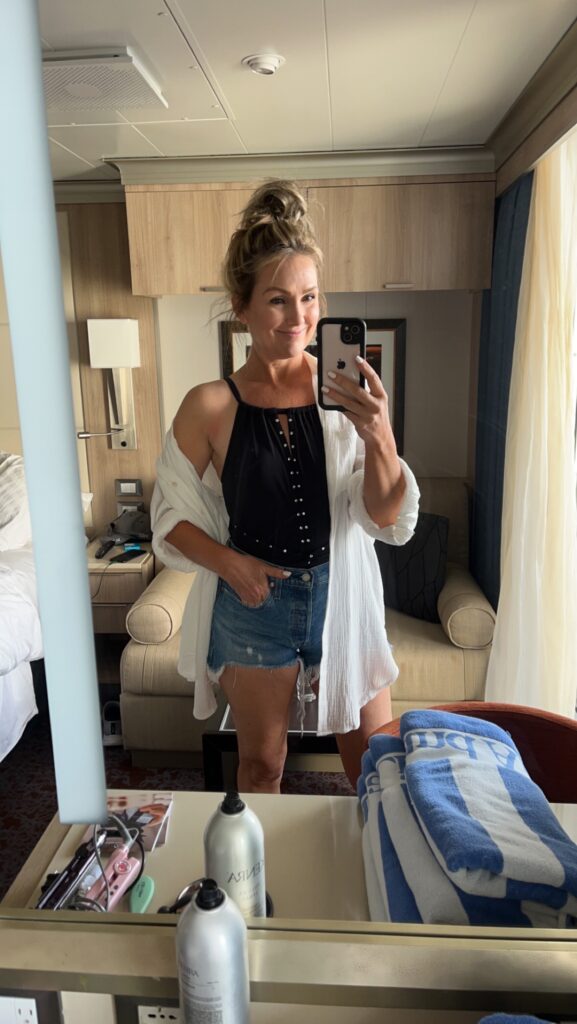 swimsuit  |  shorts  |  gauze button down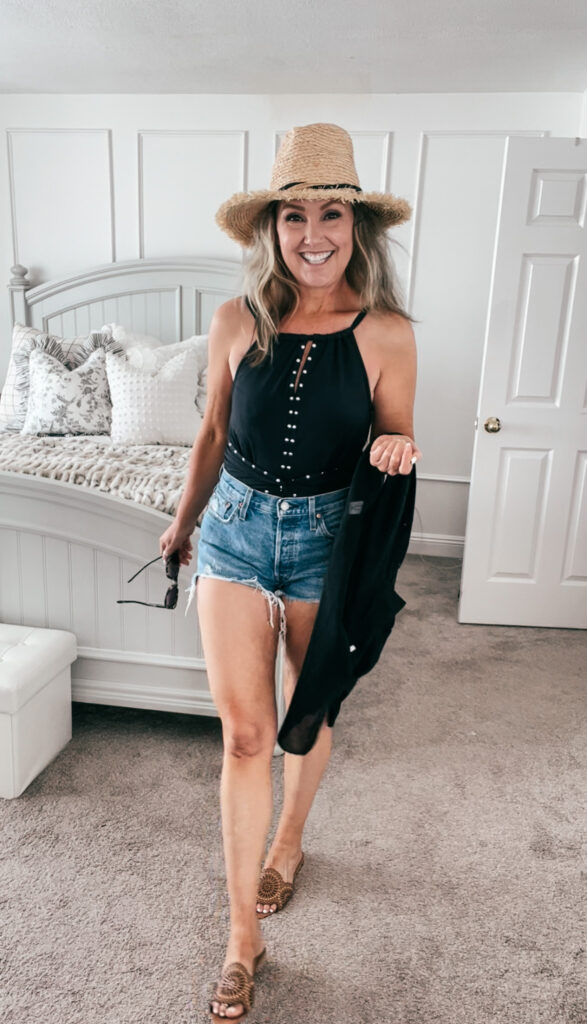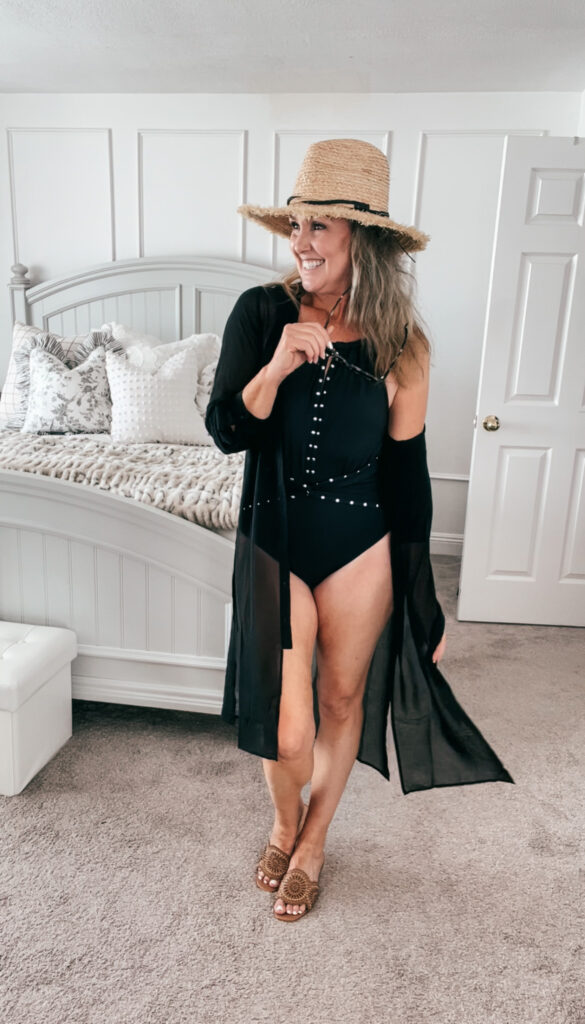 swimsuit  |  black shirt dress  |  sandals  |  hat
  sunglasses
If you want to turn some heads this summer, this is the suit for you!!! Isn't it pretty? Add the matching Pink Chiffon Wrap for a stunningly gorgeous silhouette!!! It's perfect for a day at a resort or at sea on a cruise ship.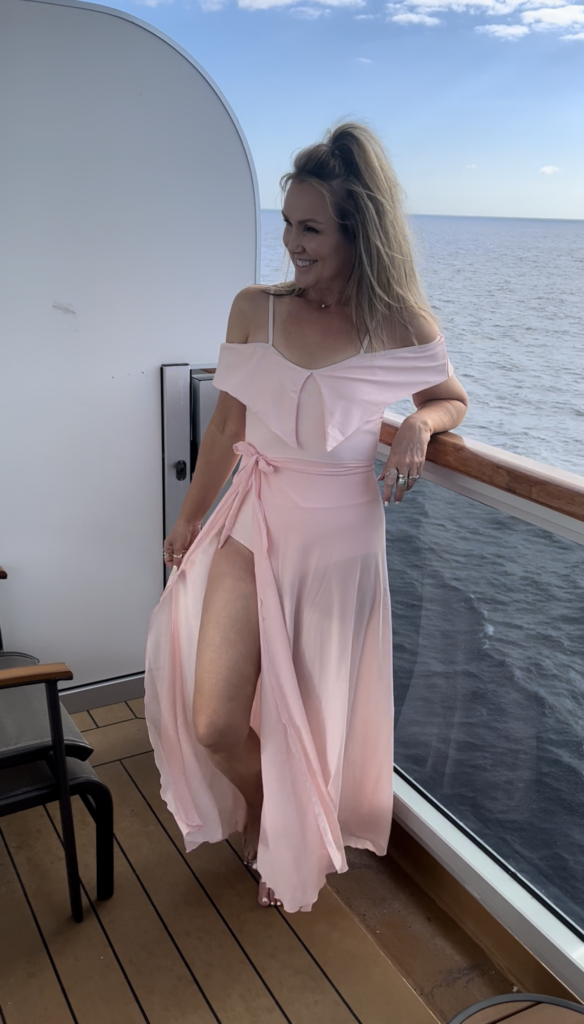 The wrap skirt is long and I am 5'6″ but if you are more of a petite gal, I saw on Instagram where a smaller woman tied it up in a knot… still super cute!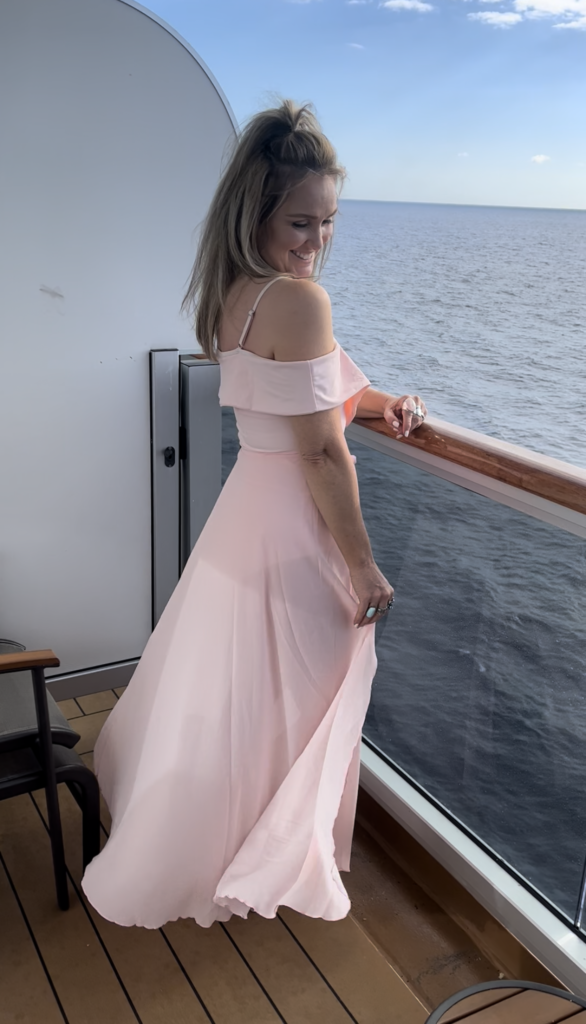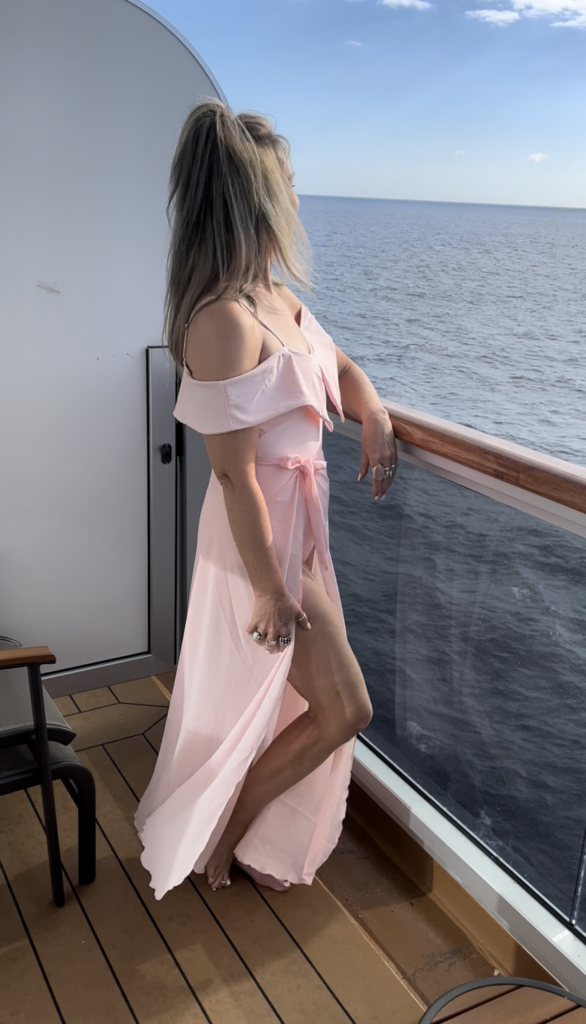 I adore the ruffle on this feminine swimsuit! This is one that I would go with your normal size… don't size up. And how great does it look with these coordinating Tulum Palazzo Pants?? I went all over Nassau in this cute combo and was perfectly comfortable. I did add a White Gauze Tunic Top to cover my shoulders while we rode the scooter and I would highly recommend it! It's nice and long, providing great coverage to wear over a swimsuit, leggings, or anything!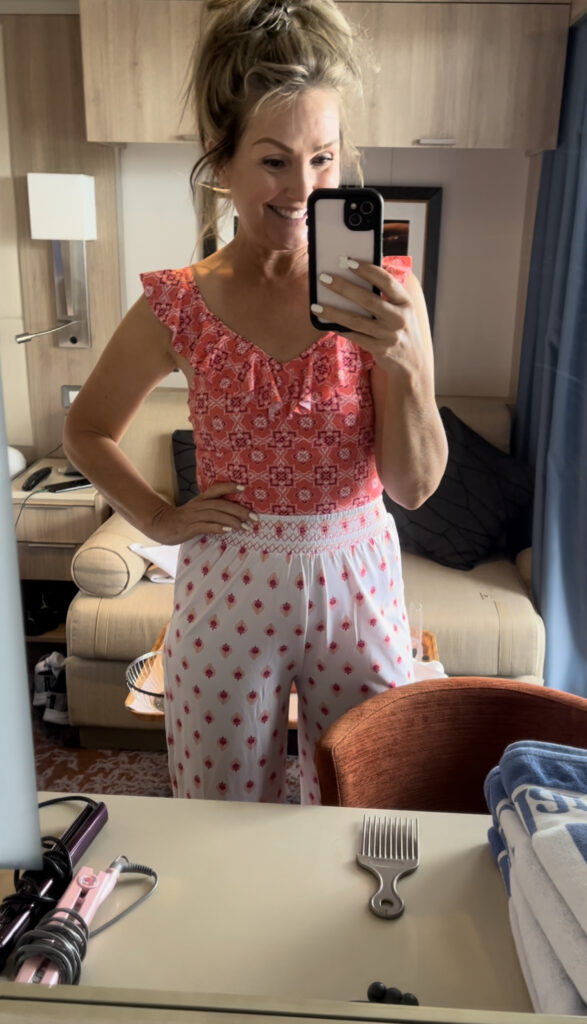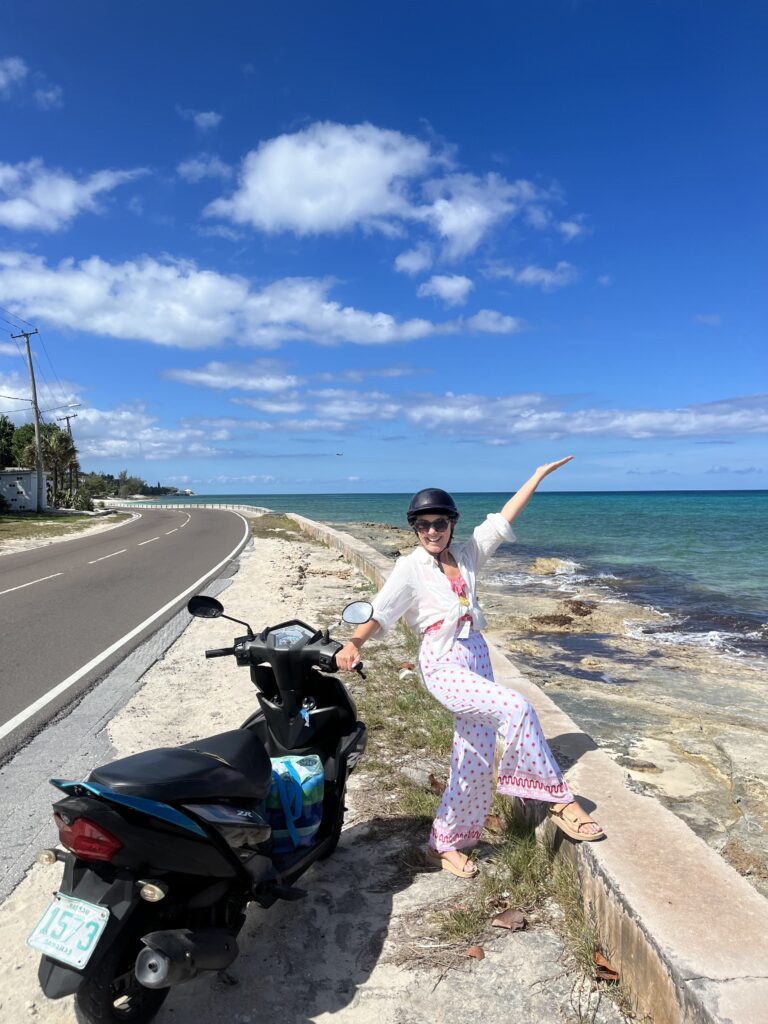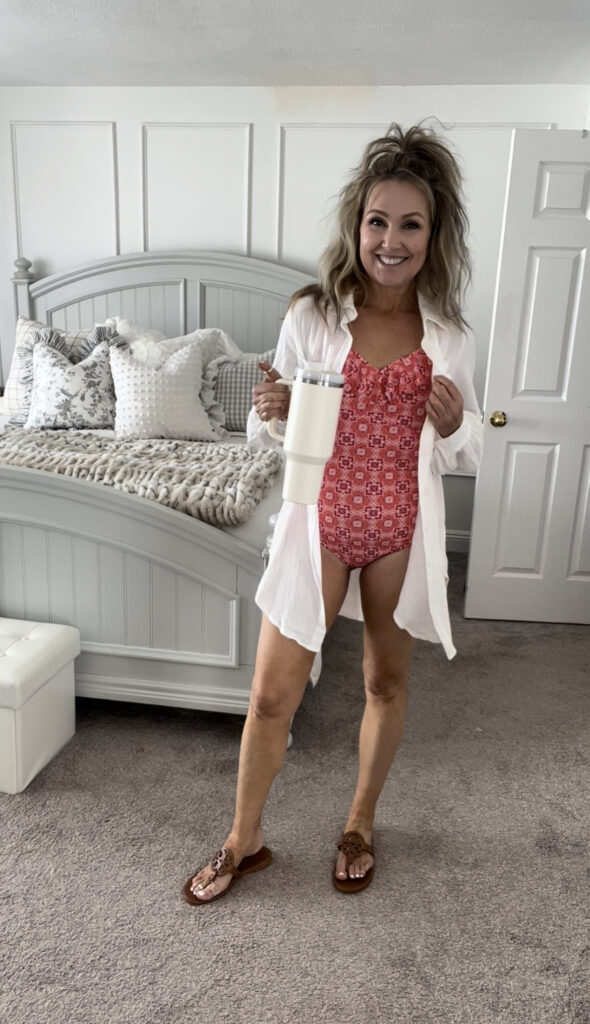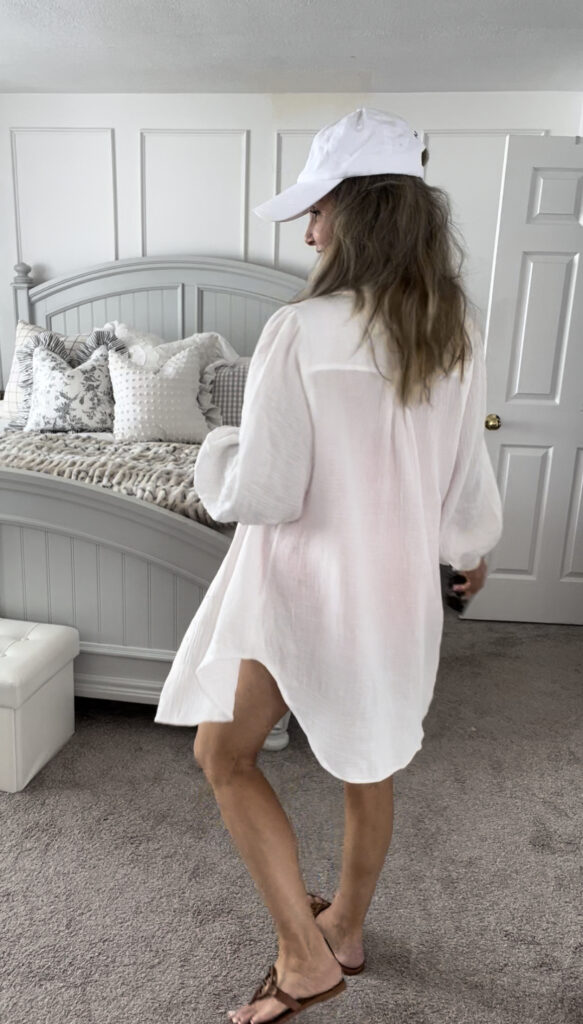 swimsuit  |  palazzo pant  |  shoes  |  gauze shirt  |  hat  |  sunglasses 
I've had this suit for a few years now and it's been a favorite. It's literally the perfect suit that is comfortable and cute! Oddly enough, I didn't get any photos of it other than this one that I snap chatted the kids with.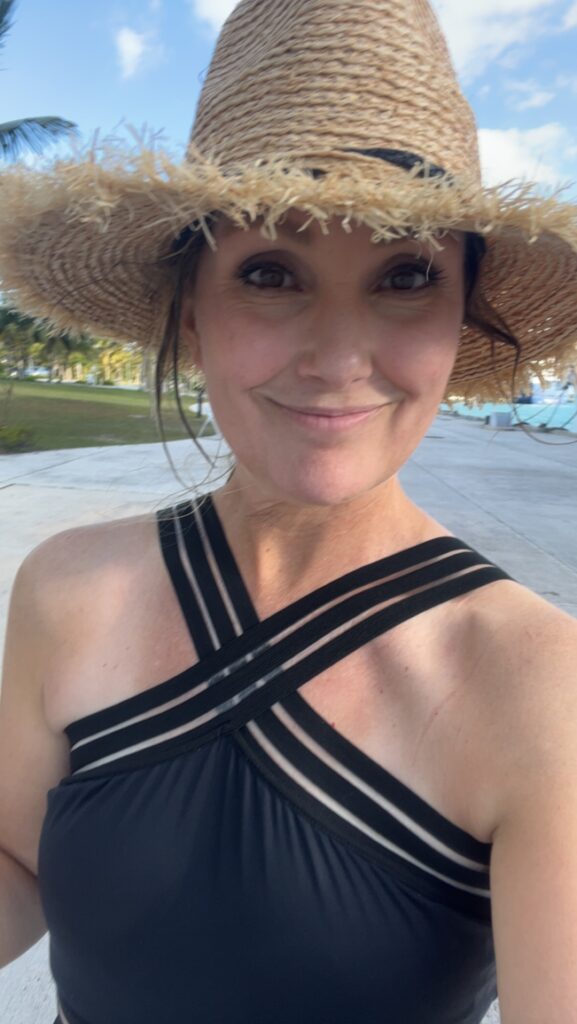 The Torte Sunglasses were fabulous and went with me everywhere! They are smooth, with no nose hardware, so they don't get caught in your hair and come with a nice hard case to protect them when they get thrown in the beach bag.
Additionally, the Black Trim Straw Hat was my best friend throughout the trip!
Outfit ideas for evenings
This Ellis Jacquard White/Gold Velveer Dress is probably my new favorite dress of all time! It makes me feel like a literal princess! I wore this on the dressy/formal night.
It is modest in every way and just so feminine and pretty!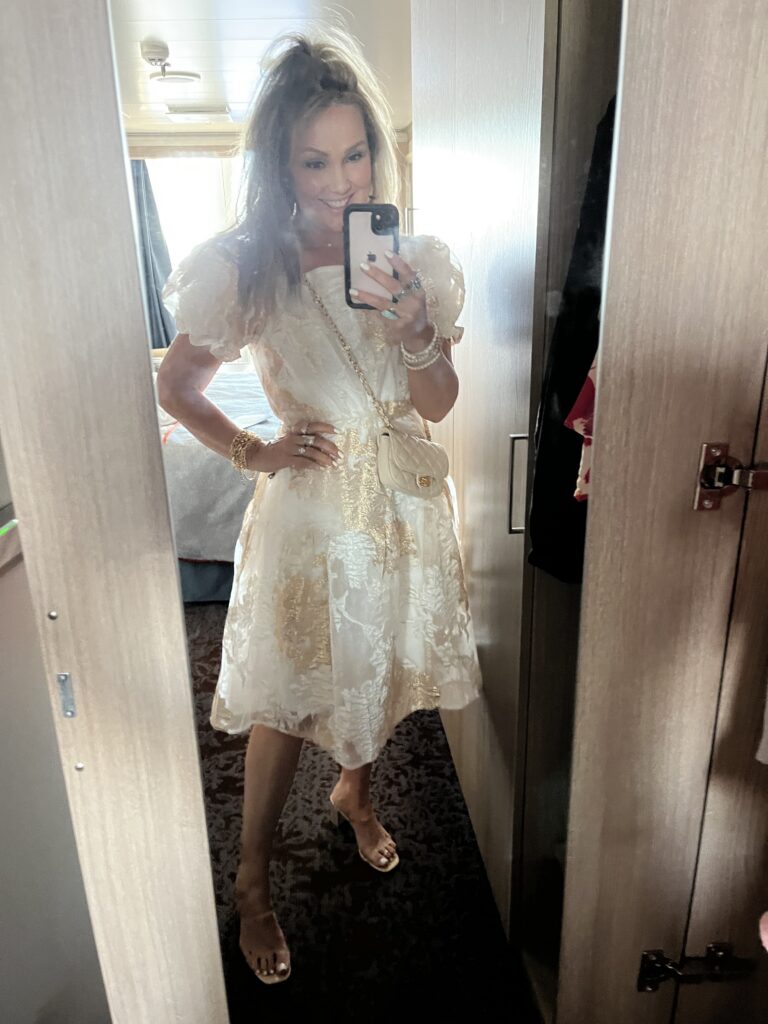 dress  |  shoes  |  small crossbody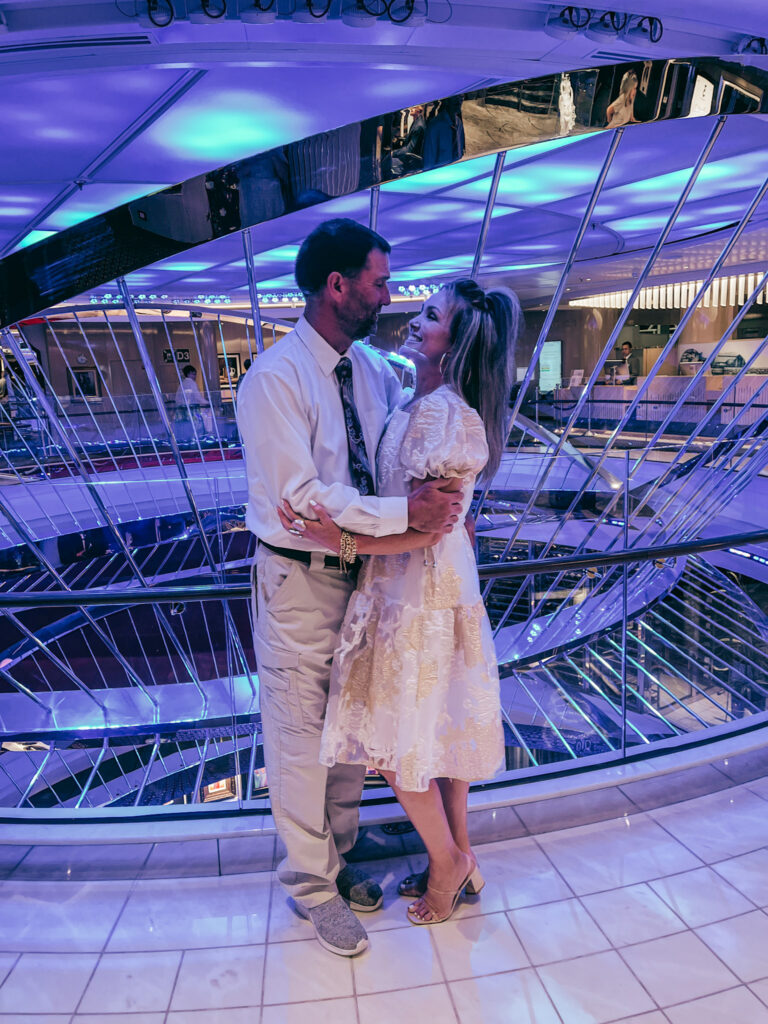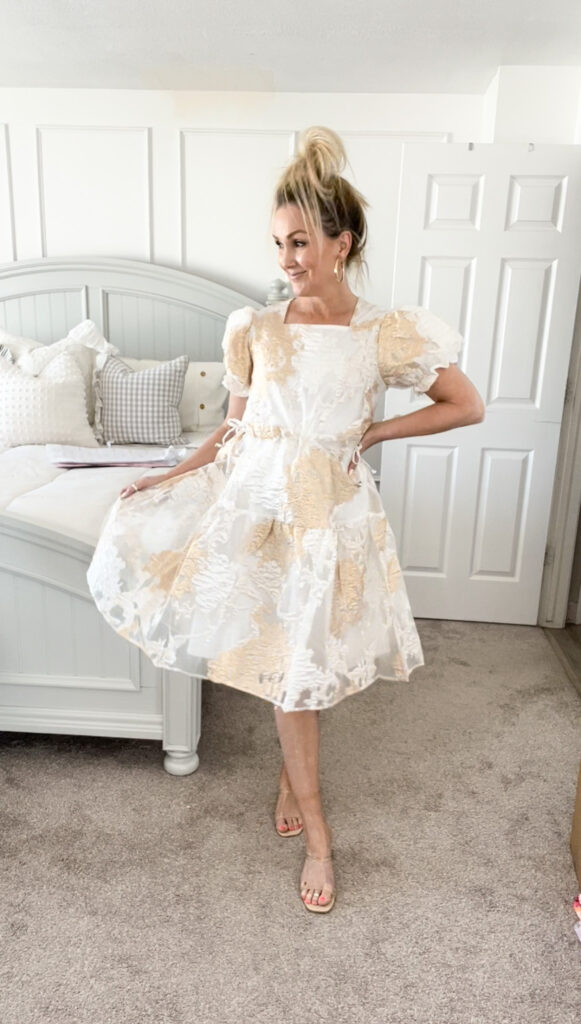 In fact, you should definitely check out DM Fashion and see all the great dresses they have. They are a FABULOUS site for dresses that you can wear to church or anywhere.
In this next outfit, I'm wearing my traveling tapered pants and added a t-shirt and the black swim coverup for a strikingly good look, if I do say so myself!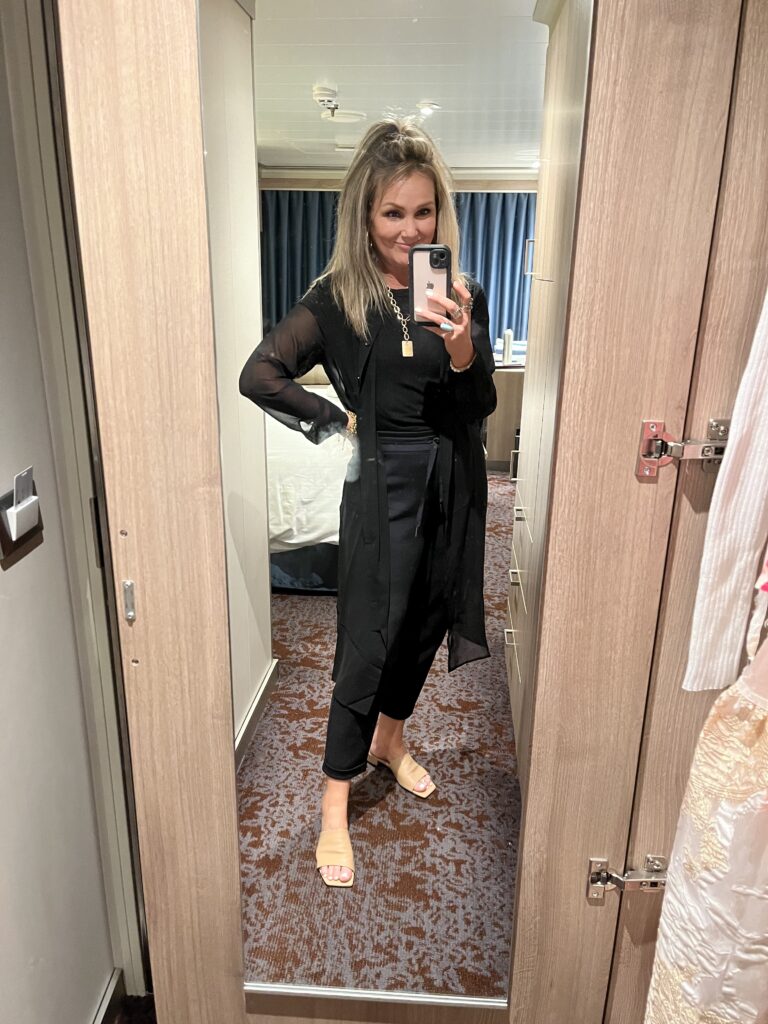 black tee  |  tapered pants  |  sheer swim cover up  |  similar shoes 
Below I'm wearing my new favorite black jeans for spring and summer! They have a shark bite hem that is so flattering and fit perfectly! Topped with the best quality shacket with the best color for summer that makes you look tan!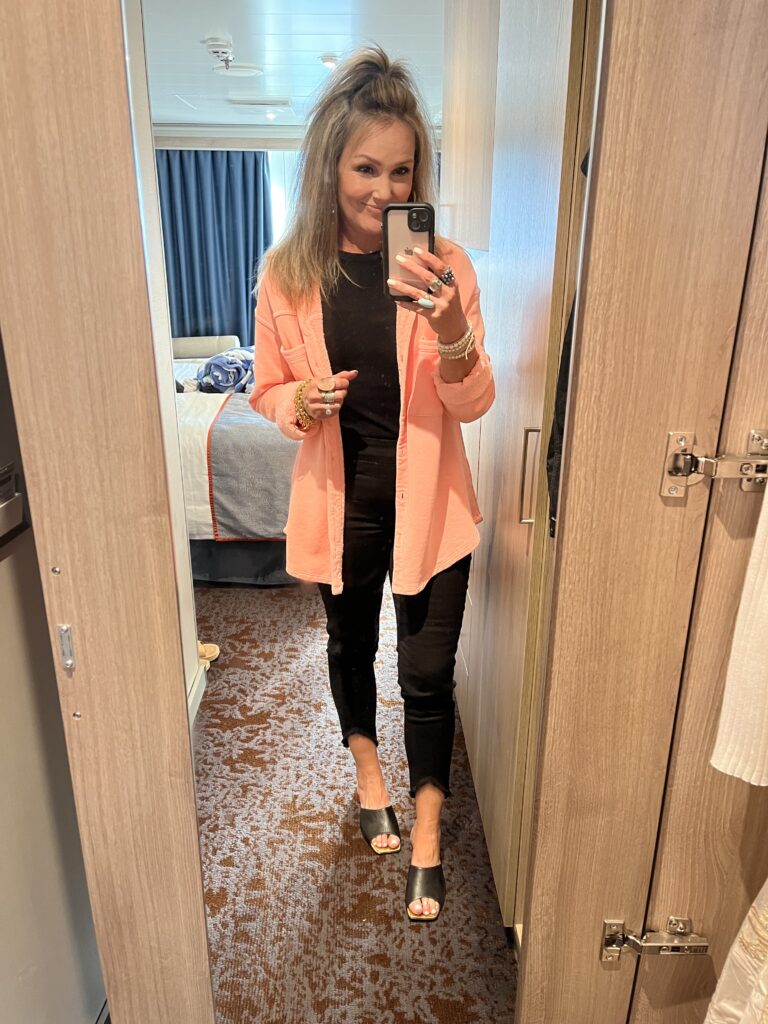 Next is the prettiest resort dress from Avara! So flowy, so light and airy!! You can use my code CAMMI15 at checkout for a 15% discount on anything on the site! You'll love their colorful style that is perfect for vacations!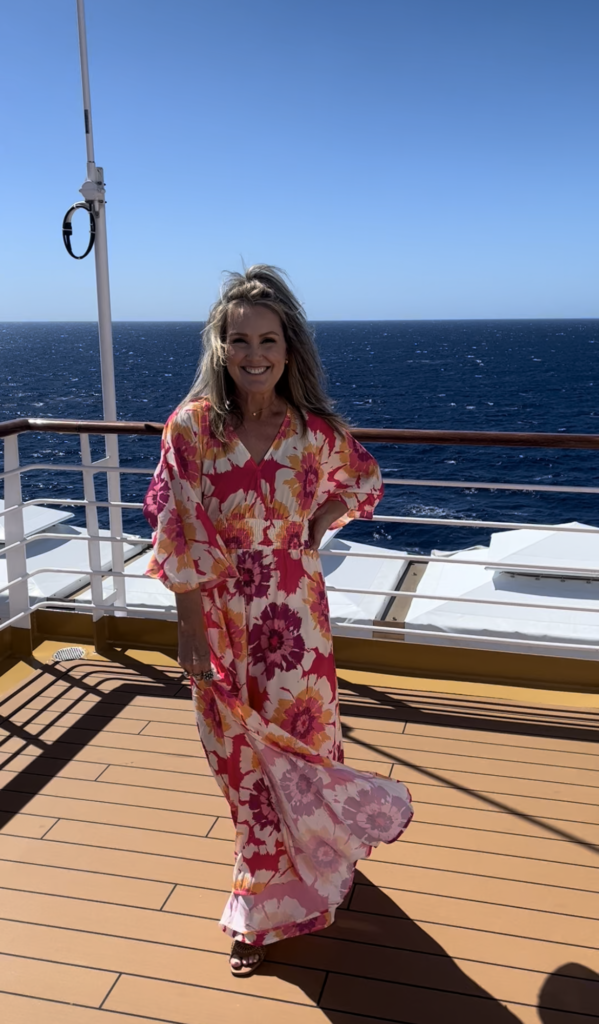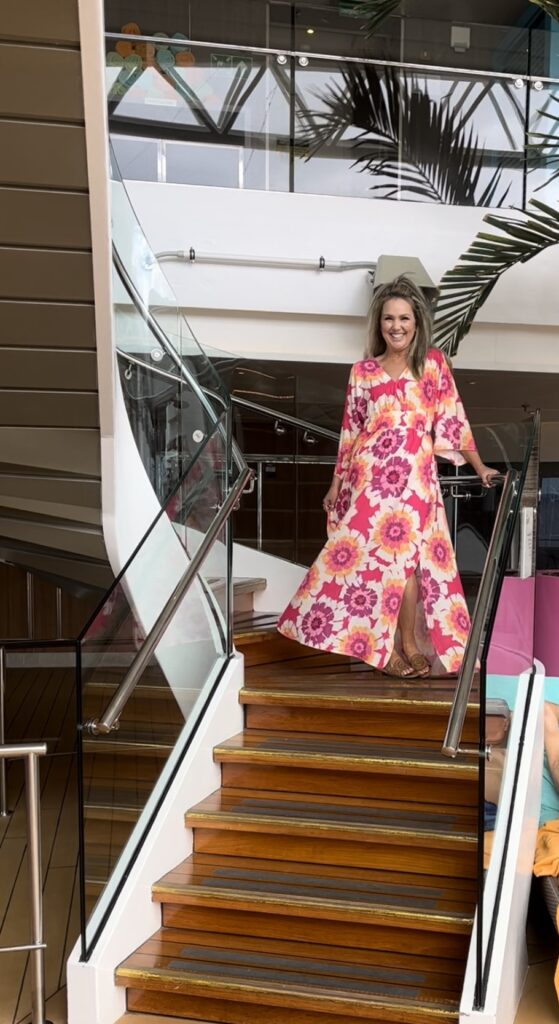 You will feel so pretty in it….PROMISE!!!!
Boy, that was a long post!!! Which look did you like the best? I'd love to know!
Thank you so much for being here, I appreciate you stopping by my blog!!
You can also find me on Instagram, Facebook, Pinterest, and YouTube.

For my hair tutorial click HERE.
My makeup routine can be found HERE.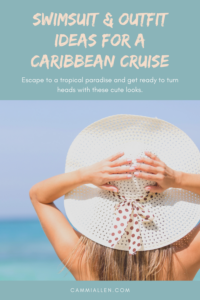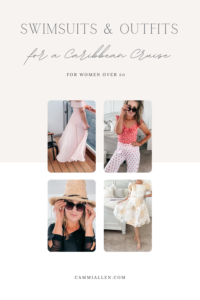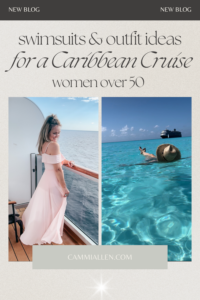 This post contains affiliate links.  This means I may earn a small commission if you purchase through my links at no extra cost to you.  Purchases made through affiliate links are greatly appreciated as they help to support the blog and continue its production.  Thank you so much!