11 Spring Wardrobe Essentials…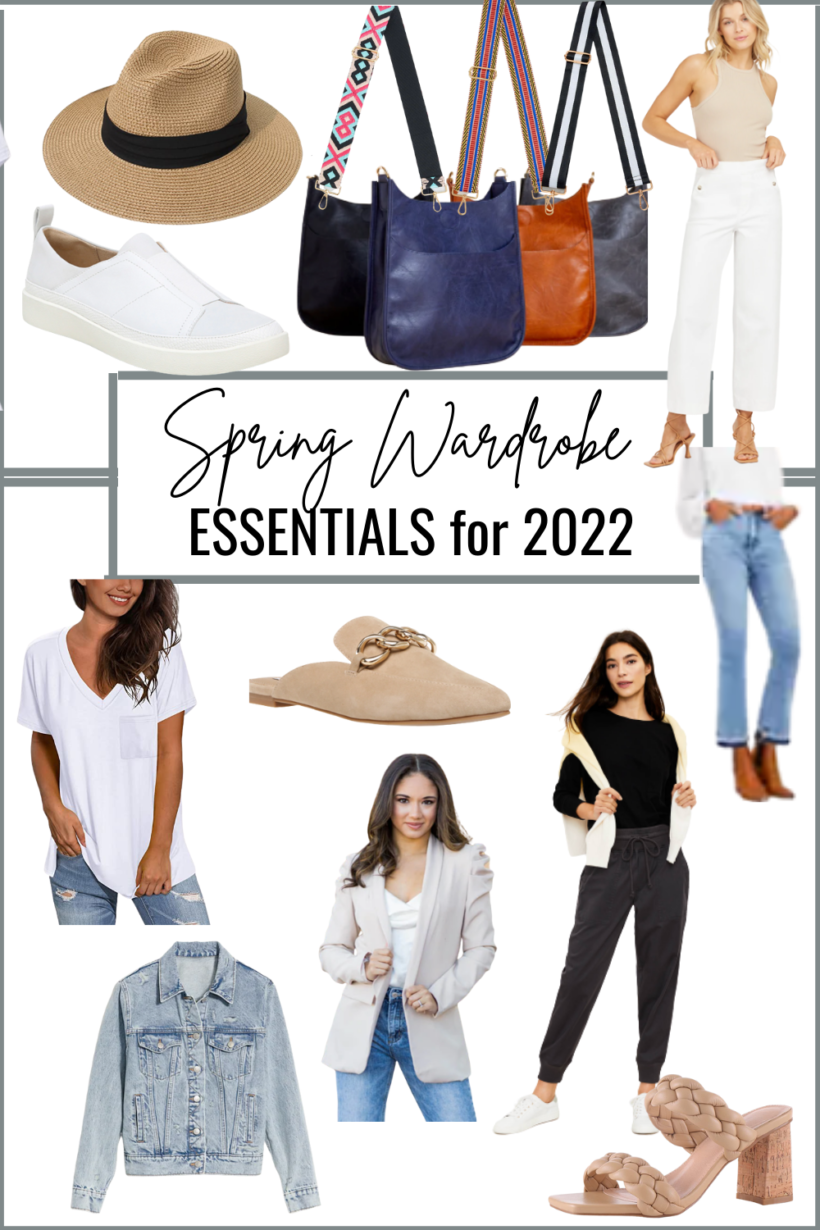 Getting back to basics.
Hey there!!
In my opinion, there are a few basics that everyone needs in their closet this Spring.  So I made a list and came up with 11 of them. Today, I am sharing them with you! While everyone's style is different, these may or may not appeal to you.  But I believe they are foundational pieces that can be worn in many ways and might be a good place to start when looking to update your wardrobe. So let's get into the 11 spring wardrobe essentials!
#1:  A good pair of light wash denim.
Here are my favorite light wash jeans in 3 different styles: a cropped style, a subtle flare, and a distressed pair.
First, these might be my favorite!! They have such good stretch and I love love love the color.  It has a little bit of acid wash without screaming 1980.  They are the High Rise Kick Crop and make me feel youthful and comfy.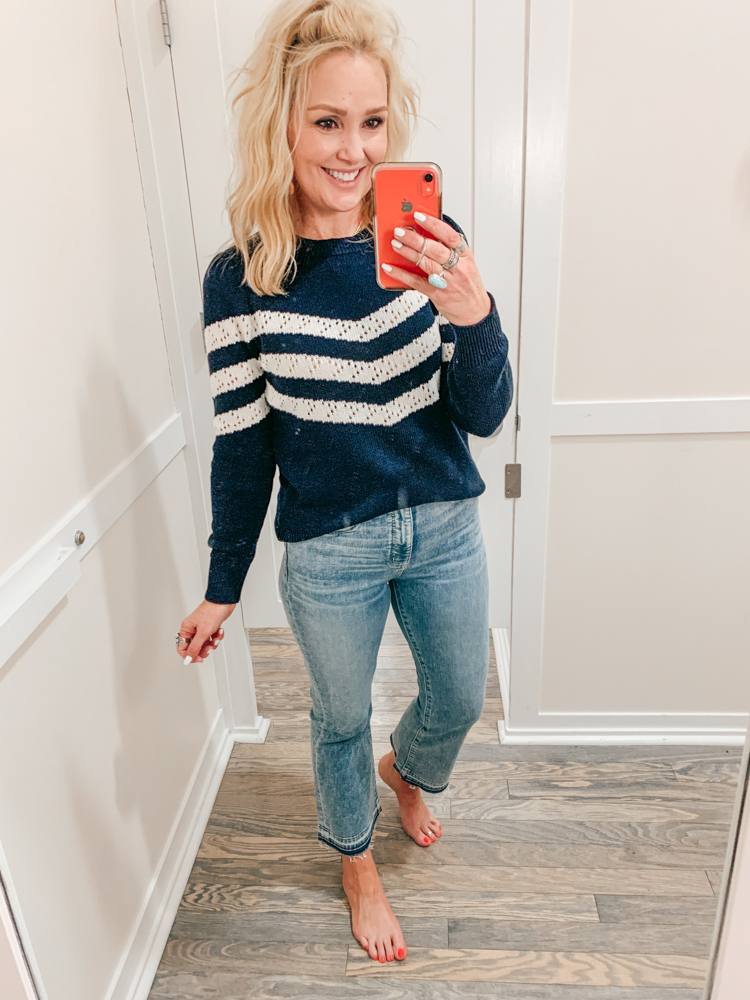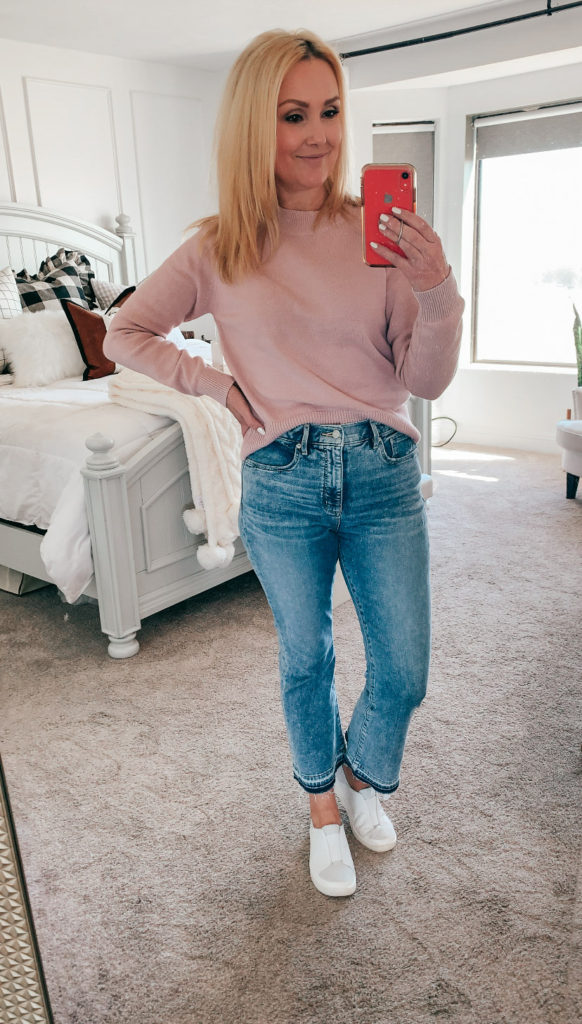 This next pair is also very comfortable and it sports a subtle flare.  They are the High Rise Everyday Flare jeans.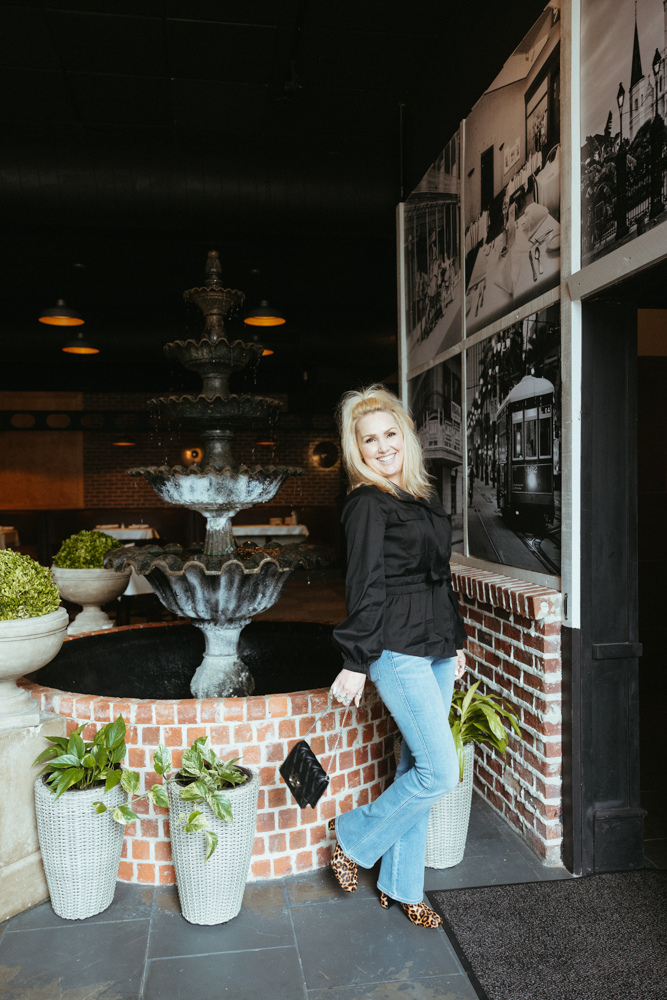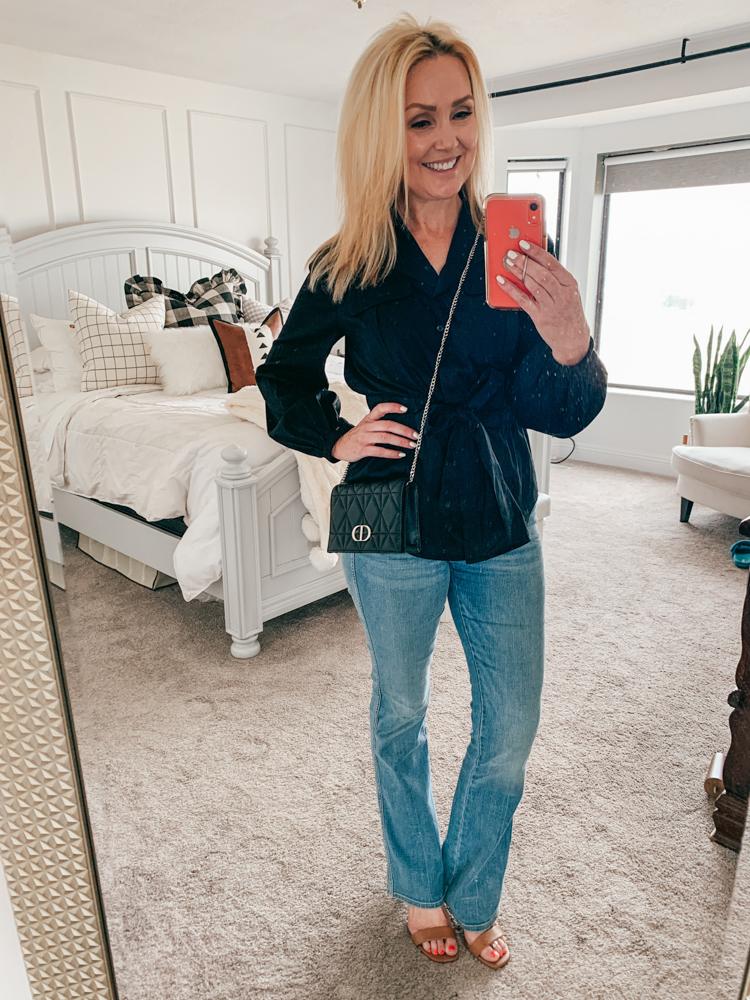 This distressed pair is one that I've grabbed over and over because they are comfortable and they fit well.  I love the big knee holes and they are also very inexpensive!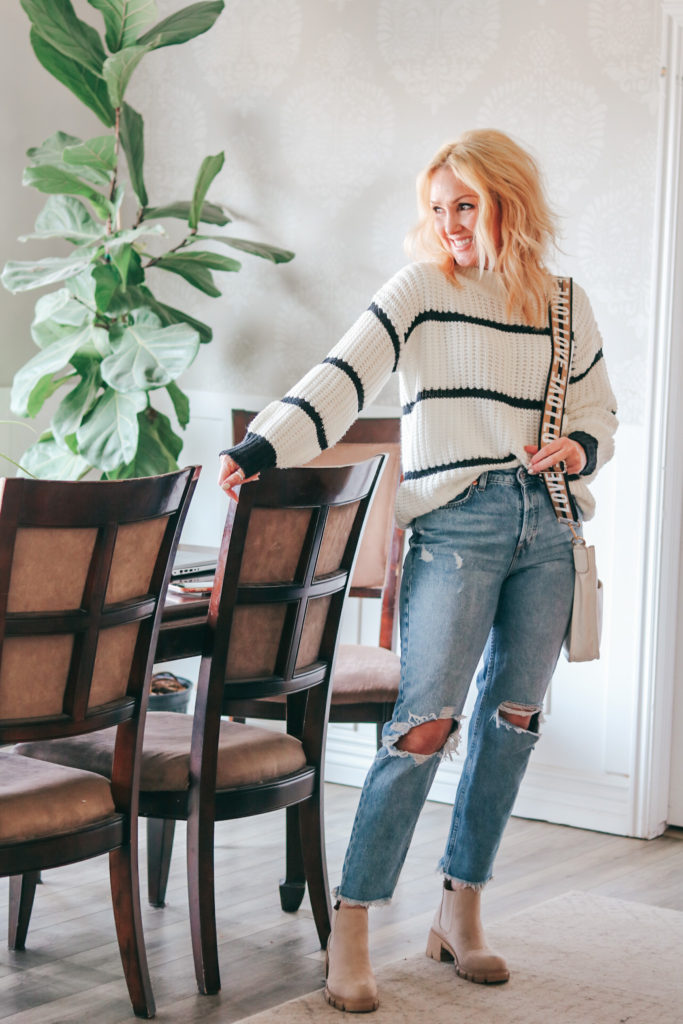 #2:  A Neutral Sandal
I am in love with these heels! A good neutral shoe will lengthen the appearance of your legs and look seamless. They will elevate any look, whether casual or dressy.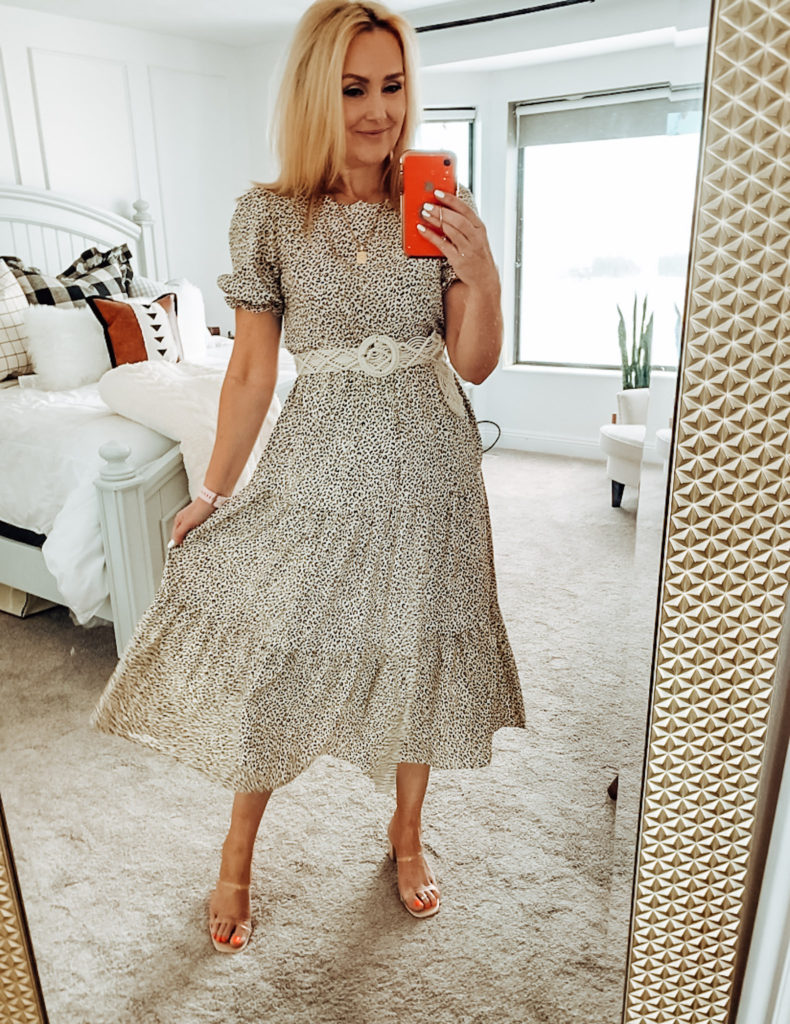 #3:  A Good White T-shirt
And when I say "good,"  I mean one that is not see-through.  This one is AWESOME!  It doesn't require two layers to make it that way… the fabric itself is not see-through.  I am so happy I came across it!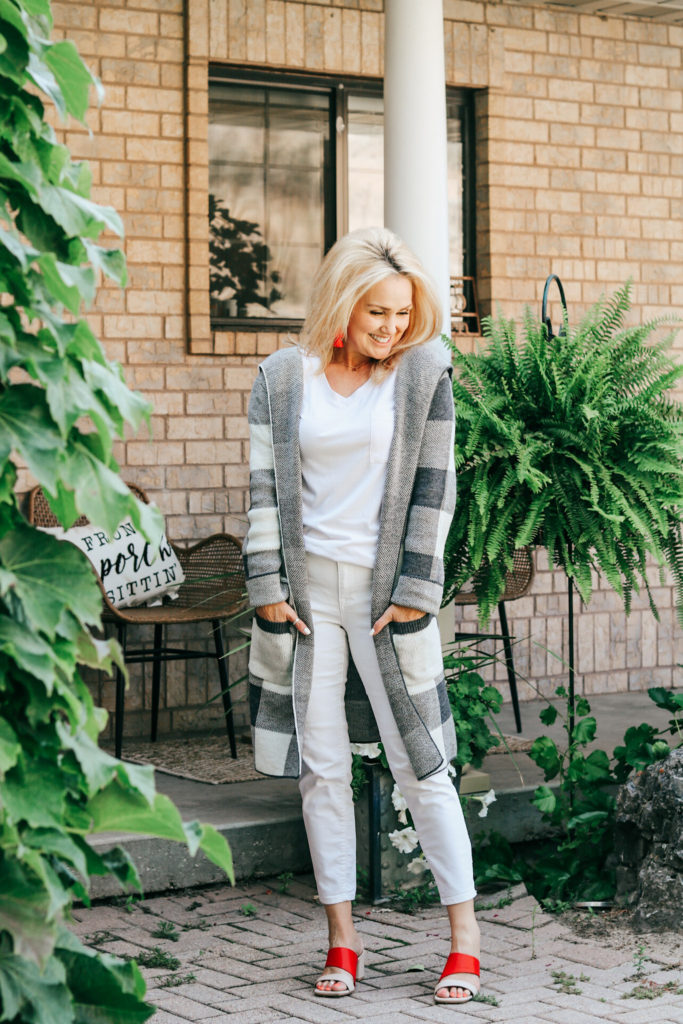 #4:  A good blazer
You probably know how much I love this blazer!  I got it for our New Orleans trip and my love runs deep.  A white or neutral blazer will serve you all season long and well into summer.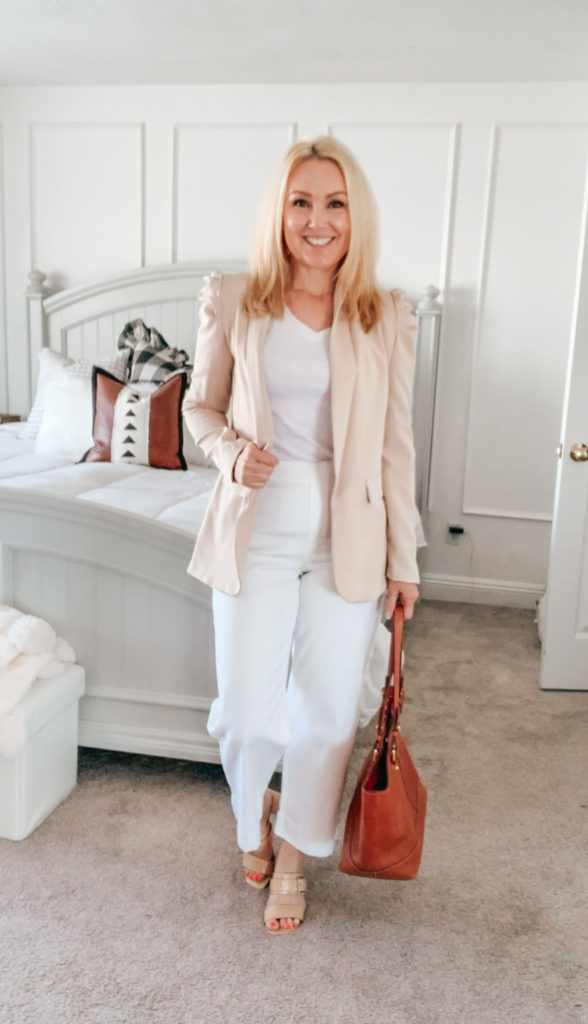 #5:  A pair of white jeans
I say go with a wide leg pair of white denim!  These are so flattering and made of such great fabric!  Plus, they really suck you in making you feel confident!  I did a whole post about how to wear them HERE so all the guesswork of how to wear them is taken away.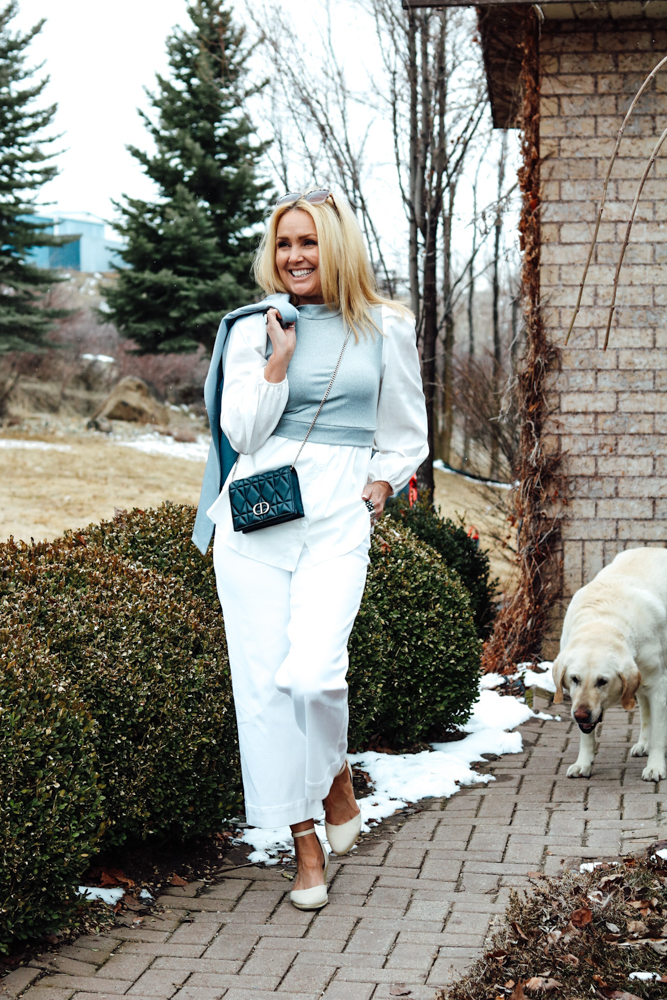 #6:  A denim jacket
A lightweight denim jacket is just what you need to keep the chill away on unpredictable spring days.  Not only does it take any outfit up a notch, but it is a classic piece that you will have forever!  This exact jacket is from H&M a couple of years ago.  But I'm linking one below that is almost identical.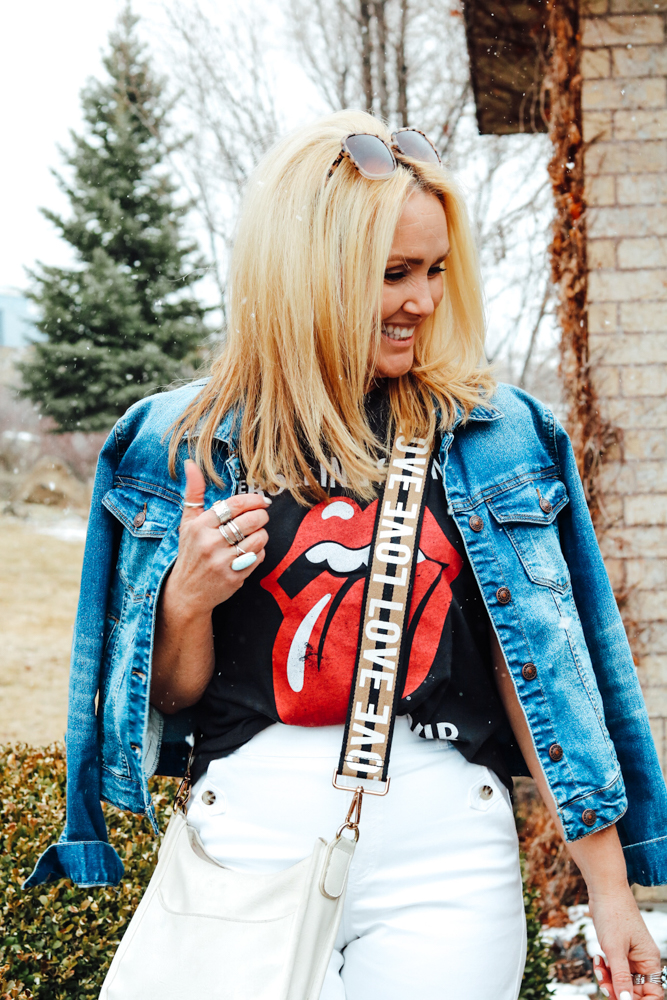 #7:  White sneakers
When was the last time you bought a new pair of white sneaks? What do yours look like right now?  I mean, they are awesome but they get dirty fast and worn often, so if you need a new pair, let me suggest these!  They have great arch support for all-day comfort and they are easy on and off, no tying necessary.  Linking a couple of my other favorites as well.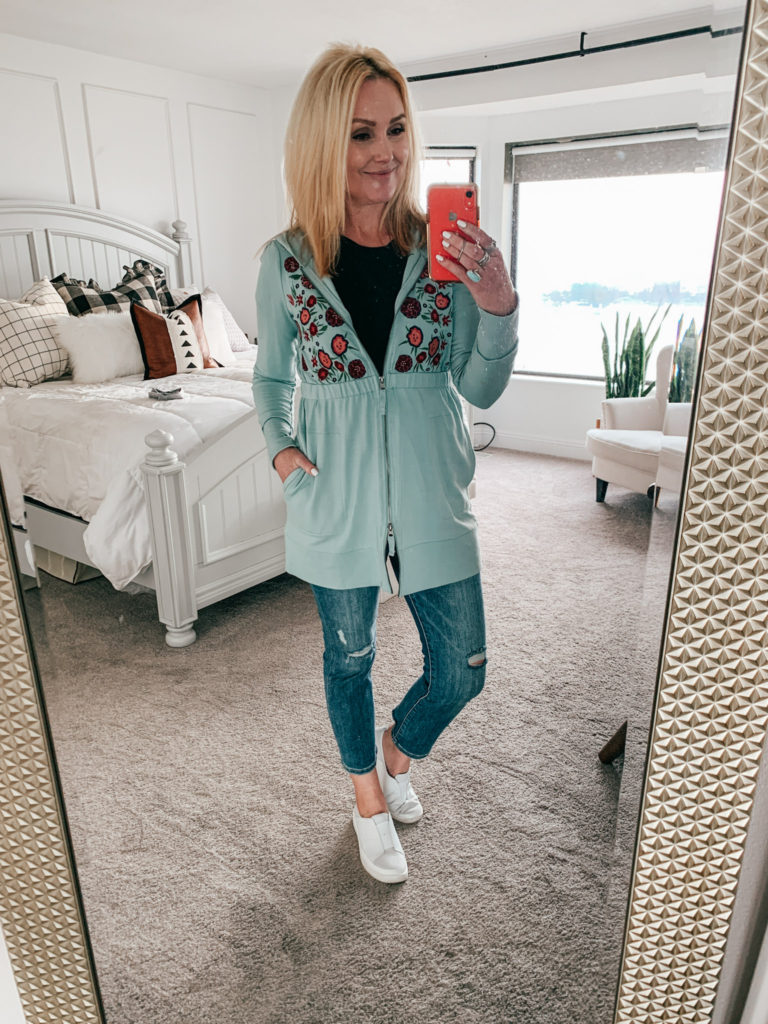 #8:  A pair of mules
A casual pair of mules are classy and comfy.  When your outfit isn't fancy enough for heels or if you want to elevate a casual look just a touch, mules are where it's at!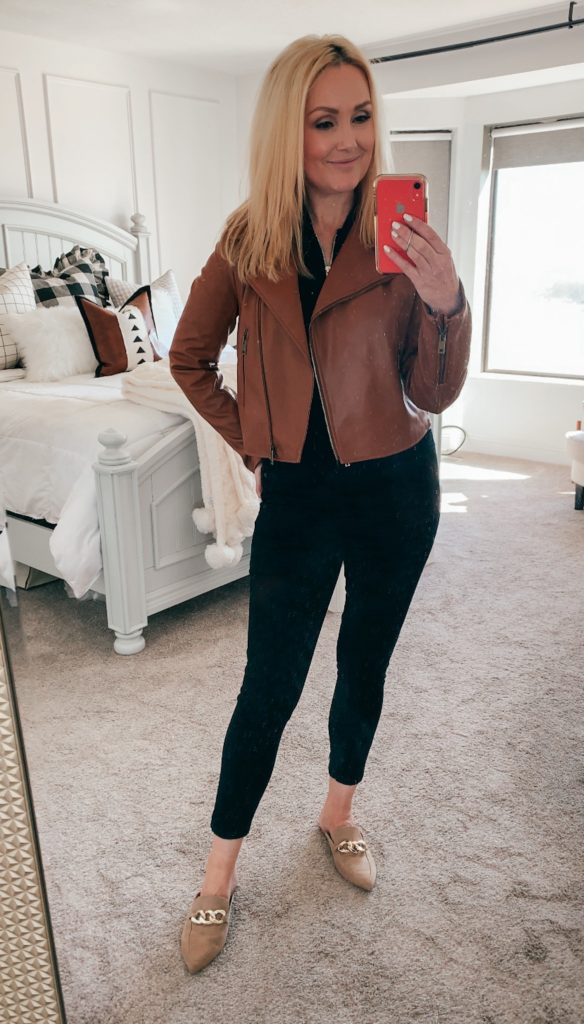 #9:  A pair of joggers
These have been a huge favorite of both my girl group who tried them on in New Orleans, and many on Instagram! They have such a nice sateen fabric that is super comfortable and the fit is perfect.  They are a mid rise and the perfect length.  Not too long, not too short. I am wearing a medium for reference and I'm 5'6 1/2″ tall. Wear these to ballgames, movies, picnics, shopping, anywhere!!! They'll be your grab-n-go, I promise!!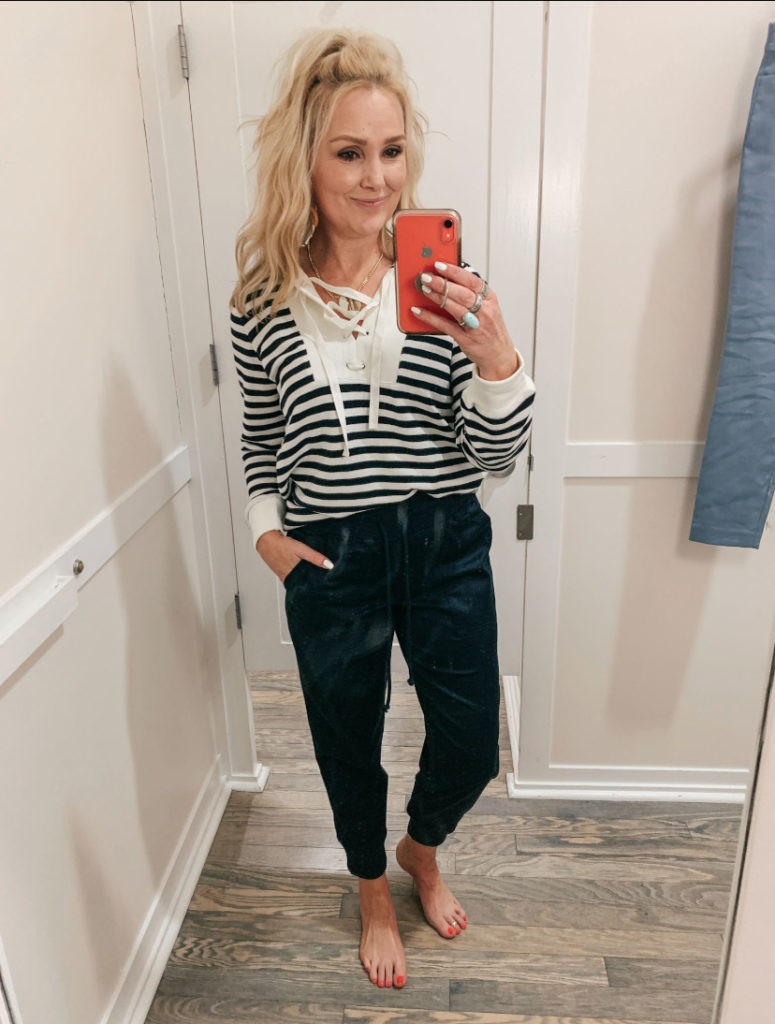 # 10:  An everyday neutral bag
I'm not one who loves to change out bags according to outfits.  Although, I will if the occasion calls for something a little fancier.  But generally, when I'm just running around doing the mom thing,  I keep it neutral to go with everything. This is a great bag and has plenty of room for whatever you need to haul with you! I love that it comes in a few other colors and the strap options are endless!!!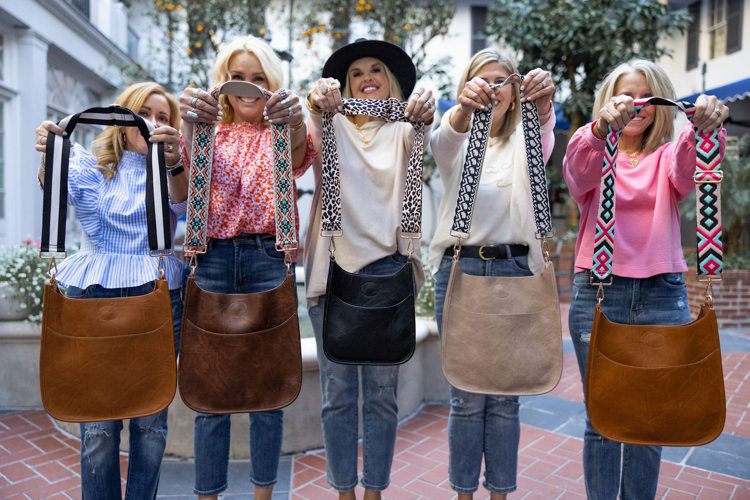 #11: And the last of the spring wardrobe essentials is a sun hat!
You are going to need a good hat that you can wear in the garden or to the beach, so grab a darling straw hat!  I have the one in the middle below and it travels well, dries fast, and looks good on.

That's it!!
There are the 11 spring wardrobe essentials you should have this season! Is there one that I forgot that you think should make the list? I would love to know!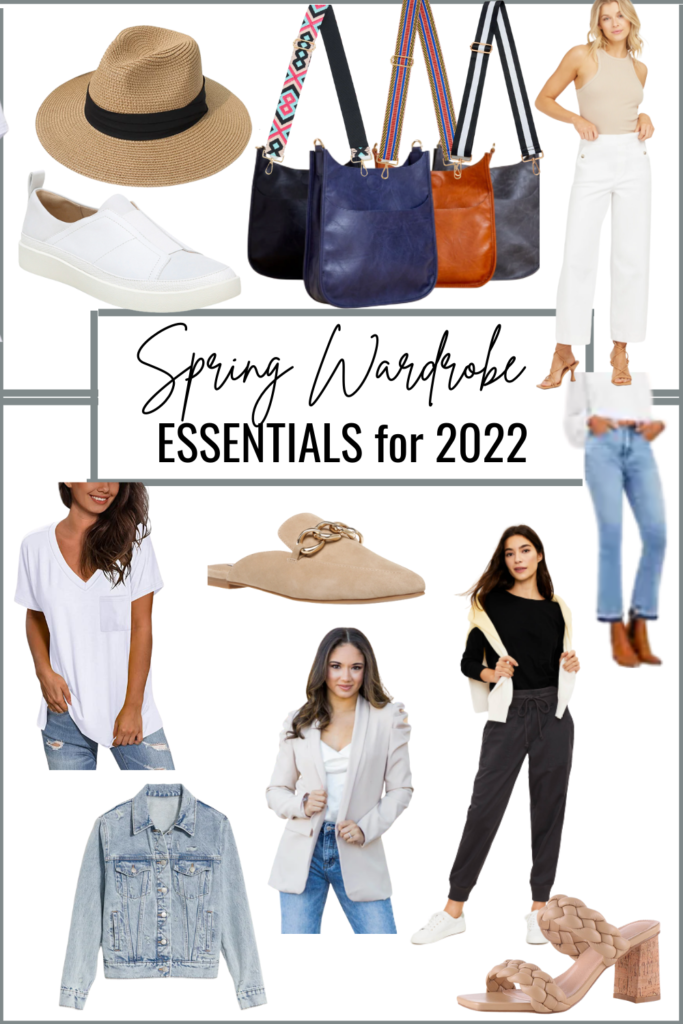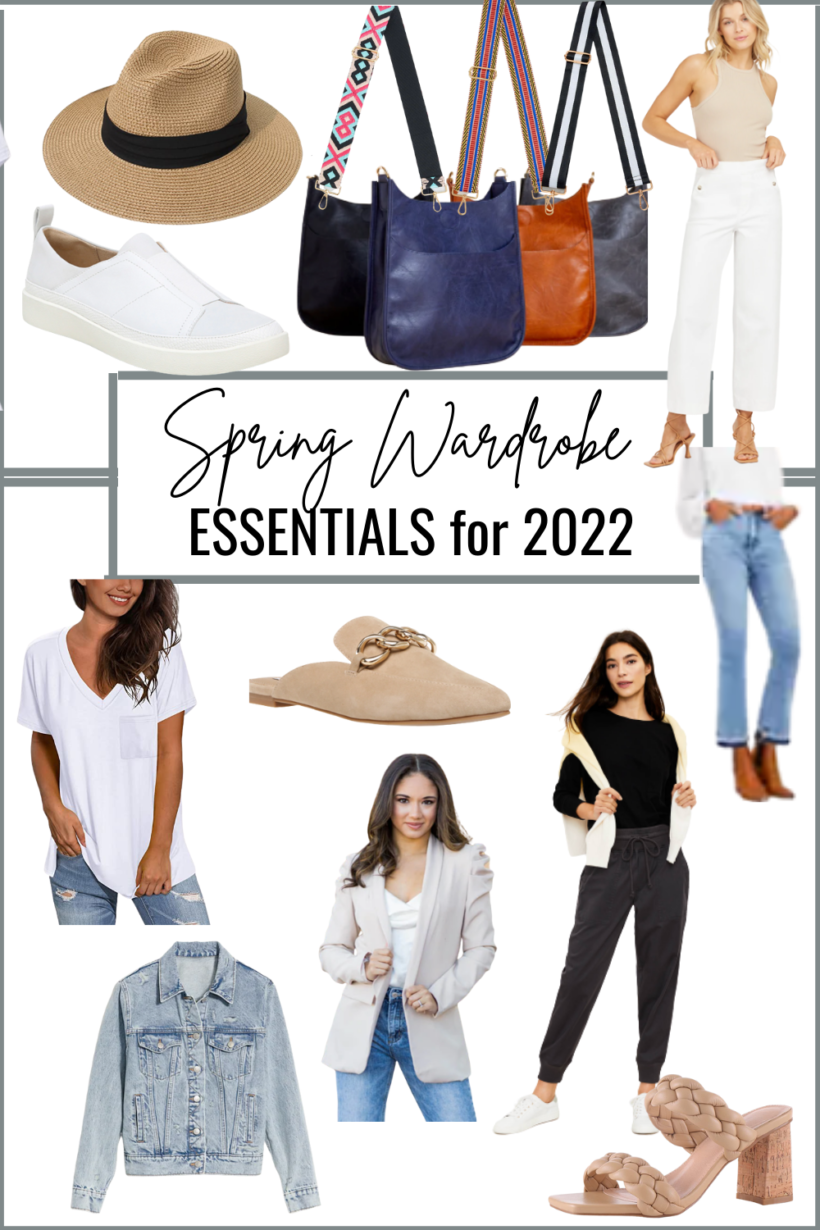 Thank you so much for being here, I appreciate you stopping by my blog!!  
You can also find me on Instagram, Facebook, Pinterest, and YouTube.
If you'd like, you can sign up to get notified each time a new post goes live.  Just drop your email in the box below.