How To Wear Wide Leg Jeans…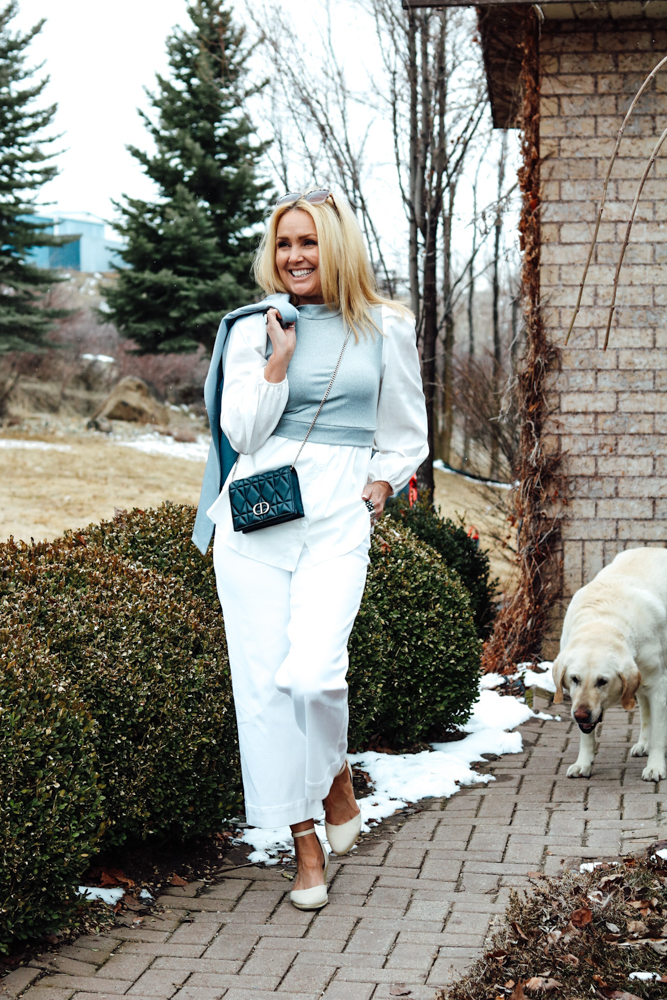 Wide leg jeans are here to stay!
Do you own a pair yet?  I have to admit, I was hanging on tight to my skinny jeans there for a while, but I have fully embraced the wide leg! And happy about it!  I know they might be a little intimidating as far as how to style them, so I thought I would share how to wear wide leg jeans, Cammi style. 😉
The jeans that I will be sharing can be found HERE and are so great!!
I'm wearing a medium in the jeans.  They really hold you in!  If you have bought from Spanx before, you know that te quality is fabulous!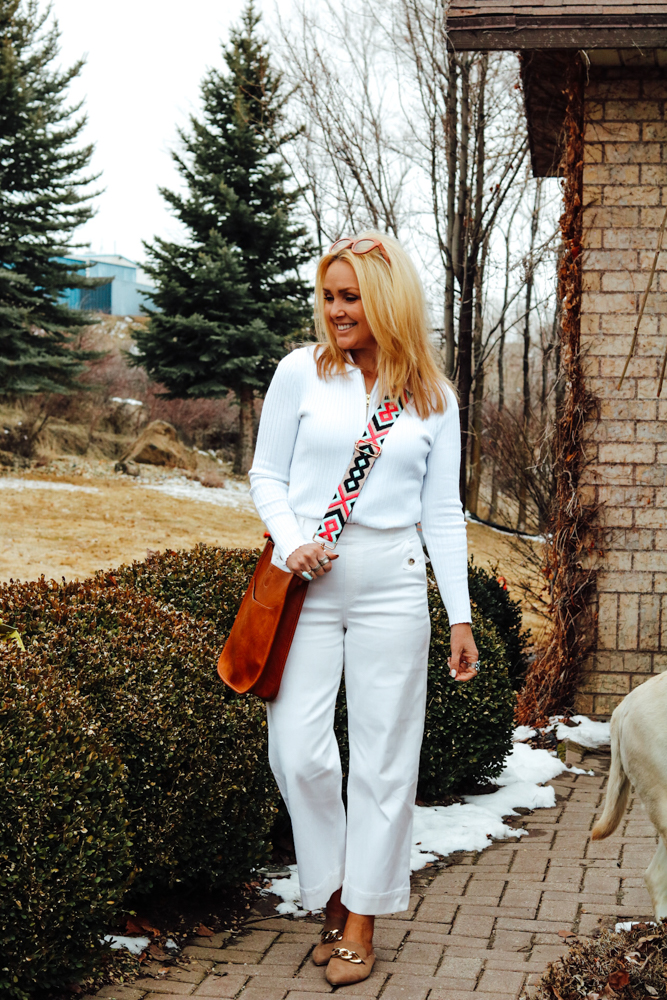 First, it's important to know that balance is key here.  With a wider leg, you need to keep the top more fitted.  If you were to wear an oversized t-shirt or sweater over already loose jeans, you'll look nothing short of frumpy.  Each of these outfits I have tucked into the waist, to make my legs look as long as possible. Think you can't wear wide legs because you're short?? Nope!  It's all about balance!
In this outfit, I am wearing my new favorite sweater.  If you follow me on Instagram, you've likely heard me say that I have this sweater in 3 colors because I love it so much! It's super affordable too… making it easier to justify buying several!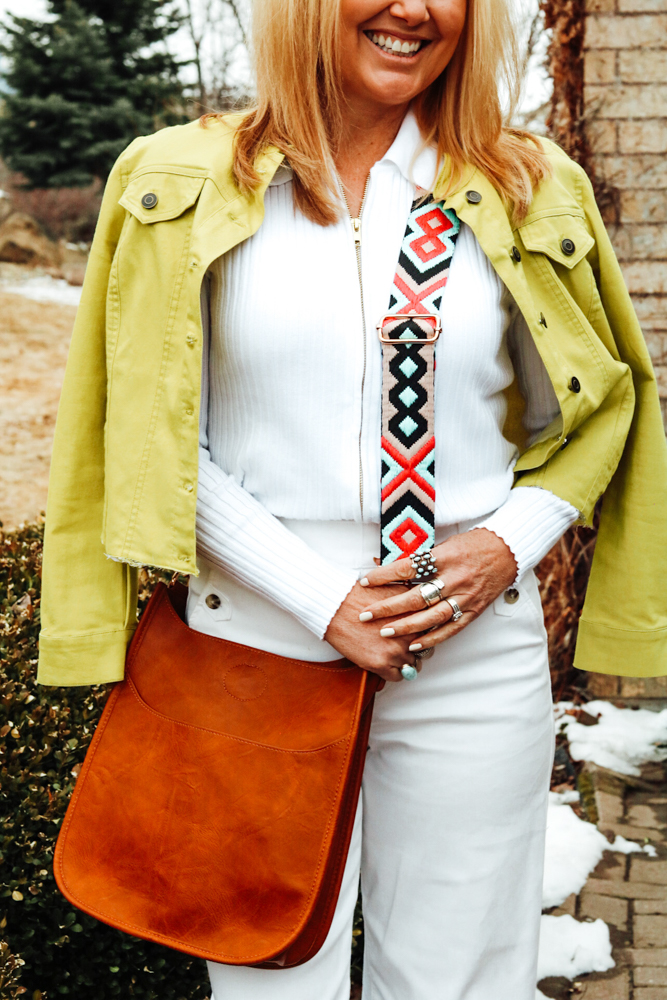 jeans  |  sweater  |  jacket  |  shoes  |  bag |  strap
This next look appears like a long white button-up shirt with a sleeveless sweater over it.  But in reality, it's all one piece! So even though it hangs in a way that is loose-fitting, again it's balanced by being tighter up top.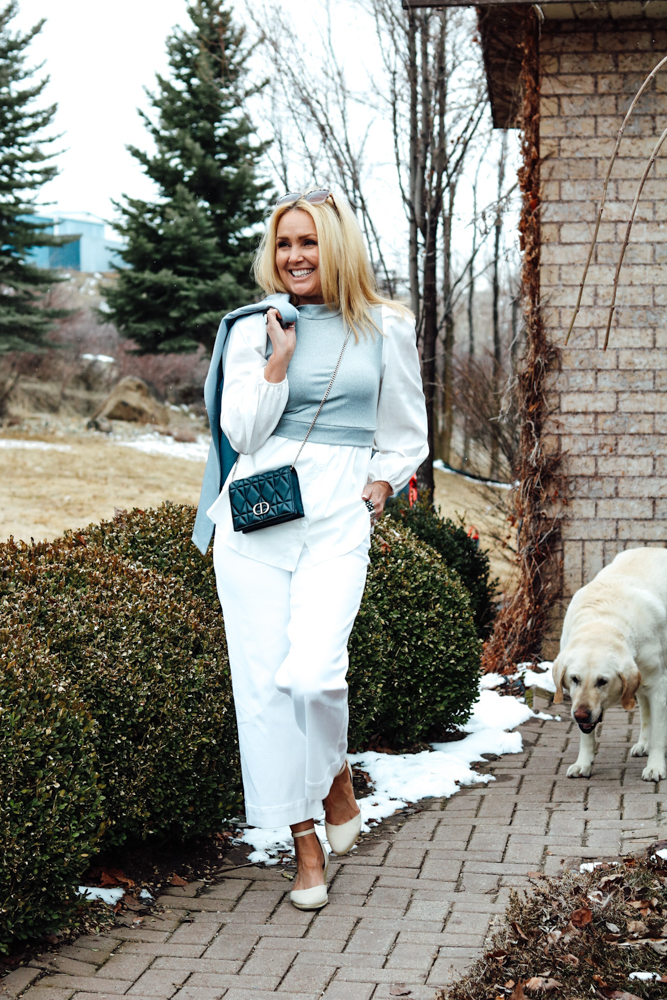 The top is nice and lightweight, but because of that, it's just a titch see-through. It's not real bad with white jeans underneath, but with blue jeans, it's more visible. But I love how it looks over these jeans! I added a little bit of a heel and a blazer for a polished look.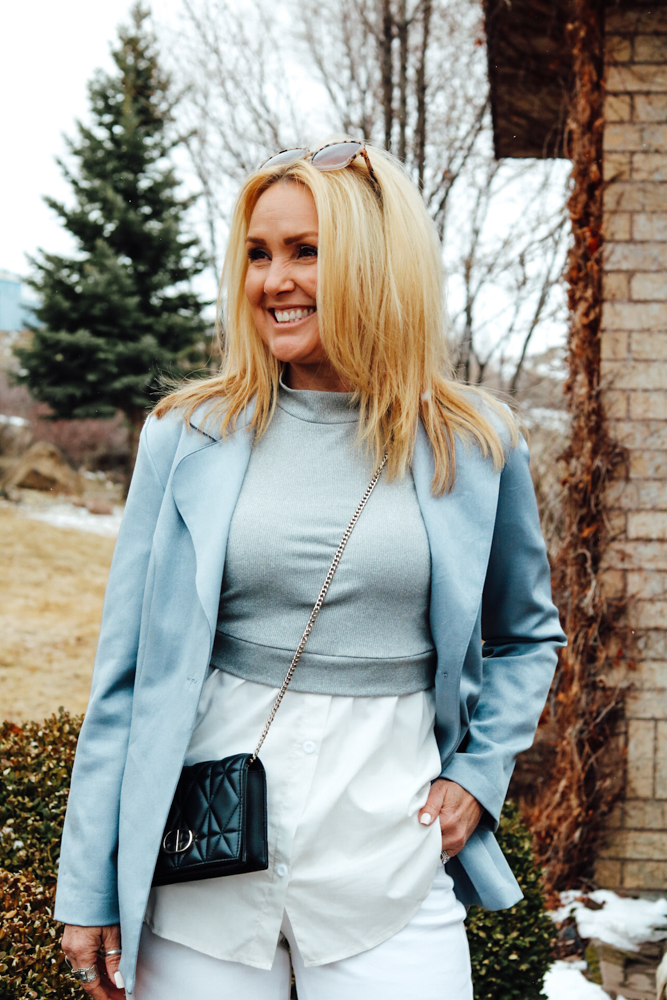 Unfortunately, the mini crossbody bag is sold out and my blazer is old.  But I have linked some similar.
jeans  |  top  |  similar blazer  |  shoes  |  similar bag
The look below is very similar, but with a white button-up top and a cream/neutral colored blazer.
You'll notice I added a crocheted belt to accentuate my waist.  The belt plays nicely with the blazer, making this a sophisticated monochromatic outfit.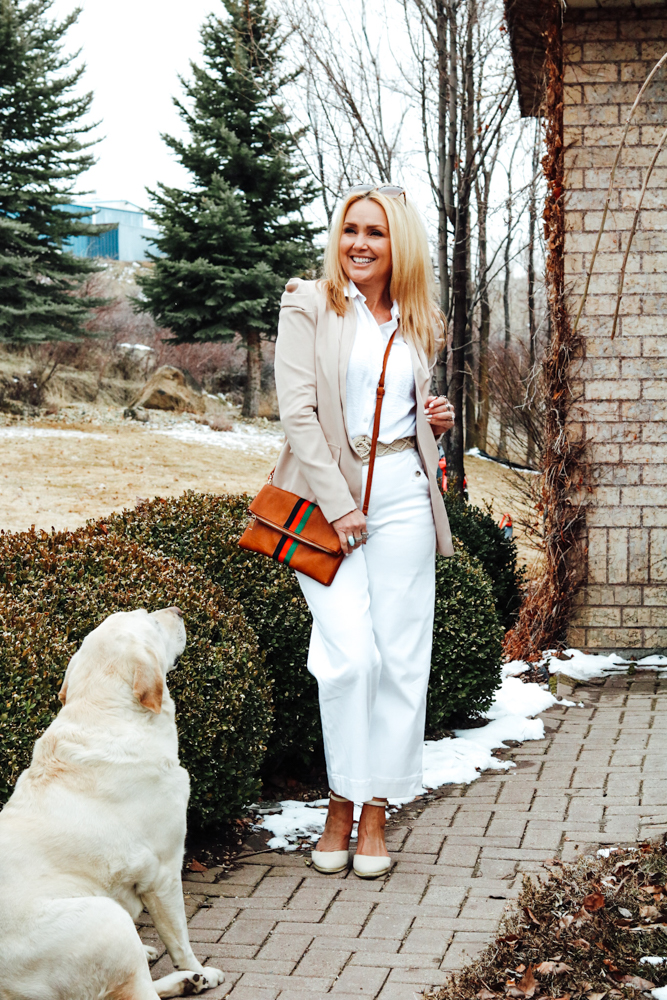 My sunglasses are new from our trip to New Orleans and I love them!!!  You can read all about the trip HERE and where we went shopping HERE.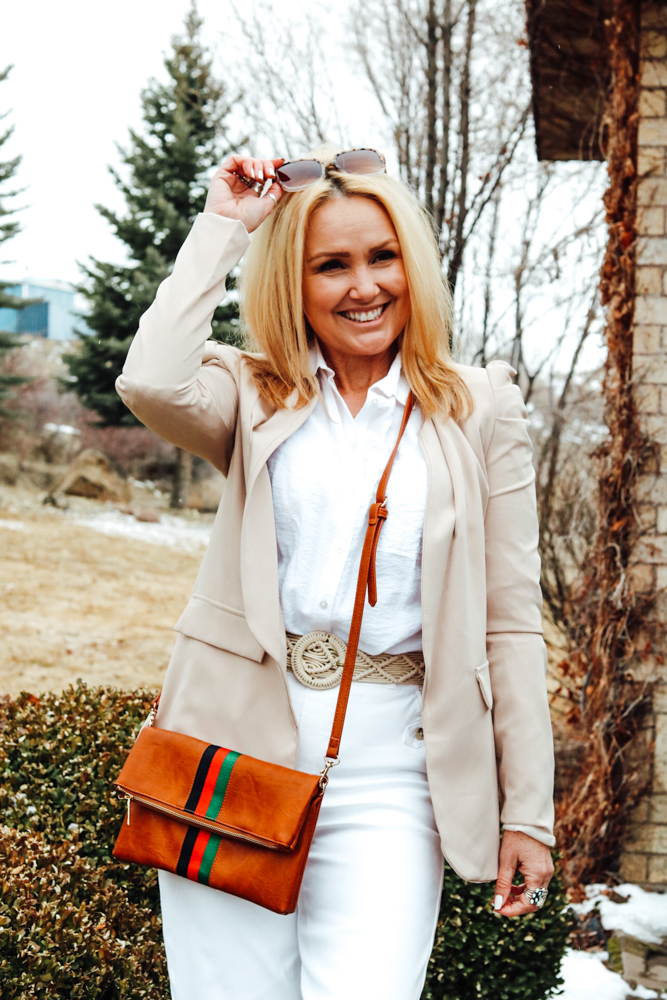 jeans  |  top- code CAMMI for 25% off   |  blazer  |  similar belt  |  shoes  |  crossbody  |  sunglasses
For more of a casual look…
Add a t-shirt, some sneakers, and a denim jacket!  I especially love these sneakers because they make my legs appear a bit longer because of the platform sole.  They also come in white if that is more your style.  It is mine, but my sweet 18 year old talked me into going outside my comfort zone, lol!  For reference, I am 5'6 1/2″.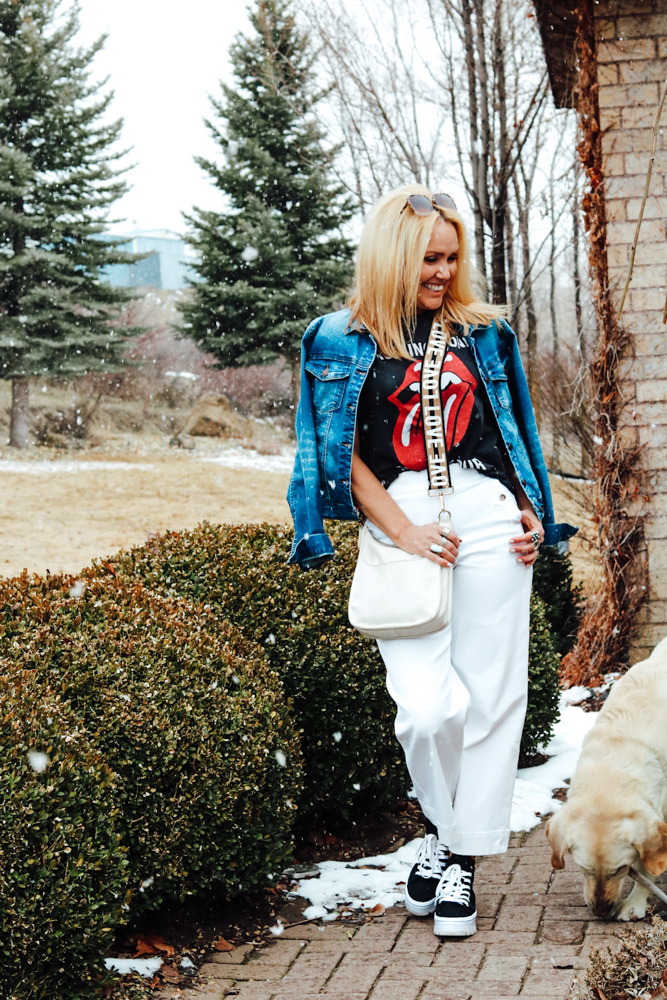 Yes, that is snow coming down…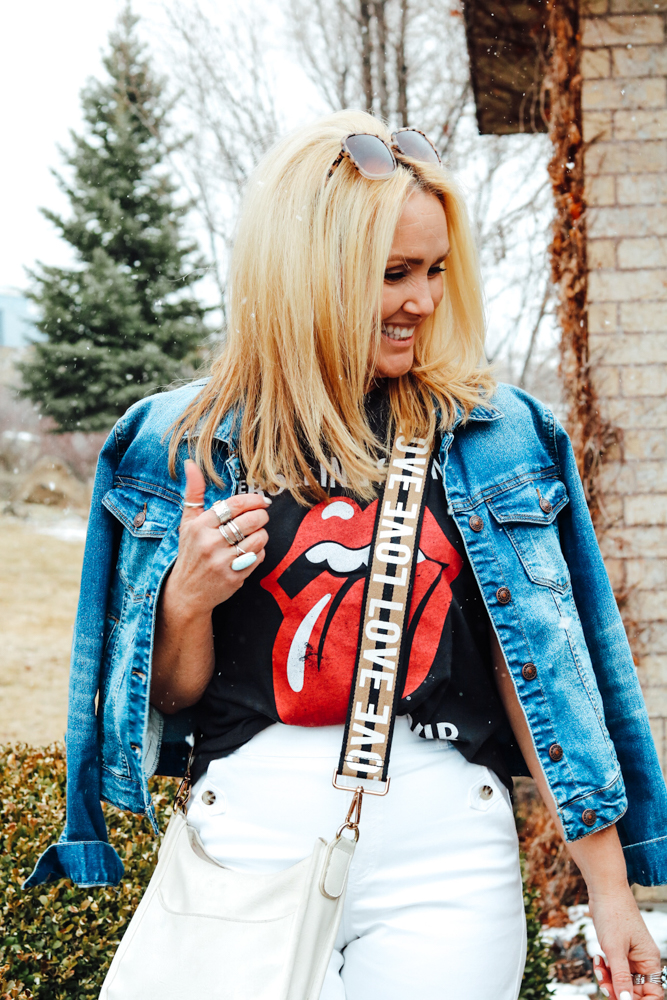 jeans  |  t-shirt  |  similar jacket  |  bag  |  sneakers 
I hope this has helped you!
As you think about how to wear wide leg jeans, is there a way that YOU prefer?? I would love to know!
Thank you so much for being here, I appreciate you stopping by my blog!!  
You can also find me on Instagram, Facebook, Pinterest, and YouTube.
If you'd like, you can sign up to get notified each time a new post goes live.  Just drop your email in the box below.