Styling A Jumpsuit… 9 Creative Ways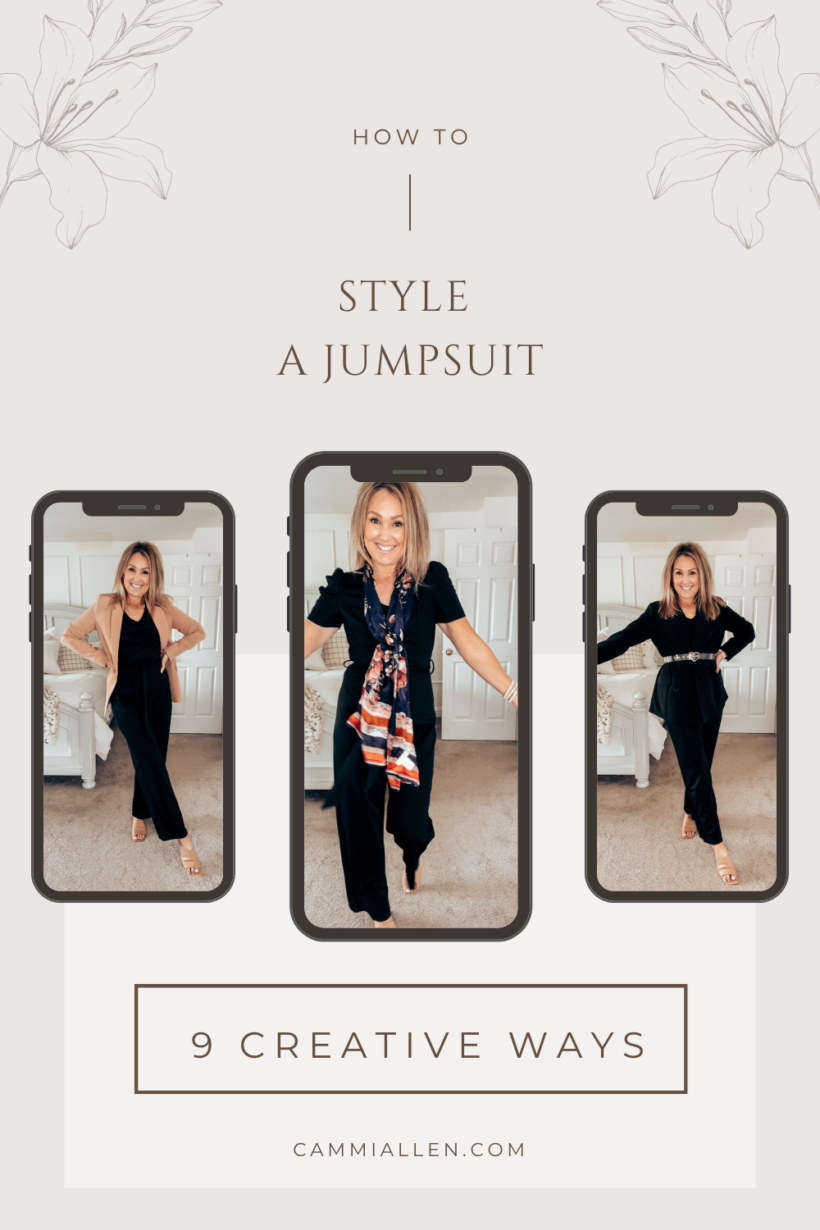 Are you tired of wearing your jumpsuit the same way every time? It's time to switch it up! Jumpsuits are versatile, comfy, and stylish, so why not let them be the statement piece of your outfit? In this post, we are going to explore nine creative ways of styling a jumpsuit to make it stand out from the crowd. From layering to adding a pop of color, we will give you tips and tricks to rock your jumpsuit for any occasion. So, let's get started!
Styling A Jumpsuit
The jumpsuit that I will be wearing throughout this post can be found HERE. I love that it is polyester so it'll wash up great and it's very comfortable. You can see another really gorgeous jumpsuit that I shared how to style back HERE.
Layer It Up
One great way to update your jumpsuit and make it extra chic is by layering it up. Layering is all about playing around with pieces that complement your jumpsuit while also adding an extra touch of style and warmth.  Throw on a sleeveless cardigan or vest for a great look Even a white button down shirt as a duster.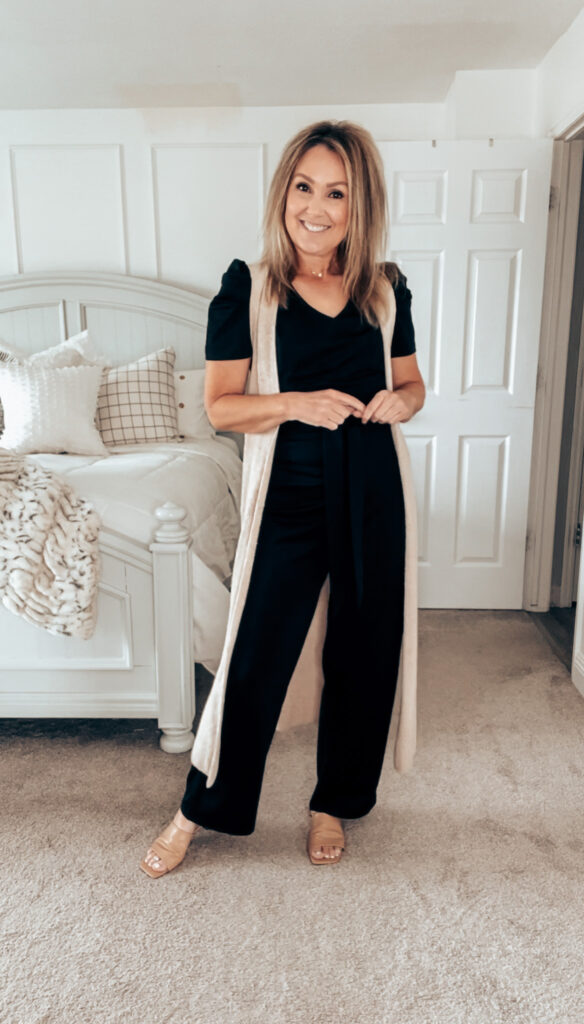 jumpsuit  |  similar cardigan  |  shoes
Add A Statement Belt
Now, let's talk about adding a statement belt to your jumpsuit. This is an easy way to update your look while also accentuating your waistline. Whether you choose a wide or thin belt, a neutral or bright color, or a simple or embellished design, a statement belt can add some serious style and personality to your jumpsuit.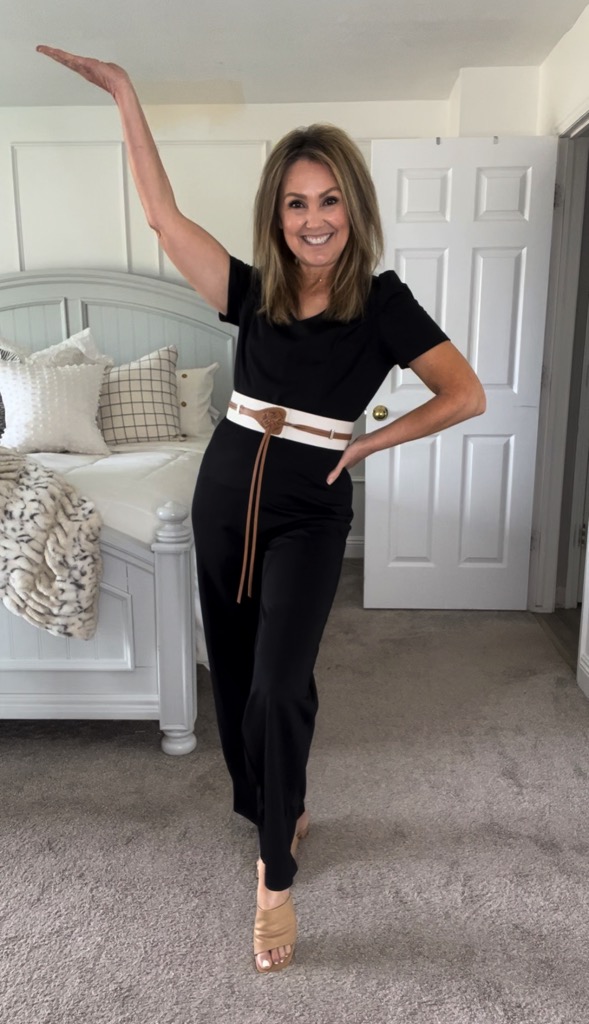 jumpsuit  |  similar belt |  shoes 
It's a great way to break up the monotony of a plain jumpsuit and create a more tailored and polished look.
I love this pretty clear belt with heart buckle.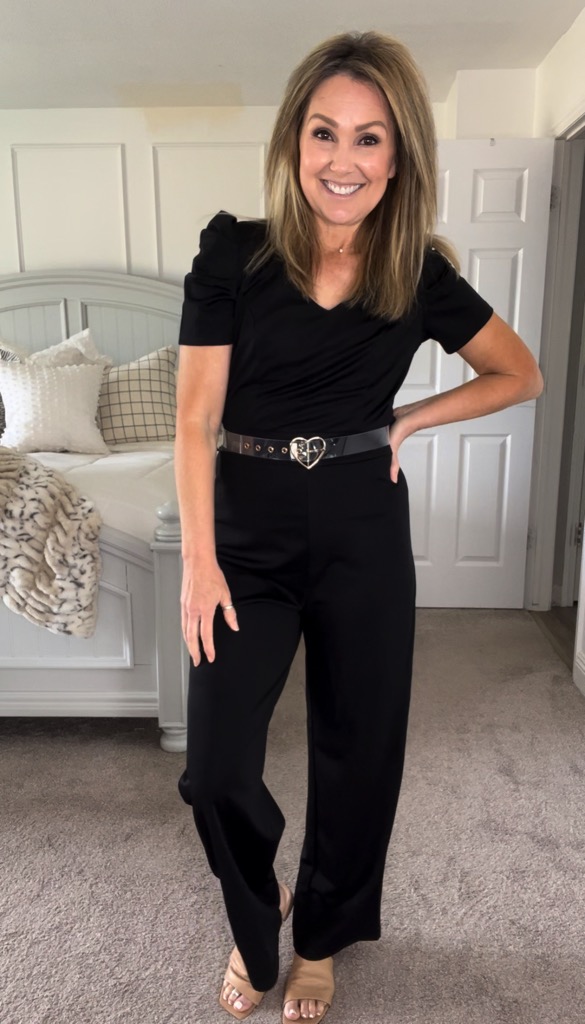 Accessorize With Jewelry
Now, let's take it up a notch with some accessorizing. Adding the right jewelry can take your jumpsuit from basic to bold. If you want to elevate your look, opt for statement pieces like chunky necklaces, oversized earrings, or a stack of bangles. To keep it more understated, try layering delicate necklaces or adding simple stud earrings. The key is to balance the accessories with the jumpsuit so that they complement each other rather than compete for attention.
I chose these simple yet attention-grabbing butterfly earrings.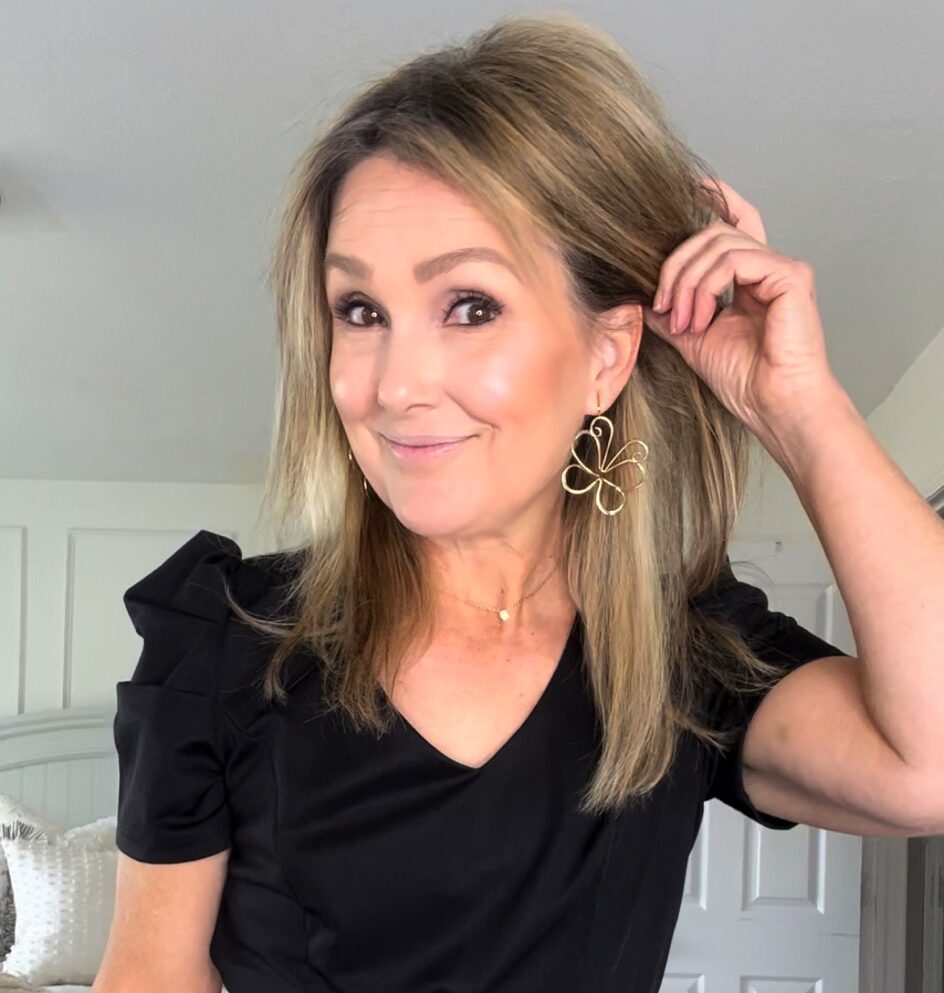 Adding the right jewelry can take your jumpsuit from basic to bold. It's the perfect opportunity to show off your personal style and add a touch of glam to your outfit. Selecting the right jewelry pieces can be overwhelming, but there are a few rules of thumb to keep in mind. First, choose jewelry that complements the color and style of your jumpsuit. If you have a patterned jumpsuit, it's best to stick to simple jewelry. If you have a solid-colored jumpsuit, you can go for more daring jewelry pieces.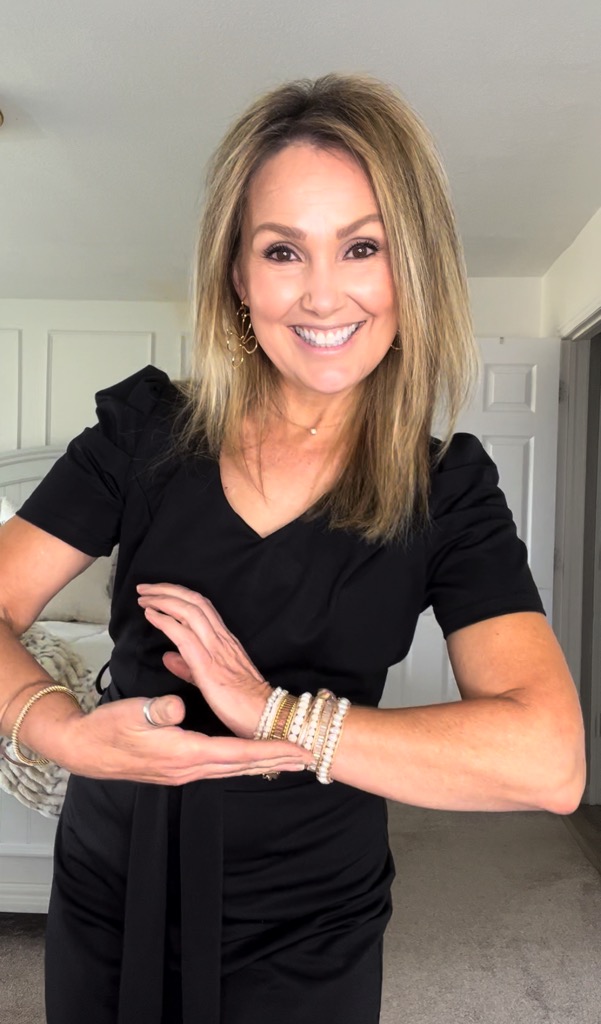 wrap bracelet  |  clasp bracelet
Statement pieces like chunky necklaces, oversized earrings, or a stack of bangles can add a bold touch to your jumpsuit. However, the key is to balance the accessories with the jumpsuit so that they complement each other rather than compete for attention. If you want to keep it more understated, try layering delicate necklaces or adding simple stud earrings.
Remember, less is often more. If you have a busy jumpsuit, don't add busy jewelry as well. Instead, choose one statement piece and keep the rest of the jewelry simple. On the other hand, if you have a simple jumpsuit, don't be afraid to experiment with bold jewelry pieces.
Choose Bold Shoes
Now that you've mastered how to accessorize your jumpsuit, it's time to talk shoes. Bold footwear can elevate your jumpsuit look and add a pop of color or texture. First, consider the color and print of your jumpsuit. If it's a solid color or subtle print, you can opt for a brighter shoe to add interest. For a busy print, a more neutral shoe will balance out the look.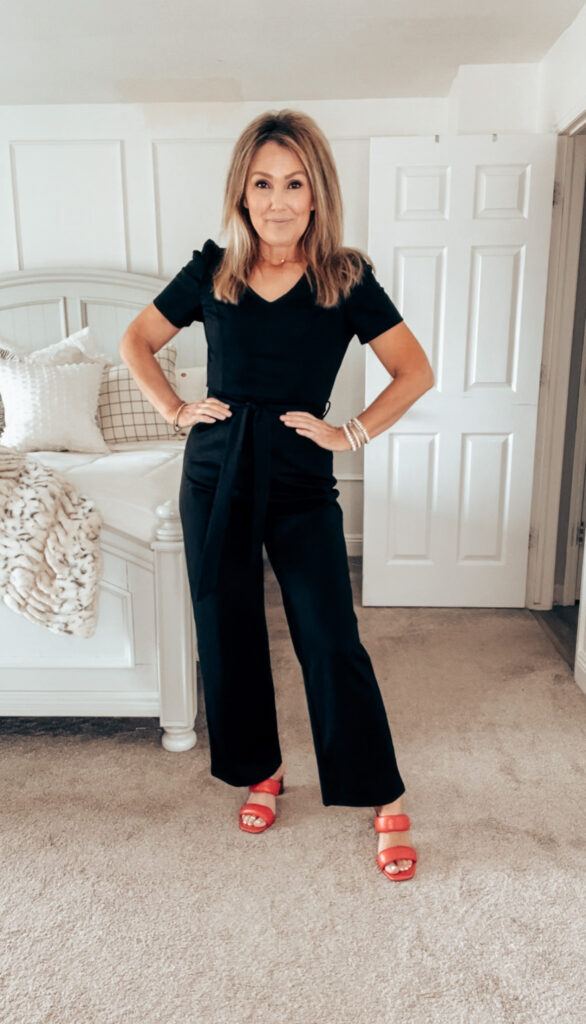 jumpsuit  |  red shoes |  another red shoe option
Another option is to choose shoes in a contrasting color to your jumpsuit. For example, if you're wearing a black jumpsuit, red shoes will really make the outfit pop. This technique works especially well with monochromatic looks, where the shoes become the focal point.
When it comes to the style of shoe, consider the occasion and your personal style. A classic pair of pumps or strappy sandals can work for a dressier event, while chunky sneakers or ankle boots can add a trendy edge to a casual jumpsuit look.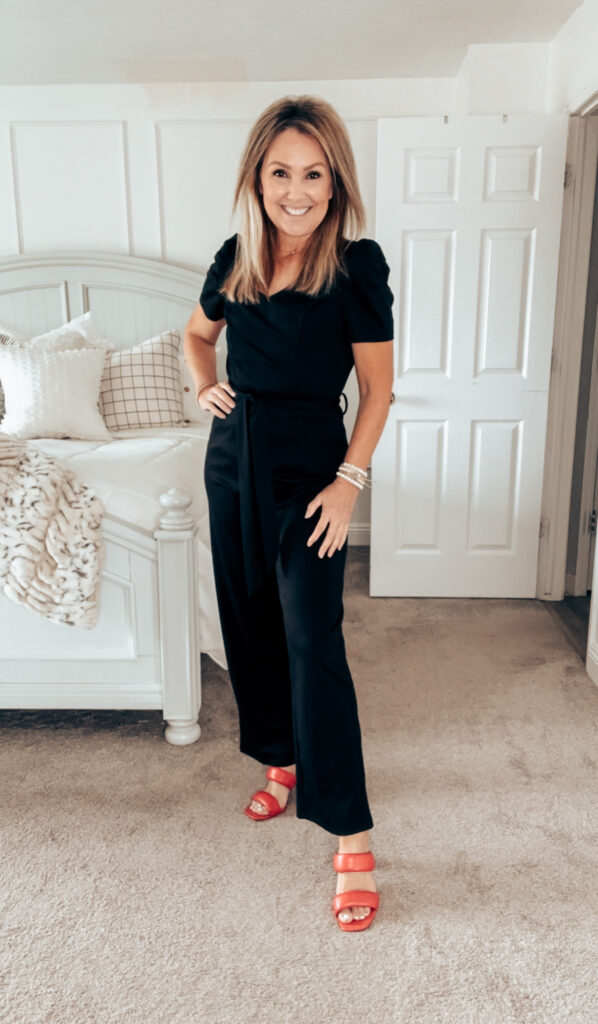 Remember, the key to pulling off bold shoes with a jumpsuit is balance. If your shoes are the statement piece, keep the rest of your outfit and accessories more subdued. With these tips in mind, you're ready to step out in style.
Try A Contrasting Jacket
A great way to take your jumpsuit outfit to the next level is by adding a contrasting jacket. Whether it's a leather moto jacket or a denim one, the combination of a jumpsuit and a jacket can create a chic and effortless look.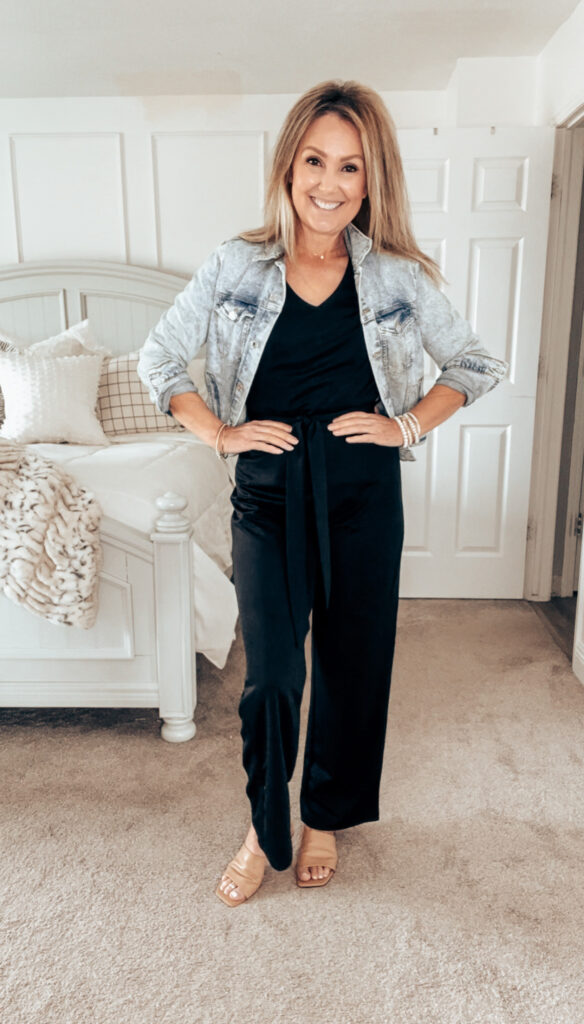 When choosing a jacket to pair with your jumpsuit, consider the color and style of both pieces. A bold jumpsuit can be balanced out with a neutral-colored jacket while a simple jumpsuit can be elevated with a brightly colored or patterned jacket.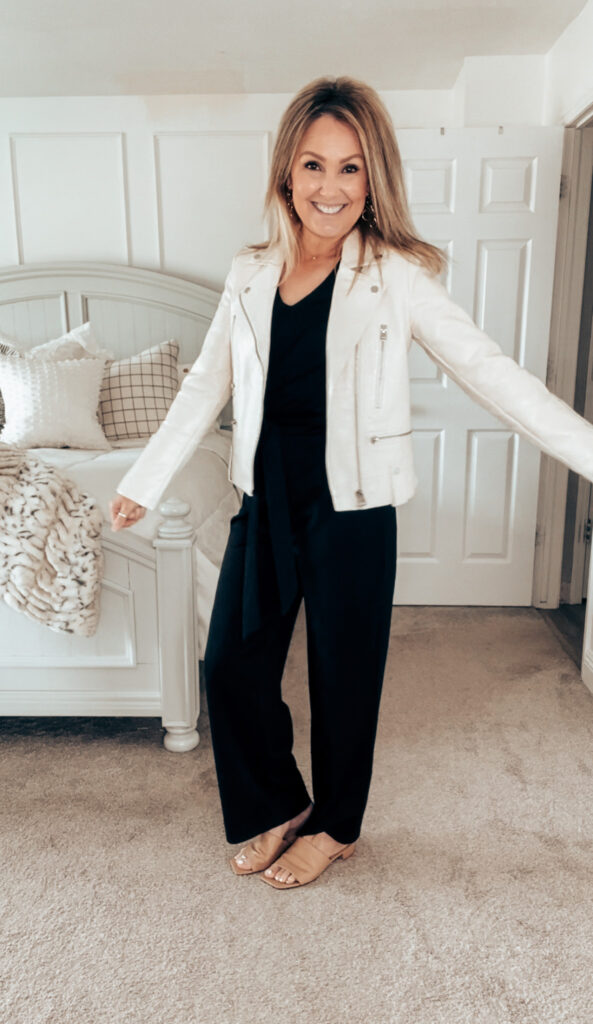 And don't be afraid to mix and match different textures, such as pairing a sleek jumpsuit with a fuzzy or furry jacket. Just remember to keep the balance in mind and let one piece be the statement while the other acts as a complementary element.
Play With Prints
Now that you've explored various ways to create a statement with your jumpsuit, it's time to bring in some prints. Bold or subtle, prints can make a significant difference in elevating your jumpsuit game. From floral to stripes, geometric to animal prints, the options are endless.
Here, I've added a fun, printed kimono.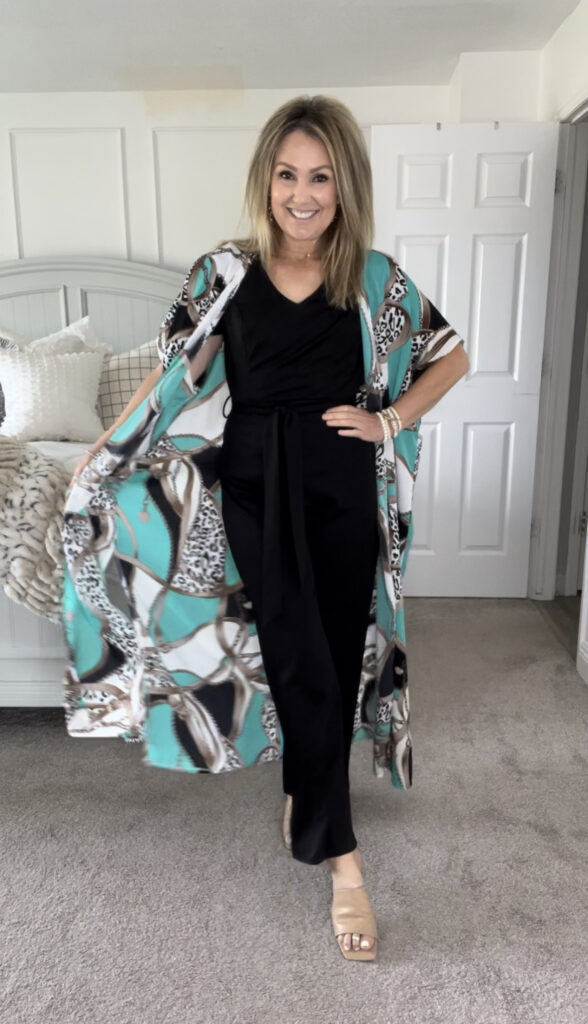 When playing with prints, remember to maintain balance. Pair a printed jumpsuit with a solid jacket or blazer, and keep the shoes simple. Alternatively, you can mix and match prints by choosing one bold print and pairing it with a subtle one. For instance, if you have a floral jumpsuit, pair it with a striped blazer or jacket.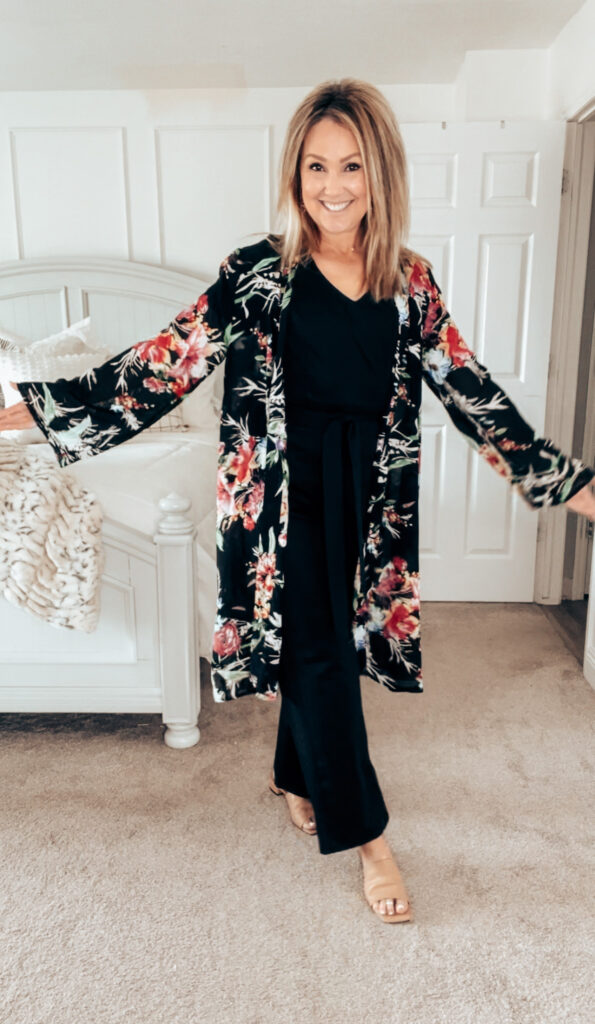 jumpsuit  | similar black kimono
Playing with prints can take some experimentation, but don't be afraid to step out of your comfort zone. Keep the balance in mind, and you're sure to create a unique and eye-catching look that will turn heads.
Add A Blazer
Adding a blazer to your jumpsuit is a surefire way of styling a jumpsuit and giving it a polished finish. Whether you're going to the office or a fancy dinner, a blazer can make all the difference. Opt for a classic black blazer for a timeless look or try something more daring like a bold color or print. Since my jumpsuit is black, I opted to pair it with a camel colored blazer.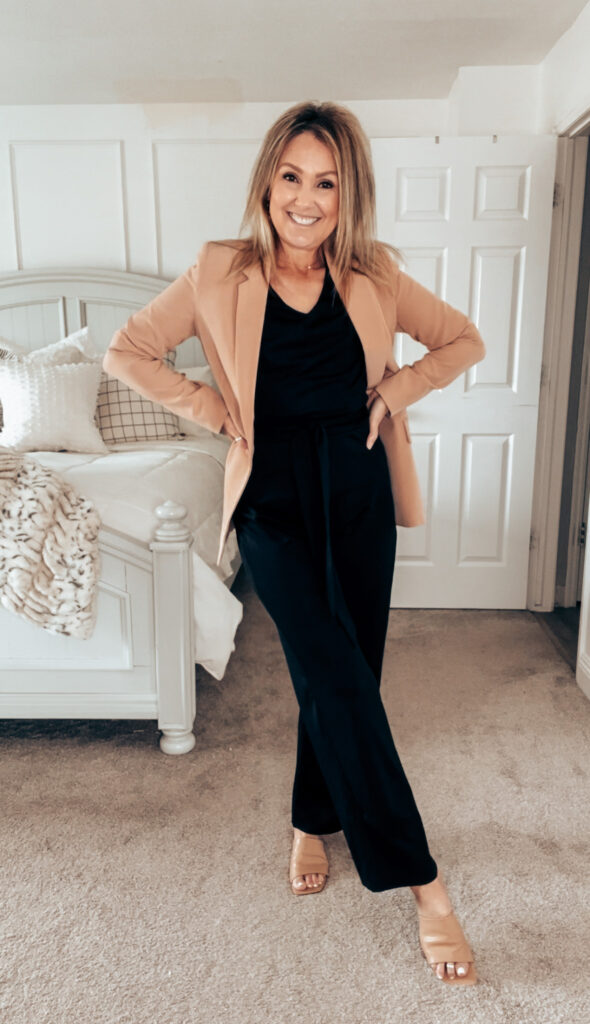 A Belted Blazer
One way to add some flair to your jumpsuit is by pairing it with a belted blazer. This simple addition not only cinches your waistline but also adds a touch of sophistication to your outfit. This look is perfect for a night out with friends or a date night, and it's easy to create with the right jumpsuit and blazer combination.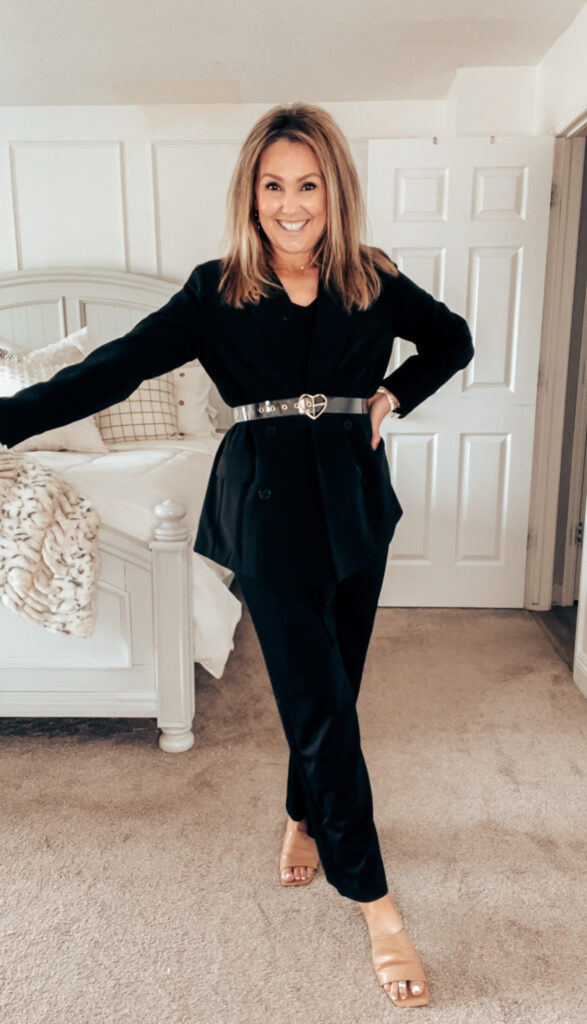 When choosing your jumpsuit and blazer, make sure the colors and styles complement each other. A neutral blazer pairs well with a patterned jumpsuit, while a brightly colored blazer can elevate a monochromatic jumpsuit. Experiment with different combinations to find the perfect match for your personal style.
Play With Color
When it comes to jumpsuits, color can make all the difference in creating a standout outfit. For a bold statement, opt for a bright, solid jumpsuit in a color like red or cobalt blue. Pair it with neutral shoes and accessories to let the color do the talking.
Here, I've topped my look with a chartreuse jacket that I cut the hem off of.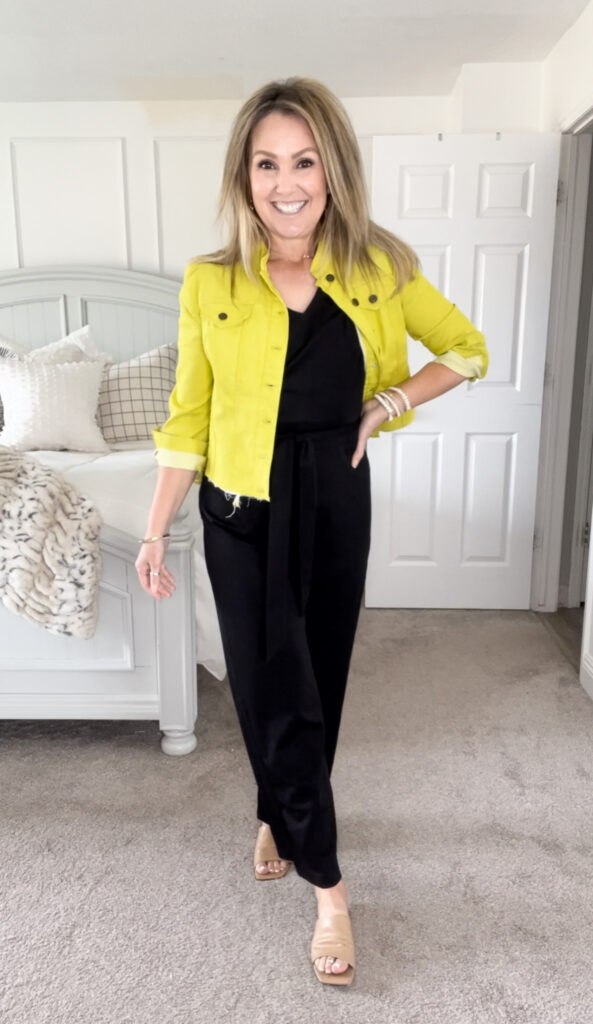 If you prefer a subtler approach, try a jumpsuit in a muted tone like olive green or dusty rose. This can be paired with accessories in complementary shades for a cohesive look.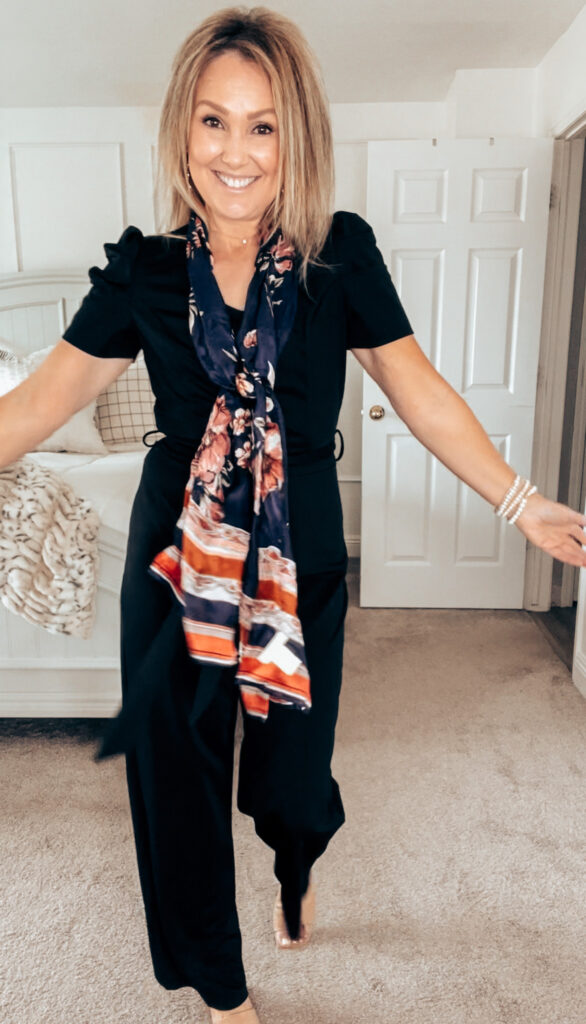 Another way to play with color is to mix and match pieces in contrasting hues. A bright orange blazer over a navy jumpsuit, for example, creates a striking color combination. Don't be afraid to experiment with unexpected pairings – color is all about having fun and expressing yourself.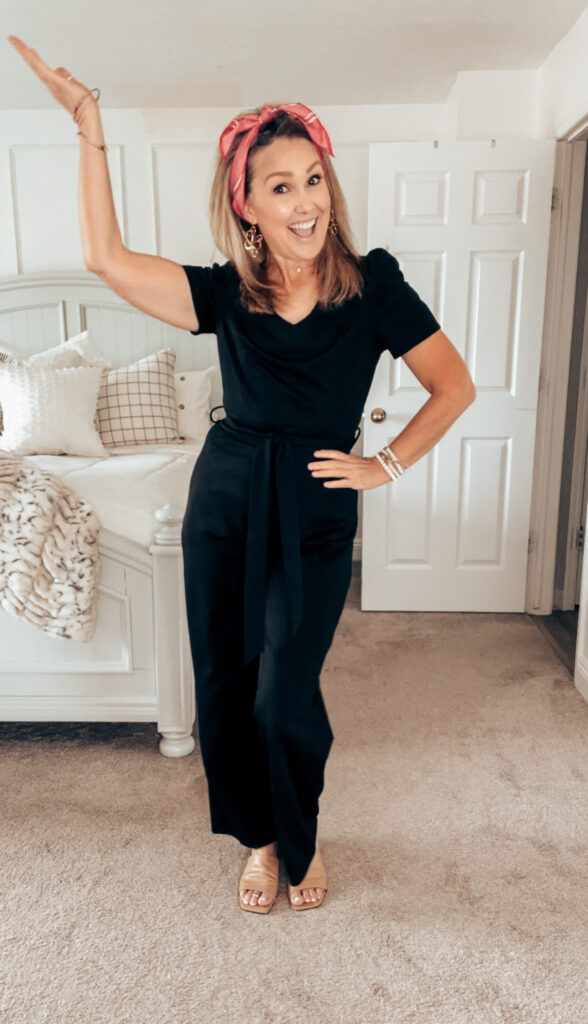 So go ahead and add some color to your jumpsuit collection. Whether you go bold or subtle, mixing and matching different shades can elevate your outfit and showcase your personal style.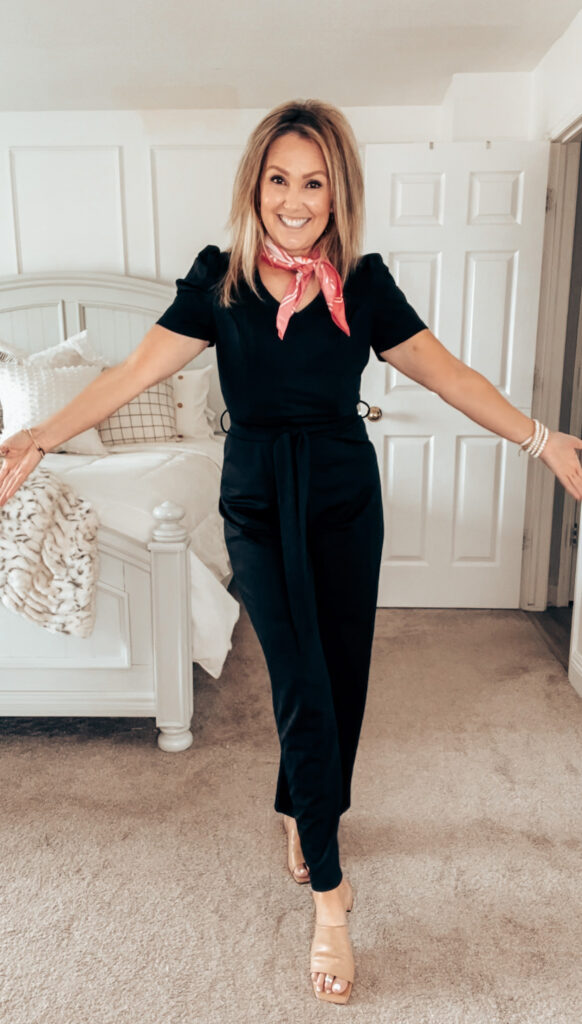 Are You Ready To Uplevel by Styling a Jumpsuit?
With these 9 creative ways to style your jumpsuit, you can take your outfit from simple to sensational.
Remember, fashion is all about expressing yourself and having fun! So go out there and rock that jumpsuit with confidence.
As fashion icon Iris Apfel once said, "Fashion you can buy, but style you possess. The key to style is learning who you are, which takes years. There's no how-to road map to style. It's all about self-expression and, above all, attitude."
Thank you so much for being here, I appreciate you stopping by my blog!!
You can also find me on Instagram, Facebook, Pinterest, and YouTube.

See how I lost my menopause weight easily HERE.
Grab this season's hottest flare-leg jeans and see how to style them HERE.
Packing for a cruise? Don't forget THESE 5 THINGS.
This post contains affiliate links.  This means I may earn a small commission if you purchase through my links at no extra cost to you.  Purchases made through affiliate links are greatly appreciated as they help to support the blog and continue its production.  Thank you so much!