Makeup Tips For Women Over 50…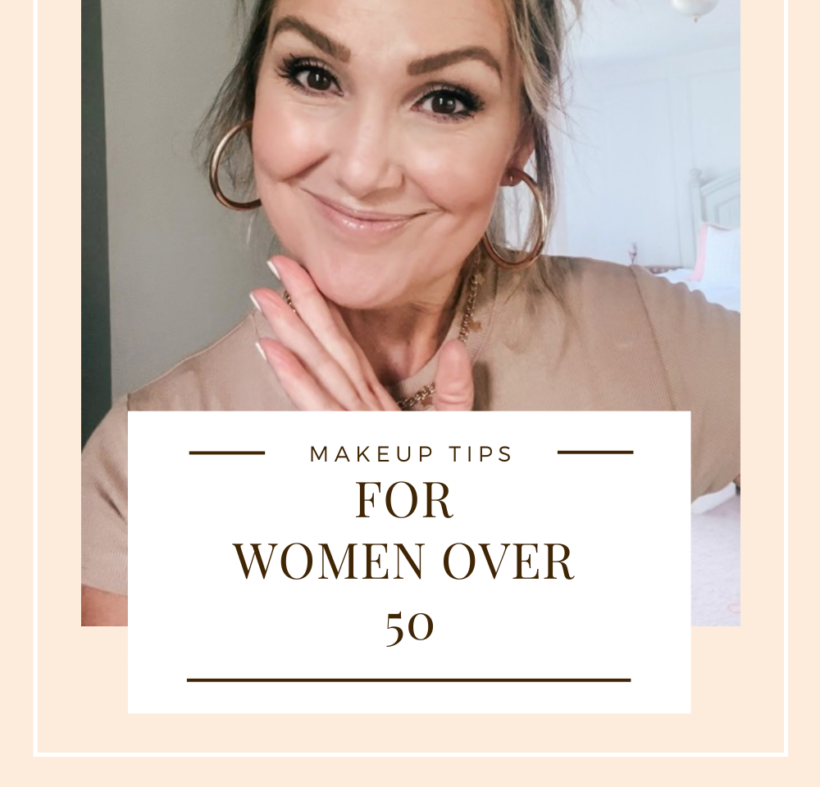 I shared my makeup routine on Instagram after receiving so many questions about my eyebrows, makeup, and hair. So I decided that I need to house all of that here on my blog permanently. So today, I'm sharing my makeup tips for women over 50, which are not earth shattering. In fact, I call my look "real makeup" for women over 50. Because I'm a simple gal and my makeup bag is quite minimal. So let's get to it!
Makeup Tips for Women Over 50
First of all, I have to say that you can put all the makeup on that you want, but if you don't take care of your skin, you will not be doing yourself a favor in the long run.
If you need help deciding on a good anti-aging skin care routine, I will be sharing mine soon which has given me great results. But meanwhile, THIS POST is fairly accurate, although I use a different cleanser, moisturizer, and eye cream now.
But let's get to the makeup!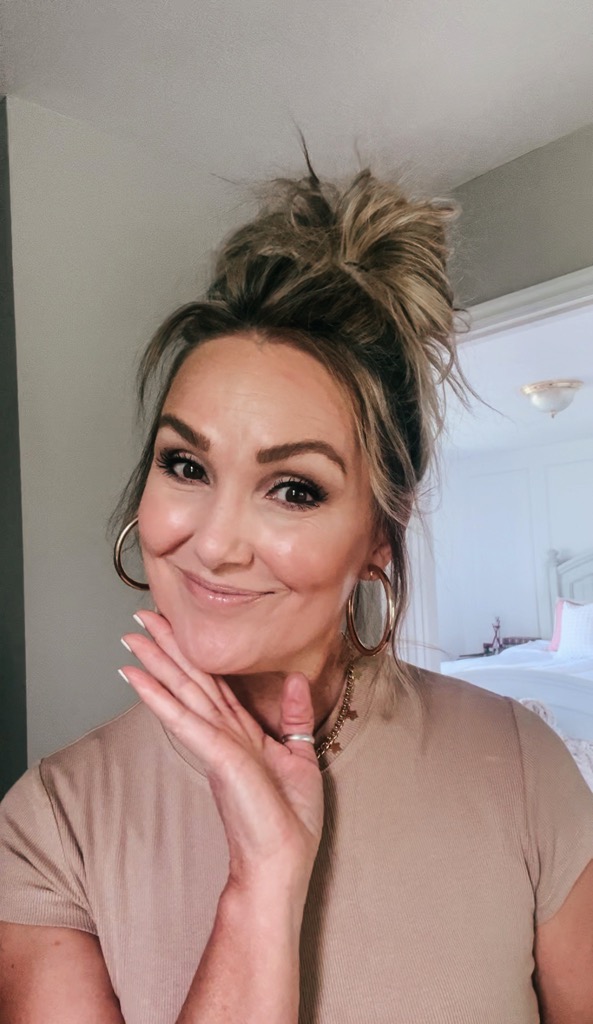 Upon waking up…
Before we get into the makeup, I have to set the backdrop. I always wake up with Frownies on my forehead. Have you heard of them? They are so cool!!
These strips help to minimize lines and wrinkles but without invasive procedures like Botox. They actually retrain the facial muscles in a much less expensive way.
They encourage you to use it everyday for the first 30 days to begin retraining those facial muscles and then you can back off as you start seeing results. But you will notice results the very first morning!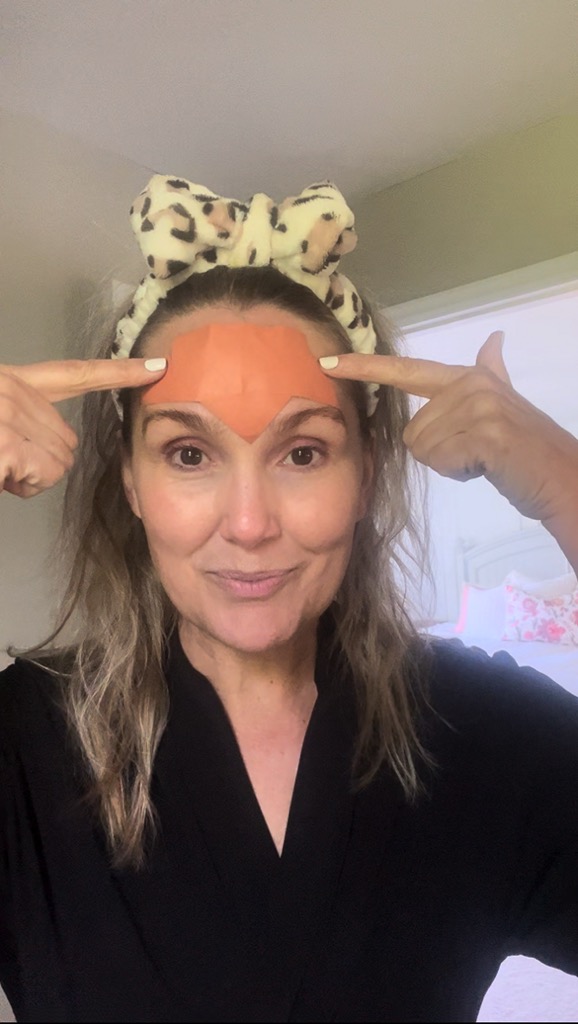 Foundation
After I remove the Frownies, cleanse, and add my serums and moisturizer, I always apply a good sunscreen.
It's a really good idea to use a sunscreen every single day, especially if you are using a good retinol or retinoid to exfoliate your skin in order to keep it looking young.  You don't want to damage that soft, baby skin in the sun, so be careful.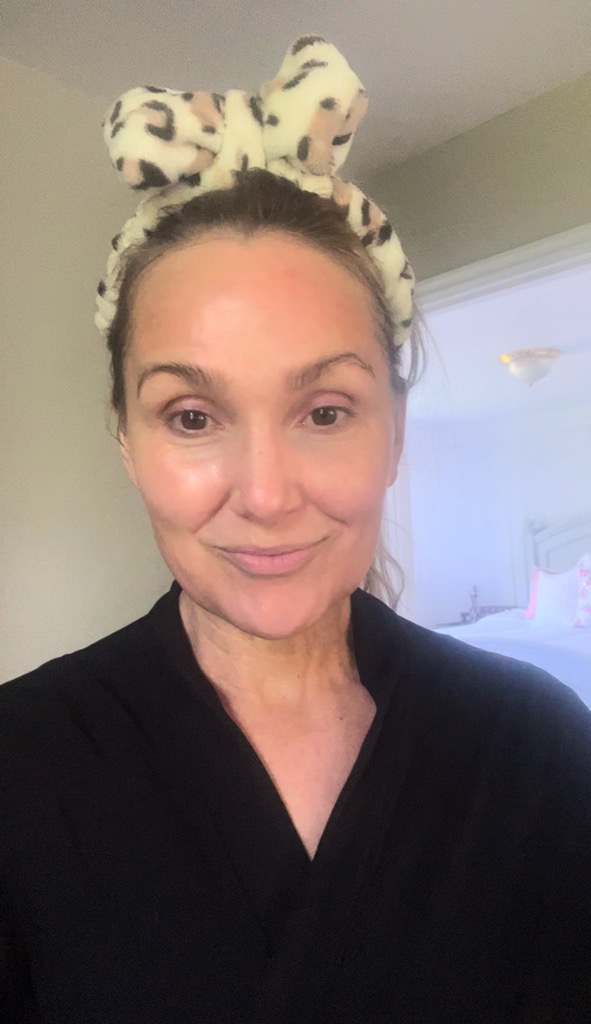 I love the Elta MD UV Physical Broad Spectrum Tinted Sunscreen. 

After the tinted sunscreen, I use a little foundation for coverage. My favorite is one that I've been using for years, but I can't link. If you know an Arbonne consultant, you can ask her to order you some… this is why I do not like network marketing… because I cannot link it for you.
However, my second choice that I was quite surprised by how much I liked it, is the CC+ Cream Full Coverage Foundation by ItCosmetics. I really thought it almost compared with the Arbonne that I can't link!

Eye Shadow
Next, I apply my eye shadow which is a really easy part to tell you about.
I have quit buying eye shadow palettes because I would end up using one or two colors and the rest would go to waste!
Instead, I found the colors that I really liked and buy them now in singles. I found out that Ulta has a generic store brand that actually equals the quality of the more expensive eye shadows!
So the base color that I put on my whole lid is the Ulta Beauty Eye Shadow in Coconut. 
I apply it with a simple brush set similar to THIS one.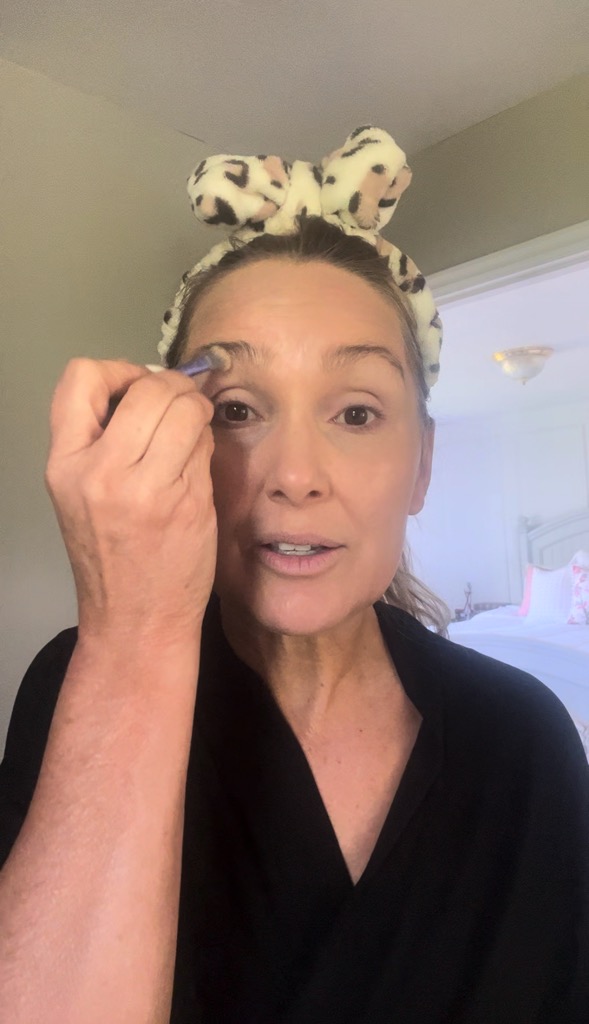 After my entire lid is covered with the coconut colored base, I apply the Ulta Matte Eye Shadow in the color Charcoal Brown to the outer corners of my eyes. Sweeping the creases of my eyes like a windshield wiper, and then coming into the center of my lid almost making a "V" is how I apply it.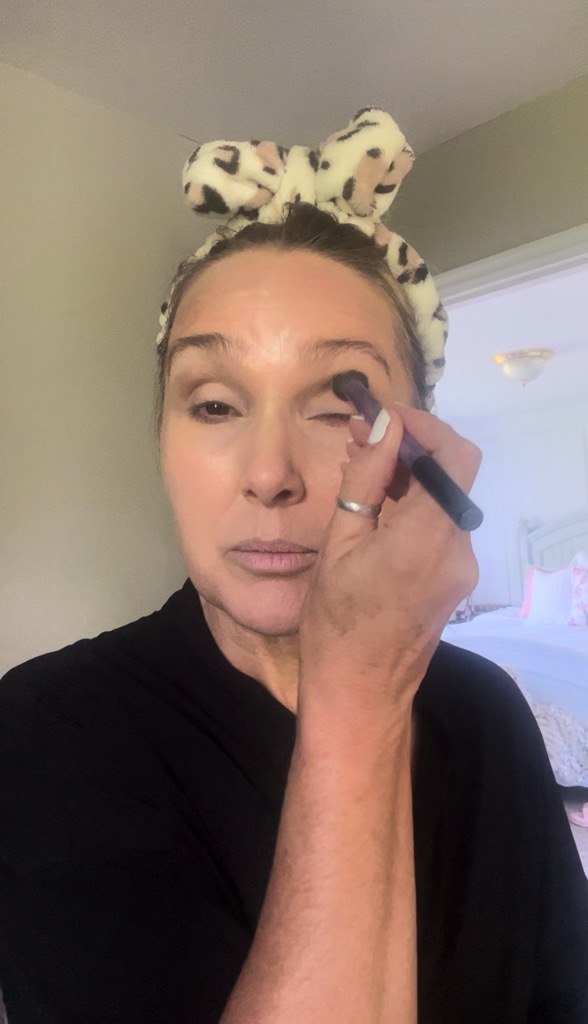 That's it! Two colors. I don't care to mess around with different colors, or change my makeup look to go with the seasons. That just doesn't matter to me.
I'm a simple girl, really. I like what I like and I do it everyday.
Eye Liner Pencil
This is one item that I am verrrry particular about.
I use the MAC Cosmetics Technakohl Liner for Eyes and Watermark. The cheaper ones just don't do what this one does. It is much higher quality and glides along my eyelid so much better than other pencils. This is important to me because I have mature skin, and some pencils don't glide over the folds very easily, creating a sort of "bumpy" look.
This one is pure magic and I will spend the extra money on it because it lasts longer, too.
It's on a great sale right now, so stock up!!!

I usually apply a little bit to my lower eyelid, inside the watermark. But I only go about a third to a half of the way in from the outer corner.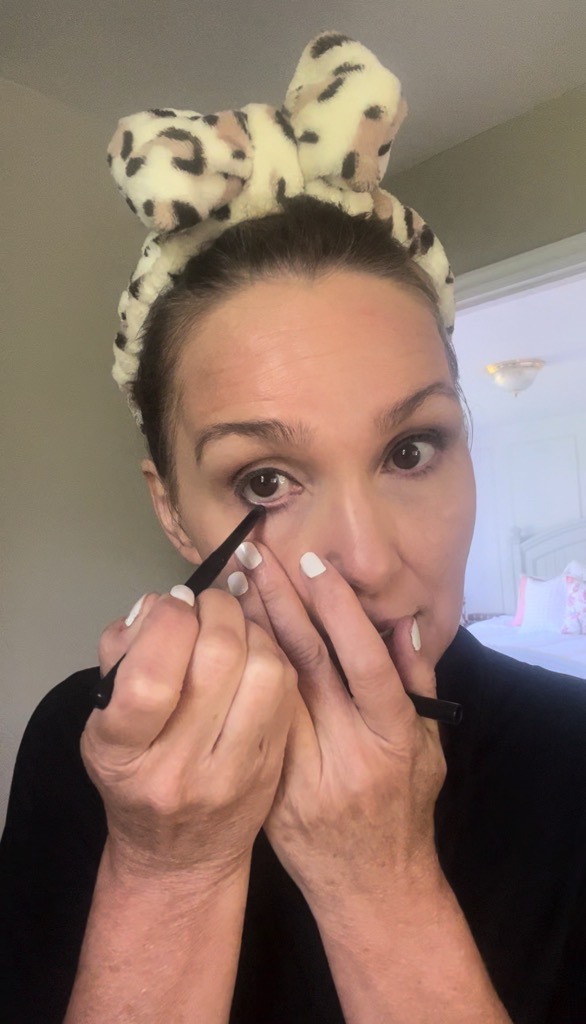 The Eye Brows
Here is one of my favorite products of all time and the greatest of the makeup tips for women over 50! When I learned about the Brow Trio, it changed my life for the better!!!
I used to draw in my eye brows, but never really knew if I was doing it "right."
The Brow Trio gives you perfect brows every time! I will never be without it.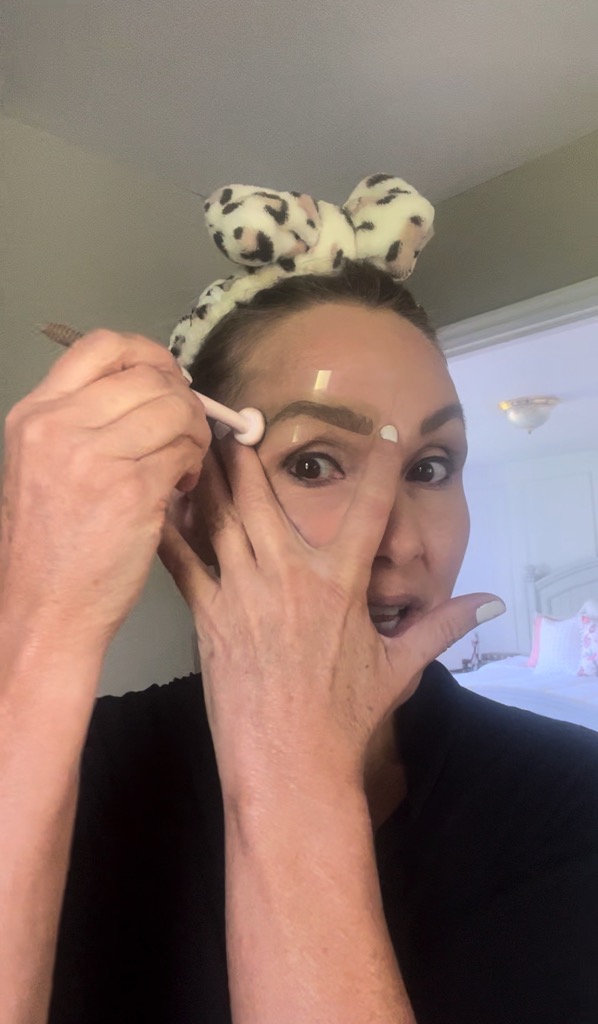 It comes with a package of stencils to help you find your own individual brow shape. Then, with the sponge brush and pomade, you simply "stencil" on your brows! However, the best part is that they last all day and don't rub off!! Yet, when it's time to wash your face, the pomade comes off easily with your cleanser.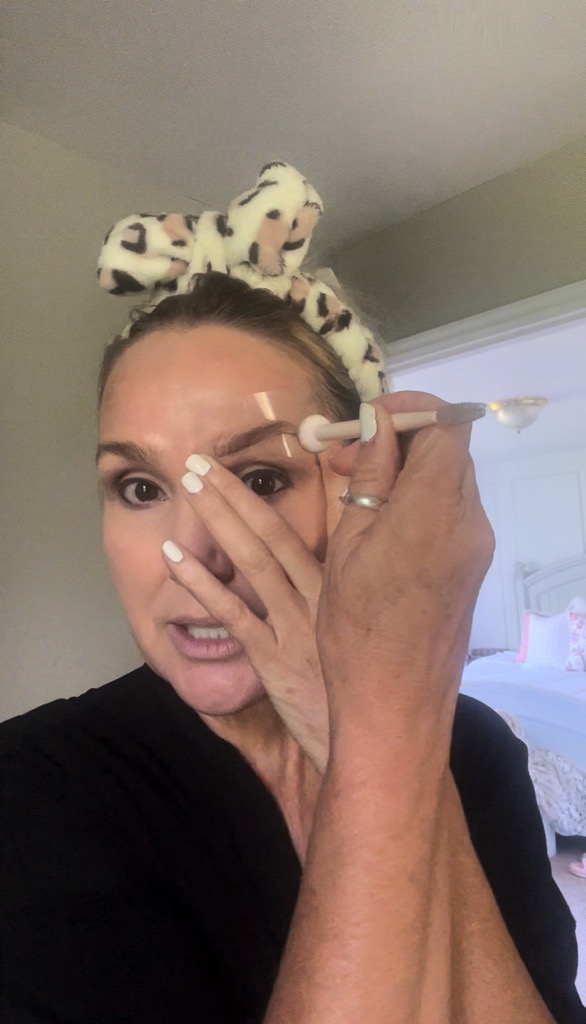 Love love love it!!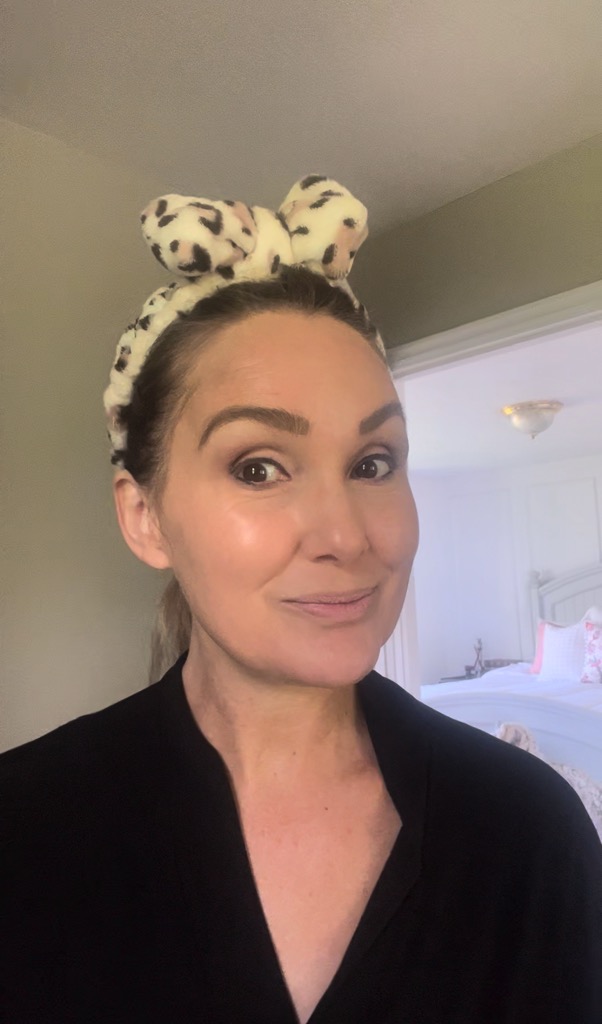 If you are looking for a great brow setter to hold those brows in place, I highly recommend the Benefit 24 Hour Brow Setter. 
This one is very popular and for good reason.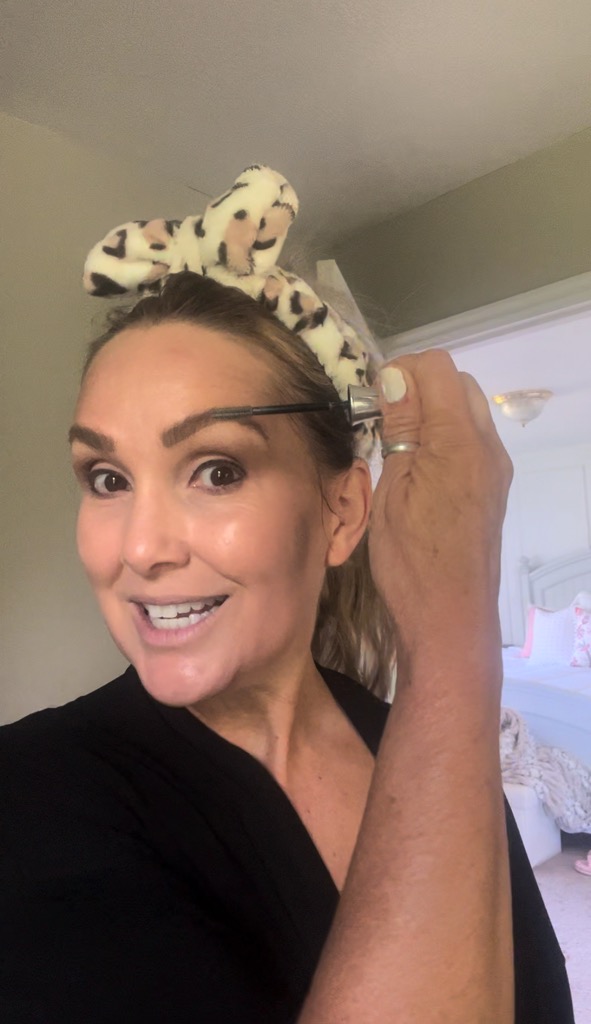 Concealor
From the eyebrows, I usually go to the concealer. However, I have put a hold on using concealer lately. I haven't been using it as much and I don't know why.
But when I do, I use the Tarte Shape Tape in color Fair Neutral. I will only put the tiniest dot underneath my eye to brighten the eye area, being careful not to get it too close to my eye and settle in the creases. Then, blending with a beauty blender I take the color underneath my eye to where ever I want it to lighten and brighten.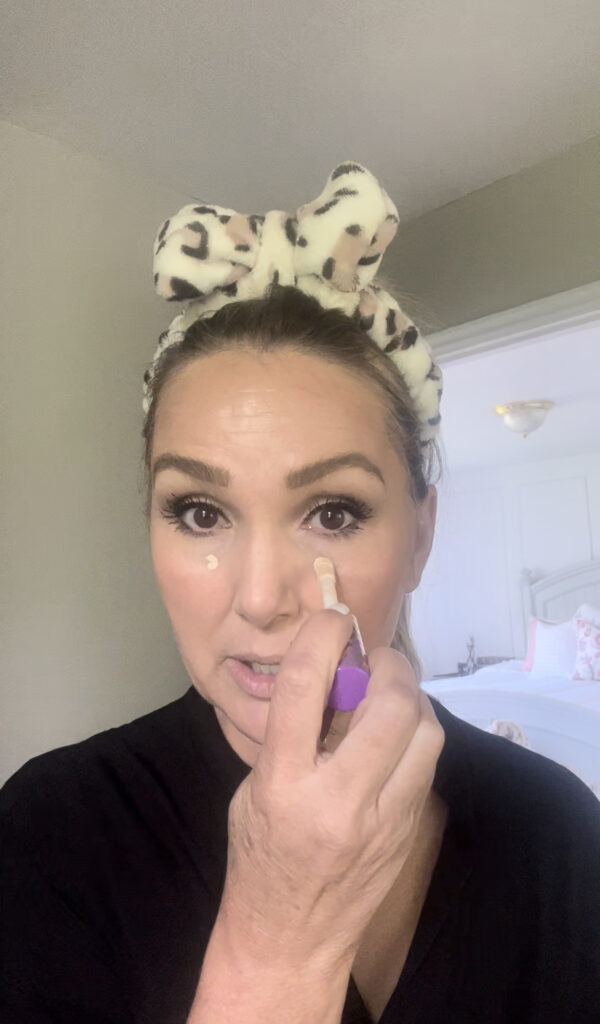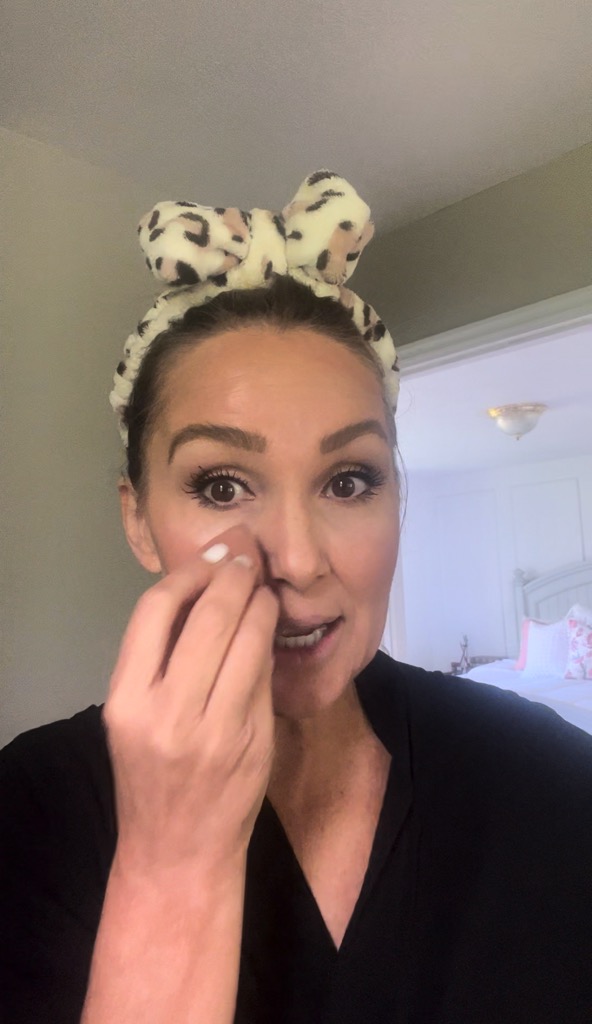 Contour
After concealing, comes contouring. I have a simple way of contouring my face. I use the Benefit Hula Bronzer with it's perfect little chiseling brush. I chisel just barely underneath my cheekbones to create more pronounced cheekbones. Then I use it across the top of my forehead and slightly down by my temples to give me the sun-kissed look.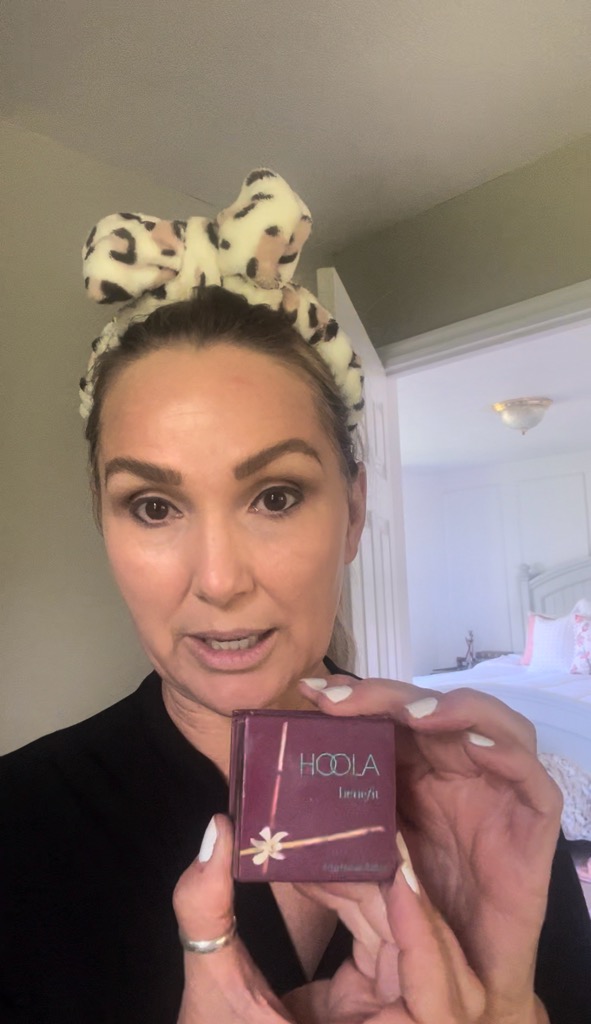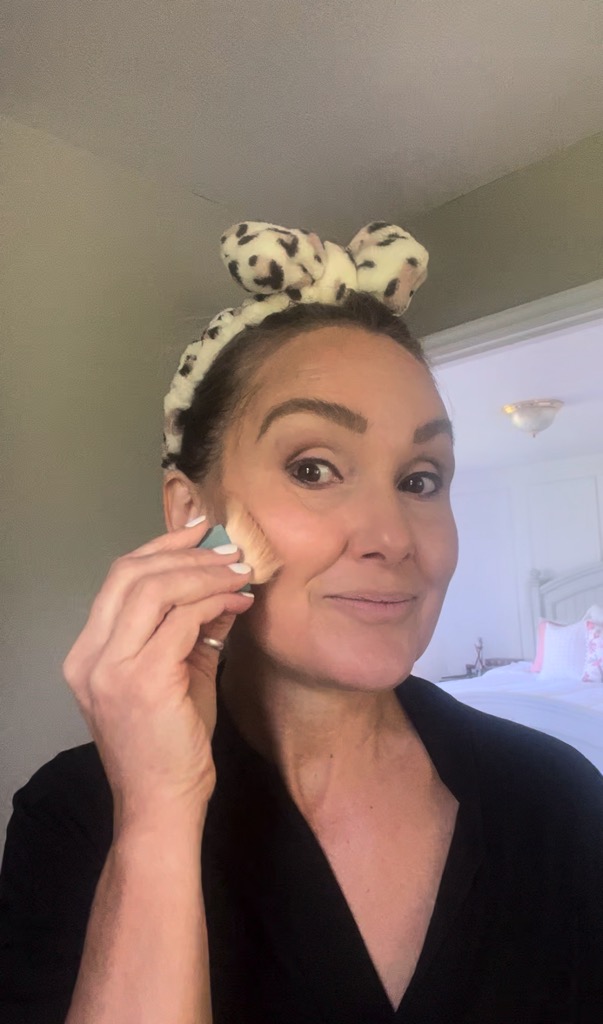 That's all. I do not apply it underneath my jawbone like many makeup artists tell you to do. I think that looks great in photos or online pictures and selfies, but in real life???
I think it looks funny!
It just makes a person look painted, in my opinion. Same with down the nose, supposedly creating a slimmer nose..to me it looks silly. On most people that I've seen.
Don't hate me!
We can have our own opinions on that, right?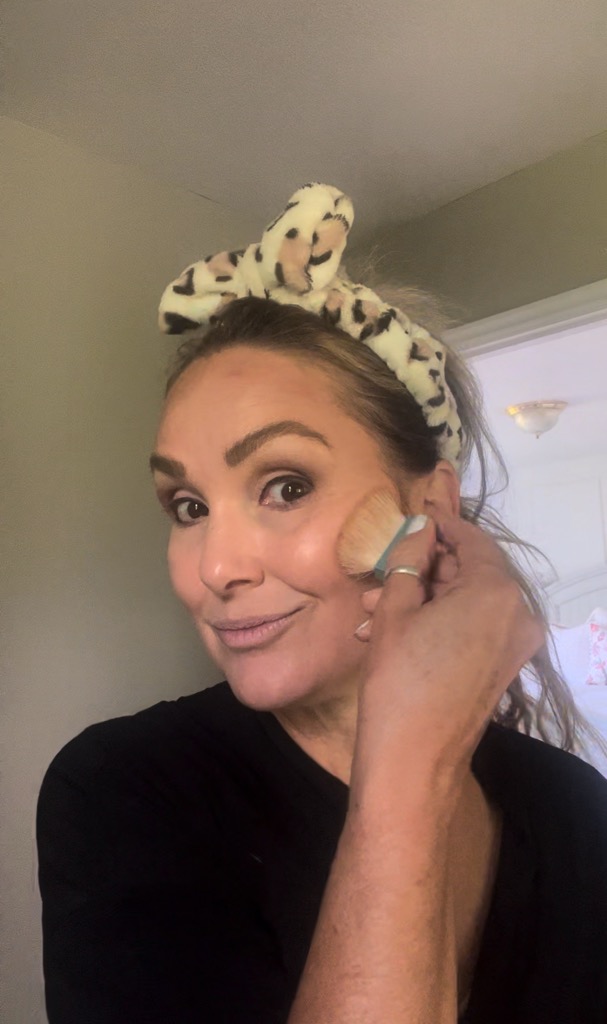 Blush
Now comes the pretty part. A nice blush is the pretty icing on the cake!
You do not need to spend a lot of money on blush. I use the Maybelline FitMe brand in the color 15-nude. It's a great color! Not too pink, not too peach. Just pretty. Ha! I don't know how else to describe it. But it's inexpensive, doesn't hurt my sensitive skin, and gives great color. Lasts a long time, too.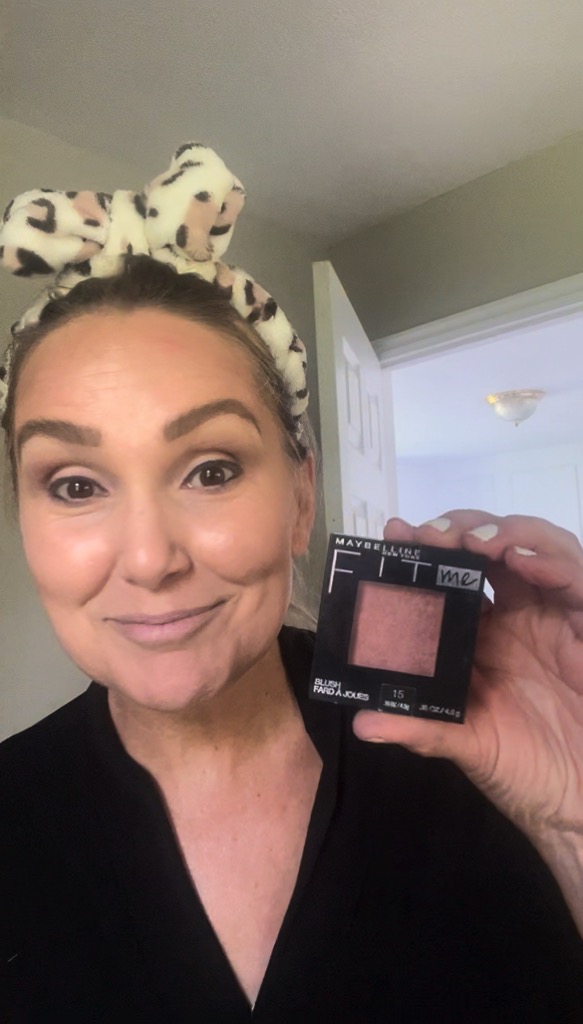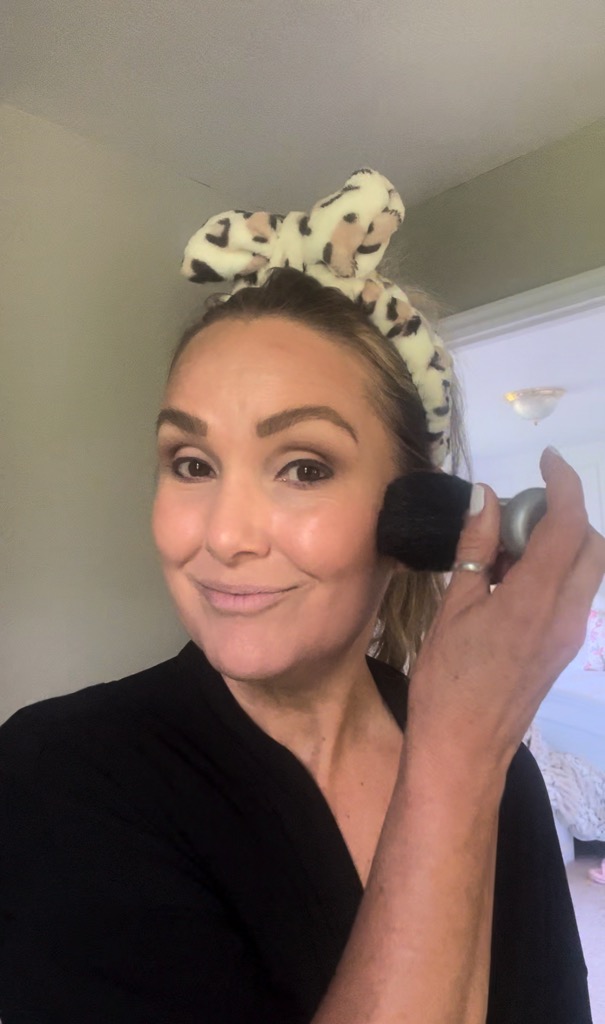 Mascara
Let's get serious here. I'll be honest. The two best mascara's in the world are the Arbonne whatever (ugh… can't link it) and the Benefit They're Real Lengthening mascaras! Nothing beats them, in my opinion!
Right now I'm using the Benefit. I love everything about it, including the sweet little brush.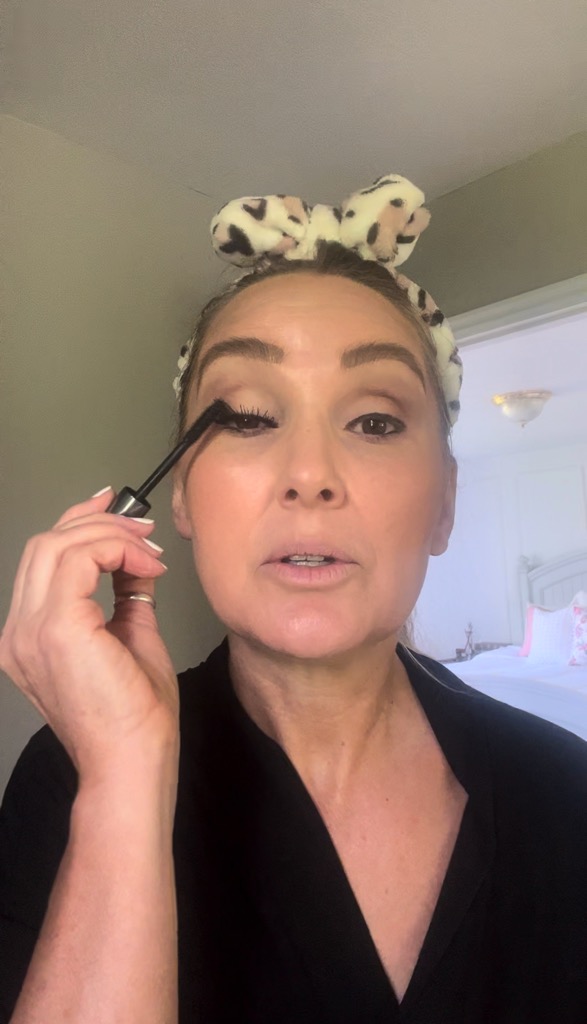 Remember this pro tip: brush the inside corner lashes towards the inside corner. Brush the outside corner lashes toward the outside. Brush the middle lashes straight upward. It's a simple makeup trick and seems obvious, but when you do that, it gives the prettiest lash shape EVER!!!
I usually skip the mascara on my lower lashes because as I've gotten older it actually looks more youthful, in my opinion and doesn't drag the eye down.
However, having said that, once in awhile I will add it just to the outer corner of my lower lashes for a bit more drama.
But only the lashes in the outer corner.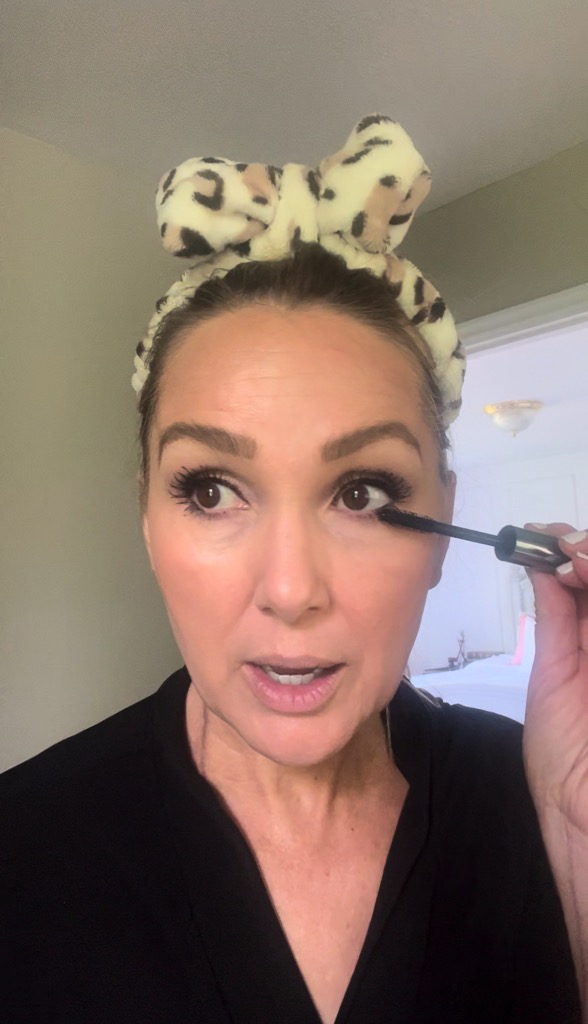 Setting Spray
Finally, finish with a good setting spray to keep your makeup looking dewy and fresh. I was turned onto the Urban Decay All Nighter Setting Spray from a specialist in Ulta. It has hyaluronic acid which leaves your skin moisturized, refreshed, and radiant! It's a favorite product of mine and keeps my makeup looking great all day long.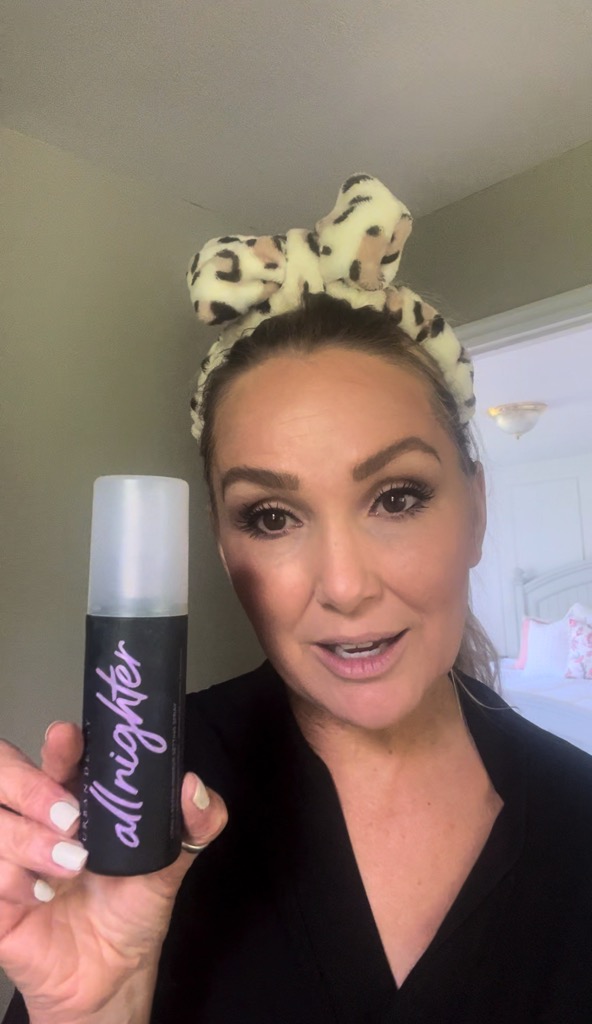 Lips
One of the things that I forgot to share initially is what I've been using lately on my lips. I am NOT a lipstick wearer! It's only gloss for me.
Lately, I've been loving the color of the Too Faced Hangover Pillow Lip Treatment in the color Cocoa Kiss. It's a great neutral color and it hydrates and temporarily plumps your lips too. There's a great deal on a 2-pack at HSN right now, here.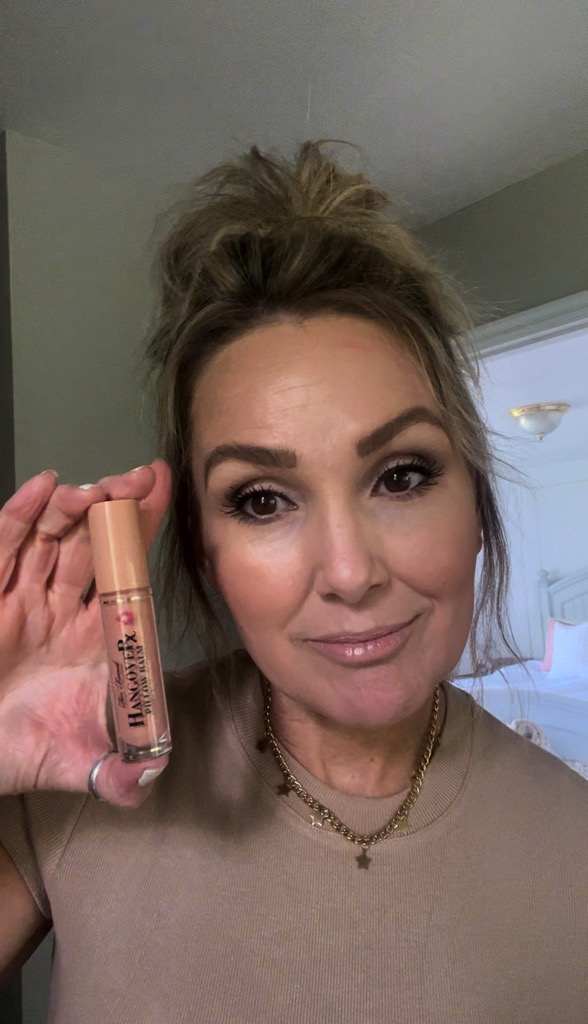 That's it!
Those are my simple makeup tips for women over 50 that I know work… because I'm over 50 and this is literally my daily routine!;)
One more thing that I shared in the video on Instagram were my favorite hair ties that help to prevent dents in your hair after being pulled up. The Black Hair coils by Kitsch work great for messy buns or even just to pull your hair up into a top knot for sleeping in.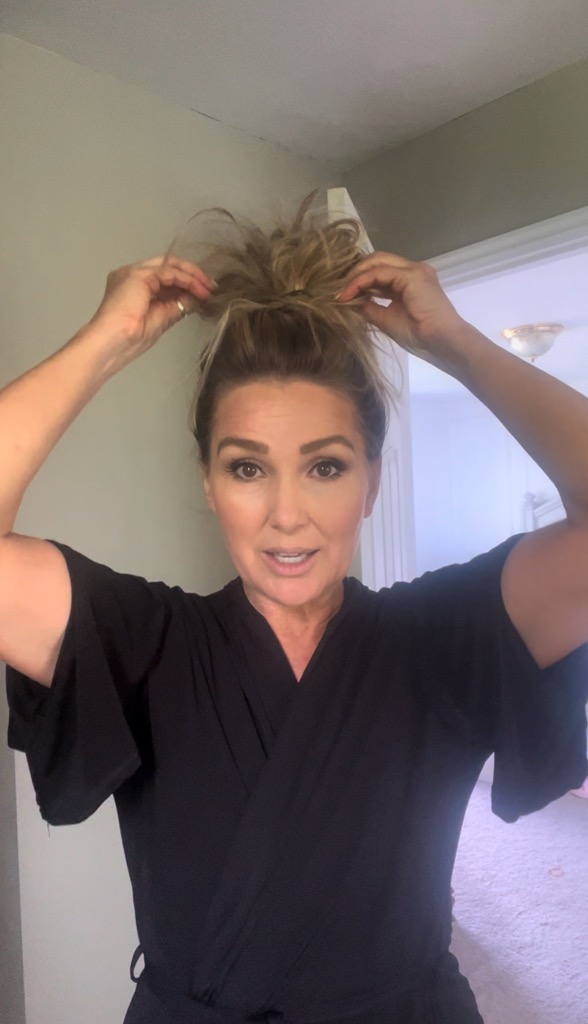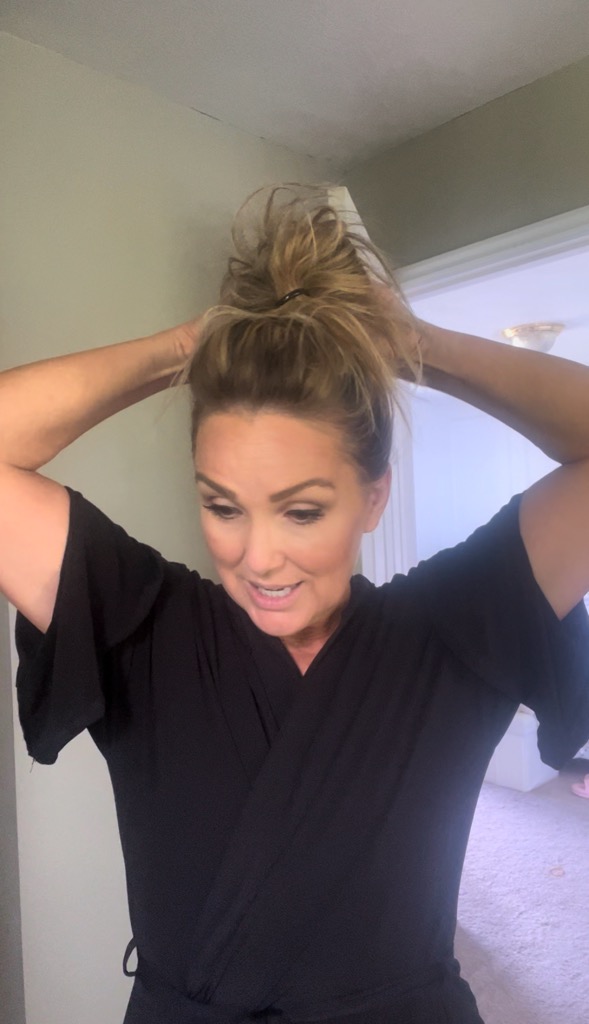 Do you use any of these products?
I'd love to know!
Thank you so much for being here, I appreciate you stopping by my blog!!
You can also find me on Instagram, Facebook, Pinterest, and YouTube.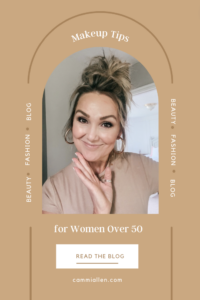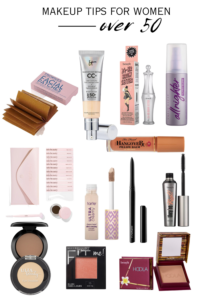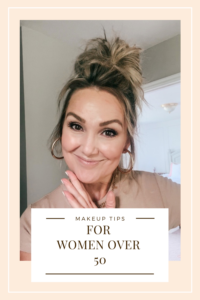 This post contains affiliate links.  This means I may earn a small commission if you purchase through my links at no extra cost to you.  Purchases made through affiliate links are greatly appreciated as they help to support the blog and continue its production.  Thank you so much!