What Shoes To Wear With A Black Dress…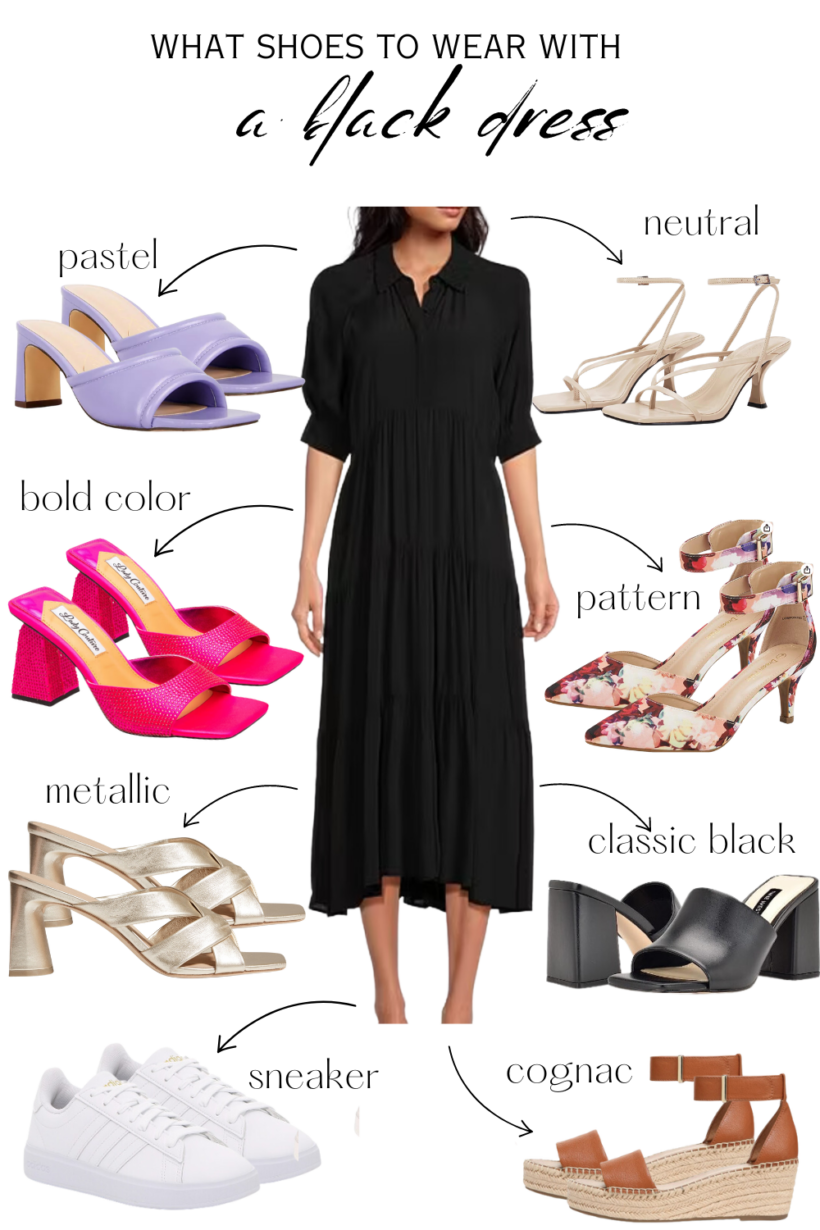 Are you tired of pairing your black dress with the same old boring shoes? It's time to step up your fashion game and experiment with different colors. The right shoe color can transform your outfit from drab to fab. That's why I've put together a comprehensive guide of what shoes to wear with a black dress. From classic neutrals to bold and bright hues, we've got you covered. So, get ready to take notes and elevate your style with these recommendations and be sure to pin this to your Pinterest board for easy access later!
What Shoes To Wear With A Black Dress
Let's dive in!
First, most of us have a black dress in our closets, but if you are looking for a new one, here are some great ideas!

Neutral shades for understated elegance
Neutral shoes really are the way to go. Nude, beige, and taupe can all complement your outfit and add a touch of elegance without being too flashy. These shades also have the added benefit of elongating your legs, making them perfect for heels or pumps. Opt for a matte finish for a more subdued look or add a little texture with a popular raffia finish.
Metallics for subtle sparkle
If you want to add a touch of glamour to your black dress ensemble without going over-the-top, metallics can do the trick. Think of silver or gold, which are versatile and complementary to any color of black dress. These accents can be subtle and understated, or bold and statement-making, depending on your personal preference.
Metallics can come in different forms, such as shoes with metallic finishes or accessories like jewelry or a clutch with metallic hardware. Opt for silver or gold jewelry that complements the metallic accents in your shoes or bag to create a cohesive look.
But don't stop at silver and gold – you can also explore other metallic shades like rose gold, bronze, or copper. They're less flashy than the traditional silver and gold but still add an interesting element of shine to your outfit.
Bold and bright hues for statement-making style
If you're feeling daring and want to make a statement with your black dress, bold and bright hues should be your go-to. Vibrant colors like electric blue, striking red, or fiery orange can elevate a simple black dress into a show-stopping ensemble. Don't be afraid to experiment with different shades and textures – from shiny satin to matte suede, these colors can take on different personalities based on the material they're made of.
But don't go overboard – the key to pulling off a bold and bright hue is to keep the rest of your outfit minimal and let the color take center stage. Opt for simple jewelry and neutral shoes to avoid overwhelming the eye.
Pastels for a soft and feminine touch
If you're looking for a more understated approach to dressing up your black dress, then pastels are a great option to consider. These soft and delicate hues can add a touch of femininity without being too overpowering. A lavender or blush pink shoe can complement the black dress quite nicely, and give off a sweet and charming vibe. It's also perfect for outdoor events such as weddings or garden parties during the spring and summer months.
Patterns and prints for added interest
If you're feeling confident and want to make a statement with your footwear, patterns and prints are a great option to consider. Not only will they add some visual interest to your outfit, but they can also make your black dress stand out even more. Animal prints like leopard or snakeskin are always a popular choice, as they add a touch of edginess to any look. Floral patterns or polka dots can also be a fun and playful addition to your shoes.
When it comes to pairing patterns and prints with your black dress, it's important to keep in mind the balance of your outfit. If your shoes are busy with a bold pattern, it's best to keep the rest of your outfit simple and understated. This ensures that your shoes are the focal point of your ensemble.
Classic black for a sophisticated look
When it comes to creating a sophisticated look with your black dress, classic black shoes are the go-to choice. Not only do they match perfectly with your dress, but they also create an elegant and timeless look. Black pumps or strappy sandals are classic options that work well with any style of black dress.
To elevate your look, choose a pair of black shoes with unique embellishments such as studs, buckles, or a unique cut-out design. These details will add subtle interest to your shoes and complement your dress without overpowering it.
If you're looking for a way to make a statement with your classic black shoes, try adding a pop of color with your accessories. A bright clutch or statement earrings will create a stunning contrast against your black dress and shoes.
White sneakers for comfort
When you're in search of practicality, white sneakers are the ideal match. Not only do they add a subtle edge to your overall look, but they also allow you to move around with ease for sightseeing or shopping at the local market.
Pairing your black dress with white sneakers may seem like an unconventional move, but it's a comfortable choice that'll pay off. The juxtaposition of the casual sneakers and more formal dress gives off fashionista vibes. To nail this style, try opting for neon-colored sneakers or ones with chunky soles to make a statement.
Cognac shades for a touch of earthiness
If you're looking for a subtler shoe option to wear with your black dress, consider the warm and earthy tones of cognac shades.
Cognac shades come in various hues, from light and caramel-like to richer and deeper colors. The beauty of this color is that it complements any skin tone and pairs well with different dress styles. You can wear cognac loafers for a casual, laid-back look or heel sandals for a more formal occasion.

One way to make the most of this color is to use it as an accent. For instance, you can wear a black dress with a cognac belt or carry a cognac purse to complement your shoes. Another option is to wear a pair of cognac boots with a mid-length dress and tights during the colder months.

Overall, cognac shades can help you achieve an effortless and chic look while adding a touch of warmth to your outfit. So go ahead and try this earthy color trend for yourself and see how it elevates your black dress look.
That's it!
As the saying goes, "give a girl the right shoes, and she can conquer the world."
What is your favorite shoe to wear with a black dress?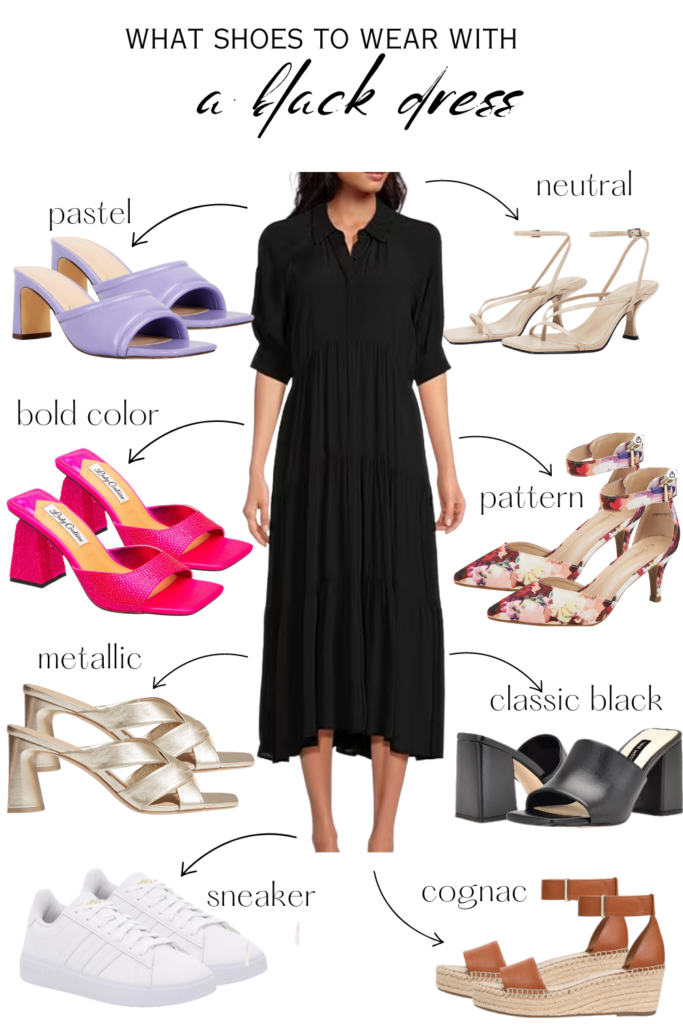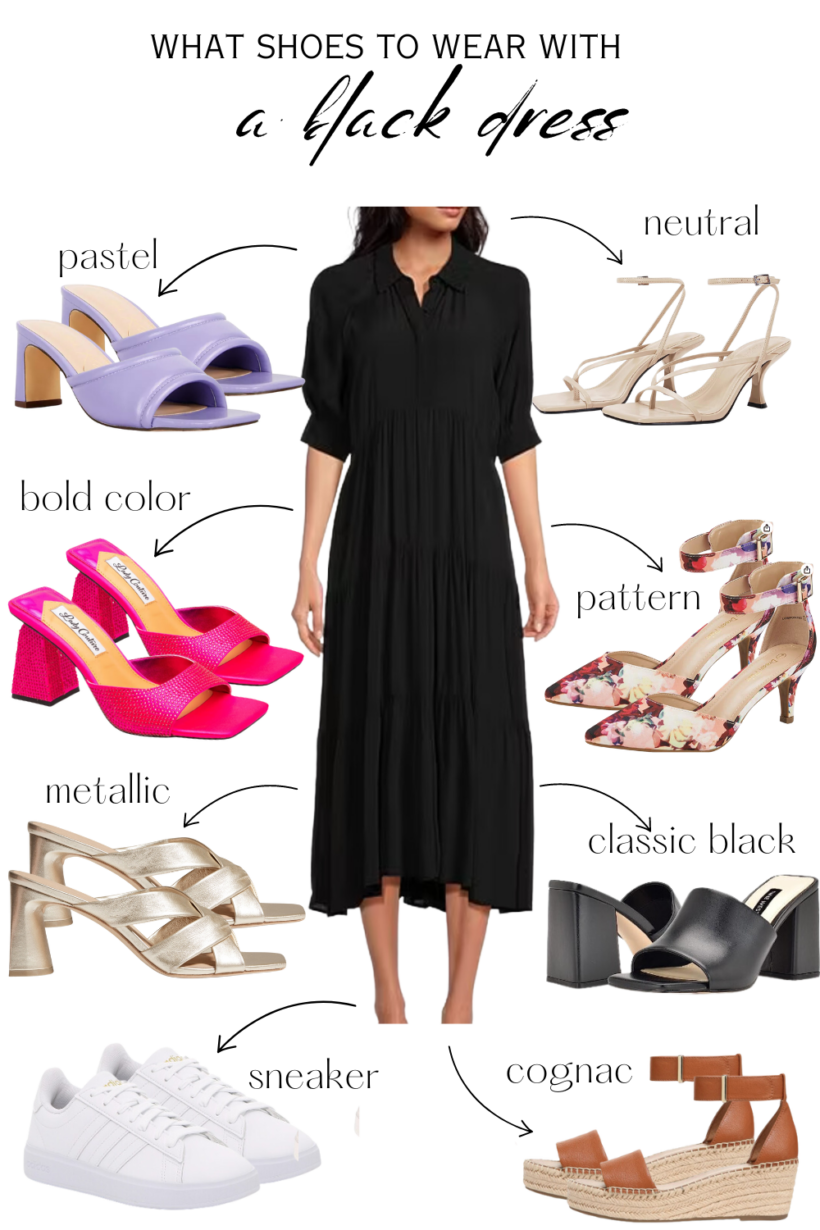 Thank you so much for being here, I appreciate you stopping by my blog!!
You can also find me on Instagram, Facebook, Pinterest, and YouTube.

If you liked this post, you'd probably like THIS ONE as well. From dress to jumpsuit!!
Up your beach and pool game with THESE darling coverups!
This post contains affiliate links.  This means I may earn a small commission if you purchase through my links at no extra cost to you.  Purchases made through affiliate links are greatly appreciated as they help to support the blog and continue its production.  Thank you so much!