Memorial Day Outfits Anyone Can Copy…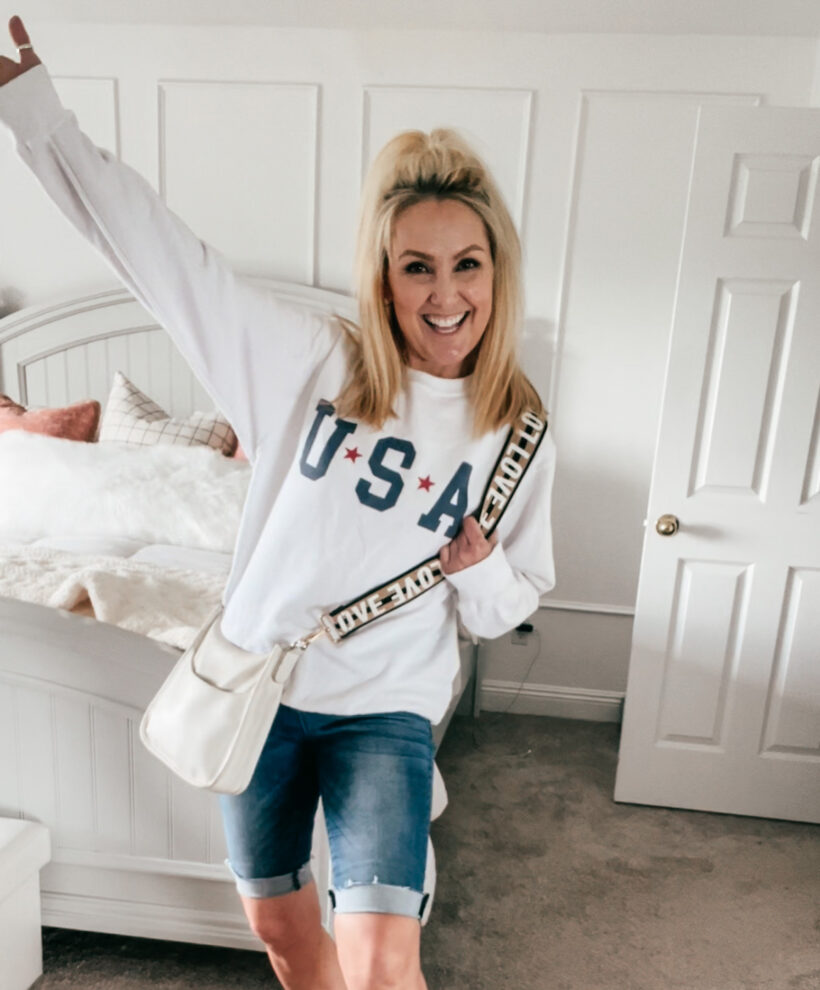 It's this weekend!
The official start of summer!  Today, I'm sharing some Memorial Day looks that anyone can copy.  Because whatever you are doing, parades, BBQs, yardwork, you wanna be repping the good old red, white, and blue!
Striped t-shirt, white jeans, red sandals.
You know that anything stars or stripes is very patriotic, so wear them! Most of us have a striped t-shirt in our closets.  Wear that with white or blue jeans, whichever you're feeling, and then pop it with some red accessories like earrings, sandals, a hat, or a tote.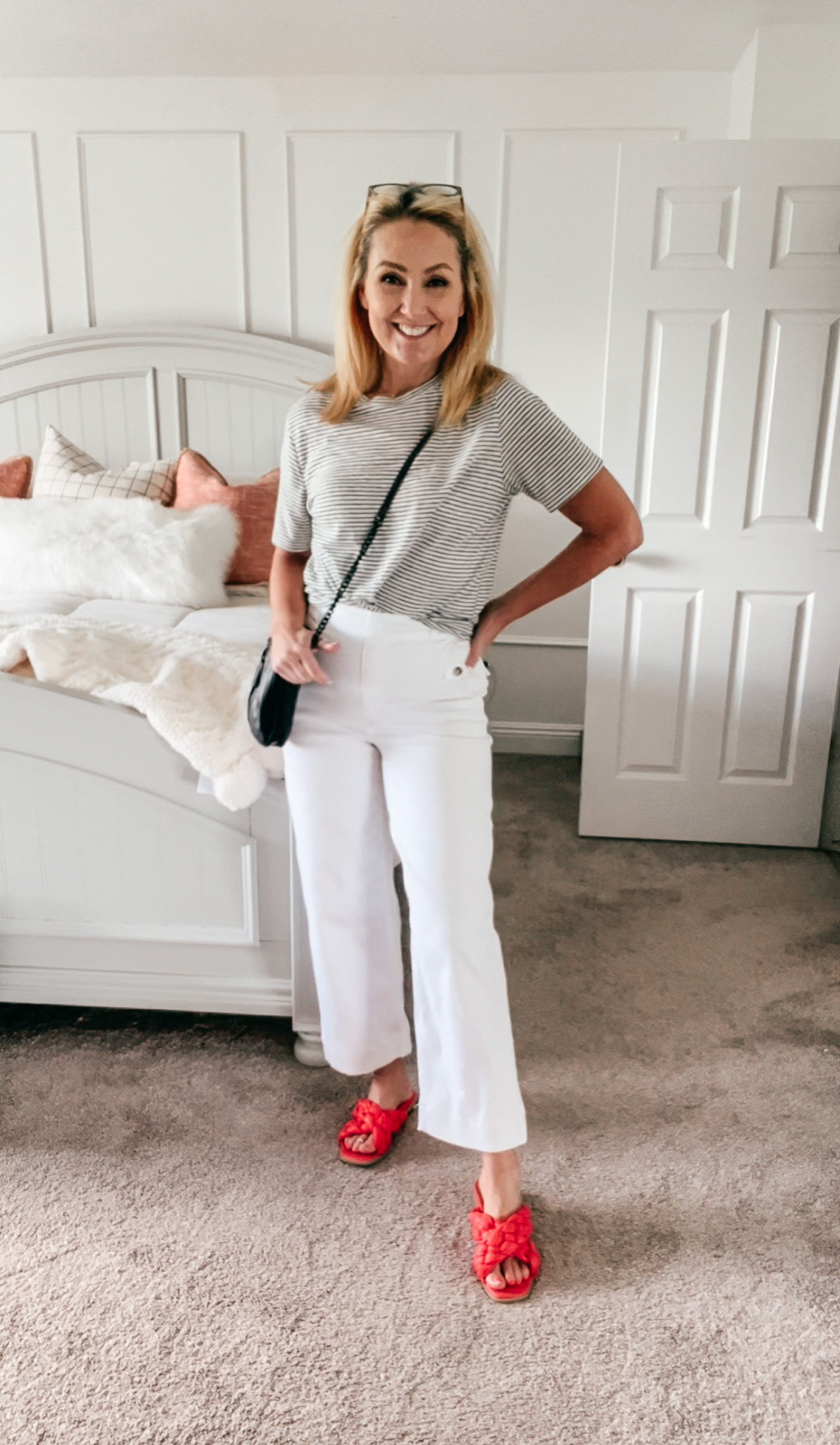 jeans  |  t-shirt  |  bag  |  sandals – code CAMMISHIP |  sunglasses
A casual red dress, white sweater, and sandals.
To me, red is the perfect color for the holiday and it makes such a statement!  Wear it with a blue baseball hat and sneakers.  I have a white sweater wrapped around my waist because you never know when it might get chilly here in Utah. My sandals are my latest go-to shoe… you really need a pair of these! So comfy and they go with literally everything.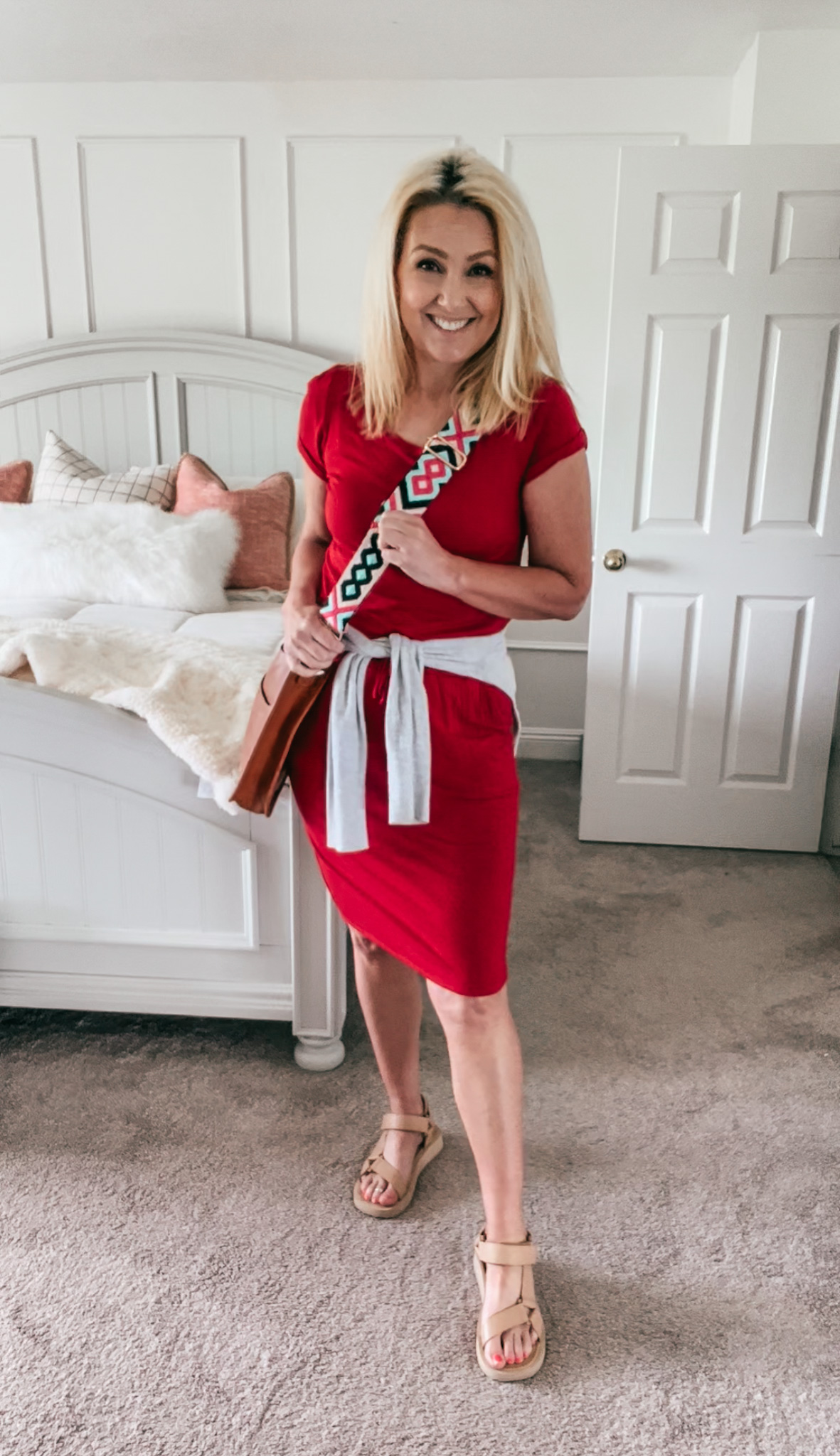 dress – code CAMMI10  | sweater – similar  |  sandals – similar HERE & HERE  |  bag  |  bag strap
Blue dress with a white button-down.
I love this sort of denim-y blue dress.  But any blue dress you have would work! Throw on a white button-down and tie it!  I went neutral on the bag and shoes but you could totally wear red sandals or tie a cute red scarf to your bag.  Or in your hair! What's fun about these Memorial Day outfits that anyone can copy is that you can get ideas and then go make it your own!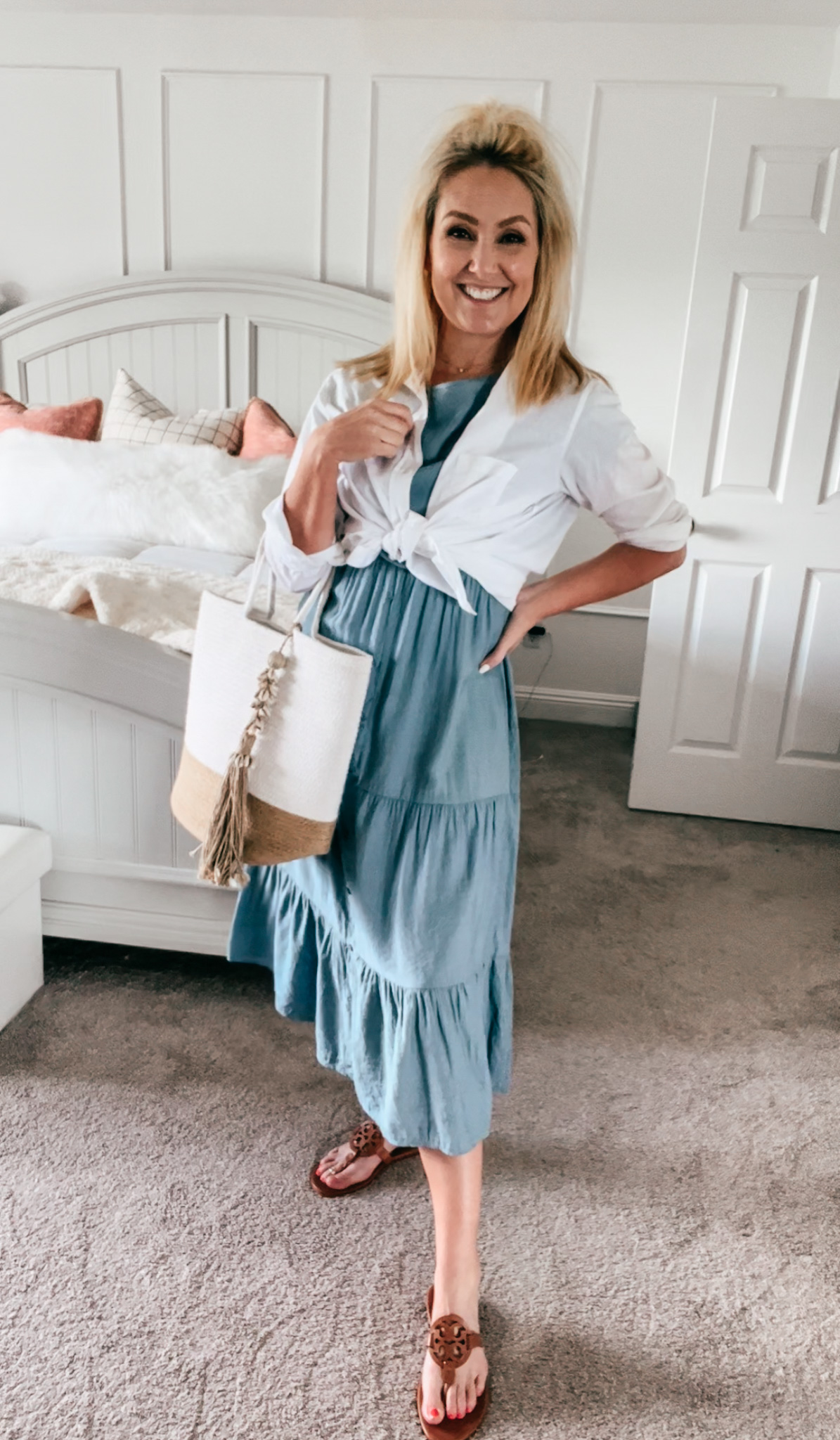 dress  |  white button-down  |  sandals  |  bag  |  necklace 
Blue and white striped t-shirt, shorts, sneakers.
This says "parade-ready" doesn't it?  Grab any pair of shorts, add a striped t-shirt, (or red, white, or blue t-shirt) and white sneakers in case you have to walk very far from where you are parked.  Bring a tote for parade candy and definitely remember the hat to keep the sun out of your eyes!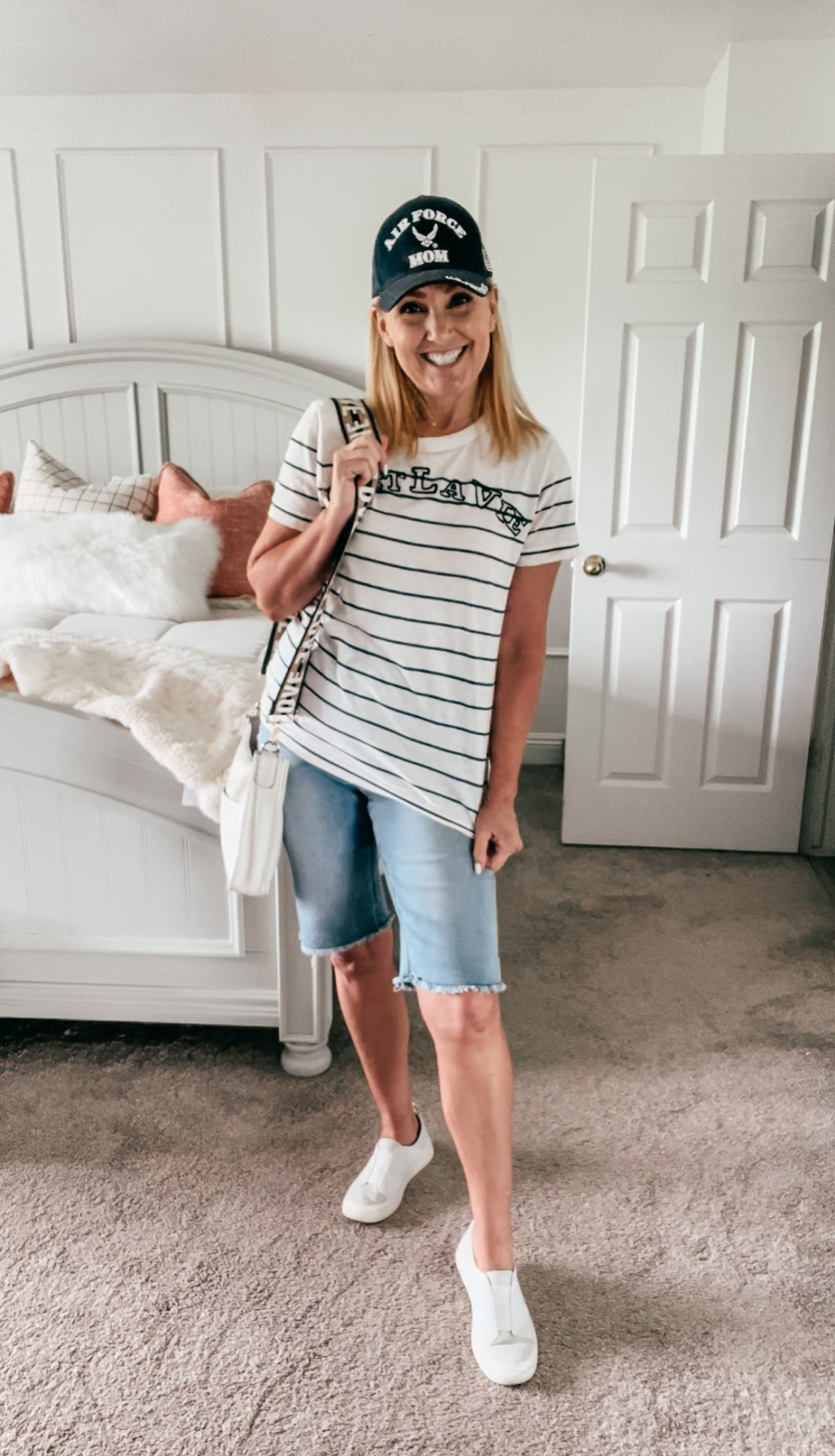 shorts-similar  |  t-shirt  |  sneakers – code CAMMISHIP |  similar hat  |  bag
USA sweatshirt, shorts, sandals.
If you don't have a USA sweatshirt, wear a sweater or t-shirt.  If you don't have a USA sweater or t-shirt, are you even American??
Kidding. 😉
Maybe.
I am linking a couple of good sweatshirts below. But wear it with shorts or jeans, or even an athletic skirt of some sort with sandals and CUTE!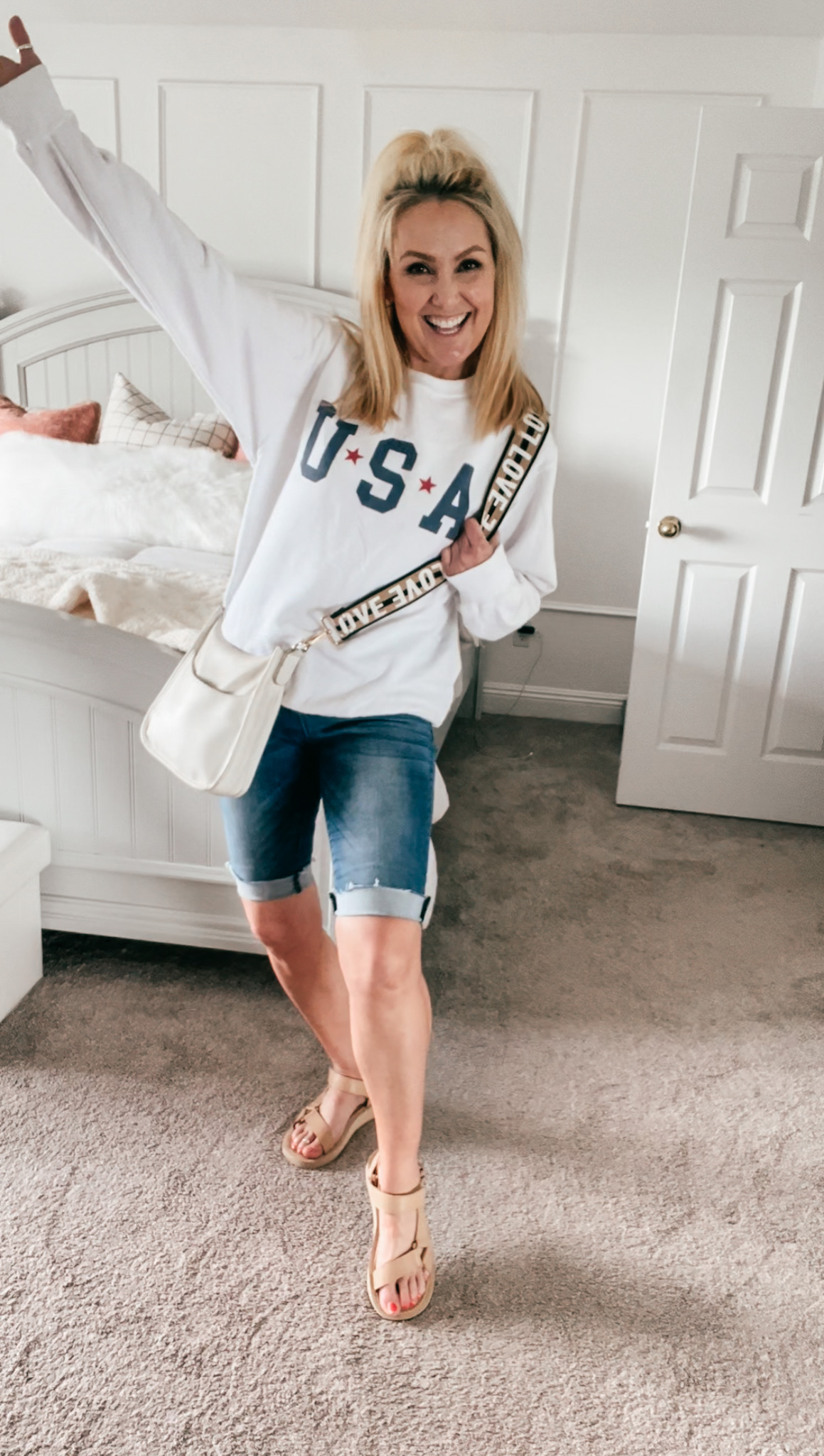 sweatshirt – similar HERE & HERE   |  cut offs-old  |  sandals- similar HERE & HERE  |  bag
And just a few extras… here are some of my favorite things lately.
A favorite white t-shirt that's not see-through:

Favorite jeans that I'm wearing on repeat:

My favorite summer fragrance: (well, actually year round fragrance)

My favorite travel outfit at the moment: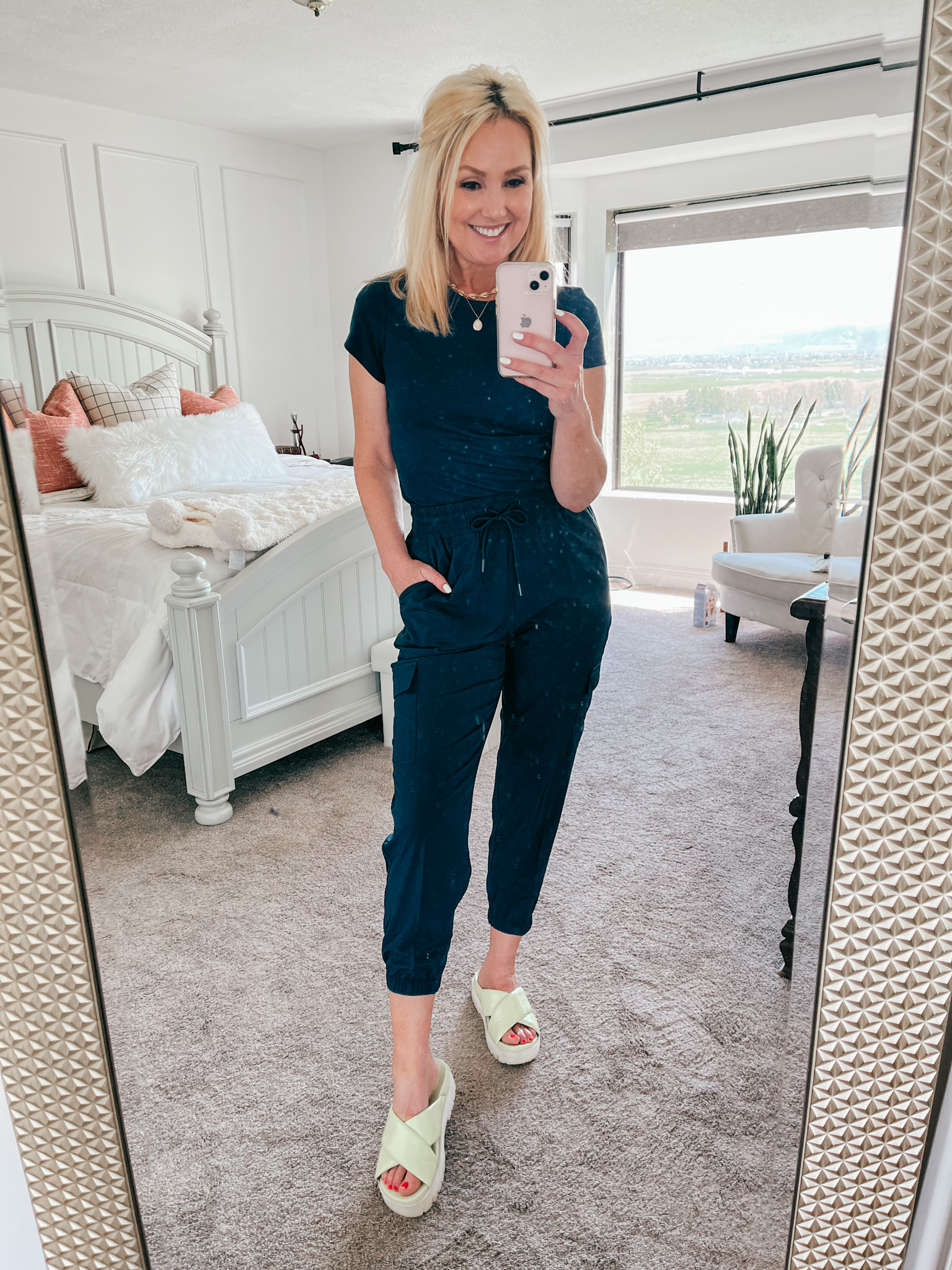 joggers  |  matching tee  |  shoes – code CAMMISHIP  |  bag
There you have it!  5 different Memorial Day outfits that anyone can copy using things from their own closets!
Happy Memorial Day!
Ours will be pretty ordinary.  The family will all be working and I will most likely be working outside here at home, weeding, planting, etc.  But I will have a nice BBQ ready for when everyone gets home!  We will probably build a fire and sit next to it while the sun goes down. Doesn't that sound dreamy??
Bring on SUMMER!!!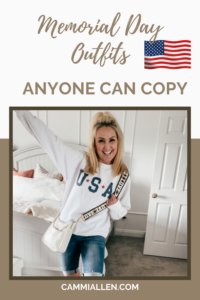 Thank you so much for being here, I appreciate you stopping by my blog!!
You can also find me on Instagram, Facebook, Pinterest, and YouTube.

Need shoes with good cushioning? Click HERE.
Need swim coverups for summer? Click HERE.