OCTOBER'S TOP SELLERS…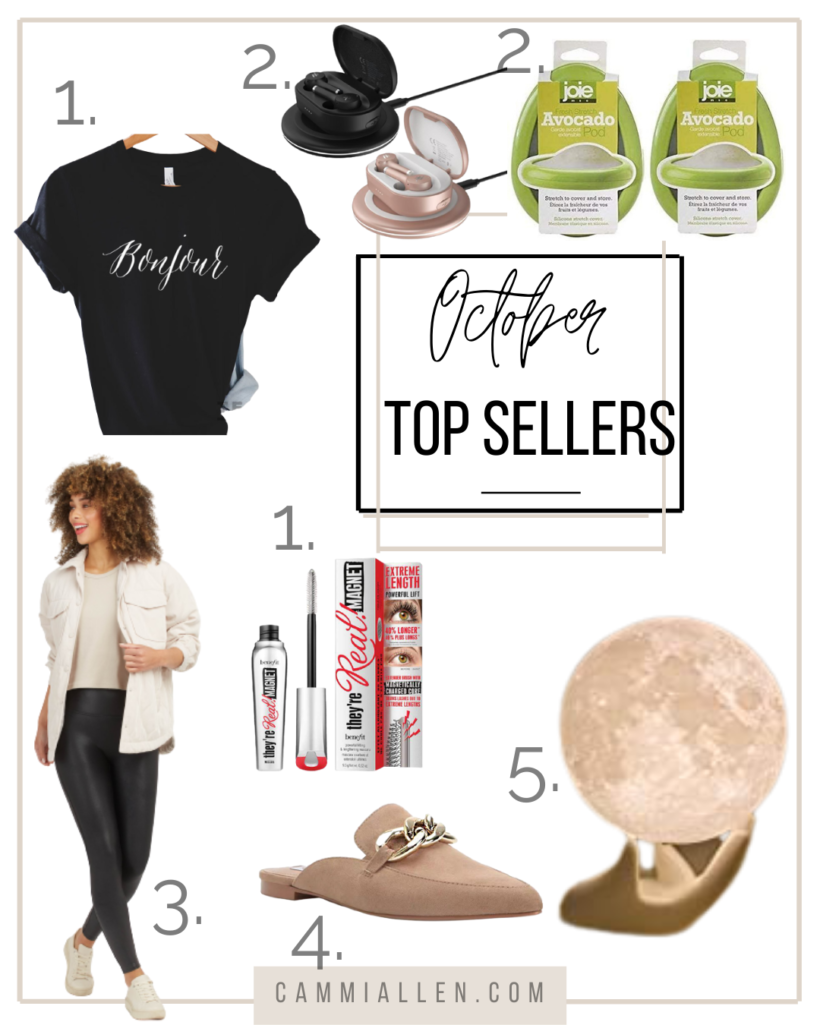 Happy End of October!
I kind of hate to see this month go.
It's my birthday month and truly the most beautiful month of the entire year.
But there is SO MUCH to look forward to, isn't there?
Here's a look at October's top sellers!
Can you believe there was a double tie in the top sellers this month??
That's right!
Two products came in at first and second place!
So, that's why there are TWO 1's and TWO 2's in the top sellers list below.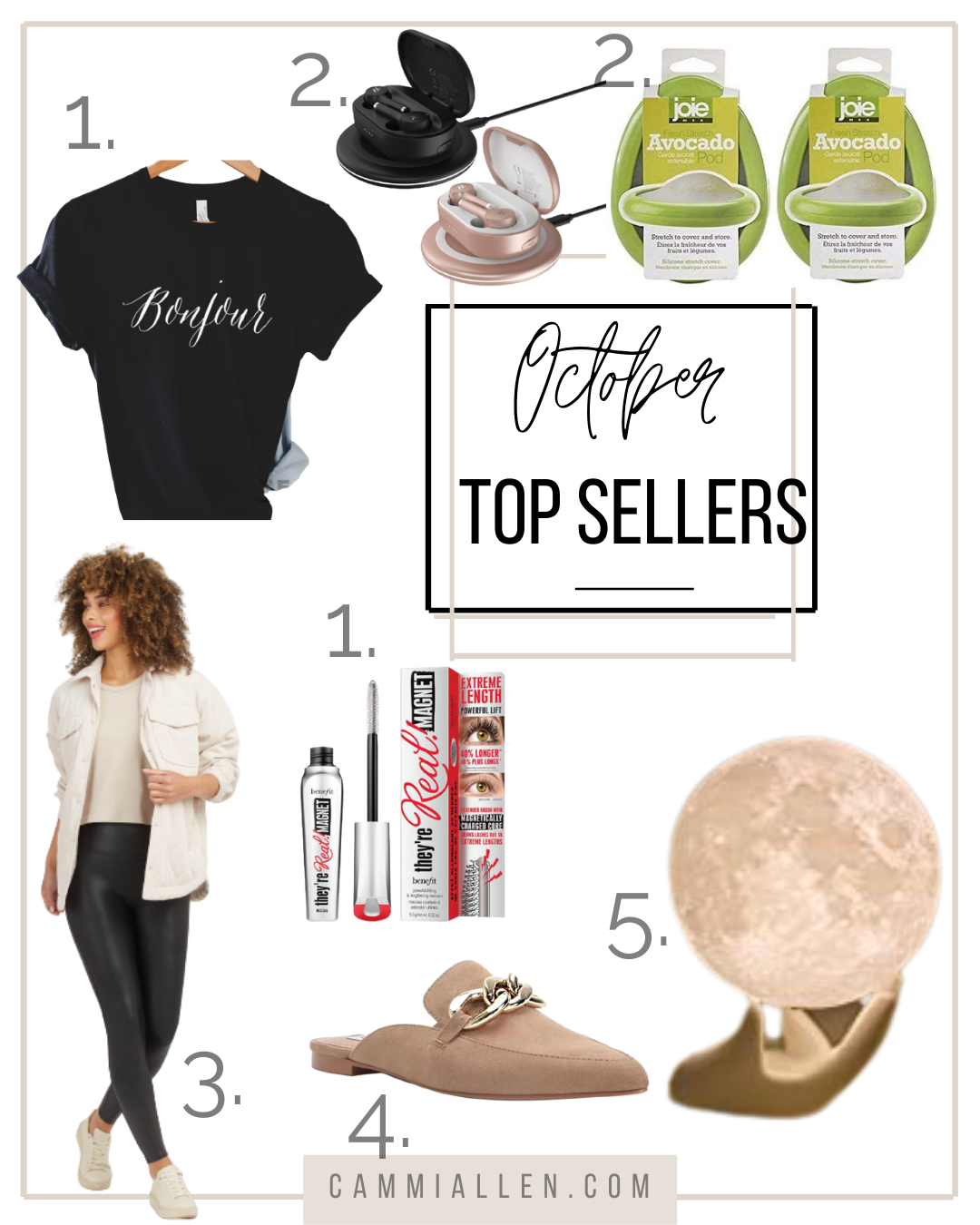 1. Bonjour Tshirt  +  Benefit They're Real Magnetic Mascara
This tshirt is a super cute basic for anytime of year! For Fall and Winter it is so cute under blazers or cardigans with a cute pair of booties.
The Real Magnetic Mascara is a new find for me.  I don't know how it's magnetic, or what that even does, but I do know that I love this mascara!! And it seems like I only need one coat now, where typically I've always used two coats. So I think it will last longer.
2. iFrogz 2pk Airtime Pro Earbuds  +  Fresh Stretch Pod for Avocados
This is a TWO PACK, one for you and one for someone else! They have great sound and different sized tips for different sized ears. Use your second pack as a GIFT!
This Avocado pod just keeps making the best sellers list… it's a game changer to keep your avocado fresh after being cut!!
3.  Spanx Faux Leather Leggings
You KNOW I love these!  If you haven't yet pulled the trigger on these, I know they are a little bit of money, but SO WORTH IT!!  I do not regret buying these years ago,  They hold up great in the washer AND dryer!  You won't regret it!
Such a classy shoe. So easy to slip on and go. The neutral color goes with any outfit. The large chain makes such a great statement!
How fun is this moon lamp? It came from my gift guide for college aged or young adults.  You can find that post HERE.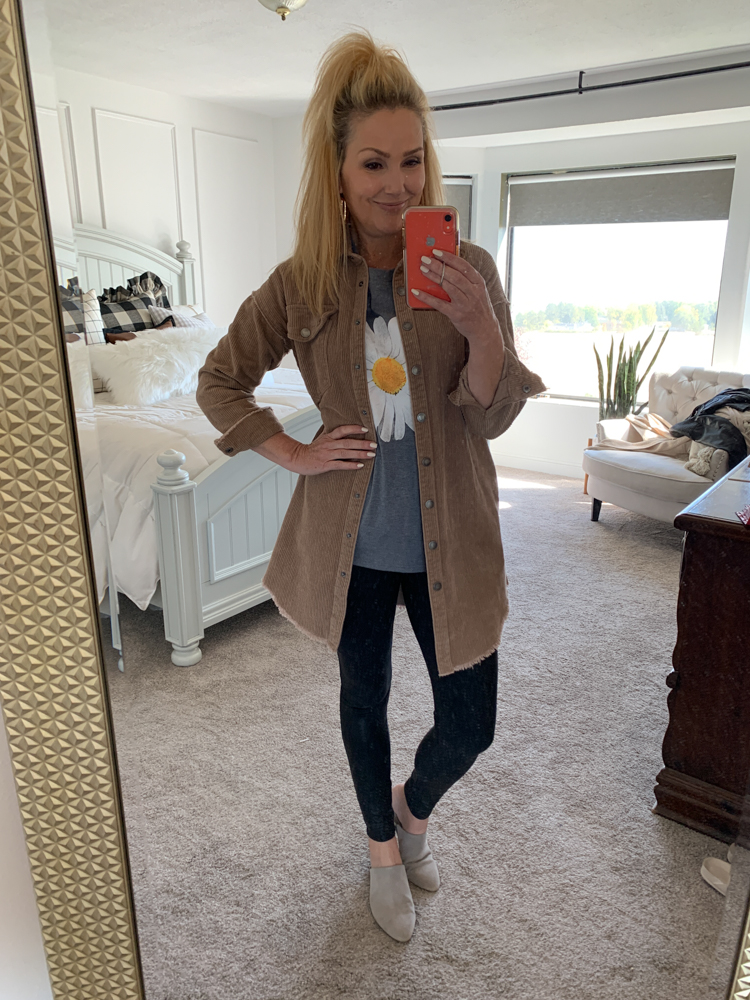 Jacket  |  Daisy Tee  |  Leggings  |  Mules-old 
More news…
I made a splurge.
I usually don't spend more than about $50 on the high end for jeans.
The ones I recently purchased were $98 + free shipping.
You know I'll share them via a try-on, if I like them.
Alrighty well… Holidays, HERE WE COME!!
In case you missed it, here is a Gift Guide for the women in your life.
Also, if you have children, you'll want to read THIS POST for tips on what to feed them (and YOU!!) after the Halloween sugar high.
The CCC girls are all sharing their top sellers this month, so be sure to stop by their blogs to see what's HOT!
DARCY // LISA // MICHELLE // CINDY

Thank you so much for being here, I appreciate you stopping by my blog!!
You can also find me on Instagram, Facebook, Pinterest, and YouTube.