Just For Him – Christmas 2022…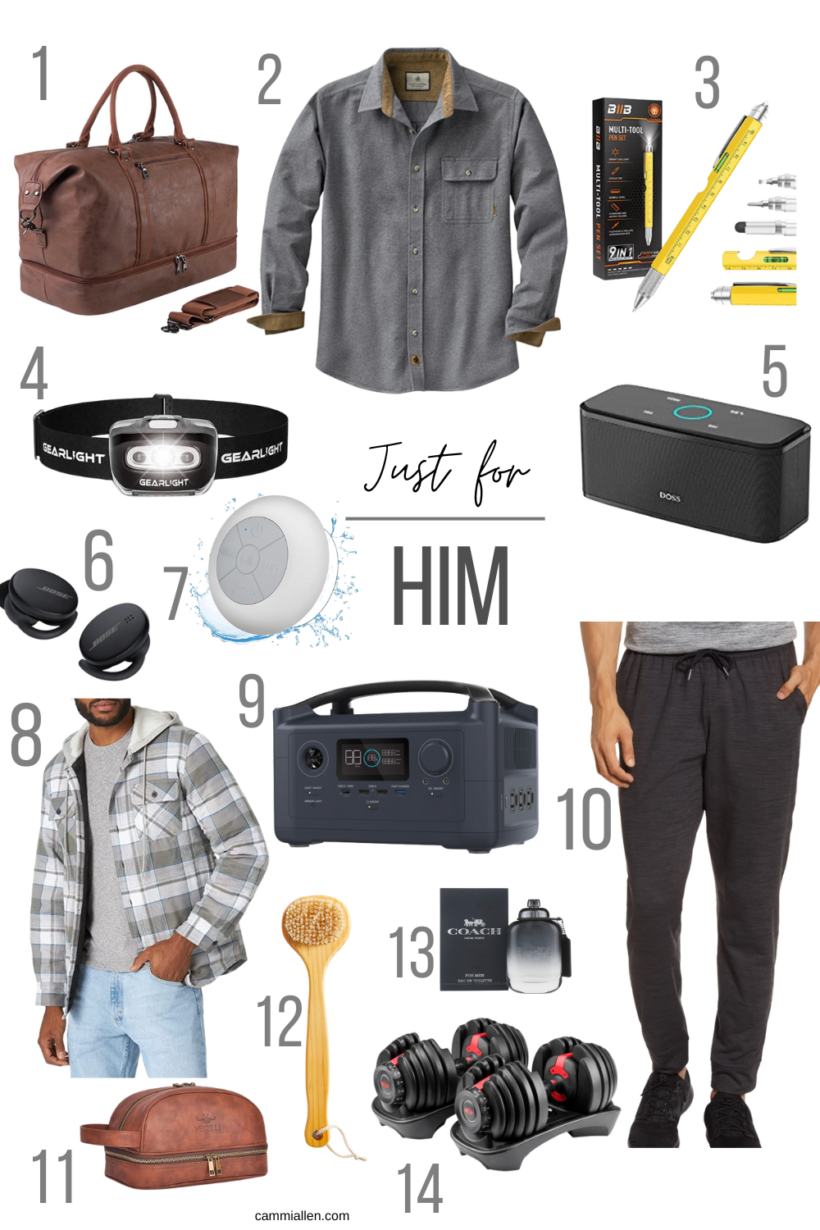 Things are a jinglin' around here! I've got one Christmas tree up and another one on its way! So, it's time to think about what will be underneath those trees! I've been on the hunt for some surprises for my husband and have rounded up some that would be great for any man in your life. Here are some Christmas gift ideas just for him.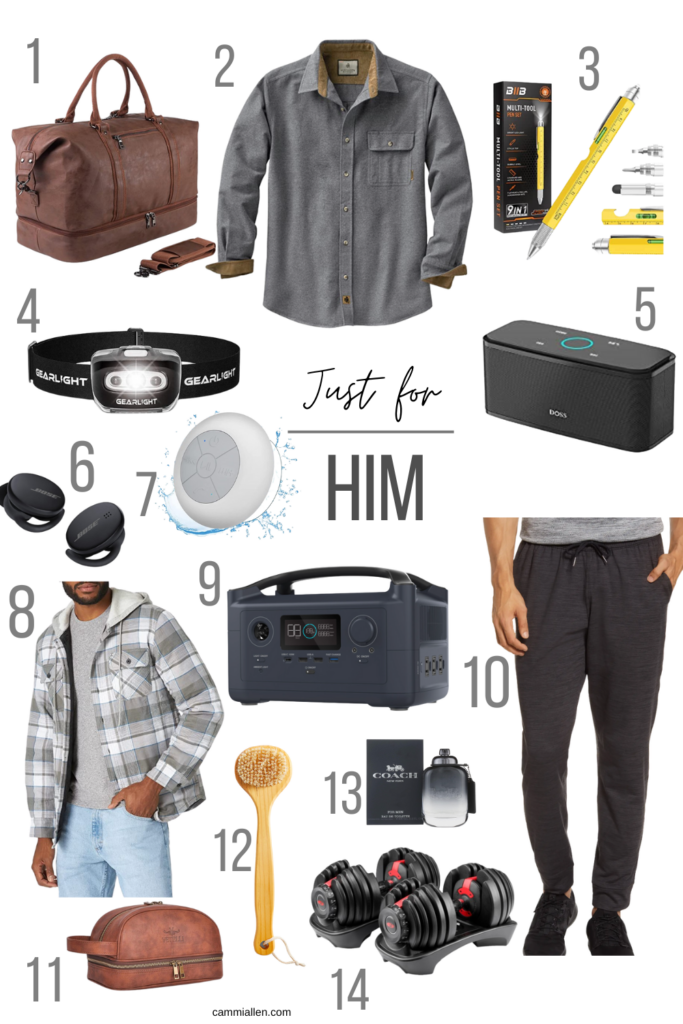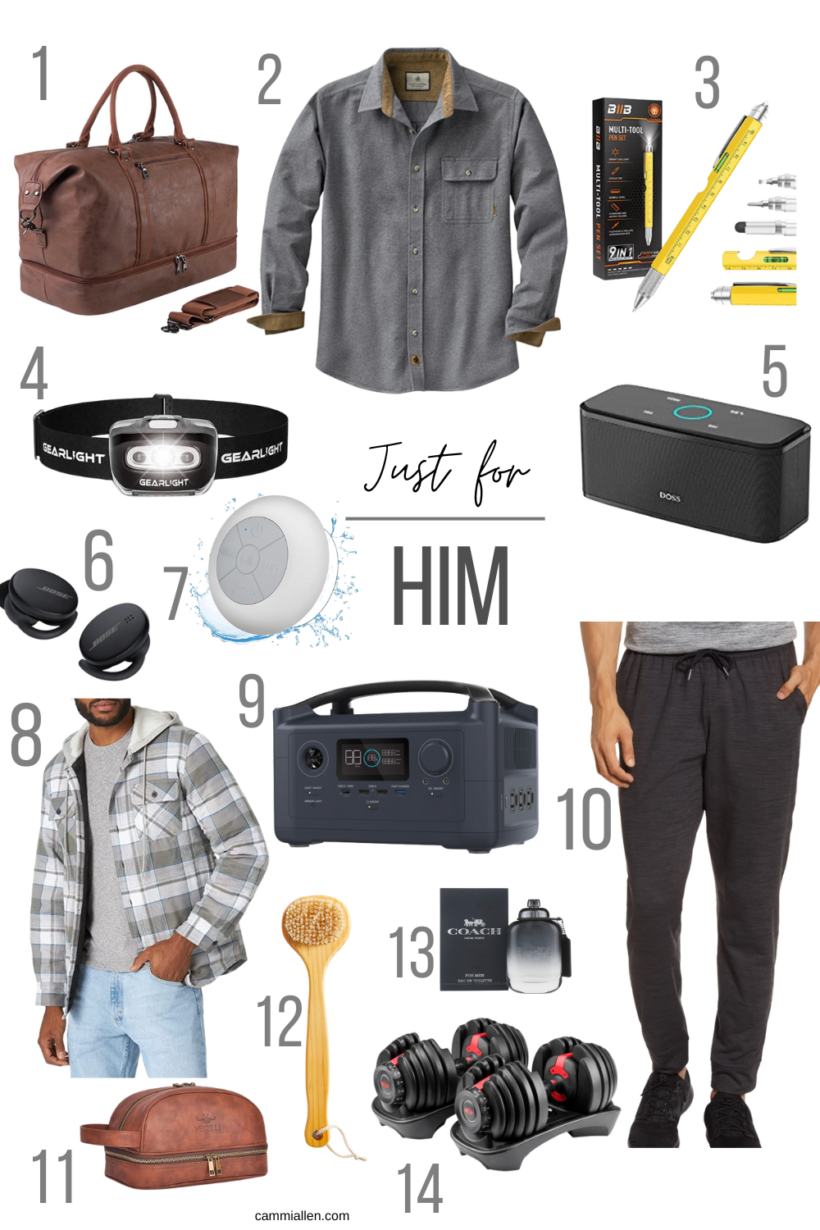 Leather Overnight Bag with Shoe Pouch – Replace his old duffle bag with something that will make him feel a little more sophisticated.
Flannel Shirt with Pencil Slot Pocket – Every man loves a new flannel in the winter! I really like the contrasting corduroy lined collar and cuffs.
Multi Tool Pen – This would be a great stocking stuffer! It boasts a flat head AND Phillips screwdriver!
Headlamp – I don't care who you are… these are HANDY!!
Wireless Bluetooth Speaker – TONS of great reviews on this speaker!
Bose Sport Earbuds – I have these and LOVE them! They have the great sound that Bose is known for!
Quilted Shirt Jacket With Hood – This one also has great reviews and I love the style of the attached sweatshirt-like hood.
Portable Power Station – This is one of those things that every family needs if the power goes out for peace of mind. Not only will it power up to 10 devices at once, but it can also power a full-sized fridge for 6 hours!
Slim Fit Joggers – I threw these in just because they are a great price right now!!!
Leather Dopp Kit – There is room for all of his toiletries and shavers in a classic and beautiful kit.
Body Brush – It's made of mold and mildew-resistant cedar with a long handle for the hard-to-reach spots! Think how he would love to find this in his stocking!
Coach For Men – This made the top of the list of popular men's fragrances on many different sites!
Adjustable Dumbbells – He will love having these just in time for his New Years' resolutions!
Edited!!
Here are a few more:
Tree table lamp with Bluetooth speaker and wireless charger
That's it for now!
Be sure to check back as I will be adding more ideas as I find them!
Thank you so much for being here, I appreciate you stopping by my blog!!
You can also find me on Instagram, Facebook, Pinterest, and YouTube.

Did you see my latest series of teacher outfits? Click HERE.
Are you wondering how to wear leggings out & about? Click HERE.