The Cream Puffer Vest…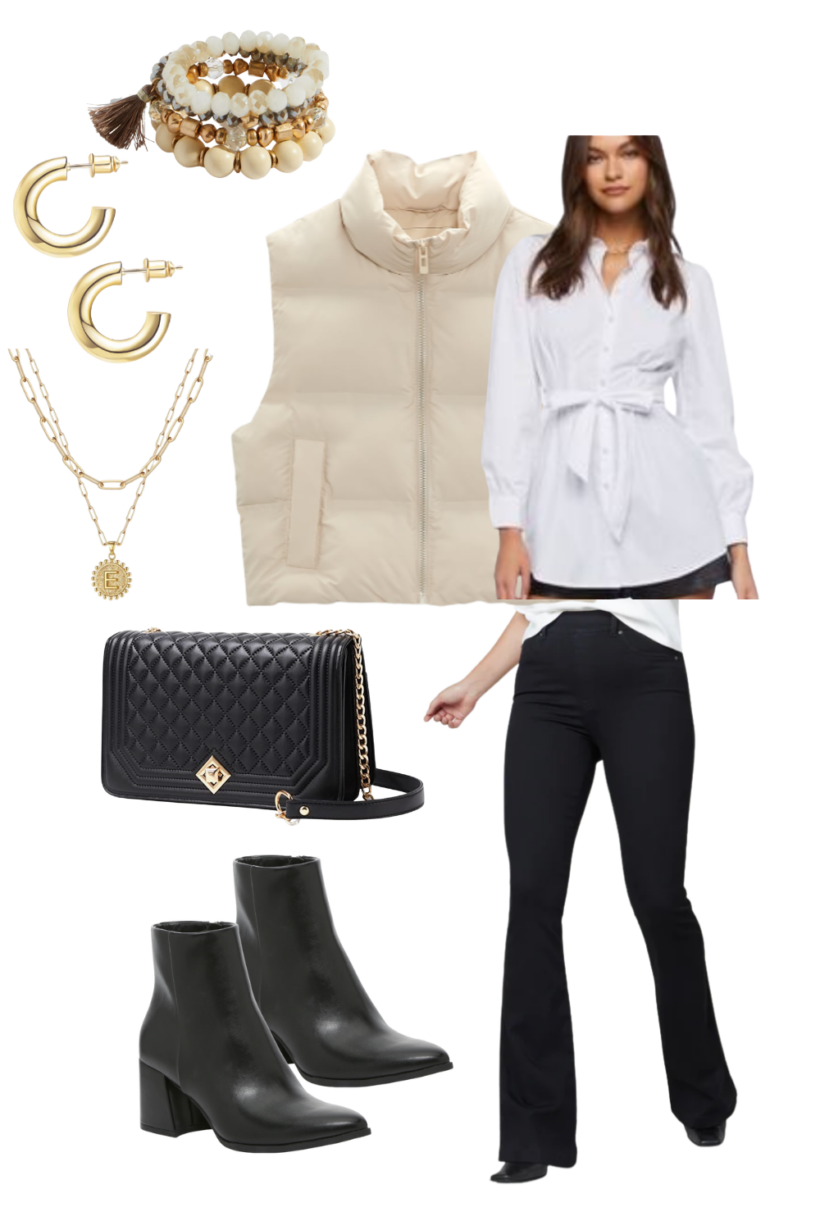 It's been a long time since I have worn a puffer vest. Recently, I haven't found any that I love… most have been too small of a style, too tight of a fit, or too claustrophobic and puffy around my neck. Finally, the perfect one (in my opinion!!) has come into my life!!! When I saw this Cream Puffer Vest come up on a new arrivals list, I knew I had to try it! And boy, do I love it!!!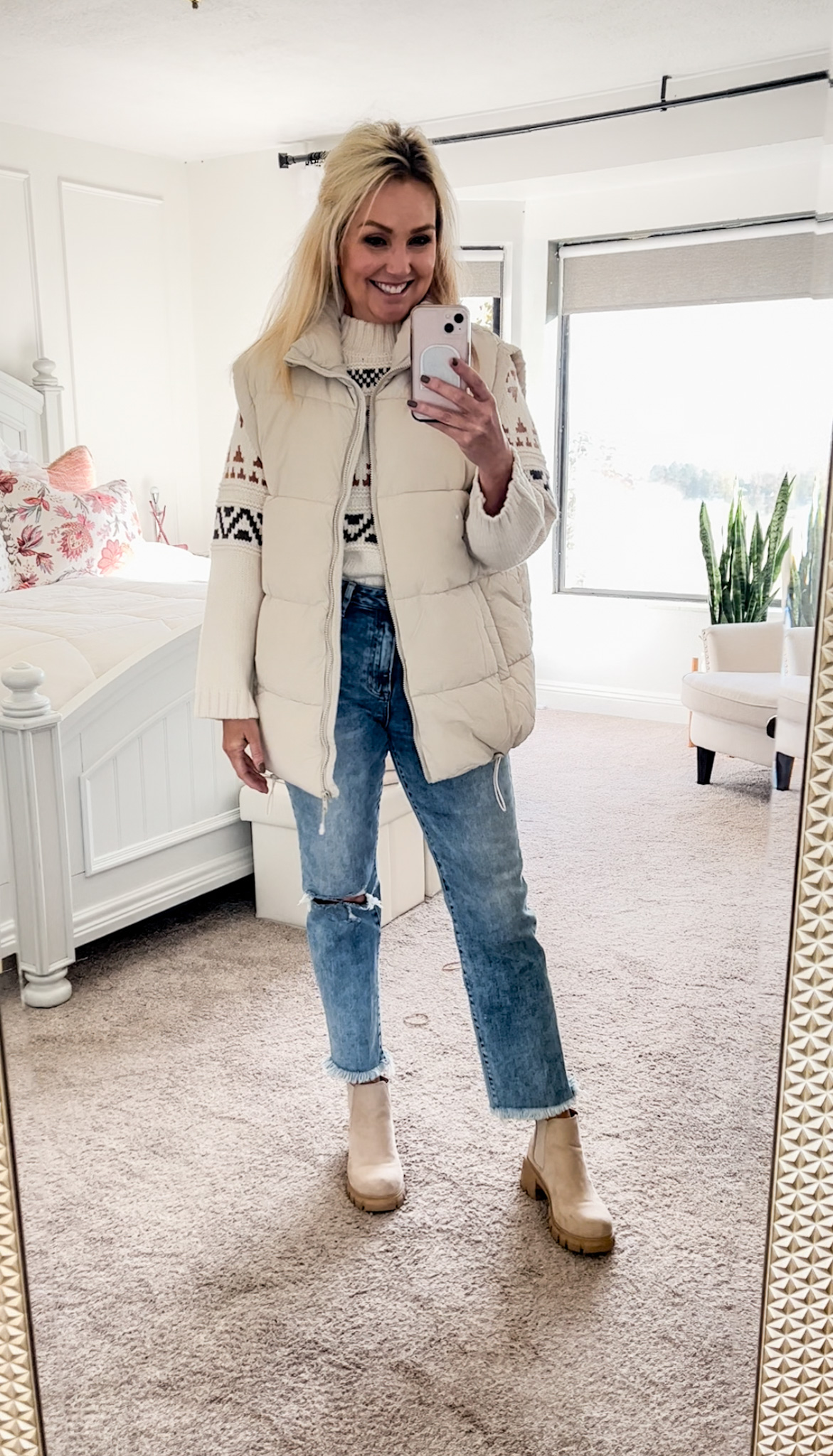 This particular jacket is perfect for those Fall and Winter days when it's not cold enough for coats. I am wearing the Recycled Mother Puffer Vest. What makes it different from other puffer vests is that the outer shell is made from recycled materials. I love the extra length that covers the bum, especially for us older women who appreciate that feature. Here, I'm turned to the side so you can get an idea of how long it is in the back. I am 5'6 1/2″.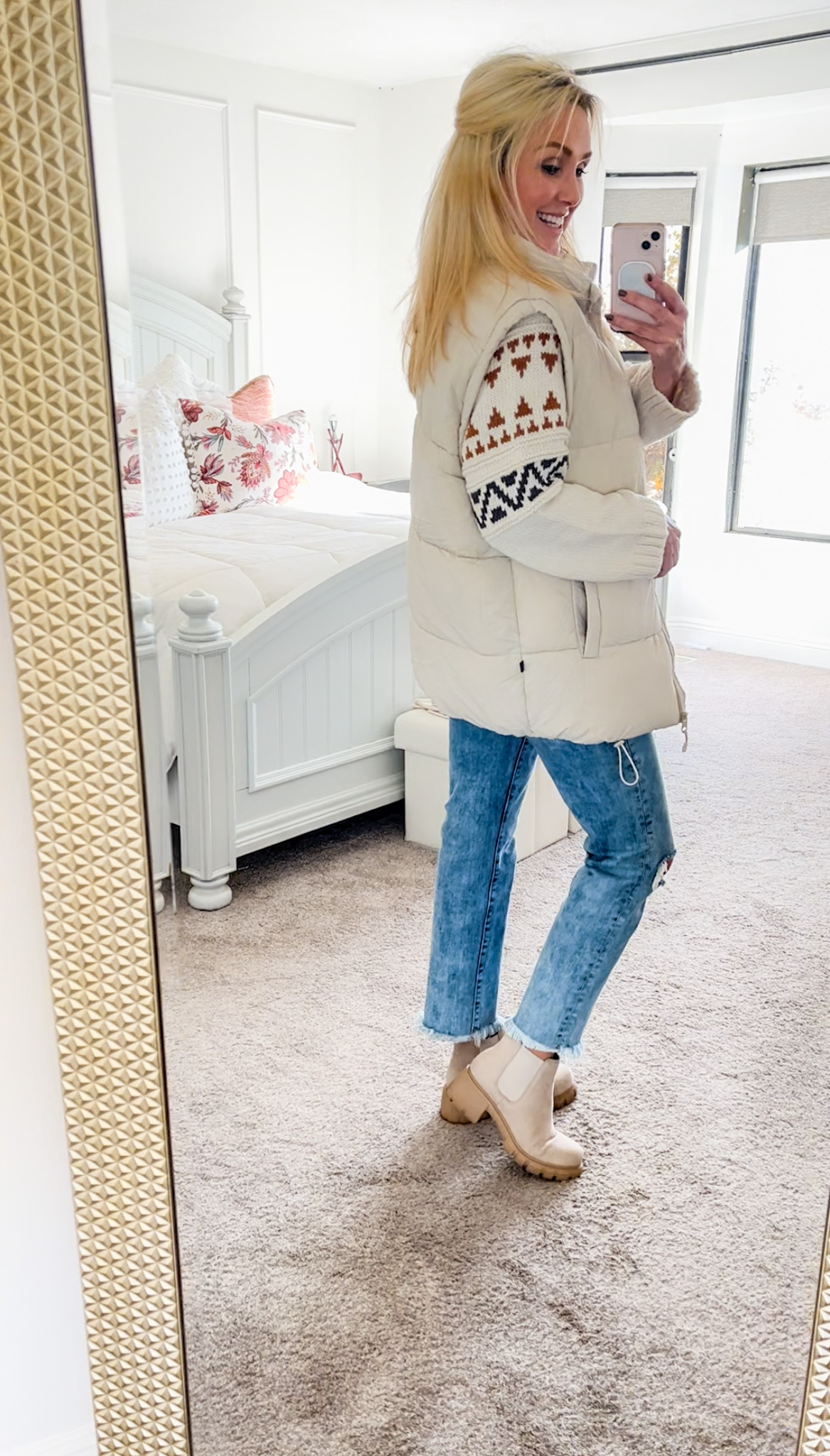 It has fleece-lined pockets to keep your hands cozy and also comes in several other color options.  It feels so good! I know that many women view white vests or coats as makeup collectors on the collar. I totally get that. For me, I don't mind spot-treating to keep it clean. But if that's a game changer for you, consider the black one or the darling cedar brown color.
What to wear with a puffer vest?
Long-sleeve tops, shirts, or sweaters look great underneath this vest. Try wearing a hoodie with it for a casual and sporty look. How about a white button-down shirt? Or maybe your favorite fair aisle sweater? THIS ONE has sold out twice and is back in stock and available in all sizes!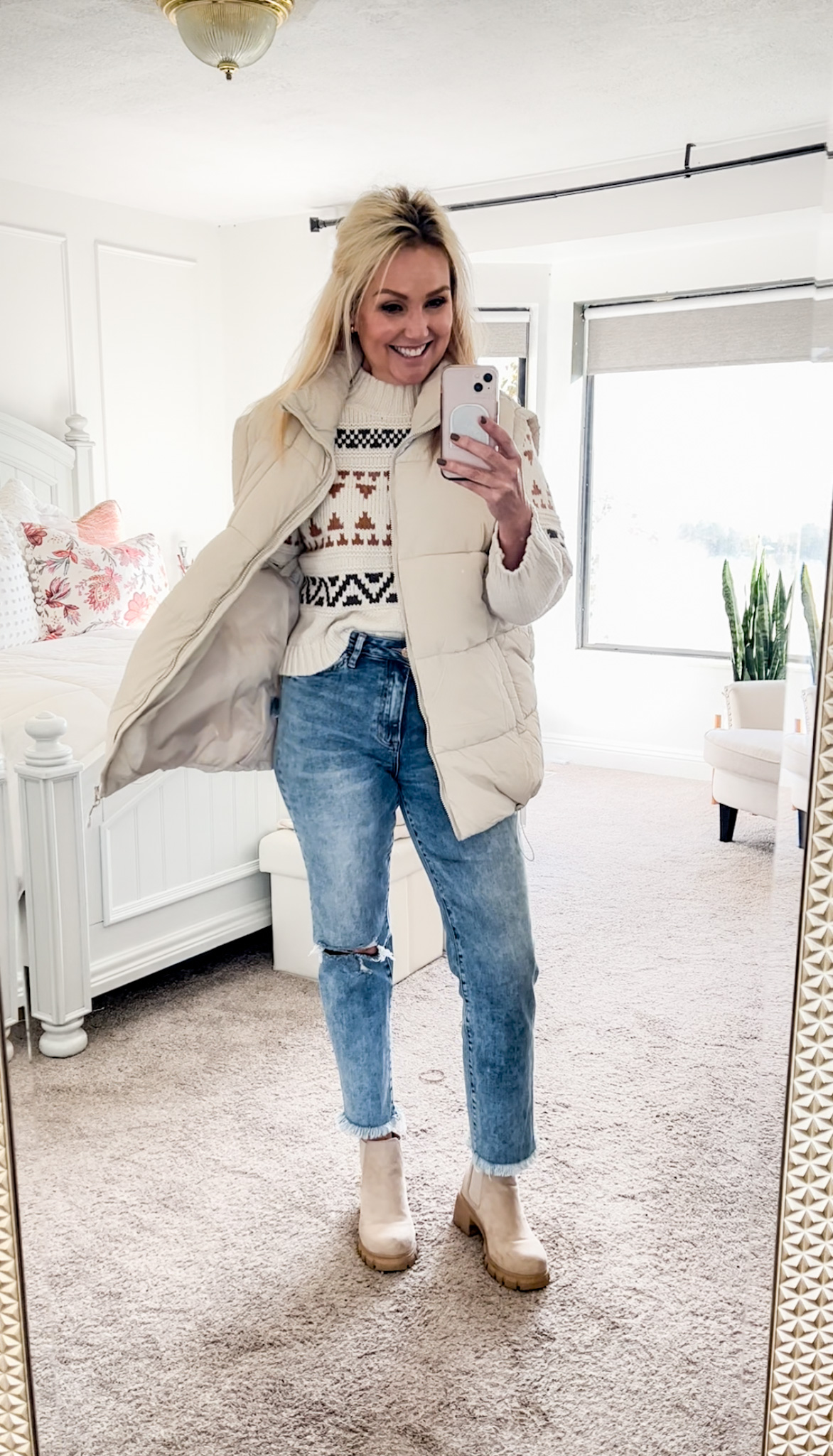 vest  |  fair aisle sweater  |  similar jeans  |  boots
As for bottoms, any kind of denim or faux leather leggings would be perfect like my image below. This cream puffer vest goes with any type of clothing! Imagine it with a cute sweater dress and sneakers!! Would you wear it with dresses? I say, why not!!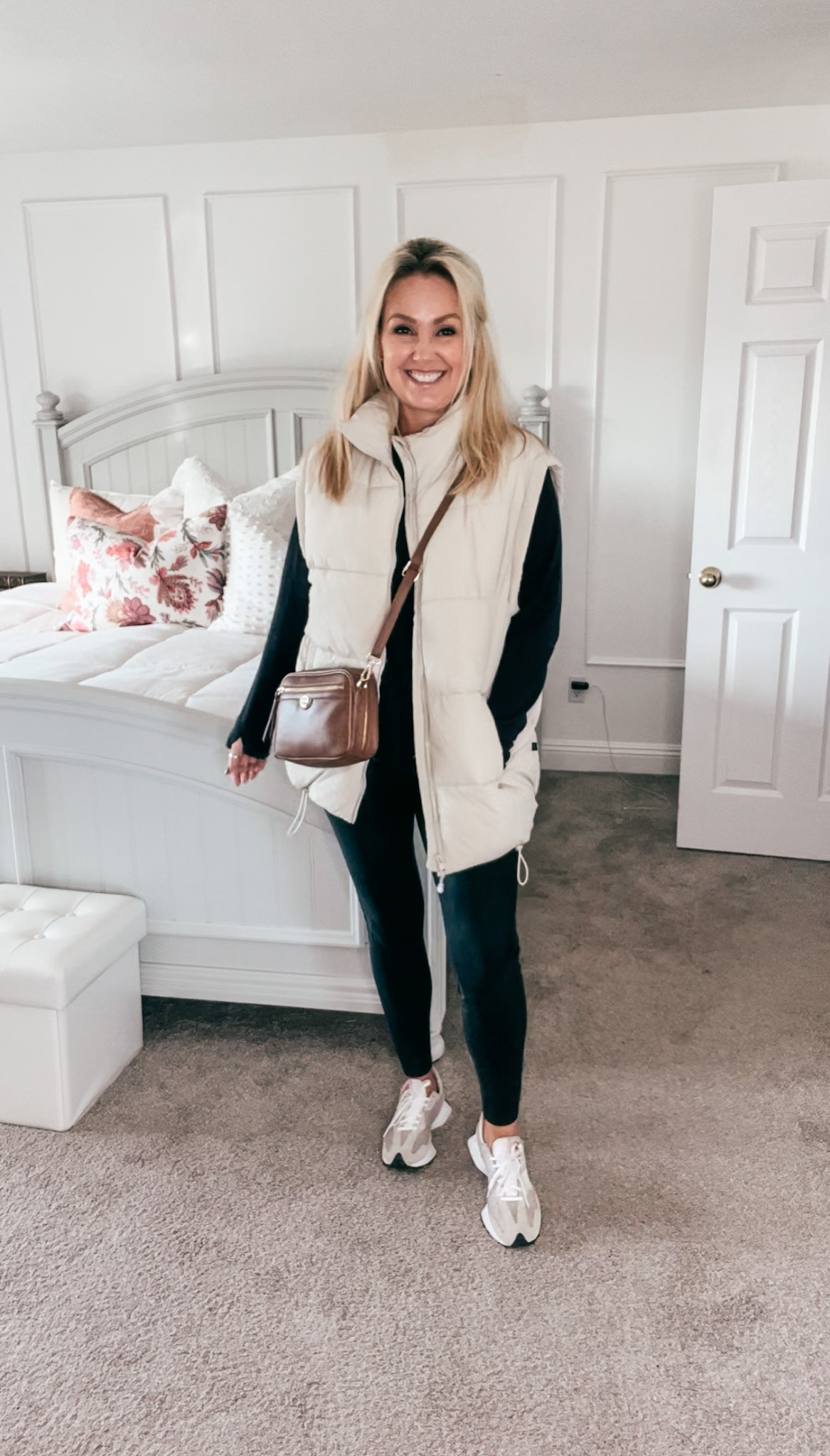 vest  |  faux leather leggings  |  black sweater  |  shoes  |  similar bag 
Add accessories
Depending on what look you are going for, you can wear any type of shoes, booties, or sneakers. It really is a great staple for your closet at a good price!
Below I chose to wear an all-black outfit of leggings and a sweater for a day of running errands and to grocery shop. My black sweater didn't cover my bum all the way but the vest had me covered perfectly for a day out. No problem!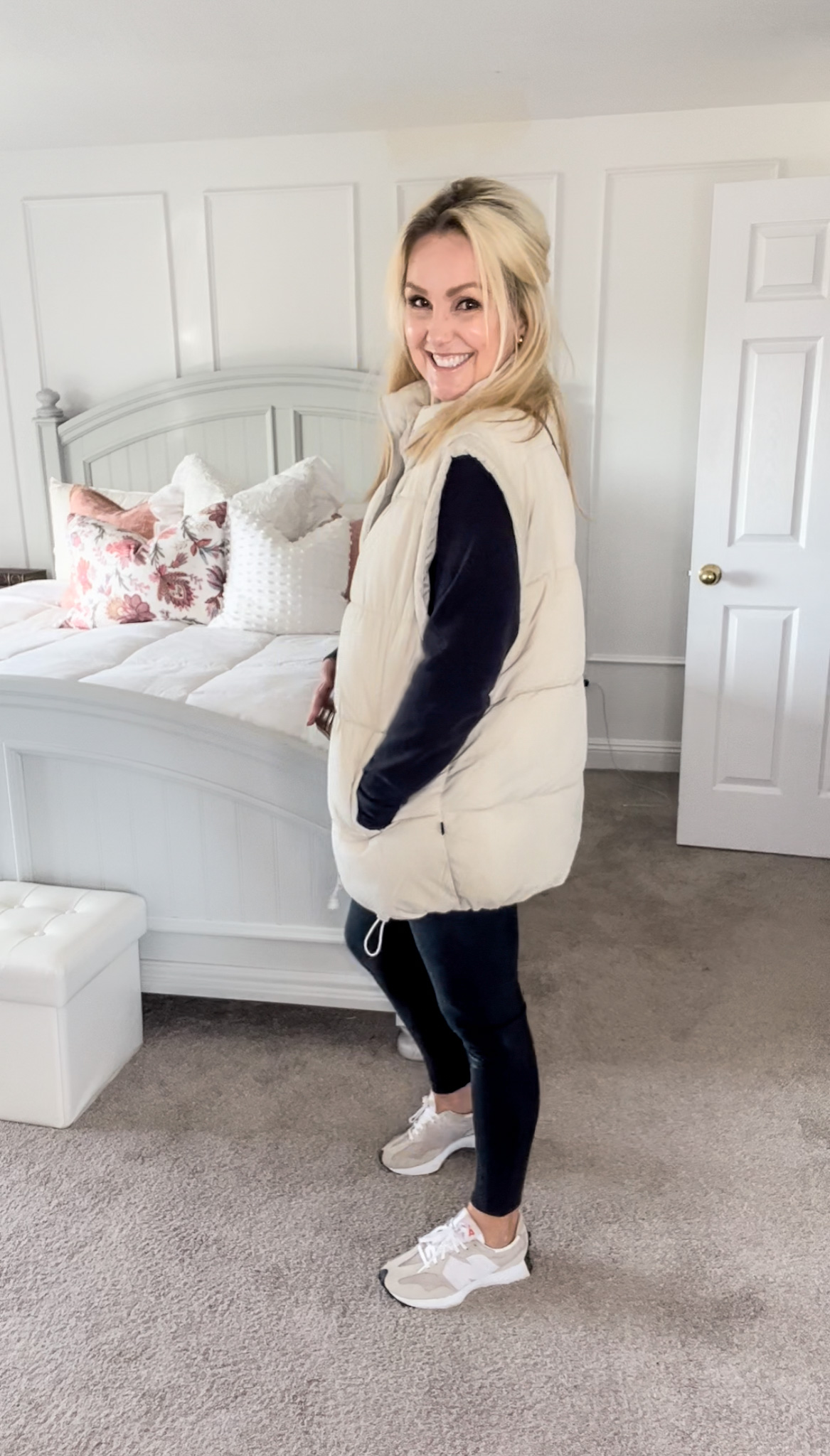 I would say order your true size. Normally I wear a small on top but the sizing comes in XS/S and M/L. So I got the M/L because I wanted a larger fit.
Wear this in place of ANY of your jackets! Consider it a gift for your daughter or for you!! Not sure if she would like the style? Gift cards are always a good idea and she can pick what she wants. Just type in "gift cards" into the search bar on the website HERE and you can send an egift card directly to her or to YOU if you prefer to wrap it up with some cute accessories shoes or anything else.
Last outfit idea:
Here's an example of a way that you could wear it dressier for work or for a night out.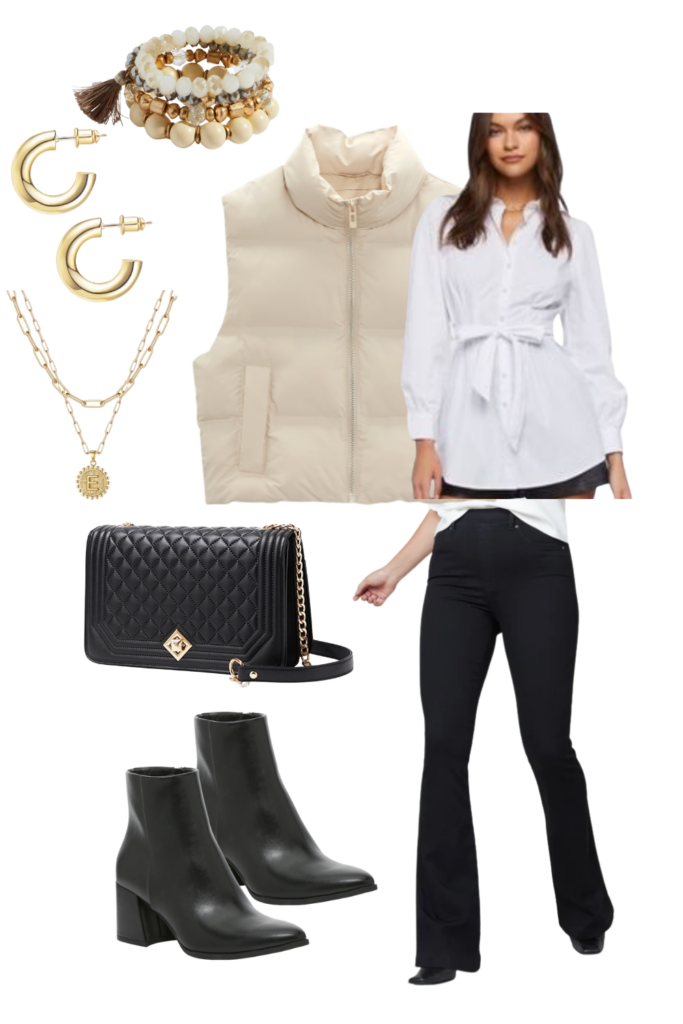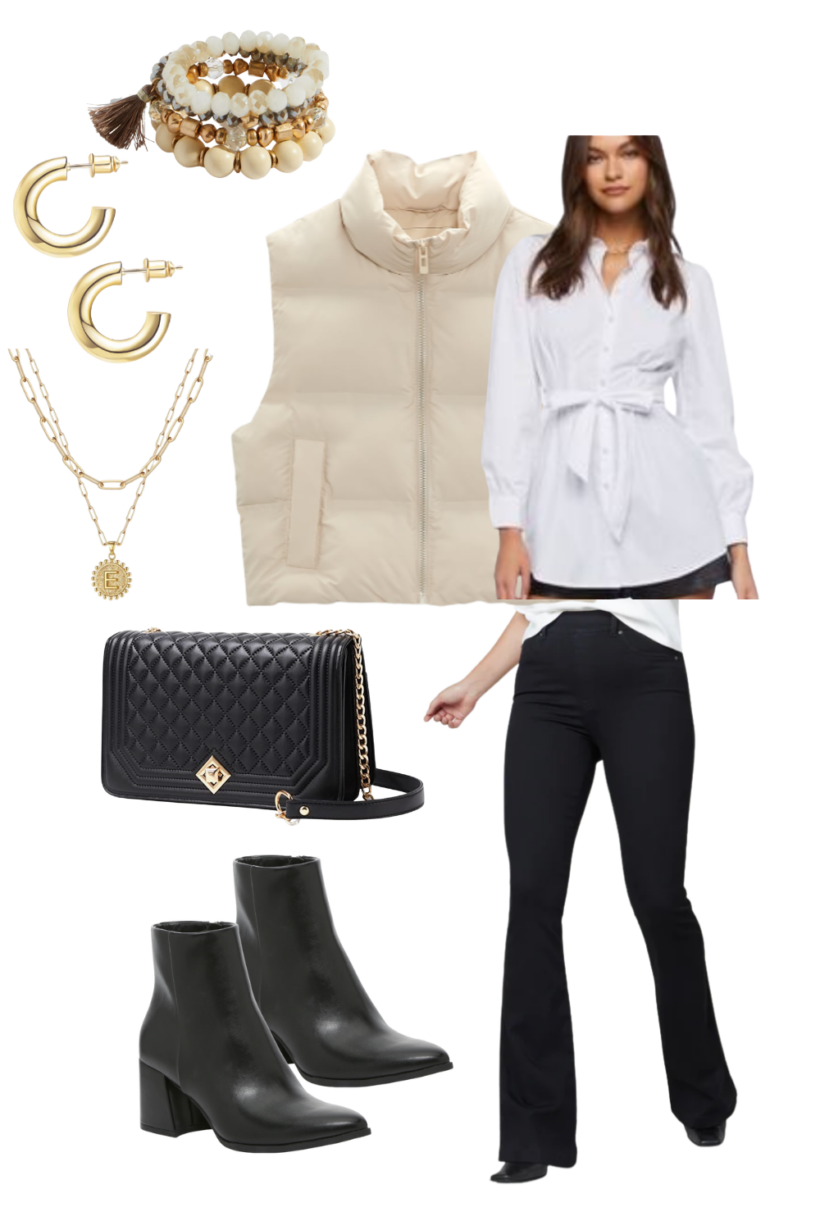 vest  |  flare pants  |  white button down  |  boots  |  bag  |  bracelet  |  earrings  |  necklace 
That's it!
Thank you so much for being here, I appreciate you stopping by my blog!!
To receive a notification each time a new post goes live, scroll back up and hit the subscribe button on the right hand side of the screen.
You can also find me on Instagram, Facebook, Pinterest, and YouTube.

You need this hot trend for fall and winter!! Click HERE!
Have a holiday trip planned? These PACKING TIPS will help!