Where To Stay And Eat In New Orleans…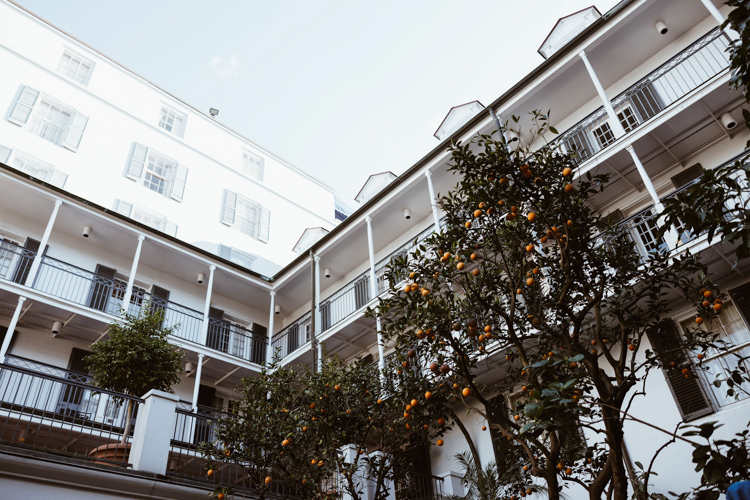 Do you have plans to go to New Orleans?
Maybe Mardi Gras? Maybe you just want to get away? If you've been thinking about New Orleans, you're in luck!  This post will hopefully help to answer some of your questions regarding where to stay and eat in New Orleans. Whatever the occasion, after traveling with my 5 girlfriends to Nola last week, we all HIGHLY recommend the beautiful Royal Sonesta located in the historic French Quarter on Bourbon Street. Be sure to read to the end because there is something SPECIAL in it for YOU!!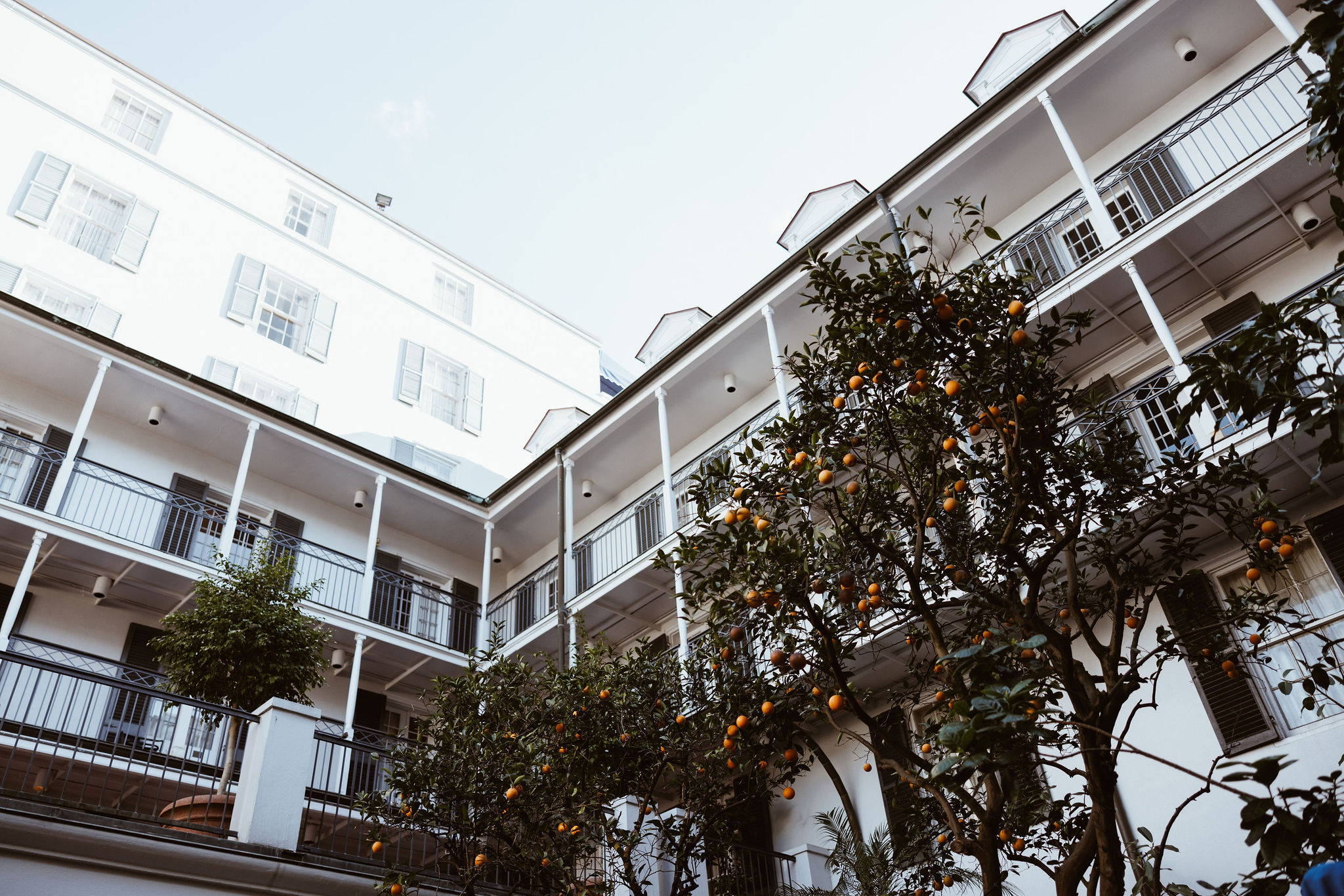 Inside the center of the hotel were stunning open courtyards with orange trees, fountains, and beautiful architecture.  Do you know I've never seen an orange tree in real life before?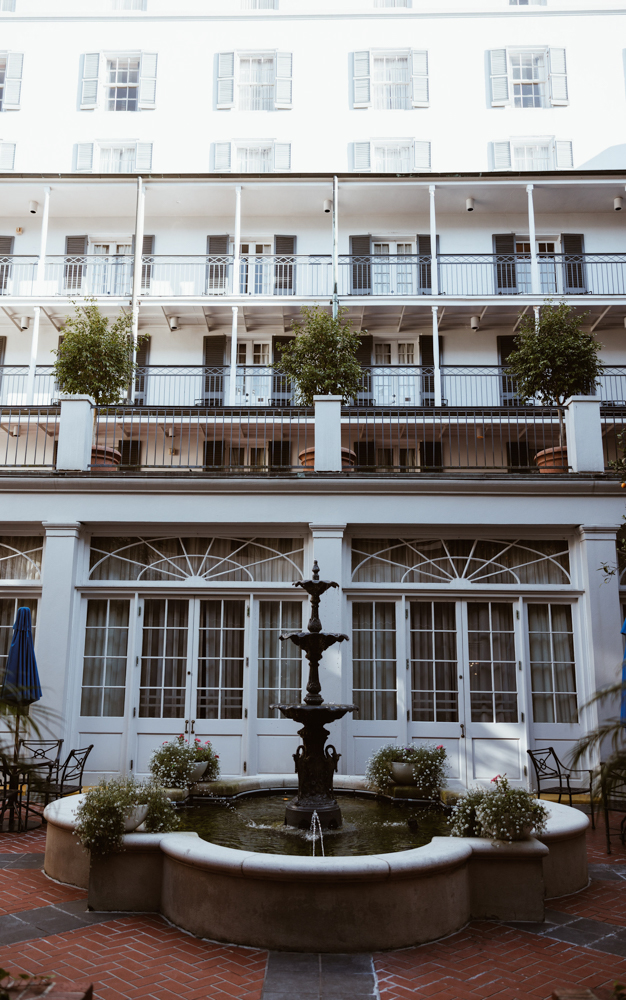 This was our view off of our balcony at night.  So pretty with the peek of the cityscape in the background!  You know, while we were walking along the streets of the city, there were a lot of sounds.  Jazz bands, clubs playing loud music… but the Royal Sonesta hotel was sound proof!  Nice and quiet.  You would have no idea that all the hoopla of Mardi Gras was going on outside.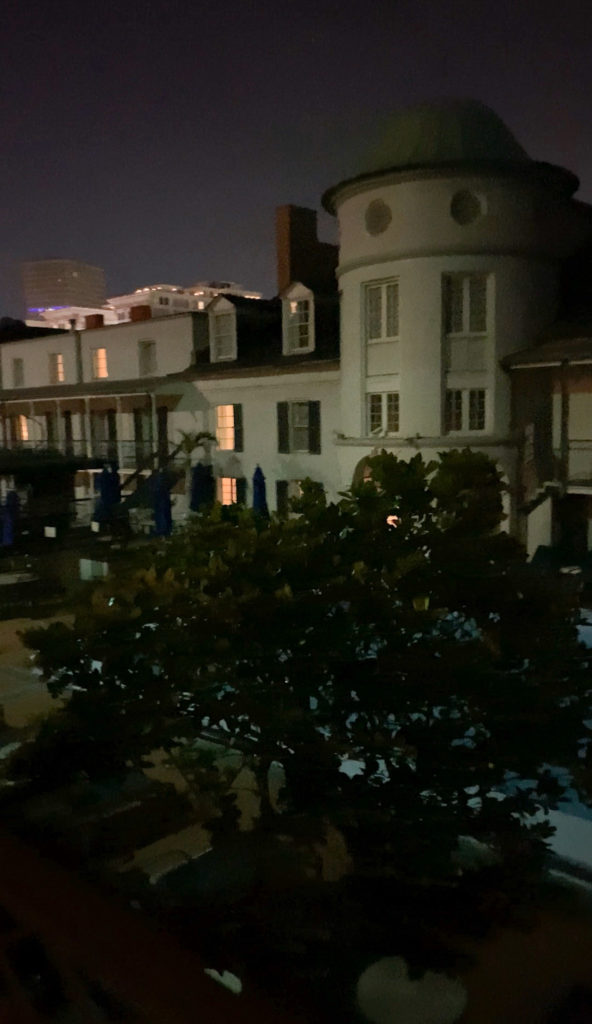 The rooms and beds were so pretty and very comfortable.  I am kind of picky when it comes to hotel beds and pillows.  I had ZERO problem with these and slept like a BABY every night.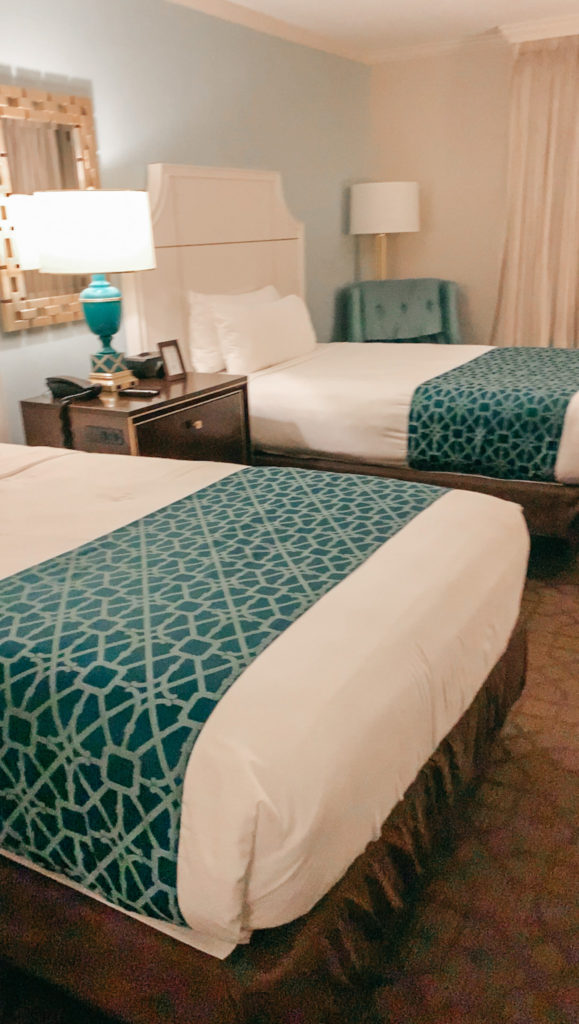 We felt relaxed and right at home.  One morning we sat around this table (in the photo below ) in the foyer to make our plan.
I need to give some attention to the staff here for a minute.
I have never stayed at a hotel where the staff was as polite as they were here at the Royal Sonesta.  First of all, the southern charm of being called "ma'am" every sentance was precious.  Every sentance!  I felt like the staff LIVED to make us feel important and comfortable.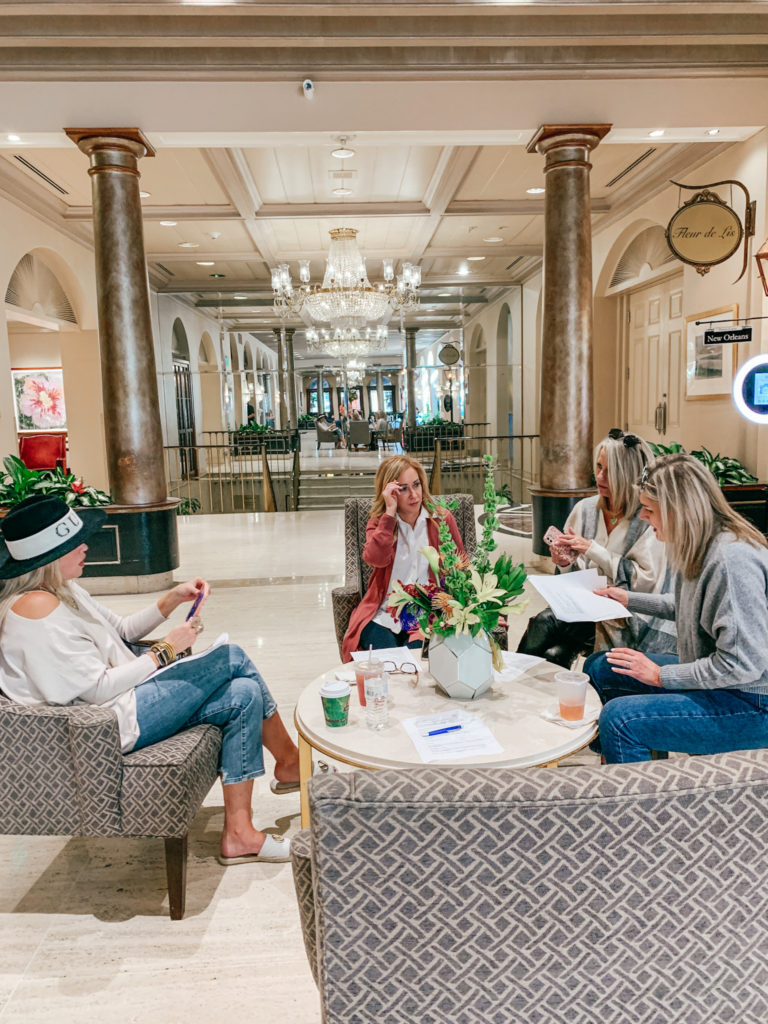 And it wasn't just one or two of them… but every single person we came in contact with from the front desk to the valet. A great customer service experience and I'm sure the other girls would agree with me.  And can we talk about the beauty of the hotel for a minute?? There were photo opps at every turn…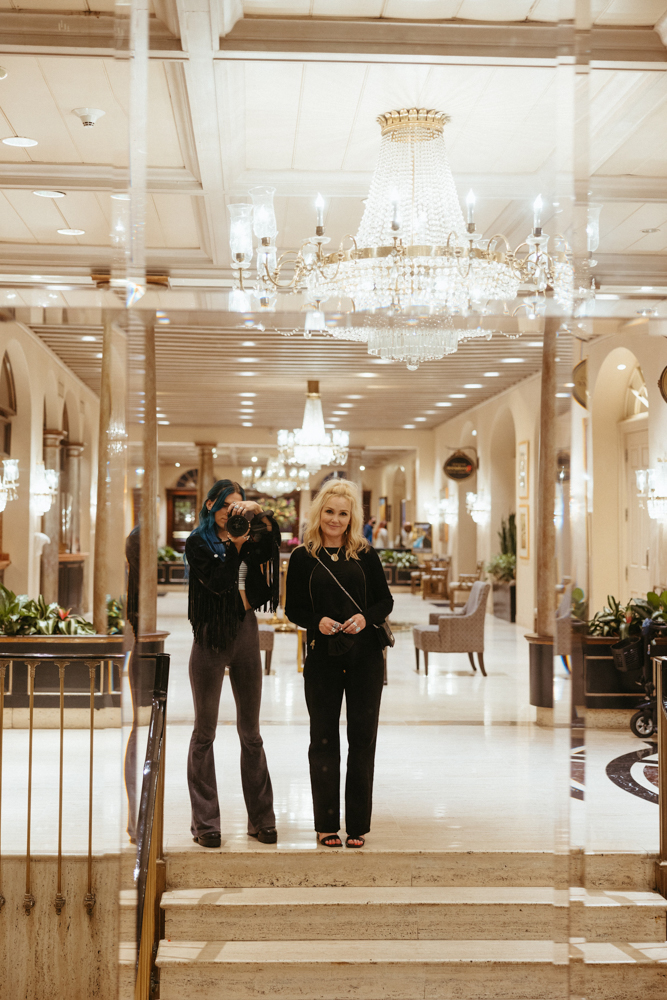 …and you KNOW we took advantage of them!! 😉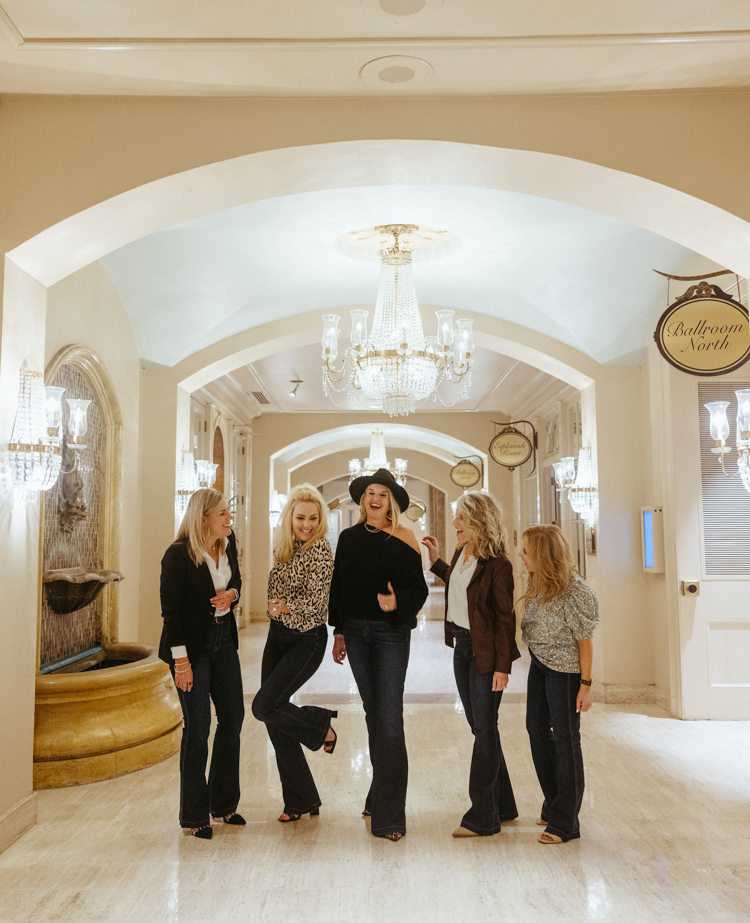 Royal Sonesta is definitely where to stay and eat if you want to enjoy the culture of Nola!
First of all, you don't even have to leave the hotel to experience a taste of New Orleans food! Right on-site you'll find several restaurants.
I had a plate of the best crab cakes at the Desire Oyster Bar!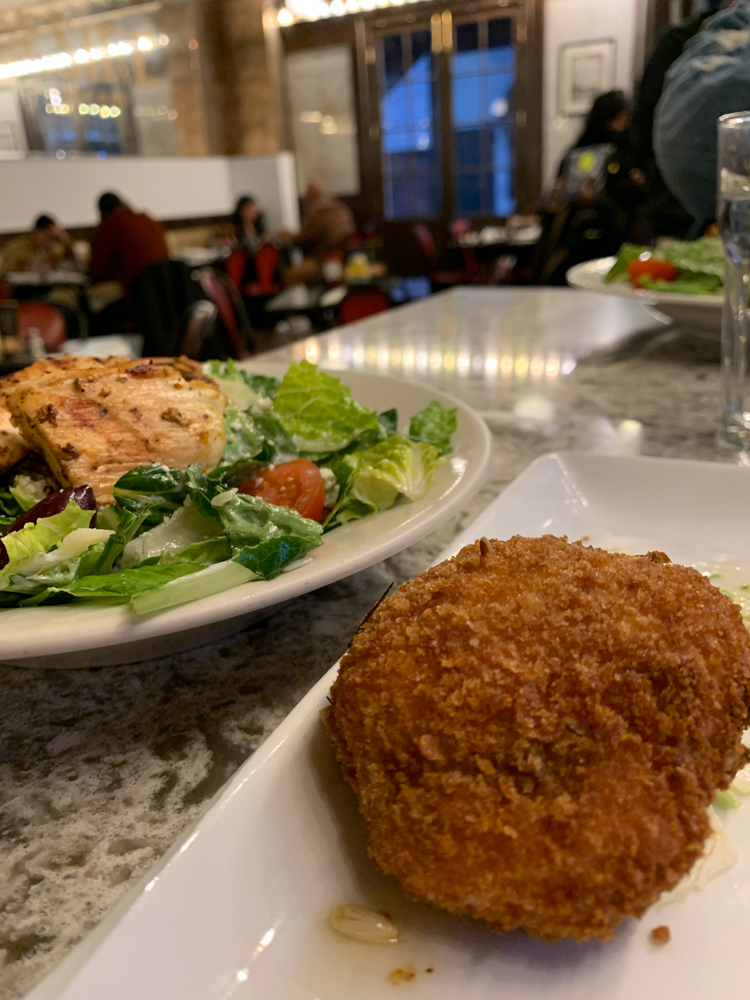 One night I ordered a special non-alcoholic Hurricane and just look how pretty it was! It tasted as good as it looks!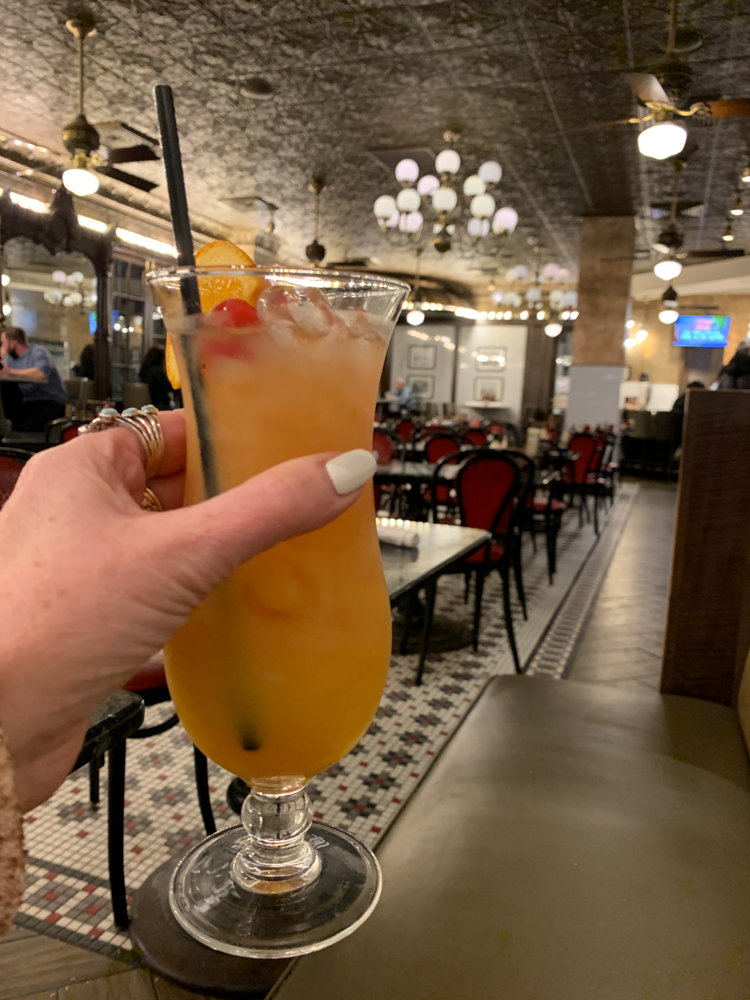 Getting hungry just posting these photos lol.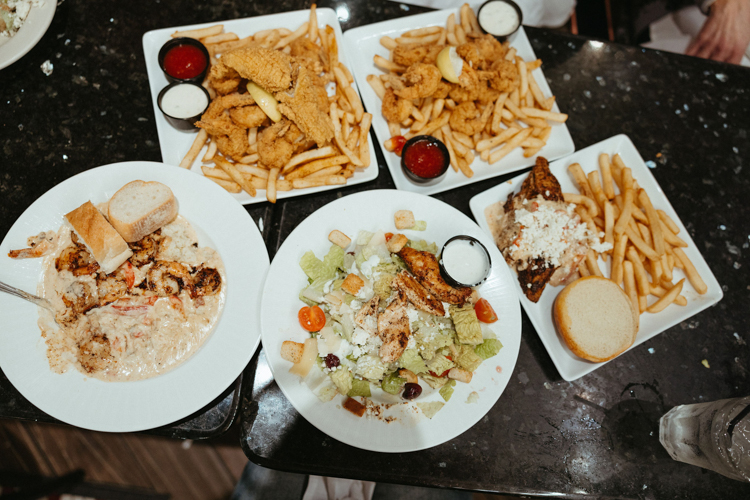 PJ's Coffee was a quick elevator ride downstairs in the morning for us to grab a yogurt, muffins, or coffee to take back up to the room.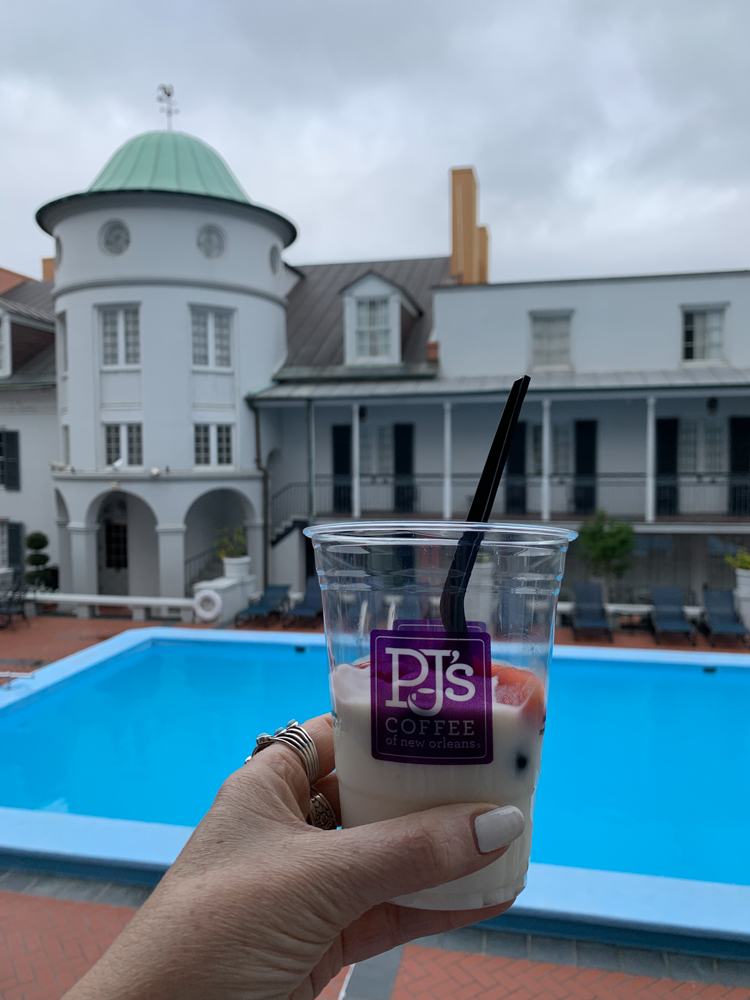 One night we had appetizers and entertainment at the Jazz Playhouse and OH BOY was that fun!!! I love jazz music and Funky Big Sam did not disappoint! And yes, the Jazz Playhouse is also located on site… just an elevator ride from the room.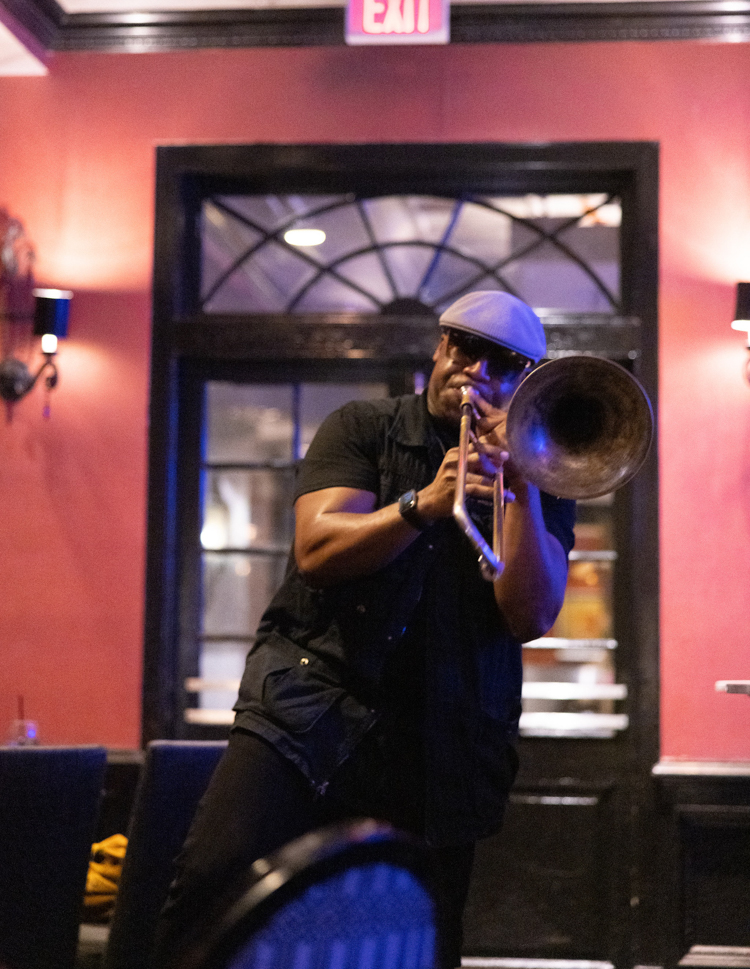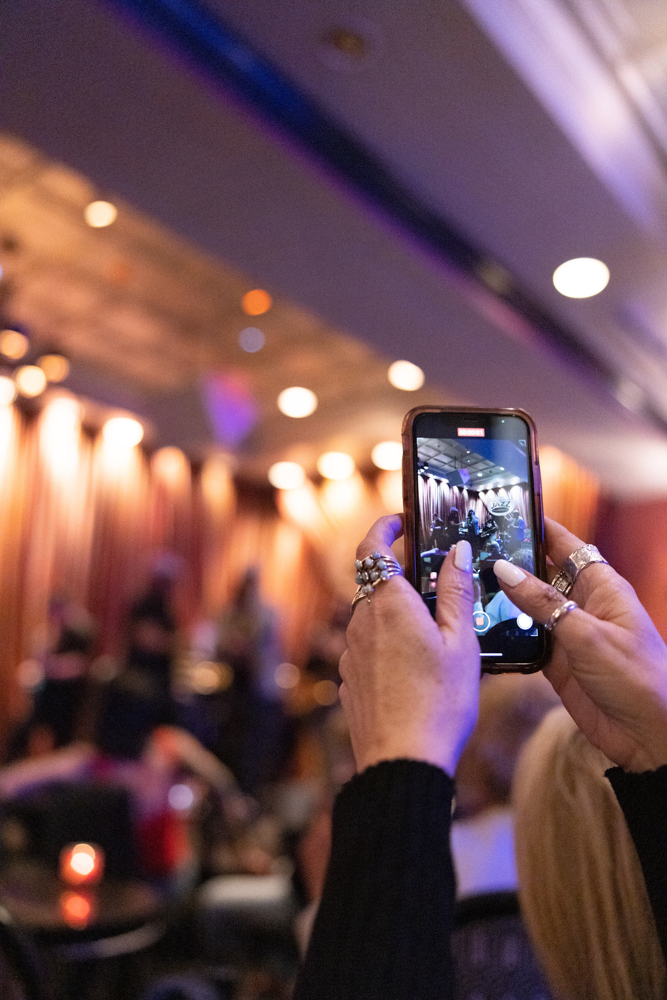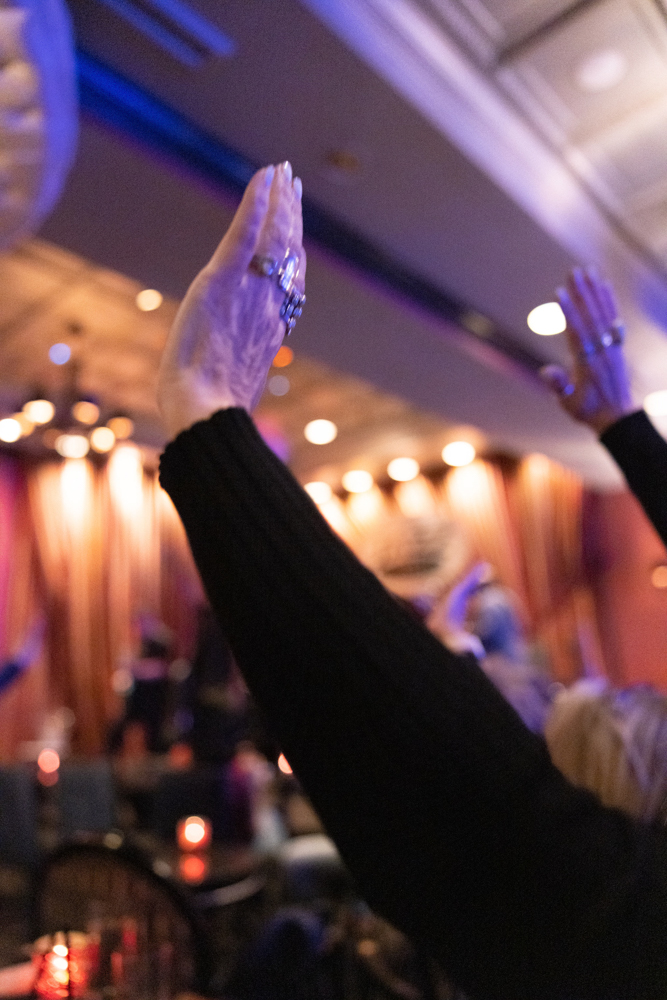 Had the crab cakes again and also a wedge salad to share.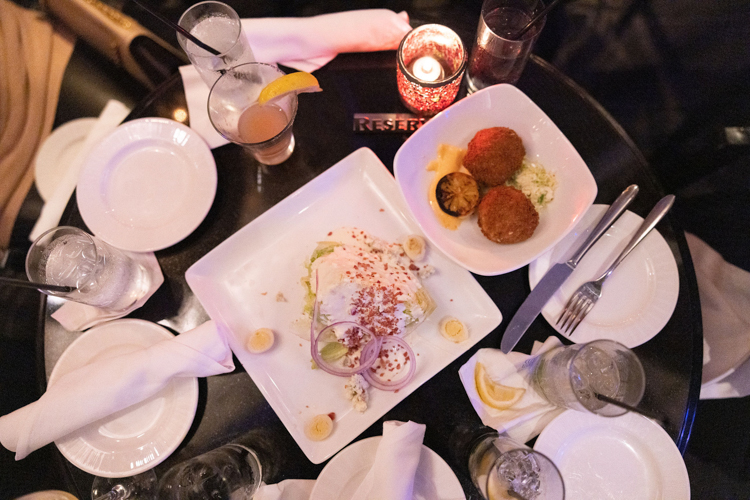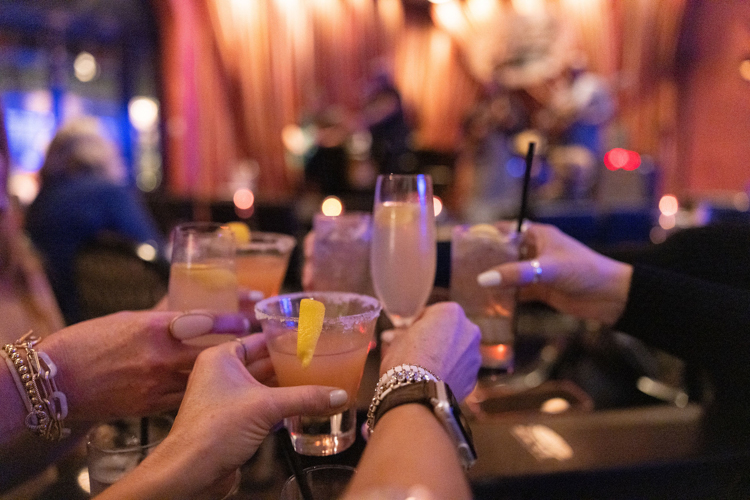 We were lucky to try out some delicious appetizers at the Bar R'evolution. While some of the others had champagne, I of course had my lemon water. But they brought out the prettiest looking cheese board for us to snack on!
Our cute waiter was named Texas. He was very bubbly and full of life.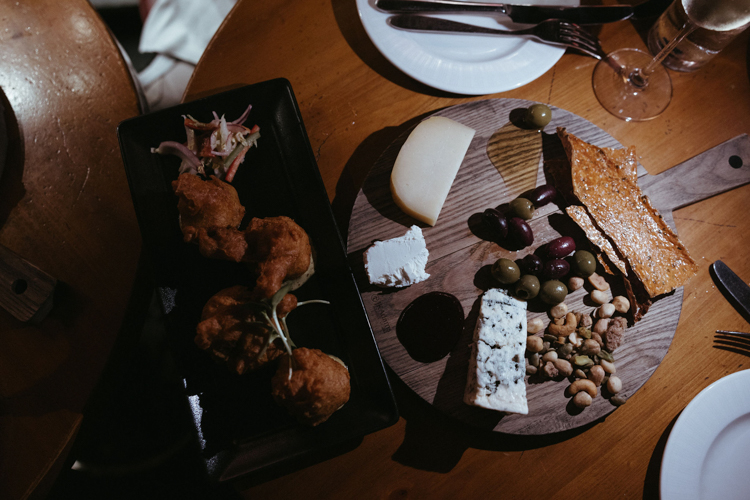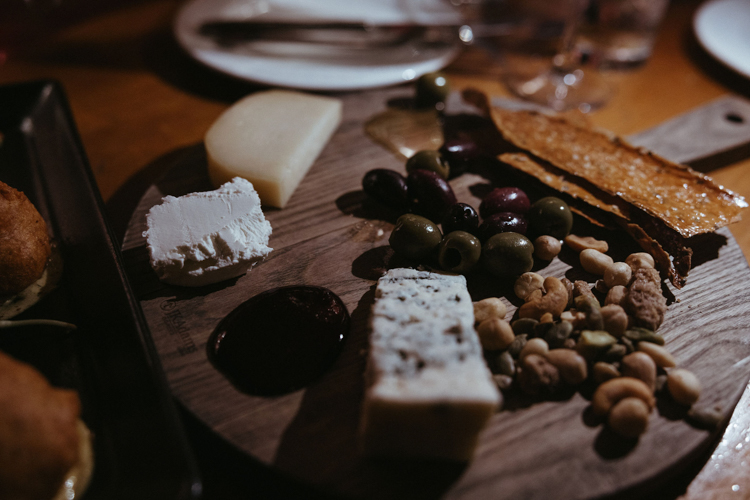 These fried little balls were called Blue Crab Beignets and they were delicious!!!!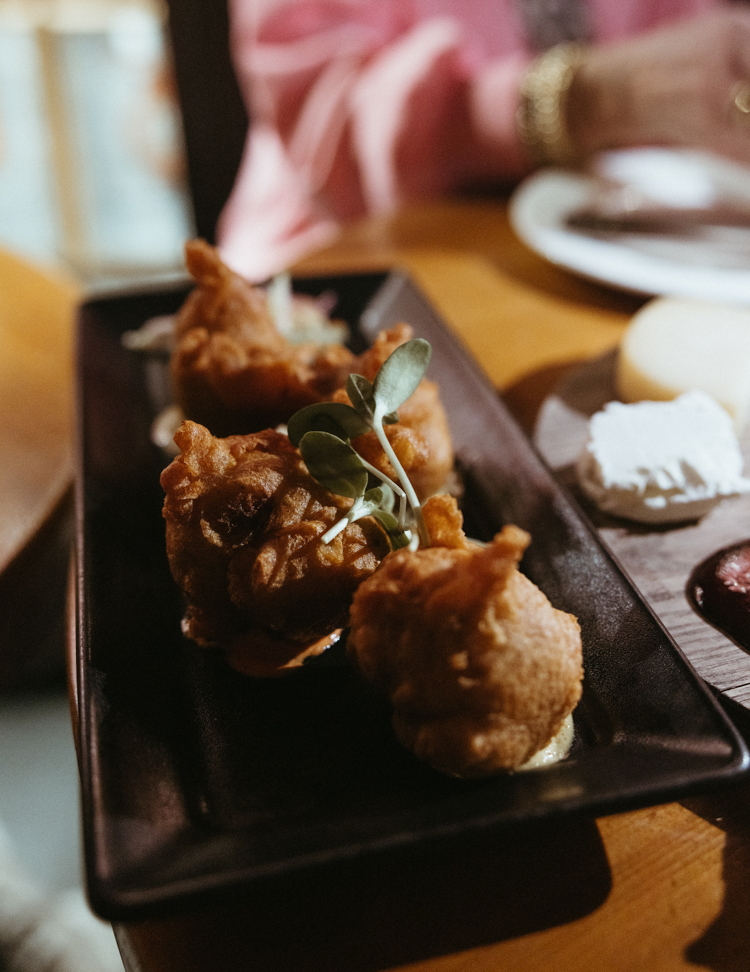 More delicious food is within walking distance if you want to venture outside the hotel.
Curio is out the door of the hotel and around the corner.  Nice and close.  Lots of good food choices.  I, of course, had to try the crab cakes again. 😉 They were delicious but very different from the previous ones.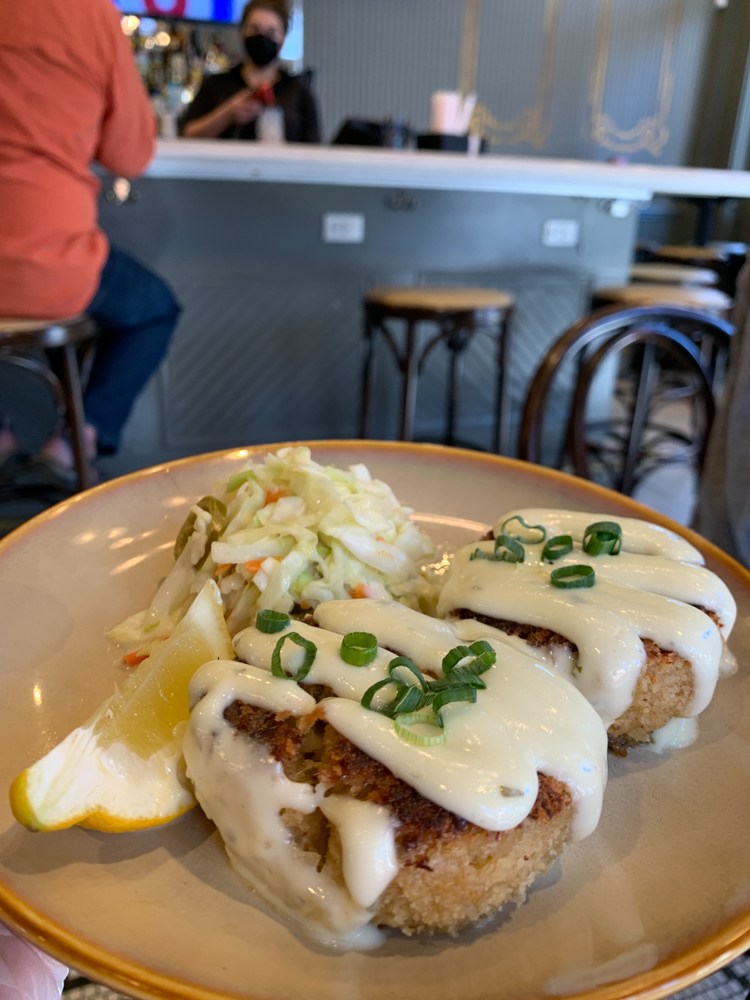 Straight across the street from the hotel is the cute Cafe Beignet.  It boasts a darling outdoor courtyard with live jazz music! Yay!!  Good food and good jazz.  What more do you need in New Orleans?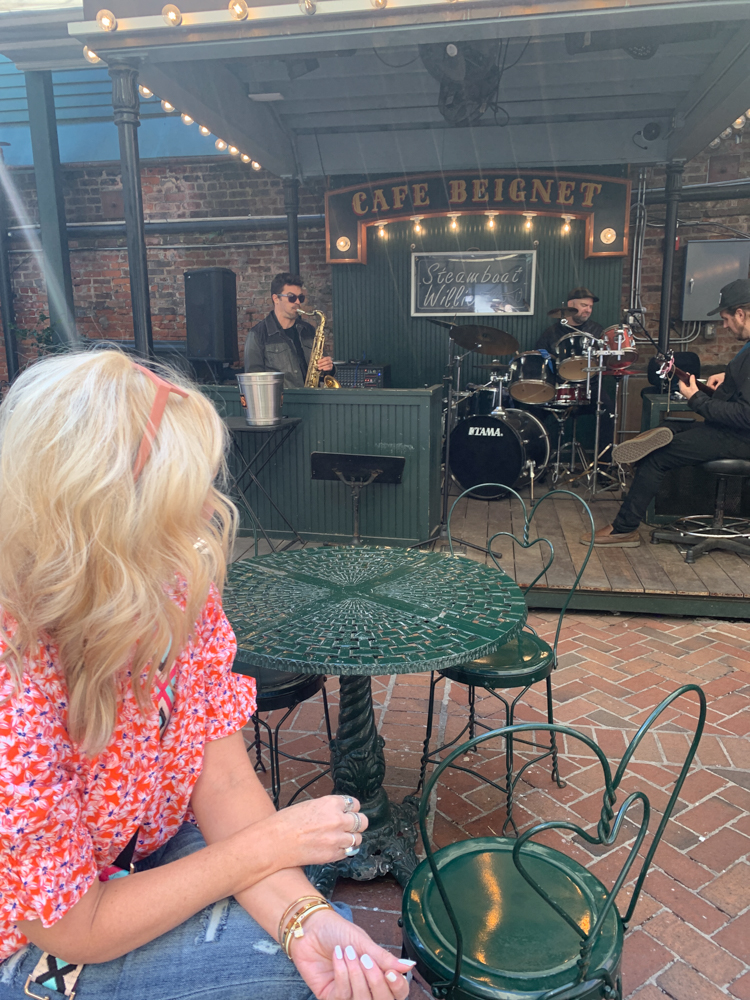 I tried my very first beignet here!!!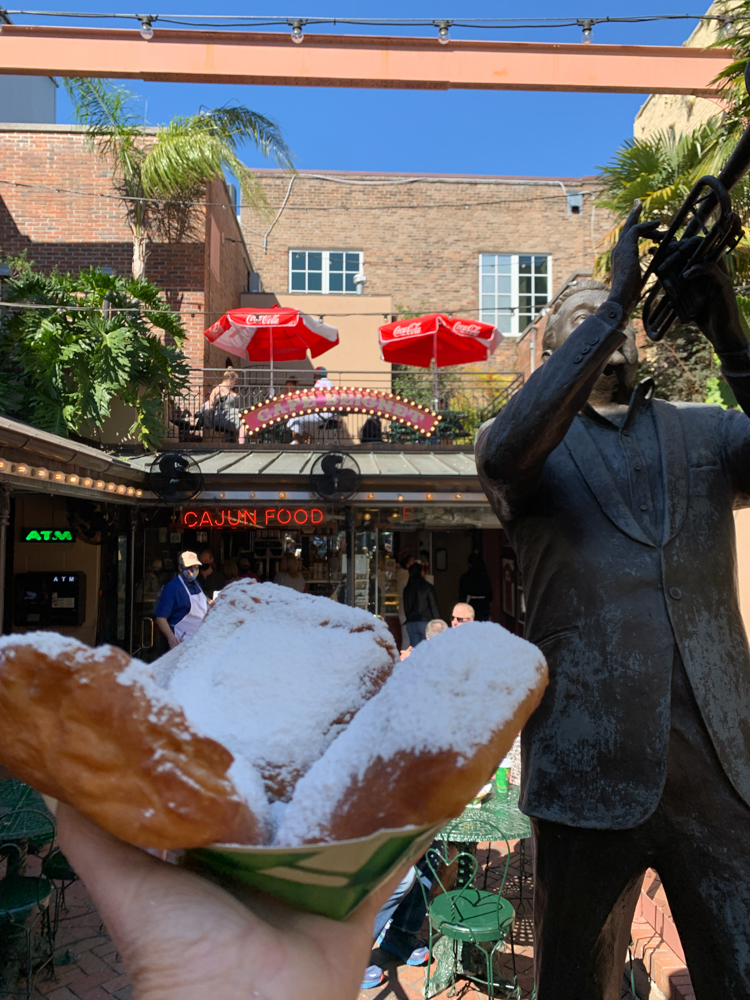 Definitely do some street strolling during your stay!
The French Quarter is nothing like where I live, so Shey and I went out every single night while we were there.  Sometimes, we would walk to the Walgreens on the corner for a snack and other times we would just walk as we watched people.  Boy… THAT is entertaining!!!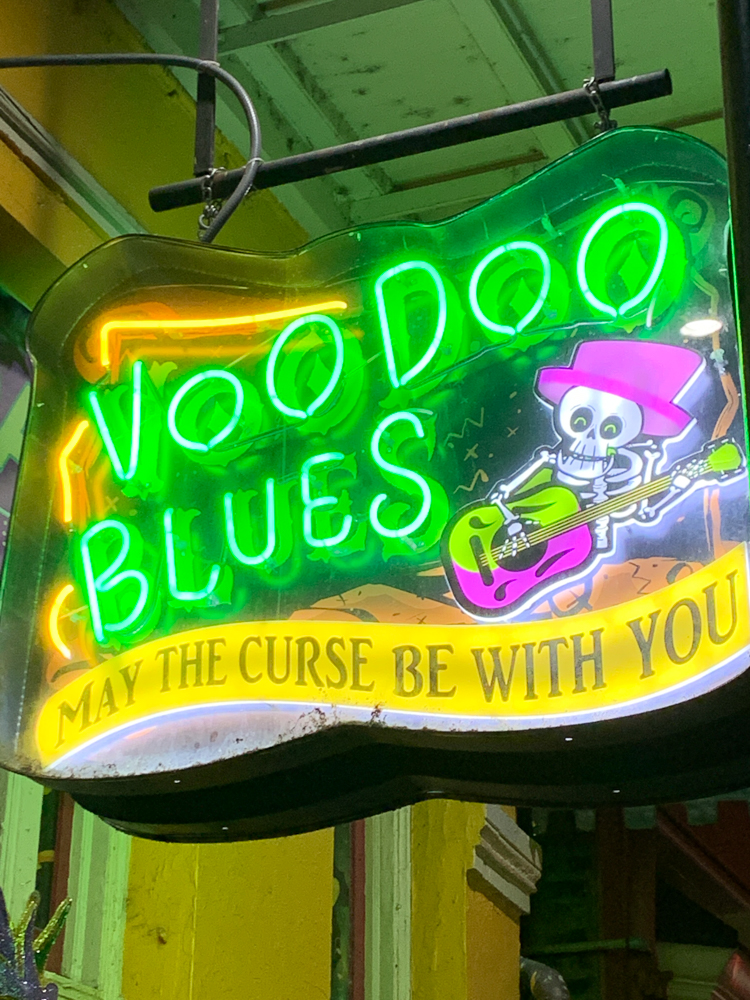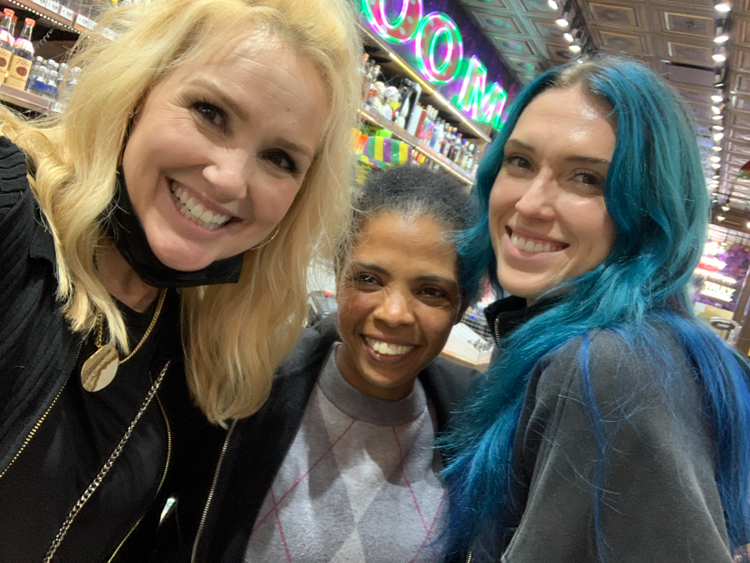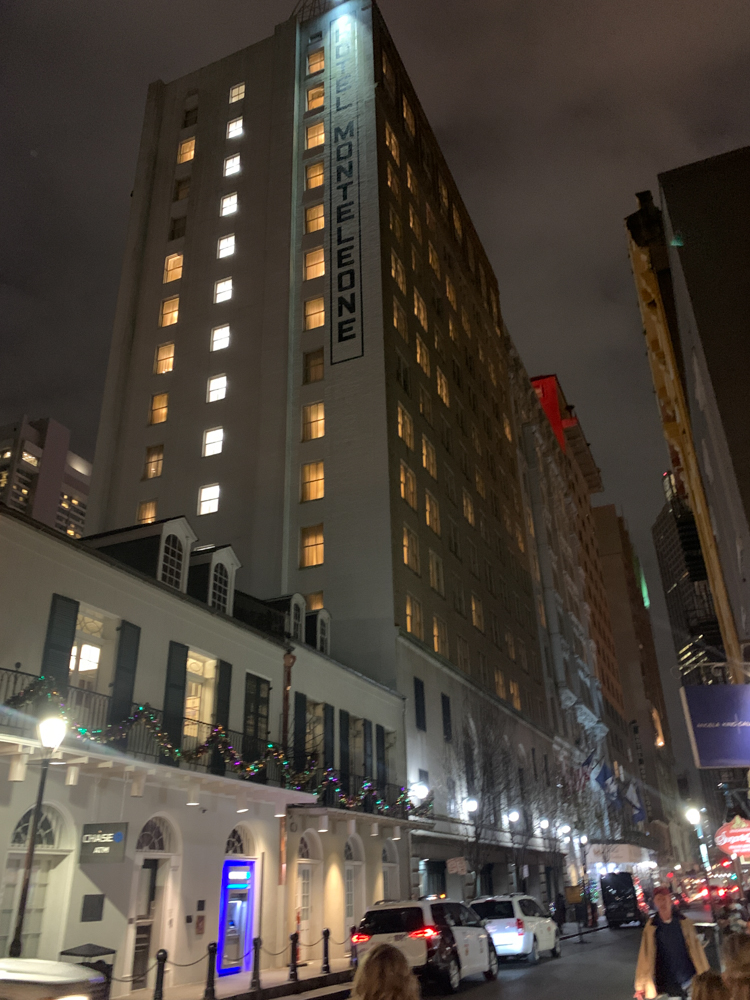 A GIFT FOR YOU!!!
Kudos to you if you've made it this far!  Now for the SPECIAL. Royal Sonesta has so generously offered a code for YOU to go enjoy the New Orleans experience at a discount.
They would like to offer you 15% off best available rates on stays Sunday – Thursday.
Book by February 28, 2022.
Stay by September 30, 2022
Promo code: RNOPR
CLICK HERE to take advantage of this offer.
I hope this has helped you in finding where to stay and eat in New Orleans!
Have you been?  I'd love to hear!
We feel blessed to have been able to visit New Orleans as a group and happy to share about our experience with Royal Sonesta.  Be sure to check the other girls as they are also sharing the experience on their blogs today.
DARCY // LISA // MICHELLE // CINDY

Thank you so much for being here, I appreciate you stopping by my blog!
You can also find me on Instagram, Facebook, Pinterest, and YouTube.

Have you seen January's Top Ten Best Sellers?
The Rolling Stones T-shirt that everyone needs!