3 Ways To Style A Neutral Blazer…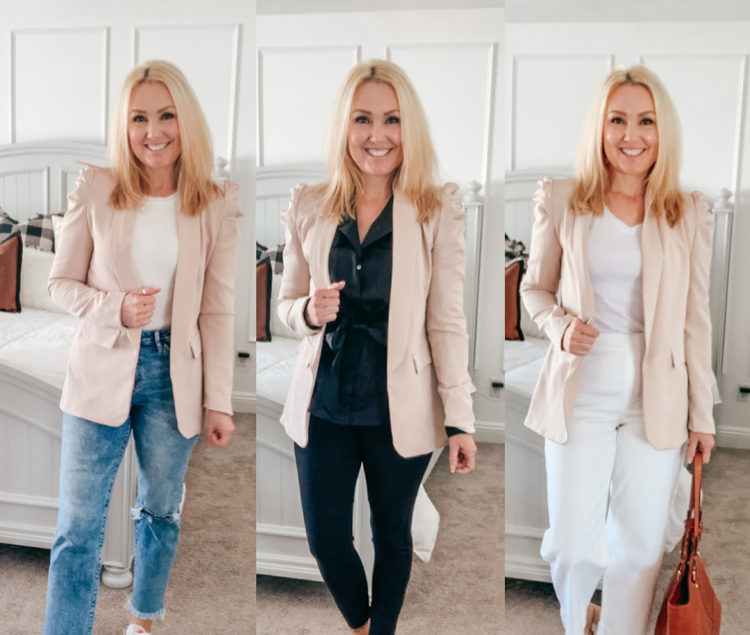 Since it's neutral, there are probably a million ways to wear it!
But today I am sharing the 3 easiest ways to style a neutral blazer.  Anyone could pull similar items out of their closet and copy these looks. I am highlighting the Estee Blazer from Shop Avara which is part of an outfit that I got for our recent trip to New Orleans.  The ruched sleeves and adorable puff at the shoulder give this a very flattering appearance.  Blazers are not just for work outfits anymore, although they are perfect for that.  These days, it's not uncommon to see them paired with jeans, shorts, and even sweatsuits!

NUMBER ONE…
Jeans, a long sleeve sweater, and some sneakers.  The Natalia High Waisted Distressed Cropped jeans are also from Shop Avara and I love the little bit of distressing at the knee and the raw hem.  The straight leg is my new favorite cut of jeans and how cute will they be with a darling neutral sandal in the summertime?? I love the long sleeve sweater because it gives the appearance of a bodysuit, without the uncomfortable snap in the crotch. YAY!! (see THIS post) And these sneakers are an all-time favorite…go with everything… you'll-be-glad-you-got-them sneaker.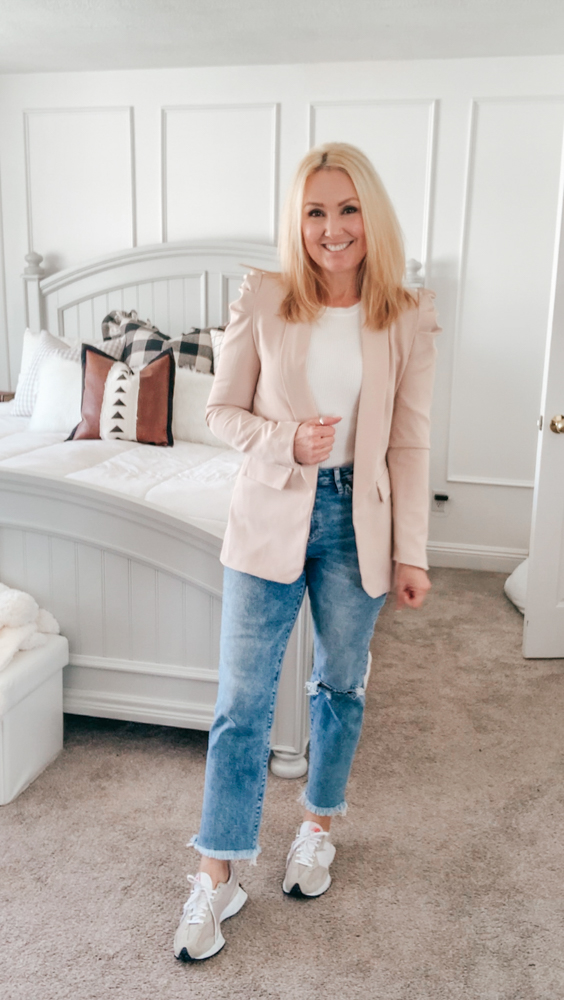 blazer  |  jeans  |  sweater  |  sneakers 
NUMBER TWO…
Wear the blazer with all black.  This look is always a stunner! I've paired it with the Spanx Perfect Pant with the cute notch in the back of the ankle and the pretty Tie Waist Poplin Shirt from WHBM.  This top is so flattering as it ties at the smallest part of your waist.  Then I finished it off with a darling pair of animal print heels for added interest and I love how it looks!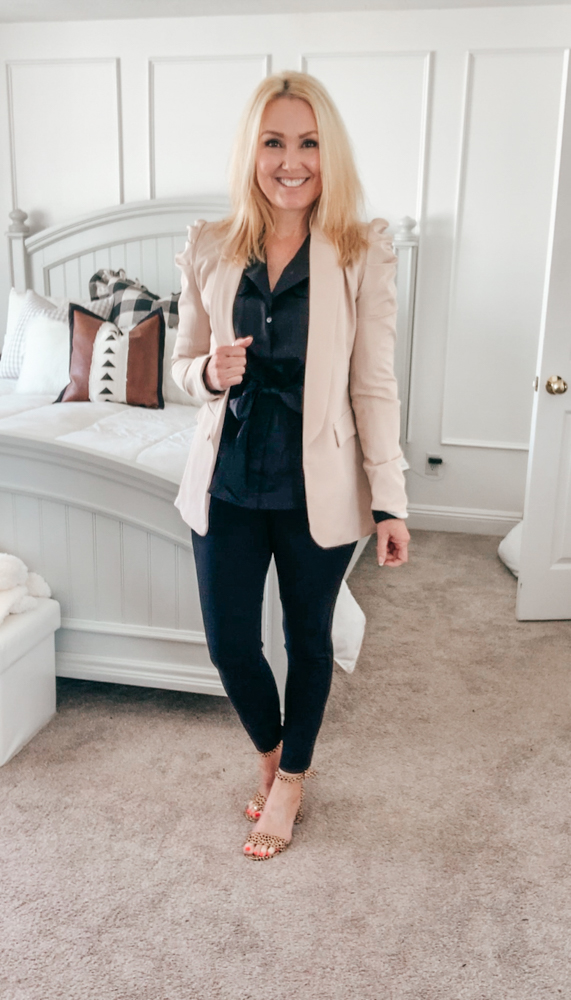 blazer  |  top  |  pants  |  similar shoes
NUMBER THREE…
The last of the 3 ways to style a neutral blazer is to wear it over an all-white outfit and add a nude shoe.  I adore these Cropped Wide Leg Pants for spring and summer! If you think you can't wear white wide legs because you think it might make you look big… I urge you to try them with this classy blazer! It gives just enough slimming coverage and is such a fresh look!  This t-shirt is my all-time favorite white t-shirt that you can't see through.  It's a staple for summertime.  These heels are old and gone… but I have linked some similar that are actually on their way to my house as we speak!!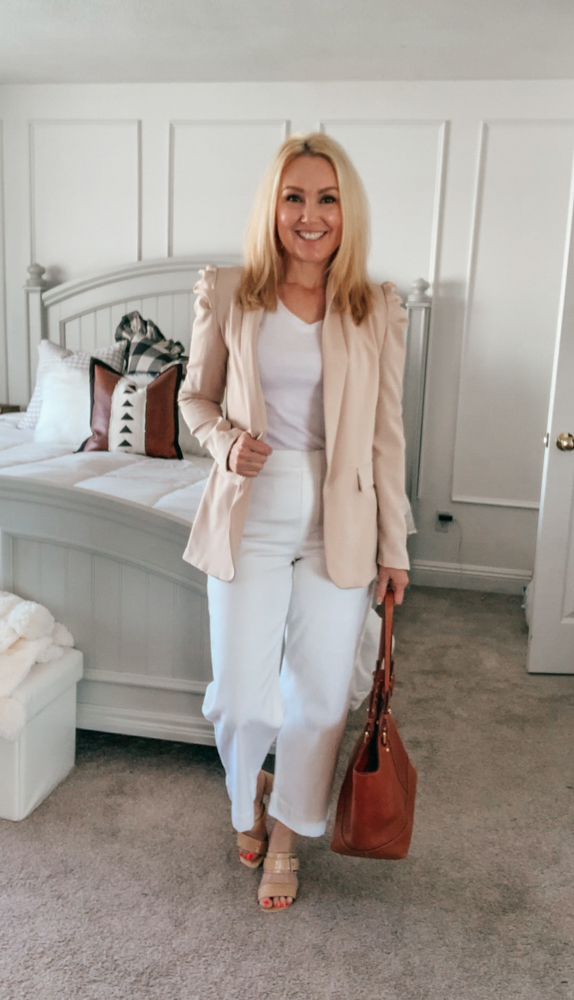 blazer  |  pants  |  t-shirt  |  similar shoes  |  bag 
That's it!
3 ways to style a neutral blazer that are EASY PEASY!  I really think anyone could pull similar items from their closet to recreate the looks. Now, you just need this awesome blazer!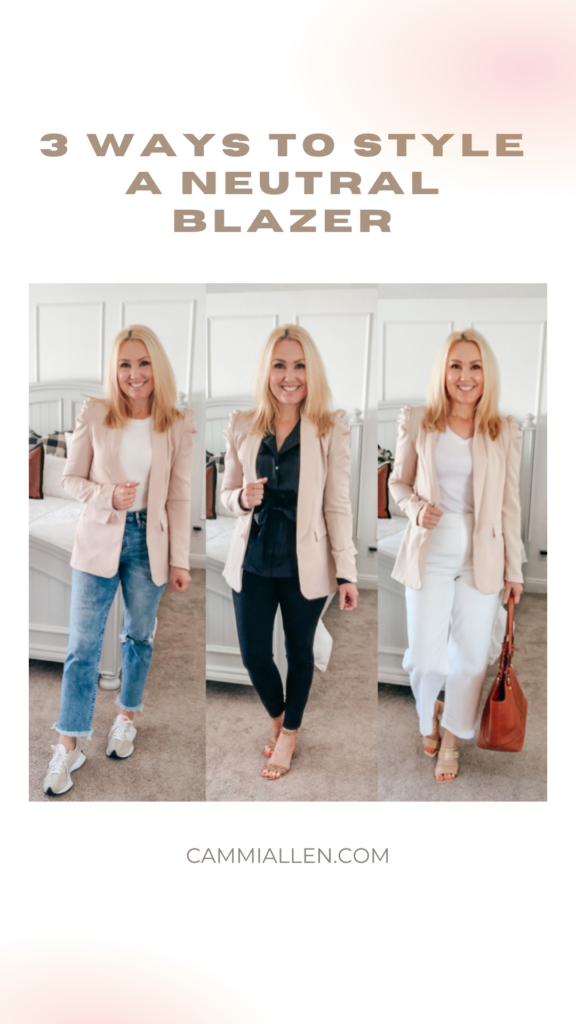 Thank you so much for being here, I appreciate you stopping by my blog!!
You can also find me on Instagram, Facebook, Pinterest, and YouTube.

If you liked this post, you might like THIS ONE as well!