7 Outfits To Wear In San Diego… Spring Edition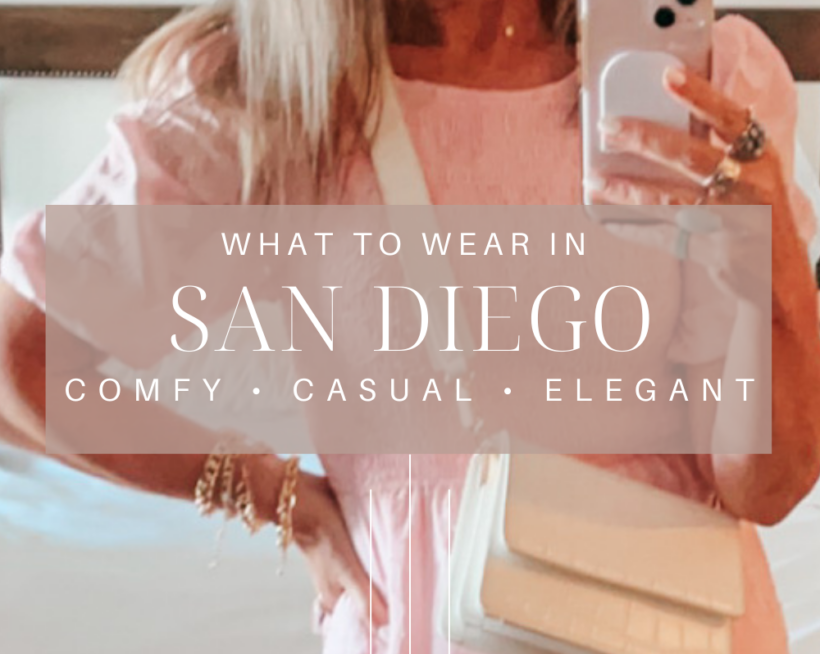 Don't you love a good road trip to get out of the snow and enjoy the sunshine? Our recent trip to San Diego to see our son who lives there was so therapeutic for him and us, both! I shared what I wore daily on Instagram, but I thought I would put all the outfits here in one spot. So today I am sharing 7 outfits to wear in San Diego in the springtime!
The sunshine state wasn't too sunny!
I checked the weather before packing and knew it was going to be cooler. So I was strategic in what pieces I took with me. San Diego in the springtime can be quite chilly! Especially if it's raining and windy, which it was for us.
Fun Fact: this was the warmest day as seen from the Live Cam at the Hotel Del Coronado and can you see me down there by the blue lifeguard station?? Yup, that's me waving!!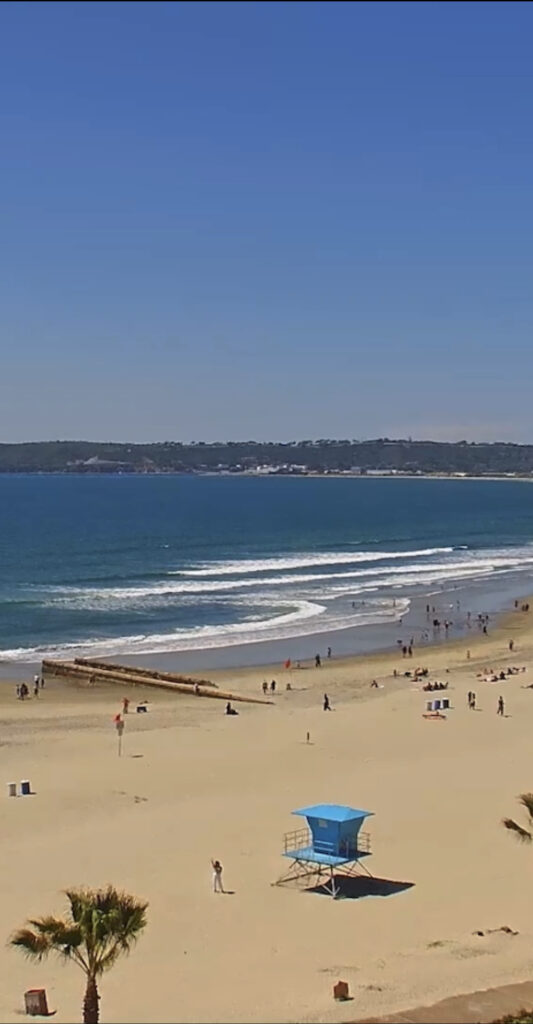 Outfits to wear in San Diego
I decided it might be fun to build all of my San Diego outfits around a basic Spanx piece for every day of the trip! And it was actually REALLY fun and an easy way to pack.  Not only are Spanx pieces timeless and great quality, but they are so comfortable.
AND…get a discount on anything from Spanx as well as free shipping and free returns with code CAMMIXSPANX.
Our trip happened to fall over a Sunday and I had just gotten in a really cute dress that I wanted to wear, so that was my ONE outfit that wasn't Spanx.
Let's get to it!
Here they are.
Day 1
A good top, comfy pants, and a cardigan are a perfect traveling outfit because if you aren't cold, you can use the cardigan for a pillow on the drive, ha!
Here, I am wearing the cozy AirEssetials Cocoon. I sized up one size more than my normal because I wanted it to be plenty oversized and roomy. The olive top is actually the Suit Yourself Ribbed Bodysuit. I sized up two sizes from my usual small to a large. The reason for that is that I wanted the extra room in the arms because they are a little tight and I wanted more room in the length to be able to snap it. The large is perfect for me.
The bottoms are the Perfect Double Slit Pants in my regular size medium… oh man, I love these pants! The big slit looks great with sneakers or dressed up with heels.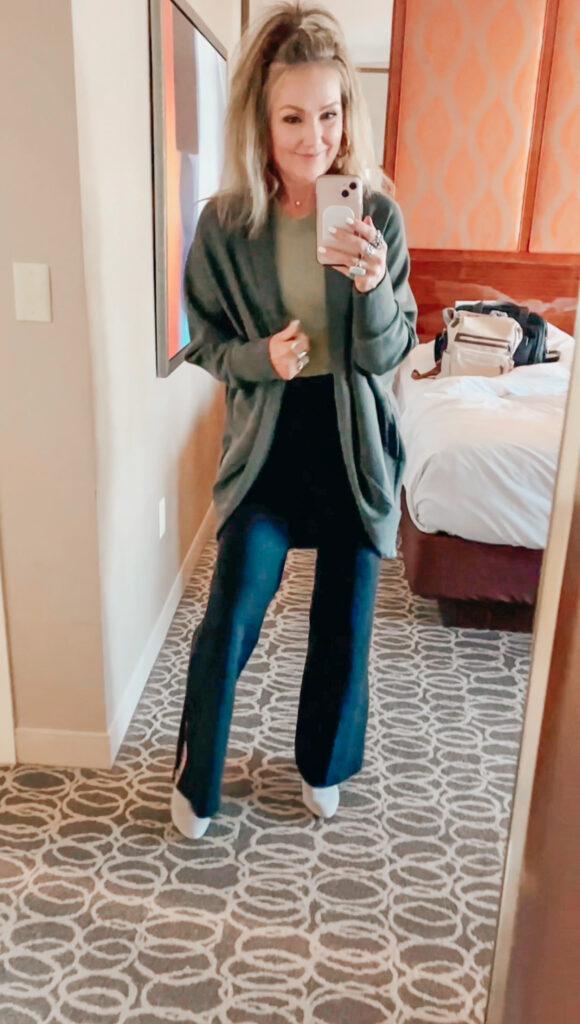 cocoon cardigan  |  bodysuit  |  slit pants  |  similar shoes here  |  necklace 
Day 2
This next outfit was Pinterest inspired. And if you're not following me on Pinterest, I have SO many great outfit ideas for women over 40. Find and follow me here.
The star of the show is the Seamed Front Wide Leg Pants. They also come in a blue denim color. I am wearing my true size medium. They give off such fun retro vibes while holding you in nicely in true Spanx style!
Typically, with a wider leg, you would keep the top more fitted for good "outfit balance." But this black tie waist top gives the same balance by accentuating the waist.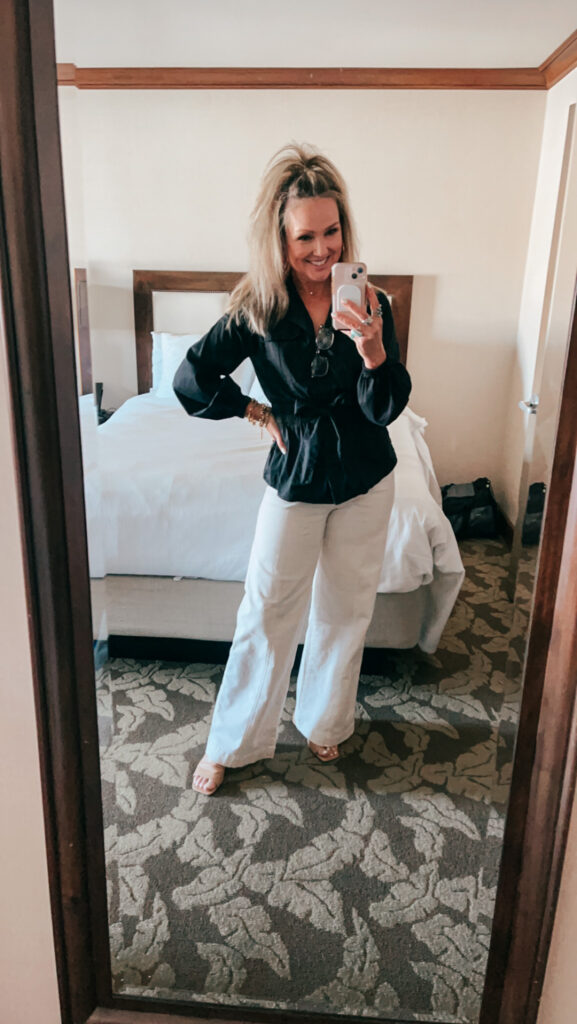 wide leg pants  |  similar top here, here, + here  |  sandals
Day 3
This was the one outfit that was not Spanx. I ordered this pretty Pink Smocked Dress on Amazon and I couldn't be happier with it! It is just as precious as it looks and fits very nicely. The bodice is smocked and the skirt is lined, you can kind of see the built-in slip underneath. I am wearing my true size small.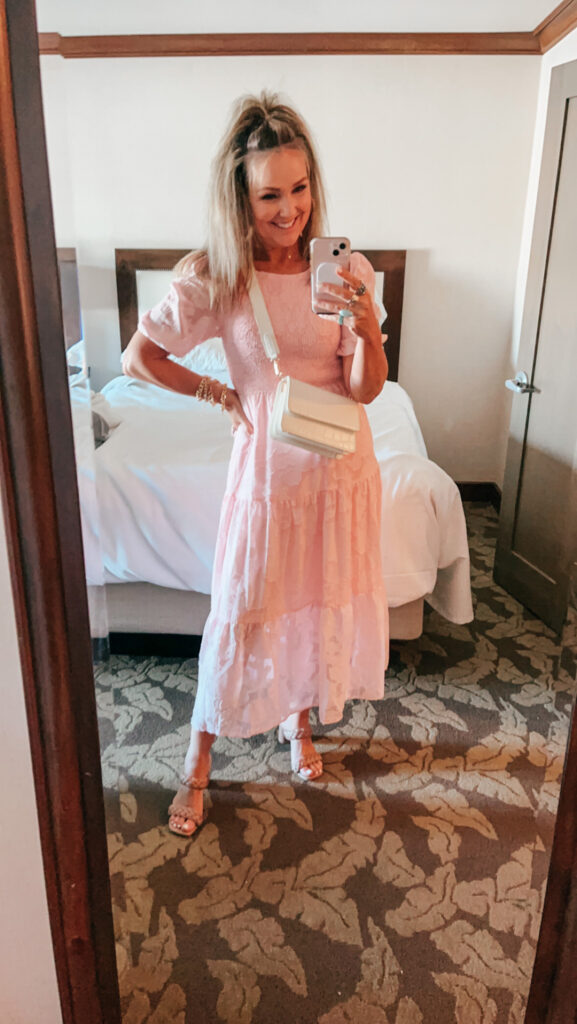 dress  |  crossbody  |  shoes  |  bracelets  |  earrings 
Day 4
This might be my favorite outfit … on the trip and forever! Why??
Because it's casual, comfy, and classy all at the same time!
I wore this to walk around the Hotel Del Coronado and was perfectly comfortable.
I'm wearing the Perfect Pant Ankle Backseam Skinny pants and would definitely size up one. I'm wearing my usual size medium but they are very tight. However, the oversized Button Down Tunic is nice and long, and covers, where I feel, are too tight. I love it!
And how great does it look peeking out from underneath this awesome blazer.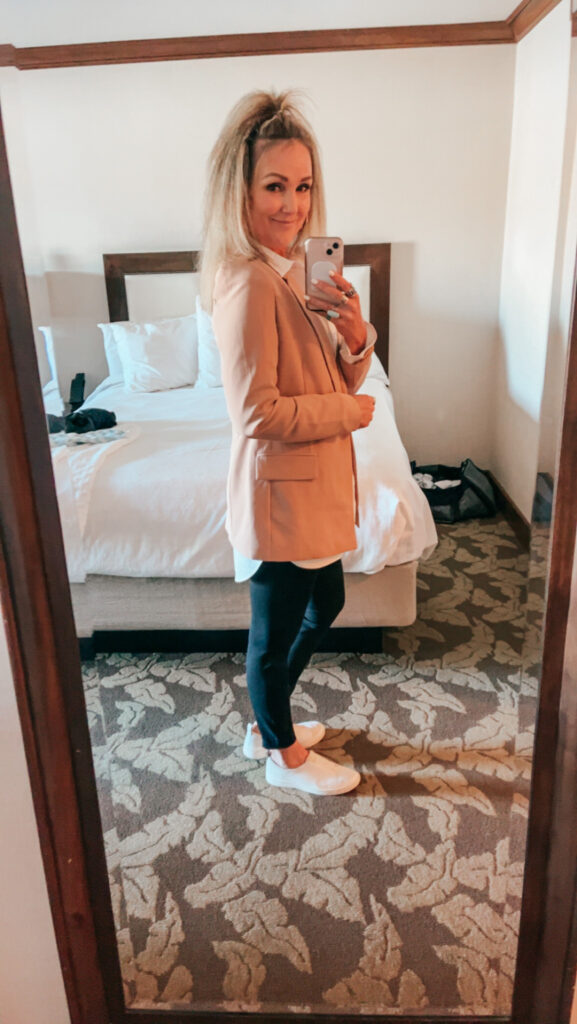 The finishing touch on this outfit are the most comfortable sneakers ever… The Zinah Slip On Sneaker from Vionic. I was walking all over Hotel Del in pure comfort.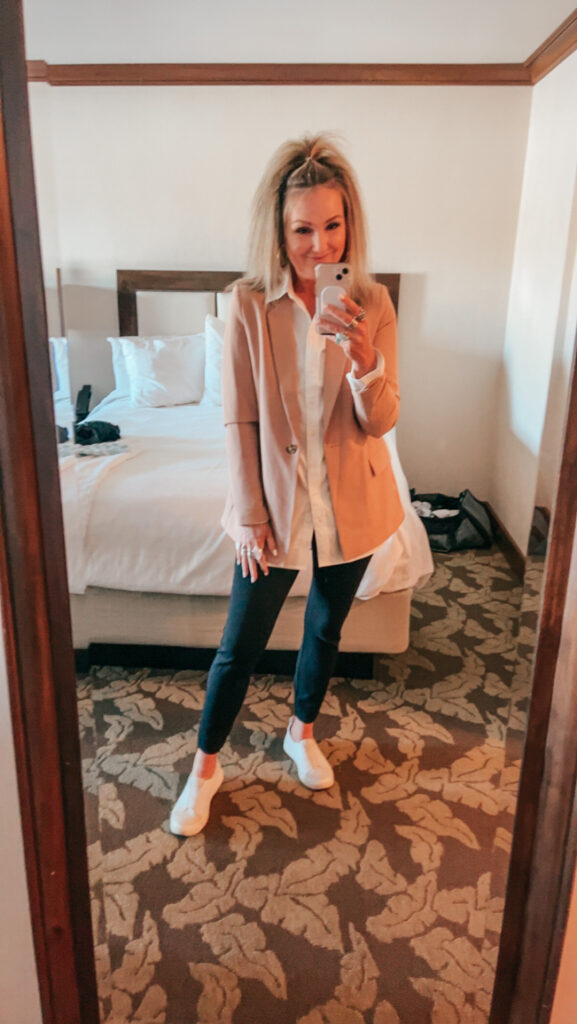 pants  |  white button down  |  blazer  |  sneakers 
Day 5
I saved this outfit for the warmest day there. It's precious.
The Chandler Top is so pretty paired with the Stretch Twill Cropped Wide Leg Pants, making a darling outfit to wear in San Diego.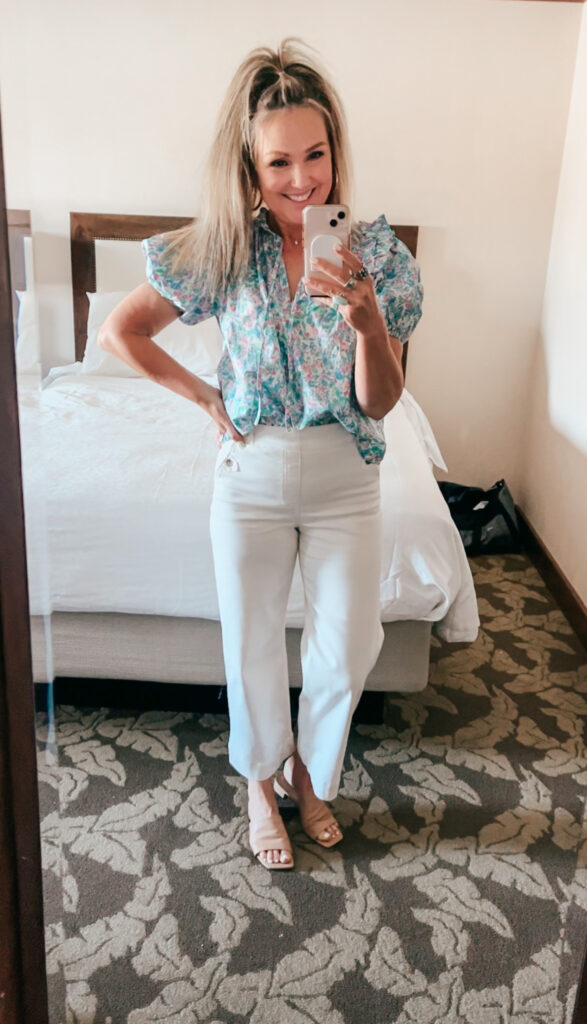 Day 6
To me, the color of this outfit wins a gold star!
The Ribbed Bodysuit in color raisin goes SUPER WELL with the Stretch Twill Wide Leg Cropped pants in the color cedar.
These are the same pants as the white ones above and I really would like them in every color!!!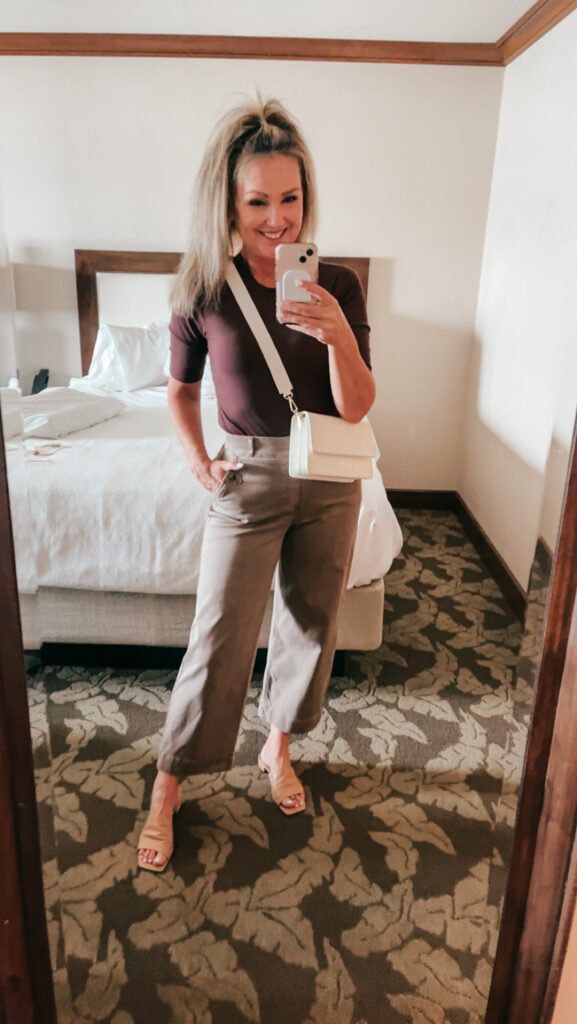 bodysuit  |  pants  |  sandals  |  bag
Day 7
This was the last day… just 4 hours away from home.
I left the hotel in the Double Slit Pants, a white t-shirt, and an oversized denim tunic.  A very relaxed and comfortable outfit for a road trip.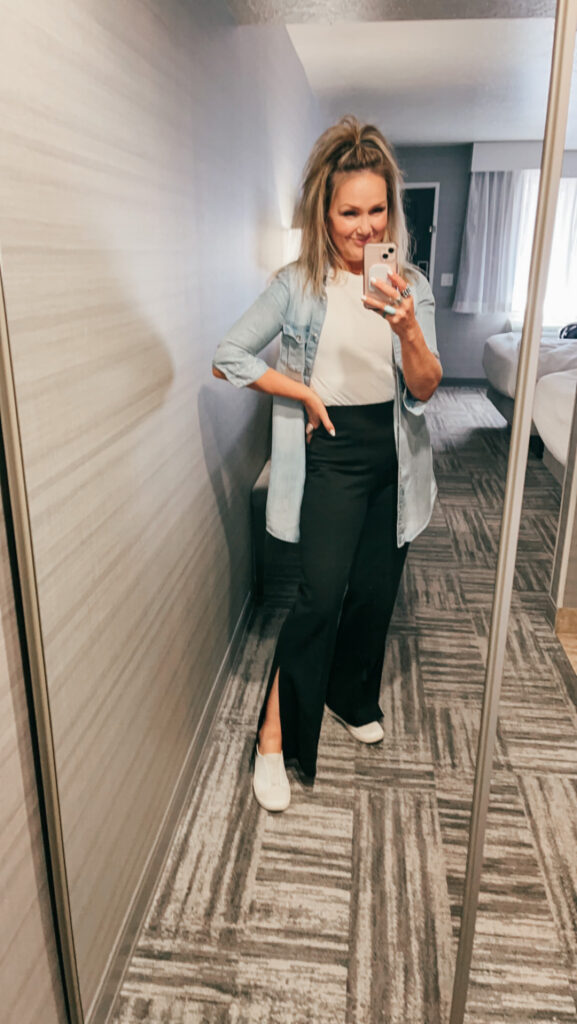 pants  |  t-shirt – I sized up one size  |  similar denim shirt  |  sneakers 
Bonus outfit
I can't leave out this awesome traveling outfit that I actually wore on the very first day of the road trip but didn't get a photo of.
The Air Essentials Tapered Pant and Crew Neck Sweater are the perfect traveling pair!
They come in other colors and are the most comfortable fabric EVER.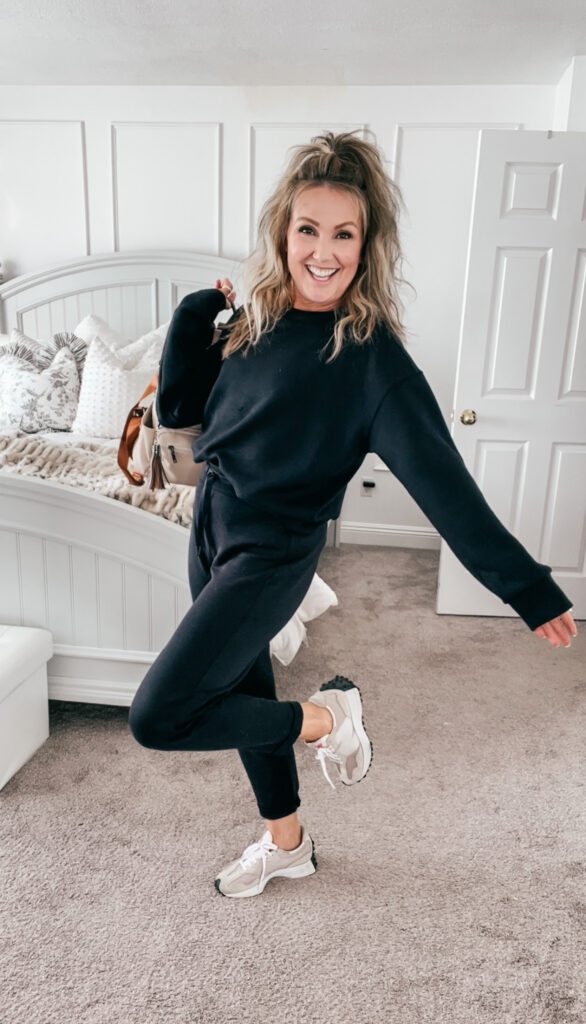 pants  |  sweater  |  sneakers  |  backpack
That's it!
Some great outfits to wear in San Diego.
Thank you so much for being here, I appreciate you stopping by my blog!!
You can also find me on Instagram, Facebook, Pinterest, and YouTube.

Lose 12 pounds before your next vacation! Read here.
For modest maxi dresses that will have you turning people's heads, click here.
Use this packing list and find great swimsuits for your next trip.
This post contains affiliate links.  This means I may earn a small commission if you purchase through my links at no extra cost to you.  Purchases made through affiliate links are greatly appreciated as they help to support the blog and continue its production.  Thank you so much!