The Khaki Shirt Dress…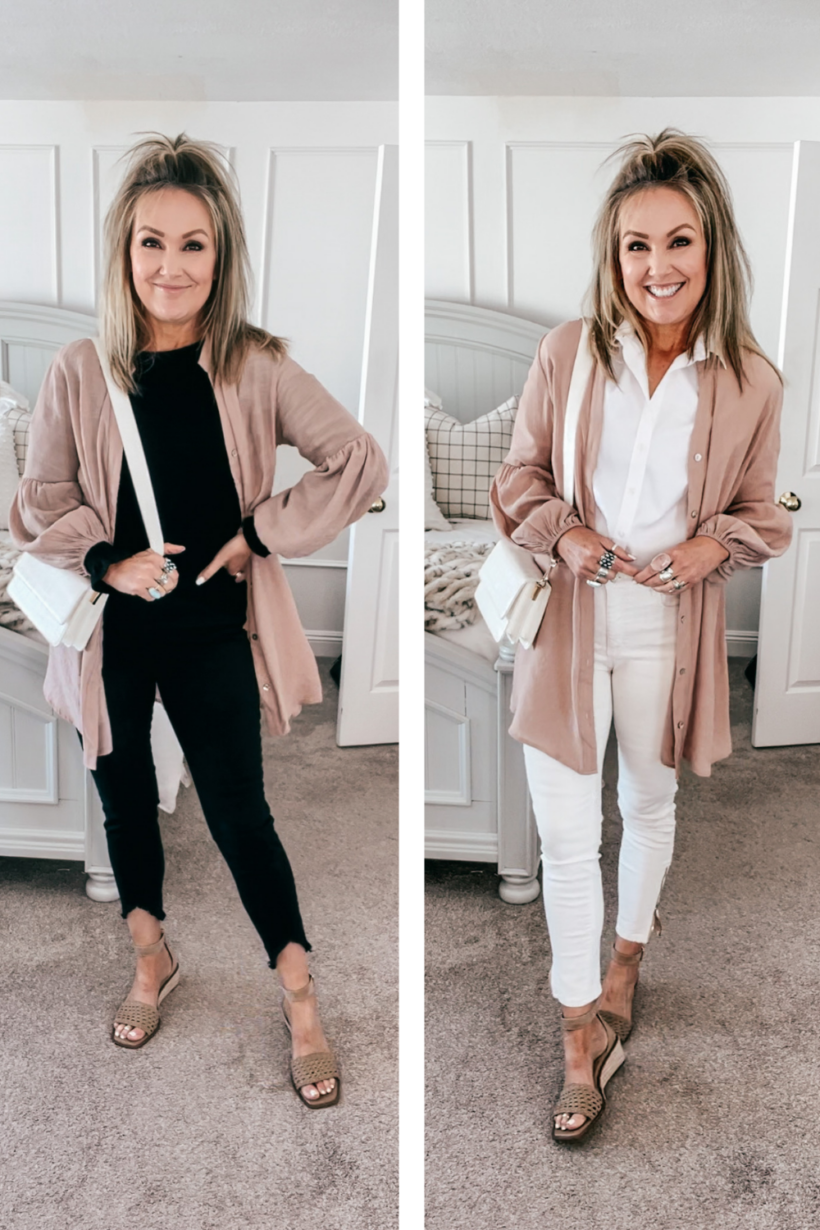 I really couldn't be happier about this khaki shirt dress that I got recently!! I am excited to share it with you today because you will get a LOT of wear out of it! While you are packing your bags for vacation or your beach bag for the pool, throw this in there! I promise you will be glad you did.
The khaki shirt dress
Why do I love it?
I was really drawn to the neutral khaki color of this dress.  It is the perfect third piece to go over any outfit, including a swimsuit! The other thing I love is the lantern sleeve!!! They really make a statement hanging long and loose like they do.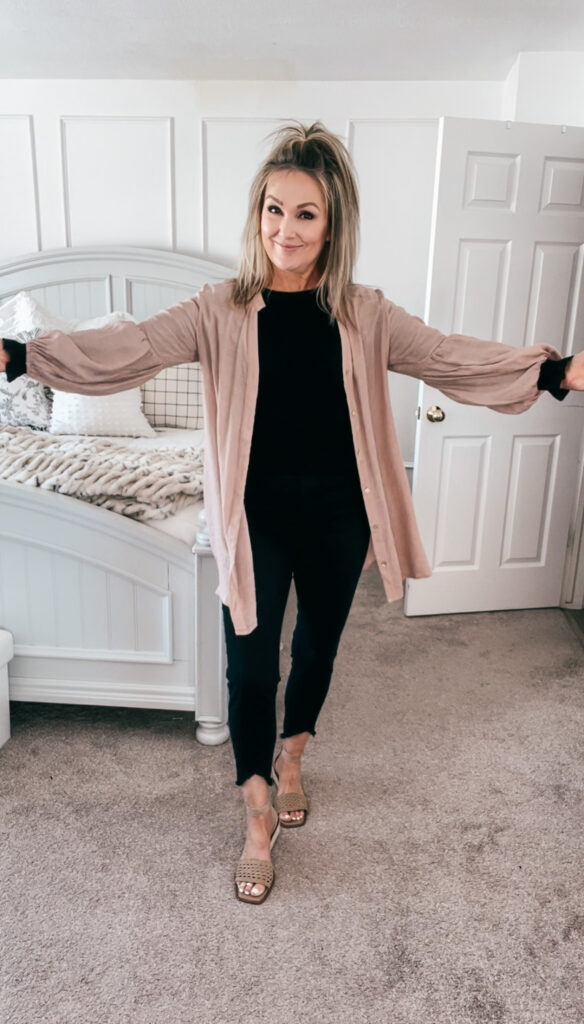 shirt dress  |  black jeans  |  black top  |  sandals  
It is a relaxed and oversized fit that hangs nicely over whatever you wear with it. And it's super budget friendly at just under $26.
Oh and hey! If you prefer more color in your life, this shirt dress comes in a pretty green or blue as well as all the other neutral colors.
What should you wear with the khaki shirt dress?
Well, here's my favorite style tip:
Wear the same color top and bottoms, then add a different color in the topper.
So here you can see I've worn a black top and black jeans and the khaki shirt dress looks fabulous as an extra layer that isn't too heavy. The top has a really cute cuff so I left the sleeve peeking out from underneath at the wrists.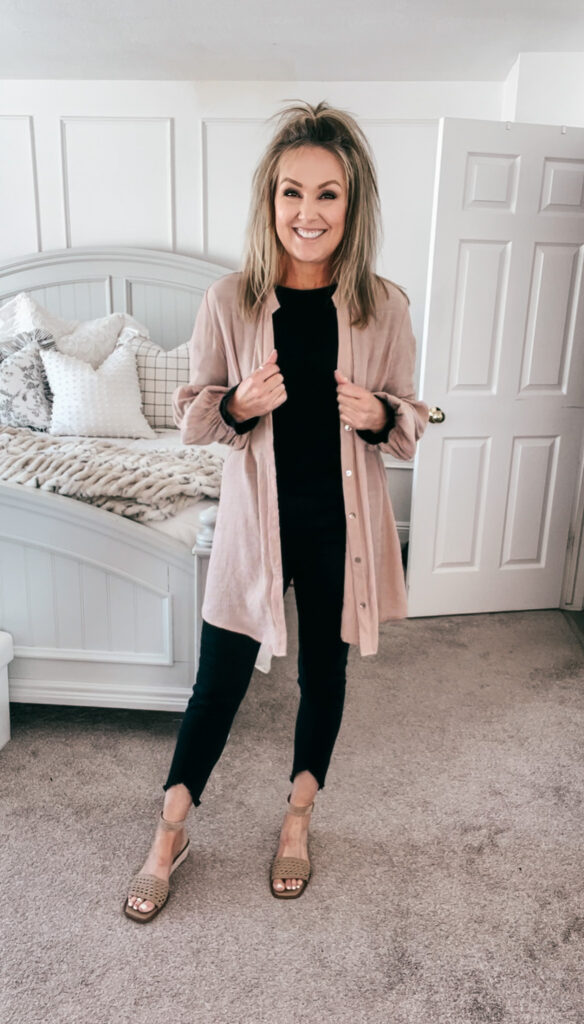 shirt dress  |  black jeans  |  black top  |  sandals  
These jeans I would say are a MUST HAVE!
I love a good pair of black jeans in the summer, they are slimming and a basic staple. The shark bite hem is what sold me on them. And the comfort factor gets an A PLUS!!!!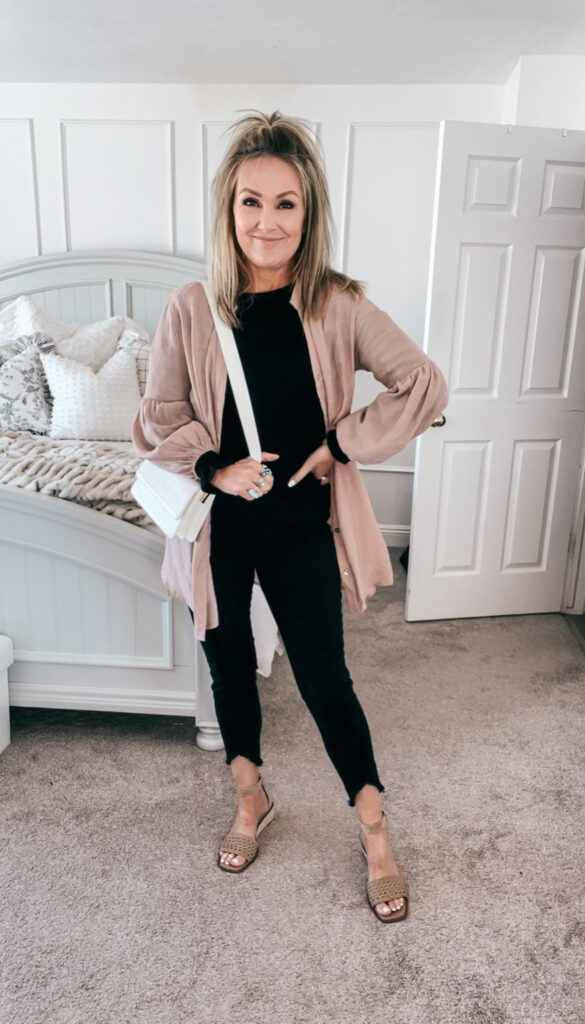 shirt dress  |  black jeans  |  black top  |  crossbody bag  |  sandals  
Here you can see I've done the same type of "column dressing" but this time with white.
I love it just as much with white!!!
shirt dress  |  similar pants  |  white button down  |  sandals  |  crossbody bag
This is a really great look for women who want to hide their midsection a little too. If you are feeling a little heavier than you would like, this helps to cover things and makes you feel more confident.
Side note: trying to lose weight? You've got to read this!!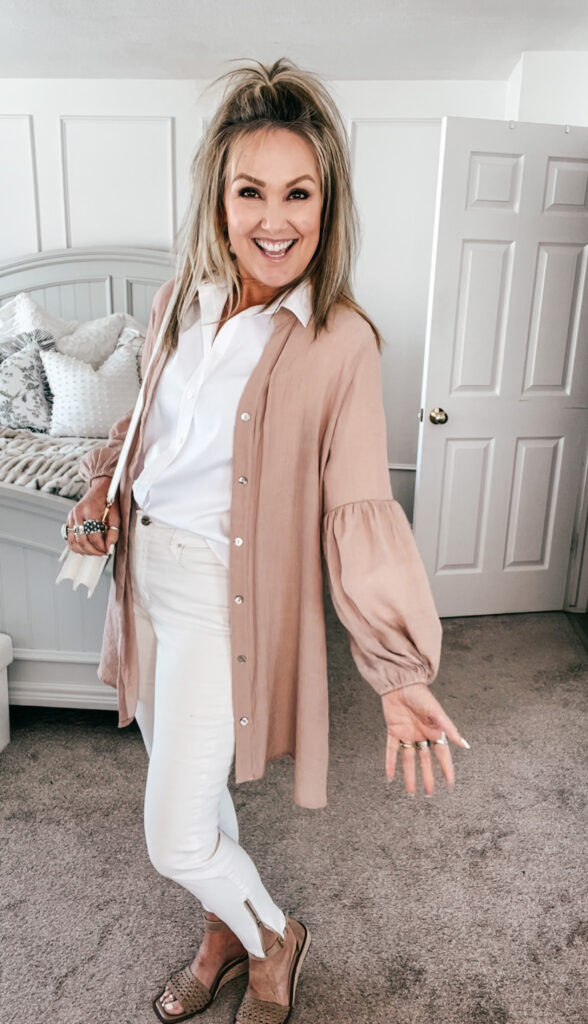 shirt dress  |  similar pants  |  white button down  |  sandals  |  crossbody bag
Just pair your favorite white slim-leg jeans with a white button-down shirt and wa-la! The zipper jeans that I'm wearing are old but I've linked some white jeans that are NOT see-through and are classic, not trendy. That way, you'll have them in your closet forever.
Everyone needs a great pair of white jeans!!
And if you don't have a really good white button-down, this one is wrinkle resistant and my favorite one EVER!!! Wear it under overalls, overall dresses, under cardigans or anything.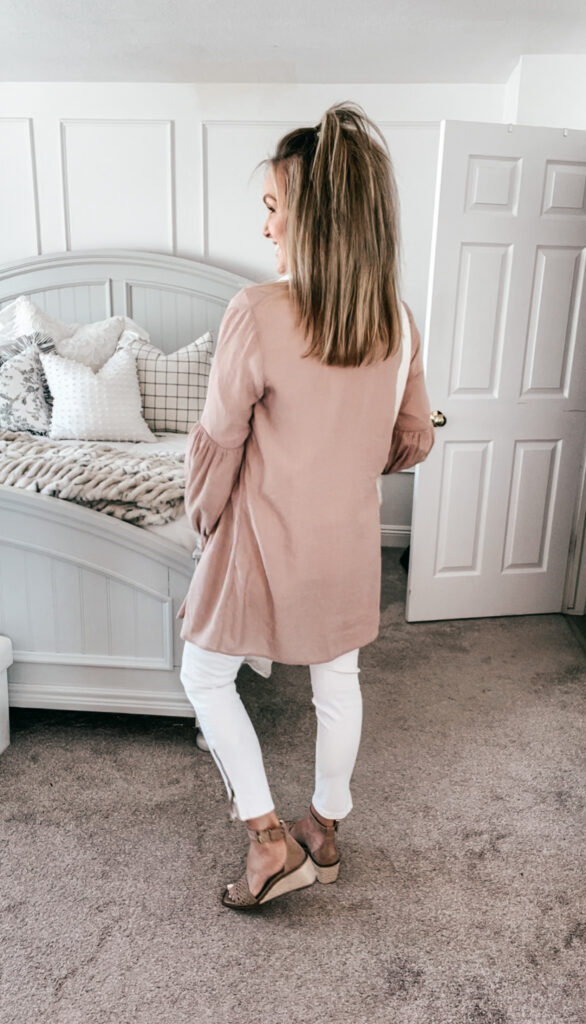 shirt dress  |  similar pants  |  white button down  |  sandals  |  crossbody bag
How else can you style this shirt dress?
Well, you could wear it as an actual dress… some do…but that wouldn't be my recommendation as the fabric is a little see-through.
I say, keep it as a third piece and wear it as a swimsuit coverup at the beach!!!
Or wear it over shorts and a tee on vacation while you stroll the boardwalk.
What about wearing it over this year's trending denim maxi skirt?
Which is your favorite?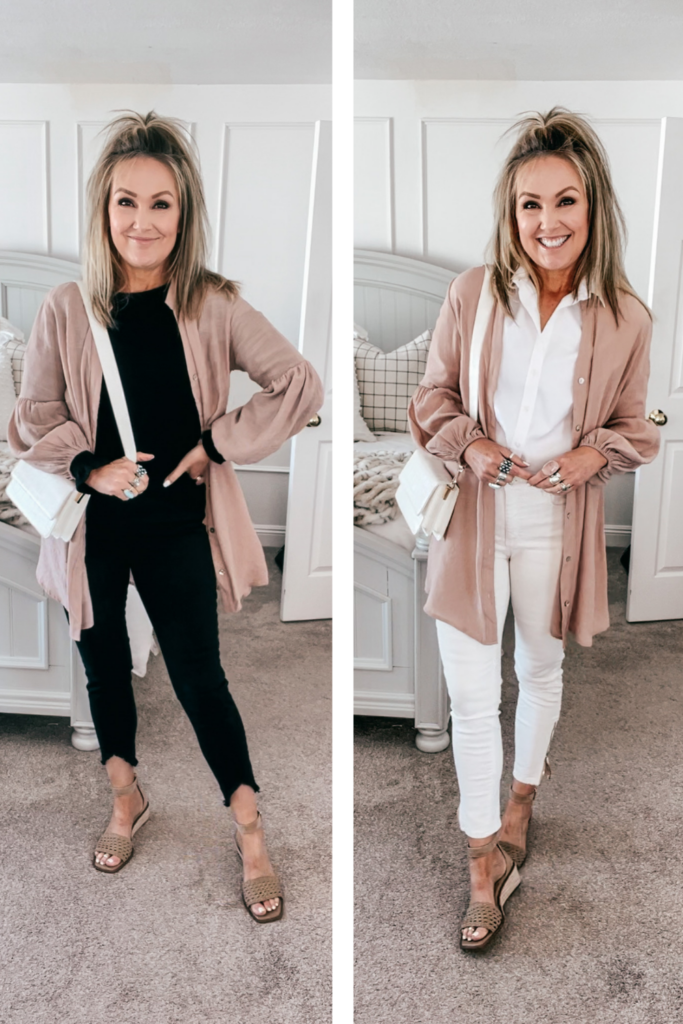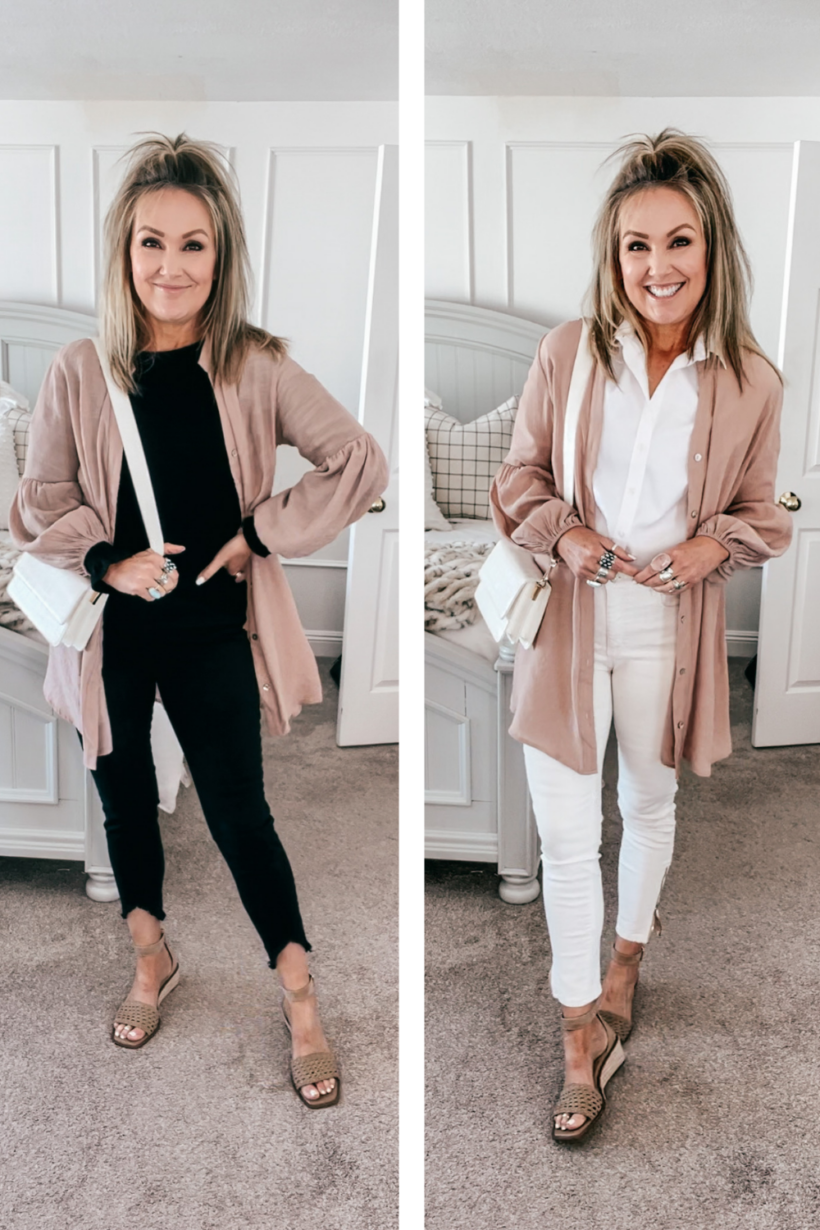 Pick an idea and copy it!
I love copying outfits. 😉
Thank you so much for being here, I appreciate you stopping by my blog!!
You can also find me on Instagram, Facebook, Pinterest, and YouTube.

Don't pack your suitcase without this comprehensive packing list! 
Going on a cruise? Remember to pack these 5 things!
If you are heading to San Diego this spring, I've got your outfits ready for you! 
This post contains affiliate links.  This means I may earn a small commission if you purchase through my links at no extra cost to you.  Purchases made through affiliate links are greatly appreciated as they help to support the blog and continue its production.  Thank you so much!