Caribbean Cruise 2023…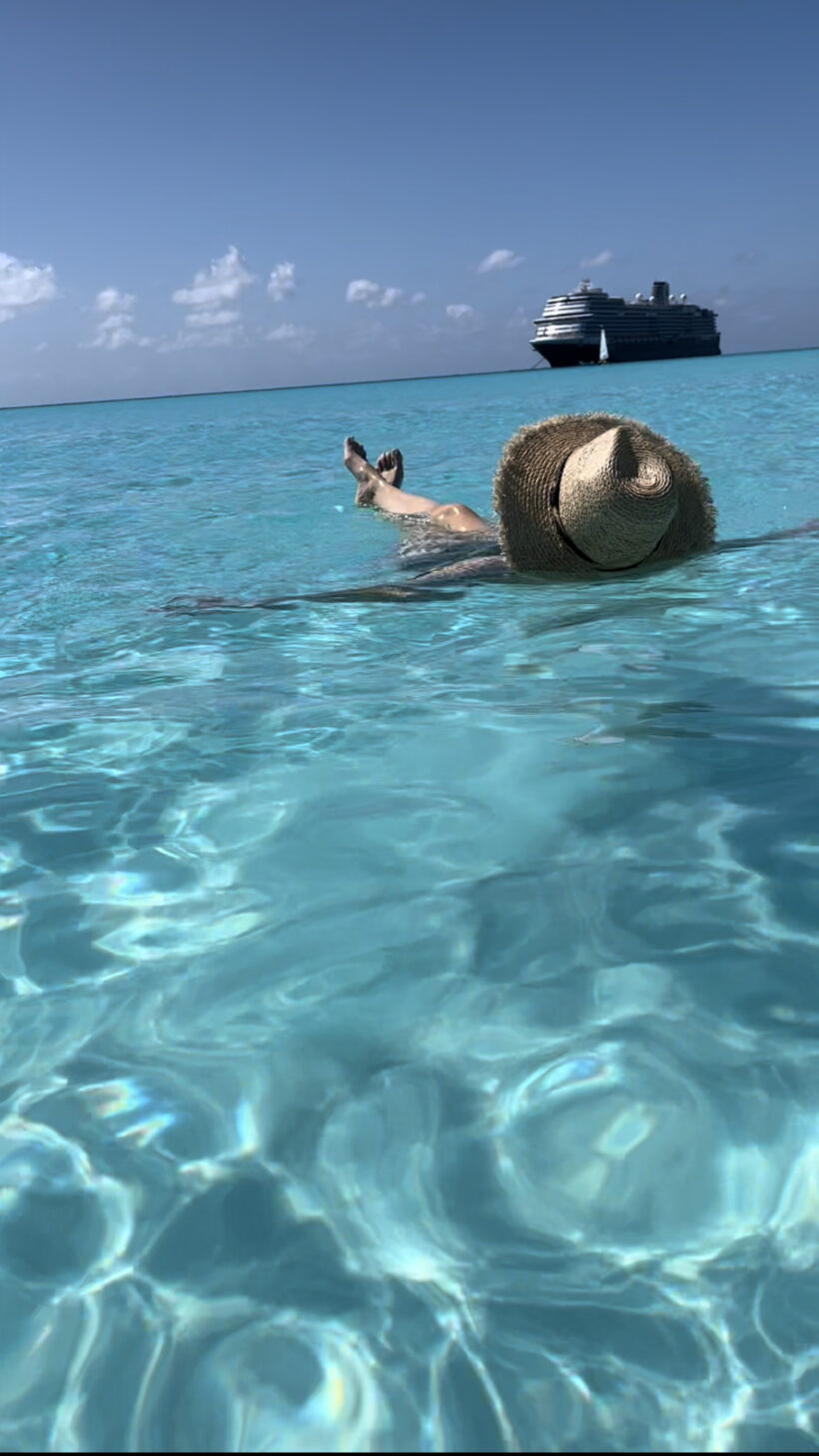 What a wonderful week and a half we've had! Our Caribbean cruise of 2023 is officially over and we are flying home on the plane as I type this. It was WONDERFUL!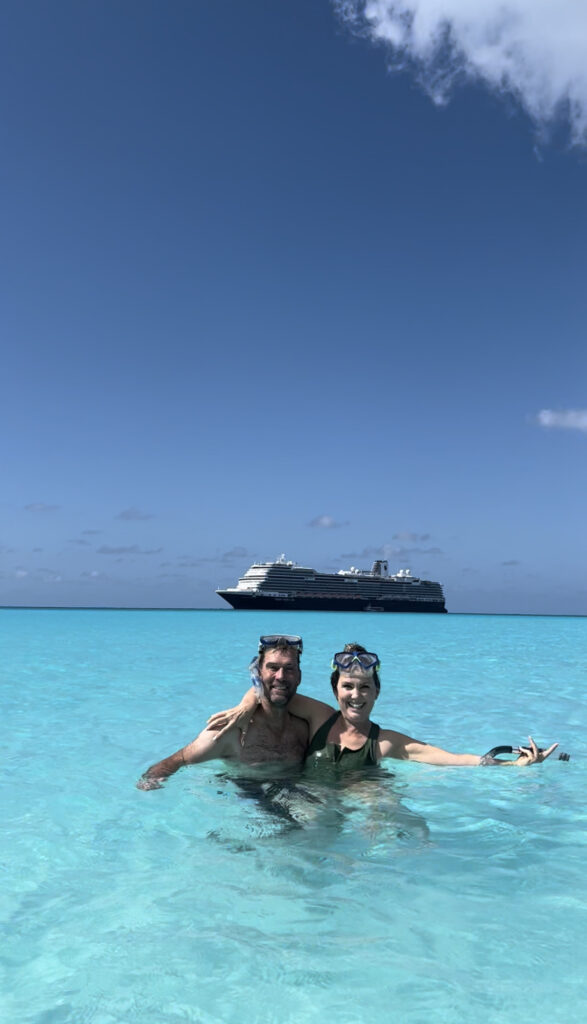 The Caribbean Cruise of 2023
This year, we booked a cruise aboard the beautiful Nieuw Statendam ship with Holland America. We paid extra in order to have a balcony room and that's something that I will never regret! It's so worth it to me to look outside from the privacy of your own balcony and not have to go out on a deck with all the other people.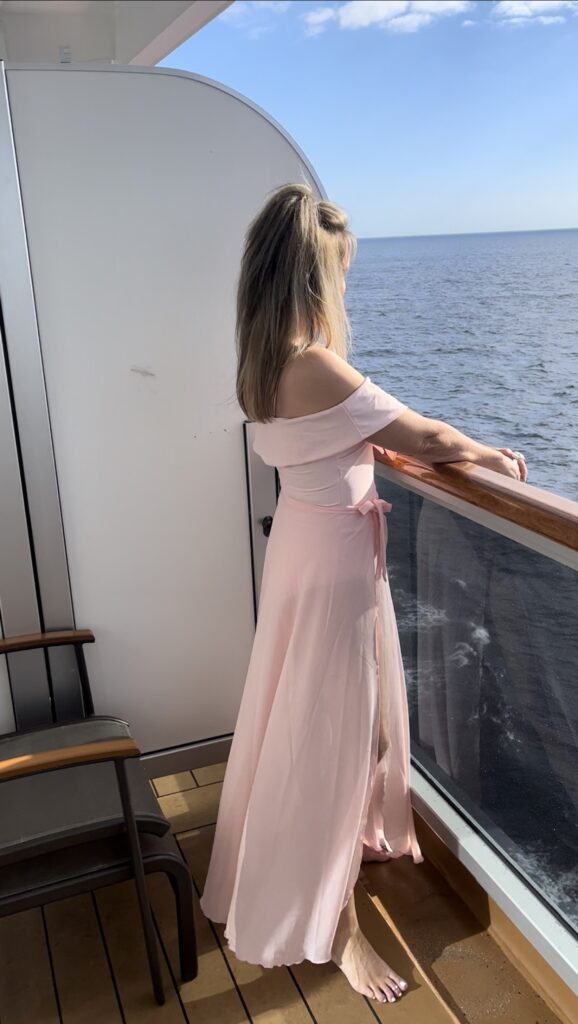 Walk out on the balcony in the morning in your pajamas and watch the sunrise.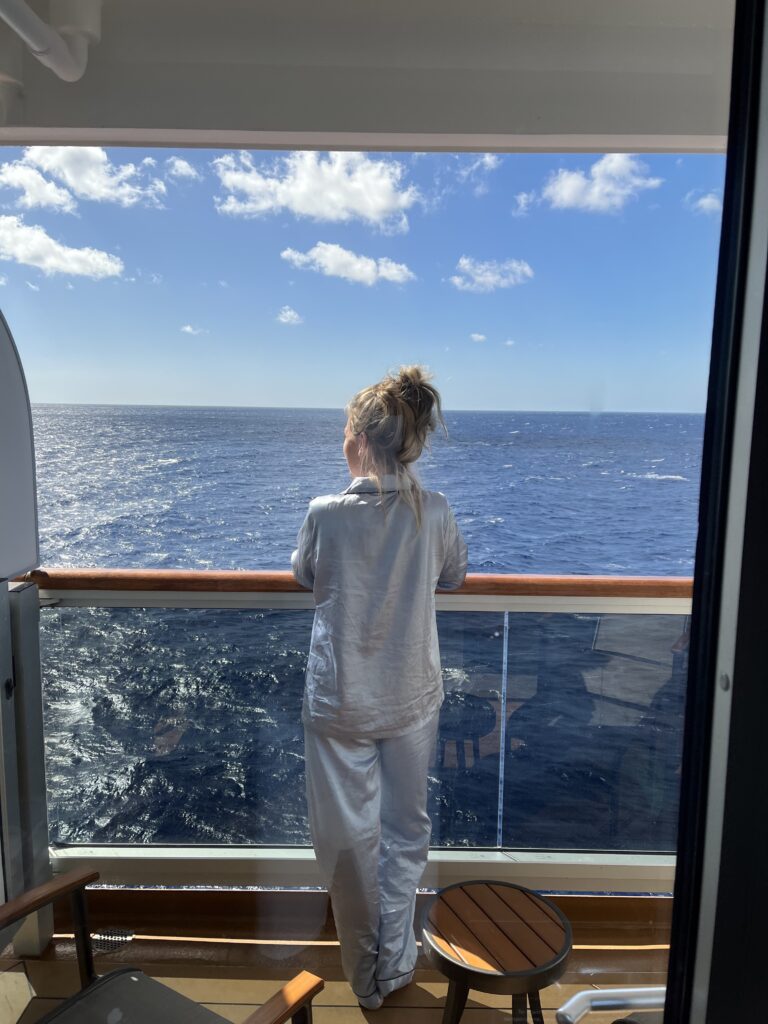 Sit out on the balcony in the evening and relax in the moonlight while you listen to the mesmerizing sound of the water beneath the ship.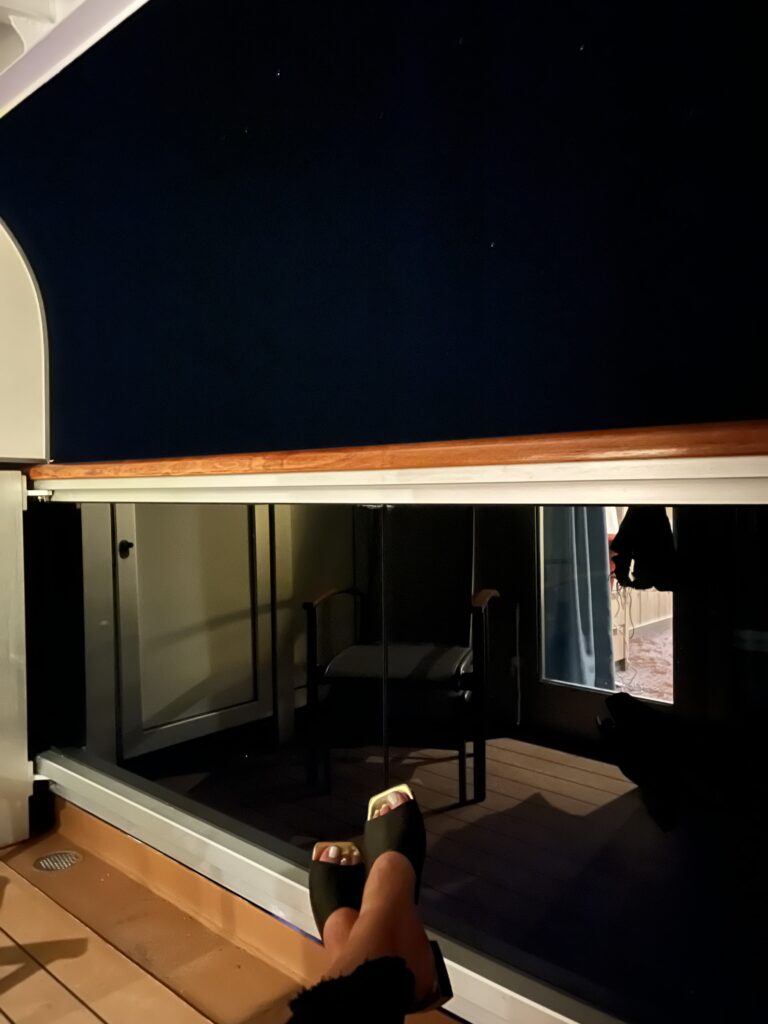 If you are one like me and sometimes feel a little uneasy on a ship, this is worth the money ten times over, in my opinion! If I feel the ship a'rockin' it's nice to step outside and see that you're really not about to tip over. It's peaceful and it's calming.
Preparing for the cruise
Before you go, I have to say this. There is nothing like planning a tropical vacation where you'll be sitting around in your swimsuits all day, to get you motivated to look your best!
There is no putting it off when there is a deadline!!!
I started right after the turn of the New Year on a good eating plan to drop the pounds that crept up on me over the holidays… and to be honest… the entire last year!!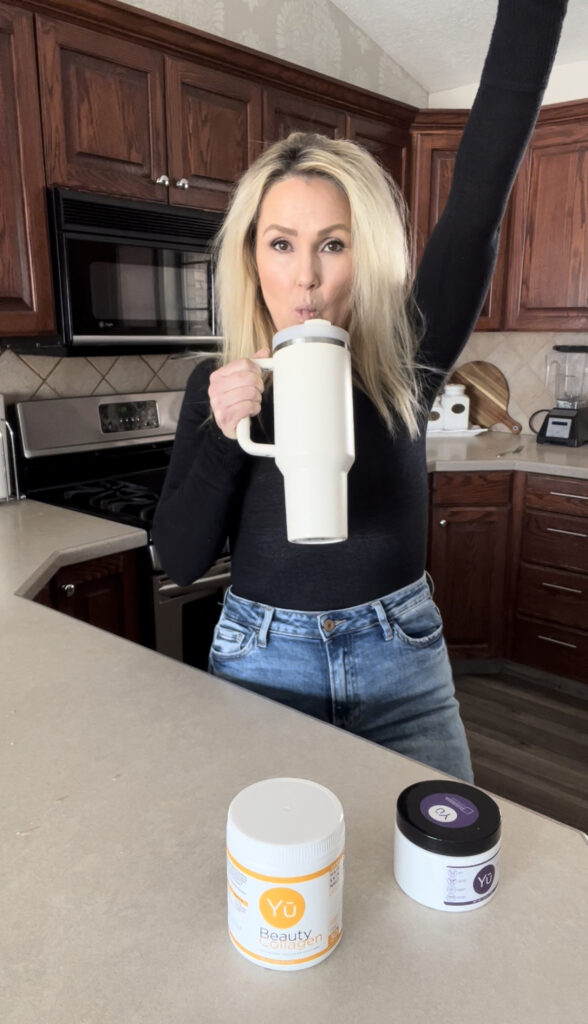 Mindful eating, along with the help of my new favorite weight loss buddy TrimFit, I was able to lose 8 pounds in just over a month!
PLUS I have more energy!!
PLUS I feel an overall mood boost every single day that I drink it!!
I packed it in my luggage and took it with me everywhere we went.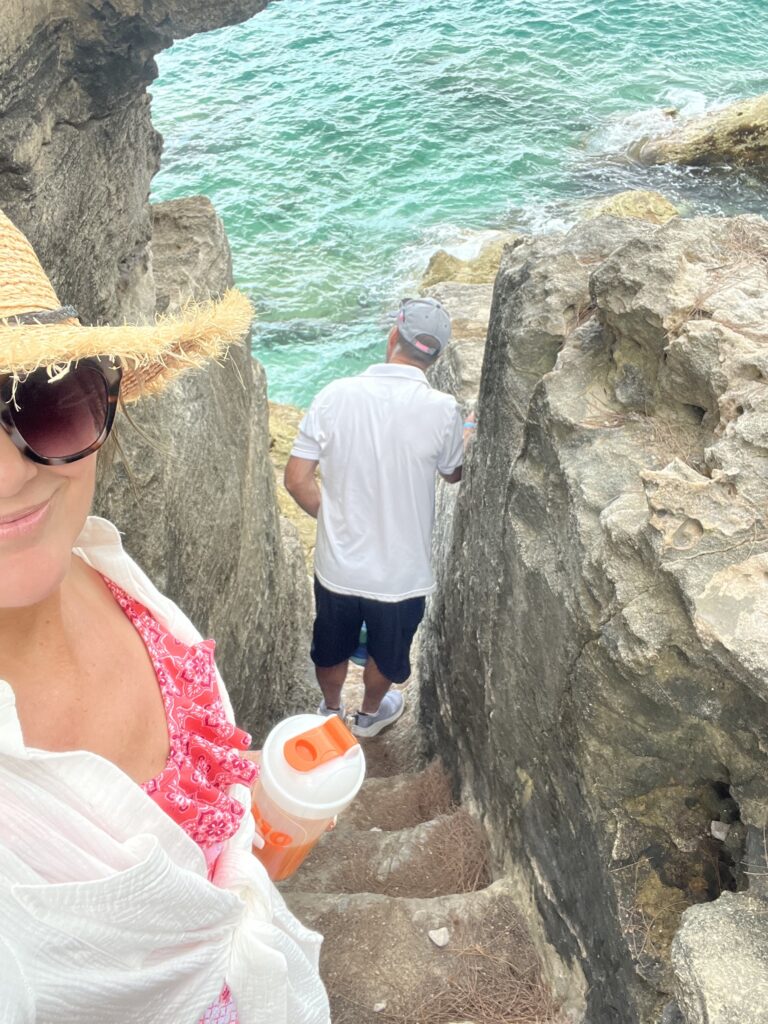 Basically, I never want to be without it.  I have a subscription so it comes to my home monthly. That way I will never run out. If you subscribe, you get the benefit of an extra 10% off and if you use code CAMMI at checkout, you get an additional 15% off!
Give it a try!!! Click HERE to get started.  OH… and FYI… you might as well subscribe to the collagen and the probiotic as well. BOTH of which I am also subscribed to and can tell you that I haven't found anything that I love as much!
Seriously… the probiotic is like a healthy pixie stick! I look forward to it every day!
A note about luggage
I've never realized more, how AWESOME it is to have luggage that stands out in a crowd! I've always had typical black.
But this gorgeous set of luggage was so easy to spot amidst the thousands of pieces of luggage and glided beautifully throughout the airport. My floral color is sold out but the pink is still available and on clearance for a great price for this set!!!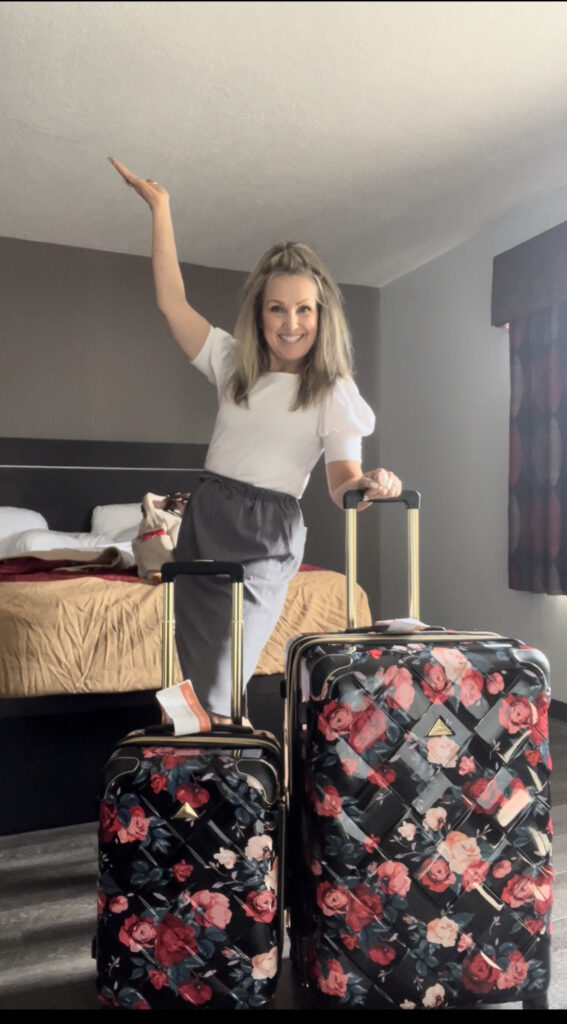 Back to the cruise…
Ports of call
Ours was a western Caribbean cruise and the places we visited were Half Moon Cay, Caymen Islands, Jamaica, and Nassau. Each stop was wonderful in its own way and, coincidentally, each stop we had been to before.
Half Moon Cay
I have been waiting ever since we booked this cruise to feel the sand on this island!!! It is like flour! It's so fine and so soft and just like I remembered!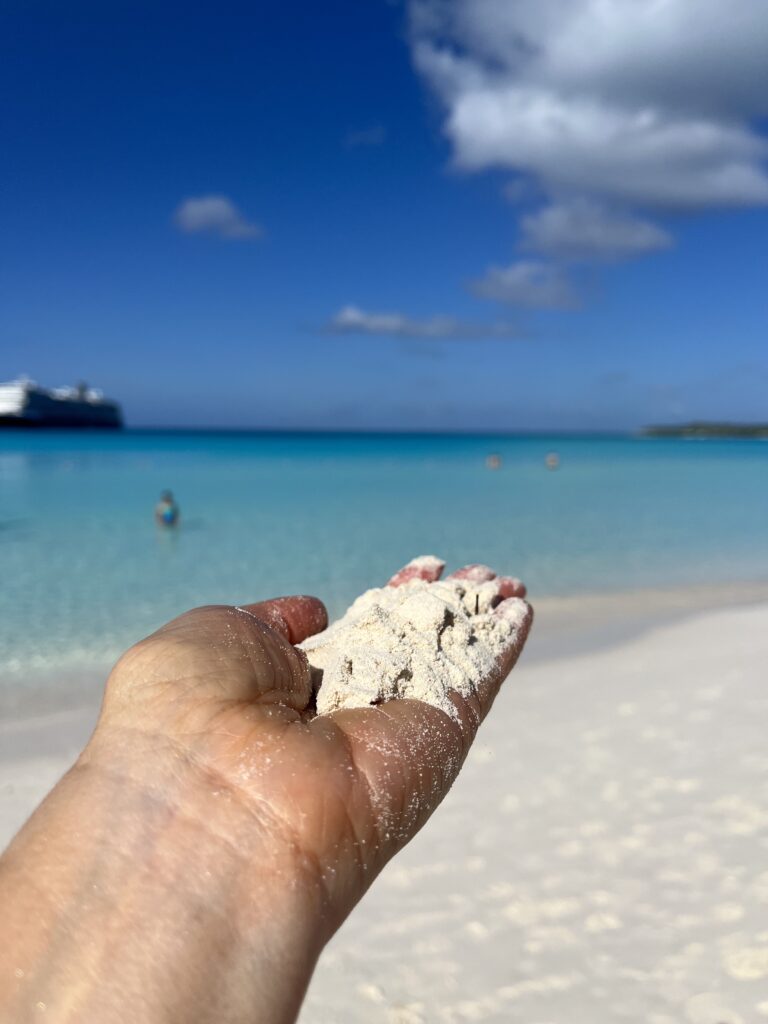 We just swam, snorkeled, ate, walked along the white sand beaches, and laid in the sun.
There really wasn't much reef so the snorkeling isn't great… but we didn't mind.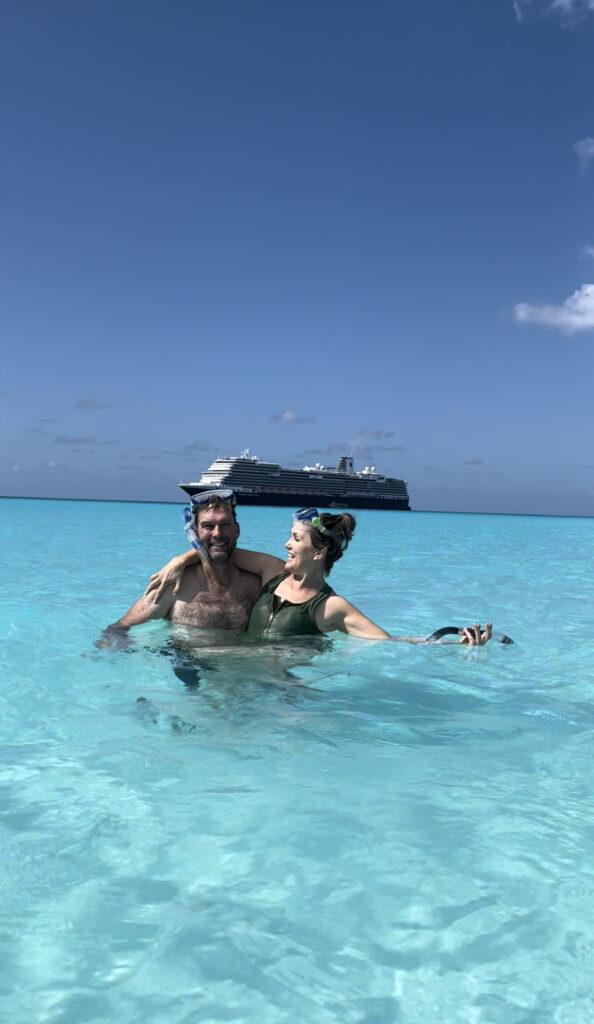 It's truly a tropical island paradise!!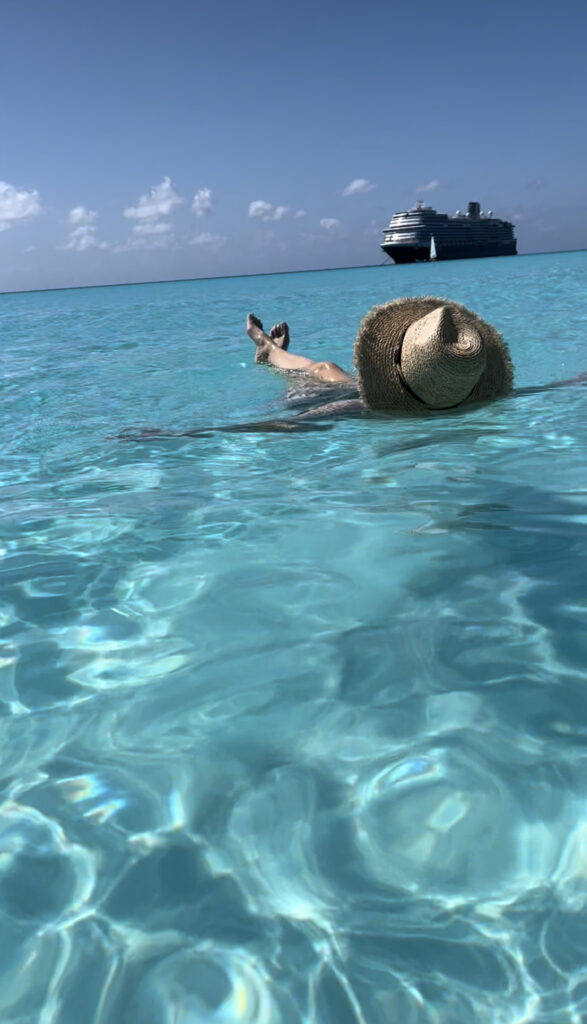 They offer clamshell rentals which are little umbrella huts with two chairs so that you can get out of the sun but we didn't feel it was worth it. The ship serves lunch where you are out of the sun anyway and we had to be back on the ship by 3:00.
We just wanted to enjoy allll the sunshine!!!
Georgetown, Caymen Islands
We decided to book the Stingray City and Swim with the Dolphins excursion on Grand Caymen.
We took a boat ride out to the most amazing place in the ocean…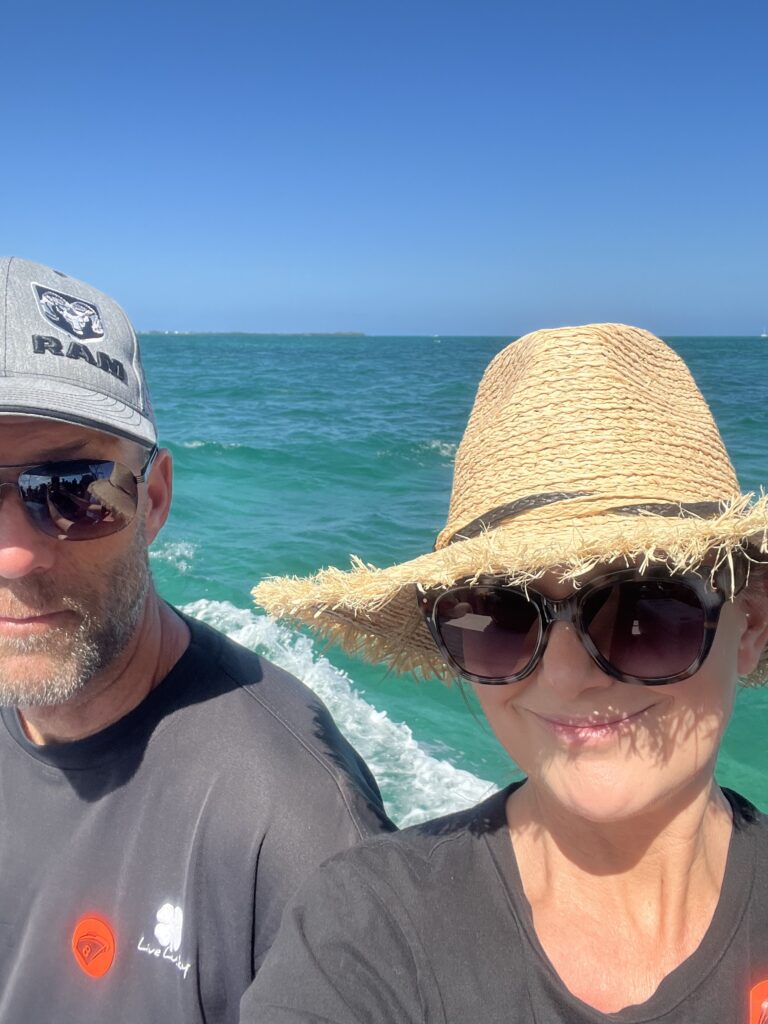 ..where we could stand on a sandbar in just 3-4 feet of water and pet the stingrays!
It was nothing like I had imagined… look at all the people out to see the stingrays! So many people and stingrays everywhere!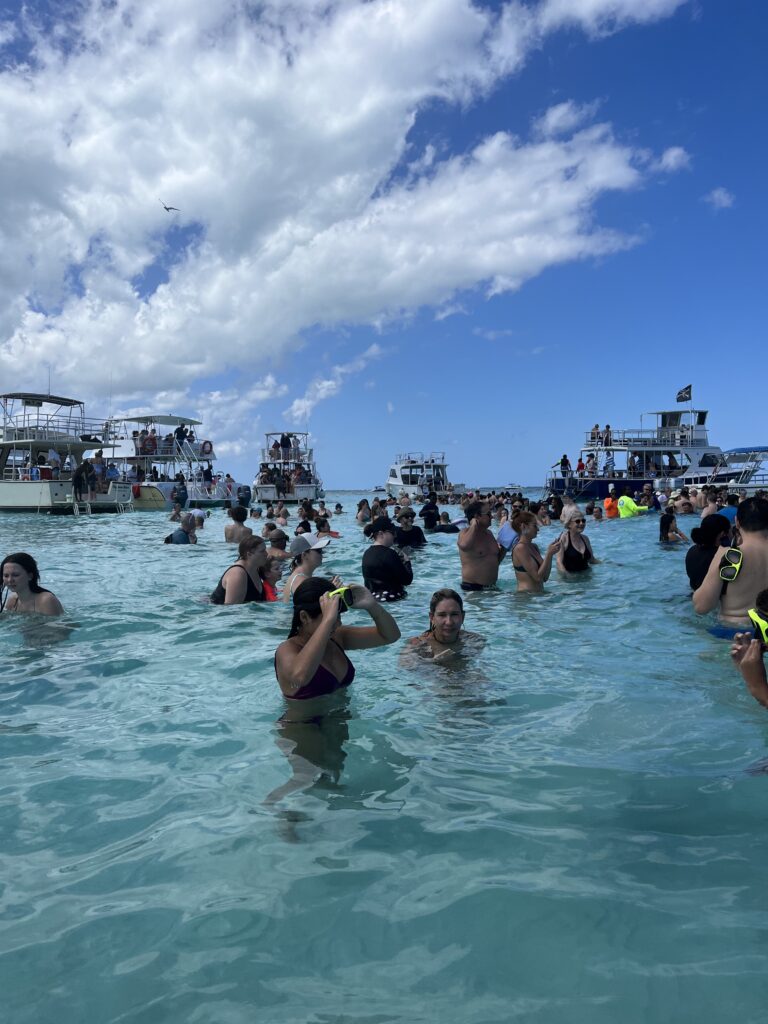 I didn't get too close since they kind of freak me out ever since the Crocodile Hunter was killed by one.
When I say I didn't get too close… I mean to the barb on the tail.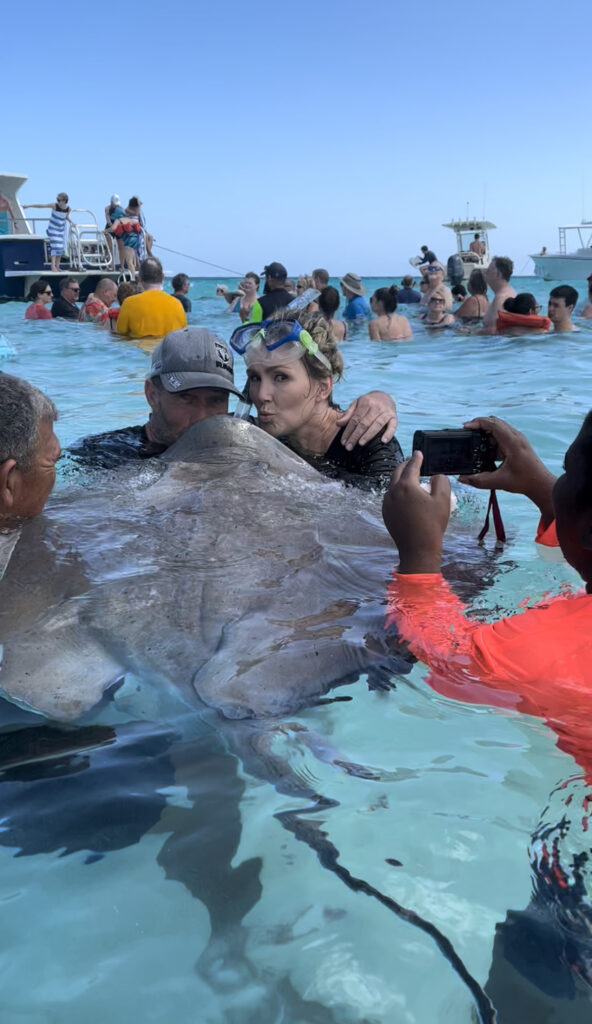 But I did touch it, connect with its precious spirit, and even pretend to kiss it, haha!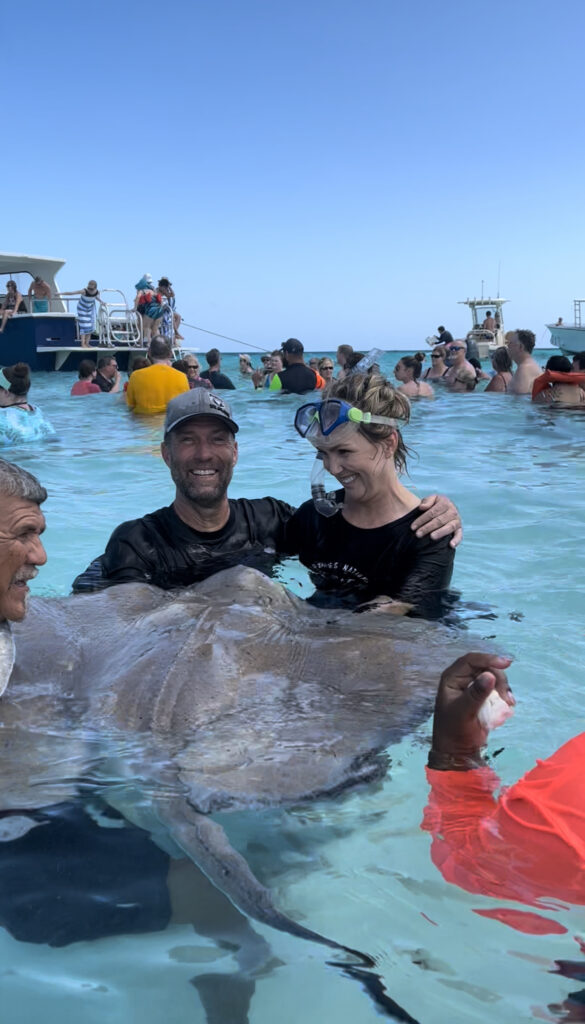 Just look what I caught underwater… you can see their little breathing holes open and close!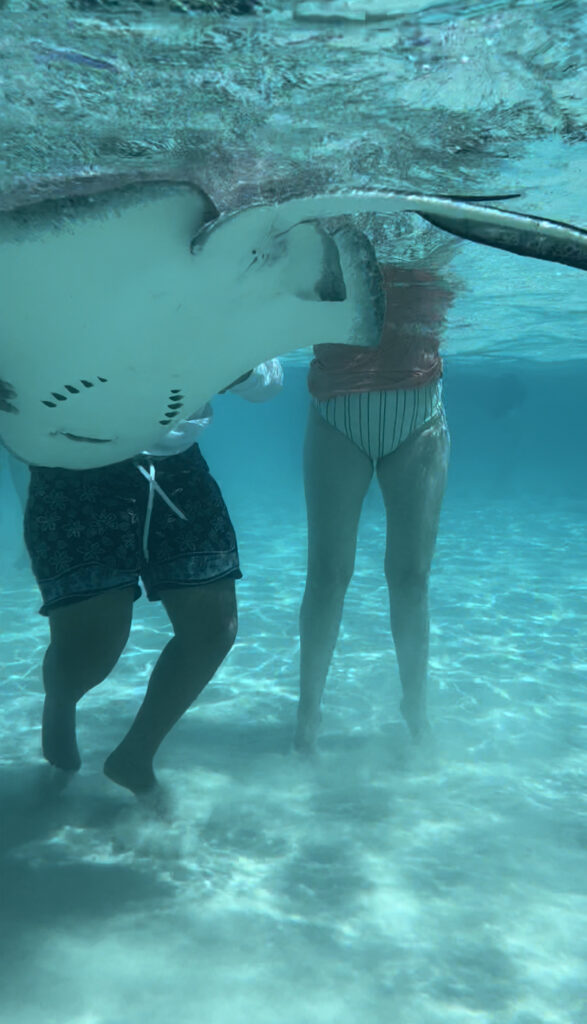 Pretty cool.
Then off to the dolphins which was A WONDERFUL TIME!!!!
Now, these babies I was totally fine getting up close and personal with!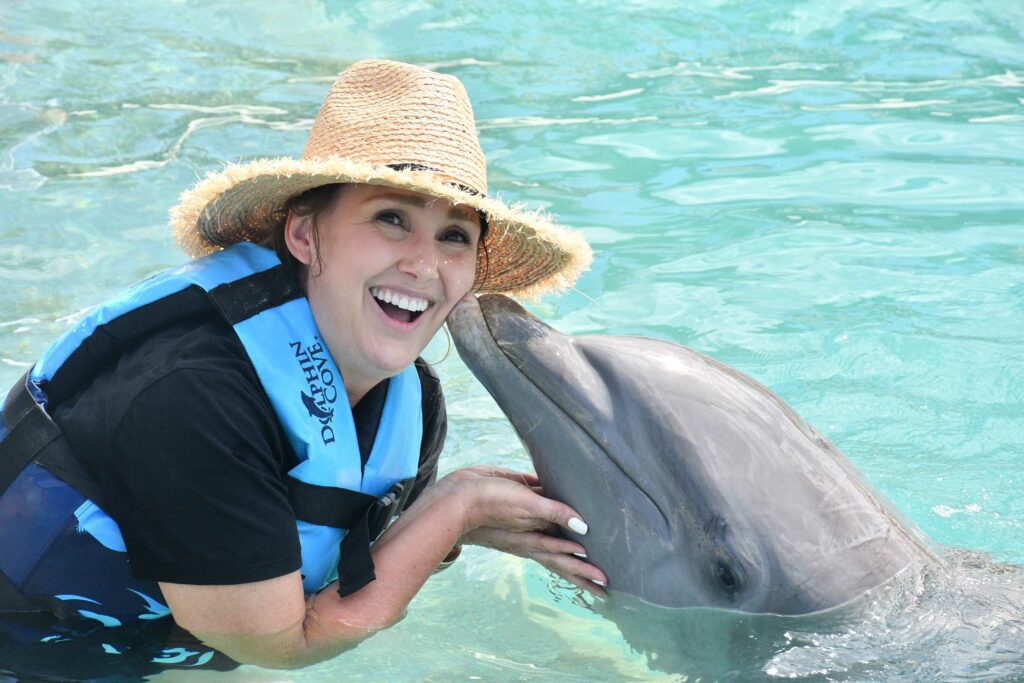 Everyone should do this once in their lifetime.
They are amazing and so smart! And I think their handlers and trainers have the best job in the world!!! It was precious to watch their interaction and eagerness to obey commands for a fishy treat.
Ocho Rios, Jamaica
Our very first cruise 20 years ago brought us to Ocho Rios and we were so excited to go back!
We hiked the Dunn's River Falls back then and knew that we wanted to do that again… it's quite an exhilarating experience!
It's a must-do if you are ever on Ocho Rios!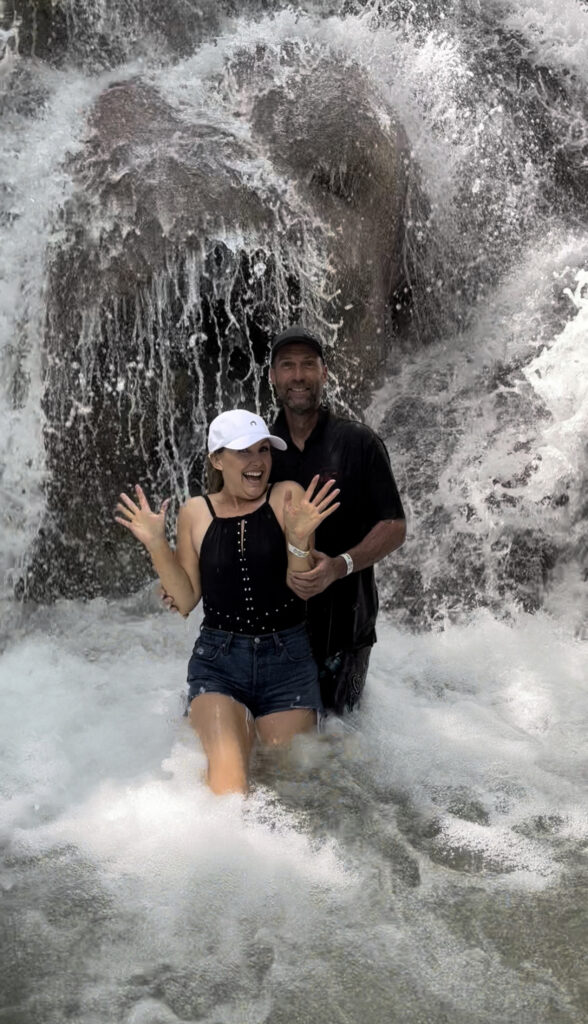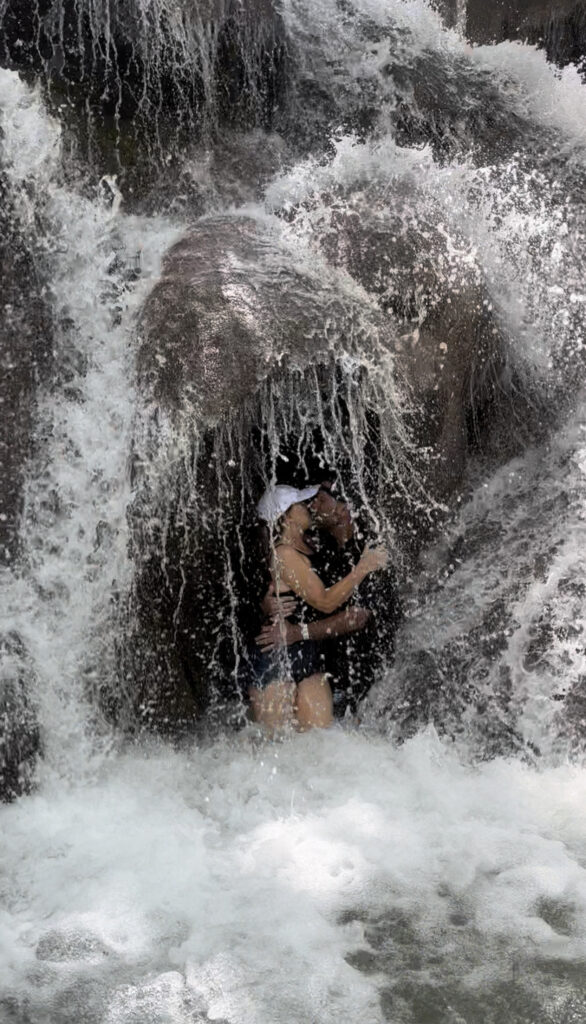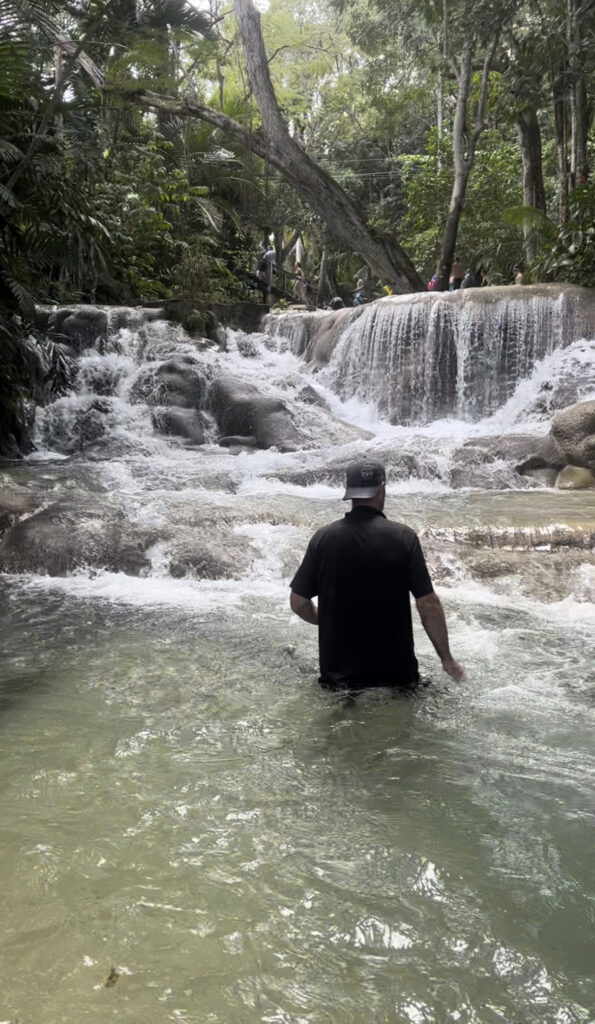 Definitley take good water shoes and a waterproof camera case because you'll want photos!!
After we climbed the falls we went to a place called The Blue Hole.
Our little taxi driver guy told us it is more fun than the falls but I have to disagree.
Call me unadventurous… but it was a little scary for me.
It was a lot of jumping off cliffs which I don't do. But if you like that, definitely go see this place.
I mean look at the blood on my Ricky's head! He thinks that was just from his own fingernail… but still.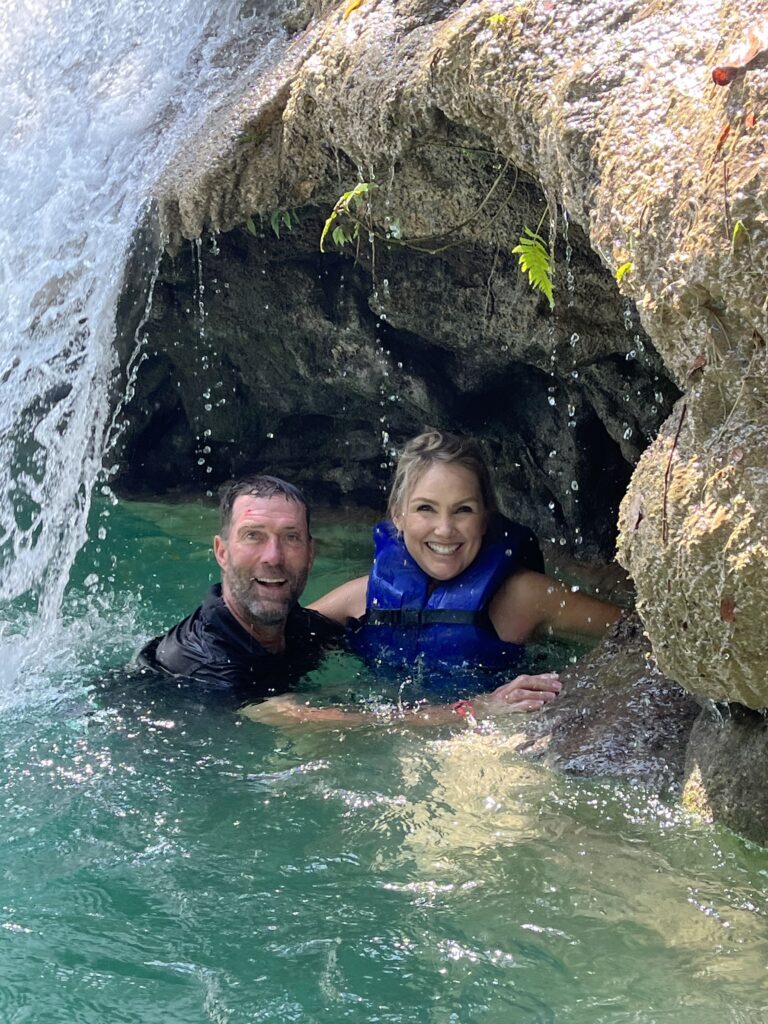 There was a couple's jump in which I didn't participate… in fact, I didn't participate in ANY of the jumps.
I'm a wuss when it comes to this kind of adventure. No shame.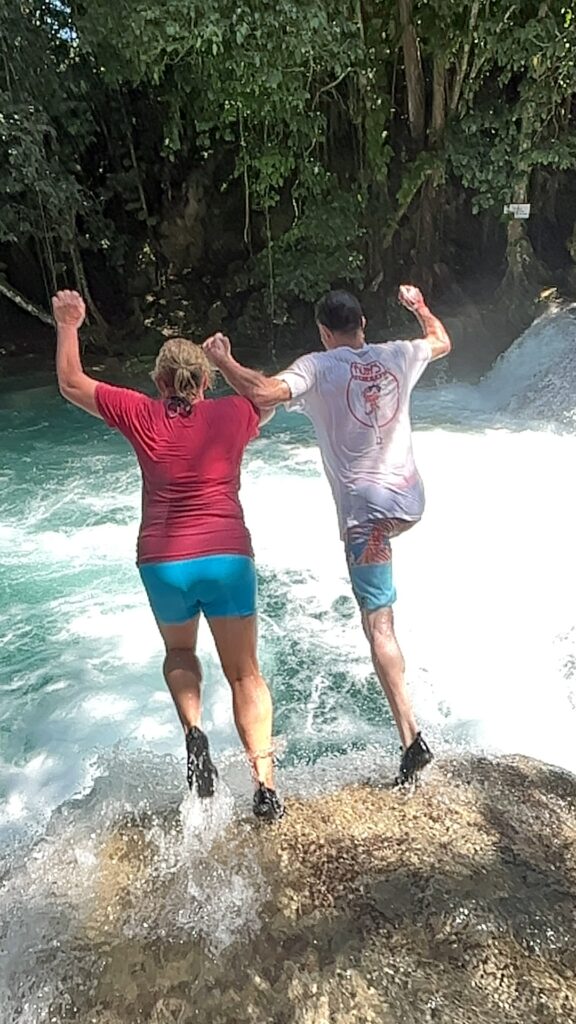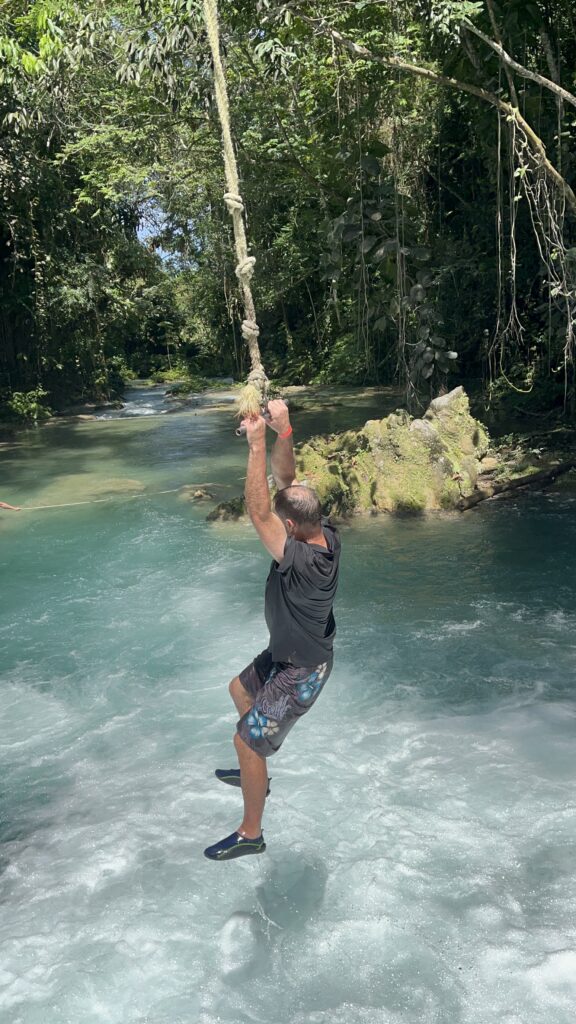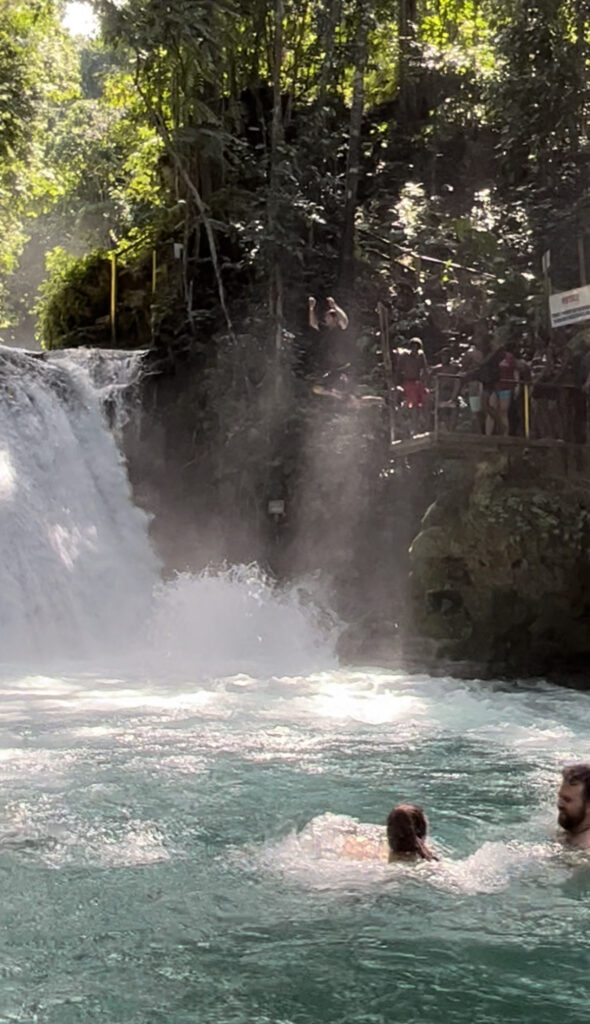 To be quite honest, I was happy to leave haha!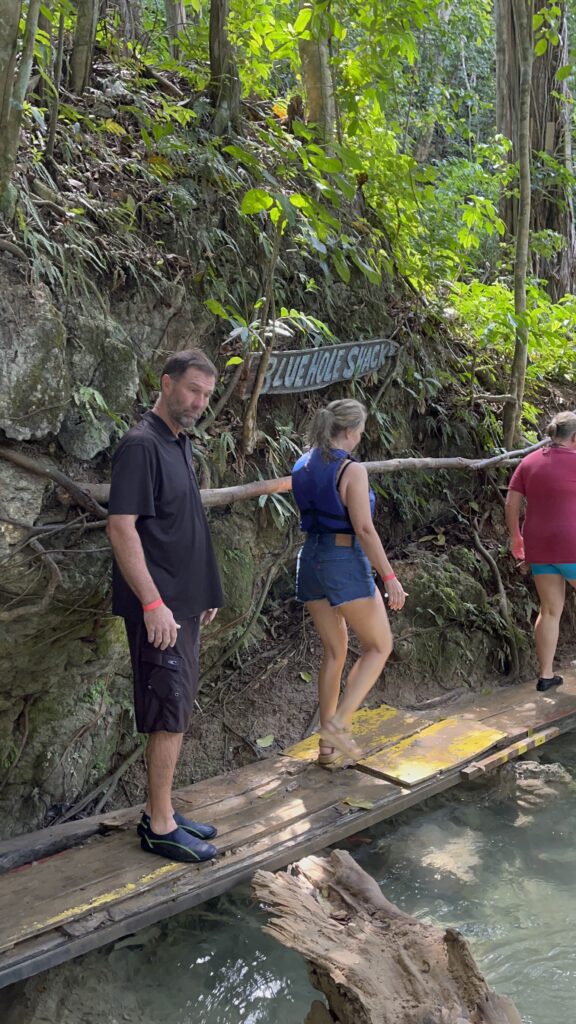 Regardless, it was a really great day.
Last stop – Nassau
The ONE THING I wanted to do while on this island was to go see the underwater Ocean Atlas, a statue of a woman underwater holding up the weight of the world.
It's quite amazing, have you heard of it?
We hopped off the boat and Rick was approached by a guy with scooters and he got really excited and couldn't say no! Years ago, we rode scooters all around the island of Cozumel and have such fond memories of sightseeing that way!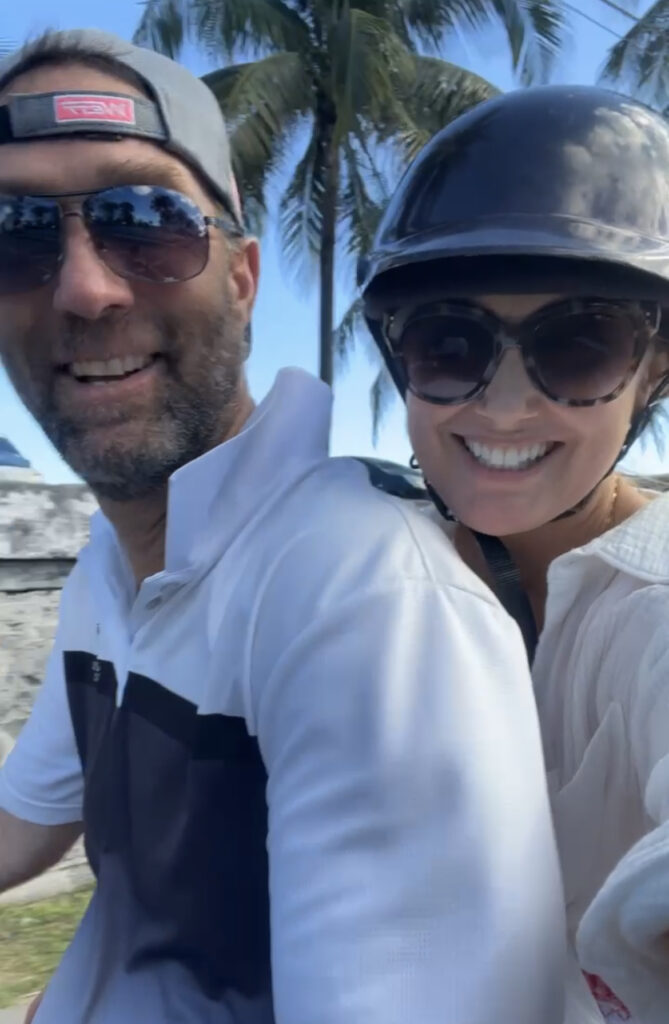 I would highly recommend doing this!
Here's our buddy Shane who "gave us a deal" because the boss was asleep haha!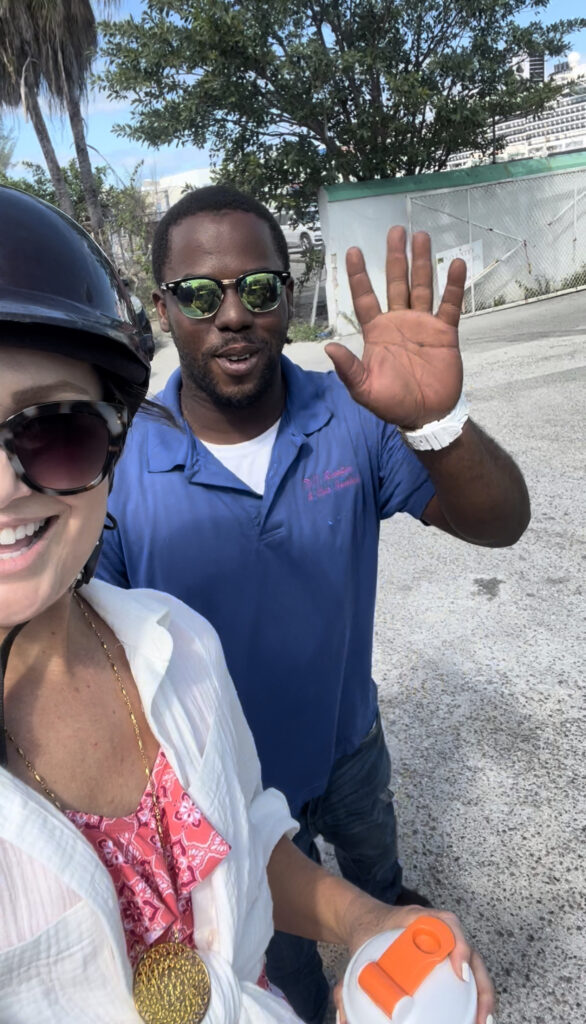 We headed out to Providence to do some snorkeling and see the large underwater statue and it was amazing!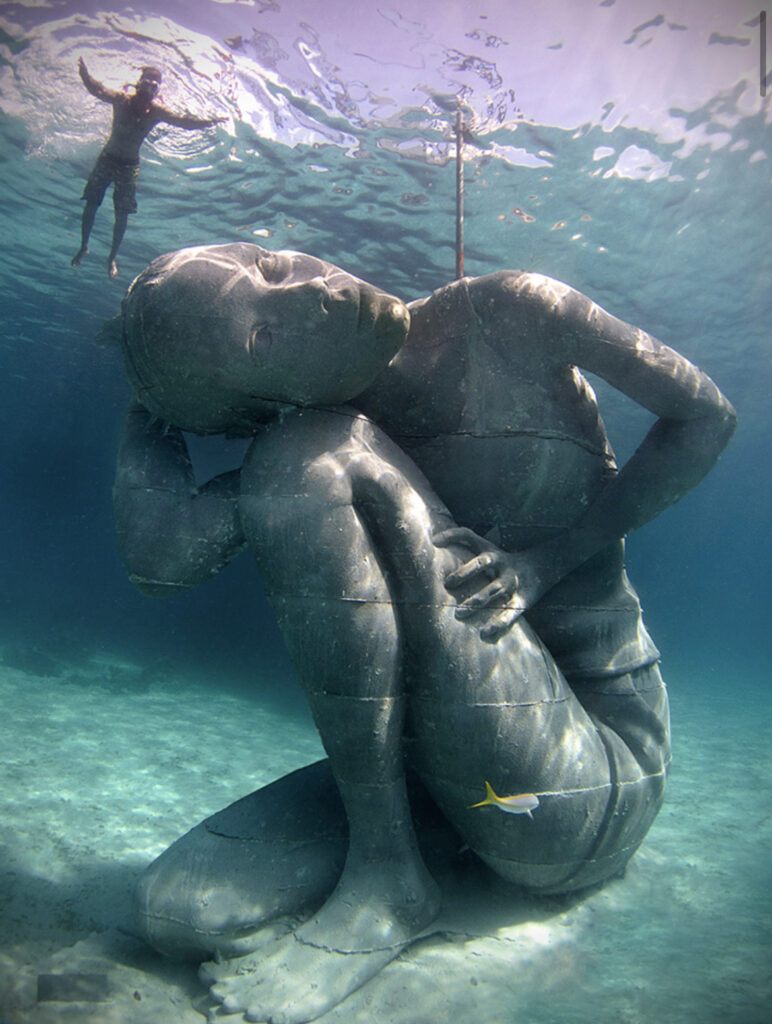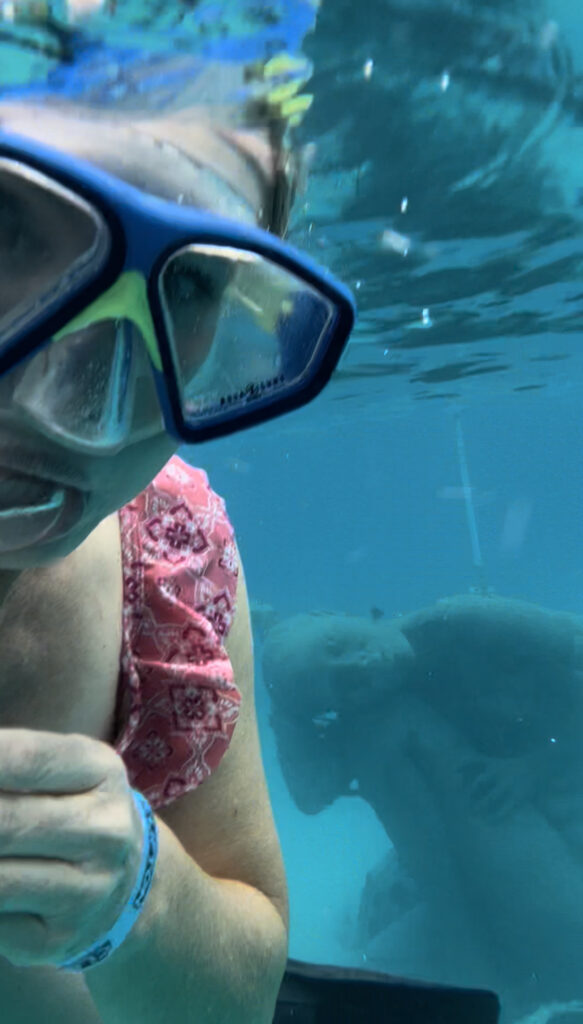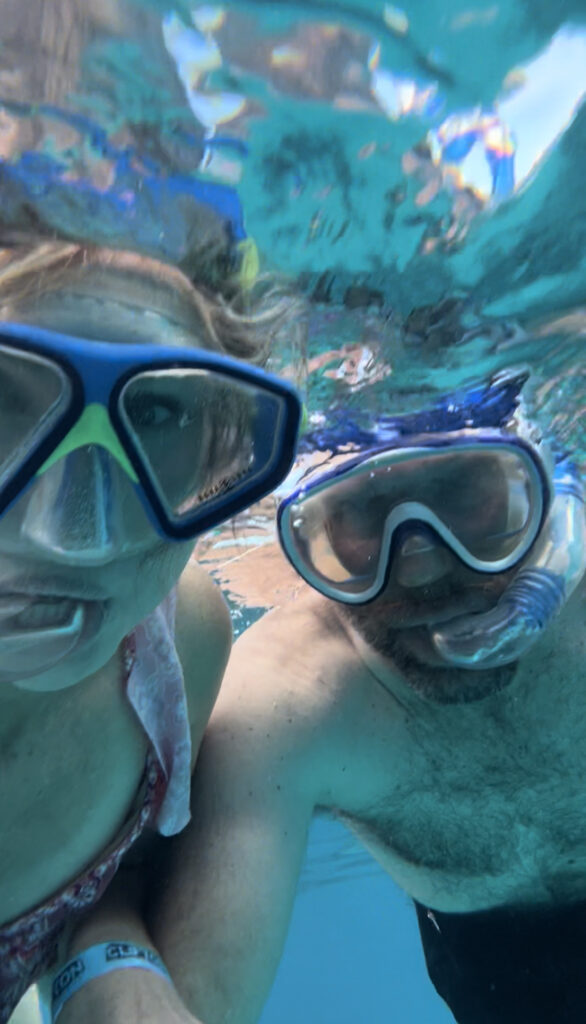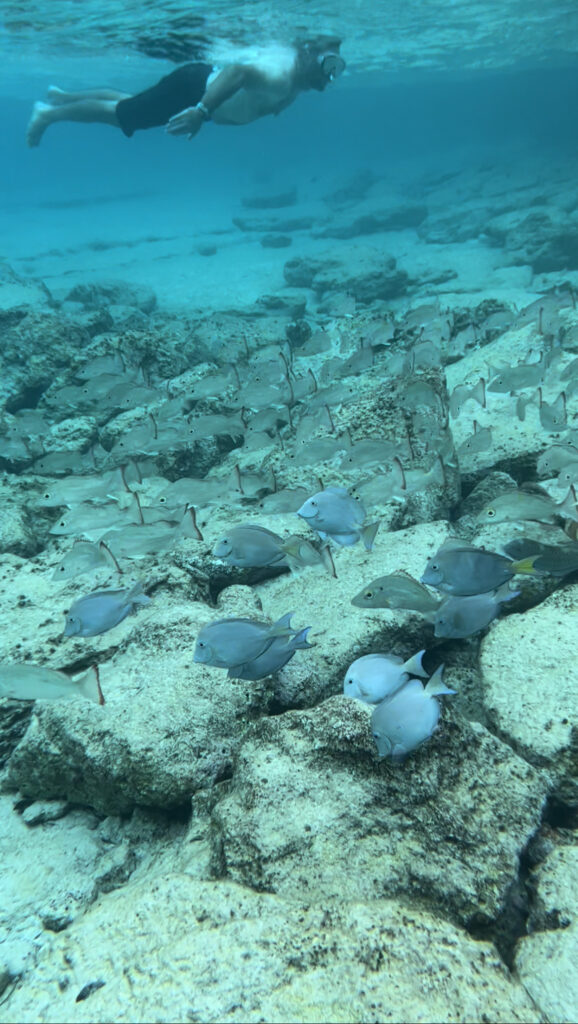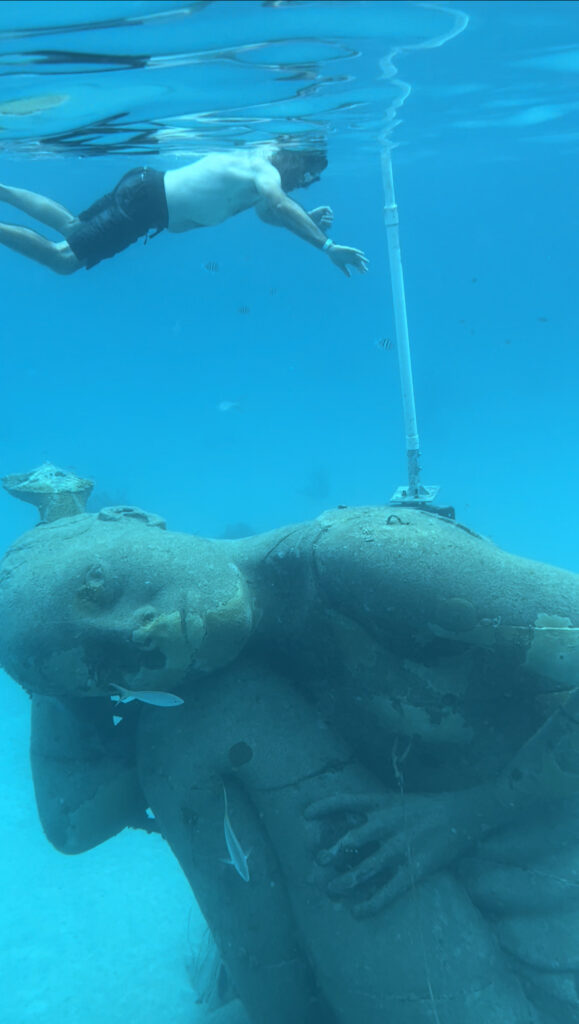 So fun! A little eery, but very cool to see.
Then we ate some lunch at the Fish Fry which was a string of places selling fish! We went into Oh Andros and I had the best lobster of my life! I don't know if I was just extremely hungry or what but it was fried and delicious!!!!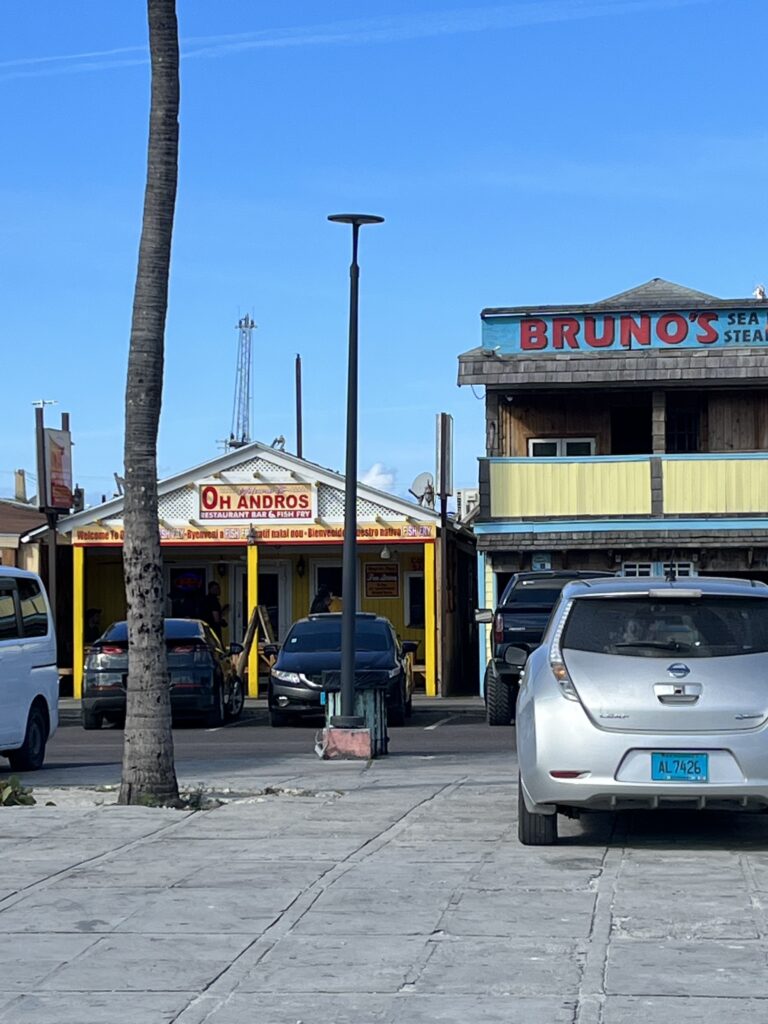 Looking at it again makes my mouth water!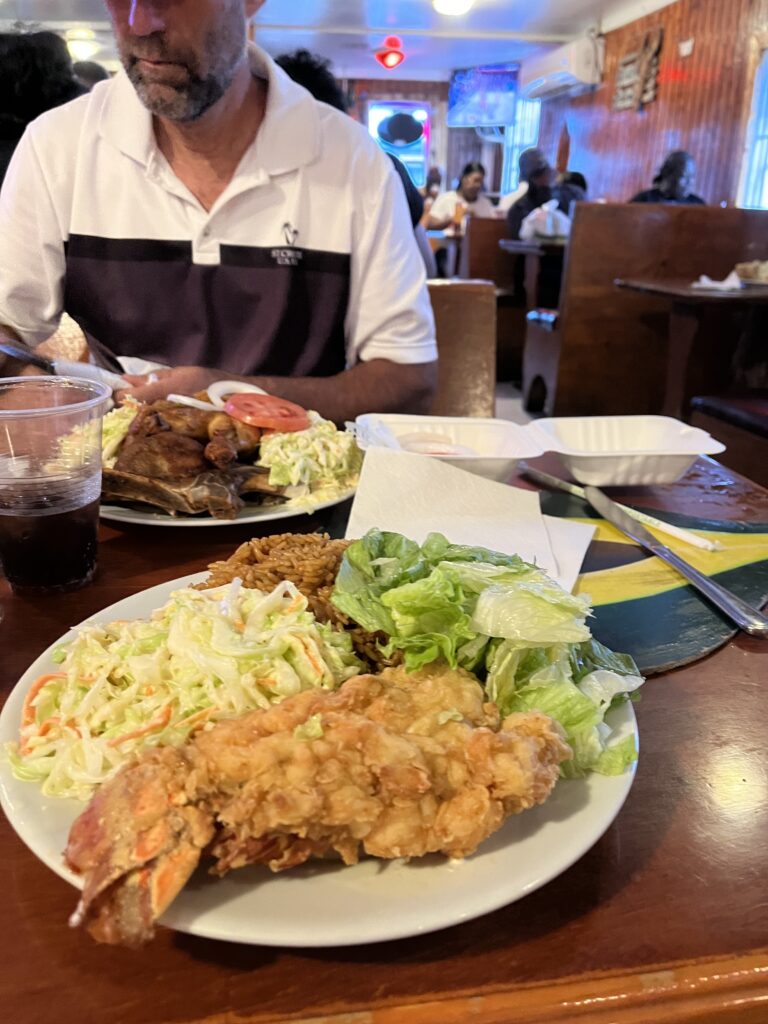 And there's my TrimFit again!! 😉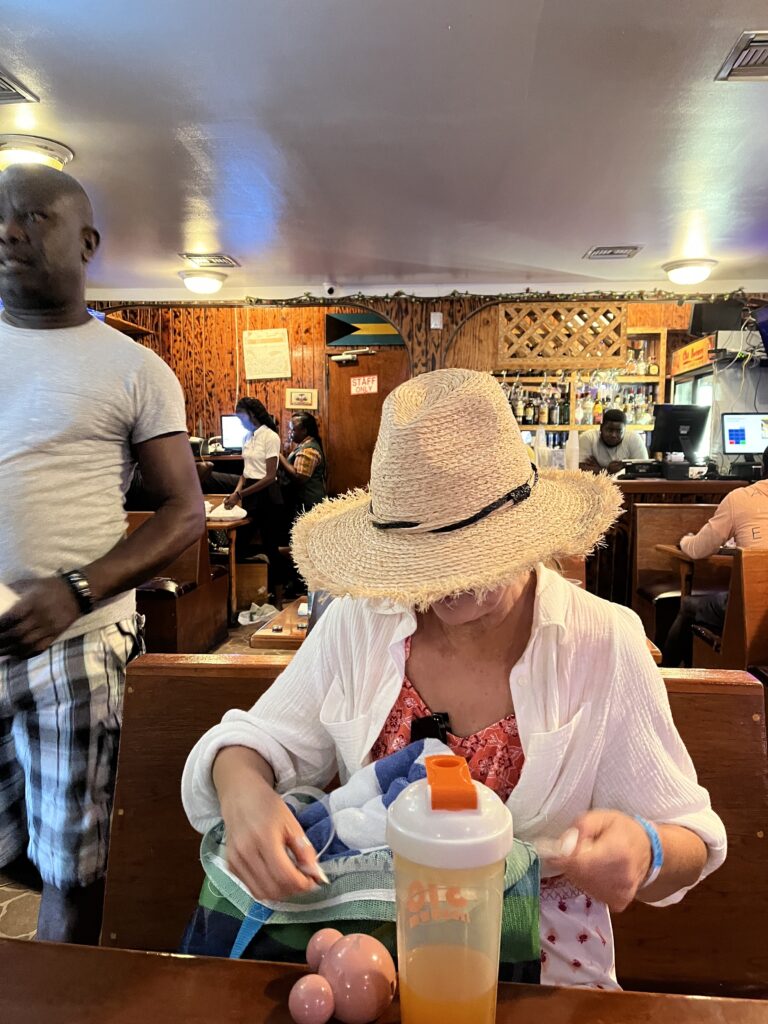 It was a wonderful trip!
That sums up our Caribbean Cruise 2023 in a nutshell, but check back! Because I had so much interest in the outfits and swimsuits that I took on the trip that I'm going to post all about those next!
By the way, if you are heading out on a vacation, be sure to check out my Top 13 Best Packing Tips!
Is San Diego on your travel itinerary? Then you need to read THIS POST!
Thank you so much for being here, I appreciate you stopping by my blog!!
You can also find me on Instagram, Facebook, Pinterest, and YouTube.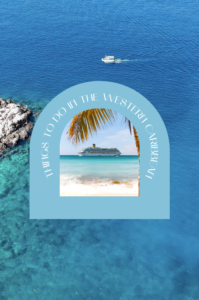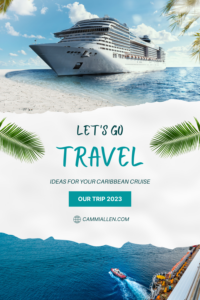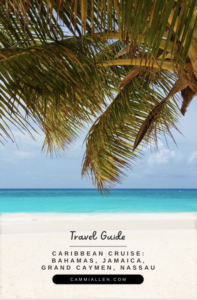 This post contains affiliate links.  This means I may earn a small commission if you purchase through my links at no extra cost to you.  Purchases made through affiliate links are greatly appreciated as they help to support the blog and continue its production.  Thank you so much!