The Spanx Jumpsuit…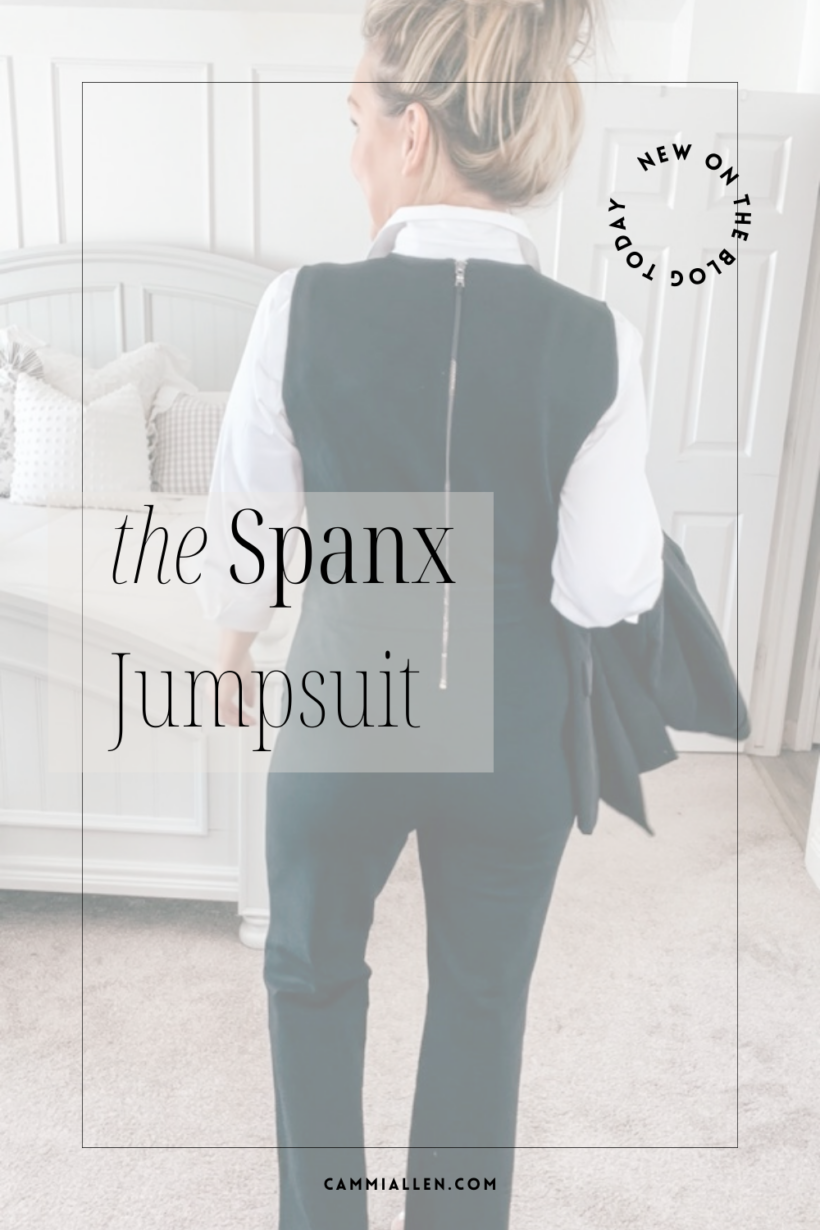 I haven't written a post yet about the well-known "Perfect Pants," that will be coming soon. But today, let me share with you the Spanx Jumpsuit, which happens to be a part of the Perfect Collection from Spanx. 
Note: use code CAMMIXSPANX for a 10% discount + free shipping and handling on any order from Spanx.
If you are looking for a statement outfit that oozes class, this jumpsuit is for YOU!!
I couldn't believe how great I felt when I first put this on!! It's made with buttery soft, 4 way stretch ponte fabric that has hidden core technology to make you look and feel great! It flares at the legs and is more fitted in the hips and thighs.
Oh! And the best part??
Well, there are two…1) it's machine washable, and 2) it has a zipper pull so you can easily zip up the back yourself!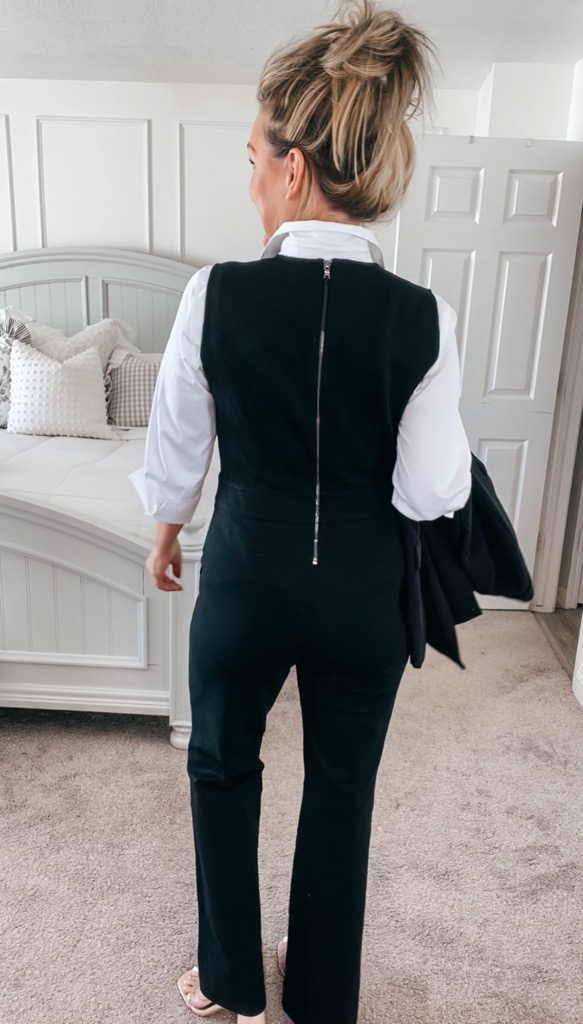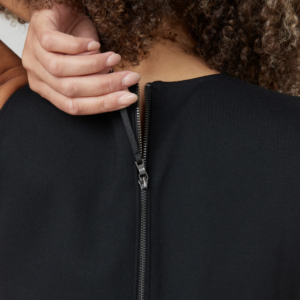 You could totally wear this jumpsuit alone, without anything underneath. For example, look at how great Deborah of Fabulous After 40 blog looks!  She's rocking the jumpsuit with a simple pair of black heels and some accessories.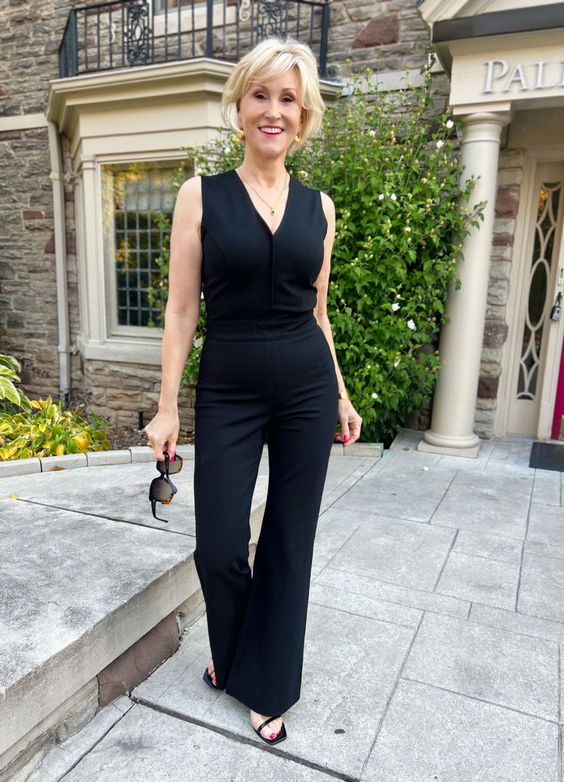 Doesn't she look classy?!
Since this is a modest fashion blog, I am showing how I have styled the jumpsuit recently for those who prefer their shoulders covered.
Here, I have styled the same jumpsuit with a simple white button-down shirt that looks fabulous peeking out from underneath!
The open button-down shirt mimics the v-neck of the jumpsuit beautifully drawing your eyes upward to the face and elongating the neck and body.
I also think pulling your hair up accentuates the look even more. A cute pair of gold hoops would finish the look off nicely.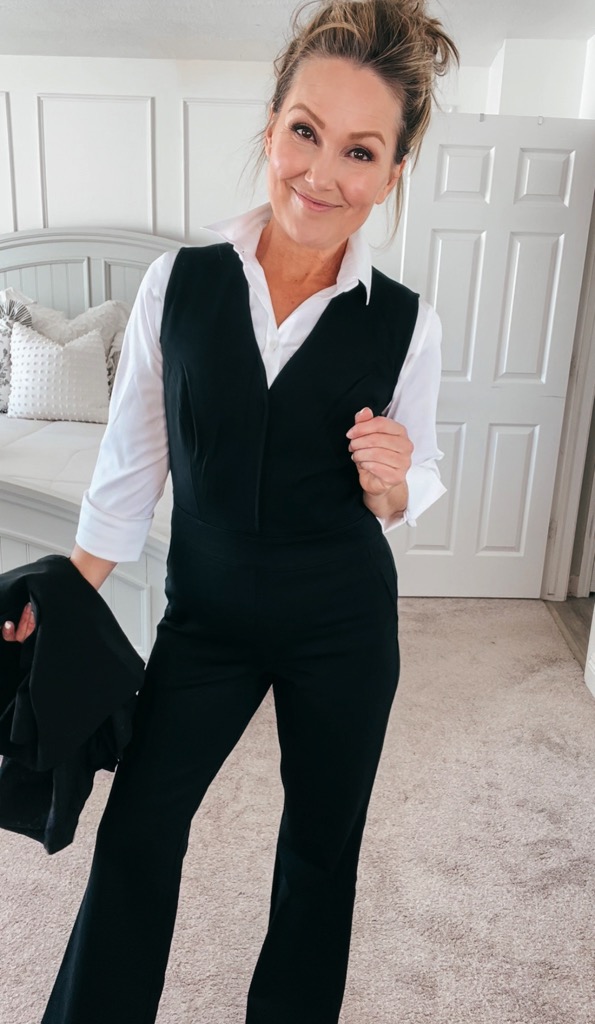 I paired it with a simple nude/clear heel and sported a black blazer in case an extra layer was needed for warmth.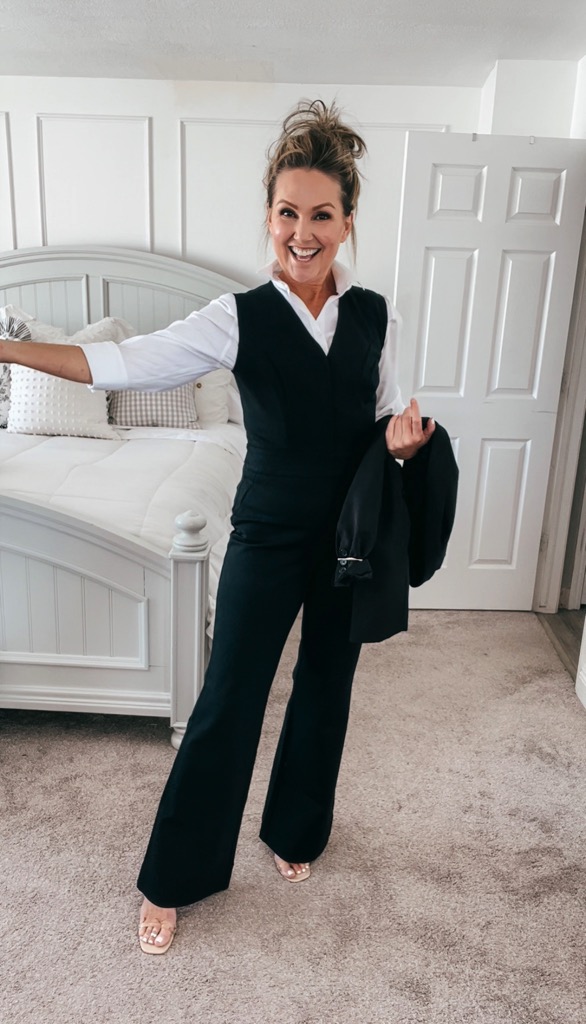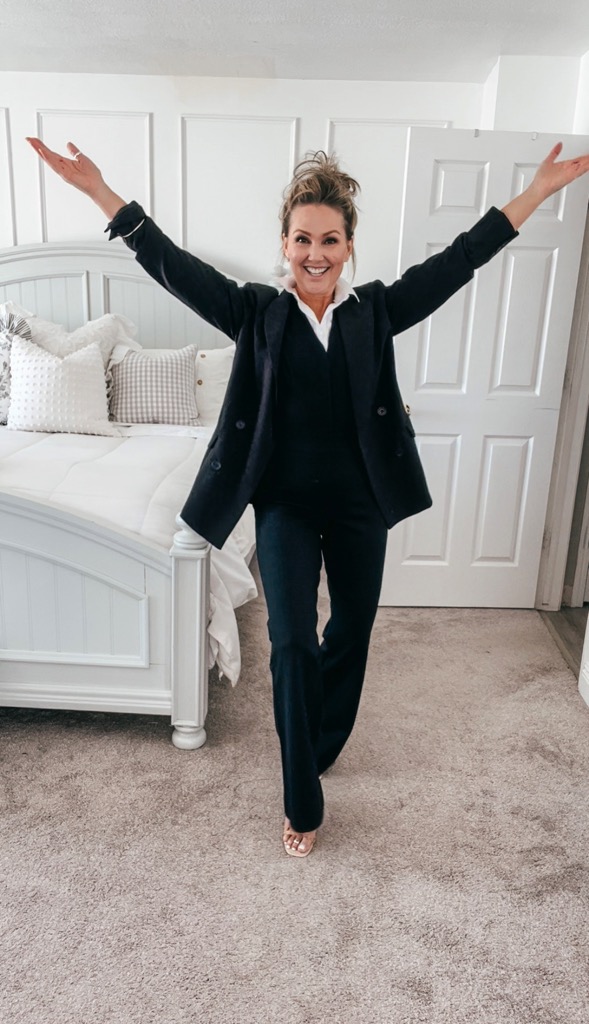 This is very work appropriate but could also be worn to any kind of meeting or conference.
I wore it just tonight to a wedding reception/dinner with the cute blouse shown below.
Here, I've paired it with a bit more of a colorful blouse and added a darling mini blue crossbody for some flair.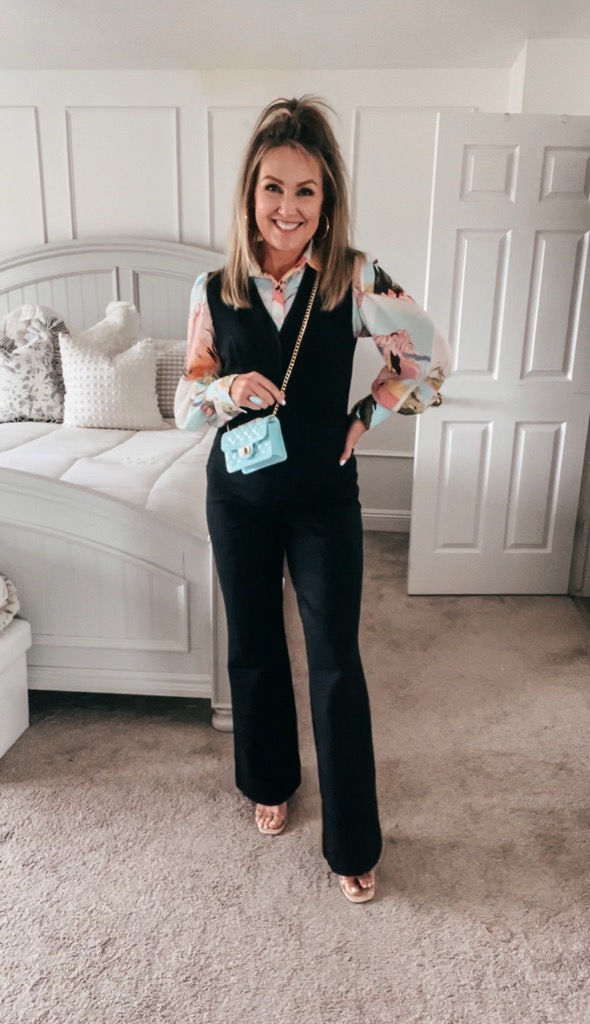 I typically wear a size small on top and medium in bottoms. I'm wearing the jumpsuit in a medium and I feel like it is the perfect fit.
The legs are long, so with my 5'6″ frame, I feel like I need the added height of a heel.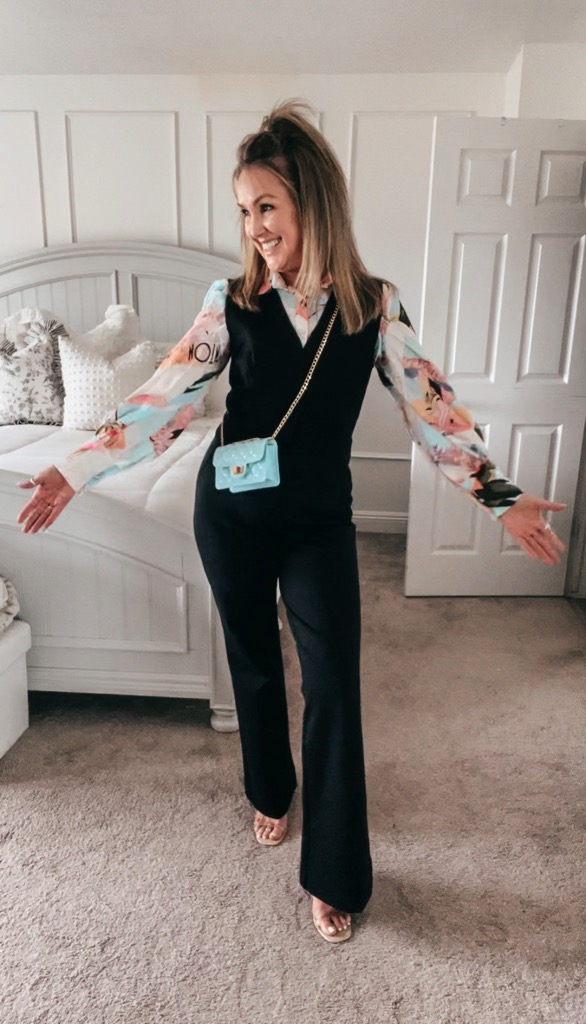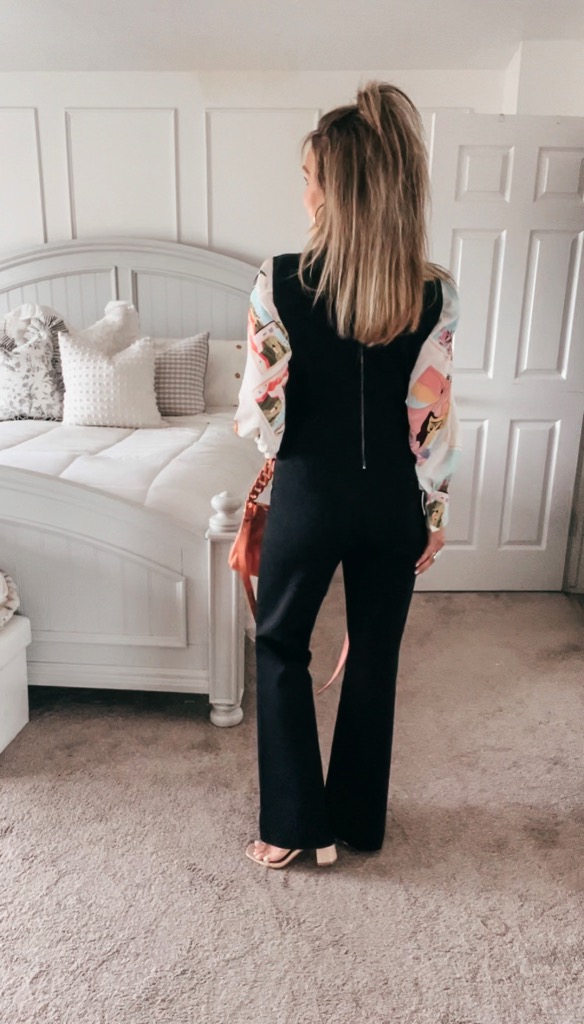 With this particular blouse, you could really have fun with the accessories! Check out how cute this Vince Camuto crossbody in the melon color looks with this blouse!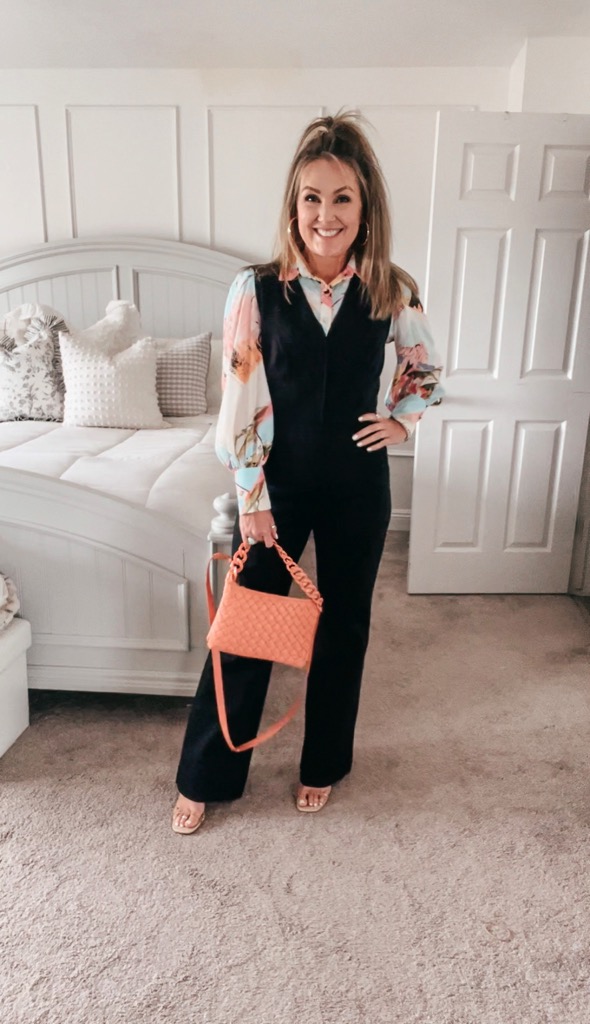 Invest in yourself!
Links to all pieces can be found underneath the graphic below.
Now listen. Don't be scared by the price tag of this jumpsuit. The style is classic, the fabric is stellar, and the fit… well, it's perfect.
You know those events that you sometimes have no idea what you would wear to? THIS IS THAT PIECE!!!
Don't forget to pick up a little discount when you use code CAMMIXSPANX at checkout.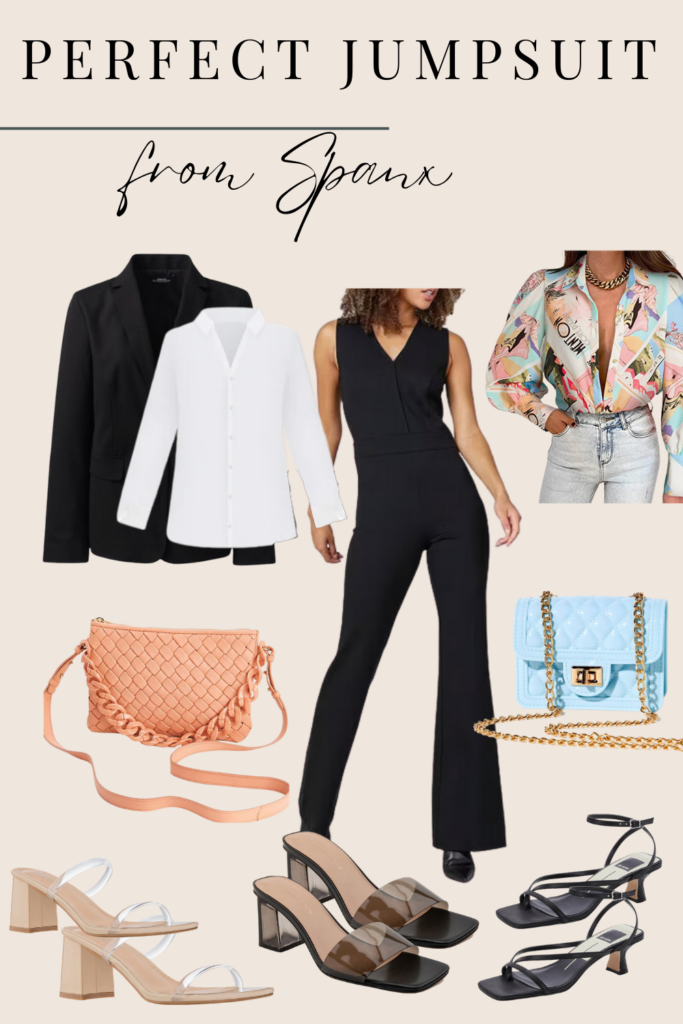 jumpsuit  |  white button-down  |  black blazer  |  colorful blouse  |  melon bag  
blue mini crossbody  |  nude heels  |  black clear heels  |  black strappy heels 
Thank you so much for being here, I appreciate you stopping by my blog!!
You can also find me on Instagram, Facebook, Pinterest, and YouTube.

Looking for modest maxi dresses? I got you, HERE.
The khaki shirt dress that goes with everything including swimsuits HERE.
Ready to lose weight for summer? THIS is going viral and helping so many people succeed!!!
This post contains affiliate links.  This means I may earn a small commission if you purchase through my links at no extra cost to you.  Purchases made through affiliate links are greatly appreciated as they help to support the blog and continue its production.  Thank you so much!