5 Outfit Formulas To Try…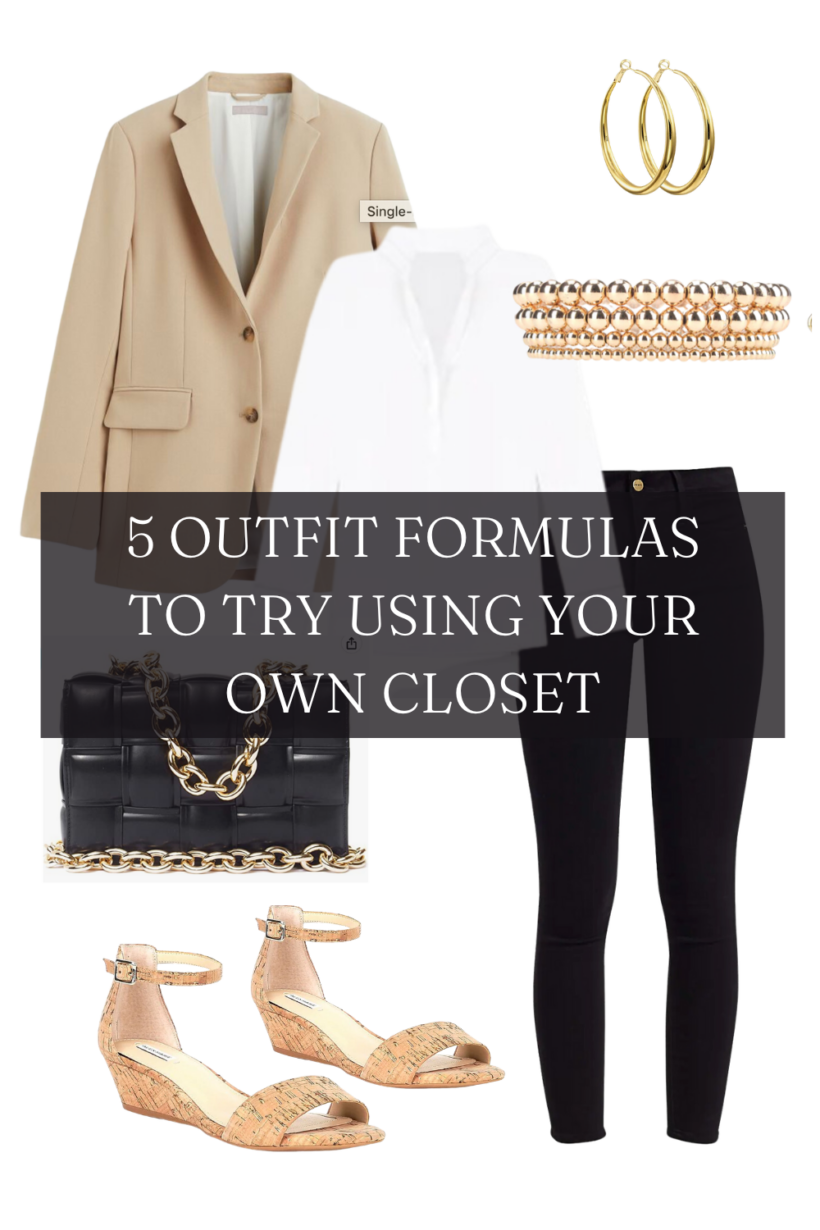 Do you ever stand in your closet and think you have nothing to wear? Or wish someone would put together an outfit for you?  Well, here you go!!! I've got you! Save this post to your Pinterest board, and then you'll be ready the next time that happens! Here are 5 outfit formulas you could wear pretty much any day!
5 Outfit Formulas
#1: Blazer + White Button-up + Black Pants
Always add a neutral shoe and a handbag that goes nicely.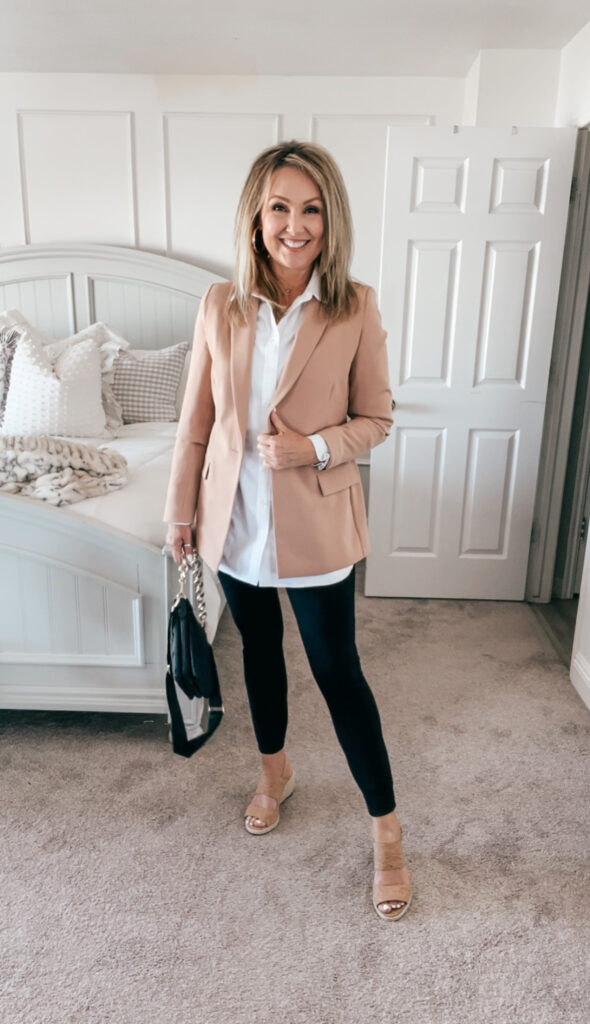 Tan blazer – I absolutely love this blazer and have it in a few colors.  It's a really good one that is not too expensive if you are looking to up your game in blazers. This tan color is the one that I grab the most and I love love love how the white tunic is actually a little longer than the blazer and is seen peeking out the bottom in the back. Super cute.
White button-up tunic – I have to say that Chico's has the very best white button-up shirts! If you are looking for one that is good quality, that you won't be switching out every summer, this is it!!! It is excellent quality, wrinkle-resistant, not see-through, and I love the length of this tunic!! It's super cute over leggings or other tight pants. But if you prefer the regular-length button-up, it's just as awesome, but not quite as long. They are worth every penny!!!
The Perfect Black Skinny Pants – If you are in need of the perfect black pair of pants, let me tell you there is a reason these are called "perfect!" The notch in the back at the ankle is such a cute detail. They also have a flare option and a slim straight option if you don't like the skinny. Code CAMMIXSPANX will get you a discount.
Neutral Wedge – Unfortunately these that I am wearing, Vionic has discontinued. But I found some very similar that I think are actually cuter.
Gold hoops – everyone needs a pair! These are super inexpensive and I love a good semi-chunky hoop.
Gold bracelet – I am a huge fan of Victoria Emerson and have several of her pieces.
#2: Floral Skirt + Lightweight Sweater or Blouse + Sneakers
Make it casual with sneakers or a little dressier by adding cute heels!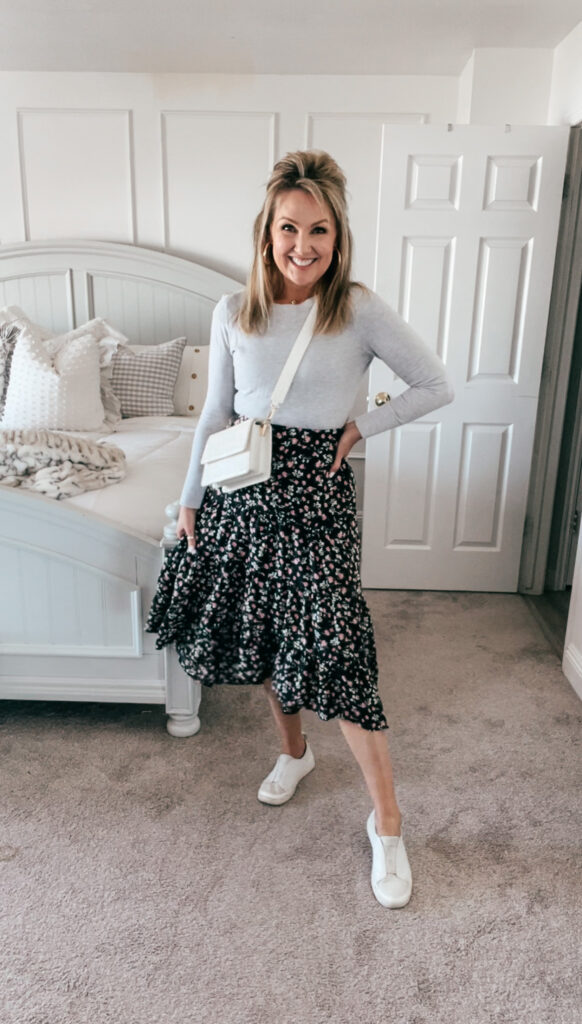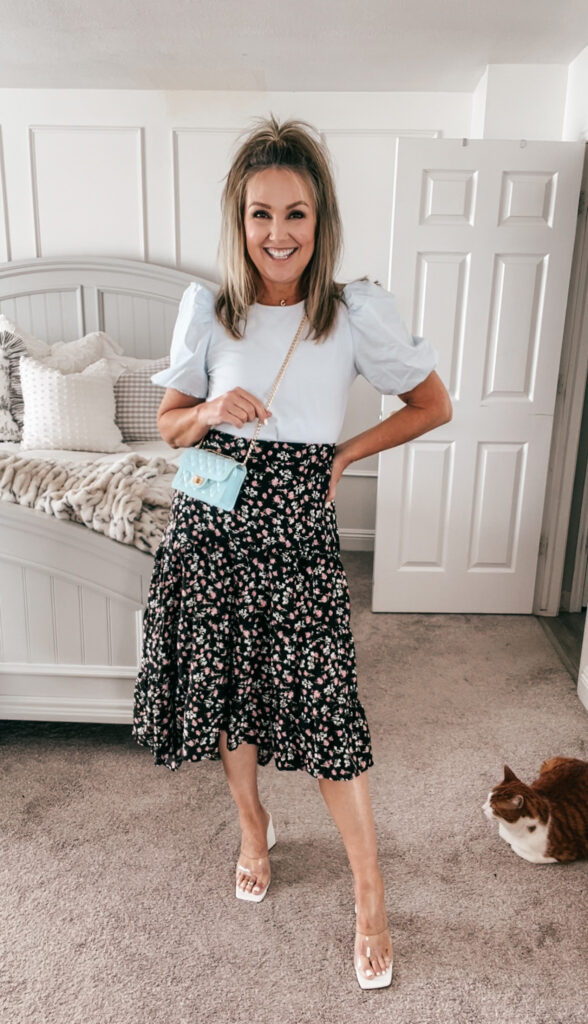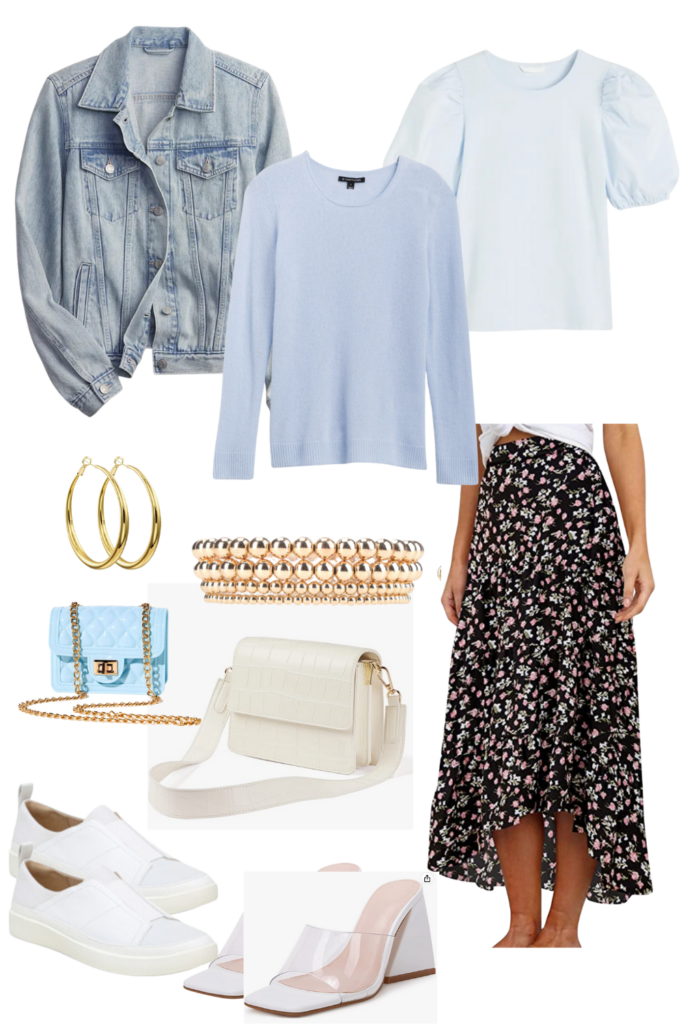 Floral Skirt – This is a great little skirt that will be fun to wear all spring and summer. I would definitely recommend sizing up one, or it will be bunchy at the sides of your hips.
Lightweight sweater – Just depends on the weather and personal preference if you want a sweater or a puff sleeve blouse. Both look great!
Puff sleeve top – I love this cute top! It's very inexpensive and such a pretty color.
Denim Jacket – Most everyone has a denim jacket, but if you don't, this is a good one!
White heels – These are such fun heels, I love the block heel and the square toe… they are a showstopper!
Sneakers – These Vionic sneakers have the triple zone technology that Vionic is known for in a nice, white leather sneaker. Here is a canvas option if you prefer.
White Crossbody bag – I probably reach for this bag 8 times out of 10. I love the shape, it's lightweight, and it goes with just about everything.
Mini Blue Crossbody bag – This little bag is precious to me! It's too small to hold a phone, but just the perfect size for all the other important things like credit cards, cash, keys, and lip gloss. It's great for going to church! When I wear it with jeans, I just keep my phone in my back pocket. This cute crossbody might be a little impractical but it's absolutely adorable and I love it!
#3:  Black Sweatshirt + Black Joggers + Birks
Grab a leather tote and you're on your way!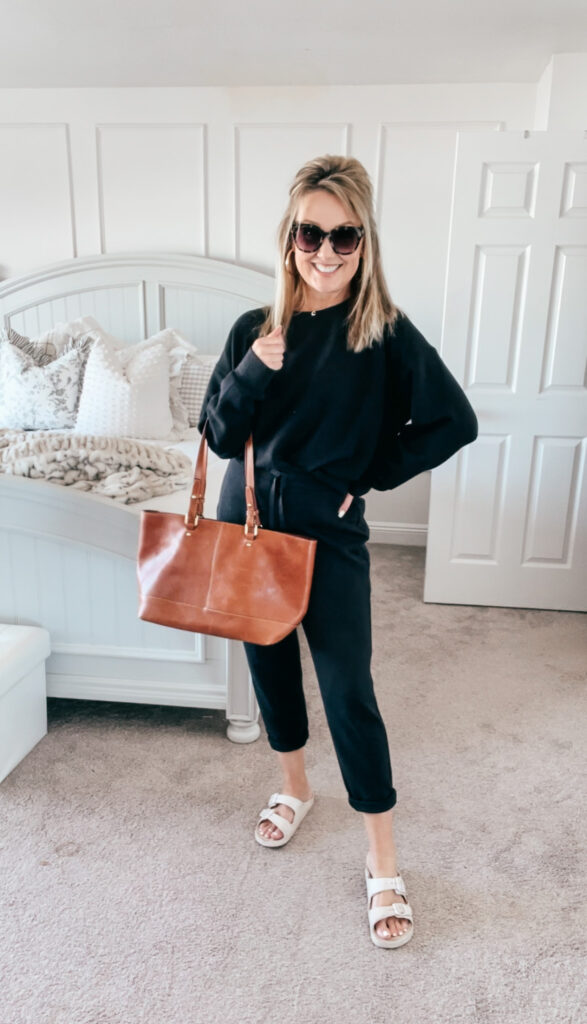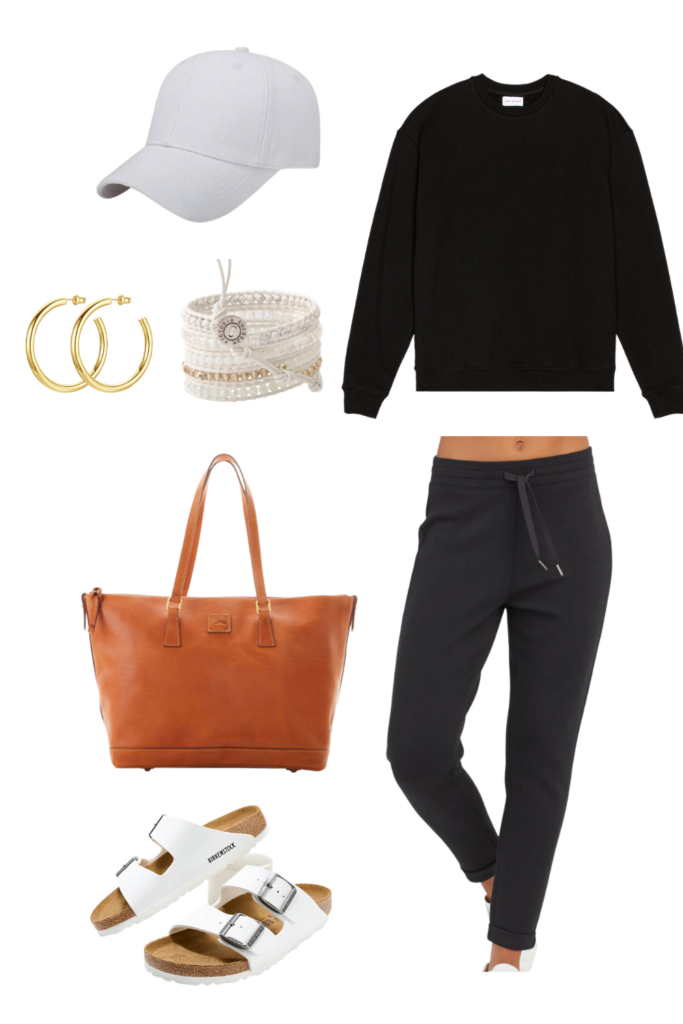 Black Crew Neck sweatshirt and Black Tapered Pants – I can't say enough about the quality of this sweatshirt and pants. This has been my. go-to travel outfit, lately! I took it on the cruise and also took it when we visited San Diego. Again, code CAMMIXSPANX will get you 15% off any order on Spanx.
White Birkenstocks – These just seem to go really well in contrast with the all-black outfit. For a less expensive version of these sandals click HERE.
Leather handbag – I love this bag! It is a splurge but very handy for things like my laptop when I travel. For a less expensive option click HERE.
Gold hoops – Super cute with your hair pulled back in a ponytail.
Wrap bracelet – Again, Victoria Emerson. These wrap bracelets are casual for everyday wear.
White baseball hat– The perfect white topper to balance the white birks on the bottom.
#4:  White Cropped Jeans + Blouse + Denim Jacket
For fun throw in a colorful handbag!
I'm obviously wearing the same blue puff sleeve shirt as in the photo above with the skirt… yeah it's a new favorite, what can I say?!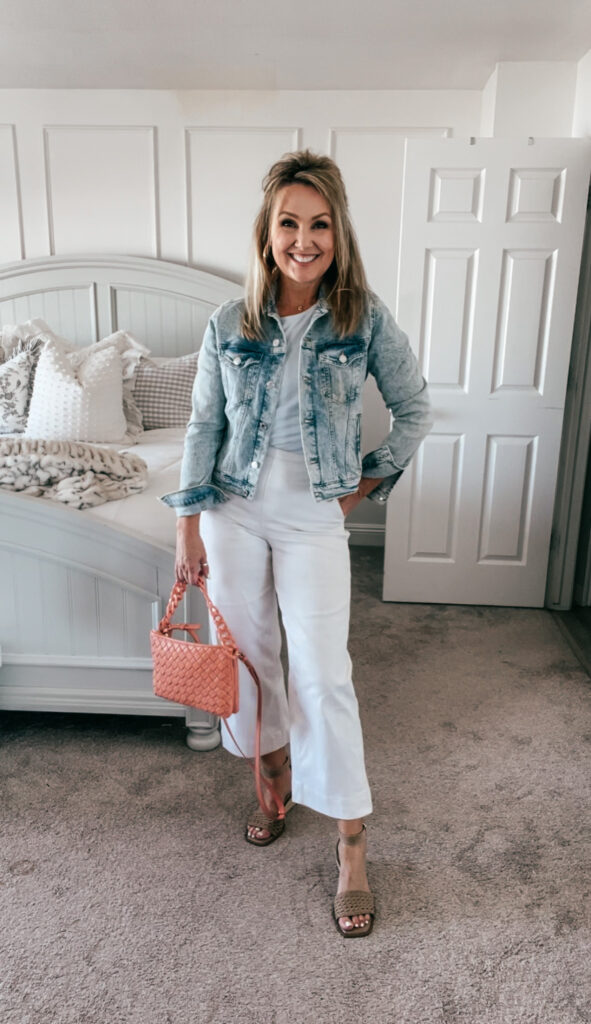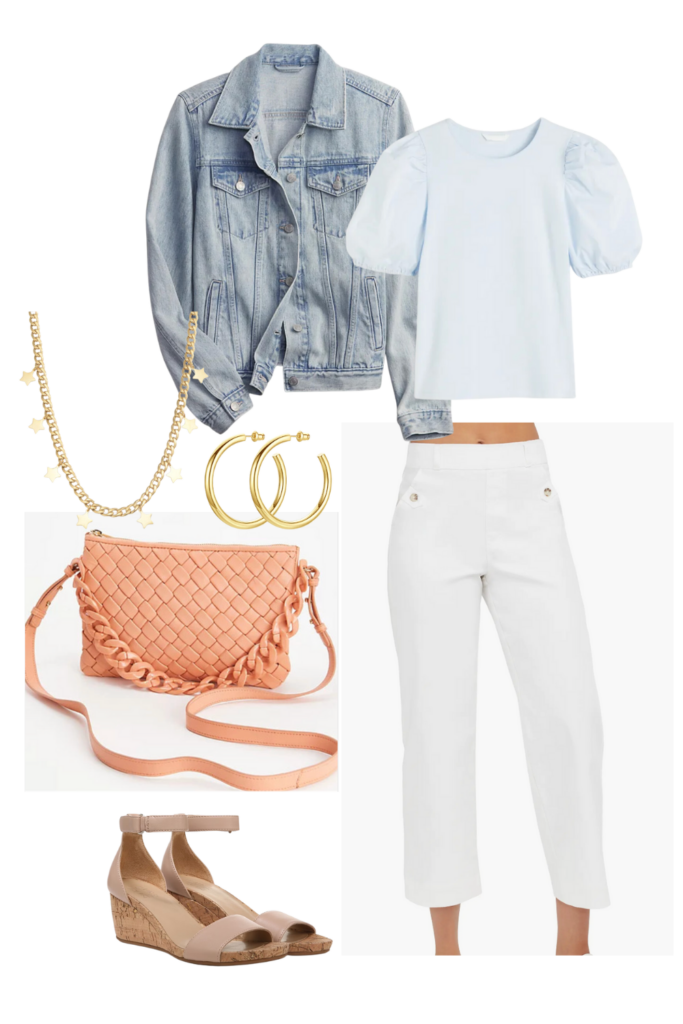 Wide Leg Cropped Jeans – These, ya'll.  Seriously. An all-year-round favorite!!! They are well worth adding to your closet!!! Code CAMMIXSPANX works on these too.  I'm wearing my usual size Medium.
Denim Jacket – Just pull out that one you've had for years or upgrade to this one.
Neutral low wedge sandal – A neutral wedge will go with so every single outfit!!! So versatile, wear to church, to a wedding, or to the grocery store.
Colorful Crossbody – This melon color is so fun for your spring and summer outfits! Other colors are available too. But the chain!!!!
Gold hoops – Necessity.
Star Necklace – Because, fun.  And Fourth of July. Or anytime.
#5: Kick Crop Jeans + Tshirt + Black Blazer
Throw on a cute espadrille, some jewelry, and a crossbody!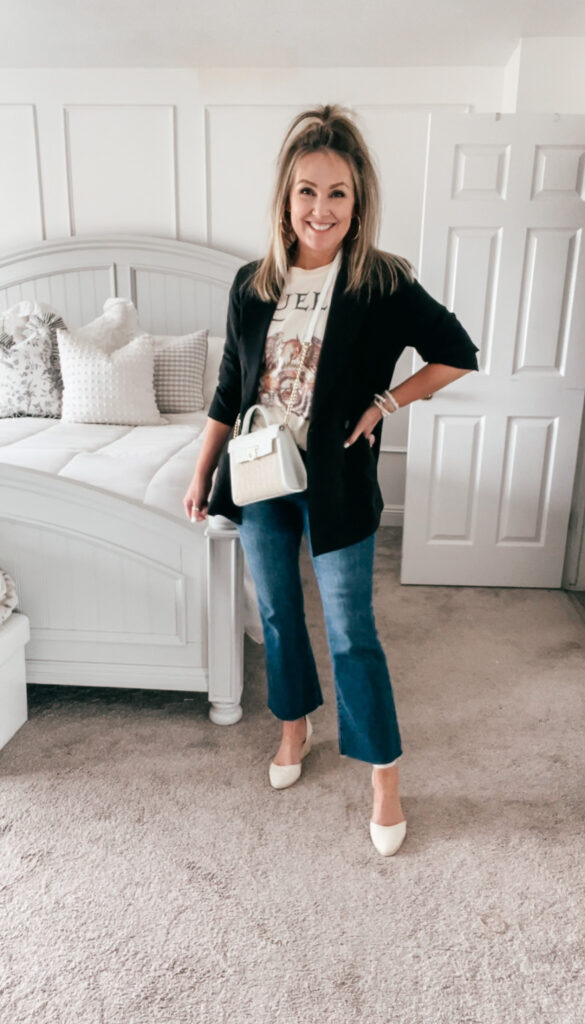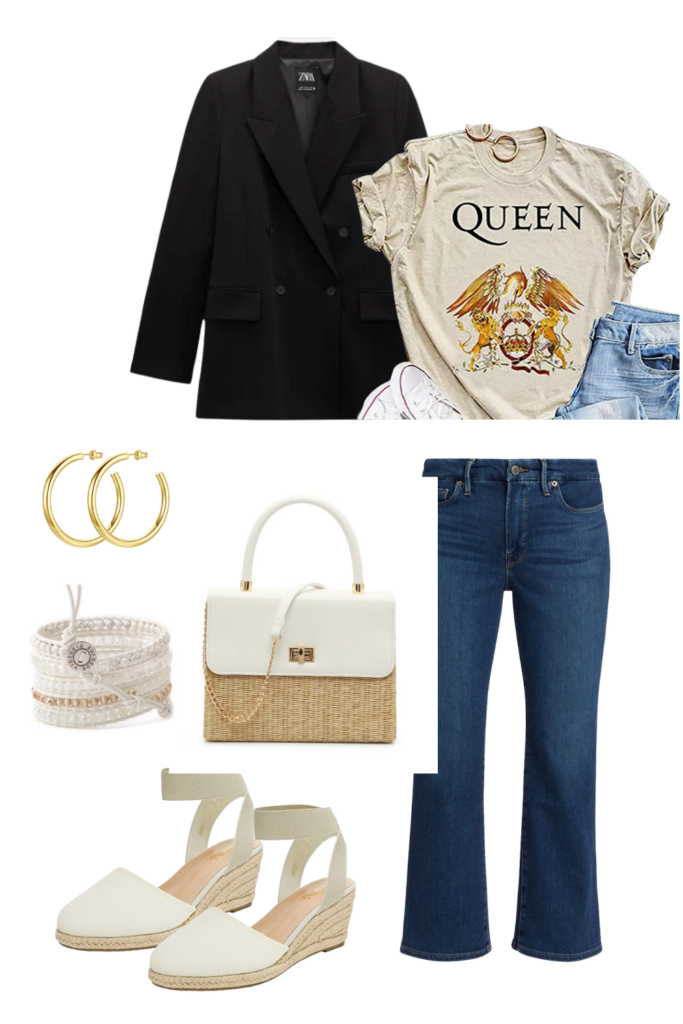 Kick Crop Jeans – These are Good American jeans with a little bit of a price tag.. but when you consider how long you will wear and love them, they are worth the investment! But if you prefer a less expensive option, THESE are good ones.
Queen Tshirt – Any rock band tee will work or ANY TEE at all… just pull out your favorite t-shirt.
Black Blazer – This is a must-have. If you don't have one in your closet, be sure to grab one. I like how it looks with a casual jeans and t-shirt combo. This one is a little oversized which I like the look of.  If you prefer a more tailored one, THIS is a good option,
Espadrilles – The summer sandal. The earthiness and texture of an espadrille is so pretty.
Rattan front crossbody – I can't find my exact bag anywhere but THIS and THIS are cute, inexpensive options. Love how it plays with the espadrille.
Give those a try!
And be sure to let me know if this was helpful to you.
Thank you so much for being here, I appreciate you stopping by my blog!!
You can also find me on Instagram, Facebook, Pinterest, and YouTube.

More posts you might be interested in:
Turn heads with THIS OUTFIT!
Cute and modest maxi dresses for summer HERE!
Lose those naggy pounds before summer easier than ever HERE!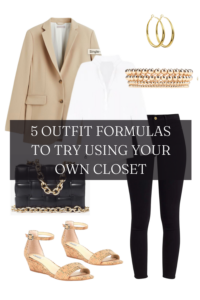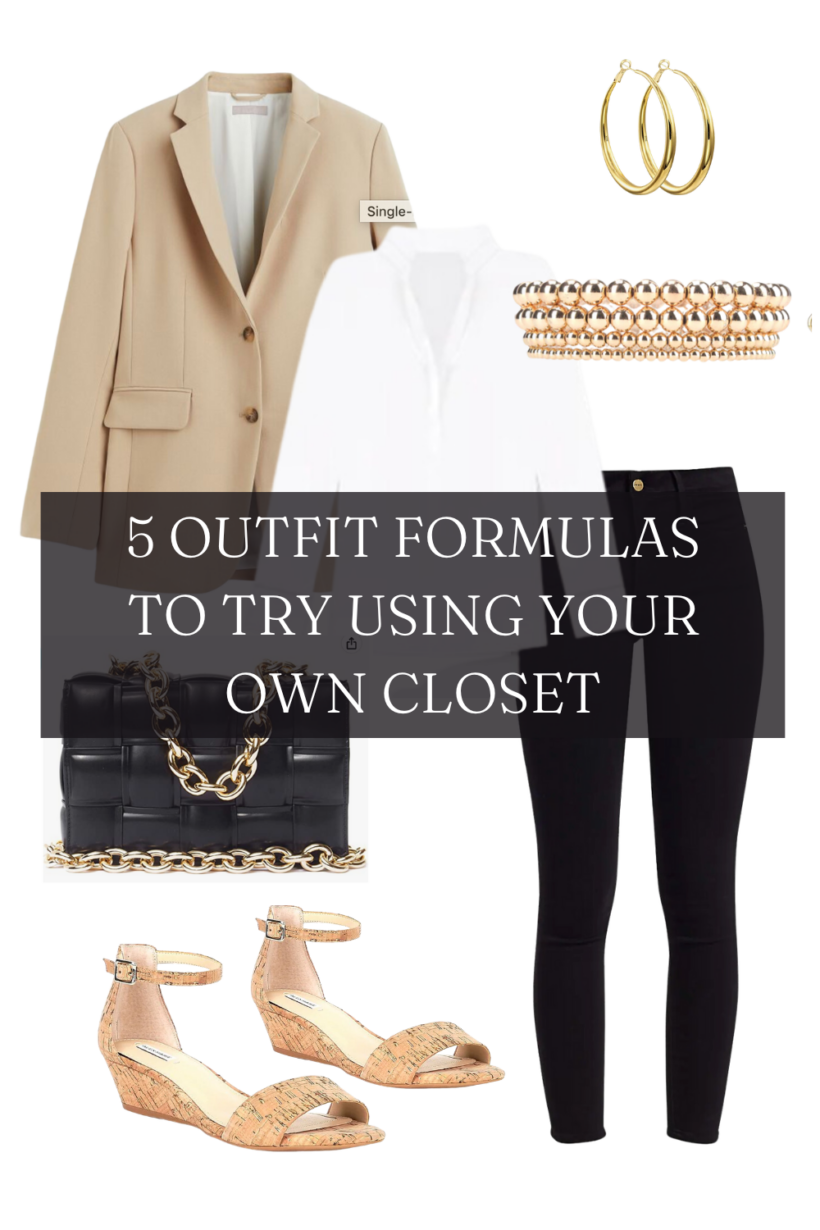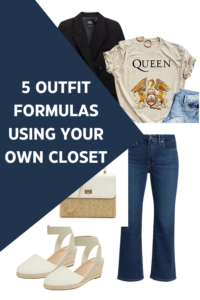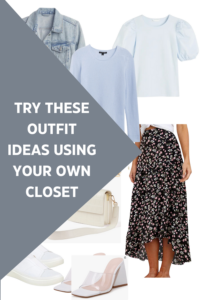 This post contains affiliate links.  This means I may earn a small commission if you purchase through my links at no extra cost to you.  Purchases made through affiliate links are greatly appreciated as they help to support the blog and continue its production.  Thank you so much!