Things To Bring To The Beach…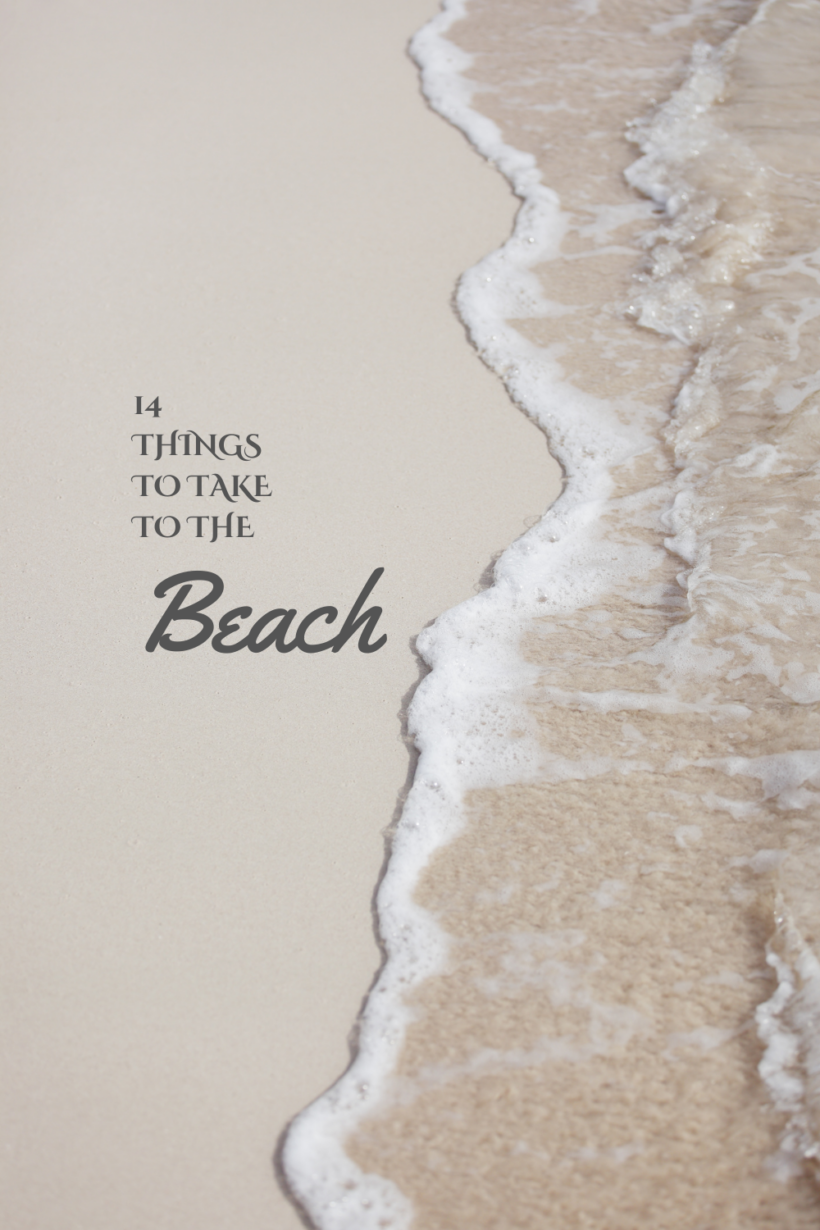 Heading to the beach? So fun!! But without the right essentials, it can quickly turn into a sunburnt, uncomfortable disaster. Nobody wants to forget their sunscreen or be without water on a hot day, so I've compiled a list of things to bring to the beach for the best beach day!  So, throw on your shades and pack up your beach bag — let's dive into what you need for the ultimate beach day.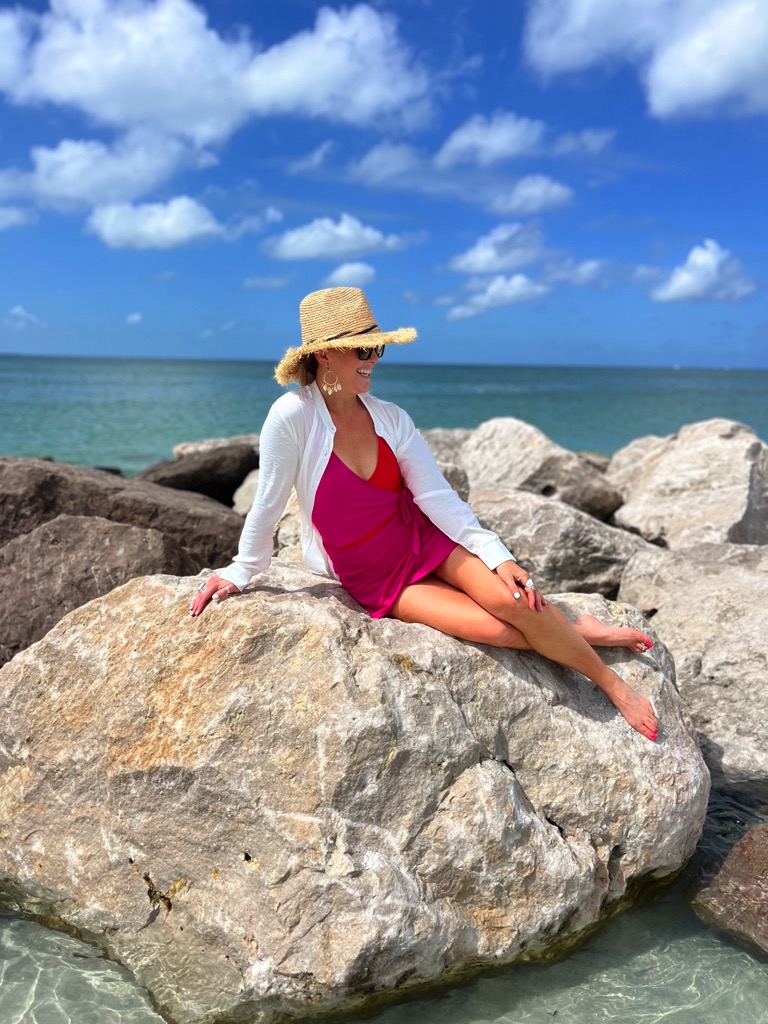 Things to bring to the beach
Sunscreen
In my book, this is the #1 most essential item is sunscreen! Sunburn can not only be painful but also harmful to your skin in the long run. It's important to protect yourself from the harsh sun rays, especially if you plan on spending a long time at the beach.
When choosing a sunscreen, opt for one that has a high SPF, at least 30 or higher, and is waterproof. This will ensure that your protection lasts even if you go for a dip in the water. Additionally, consider sunscreen that is free of harmful chemicals that can damage coral reefs and marine life. Look for sunscreen brands that are eco-friendly and safe for the environment.
I love Supergoop because it is made with clean ingredients.

Don't forget to reapply every two hours, or more often if you are sweating or swimming. Sunscreen needs time to soak into the skin, so apply it to all exposed areas of your body at least 15 minutes before heading out into the sun.
Sunglasses
As important as protecting your skin is, keeping your eyes safe from the sun's UV rays is also crucial. Sunglasses are the perfect accessory to add to your beach day outfit. Not only do they protect your eyes, but they also add a touch of style to your look.
Recently, I took the Black Torte Sunglasses to the beach and love them and they are on sale for under $15 right now!!

If you like to read or scroll on your phone while enjoying the beach, the Neptune Sunglasses from Peepers are the perfect reader/sunglasses combo!


Hat
Not only are hats a stylish addition to any beach outfit, they also serve a practical purpose by protecting your face and scalp from harmful sun rays. A wide-brimmed hat can provide ample shade for your face and keep you cool on a hot day. Opt for a lightweight material such as straw to ensure maximum comfort.
This Black Trim Straw Hat is a really good one that I have taken everywhere with me. It's on a great sale right now too, so grab it!!!

I also saw this inexpensive Foldable Fedora Sun Hat for a great price as well!

Beach Towel
A day at the beach demands a comfortable, absorbent beach towel that dries quickly and looks good in social media snaps. Opt for a towel made from soft, plush cotton or microfiber, as they absorb well and are gentle on the skin. Beach towels are available in various colors and prints, so choose one that matches your personal style and makes a statement.
I like to pack one towel per person in your beach bag and keep an extra one as a backup. How perfect are these striped beach towels?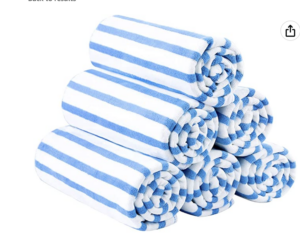 Beach Bag
Le's talk about a beach bag that can accommodate all the essentials you need for a fun day in the sun. You'll want a bag that's large enough to hold your towels, sunscreen, and other beach gear, but also lightweight and easy to carry.
This Straw Beach Bag is as pretty as it is functional. It has a polyester lining and a zipper closer and best of all? It's machine washable!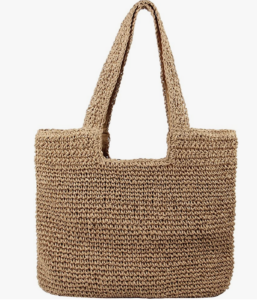 Water Bottle
You never want to be caught at the beach without a way to stay hydrated! My water bottle of choice is the Stanley 40 oz Tumbler because you won't run out of water quickly AND your drink will stay colder longer. I have this filled with my TrimFit and Collagen and take it with me everywhere I go. Additionally, packing a few packets of electrolyte powder can go a long way in keeping your body hydrated throughout the day. My favorite is the Lemon Lime Liquid IV.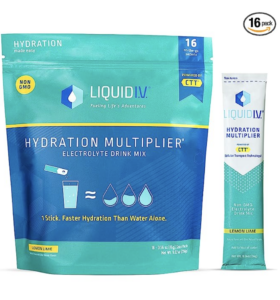 Snacks
No beach day is complete without some tasty and healthy snacks. Packing light and fulfilling snacks can help you power through the day while avoiding the temptation of unhealthy options. Fruits like apples, watermelon, and grapes can help keep you hydrated and full, while nuts and granola bars provide an instant energy boost. A small cooler bag can also come in handy to keep your snacks fresh and chilled.
How pretty is this large Insulated Picnic Cooler? It's comes in lots of color options and is on sale right now!


Beach Chair
A good-quality beach chair is definitely one of the things to bring to the beach. It allows you to sit back, unwind and enjoy the scenery without feeling uncomfortable or restless. If you're someone who loves to read or catch up on work, consider a chair with a built-in canopy to shield you from the sun's harsh rays. Or, if you're looking for maximum comfort, look for one with a reclining backrest and adjustable pillow.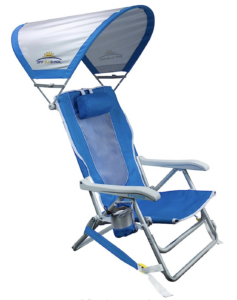 Beach Umbrella
A day at the beach can be a lot of fun, but it can also be quite uncomfortable if you don't have the right gear. One essential item that you must have is a beach umbrella. A beach umbrella can provide shade and protect you from harmful UV rays. More importantly, it can also help you avoid getting sunburnt and keep you cool on hot summer days.
Ideally, you want an umbrella that is lightweight, durable, and made of water-resistant material.
Check out this cute Cabana Style Beach Shelter.

Now that you have your beach essentials sorted, it's time to think about entertainment.
Entertainment
Whether you're spending the day alone or with friends and family, having something to keep you busy and relaxed is key to a fun and enjoyable time.
One great option for entertainment is a good book. Pick a genre that you enjoy and lose yourself in the pages while the waves crash in the background. Alternatively, you can opt for an audiobook or podcast if you prefer to take a break from reading.
This book is what my girlfriends and I are reading this summer.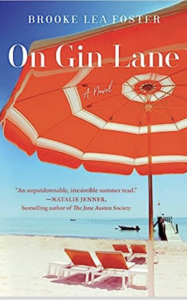 Another option is to bring some games to play on the beach. Classics like frisbee, volleyball, or paddleball are always popular choices. Or, you can bring some card games or board games to play under the shade of your umbrella. A couple of our favorite games to bring to family get-togethers lately are Spikeball and Crossnet.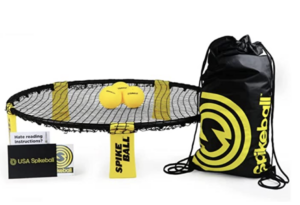 Swim Coverup
Now that you're all set for a day at the beach with your entertainment options, it's time to think about protecting your skin from the sun's harmful rays. A swim coverup is a perfect way to achieve this while still looking stylish. Not only does it protect your skin, but it's also a great way to cover up after swimming or while walking to and from the beach. This post contains many of my favorites but I also like a Buttoned Midi Dress that can be worn buttoned as a coverup or worn open over a t-shirt and shorts.

Bluetooth Speaker
A day at the beach is not complete without a good playlist to keep the vibes going all day long. That's where a Bluetooth speaker comes in. Instead of blasting music from your phone, which doesn't sound nearly as good, a Bluetooth speaker can provide hours of uninterrupted music. Plus, it allows everyone to contribute to the playlist and share their favorite songs, making for a more festive atmosphere.
You'll want to look for one that is water-resistant or waterproof, so you don't have to worry about any splashes or spills causing damage like this one.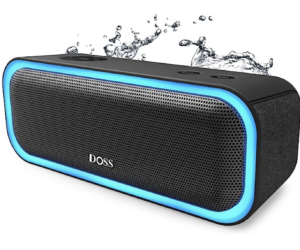 Waterproof Phone Case
As much as we wish we could completely disconnect and unplug while at the beach, the truth is that many of us still rely on our phones for music, photos, and staying connected with friends and family. But one accidental splash or unexpected wave can ruin your device and put a damper on your day.
That's why having a waterproof phone case like this one made it to the top of my list of 5 things to NOT forget while going on a cruise.  I had no problem at all taking my phone in the ocean and filming the beauty time after time on our cruise to the Caribbean a few months ago.

Lock Box Safe
While it's always a good idea to bring a waterproof case to protect your phone from water damage, it's also important to consider the safety of your other belongings.
Having a lock box can give you peace of mind while you soak up the sun, knowing your wallet, keys, jewelry, and any other small valuables all in one secure place.
Some lock boxes like this Master Lock Personal Safe even come with a cable that can be attached to a beach chair or other stationary object, adding an extra layer of security.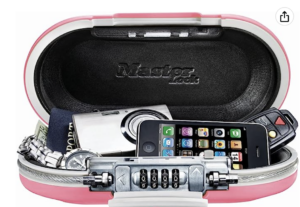 To wrap things up…
A perfect beach day requires careful planning of things to bring with you to the beach. Save this post to your Pinterest board so that the next time you head out, you can pack these essentials. So grab your gear, round up your friends and family, and head out for a day you'll never forget. As they say, "Life is better at the beach!!"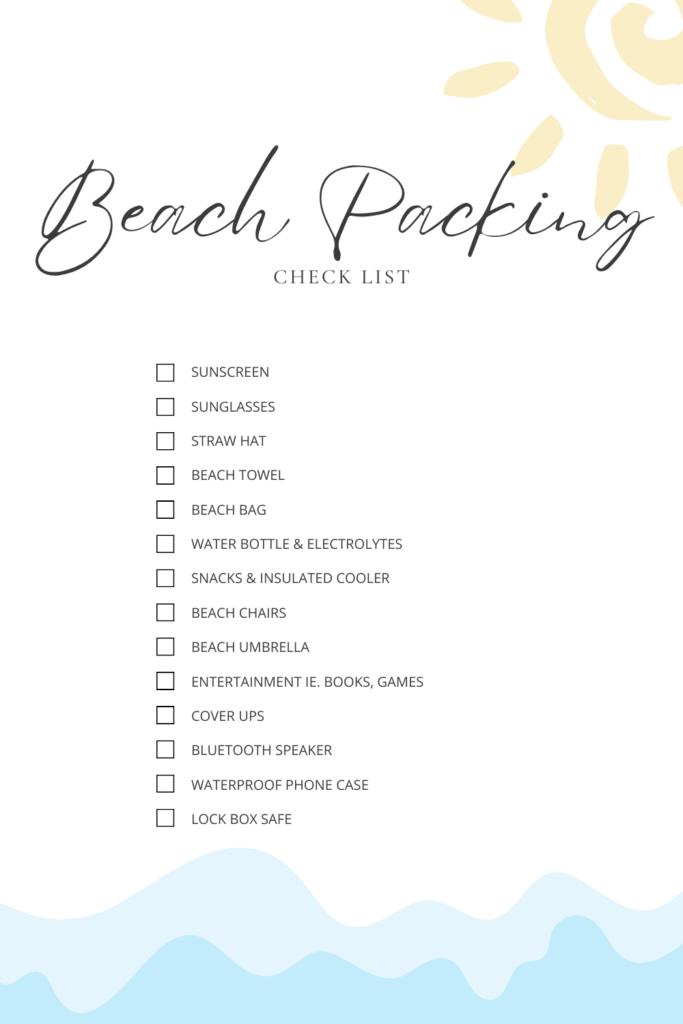 Thank you so much for being here, I appreciate you stopping by my blog!!
You can also find me on Instagram, Facebook, Pinterest, and YouTube.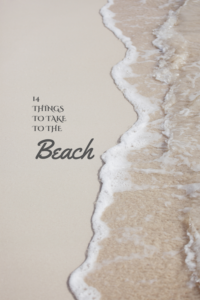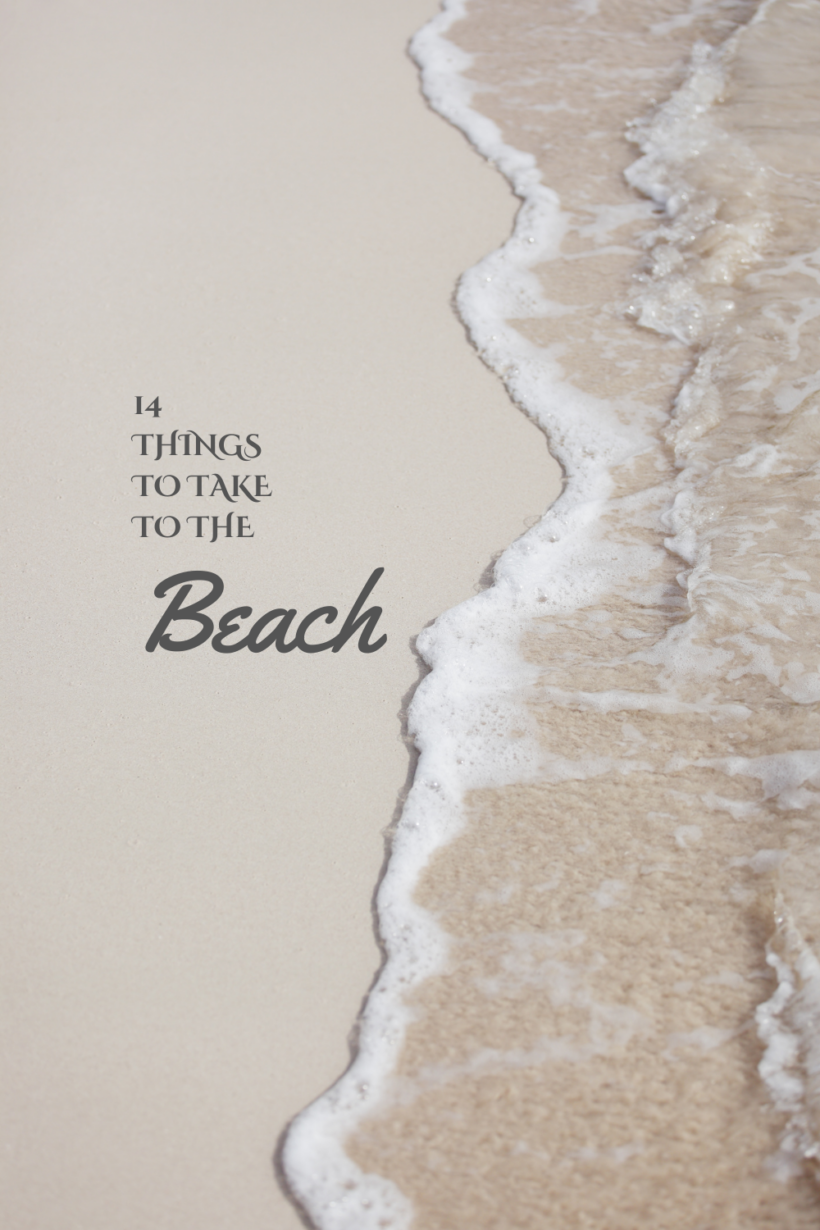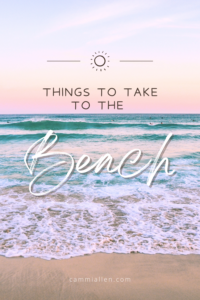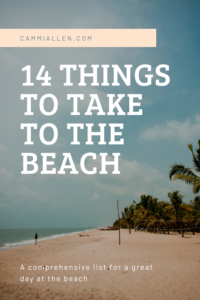 This post contains affiliate links.  This means I may earn a small commission if you purchase through my links at no extra cost to you.  Purchases made through affiliate links are greatly appreciated as they help to support the blog and continue its production.  Thank you so much!