12 Fashion And Home Must-Haves…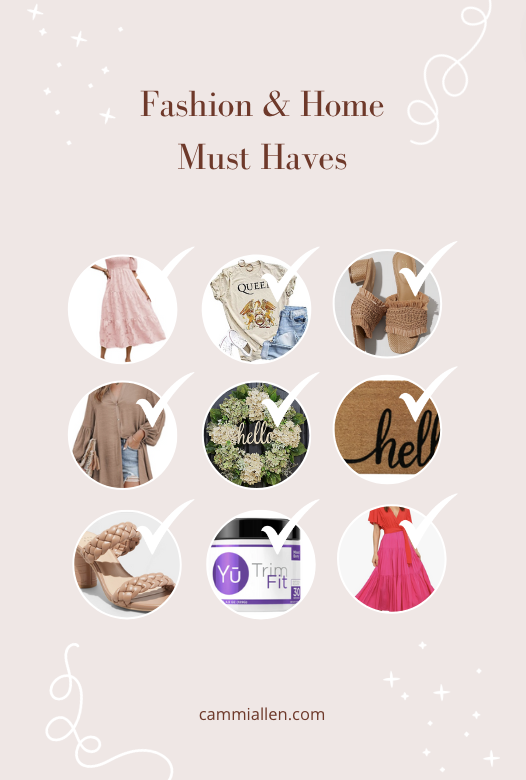 Spring is in bloom, and it's that time of the year when we feel the urge to refresh our wardrobe and spruce up our homes with some new picks. With so many options out there, it can be overwhelming to know where to start. Fear not, because I've curated a list of 12 fashion and home must-haves that are actually the best sellers from last month, so you know they are worth spending your money on!
12 Fashion and Home Must-Haves
One trend that has been making its way around the internet lately is TrimFit. This isn't fashion or home related but it was by far the top seller last month!! This product claims to help people lose weight quickly and effortlessly and has garnered a lot of attention in the health and fitness world.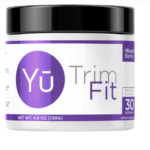 You can read about my surprising results and others who've used it HERE. While I am not a nutritionist, I do think that it's important to prioritize our health and well-being. And this product has changed my life!! Especially since hitting menopause!  That's why I've included it on my list of must-haves for April… it is something that many people are loving and something that I didn't know how desperately I needed, until I started using it!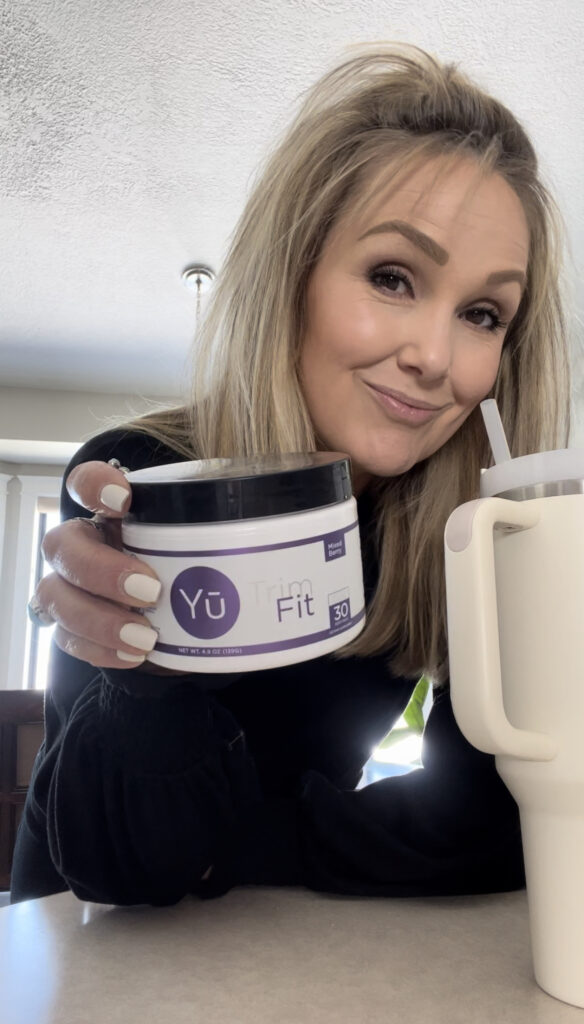 But, let's be clear: there is no magic pill or drink that will make you lose weight overnight. Sustainable weight loss involves making lifestyle changes and committing to a healthy diet and exercise regimen. So, while Trimfit may provide some initial results, it's important to continue to focus on overall health and wellness.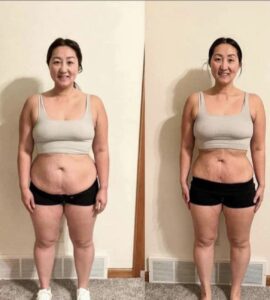 (Customer photo after 1 month and 18 lbs down on Trimfit)
With that said, if you're looking for an extra boost to support your weight loss journey, I believe Trimfit is worth exploring!!  Click here and get a discount with code CAMMI at checkout.
Be sure to do your research and consult with a healthcare professional if you are worried about trying it. I personally can't drink a Diet Coke without my heart racing but this does NOT do that to me! Again, read HERE for more info.
One of the fashion must-haves for April is the Spanx wide-leg cropped pants. They are #2 on the best sellers list! These pants are comfortable, stylish, and perfect for the transitional weather. They are versatile and can be dressed up or down, making them a great addition to any wardrobe. Not only are they practical, but they also elongate the legs and give a flattering silhouette to any body type.
See other ways that I've styled them in this post and even more ideas on how to wear them in this post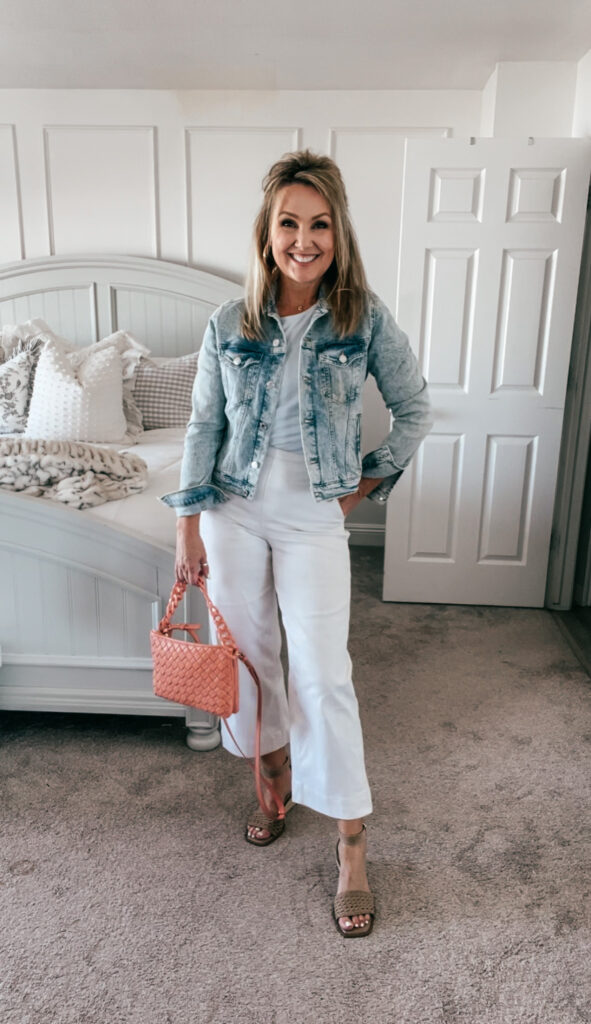 Pair them with a flowy blouse, a fitted tee, or a button-up shirt, and you have a chic and effortless look.
As for shoes, you can wear them with sneakers for a casual outing or with heels for a more dressed-up look.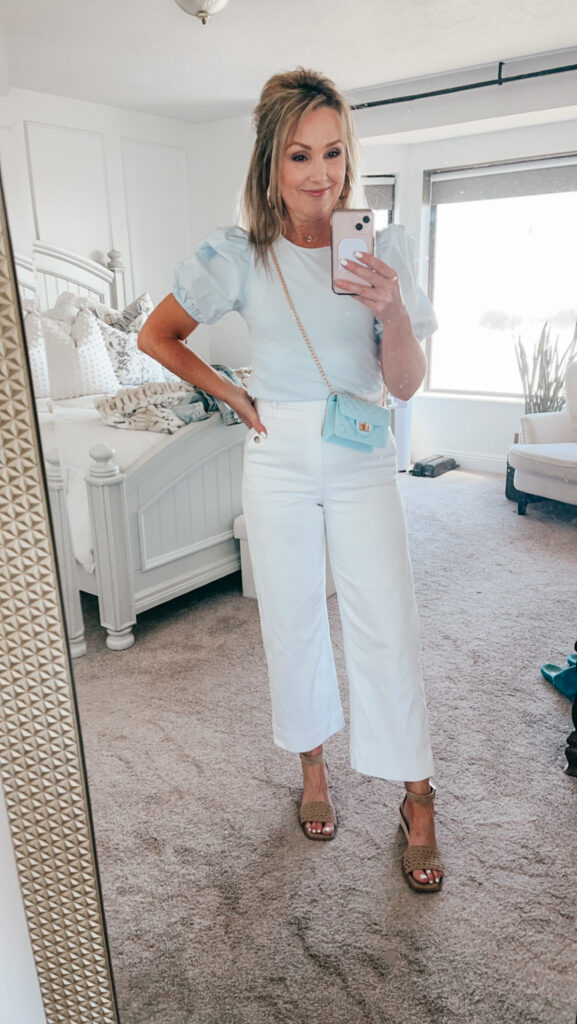 Speaking of which, transitioning to the next must-have for April, neutral and comfortable heels are a great pairing with wide-leg cropped pants.
The next must have for April and #3 on the best sellers list are these neutral braided heels.
Yes, they are still around and yes, they are still going strong!!! While I mostly wear them with dresses, they are classic and can be worn with any outfit. They are also comfortable, which is a bonus for those who are not used to wearing heels.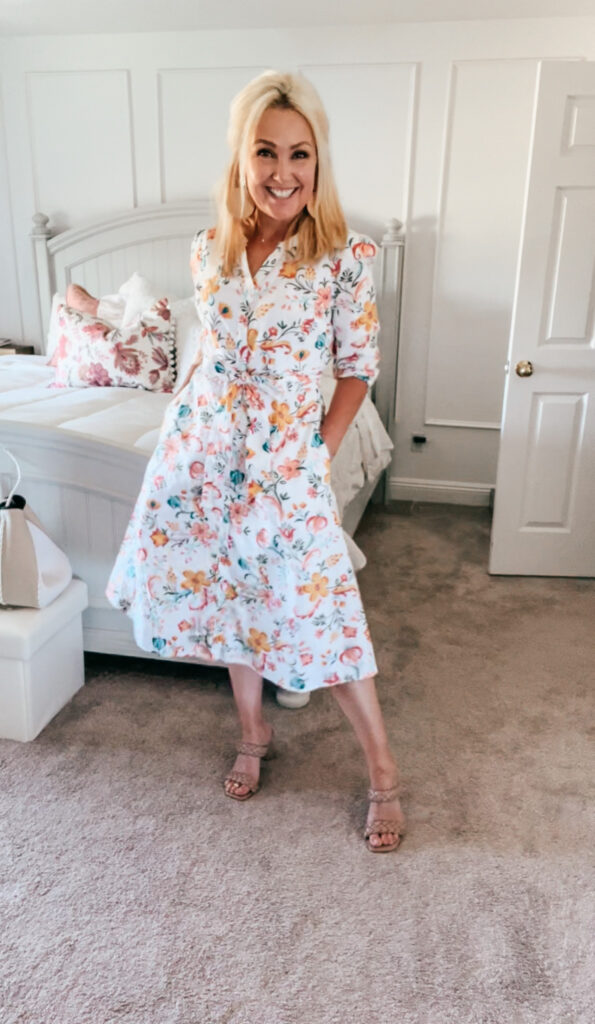 Plus, they can be dressed up or down and match with any color, making them the perfect go-to shoe for any occasion!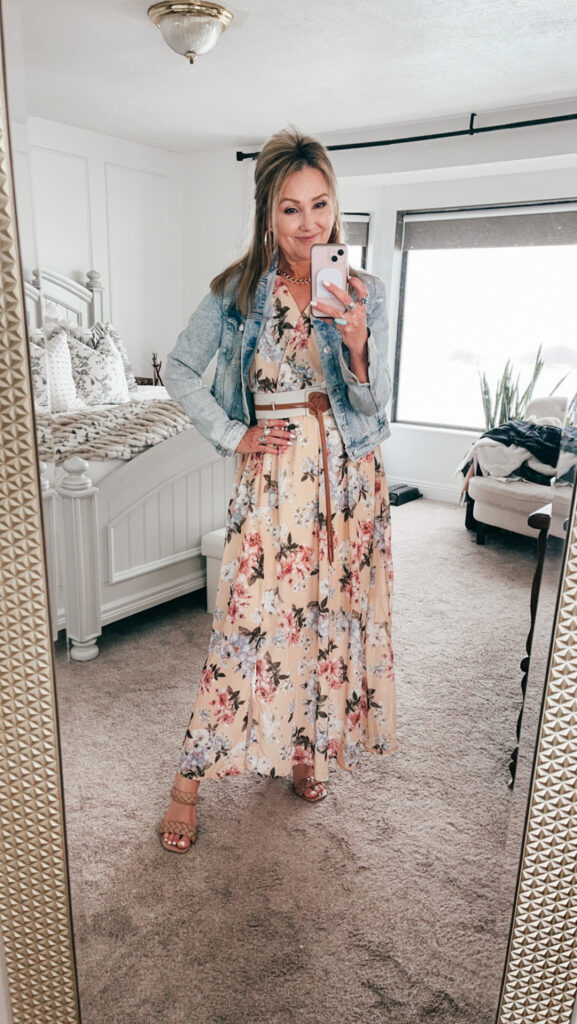 Opt for a block heel or a kitten heel for added comfort. Here are a few of my favorite neutral kitten or low-heeled shoes at the moment.
Neutral Sandals
If you're looking for a casual yet chic shoe option, a neutral sandal should be at the top of your list. The Chico's Lazer Cut Slides were #4 on the top sellers list for last month but unfortunately they are sold out. However, these raffia sandals are ADORABLE and in stock!!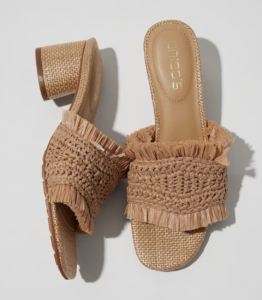 They are perfect for sunny weather and can add a touch of effortless elegance to any outfit. Raffia sandals give off a relaxed vibe, making them perfect for a day out or a beach trip.
Another versatile item that you'll want to add to your wardrobe this April is a khaki shirt dress. This classic piece can easily be dressed up or down depending on the occasion. Whether you're heading to the grocery store or out for lunch with friends, a khaki shirt dress is a great choice. See my tips on how to wear it and product links for these outfits HERE.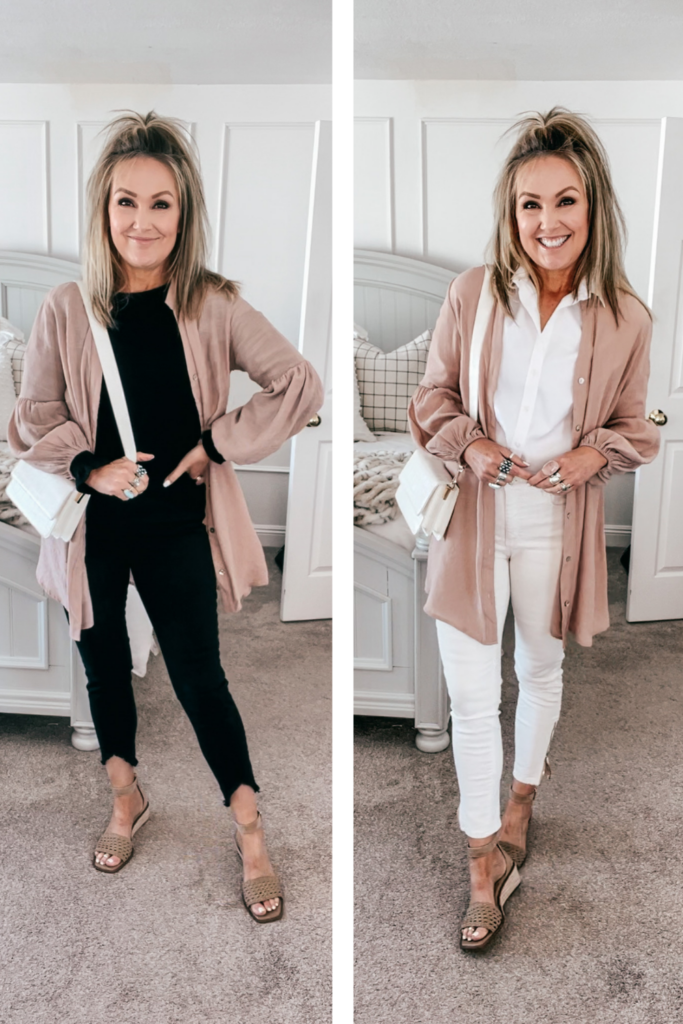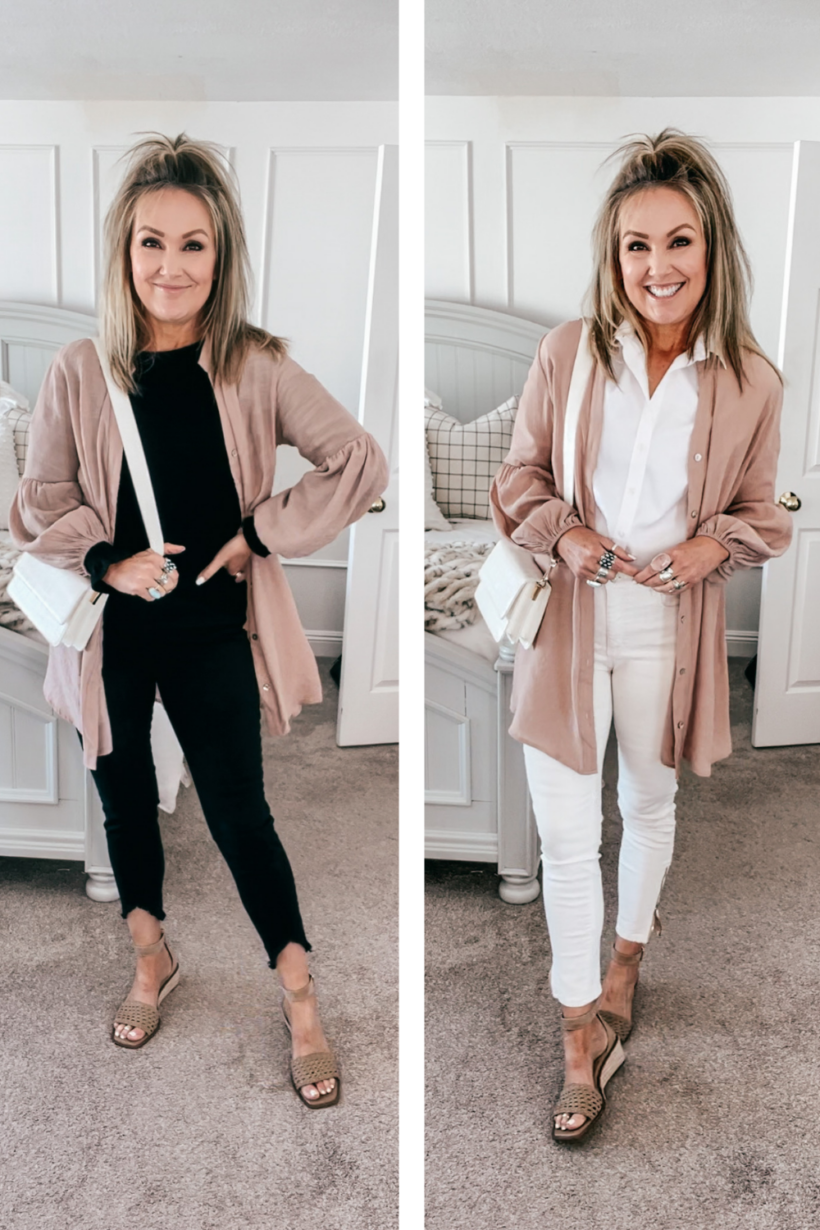 The real beauty of a khaki shirt dress lies in its ability to be worn in so many ways.  Wear it as a third piece to any outfit or even as a swimsuit coverup at the pool or beach!
Not into khaki? There are other color options available HERE.
Incorporating this pretty pastel top into your spring wardrobe is a simple yet effective way to elevate any outfit. Whether you opt for a bold and bright blouse or a softer pastel hue like this one, a colorful top can inject a much-needed pop of color into even the simplest of looks.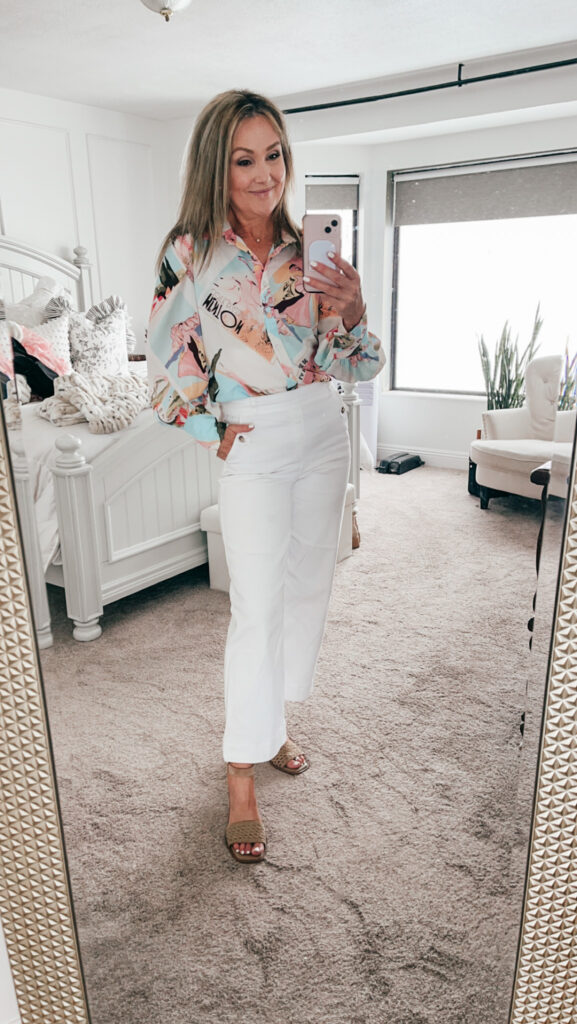 Plus, it's an easy way to experiment with new colors without committing to a full outfit.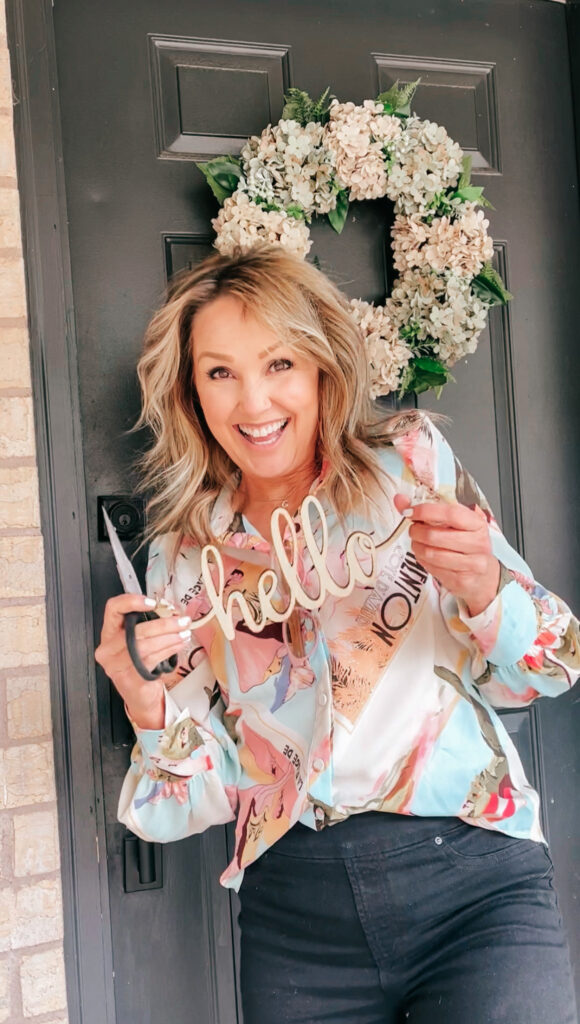 See how absolutely adorable it is paired with the Spanx Jumpsuit in this post.
With a colorful top in your wardrobe, you'll be able to effortlessly add a touch of springtime flair to any outfit. And speaking of springtime flair, let's talk about a must-have for your home this season: a front door wreath.
Referring to that last photo above, another bestseller is right there behind me! The wreath!
This pretty Hydrangea wreath is an easy way to add a pop of color and personality to your home's entrance.  Plus, a front door wreath is a great way to signal the changing seasons and welcome guests to your home.

This precious wreath was #7 on the best sellers list for last month. I personally clipped off the "hello" sign and like it much better without.
But that's just my personal preference.  Either way, a beautiful wreath makes all the difference!
Why stop at a wreath? A hello door mat is another must-have for your home this April. Not only is it functional in keeping your floors clean, but it also adds a fun and welcoming message for anyone who enters your home.
Together, a front door wreath and hello door mat are the perfect pair to elevate your home's curb appeal and set the tone for the season.
A  door mat is an often-overlooked home accessory that can make a big impact. This April, why not add a touch of personality and warmth to your doorstep with a fun and inviting door mat that speaks to your visitors?
This Hello doormat made #8 best seller last month.

Not only does this door mat serve a practical purpose by keeping dirt and debris from being tracked into your home, but it also sets a welcoming tone for guests.
Adding a bit of personality to your wardrobe is a great way to make a statement and show off your personal style. Whether you're looking for a fun graphic tee or a bold accessory, there are plenty of options for adding some flair to your look.
This Queen t-shirt made the best sellers list and don't you just love a good band tee?  Paired with your favorite jeans and sneakers, it's an effortless way to elevate your outfit.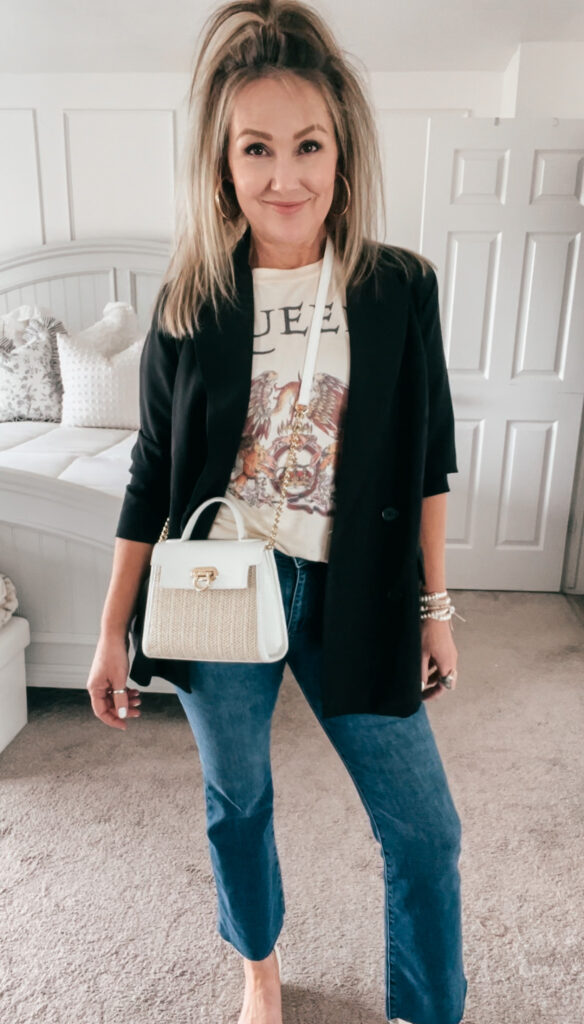 If you're looking for a dress that exudes classic elegance, a beautiful pink dress should be on your radar. This color works well on all skin tones and complements a variety of accessories. A fitted bodice and a flowing skirt can add a girlish charm to your look, while playful ruffles and pleats can dial up the drama. You can choose from a variety of hues, from white and pale blue to navy and deep red. The lavender color is precious!!!
But I adore this darling pink dress for spring.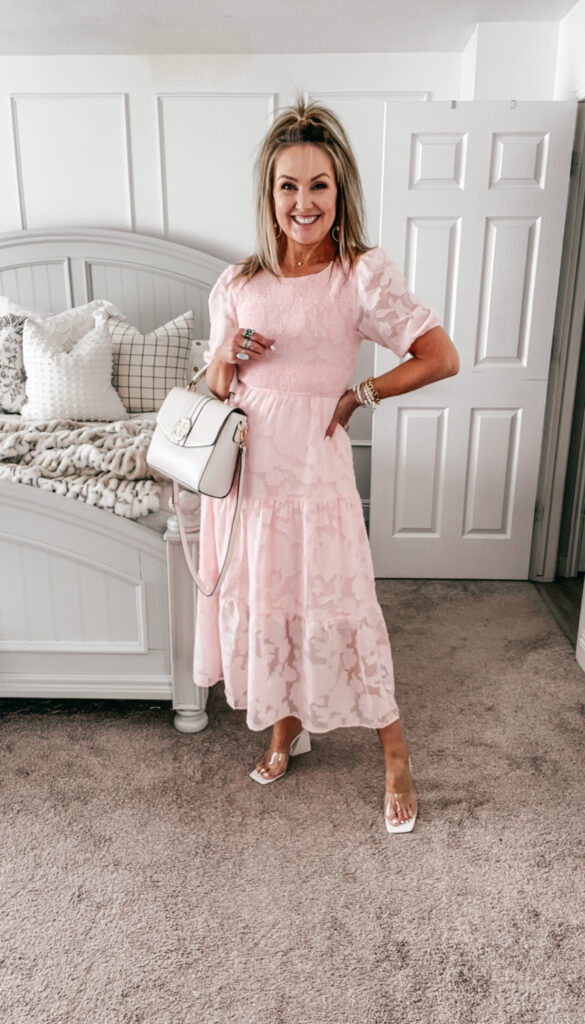 This style is versatile enough to be dressed up or down and is perfect for transitioning from spring to summer. A midi length can show off your shoes or add a touch of sophistication, and a bold color can amp up the wow factor. Choose a vibrant shade like red, yellow, or green for a cheerful look that's sure to put a spring in your step.
However, if you're in the mood for something brighter and bolder, a vibrant-colored midi dress is a perfect choice for April.
I fell in love with this pink and red dress but there are other color options as well. You could easily switch out the matching fabric belt for something else if you wanted to.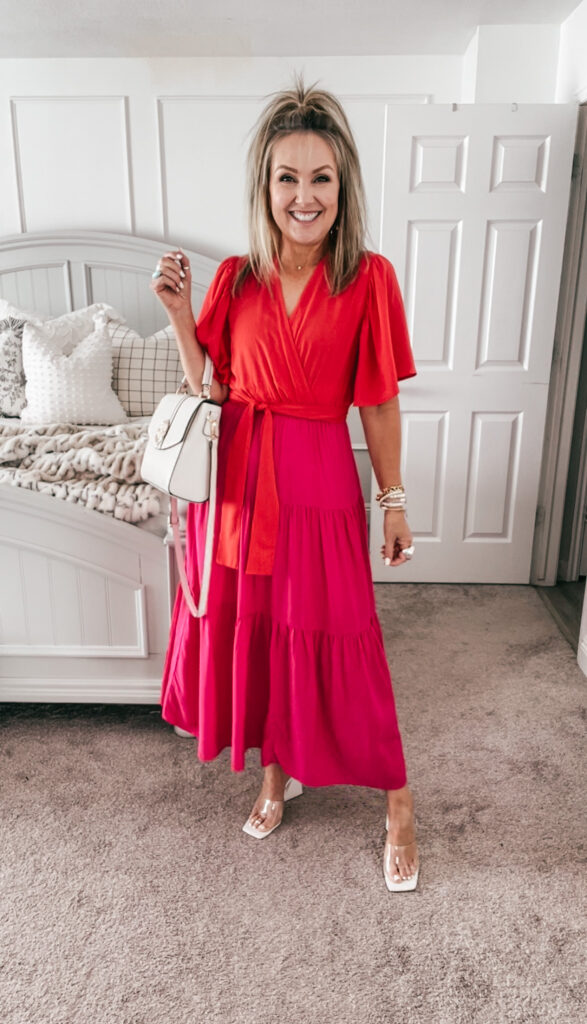 Last but not least of the best sellers from April, the back comb brush.
To complete any stunning look, it's essential to pay attention to the finer details, and that includes your hair. I was actually surprised by how well this back comb brush resonated with people on Instagram! Maybe it's because I did a hair tutorial with it. But it was a huge hit! You can view that tutorial HERE.
This tool is ideal for adding texture to any hairstyle by teasing the roots, creating that sexy bedhead look or a sleek, voluminous ponytail. Additionally, it can help keep styles in place for longer, meaning you won't have to worry about redoing your hair midway through the day.

As a bonus, a back comb brush can also help uplift flat and lifeless hair, especially when used with a holding spray. With its unique shape, it's excellent for adding volume to the crown area and providing a fuller look overall.
Are you updating your closet and home too?
Add some of these fan favorites to your cart, you deserve it!!!
Thank you so much for being here, I appreciate you stopping by my blog!!
You can also find me on Instagram, Facebook, Pinterest, and YouTube.

Consider getting a pair of flattering kick crop jeans for summer. Here are some good ones!
Going on a cruise anytime soon? Here is your packing list!
Need some inspiration for what to wear this week? I've GOT YOU!